Does Asuka Need To Win At WWE TLC?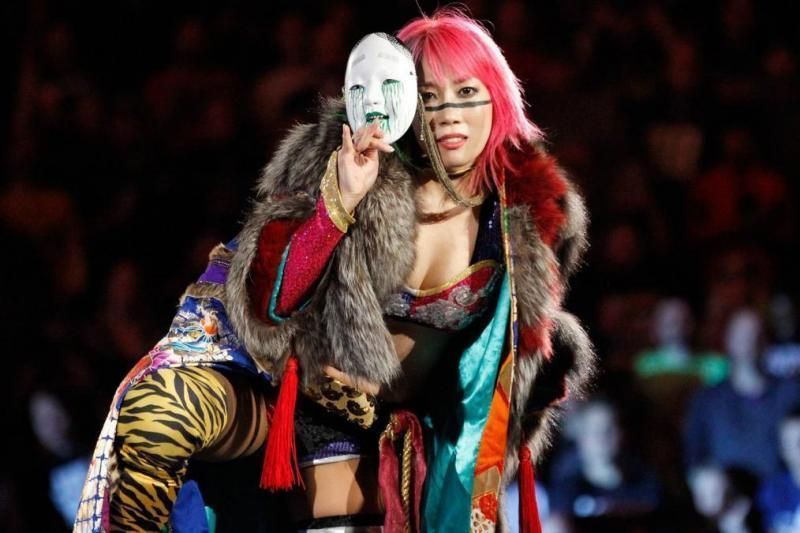 Asuka will compete for the SmackDown Women's Championship at WWE TLC on December 16. The Empress of Tomorrow will face off against Charlotte Flair and current champion Becky Lynch in the first ever women's Tables, Ladders and Chairs Match.
This match is yet another step forward for the women's division in WWE. Over the past couple of years, the company has made great strides for women's wrestling and those strides are giving the female Superstars more spotlight than ever before. But regardless of how important this match is, the question is what needs to happen for Asuka?
Asuka's rise in WWE would not have been possible were it not for the Women's Evolution. Indeed if she had come along 10 years ago, she would likely have been dismissed as just a Japanese wrestler with an odd personality. But she was given a platform on which to shine and that's due to the progress women have made in the company.
Asuka is not presented as Jimmy Wang Yang or Funaki. She is the real deal and her character is treated with respect. She's not a comedy act and she shouldn't be. But even though she's in a good spot in Vince McMahon's company, she's not exactly in a great spot. 
It does seem as though Asuka has lost some serious momentum over the past several months. Many fans would likely argue that she's never been given what she needs since she got to the main roster. She was a beast in NXT. She was also the most dominant female star in the brand's history.
But she has yet to reach that elite level on the main roster. Some point to her loss at WrestleMania 34 as the moment when her career derailed and perhaps that's true. After all, Asuka's mystique was still very much in effect when she came into her match with then- Women's champion Charlotte. But after Asuka lost? Not so much.
It seemed that when her undefeated streak ended, her spotlight dimmed. The streak meant more to Asuka's career than anyone really knew and that has been evident in the months following her loss. She's not been the same and everyone knows it.
Of course if a Superstar stays in WWE long enough, then she will experience her share of hills and valleys. It's the ebb and flow of WWE and virtually everyone must go through it at some point. No one stays on top forever. The moment always comes that the downtrend happens. That's when the fans see what the star is truly made of and that's also when the company decides how to proceed with that star.
This is where Asuka is right now. She's had her fair share of false starts and even though she's not exactly hit rock bottom, she does know what it's like to just float along with no direction. But if anyone in WWE can swim rather than sink, it's The Empress of Tomorrow.
This is where Asuka's personality comes into play. She's unique, she's a bit eccentric but she's always intense. Asuka brings a level of believability to her character and to her performance that few others can. She seems dangerous, as if she's physically capable of destroying any woman that gets in her way. She hits hard and she takes as good as she gets.
More importantly, she looks and acts like a star. Much like Shinsuke Nakamura, who has also seen his share of ups and downs, Asuka's swagger is the thing that saves her. It keeps her relevant. Even if she were just mediocre in the ring, her persona would still keep her on the minds of fans.
In fact it is the fans that have demanded she return to main event form. The live crowds are cheering for Asuka in moments when WWE is obviously not using her. This was true on the night that Lynch made her decision about who would take her place against Ronda Rousey at Survivor Series. Becky settled on Charlotte but the fans obviously chose Asuka. The WWE faithful wants Asuka to do well. But how well can they expect her to do at TLC?
Therein lays the problem. Becky Lynch is red hot and she's probably not dropping her title any time soon. Charlotte Flair is hot again thanks to her heel turn against Rousey. Neither woman stands to lose any ground at TLC, despite the outcome. But if Asuka is to gain any ground, does that mean she has to win?
How does WWE protect her and satisfy the fans at the same time? At this point, it could very well be that fans will not give up on her if she doesn't win the gold at TLC. The match itself should have enough high spots and Asuka should have her fair share of them, to keep the fans buzzing long after it's over. But is that enough to carry Asuka on to the next step?
For that matter, what is the next step for Asuka? If the WWE fanbase determines value based upon how well a talent does when faced with a challenge, then Asuka will always be in good shape. She could work whoever, wherever on the card and it won't matter. But if her value is based on her ability to win high profile main events when it counts, then she may be in for a rough road ahead.
The fact is that Asuka is ready. She's more prepared for a run on top than she was before her undefeated streak ended. Whether or not WWE will give it to her at TLC is unknown. But whether or not the fans want it, is not in question.
What do you think? Let us know on social media @theCHAIRSHOTcom and always remember to use the hashtag #UseYourHead!
Making the Case for Every WWE Elimination Chamber Entrant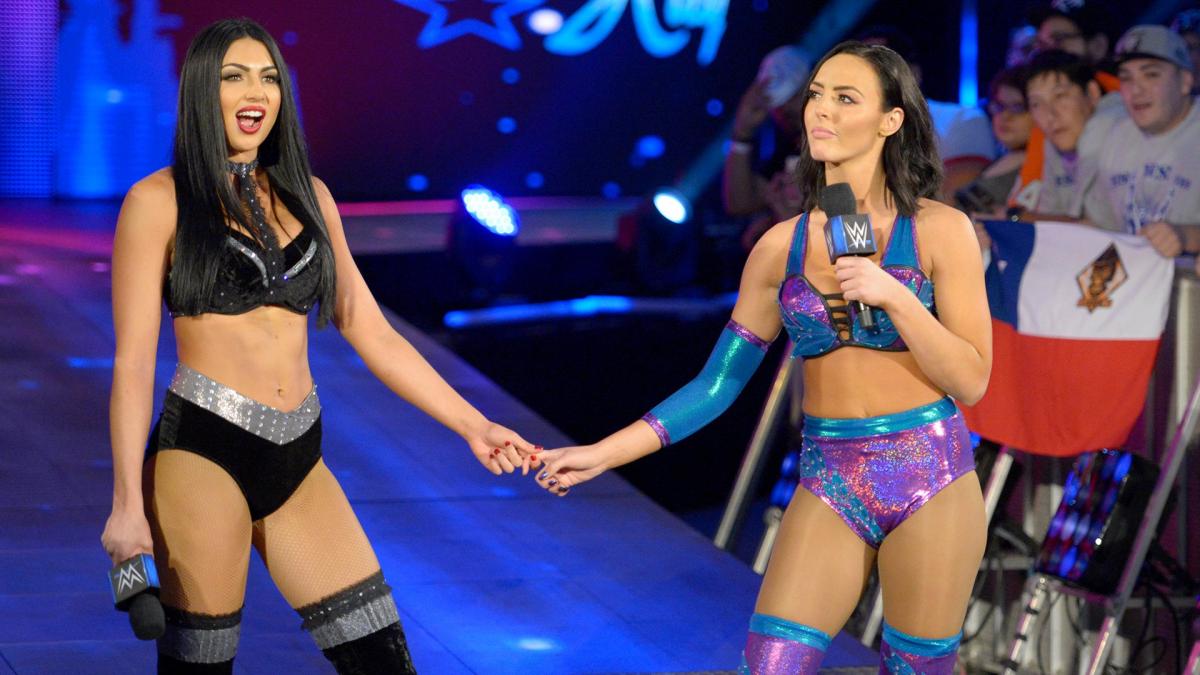 In the past, I've been able to forecast some winners of Money in the Bank matches and Royal Rumbles. However, I'm having a really hard time predicting the outcome of Sunday's two WWE Elimination Chamber matches. WrestleMania is right around the corner so these are the some of the most significant storylines of the year.
Women's Tag Team Championship Elimination Chamber Match
The Riott Squad
Sarah Logan's and Liv Morgan's win/loss record isn't as great as I would like but they've been a main roster team the longest. They arguably have the best chemistry in terms of kayfabe as well as off-screen friendship. I wasn't a big fan of them when they debuted back in 2017 but they've grown on me quite a bit since then. When I see them together, it just makes sense. Maybe winning the belts can give them the extra push they've been looking for.
Nia Jax and Tamina
Easily the toughest team to eliminate. Just from a physicality standpoint, there's few reasons they should lose. Nia was in the Raw Women's Championship picture for the majority of last year. This could be the way they transition her out of it while still keeping her in a prominent position. The way she was booked in the men's rumble shows they clearly think very highly of her.
Sasha Banks and Bayley
My pick to win. They're the safest pick that will provide a pop in the moment as well as long-term sustainability within the division. In terms of talent, popularity, and chemistry, nobody has them beat.
Naomi and Carmella 
The things I said about Sasha and Bayley could be applied here, minus the chemistry factor. Aside from Becky, they're the two most popular women on Smackdown. The big problem is that they've only been a team for a week. I'd be surprised if they put the tag belts on women that have minimal experience working together.
Mandy Rose and Sonya Deville
I want to be as high on them as The Riott Squad. I couldn't figure out why I'm not but then it hit me. They debuted with Paige the same week as the Riott Squad. But once Paige separated from the group, the focus shifted to Mandy Rose as a singles star. Liv and Sarah never stopped teaming with each other so I think that's where the disconnect falls.
The IIconics
"Best friends" is NOT a term the #IICONICS throw around lightly – and their bond is exactly what they think will make them the first-ever @WWE Women's Tag Team Champions at #WWEChamber. pic.twitter.com/cURxnMHyFp

— WWE (@WWE) February 16, 2019
I'll be wearing my IIconics shirt to the Toyota Center in support. I don't think they'll win but I'll be rooting for them the whole way. Their real-life friendship goes back farther than any other team so this is something they've dreamed about even before WWE. If they won, their promos would be absolutely unbearable in the best way possible. The fans want it. They just haven't realized it yet. I would love to see these two win at WWE Elimination Chamber.
WWE Championship Elimination Chamber Match
Daniel Bryan
I'm picking Daniel Bryan to retain. His current character and story are still gathering momentum so I would hate to see it get cut short. I'd like to see him take the belt into WrestleMania. The New Daniel Bryan works best when he has the belt that everyone wants.
AJ Styles
I wouldn't be surprised if Vince wants the title back on his golden boy heading into WrestleMania. It's safe and will likely produce solid results. A meeting with Randy Orton could be the biggest money match-up as those two have never feuded with one another.
Jeff Hardy
Unfortunately, he's my last option for picking up the win and should be one of the first guys eliminated. I would totally love to see Jeff headline a pay-per-view in 2019, but he's at the point in his career where a fresher feud needs to take the upper card slot on the grandest stage.
Randy Orton
He's not really doing anything at the moment. Randy is technically a heel but can easily be booked in either direction with the pops his RKOs create. Like Styles, he provides stability and star power. The fact that he's been laying low for the past month or so could mean they've been saving him for this. Orton hasn't had a singles feud with Styles or Samoa Joe. And the last time he had a program with Daniel Bryan, the roles were completely different.
Kofi Kingston
I've written an entire article about this and can probably do another one. After Tuesday's heroic effort in the gauntlet match, the wrestling community is behind Kofi Kingston more than ever. If WWE truly has Kofi in their future main event plans, maybe Mustafa Ali was pulled just to get Kofi in the match.
Kofi Kingston challenging Daniel Bryan is THE match I want to happen at WrestleMania and they have two months to build it. Kofi already pinned Bryan on Tuesday. If he goes into Mania as the challenger, that would mean he has to lose the Chamber match. However, if they go the Bray Wyatt route and give it to him early, I wouldn't exactly complain. It's what many of us want but let's temper our expectations before we get disappointed.
Samoa Joe
Similar to Orton, he's just been floating aimlessly without keying in on a specific feud. Samoa Joe becoming a babyface then starting a fresh feud with Daniel Bryan heading into WrestleMania has loads of potential.
---
As I previously mentioned, the current state of Daniel Bryan would work best with him going into WrestleMania as champion rather than chasing someone else. Samoa Joe or Kofi Kingston winning on Sunday would be an awesome thing, but creating a slow-burn culminating to a dethroning at 'Mania would be even better. Daniel Bryan has to be a good bet to win at WWE Elimination Chamber.
Greg DeMarco's 205 Live, NXT UK, and WWE NXT Star Ratings (2/12-2/13/19)
The WWE Network brands delivered in a big way this week!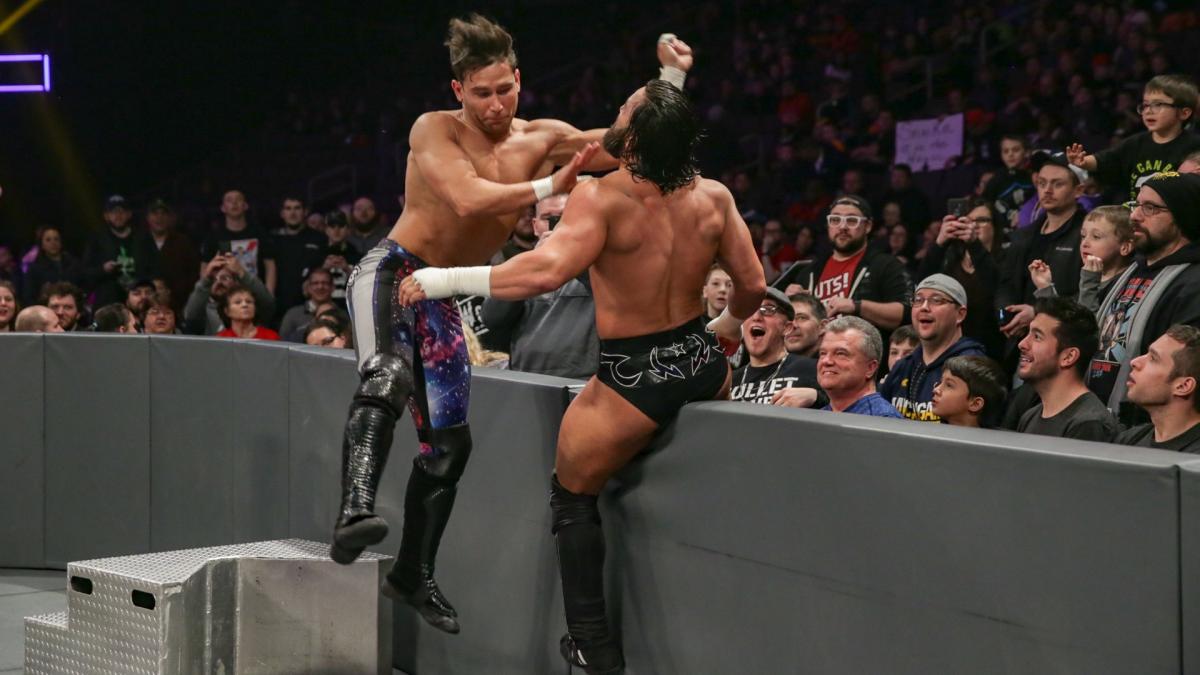 Greg DeMarco rates this week's WWE Network shows, and they deliver in a very consistent way!
Three shows. One week. I was a busy man this week with the new job and the birthday, but I finally got the rest of NXT hammered out! I hope you enjoy the ratings as much as I enjoyed the shows because they delivered in all three this week.
WWE 205 Live
Lince Dorado vs. Jack Gallagher – ***1/4
Underrated match here. Great mix if styles and both men had a chance to shine. Loved the finish. Don't sleep on this one. I like that the match was left open-ended. I feel like we'll see Gulak/Gallagher/Humberto Carrillo vs. Lucha House Party, and I'm not upset by that.
No Disqualification – Noam Dar vs. Tony Nese – ****
I've been wondering out lout about who steps up to challenge Buddy Murphy at WrestleMania. Now, the answer is really simple. That challenger should be Noam Dar. Hell of a match here, both men kicked each other's ass, but told a story while doing it. I've never been the biggest Tony Nese fan (in WWE, I loved him on the independents), but he delivered every bit as much as Noam Dar. This could have sold a crowd on a main roster show.
WWE NXT UK
Noam Dar vs. Jordan Devlin – ***3/4
One hell of a match between Dar and Devlin. From a televised perspective, Noam Dar low key had a hell of a week. I won't get off of my Dar vs. Murphy idea anytime soon, and Jordan Devlin would be a fantastic addition to 205 Live. The Travis Banks involvement didn't hurt it for me, as that story is a big part of 205 Live. Plus it keeps Devlin strong in the loss.
Jinny vs. Mia Yim – ***1/4
I enjoyed this way more than expected, since Jinny is in it. The match built from the start, kicking it up another notch in the middle and finding a third gear in the end. Can Jinny win me over? The jury is still out on that, but I highly recommend this match.
WWE UK Championship Match: Pete Dunne vs. Wolfgang – ***1/2
Gallus is a vastly underrated heel stable. Dunne should be in NXT Takeover main events with Tommaso Ciampa. I would love to see that match at Takeover: New York. This match delivered, yet another in a great week.
WWE NXT
Dominik Dijakovic vs. Shane Thorne – ***
Good match that, for me, did way more for Shane Thorne. Don't sleep on Thorne, he deserves a chance. As for Dijakovic, it's gotten to the point of repetition. Give this man something more to do.
Side Note: Interesting that they basically declared that Bobby Fish and Kyle O'Reilly were a tag team again, and Strong and Cole were going after singles gold. Could Undisputed Era hold all the (men's) gold at some point this year? I'd be shocked if that happened.
Side-Side Note: Kassius Ohno, who I love, still looks like a fat dude wrestling in his pajamas.
The Street Profits vs. Humberto Carrillo & Stacey Ervin Jr – ***1/4
This match, for me, might end up being viewed as the night The Street Profits "got it." They turned up the intensity in all aspects, from character to ring work, and it really enhanced the match. Carrillo is also a star in waiting, and Ervin shows some promise as well. This was really good.
Taynara Conti vs. Aaliyah – **3/4
Aaliyah being paired with Vanessa Bourne is…odd. But for me, this is the best Aaliyah has ever looked in the ring. Props to WWE for being patient. Conti is a missed opportunity. When she helped Undisputed Era (that one time lol) she should have become a member. That would have done wonders for her, and given them yet another wrinkle. Outside of the post-match attack, this felt like an NXT Florida house show loop match (which it probably has been in the past).
Ricochet vs. Adam Cole – ***3/4
If you know me, you know my Adam Cole man-crush runs deep, BAY BAY. So I am obligated to tell you that the wrong guy won here. But if I set that love aside, it makes total sense for Ricochet to win while Undisputed Era stands tall at the end. It was all set up during the earlier promo.
That said, both men delivered another Takeover quality performance in this match.
---
The WWE Network shows (205 Live, NXT UK, and WWE NXT) had a total of 9 matches this week. One of them had 4 stars, one was below 3, meaning we still had seven other matches in the 3 star range. This was an entertaining three hours of content, and one of the most consistent weeks I have ever seen. Good on the fine folks on all three WWE Network brands, both on and backstage.