Big E's Side-Eye Makes Him A Contender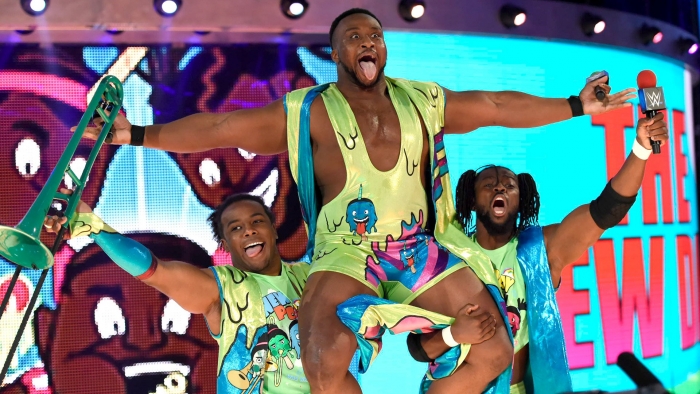 With the McMahon's promising new changes on the WWE Main Roster; is Big E in line for more than just a sandwich?





I'd like to make one thing perfectly clear: I'm a big supporter of The New Day. Every wrestling promotion should be so lucky as to have a trio like Kofi Kingston, Xavier Woods & Big E on their cards. They're good workers, they're extremely popular, sell a ton of merchandise and make everybody they're in the ring with look like a million bucks. They're a shining example of a concept that can flop at the beginning, but given time can turn into something bigger than originally imagined.
Heck, most of us have probably forgotten the awkward debut. They were going to be Nation of Domination 2.0 for a second. Then they did the over-the-top Power of Positivity gimmick as faces that were actually heels, and once they became heels they were golden. Eventually they became the beloved New Day that nobody could imagine booing.
Which has kind of led to a problem. It's not the worst problem in the world, but it's still a problem. The New Day has run out of things to do in the tag team division. Honestly, they ran out of things to do in the tag team division a long time ago. How many times have they feuded with the Usos and then re-instituted the Uce Truce? There isn't much new for them to do, but they're New Day so they need to be doing something.
It's hamstrung a number of SD tag teams lower on the pecking order. Gallows & Anderson are Good Brothers that can't get on TV. I didn't know Sanity was still on the roster until they brought Nikki Cross out for a match with Becky Lynch. I saw Epico & Primo on TV, which made me think I was in a weird dream. It's tough for these guys to break through the Bar/Usos/New Day triumvirate, as there's only so much time on SmackDown Live for tag teams. Or anything else, for that matter.
I'm not suggesting that the New Day break up. Absolutely not. We don't need one of them turning heel on the others, leading into a long term feud. It probably wouldn't get over, and it would kill off the potential for more silly New Day merchandise that people buy because it's silly & it's New Day. I mean, who else in WWE can be the inspiration for Booty-Os, or the Book of Booty? These are three creative cats, and if they were on the indies they could probably book a better show than Cody Rhodes & the Young Bucks. I said it.
What should they do?
If I was on the WWE creative team, I would be pushing for the New Day to pursue singles careers while still together. This helps ease the logjam in SD's tag team division & creates new contenders in the singles divisions. My first move would be to send Kofi Kingston after the United States Championship, as he's a three-time US Champion. Ric Flair has the record at six, so it should be relatively easy for Kofi to break that record.
Xavier Woods is listed at 205 pounds, which puts him at the limit for the Cruiserweight Championship. I'm told that 205 Live viewership isn't great, so adding 1/3rd of New Day to the show could only help. Woods has received rave reviews from everybody for his tag team work, and I feel like he could be the Heart of 205 Live that left when Mustafa Ali got bumped up to the SmackDown roster.
This leaves Big E, who I'm pretty sure is the New Day member that most people have been requesting a singles push for. He's built like a spark plug. He might not be six feet tall, but he's as strong as an ox. Big E has an interesting charisma about him. I don't know if he can cut that main event promo, but he's one of the most entertaining WWE Superstars on Twitter.
Lot of our fans yearn to sit on yall's faces. https://t.co/cGn3drOgML

— Florida Man (@WWEBigE) December 16, 2018
So not only is he a beast in the weight room, he's a beast on the social media. Sounds like the perfect combination for a WWE Champion to me. The New Daniel Bryan obviously holds that title right now, and from what I saw on Tuesday night, Big E might have his eyes on it.
👀 @WWEBigE pic.twitter.com/eQY6gXatvb

— TDE Wrestling (@totaldivaseps) December 19, 2018
The man is eating a sandwich and giving Bryan the ol' side eye. No doubt there was a message being sent there while Shane McMahon was going on about whatever. Heck, I wasn't paying attention either. But I damn sure noticed that side eye from Big E whilst eating his sammich, and Bryan averting his gaze. Part of that might have been Bryan trying not to break character & laugh at E's facial expression. I also feel like part of it was Bryan was recognizing that change was afoot, and he might actually have to deal with a meat-eating Big E.
Big problems
Bryan is one of the smartest people in the game, which is quite the accomplishment considering the head injuries. He surely knows that if he signed on the dotted line to wrestle Big E, his championship would be in jeopardy. That's one of the hidden aspects that could make this NEW ERA interesting. Brock Lesnar can avoid this mess by not showing up, but Bryan's the kind of guy that insists on being on every show and being a fighting champion. New matchups means more chances to lose a championship. We've already seen Bryan in multiple matches with Mustafa Ali, and even get pinned by the man. He's open to giving new people a chance, but I believe that Bryan does know his limits.
Big E could be a nightmare for Bryan in the ring. E's got the height & weight advantage. He's got the people behind him. The one category I wonder about is stamina, as E has been in tag matches for most of his WWE career. Does E have enough wind to hang in there with a champion that can wrestle as long as is necessary? We have no such about Bryan's durability. Can E bring enough force to end it before stamina becomes a question?
If nothing else, Daniel Bryan vs. Big E for the WWE Championship would be a fantastic SmackDown Live main event. I believe that within two hours WWE could sell people on the idea of E winning. I believe the people would get behind it. After the first match happens, I believe people will want more. I think E's got all the tools to make a viable WWE Champion.
If you let Big E out of his cage, he'll pile the bodies to the sky. I saw that look from him on Tuesday night. Whether he was just ribbing Bryan or not does not matter. It was the look of a man that knew that he had the upper hand on another man, while eating a sammich.
Daniel Bryan better hope that the New Day keeps dedicating themselves to tag team business. If they realize they're better off diversifying their portfolio, his standing as WWE Champion will be in serious jeopardy.






Was the side eye the beginning of Big E's singles push? Let us know on social media @theCHAIRSHOTcom and always remember to use the hashtag #UseYourHead!
King's WrestleMania Rewind: Charlotte Flair vs. Asuka from WrestleMania 34
Chris king is back with one of the most underrated matches in WrestleMania history–Charlotte Flair vs. Asuka!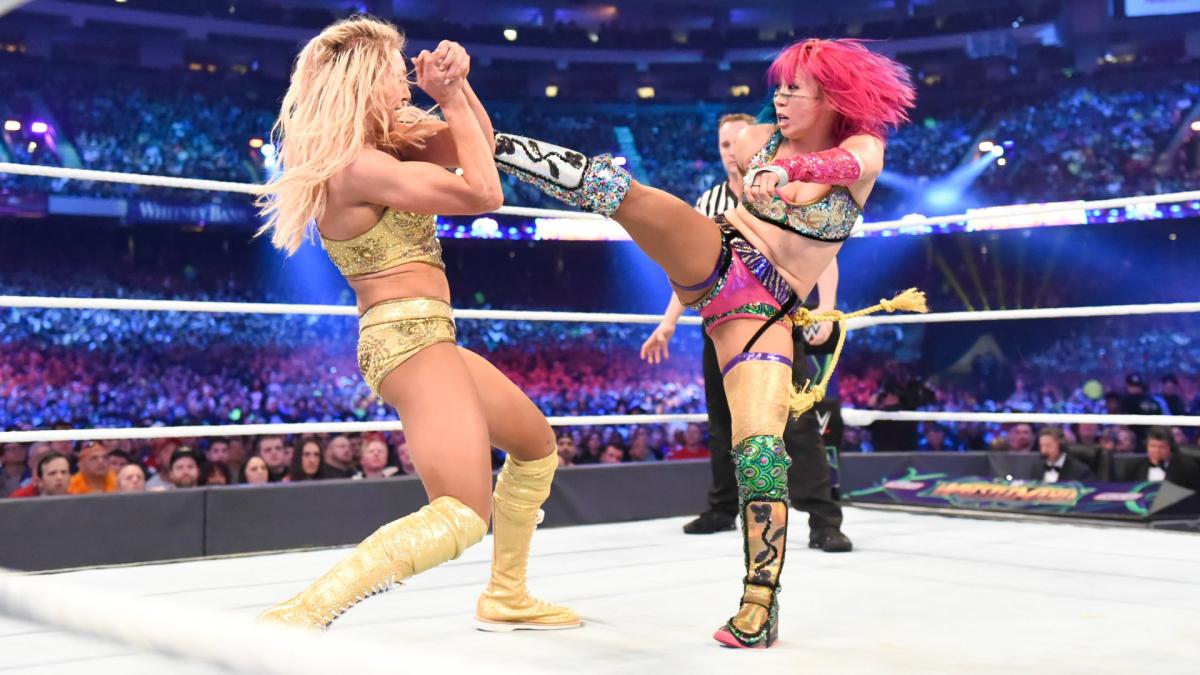 Chris king is back with one of the most underrated matches in WrestleMania history–Charlotte Flair vs. Asuka!
We look back at Charlotte Flair vs. Asuka at WWE WrestleMania 34. 'The Empress of Tomorrow' put her unprecedented and historic undefeated streak of 914 days on the line against 'The Queen's' SmackDown Women's Championship.
For years, this was considered a dream match while Asuka dominated the roster in NXT, while Flair won numerous championships on the main roster on both Raw and SmackDown. The Empress made her long-awaited debut on the September 11th episode of Raw and began to tear through the competition.
Asuka outlasted all twenty-nine other women in the historic first-ever Women's Royal Rumble match to challenge for the title of her choosing. At Fastlane, she made her choice.
The WWE Universe was so excited for this match myself included. Both superstars delivered a fantastic performance on the Grandest Stage of Them All executing counter after counter. Asuka showed off some nasty-looking kicks to her opponent, and Flair hit a thunderous Spanish Fly off the top rope. Flair was seconds away from defeat at the hands of The Empress but she locked in Figure Eight and Asuka was forced to tap out.
I can't even begin to explain how shocked I was at this outcome, as nearly everyone expected The Empress to continue her undefeated streak and walk away with the women's title. This controversial decision was the downfall of Asuka's momentum. She would ultimately win the SmackDown Women's Championship at the 2018 TLC pay-per-view in the triple-threat ladder match.
Fast forward to this year when Asuka has recently returned with her Japanese-inspired persona Kana. Kana is dangerous and ruthless and is heading into a championship with Bianca Belair at WrestleMania 39. The Empress has regained all her momentum and is highly favored to walk away with the Raw Women's Championship. Let's hope that Asuka and Belair can tear the house down and deliver an A+ grade match both women are fully capable of.
King: Dominik Mysterio Needs To Do This At WrestleMania
Chris King is here with what WWE should do with Dominik Mysterio at WrestleMania in his long-awaited match against his father Rey Mysterio Jr.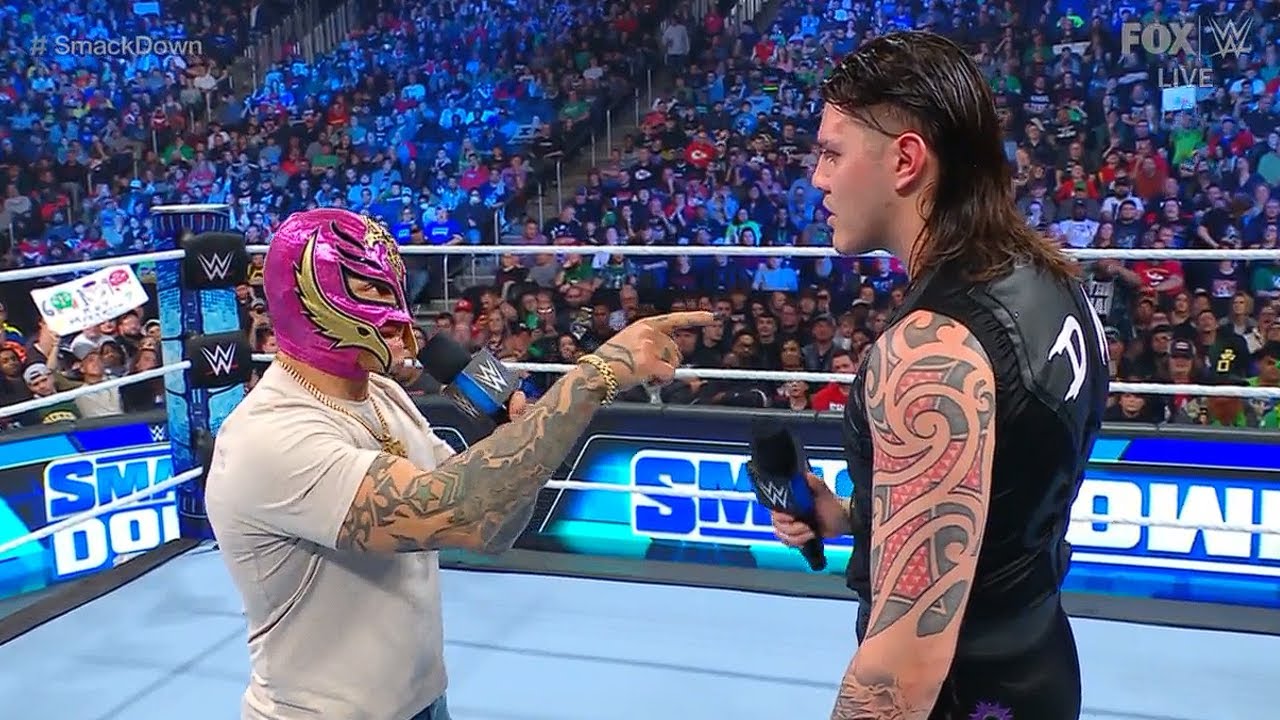 Chris King is here with what WWE should do with Dominik Mysterio at WrestleMania in his long-awaited match against his father Rey Mysterio Jr. 
On this week's episode of Friday Night SmackDown, Rey Mysterio finally snapped and beat some sense into his disrespectful punk-ass kid Dominik. The member of the Judgement Day came out to push his father again for a match on the Grandest Stage of Them All, this time with his mother and sister at ringside. The ungrateful punk told his mom to "Shut Up," as a father even I wanted to jump through the screen and whoop his ass.
Back in October of last year, Mysterio made the emotional decision to possibly quit the company but, instead, Triple H persuaded the Lucha libre superstar to move over to SmackDown to avoid his son. This came after Dominik shockingly turned on his father at Clash at the Castle. Mysterio did everything he could to refuse his despicable son's challenge for Mania but, a man can only be pushed so far. Mysterio will be inducted into the 2023 WWE Hall of Fame and I expect Dominik to embarrass his father during his speech to further this personal feud.
Yes, the WWE Universe hates Dominik and wants to see him get the ever-loving crap kicked out of him but, this feud is missing a special ingredient to capitalize on the biggest heat possible. Throughout this feud, Dominik has made mention of the legendary Eddie Guerrero on several occasions going back to the "iconic" 2005 feud.
I know WWE might not want to go this route but, Dominik MUST come out to Eddie Guerrero's theme at Mania. The disrespectful punk needs to come out in a lowrider to garner nuclear heat. It doesn't matter if The Judgement Day comes out and causes interference for Dominik to get the win, all that matters is that both superstars get the biggest payoff of this nearly year-long feud. Just imagine the Roman Reigns heat after he defeated The Undertaker and multiply that by ten. Dominik portrays the perfect heel and he truly is the missing ingredient that The Judgement Day needed to grow and evolve into a top faction.