Daily DeMarco: 12/19/18 WWE NXT Match Ratings & Thoughts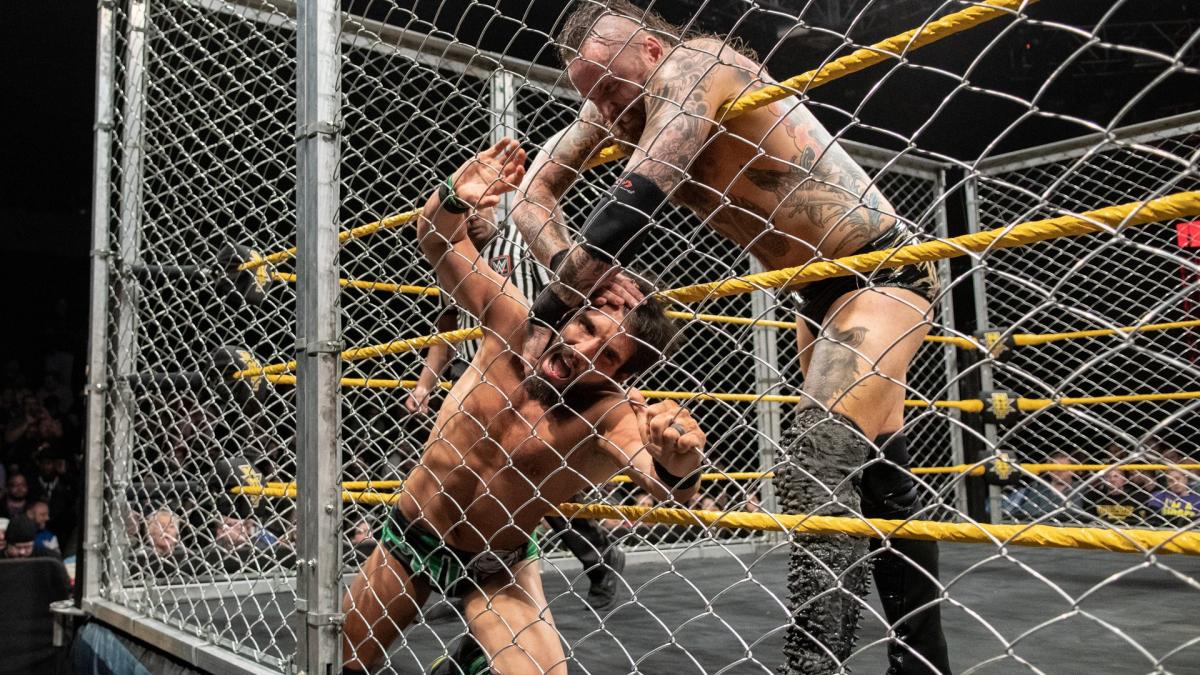 Greg DeMarco weighs in on the 12/19/18 edition of WWE NXT, featuring a steel cage match between Aleister Black and Johnny Gargano!
In the 12/18/18 Daily DeMarco, I told you that Aleister Black needs to win the 2019 WWE Royal Rumble. And I stand by that statement.
Bob here didn't agree:
"This is the dumbest thing I've read all day"
Evoking emotion…that tells me I am doing something right! There's plenty more where that came from, so keep the comments coming!
This week's edition of WWE NXT featured a Steel Cage Match and more–I'll have my overall thoughts right after you get your star ratings (because this is a wrestling website, there must be star ratings!).
12/19/18 WWE NXT – Results & Ratings
Io Shirai & Dakota Kai over Marina Shafir & Jessamyn Duke in 4:43 when Shirai pinned Shafir – **1/2
Match was better than I thought it would be. Duke and Shafir looked way more credible than their experience would have you believe. I was skeptical, and now I am a believer. I would love to see this again with more time.
Dominick Dijakovic pinned Aaron Mackey in 1:48 with Feast Your Eyes – NR
No reason to rate this squash match, but goddamm this was one of the best squashes I've seen in a long time. Dijakovic is a completely different performer than the last time I saw him. NXT has turned him into a power wrestler, and it's working. He's 6'7", added more size, and has one hell of a future.
Heavy Machinery beat Blake Howell & Danny D'Accardo in 2:39 – NR
This match was more about the Undisputed Era watching from the stage than anything else. It did what it needed to do, and as a guy who doesn't love Heavy Machinery, I didn't mind this match.
Johnny Gargano pinned Aleister Black (with an assist from Tommaso Ciampa) at 17:58 of a Steel Cage Match – ****
Aleister Black is a main roster superstar in waiting. I am telling you—have him win the 2019 Royal Rumble and you have a ratings draw by April. The opening 2.5 minutes on the floor are not part of the listed time, but they are part of the rating because they were entertaining. The only drawback to this match for me was the stipulation of being able to leave the cage. This match wasn't created because someone was running from someone—so seeing anyone try to escape the cage just didn't make sense. Everything else? Brilliant. This match belonged on a Takeover, or a main roster PPV. Great work, great storytelling, great crowd. This had it all. Don't sleep on this match.
I really enjoyed this show. Shirai and Kai made a good team, and Duke and Shafir surprised me. A lot. There's something there with them, and their trio with Shayna Baszler can really accomplish some things. Duke "gets it," and might have the brightest future out of the three.
Domnik Dijakovic is a completely different wrestler now–and he's a star. Seriously, he needs to be built to a match at Takeover: Phoenix, because he can be 2019's breakout star for NXT.
Black and Gargano delivered in a big way, especially for a TV match. Including the opening brawl, we got over 20 minutes of action, coupled with some great storytelling from the DIY guys. It's a busy time of the year, but find the time to watch this match.
The Good, Bad, and Ugly is Bobby's thing, but if I followed that format here, this show would definitely be GOOD.
Good Reads On The Chairshot
Lots of good stuff happening at The Chairshot–and you can be part of it! Thanks for reading the 5th Daily DeMarco, here's to many more….
Let us know what you think on social media @theCHAIRSHOTcom and always remember to use the hashtag #UseYourHead!