Daily DeMarco: The 5 Best Matches I've Ever Seen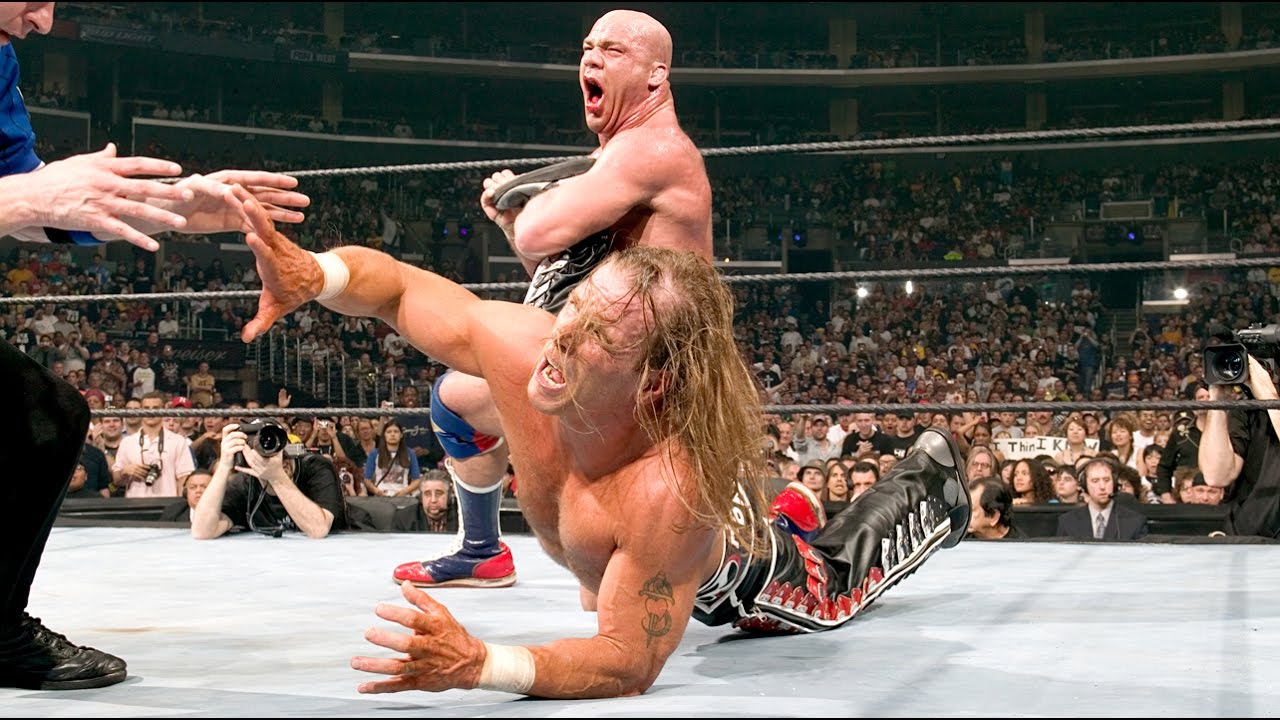 Greg DeMarco knows that Christmas Day can be busy, but that some folks can use some reading and watching material! That's why he's here with the 5 Best Matches he's ever seen.
Seasons Greetings Chairshot readers! I hope this festive time of year finds you happy, healthy, and loved. While things slow down for a day or two at The Chairshot, we do have some exciting year-end items coming up, including the audio version of The Chairshot 50, The Man, Woman, Team, and Match Of The Year, and more!
But for today, I wanted to give a gift to those of you in need of something to occupy some time. And I promise you, The 5 Best Matches I've Ever Seen is a great way to use that time! The order changes from time to time, but this is THE list for me.
5. Tyler Bate vs. Pete Dunne
WWE United Kingdom Championship
WWE NXT Takeover: Chicago (May 20, 2017)
Tucked away in a underrated Takeover (the one where Tommaso Ciampa turns on Johnny Gargano, Pete Dunne and Tyler Bate put on a classic that cemented them, and the entire UK division, as a force in WWE (in my eyes, at least).
This as NXT's match of the year for 2017, but once I saw it I immediately expanded my list. It's a 15-minute sprint, a bit heavy on the "fighting spirit" for some, but that really sold the importance of this championship, which Dunne has now held for 584 days.
This match is available on the WWE Network, in it's entirety.
4. Daniel Bryan vs. Triple
Winner Goes To The Main Event
WWE WrestleMania 30 (April 6, 2014)
The rise of Daniel Bryan to the WrestleMania 30 main event is the best story WWE has ever told. They did such a great job, many of you still don't think it was a story, set into motion the August before. This isn't the time or place for that argument, this is something different.
Triple H provided the final hurdle for Daniel Bryan, but had his own motivation as well: a spot in the WrestleMania 30 main event against his (then former) Evolution stablemates Randy Orton (WWE World Heavyweight Champion at the time) and Batista.
The match itself went over 25 minutes, and despite being the opener for the PPV broadcast, was the longest of the night. It featured some of the best in-match storytelling you'll ever see. Te "right guy" won, as Daniel Bryan connected with the Knee Plus to advance to the main event against Batista and Orton, where he would emerge triumphant to the joy of 75,000 adoring fans.
I love it when a good plan comes together, and this plan can be viewed on the WWE Network, in its entirety.
(TIE) 3. Ric Flair vs. Ricky Steamboat
NWA World Heavyweight Championship
NWA Chi Town Rumble (February 20, 1989)
After a run in the WWF that saw him win the Intercontinental Championship in a match that barely misses this list, Ricky Steamboat made a surprise return to the NWA as Eddie Gilbert's partner against Ric Flair and Barry Windham. Steamboat would pin Flair, earning a shot at his NWA World Heavyweight Championship in the process.
What followed as arguably the greatest trilogy in the history of the business, one that furthered the legacy of one (Flair) and cemented the legacy of the other (Steamboat).
I know the argument you will make here–the second match of the trilogy, their two-out-of-three falls classic at Clash Of The Champions, was better. While that is the easy way out, it's simply incorrect. The emotion in this match, years of scratching and clawing for Steamboat to be a world champion, coupled with the rabid Chicago crowd (making its second appearance on this list, not their last), makes their best for me.
And this match–you guessed it–can be watched on the WWE Network.
(TIE) 3. The Great Muta vs. Jushin Liger
"The Kishin Liger Match"
Kobe Hall (October 20, 1996)
Not on the WWE Network, this match is the birth of Kishin Liger, which is basically Dark Liger. Kishin Liger is the polar opposite of Jushin "Thunder" Liger. Jushin Liger is a competitor, who looks to entertain the fans and wow his opponent with skill. Kishin Liger? He'll stab you in the eye with a spike, pull it out, and use it again to stab you in the throat. He's the real deal, man.
Keiji Mutoh donned his Great Muta for this match, and was at his heel best. He did every dastardly deed possibly to hold the legendary junior heavyweight down, and it eventually sent Liger into survival mode. What followed was Liger removing his own mask (after Muta's repeated attempts), to reveal a painted face of his own.
Liger would fall in the end, because Muta wasn't losing to a junior heavyweight in New Japan in 1996, even if that opponent was Jushin "Thunder" Liger.
And since it's not on the WWE Network…
2.  Shawn Michaels vs. Kurt Angle
WWE WrestleMania 21 (April 3, 2005)
Set-up by the Royal Rumble match that saw Angle attack Michaels for eliminating him, this was an inter-brand match. Kurt Angle was representing Smackdown, and Shawn Michaels was representing Raw. This match, however, had little to do with brand superiority. This was two of the greatest of all time going toe-to-toe to see who was better.
The 27 minutes these two battled are some of the best wrestling you'll ever see. It didn't matter to them what the stake was–THEY were the stake. And that stake meant all the world to these two main eventers.
The back and forth nature of this match, the games of one-up-man-ship, the frustration each man shows when not able to put their opponent away. By the end of the match, you knew you just watched two legends–not because of what they'd done in their careers, but because of what they did in the match
Also available on the WWE Network!
1. Bret Hart vs. Steve Austin
"I Quit" Match
WWF WrestleMania 13 (March 23, 1997)
For years I have touted Shawn Michaels vs. Kurt Angle from WrestleMania 21 as the greatest match I've ever seen. Well, it turns out I was leaving one out, and it's this match. My favorite wrestler as a kid taking on my favorite of all time. But that's not what makes it #1.
This is the match that solidified Bret as a heel, sending him on an amazing run ultimately cut short by contract issues. This is also the match that "made" Austin into a main event wrestler for years to come. But that's not what makes it #1.
Internet fans love to point to a spotfest with little selling and declare it okay because "it's art." THIS match is art. The feud built to this resolution, one that saw the greatest double turn of our time when Bret left as a heel and Austin was turned into the biggest babyface ever. It was the art of storytelling, and it's never been better than it was in this match.
Aaaaaaaaaaaaaaaaand it's available on the WWE Network!