Fired On WWE Raw: Goodbye Rhyno!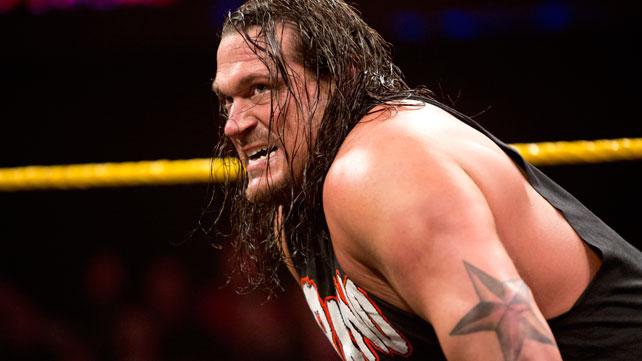 Your resident Good/Bad/Ugly reviewer, Bobby Fernandes, checks in on the end of the storied career of "The Man Beast," Rhyno.
In a less than crowded arena in Houston, TX, the 43 year old "Man-beast" Rhyno (aka Terrance Gerin) seemingly ended his 20+ year wrestling career on WWE Monday Night Raw, in a match against his tag team partner Heath Slater.
The "Beauty and the Man-Beast" were an entertaining duo despite spending most of their time in the background.  This was up until the pair won the inaugural SmackDown Tag Team Championships. After being absent from any relevant television recently, the former tag team champions were set up by Baron Corbin in a "Loser Gets Fired" Match.   After a decisive victory Heath Slater was given a referee shirt by Baron Corbin and Rhyno was "fired" by his former heated NXT rival backstage.  It is said that Rhyno announced his retirement to the underwhelming crowd during a commercial break after his loss.
Rhyno has performed everywhere including national and international independent circuits as well as NJPW's first US tour.  He also worked for all of the major promotions including ECW, WCW, ROH, TNA and of course WWE. He has been featured in several video games and was in a horror movie with Olympic gold medalist and WWE Hall of Famer Kurt Angle titled "Death From Above."
Rhyno's never ending hunger for professional wrestling brought him the honor of being the Final ECW Heavyweight Champion as well as winning many other titles across the industry.   This role was fitting as his extreme antiquity made him a successful multi-time Hardcore Champion feuding with longtime rival, Raven.
He continued on with his fellow ECW Alumni and was an important member of Paul Heyman's "Invasion in 2001."  As WWE's message is Past, Present and Future, Rhyno was a prime example of this mission statement well before it came to realization even making an impact with NXT.
With "The War Machine's" rich history and knowledge, he certainly can be further utilized.  Sources all confirm that no plans have been announced for his future with the company, but it looks like WWE can and will find a use for him.  If that isn't the case Rhyno does have other valuable interest.
He recently ran for the Michigan's Statehouse (15th District) as a Republican however lost after an admirable campaign.  When asked by WWE.com why he wanted to be a politician he answered that he "wanted to do well, for his community and country."  After selflessly giving all he had to Professional Wrestling, public service may be the perfect alternative outlet.
We have seen a few people move on to politics with quite a bit of success, most notably Jesse Ventura as Governor of Minnesota and Kane most recently becoming the Mayor of Knoxville, Tennessee.  Whatever the case a man that has done much as Rhyno certainly has a wealth of options.
What do you think? Let us know on social media @theCHAIRSHOTcom and always remember to use the hashtag #UseYourHead!