The Good, Bad and Ugly: WWE SmackDown (12/25/18)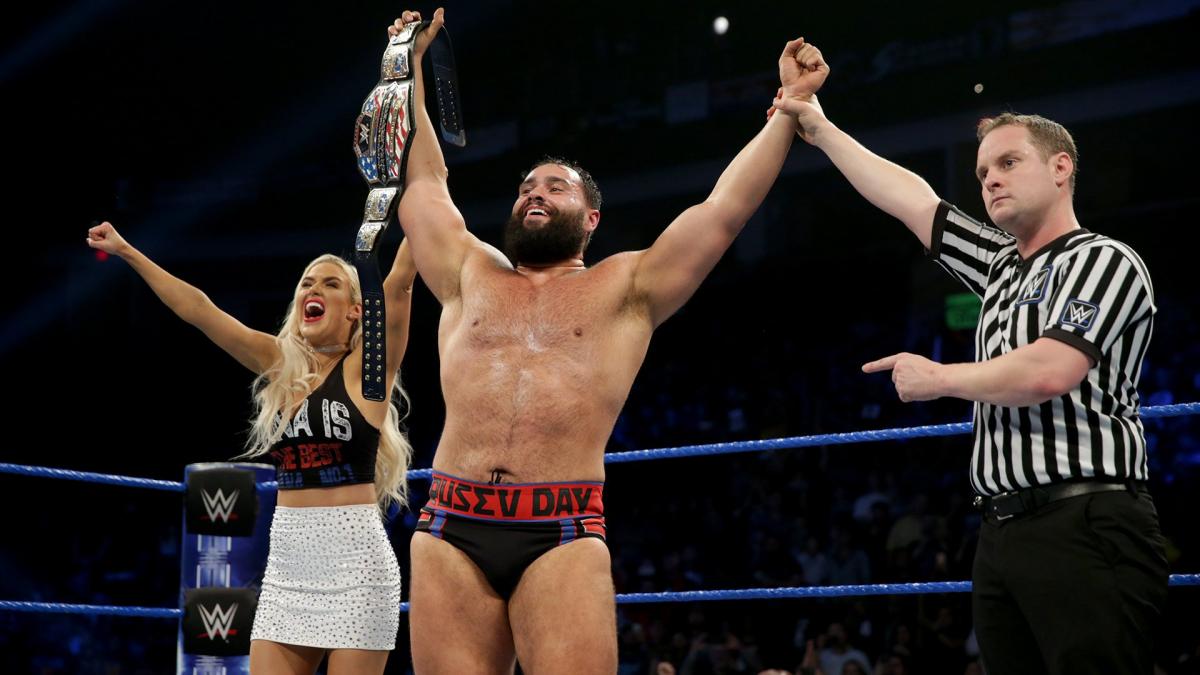 WWE's better show, had a hell of a week last week.  It was just great all around, making the odds for a repeat performance highly possible.  Can SmackDown fail?
THE GOOD
Opening Promo w/ R-Truth Clause and Carmella
R-Truth as Santa Clause?  Carmella in a hot elf costume?  Yes please.  That is what we have and of course the "Fickle" environmental extremist came out to ruin the mood.  Daniel Bryan put on his usual kill joy package for everyone.  "The Angry Little Elf" did his job and got the crowd all fired up.  "Truthy Clause" hit Daniel Bryan with some hard "truths" and did well on the mic.  After a 7 second Dance Break, Daniel Bryan brutally attacked Truth.  These new Stomps that Daniel Bryan is doing every week now looks great, and are greatly impactful to his heel character.  This was a decent way to open up the show and more than served its purpose.   
Cien Almas w/ Zelina Vega vs. Mustafa Ali
These guys are all show and all go!  We have some unbelievable ability and talent in this match.  Both guys knew their roles, and performed them beautifully.  Cien was aggressive and kept Ali down.  Ali took some major bumps and got beat all around the ring.  Cien was calling for the finisher but Ali hit a sick dropkick.   However Cien regained control again quickly tying Ali up on the top into a "double stomp" for a close fall.  After some back and forth counters and fantastic exchanges, Ali got the upper hand, and hit a "054" for the impressive victory.  This was a Good way to open and set the bar high for the rest of the show.
8 Man Tag Team Match- The Usos and Gallows and Anderson vs. Sanity (Wolfe and Dane) and The SmackDown Tag Team Champions The Bar
There were not any slow moments in this one.  The Survivor Series like 8 man was fun to watch.  Sanity is underrated, and everyone in this match are top notch.  Having said that, there were some unfortunate looking strikes, which were just way to light, by guys like Shamus, and Anderson.  They did however get their act together and created a crazy end spot with several super kicks, uppercuts, pure chaos, and near falls.  Gallows and Anderson finally hit the "Magic Killer" on Cesaro for the victory.  Although this struggled at times, the Good was Excellent, and the Bad was forgiving.  This type of match and high level of action had its heart in the right place and was very successful overall. 
Miz TV w/ Shane McMahon
The Miz was greeted by an extremely loud crowd.  In fact they were loud the entire show.  Out comes Shane McMahon.  Shane came out to again explain the purpose of the McMahon's intervention.  Miz again constantly pleaded with Shane to team up.  He explained that he is only doing it for his "Dad" apparently.  Something Shane McMahon can relate too.  The Miz no matter what, cannot impress his Father.  Miz's Dad is a Shane McMahon fan, and Miz teaming with him could finally give Miz his chance to impress his Dad.  If it is "up to the fans" they have voted "Yes" almost unanimously.  Shane McMahon agrees.  Miz and Shane "O" Mac are a new force to be reckoned with, although there is definitely a lot of room for failure here.     
Jeff Hardy vs. Samoa Joe
This is legitimate overkill.  That seems to be the role of Samoa Joe now.  He just fights the same person 100 times.  The plus side with this one however are these guys are veterans who can go.  And they did!  This looked Good, it was not slow and boring, and told an easy to follow story. This was aggressive, physical and believable.  Joe got his ass handed to him, and even hit by the "twist of fate" however Joe got out of the ring to avoid the "Swanton Bomb."  This sent Hardy into a rage, kicking the hell out of Samoa Joe even leading to Hardy getting disqualified.  Samoa Joe would not be taken quietly and got Hardy into the "Coquina Clutch" refusing to let go. This was a Good, hot match on an already on fire SmackDown. 
United States Championship- Shinsuke Nakamura (c) vs. Rusev
Rusev's Birthday, Rusev Day, and Christmas all in one! What did we do to deserve such a treat?  The underrated hero Rusev finally looked to get his shot.  Rusev came to the ring with pure focus and intensity that we haven't seen in some time.  Early on this went back and forth with Rusev getting control.  Nakamura countered with a "triangle" which Rusev retreated outside of the ring.  The match went back and forth, striking and battling.  This was a true Championship caliber Main Event match.  Rusev after taking loads of punishment, finally snapped and just went ballistic on Nakamura throwing him around and beating the Champion down.  Rusev looked to have it locked until Nakamura kicked Rusev in the face, and followed it up with tons of punishment.  Then a "Machka Kick" on the money but only for a two count.  Rusev went for the "Accolade" but was countered into a Triangle by Nakamura.  Rusev smashed Nakamura to escape.  This amazing match went back and forth again, until a "Machka Kick" connected for the victory!  Rusev is the New United States Champion!  This is Great for business!  Awesome Match on an awesome episode of Smackdown!
Vince McMahon/AJ Styles Promo (Backstage)
This was interesting in every way.  Firstly to see these two guys talk just the two of them is Gold.  They have history.  It looks like Vince McMahon has set AJ Styles loose.  He wanted to get nuts, and AJ Styles obliged.  AJ after getting slapped by McMahon decided to punch Vince in the face to end the show. 
THE BAD AND UGLY: NO SHOWED AGAIN!
OVERALL:  SmackDown again, was All GOOD.  Nothing Bad, or Ugly to talk about.
It is just unbelievable, the run that SmackDown has been on.  Every week, is just pure Gold.  It is what we crave, what we want.  It is just so Good.  Considering this was filmed after the live show last week to give the crew Christmas Day off is another really Good thing.  This show is breaking down any walls that Raw puts up.  Raw was Good too.  Maybe it finally happened, and WWE is back on top.  Time will tell, but I will say, The Ugly column is getting lonely.   Merry Christmas Chairshot Fans!