IMPACT Wrestling On Pursuit: Stop The Pain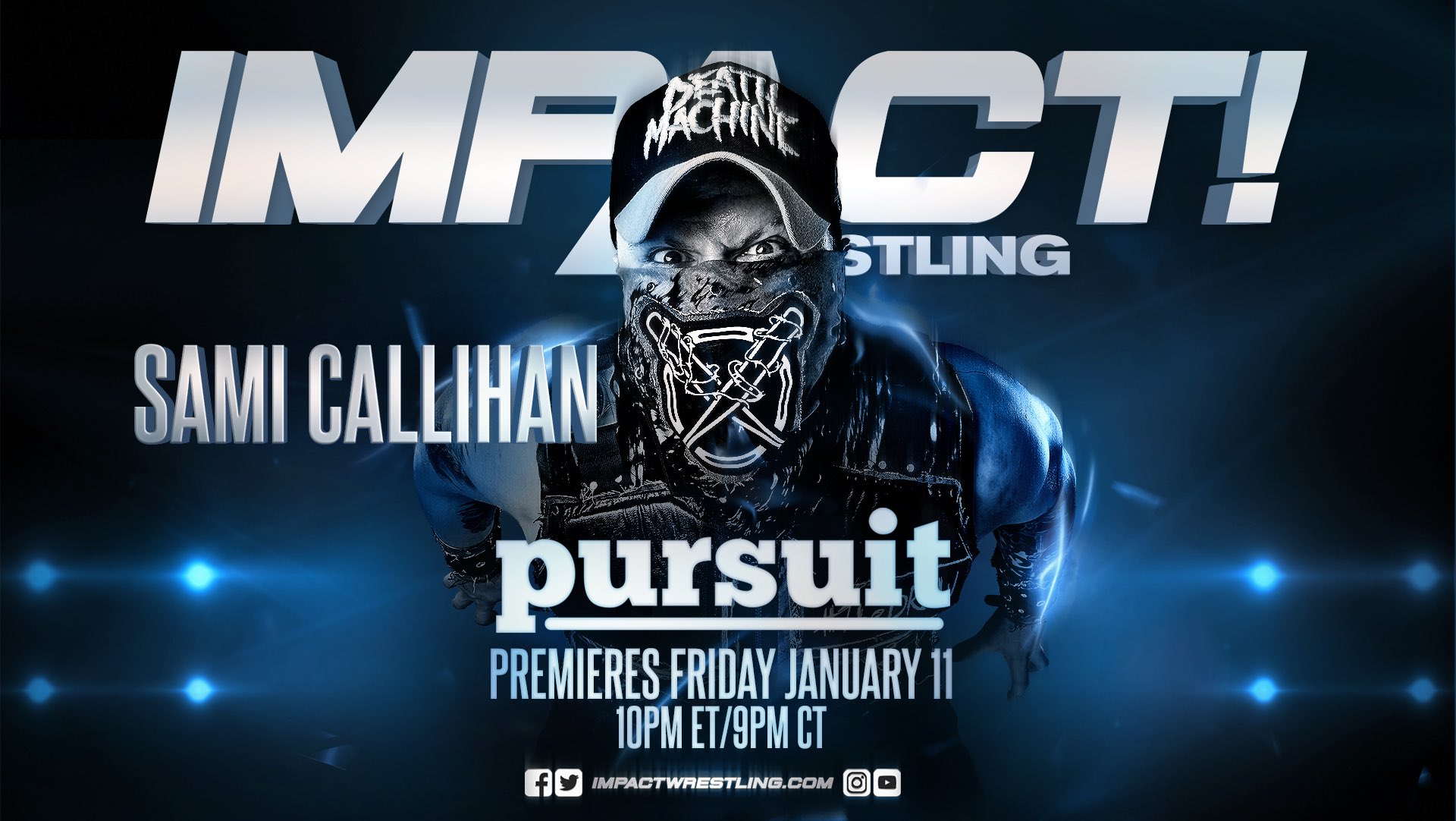 Steve Cook chimes in on the move of IMPACT Wrestling to the Pursuit Channel, and what it means for the brand as a whole.
One would assume that WWE has had the most cable partners out of any wrestling promotion in the history of television. USA, TNN/Spike, MTV, SyFy, TBS, Univision & WGN have all carried McMahon family programming over the years. You could also add MSG, PRISM & various regional sports networks that carried house shows from their city's arena, but I'd say those weren't national. WCW kept most of their national shows on TBS & TNT, but WGN carried a show for a period of time, as did the Prime Network. ECW landed a TNN show for a minute, and a ton of regional promotions got FNN nighttime slots back in the day. Not to mention ESPN's hodgepodge of AWA, World Class, USWA, GWF & UWF.
Ring of Honor's show airs on too many Sinclair-owned digital subchannels to keep track of. Sometimes I catch a couple of weeks old episode on Stadium that actually airs before my bedtime. I'm old. It's a throwback to the old days of syndication, back when wrestling promotions sold their shows to different stations in different markets. The difference is that the broadcast company owns the promotion, so they don't actually have to sell it to anybody. They try occasionally, but it doesn't seem to be a big priority.
The wrestling show that holds the record for airing on the highest number of cable outlets owned by different people found yet another home last week. I remember when TNA iMPACT! first hit the air on Fox Sports Net in June 2004. It was right around when I started writing about wrestling on the Internet for websites. I decided to recap the show for the little-remembered but much-loved TWTF.com because my dear friend Larry Csonka, who came up on that site as well, was obligated to review the show exclusively for 411mania.com. (He'll correct me if I'm wrong on that detail.) I had already done a news column or two for the site because Dave Schilling requested I fill in for him.
Not that I'm bitter that Dave didn't take me along to some of the other places he's landed since then. Of course not. I'm very happy here at The Chairshot while Dave is followed on Twitter by Mina Kimes. Very very happy. Happy happy joy joy.
Anyway, I recapped Impact for the year it was on Fox Sports Net, which did get me noticed by 411 and got me the call up there when the vaunted 411/Inside Pulse split happened. The rest, as they say, is history. Impact Insight was a good run for me. I got noticed by 411 & by people on the TNA roster at the time, which completely spoiled me for everything that was to come after. I just assumed everybody I wrote about positively would read my words & contact me. Little did I know.
Once the Fox Sports Net year ended, Impact went online for awhile, and at the same time had one of their best periods of consistent entertainment. Because of course they did. They got on Spike in October 2005, and embarked on their longest period of time with one network. Impact's first timeslot on Spike was Saturday at 11 PM, which wasn't great for me, as I was in Louisville at the time & OVW had their long-running Saturday at 11 PM slot on WBKI. I still tuned in, because I was an idiot and didn't see the opportunity to get in good with OVW brass at the time. That's one of my regrets during this whole thing I've done online. Had I played things differently then, who knows where I'd be now.
Not that I don't love everything I'm doing now. Of course I do. That sounded convincing, right?
TNA fans whined and complained about the timeslot until it got moved to Thursday nights at 11 PM, and eventually got bumped up to Thursday nights at 9 PM, with two hours. Once they got that slot in 2007, they reached their highest visibility. 2007-2010 was a good time for TNA. They brought in some big former stars, they did some good things.
Then Hulk Hogan came in, and they decided they wanted to run Monday night. Spike played along with it for a bit, until it became obvious it was a complete disaster. TNA running head to head with Raw was a tremendously awful idea copied from a time when someone had the resources & the motivation to actually compete with Vince McMahon. Eventually TN-oh hold on this is when they became Impact Wrestling, came to their senses, listened to the audience & went back to Thursday.
They were there for awhile, and then on Wednesday for a minute, until Spike decided to move on. Now they're the Paramount Network, which airs old Friends episodes from what I can tell. But that's popular now, just like Cheers & Seinfeld episodes were for awhile, so I can't hate on it. I mean, I never got into Friends, but I'm the Seinfeld age, or at least act like it.
Once Spike kicked Impact Wrestling away, they went to Destination America. I never got this channel on my cable system, so it didn't surprise me that their ratings went into the toilet. Apparently somebody thought it was a good move, or it was the only move they could make, so they went there. Obviously, I have little memory of this era, as I couldn't watch it. I'm sure I could have gone on some backwoods internet site with spyware and downloaded some episodes, but it did not seem worth my time. You could tell how seriously Destination America took Impact Wrestling when they added ROH as a lead-in. It probably gave some old folks some flashbacks to the syndication days, if they got the channel.
Then Impact Wrestling went to Pop. Which I liked. See, Pop was the re-branded TV Guide Channel, and had a pretty prominent channel listing where I live. I saw people complain about the show being on Pop and I was confused. I mean, it's channel 10 where I live. Who gets confused by that? Maybe everybody except me. I saw a lot more of Impact on Pop than most other people did based on the conversation I heard. I have this early bedtime since I'm old, so once they moved it to 10 PM I was kinda screwed.
So I figured when I heard they were looking for another new home they would be looking for something a bit earlier. Anthem, their current owners, got the show on one of their channels, the Pursuit Channel. I have no earthly idea what the Pursuit Channel is, and after some research I found out I don't get it. At least I feel less unintelligent for not knowing what it is. According to Wikipedia, it's geared to hunting, fishing, shooting & outdoor recreation. I mean, if you're running a Southern rasslin show it fits in with that demographic, but I'm not sure Impact or anybody else is at this point.
BREAKING: IMPACT is moving to Pursuit Channel!

Beginning on Friday Jan. 11 IMPACT! will air weekly on Pursuit Channel on Friday nights at 10:00 p.m. ET. @PursuitChannel

FULL DETAILS: https://t.co/cED0CooJ93 pic.twitter.com/3FkiDC5kUo

— IMPACT (@IMPACTWRESTLING) December 21, 2018
The topper is that the best timeslot they could get is Friday night at 10 PM. I mean…if you're trying to get on Spike TV back in 2005, that's a decent slot to shoot for. In 2018 on a station most people don't get? The landscape is ripe for different pro wrestling, which is why Cody Rhodes, the Young Bucks and their backers are feeling froggy. This deal suggests that pro wrestling can't get over on any channel in the cable universe.
Which isn't true. We, as pro wrestling fans, know that the genre has an audience. We also know that TNA/Impact has done more than enough to disqualify themselves from our interest. As much as I've liked a lot of things they've done in the last year, that brand name has a lot of damage. It's just like how WWE couldn't do anything with the WCW brand name after they bought it. Broadcasters were slow to buy into the WCW name, especially ones that WWE had shows with. As much as I can buy into some of the things Impact has been doing, they don't wipe out the last decade of ill will they've built up with TV networks & fans.
This is exactly why Cody, the Bucks & their backers won't associate themselves with a name they didn't create. Impact Wrestling has some damage. ROH has some damage as well. The next real competition for WWE will come from a name that isn't established yet. A name that hasn't already been written off by people like me. If I was a network executive looking for something to draw more attention than WWE, I wouldn't be looking at companies that have failed to for years. I'd be looking for something new & fresh.
Which, ultimately, is the problem that Impact Wrestling faces. No matter who buys the compsny, and no matter which creative voices they add to it, there will always be that TNA stink on it. That's why Anthem has to air it on a channel they have a stake in, but not enough of a stake to air it in a viable time slot. Honestly, y'all gonna tell me they have a deep stake in this Pursuit Channel and the best slot they get is Friday at 10 PM? Child please.
Unless Impact's strategy is to go full Skinemax with it, this thing can't last. If I'm going to watch a show on Friday night at 10:00 PM with Scarlett Bordeaux on it, I'm going to want more sexuality than she's already shown. I think y'all know what I'm saying there. I want some TV-MA and more letters added on to it. Otherwise, what the heck are we doing? What better way to compete with WWE than to go full adult?
I mean, a company going full adult with Scarlett Bordeaux would have my attention. I probably shouldn't admit it, but I'm a red-blooded male, so it's true. I don't know why else a wrestling company would work that time slot. I know we're in the Internet age and maybe nothing matters as long as it's online somewhere. But I still am old and think that TV means something.
Whether it does or not, I can't have a positive forecast for Impact Wrestling in 2019. Their drawing power was already questionable, and will be even more so in 2019. They're going to air on a hunting channel, plus whatever online deal they can find. I really wish I could find something positive there, but nah.
Maybe this is what you deserve when you push this as the best wrestler in your company.
Wrestler of the Year as voted by YOU – @TheSamiCallihan!

WATCH THE REVEALS: https://t.co/nFjjBnYbDL pic.twitter.com/FVsmZqQ38t

— IMPACT (@IMPACTWRESTLING) December 19, 2018
Congrats Impact Wrestling. #TheDraw got you on the Pursuit Channel at 10 PM on Friday night. Makes sense. What a draw.