Joe's AAA Review & Results (12/9/2018)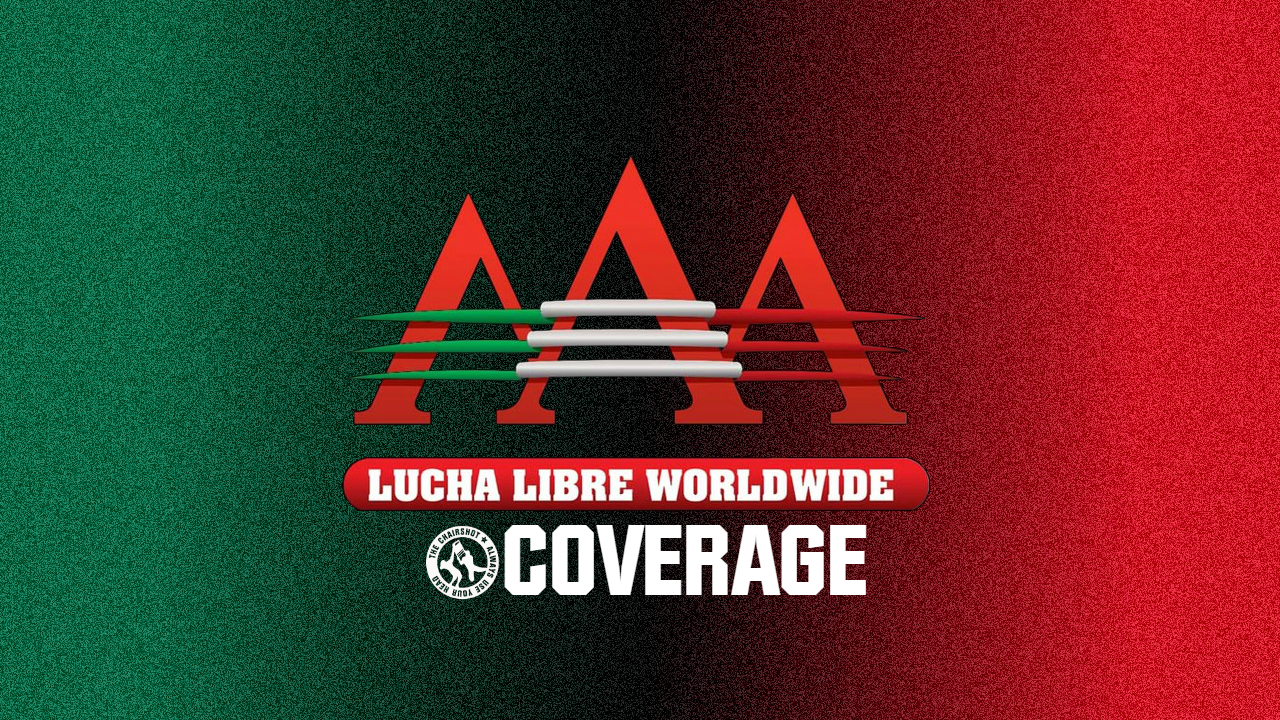 Joe Dinan checks in with your AAA review and results for the week ending 12/9/2018!
AAA on Twitch 12/8
La Parkita, Nino Hamburguesa, and Dinastia vs La Parkita Negra, Arkangel Divino, and Ultimo Maldito
The match starts with chaos. Everybody is doing moves to each other. Mini Parka and Parka Negra get in there and trade moves. Maldito and Hamburger Boy are in next and Hamburger boy hits a shoulder block. Negra hits a reverseranna on Parkita. They team up on Hamburger Boy. Boy counters with a headlock, head scissors take over on Negra and Maldito. Dinastia and Divino are in and Dinastia hits a power slam on him. Negra beats on Dinastia and Parkita works on him. Maldito then works over Parkita. Maldito hits a tiger pile driver on him. Dinastia hits a asai moonsault, then celebrates even though he hit his teammate. Divino does a moonsault off the top. They get everyone seated in the corner and Hamburger Boy does a running senton. Then he goes to the top and splashes them for the win. Hamburger Boy pins Parkita Negra with a top rope splash.
Winners: La Parkita, Nino Hamburguesa, and Dinastia
Starfire and Lady Maravilla vs Mamba and Lady Shani
Shani and Starefire start the match out with some grappling. Maravilla comes in quick to double Shani. Afterwards they double Mamba. Starfire hits a drop kick off the top. Mamba hits a big move on Maravilla and now they're getting the heat back doubling Starfire. We get back to normalcy in the ring. Shani hits a drop kick on Starfire. She gets to the top and hits a hurricanrana on Shani. Maravilla drop kicks Mamba to the outside and hits a cross body to the outside. Starfire hits a michinoku driver on Shani for a two count. Shani hits the Okada neck breaker and the ref counts slow. Shani argues with the ref and Starfire comes from behind and hits a german suplex for a fast count. Starfire pins Lady Shani with a german suplex and fast count.
Starfire wants a title fight after the match. Not immediately, in the future. They brawl after the match and promo.
Winners: Lady Maravilla and Starfire
Laredo Kid, Hijo Del Vikingo, and Myzteziz Jr vs Taurus, Australian Suicide, and Jack Evans
Match starts with Jack Evans and Laredo Kid. Evans gets crotched on the post and Kid drop kicks him. Vikingo and Myzteziz dive to the outside on the others. They triple drop kick Evans in the corner. Kid code breakers Suicide then holds him. Vikingo jumps off Myzteziz and stomps the back of Suicide. Taurus gets Myzteziz on his shoulders then catches Kid for a double fall away slam. Suicide does a press slam into a code breaker on Vikingo. He holds him and Evans hits a 450, then Taurus hits a splash. Taurus holds up Myzteziz, Evans on the top bounces off him and helps Suicide complete his pile driver on Vikingo. Vikingo makes all of them miss corner attacks. He does a moonsault off of Myzteziz and Kid's hands on the top, then they hit their own moonsault dives after that. Incredible spot, Luchablog has the gif of it on twitter, find it.
Myzteziz hits a Canadian destroyer on Evans but Suicide breaks up the pin. Suicide then does a springboard destroyer to him, but Vikingo breaks up the pin. He does knees to the corner but Taurus breaks up the pin. Taurus shoulder blocks Vikingo and sends him flying. Laredo Kid and Vikingo go for springboard attacks but get pulled out of the ring. Evans then hits an asai moonsault on everyone. They fight on the stage and throw Taurus and Evans off and do dives. Vikingo then does a Spanish Fly on Suicide off the stage on to the rest of them. Evans and Kid are back in the ring. Evans slams him and goes to the top but gets kicked. Laredo Kid hits the Laredo Fly for the win. Laredo Kid pins Jack Evans with the Laredo Fly. 
Winners: Laredo Kid, Hijo Del Vikingo, and Myzteziz Jr