Joe's CMLL Results & Review (12/3/2018)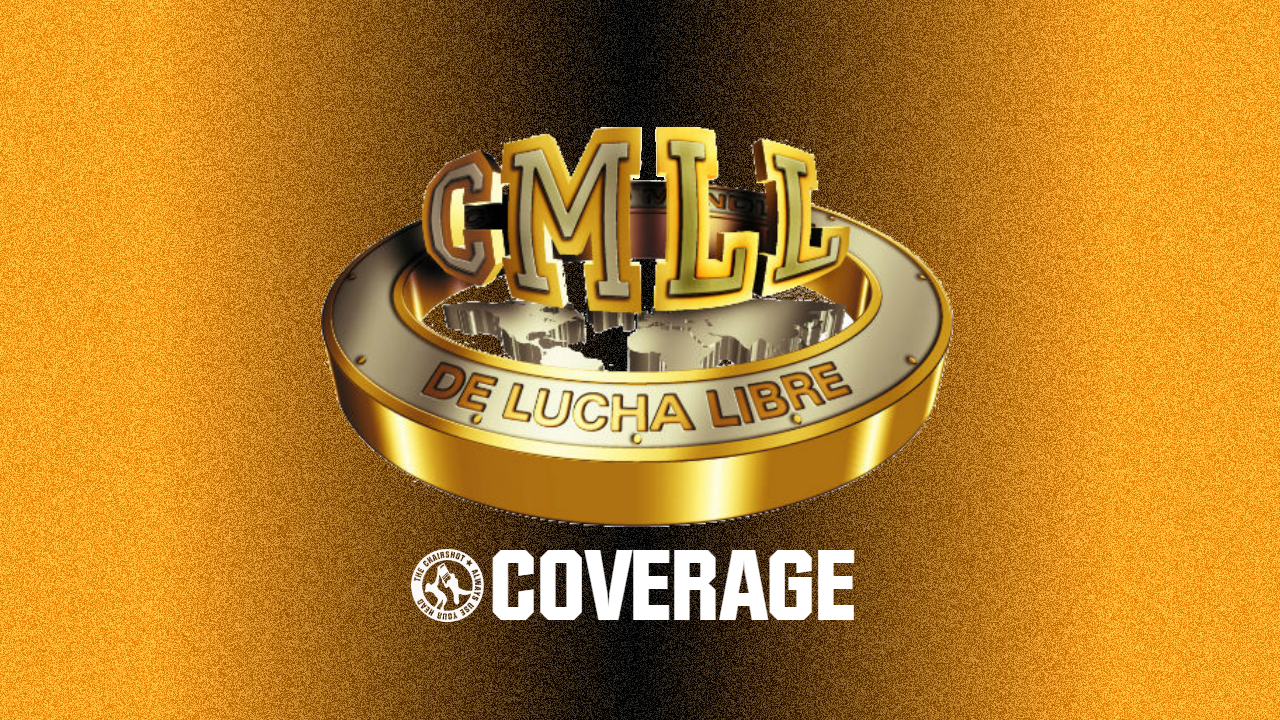 Another Lucha Libre update brought to you by Joe! If you're behind on any, or all, of CMLL…well check out what happened this past week.
CMLL Arena Puebla
Centella Roja, Meyer, and Astro vs King Jaguar, Rey Apocalipsis, and Espiritu Maligno
Maligno and Meyer start out doing some grappling. Maligno hits a slam and then they go back to grappling. They both fight for position in a leg lock for a few then tag in Apocalipsis and Roja. They do some grappling of their own. It's a much faster pace, trading transitions. Roja hits an arm drag which leads to a back drop. He hits a drop kick knocking Apocalipsis out. Astro and Jaguar come in next and Astro hits a springboard cross body. He hits a few big moves on him and goes for a pin but it's broken up. Meyer hits a splash on Apocalipsis, but when he gets up Maligno pins him with a back stabber. Apocalipsis submits Astro with a leg and arm crank. First Fall: Rey Apocalipsis submits Astro with a leg and arm crank.
Roja gets teamed up on to start this round. They continue to team up on the rest of them. Meyer makes a come back hitting a head scissors on Jaguar. He hits some tilt a whirl slams as well. He hits a super kick then gets him in a leg lock. Astro hits a hurricanrana on Apocalipsis then, a springboard head butt, and submits him with a cross face. Second Fall: Astro submits Rey Apocalipsis with a cross face.
Centella Roja starts out hot in this round doing some big moves. Each team starts to trade spots back and forth until Astro victory rolls Apocalipsis and Roja tries to roll up Maligno but he ends up on his stomach so he submits him with a back stretch. I guess. Third Fall: Centalla Roja submits Espiritu Maligno with a back stretch
Winners: Centella Roja, Meyer, and Astro
Super Astro Jr, Arkalis, and Tigre Rojo Jr vs Hijo Del Signo, Black Tiger, and El Malayo
Super Astro and Malayo start out in this match with Malayo using his size to his advantage for grappling. Astro Jr tries to use his speed to fight back. Black Tiger and Arkalis are in next and Tiger beats up on him some. Arkalis goes for a submission but the other team comes in to beat on him. They then go to triple team Rojo Jr. Black Tiger hits a leg drop on Arkalis for the pin. Signo gets Tigre in a stretch on the ground for the fall. First Fall: Hijo Del Signo submits Tigre Rojo with a stretch. 
They start the round beating up on Super Astro. The continue teaming on the rest of them. Rojo makes a come back by dodges a strike. He hurricanrana's Malayo out of the ring, then back drops Black Tiger to the outside. He hits a back breaker on him on the outside. In the ring Super Astro hits a springboard head butt on Malayo for the pin and Arkalis hits a blue thunder bomb on Hijo Del Signo for the fall. Second Fall: Arkalis hits a blue thunder bomb on Signo for the fall.
Astro starts with Signo and gets him out of there quick. Malayo and Arkalis then square off. They trade some spots and then Tigre and Black Tiger come in and Tigre flips him, then does two monkey flips. Chaos breaks out and Signo hits a Canadian Destroyer on Astro Jr for the win. Third Fall: Hijo Del Signo pins Super Astro Jr with a Canadian Destroyer
Winners: Hijo Del Signo, Black Tiger, and El Malayo
Kraneo, Volcano, and Flyer vs El Felino, Tyson La Besita, and Tiger
Volcano and Bestia start in the ring doing some grappling. Volcano knocks him out of the ring and Flyer and Tiger come in and work at a fast pace. They start to team up on everyone. Tyson hits a muscle buster on Flyer for the pin. A double spine buster is done on Volcano and Tiger rolls up him for the pin. First Fall: Tiger pins Volcano with a roll up after a double spine buster.
Tiger assaults Flyer on the outside then gets back in the ring where Kraneo is getting beat. Volcano does a hip attack to the corner on two Felino and Tyson. Flyer pins Felino and Volcano pins Tyson. Second Fall: Tyson la Bestia is pinned by Volcano with a hip attack.
They are all brawling on the outside to start this round. Kraneo beats on Tiger in the ring for the official start of the round. Felino and Tyson try to help but Kraneo hits them both with a splash. Volcano gets in there with Felino and they stare each other down. Felino tries attacking Volcano but it has no effect. Tyson tries his hand now against Volcano. He tries to shoulder block him but he doesn't move. Volcano does it to him and sends him flying. Felino and Flyer get in next and trade strikes. Flyer hits a hurricanrana on him bringing in Tyson. Flyer uses his quickness to his advantage. Flyer hits a dive over the top onto Tiger. Volcano and Kraneo sandwich Felino and Tyson, then both hit middle rope splashes for the win. Third Fall: Volcano and Kraneo pin Tyson and Felino with middle rope splashes. 
Winners: Kraneo, Volcano, and Flyer