Joe's Lucha Libre Weekly: News & Analysis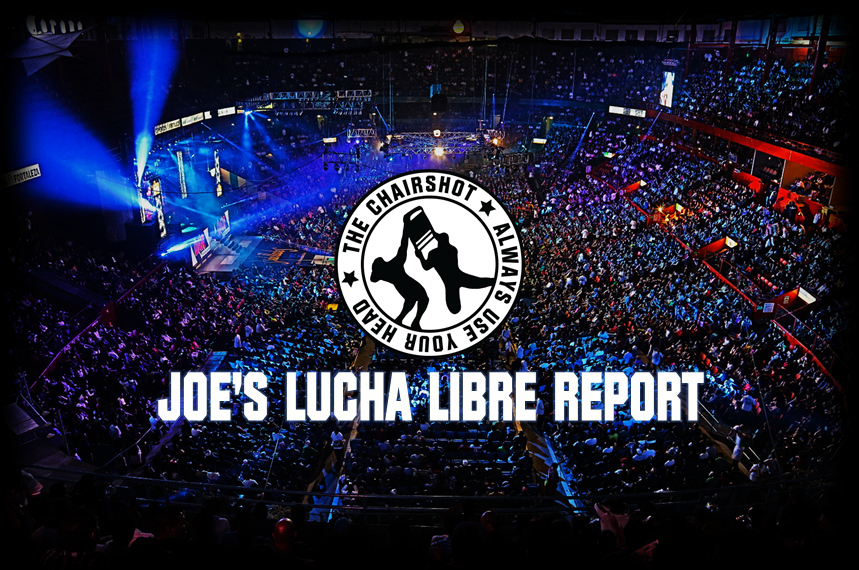 As the year winds down, we see all of our favorite companies setting up for 2019. Joe will give us a nice snapshot of where some of our favorite Luchadors are headed, down the home stretch of 2018.
CMLL
Arena Mexico Last Friday
Volador Jr and Ultimo Guerrero wrestled in the main event in a rare singles match with nothing on the line. It was a really good match that saw Volador winning. That's interesting and since he pinned the heavyweight champion, I wonder if that's a program that look for. Volador doesn't seem to be any less over since losing his hair so why not keep booking him strong? When he grows his hair back fully it could help a younger talent get over again. He's clearly talented enough to stay over. Atlantis, El Valiente, and Diamante Azul took on Rush, El Terrible, and La Bestia del Ring. This was a DQ finish which saw the former winning. It's typical for a Los Ingobernables match. There wasn't much else important on the show. It wasn't a huge show and only drew 6,000 fans. Looks like they're back to the pre LA Park numbers.
Arena Puebla Monday
The main event of this show was Volador against El Terrible. He challenged him on a previous show to a singles match because he's tired of the way Los Ingobernables acts during their matches. He won the match in a match that wasn't very good and featured a lot of posturing. The third fall was okay but it was really slow moving. Caristico, Angel de Oro, and Niebla Roja faced Cavernario, Hechicero, and Rey Bucanero. This was a really fun match. Caristico, Oro, and Roja have good chemistry together. They ended up winning the match in three falls.
Arena Mexico Tuesday
Atlantis, Diamante Azul, and Stuka faced Cavernario, El Terrible, and Euforia in the main event. It was an okay match. Atlantis was moving decently in this match. The former won the match when Atlantis got Cavernario in a torture rack. The co main event featured, Blue Panther, Blue Panther Jr, and Black Panther facing off against Mephisto, Luciferno, and Rey Bucanero. This also wasn't a bad match. Blue Panther can still go at a reasonably high rate for a man who is almost 60. He did two middle rope dives. But the latter team won with an elaborate submission, as Mexico is known for.
Arena Mexico Friday Preview
The main event for this show is Caristico, Volador Jr, and El Valiente vs Ultimo Guerrero, Sanson, and Cuatrero. An interesting pairing for the latter team. Also interesting to know that Rush will be on MLW live on Friday interest of being in Mexico.  The co main event is Angel de Oro, Niebla Roja, and Flyer vs Shocker, El Terrible, and Rey Bucanero. Sounds like a fun match up. There is a lightning match between Soberano Jr and Forastero. That should also be a fun match.
AAA
AAA had a show. Yeah, that had a show. Moose returned to AAA which is cool, I like Moose. Dr. Wagner, Psycho Clown, and Pagano faced Moose, Blue Demon Jr, and Rey Escorpion in the main event. It was a brawl like match where Pagano unceremoniously pinned Moose in the main event. The OGTs faced Porde de Norte in the co main event in which was a fun match. Aerostar faces Monster Clown in a strap match and he won. It was somewhat brutal but not as crazy as I've seen in AAA. It was pretty much a nothing show.
They have a show on Christmas. Branded as the AAA vs Elite. Elite being a dead brand they resurrected just for storyline reasons. I'm not watching that live probably because I'm not an animal. Psycho Clown, La Parka, and Pagano will face Electro Shock, Taurus, and Rey Escorpion in the main event. The co main event sees Averno, Chessman, and Super Fly face Australian Suicide, Golden Magic, and Jack Evans. Hijo Del Vikingo, Luchador Sorpersa, and Halcon 78 Jr face Emperador Azteca, Samoano, and Tonga. Faby Apache and Lady Shani face Lady Maravilla and Keyra. Chicano, Vanilla, and Villano III Jr face Chica Tormenta, Demus, and Toxin. Then there's a minis match.