Mathew's Top 25 Matches of 2018: #15-11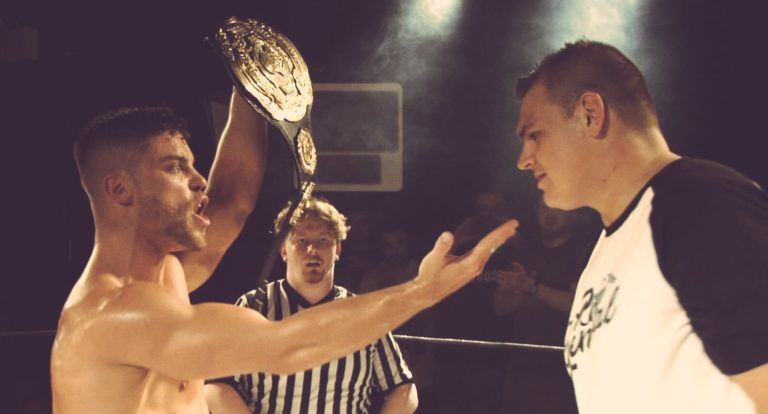 Mathew brings you the next set in his 25 Best Matches of 2018! What filled 15-11?
Welcome back to our countdown for the Top 25 Matches of 2018 and thank you so much for following the list that I have been providing for you guys during this time. We've already done ten matches and now have fifteen more to go, and if you're just tuning in and like to see the previous two before continuing on, there's links down below before you read this next set of five matches. I'm sure you guys are pretty impatient, so let's not waste anyone's time and just get right to the next five.
15. Masashi Takeda vs. Isami Kodaka (BJW at Korakuen Hall 6/20/2018)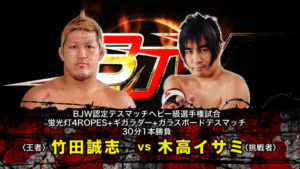 I'll be one to admit that I'm not the biggest fan of death matches due to the fact that most promotions would just do certain spots with weapons just because with little to no substance. Big Japan Wrestling, however, usually provides some great death match wrestling along with FREEDOMS as they would give us stories on top of what they give us with this type of wrestling. Masashi Takeda is someone I consider one of the best when it comes to this type of wrestling of the modern era due to the fact that he can wrestle on top of doing death matches and has that genuine charisma.
This is my first time seeing Isami Kodaka wrestling and he kinda reminded me of a young Marufuji with his kicks and was quite impressive in the ring. Both of these men delivered an incredible match with having proper use of the weapons in the match and actually incorporating crisp wrestling action to go on top of it. Takeda would retain the Death Match Heavyweight Championship after a brutal and bloody battle. If you're into this type of wrestling, then this one is definitely for you and if you're someone that's not too much into it, then I still think it's worth watching since it has that perfect balance of both styles unlike CZW.
14. Tommaso Ciampa vs. Johnny Gargano (NXT Takeover: Brooklyn 4 8/18/2018)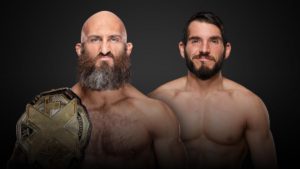 A rivalry that has been developed in 2017 when Tommaso Ciampa attacked Johnny Gargano after losing their Ladder Match against AoP. Ciampa would unfortunately need to have surgery and the rivalry would be put on hold until he would make his return in 2018, attacking Gargano to pick up right where they left off.
These two men would have a trilogy of matches for the NXT Takeover shows as they main evented each of those three shows with Gargano winning New Orleans, Ciampa winning Chicago, and our conclusion which would take place at Brooklyn. Originally it would involve these two and Aleister Black in a triple threat match, but injuries would sideline Black to make it a one on one match to end the rivalry. This is definitely the year for Last Man Standing Matches since this is the third one on here, about time they get some exposure. All three matches were great in their own right but to me this one was the best way to close out the rivalry. Ciampa would win in the most clever way possible to give it that much more emotion for Gargano that he could've had the win but Ciampa still found a way and solidified himself as a main eventer.
13. Jordan Devlin vs. WALTER (OTT WrestleRama 2 8/18/2018)

Who doesn't love a good underdog or David/Goliath story if done right? If I had to pick one for this year, I would tell people to watch WALTER vs. Jordan Devlin as my choice. This has been an incredible year for WALTER as he's been turning a lot of heads with his performance and the brutality he gives to his opponents no matter how big or small they are. Jordan is someone I wasn't completely sold on until I saw this match and the potential he has in the ring.
This was also my first time watching Over The Top Wrestling, which is a promotion based around Ireland and this was a great first recommendation. Jordan played a great underdog in the match and the crowd was electric for him too and there were times in the match that made me believe he was actually going to defeat WALTER. WALTER would eventually be too much for Jordan and added another title to his collection. If you're also new to OTT, then this match I would check out for a good starter.
12. Shingo Takagi vs. Shuji Ishikawa (AJPW Champions Carnival 4/29/2018)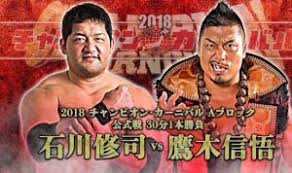 About time All Japan makes their way to the list and it starts off with my favorite tournament of the year, the Champions Carnival. I was covering A Block which had guys like Shingo Takagi, Yuji Hino, Shuji Ishikawa, Kento Miyahara, and Joe Doering and the majority of my block matches had incredible bouts that I believe is a great starting point for people that wanted to get into All Japan. On the final day of my block, Shingo Takagi and Shuji Ishikawa would face off and this match was a fantastic way to end the A Block.
For me, this whole tournament made me wish Shingo signed with All Japan instead of New Japan because he would fit in perfectly with All Japan if they wanted to have a new star for the top of the ladder nd just seeing his matches here showed he did belong there. I also do understand that he wanted to wrestle with a bigger company on a bigger stage, so I wish Shingo the best of luck all the same. Both of these men delivered with amazing wrestling and the crowd being excited from beginning to end. The one takeaway I would have is that I wish Shingo would win this match to advance to the finals against Marufuji to finally get that dream match people wanted to see, but still a fantastic match that should be viewed by everyone that loves professional wrestling.
11. Kazuchika Okada vs. Hiroshi Tanahashi (NJPW Wrestling Dontaku 2018 5/4/2018)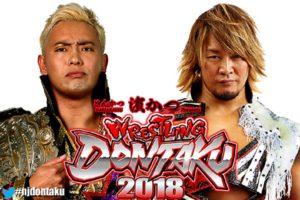 What can you say about these two in the ring together? One of the greatest stories in Japanese wrestling for this generation would rekindle with a new trilogy after being separate from each other for a couple of years. This match had much more at stake than just being the number one guy in the company, but this was also Tanahashi defending his legacy as Kazuchika Okada was tied for most successful title defenses during this reign and if Okada wanted break that record, he would have to defeat the man that holds that record himself, Hiroshi Tanahashi.
The match was super important to both of these men, especially Tanahashi who was trying to keep his legacy intact while still showing that he still has what it takes to be the top guy in the company again no matter how banged up he was. The match was so emotional that the audience were on the edges of their seats as each minute would go on and you would even see some of the fans tearing up, that shows you how much Tanahashi still means to these people after all he's given to them over the years. Okada would defeat his rival once again to break the record and had another classic under their belt. They would also fight at the G1 Climax where they would end in a draw but Tanahashi still won since he had more points, and they would fight at the Destruction tours with Tanahashi getting a victory over Okada and the last time he pinned him was at Wrestle Kingdom 9. All three of these matches were incredible and I wish I could put them all into this one number, but the one at Dontaku takes it due to the story and what was at stake. I would still watch all three of them regardless as they can never have a bad match together.
Thank you guys for reading and I hope you guys enjoyed reading this set of matches as we now reach our top ten, starting tomorrow. Who will be in our next set of matches? Well, you're gonna have to find out about the next five tomorrow. See you guys till next time!
King's WrestleMania Rewind: Charlotte Flair vs. Asuka from WrestleMania 34
Chris king is back with one of the most underrated matches in WrestleMania history–Charlotte Flair vs. Asuka!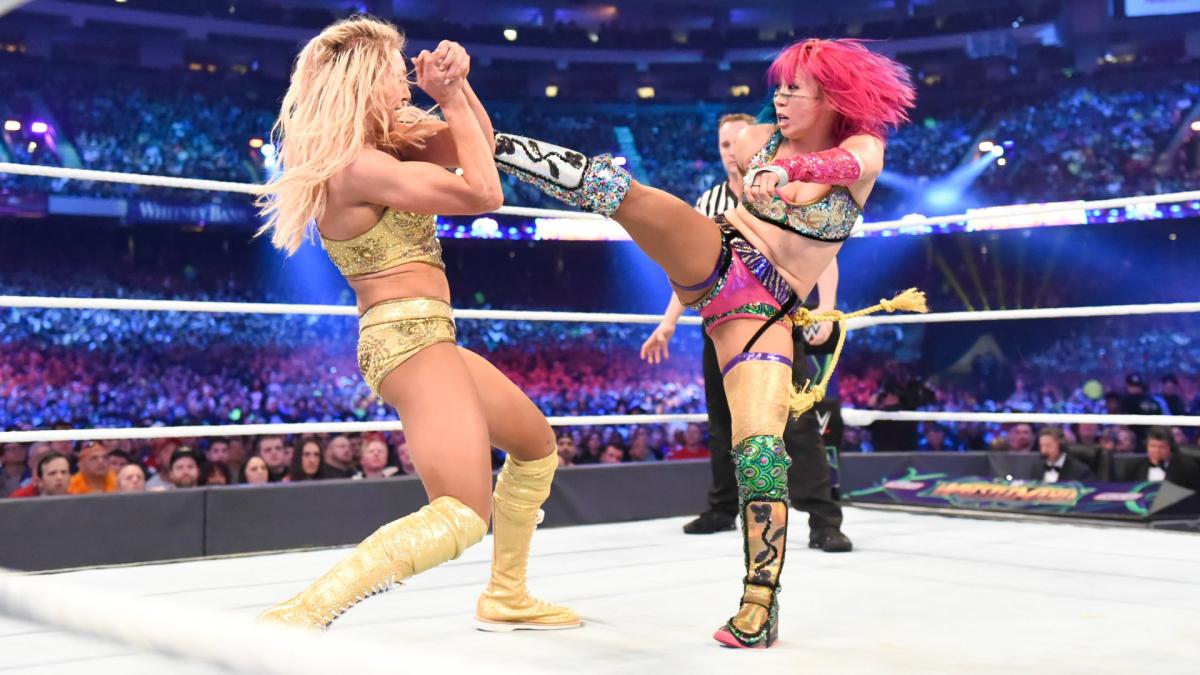 Chris king is back with one of the most underrated matches in WrestleMania history–Charlotte Flair vs. Asuka!
We look back at Charlotte Flair vs. Asuka at WWE WrestleMania 34. 'The Empress of Tomorrow' put her unprecedented and historic undefeated streak of 914 days on the line against 'The Queen's' SmackDown Women's Championship.
For years, this was considered a dream match while Asuka dominated the roster in NXT, while Flair won numerous championships on the main roster on both Raw and SmackDown. The Empress made her long-awaited debut on the September 11th episode of Raw and began to tear through the competition.
Asuka outlasted all twenty-nine other women in the historic first-ever Women's Royal Rumble match to challenge for the title of her choosing. At Fastlane, she made her choice.
The WWE Universe was so excited for this match myself included. Both superstars delivered a fantastic performance on the Grandest Stage of Them All executing counter after counter. Asuka showed off some nasty-looking kicks to her opponent, and Flair hit a thunderous Spanish Fly off the top rope. Flair was seconds away from defeat at the hands of The Empress but she locked in Figure Eight and Asuka was forced to tap out.
I can't even begin to explain how shocked I was at this outcome, as nearly everyone expected The Empress to continue her undefeated streak and walk away with the women's title. This controversial decision was the downfall of Asuka's momentum. She would ultimately win the SmackDown Women's Championship at the 2018 TLC pay-per-view in the triple-threat ladder match.
Fast forward to this year when Asuka has recently returned with her Japanese-inspired persona Kana. Kana is dangerous and ruthless and is heading into a championship with Bianca Belair at WrestleMania 39. The Empress has regained all her momentum and is highly favored to walk away with the Raw Women's Championship. Let's hope that Asuka and Belair can tear the house down and deliver an A+ grade match both women are fully capable of.
King: Dominik Mysterio Needs To Do This At WrestleMania
Chris King is here with what WWE should do with Dominik Mysterio at WrestleMania in his long-awaited match against his father Rey Mysterio Jr.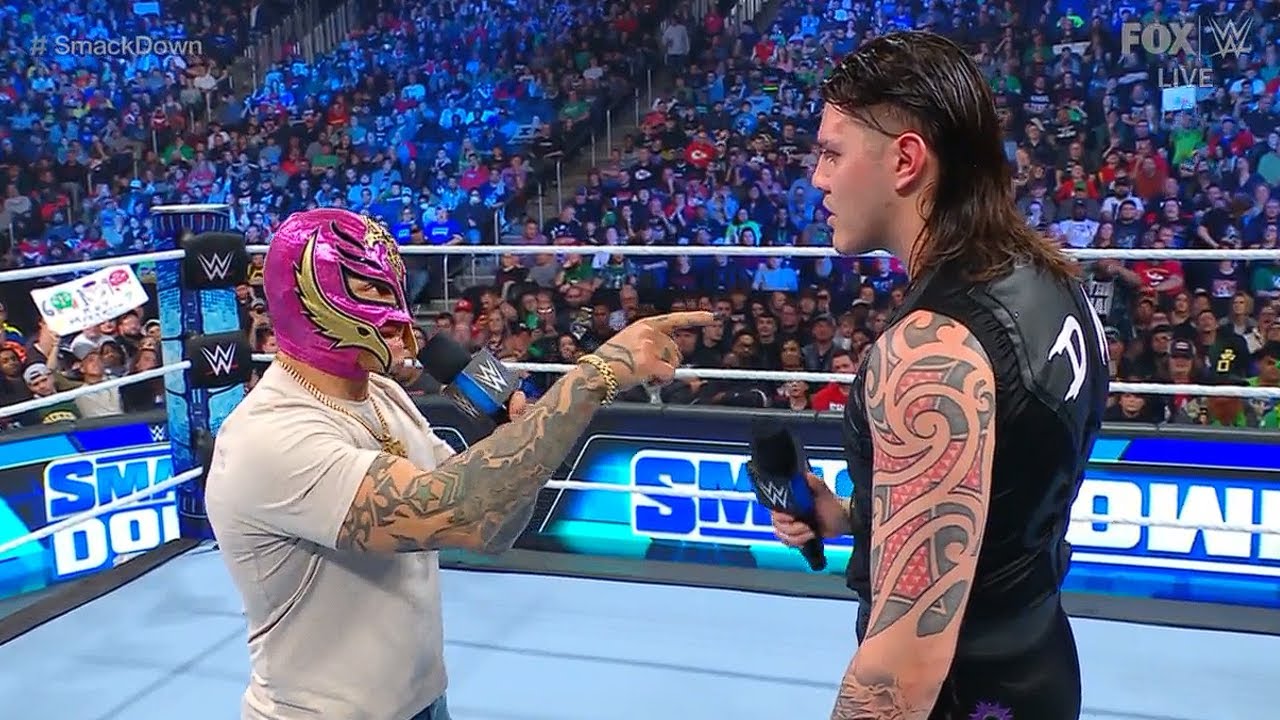 Chris King is here with what WWE should do with Dominik Mysterio at WrestleMania in his long-awaited match against his father Rey Mysterio Jr. 
On this week's episode of Friday Night SmackDown, Rey Mysterio finally snapped and beat some sense into his disrespectful punk-ass kid Dominik. The member of the Judgement Day came out to push his father again for a match on the Grandest Stage of Them All, this time with his mother and sister at ringside. The ungrateful punk told his mom to "Shut Up," as a father even I wanted to jump through the screen and whoop his ass.
Back in October of last year, Mysterio made the emotional decision to possibly quit the company but, instead, Triple H persuaded the Lucha libre superstar to move over to SmackDown to avoid his son. This came after Dominik shockingly turned on his father at Clash at the Castle. Mysterio did everything he could to refuse his despicable son's challenge for Mania but, a man can only be pushed so far. Mysterio will be inducted into the 2023 WWE Hall of Fame and I expect Dominik to embarrass his father during his speech to further this personal feud.
Yes, the WWE Universe hates Dominik and wants to see him get the ever-loving crap kicked out of him but, this feud is missing a special ingredient to capitalize on the biggest heat possible. Throughout this feud, Dominik has made mention of the legendary Eddie Guerrero on several occasions going back to the "iconic" 2005 feud.
I know WWE might not want to go this route but, Dominik MUST come out to Eddie Guerrero's theme at Mania. The disrespectful punk needs to come out in a lowrider to garner nuclear heat. It doesn't matter if The Judgement Day comes out and causes interference for Dominik to get the win, all that matters is that both superstars get the biggest payoff of this nearly year-long feud. Just imagine the Roman Reigns heat after he defeated The Undertaker and multiply that by ten. Dominik portrays the perfect heel and he truly is the missing ingredient that The Judgement Day needed to grow and evolve into a top faction.