Mathew's Top 25 Matches of 2018 #25-21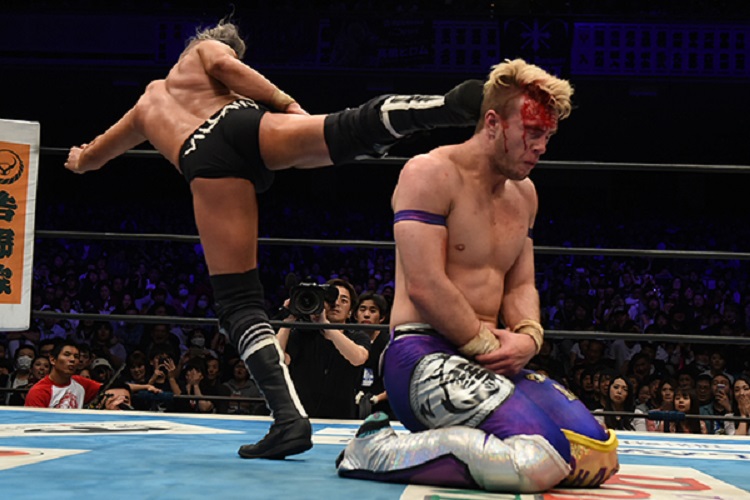 Mathew begins his Top 25 of 2018 matches! Scroll down and see if your favorite matches are on the list.
Hello and welcome to my list of Top 25 Matches of 2018! From now until December 31st, I'll be posting five matches a day that was my personal favorites of this year. If you saw my honorable mentions from yesterday, that might give you a clear idea of what might be on here. And if you haven't, there's a link in here somewhere for you to click on.
Also remember, this is all opinion based and my words shouldn't be taken as gospel for my countdown since we all have different tastes in what we look for in matches. I also had to balance this out a little, otherwise, we would have like Kento, Okada, Tanahashi, and Ibushi matches taking over 75% of the list and it wouldn't be fair to just about everyone that has busted their asses all year, so I'm picking about 2-3 of people's best matches to make it more balanced but still amazing matches regardless.
So let's get down to it and list our first five matches.
25. Buddy Murphy vs. Mustafa Ali (205 Live 7/3/2018)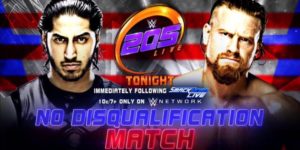 – "A 205 Live match made the list?!" Is probably what you're thinking right now but 2018 was definitely the year that the Cruiserweight division pulled a 180 and got much better than 2017. 205 Live focused more on the stories of the matches while giving us basic storylines. Also making clear who the top people in this division were, Buddy Murphy and Mustafa Ali. they would have a series matches over the course of the first half of the year where the rivalry would conclude in a No Disqualification Match being their best outing together.
The two opponents were creative with their ability along with how they used the steel steps in the matches which is something I hardly do see in wrestling, especially the Superplex from the steel steps in the angle that they did it with. Mustafa Ali won with a Tornado DDT when he jumped off the steps and I know some people were thrown off with that ending but I actually thought it was fitting because it gave you that feeling of the match can happen at any given moment if you were caught off guard and the damage they've done each other, it makes sense that any big move would make you lost if not careful. This match was a ton of fun and both of these guys had a great year in the WWE. If you were skeptical about 205 Live last year, I definitely would try to give them a second chance as they're slowly getting better with a new focus.
24. Will Ospreay vs. Marty Scurll (NJPW Sakura Genesis 4/1/2018)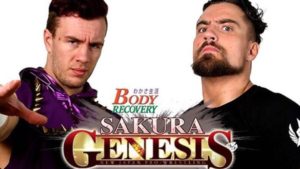 – Will Ospreay and Marty Scurll have a history together wherever they wrestled. Whether it's in the United States, United Kingdom, or Japan, they would fight everywhere and most of the time Marty would be the victor in these types of matches. Will was the IWGP Junior Heavyweight Champion at the time after defeating Marty, KUSHIDA, and Hiromu Takahashi in a Fatal Four Way at Wrestle Kingdom, with Marty stating that Will couldn't defeat him one on one and wanted to fight him for the championship.
This one is probably my favorite outing between these two since the story with them got more personal between them along with the progression that these two wrestlers experienced in their careers that you can see how much they grew over the years. They knew each other so well that they would counter most of their big moves back and forth as we also saw a more aggressive side of Marty when he made Will bleed and stomped on his face, making it look like it was a dead body or something. Will would eventually overcome his rival and get that big win for Marty to retain the championship. My favorite match from both of these men this year and definitely one to remember in their rivalry.
23. Natural Vibes (Kzy, Genki Horiguchi, & Susumu Yokosuka) vs. MaxiMuM (Jason Lee, Naruki Doi, & Masato Yoshino) (Dragon Gate Dead or Alive 2018 5/6/2018)

– Natural Vibes made their debut this year after Kzy wanted to branch out of Tribe Vanguard to explore on his own and made this group where they would have their first match for the Open the Triangle Gate Championships against MaxiMuM at the Dead or Alive 2018 show.
These were the types of six-man tag team action that make me enjoy the company since it was face-paced, well executed, and just great tag team action from all six of these men as it was just seventeen minutes of non-stop action. This was probably my favorite title reign of 2018 as each match with Natural Vibes defending their titles always gave us something creative and fun with each title defense, and they would even break the record with most defenses with that title by retaining it six times before they dropped it at Final Gate recently. Out of all the matches they had for this belt, the time they won it was the more memorable one and how it all started for Natural Vibes. If you're a fan of tag team wrestling, I highly recommend this one as it was my favorite six-man tag match this year.
22. Tessa Blanchard vs. Brian Cage (WrestleCircus The Show Must Go On 2/17/2018)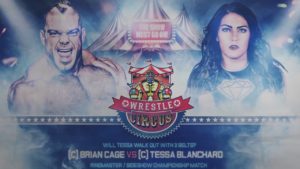 – I'll be the first to admit that I'm not the biggest fan of intergender matches since most of the time they're a bit over the top or unbelievable at times, but this match right here made me very impressed. The main event of this WrestleCircus show had a title for title match with Brian Cage defending his Ringmaster Championship against Tessa Blanchard, who was the Sideshow Champion and this was probably my favorite intergender match.
The match told a story and was believable with Brian Cage dominating most of the match with Tessa being the underdog type of wrestler to get the crowd behind her and when Tessa was able to get a comeback, the crowd would just explode with excitement. Tessa is normally known for doing intergender matches and is considered one of the better females to do this type of stuff and this match showed me why that was the case. Brian Cage is also a beast in the ring as he can go very well for his size and showed he can work with anyone regardless of size and gender. Tessa had a tough fight and while she came close a few times, Brian Cage would pick up the win to become a double champion. They would have a rematch later on in the year at Bar Wrestling and while that was good, this match was far better and more memorable. If you're a fan of intergender wrestling, I highly recommend this one or if you're not and need convincing, I would start out with this one.
21. Ilja Dragunov vs. John Klinger vs. WALTER (wXw 16 Carat Gold 2018 Night 2 3/10/2018)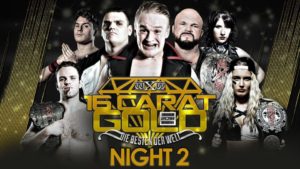 – Originally, this was set to be a one on one match between WALTER and John Klinger for the wXw Unified World Wrestling Championship at the main event of the wXw 16 Carat Gold Tournament, but there was a change in the match as it was now going to be a Triple Threat Match with the returning Ilja Dragunov being added into the match. The crowd for Ilja was electric when he made his way to the ring and this was the first time I've seen Ilja Dragunov as I immediately became a fan of him once this match was over along with the company for that matter since it was the first time watching wXw as well.
All three of these men played their roles well in the match and it was more of the crowd that made it all the more better with their cheering for a much better atmosphere that it seemed like a fantastic time live. Ilja would eventually win the match after 20 minutes of great action to become the new champion during his return and the ovation he received was unreal. If you haven't checked out Ilja Dragunov yet, he's a great wrestler with fantastic charisma to be one of my favorites in 2018, also wXw is a fun promotion to follow with their own streaming service that's recommended.
Thank you guys for reading the first five matches on my list, I'm sure you were shocked by the picks, agree, or disagree with some of them which are fine and would love to hear your response. Be sure to check in tomorrow for the next five, who do you think makes the cut? See you all next time!
NXT Minus 6: Moving Forward
What does the next era of NXT hold?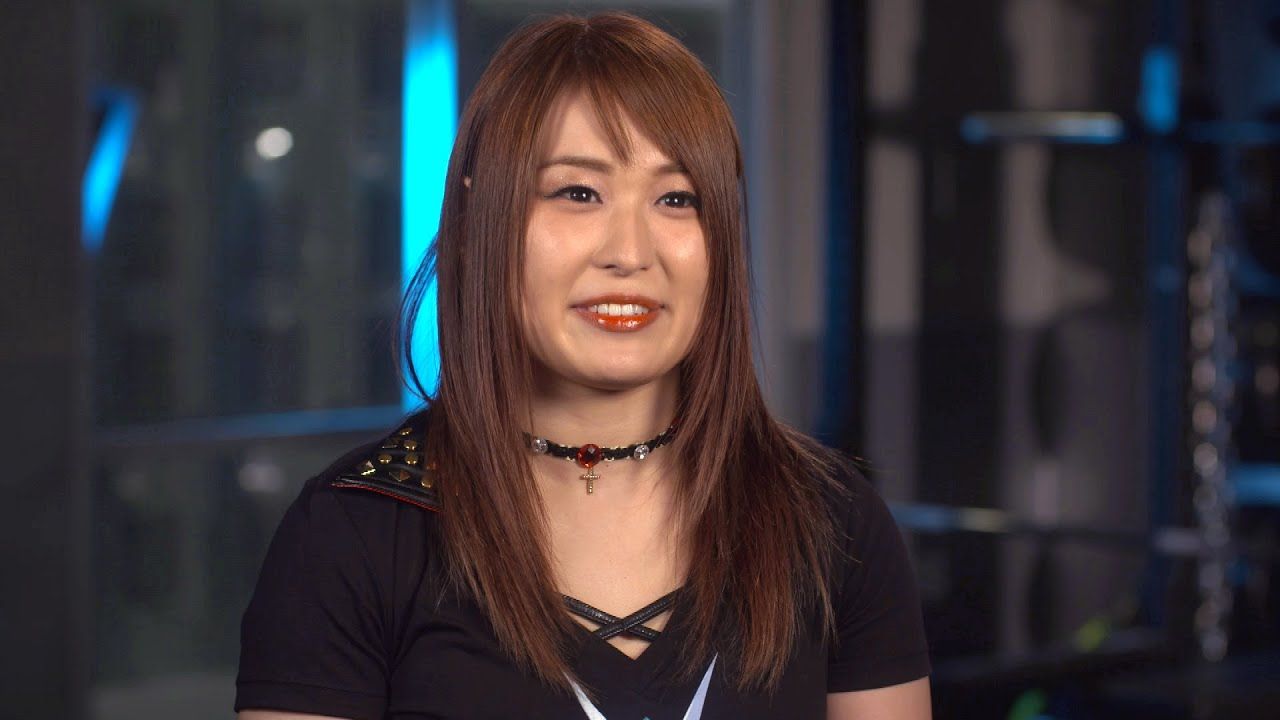 It's WWE NXT: We're moving on. We're not bitter. We're happy with what we have.
6. The WWE reeeeeally loves to screw with us. They spend weeks dumping on NXT then kick off a show with a 4.7 star banger?!?!?! Buddy Murphy is a big league striker. He packs a punch far above his weight class. Meanwhile, Velveteen Dream steals another victory. I like where they're going with him. Shades of the Ultimate Opportunist. Living on the Edge of a Dream?
5. "Charlie Brown finally kicked the football." Oh Mauro, sometimes you are just too good.
4. Dominik Dijakovic is in desperate need of a save. I have no idea what that promo was. Ancient Wicca prayer? Medieval magnet poetry? He is world class in ring and absolutely floundering on the mic. He's so bad, it would be an upgrade if Io Shirai was his manager.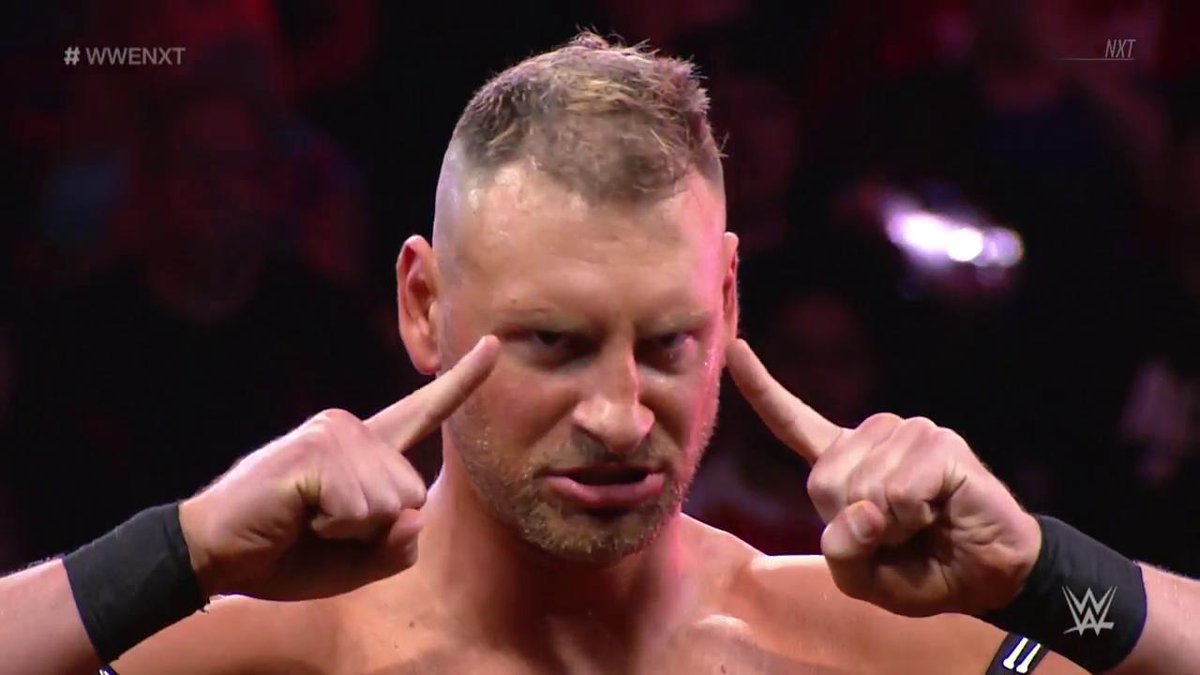 3. Speaking of promos, Johnny Champion adds another layer to his story. Johnny Smartass absolutely crushed Adam Cole on the mic. I know they said 2-out-of-3 would be definitive, but if we get Johnny Gargano-Adam Cole part 2 in HIAC or falls count anywhere, I'd find it in my heart to forgive them.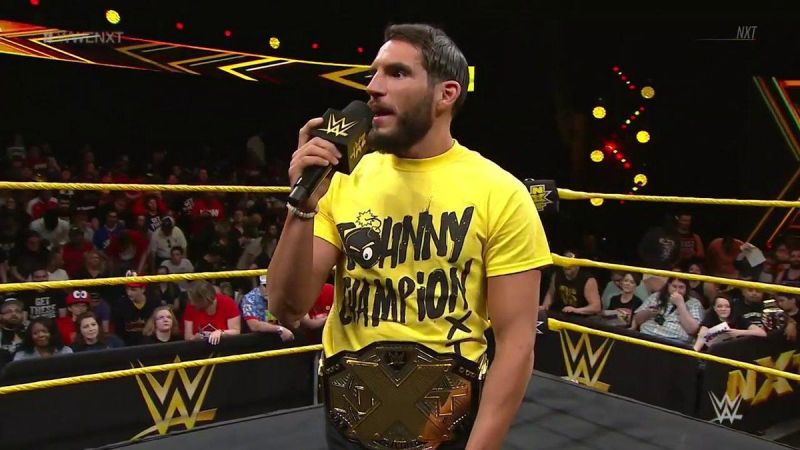 2. Shayna Baszler watches Dark Side of the Ring. She thinks it's a comedy. She is PURE EVIL. She is as pure of a heel as there is. She is the anti-Ricky Steamboat.
1. I'm trying to overlook how poorly WWE handled Kairi Sane's last NXT match. Instead, I am focusing on how much it adds to the inevitable Baszler-Io Shirai matchup. Shirai has improved in ring every time out, but she's still anime nicey nice. It will be exciting to see her turn up the emotion and intensity and really look to hurt Baszler as payback for her best friend. This one could steal the show at the next Takeover.
That's right…I said it.        


Mcleod: Will We Ever Get The Lee vs. Dijakovic Rematch?
Will we ever see the anticipated rematch?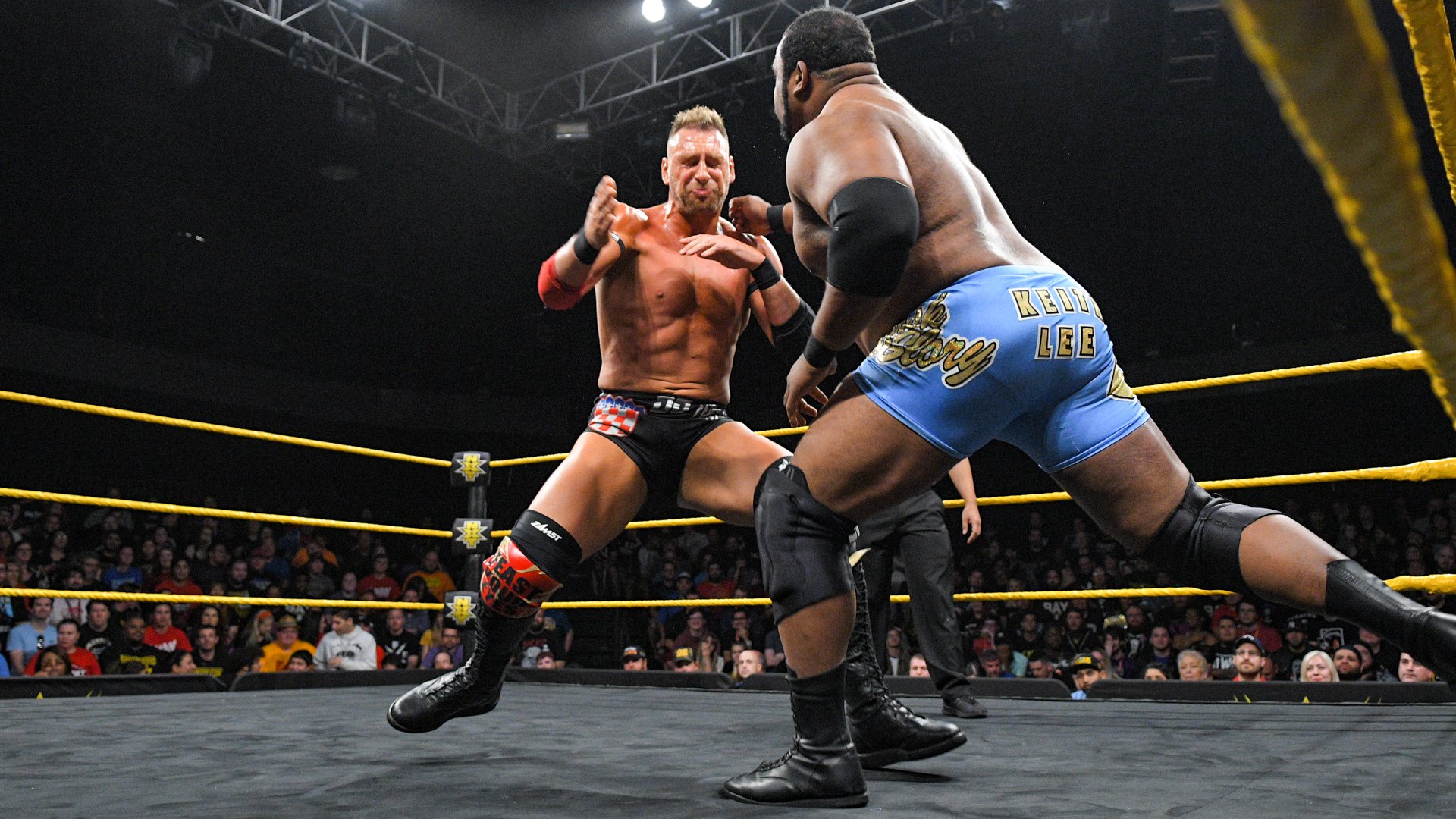 Keith Lee and Dominik Dijakovic tore the house down in their first WWE NXT encounter, and Scott Mcleod is eagerly awaiting the rematch–just like the rest of us!
Cast your minds back several weeks when we saw a short but physically impressive match between Keith Lee & Dominik Dijakovic. We saw Lee get monkey flipped only to land on his feet and Dijakovic hit a corkscrew plancha to the outside. The match unfortunately ended in a double count out but we were lead to believe this wasn't over as they continue to brawl while refs try to pull them apart.
They were scheduled to face off on the episode where the 5 way to face Gargano took place and that was the focus of that episode. A week or so later Lee said they would settle their differences in two weeks time.Two weeks should have this week but Lee was nowhere to be seen. Dijakovic came out and beat an enhancement in record time before declaring his intentions to challenge for the North American Championship. Judging from this week it looks like they're feud is done which is just a shame.
They teased us with what could be with that match several weeks ago. Two guys who have the size but can pull out incredible displays of athleticism. Put that on a takeover give them around 10 minutes between two title matches and they would tear the house down. It would be a shame to not see this match at least one more time in NXT. If a few weeks ago didn't convince you then check out their match from the PWG Battle of Los Angeles 2017 which was rated 5 stars.
It would be something different to everything else on the card. If Dijakovic is set to challenge Velveteen Dream can we not not add Lee and make it a triple threat. Think of how good Dijakovic vs Lee was and add the Dream. Don't tell me you don't want to see that on a Takeover. They could have a good build as well. You have the charisma of Lee & Dream along with the intensity of Dijakovic. I need to see that now.