Mustafa Ali: Seizing Opportunity on WWE SmackDown Live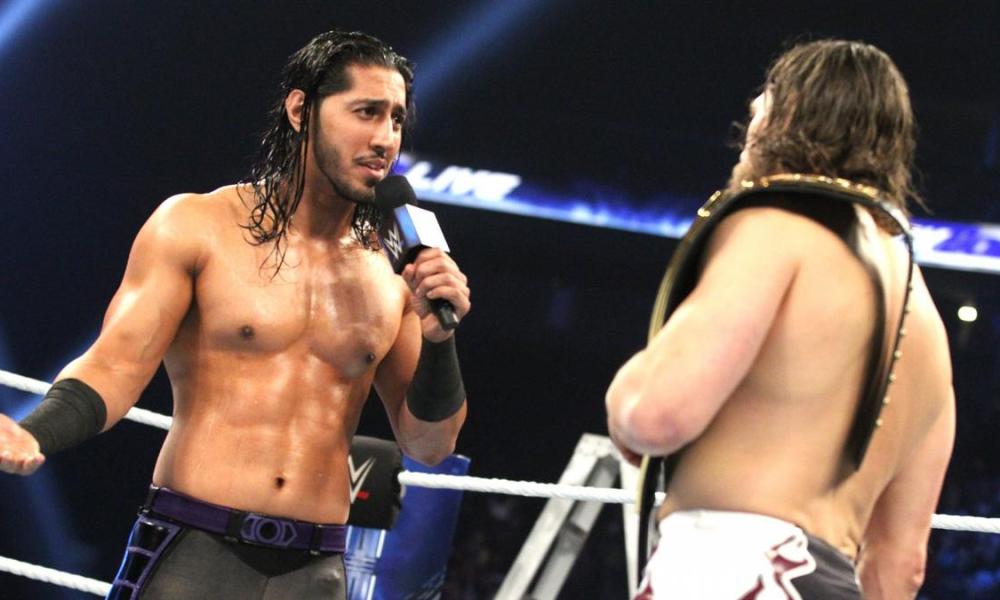 Much has been said about Mustafa Ali's incredible debut on SmackDown Live's main roster. Many fans have praised him for his athletic ability and his work in the ring. Others have criticized him for nailing Daniel Bryan in the head while executing his 054 finisher.
But despite all of the positive and negative points that have been made, it's clear that Ali's move to the blue brand is creating a buzz. Pinning the WWE champion only helped his cause, of course as that was a moment that no one saw coming. But how many more of those moments lay ahead for Mustafa Ali?
This is what WWE does best. When the company is firing on all cylinders, they simply cannot be touched by anyone else. Spotlighting a talent and generating real interest is an art and Vince McMahon's company has a long history of doing just that. It's not always perfect and WWE is not infallible of course. But in this instance, everything is clicking along just fine.
Mustafa Ali walked onto SmackDown Live like a breath of fresh air. He simply came down the ramp, confronted Daniel Bryan and got his point across on the mic. The crowd was on Ali's side and they respected him for what he had to say. 
Ali didn't scream. He didn't curse. He was professional and he was straight to the point. Mustafa made his case to the champ and the fans believed every word he said. Some compared this to the moment when John Cena confronted Kurt Angle at the dawn of the Ruthless Aggression Era. But maybe it's something more.
Ali did not look like a guy that was ready to come in and make a major impact. That's not to suggest he hasn't done that. But he did not have Cena's swagger or bravado. Ali was just a regular guy with something to say and he said it for the whole world to hear.
Mustafa Ali is not a fresh face in the business. Ali has been a professional wrestler for 15 years. He's worked all over the world. He's competed at WrestleMania. Ali had an entire career's worth of experience behind him long before he joined SmackDown Live. 
Mustafa carries himself like a man that's already been there. He's comfortable in his own skin and he knows who he is. More importantly, he knows what he can do. It's that confidence that makes him appealing to fans in a way that Cena couldn't be in the beginning. Ali doesn't have to slug his way through a match or throw different personalities at the crowd in order to get attention. Those things worked for Cena. But Ali is different.
Then there's the fact that Mustafa is coming to the blue brand at just the right time. He did his tour on 205 Live and he proved he can handle himself. Now he's coming to a program that needs another viable top babyface. It also needs another talented wrestler. Mustafa Ali fits into both of those categories perfectly.
SmackDown Live is known as the wrestling show, after all. What better place for a guy that has shown what he can do between the ropes? 205 Live may not be the highest rated brand in WWE at this point but there's no debating the quality of the program. Fans know what they're getting when they watch the cruiserweights go to war. Mustafa Ali was a big part of that.
But now he's got a new war on SmackDown Live. He's only two weeks in but so far, so good. WWE has made a point of showing him backstage with other stars like The Usos and The New Day, which gives Ali the rub. Teaming with AJ Styles, the man that is perhaps the best in the world right now, is only adding to Ali's presentation. 
Mustafa and Styles have been seen cooperating as a unit and working together on a major WWE brand. This is huge for Ali, as it shows that the company has faith in his ability to carry this new responsibility and fill this new role. If there had been any doubt as to Ali's comfort level going in, then he would likely have not been given the nod. But now that he's there, it's obvious that he fits.
But even as fans watch this situation unfold, there is the issue of what happened in the match with Daniel Bryan. Ali came off the top rope with the 054 and hit Bryan in the head with his knee. It was clear from the moment it happened that Ali had screwed the move, though it was obviously not intentional. Ali has likely hit the move 100 times before and not hurt anyone in the process. 
However when it happens on the worldwide stage on his first night as a SmackDown Live Superstar? That's indeed a cause for concern. But what's even more concerning is Ali's recent appearance on Lillian Garcia's Chasing Glory podcast. His words in regards to the 054 maneuver were a bit prophetic, especially in light of what happened with Daniel.
"I'm sure my opponents are not going to be too thrilled to hear this but I don't know what I'm doing up there. I literally close my eyes and I just jump. My body just takes over and thankfully I haven't hurt anybody. I jump and I tuck and I don't know what happens and somehow I land where I land."
Ali did say that he was in full control of his body and that he's comfortable in the air. But WWE as a company must of course take precaution that no Superstar is hurting anyone else or using moves that can result in any sort of permanent injury. Having said that, pro wrestling is not ballet. Daniel Bryan knows what he's getting into when he steps into the ring, just as everyone else does. But considering his past history with concussions, the impact of Ali's knee to Daniel's head was indeed a cringeworthy moment.
But if Ali works safe and if he adjusts this move to better protect his opponent, then there's no reason to believe he won't be an asset, instead of a liability in the ring. Mustafa Ali has worked too hard and come too far to let anything stop him now. He's surely not the perfect wrestler and he's probably not the second coming of Shawn Michaels.
However Ali does have a major platform and a prime opportunity to impress like never before. The world is watching and he understands that as well as expects it. The main goal of anyone coming to WWE should be to get on the main roster and become a top performer. This must certainly also be true of Mustafa Ali, who is only just getting started.