(NOAH) WEEKLY NEWSLETTER VOL.12 ~ 30 NOVEMBER 2018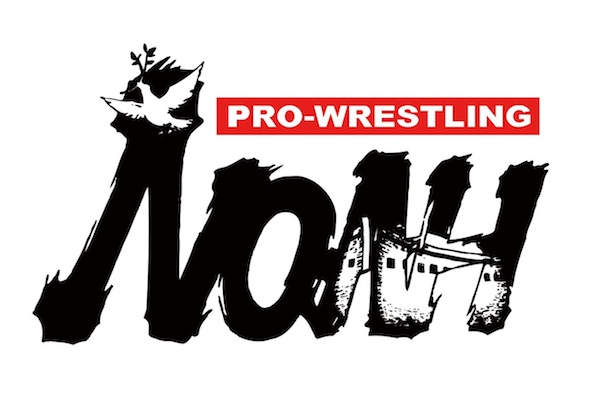 Hisame brings us another all in-depth review of the previous week in Pro Wrestling NOAH. Updates on Naomichi Marufuji, Global League Finals and much more!





NEWS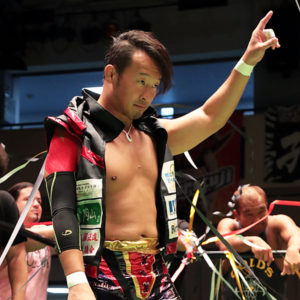 Naomichi Marufuji was withdrawn from the finals of Global League 2018 under doctor's orders, where he was due to face Kaito Kiyomiya, thanks to left shoulder contusion and left thigh muscle rupture (hamstring). As a result of his injury, the GHC Heavyweight tag titles have had to be vacated, and NOAH will hold a tournament to decide the new champions on the 7th December.
It is not known as of yet when he will return to NOAH, but the likelihood is given his condition (which he was scolded for when the test results came back for carrying on wrestling when he knew there was something wrong), but it will probably not be until Spring 2019.
Marufuji was not at the final night of Global League, but he has hinted that he will be present at Korakuen Hall on the 7th December for the first night of "Winter Navigation 2018" and for NOAH's final show in Yokohama. I am not sure in what capacity, whether he will be backstage or whether he will be on commentary.
Sadly, he will not be any of the dates in-between as he apologetically explained to a fan that it is hard for him to undergo treatment in rural areas due to the commute. He's also had to make some lifestyle changes and go to bed early, because he has to be at the clinic early, and much to his chagrin, he also not allowed alcohol.
He has had to cancel his appearance as one day manager of Yoneya as a result of his injuries, but is determined to at least make the MUSCLE GRILL Christmas Party.
However, despite the acupuncture and high-tech treatment (which includes a hyperbaric chamber and NASA designed machines to reduce inflammation), he himself has said that he will manage the condition, thanks everyone for their support, apologizes for the inconvenience (and to Kaito Kiyomiya and Akitoshi Saito in particular), and asks that people give him time.
Takashi Sugiura says that the boat will float without him with all hands on deck, and everyone (fans, wrestlers, office staff) will work hard for Noah so when he comes back, it is electric.
KIMIYA OKADA
Kimiya Okada, now given the all clear from his injury which delayed his debut in August 2018, will make his debut in a fifteen minute match on the 7th December at Korakuen Hall, against fellow trainee, Yoshiki Inamura.
The match will probably come to a draw.
"COME AT ME YOU BASTARDS" ~ KENOH'S COLUMN 
Kenoh's column was quite emotional this week, as he ended up talking about Takeshi Morishima (Livedoor News are reporting that the charges have been dropped, but no one else is reporting this, so the report is probably false).
Kenoh says that he was horrified to hear what happened, but he was glad that Morishima had at least admitted his guilt and was honest about it. He says that he wishes he could have done more, made Morishima stay in Gifu, but there was nothing he could do, and Morishima wouldn't listen. Kenoh had tried to tell him that he couldn't give it his all in the ring and in his social life, (i.e. burning the candle in both ends), and that Morishima's insistence on other people helping him was a very bad thing when Morishima could easily have helped himself. The whole thing was a mess, and Kenoh concludes that Morishima in the big city was chaotic. He says that Morishima needs to get better in an "isolated clinic" (same as a secure unit for mental health) would be best, and he will always support him.
ZERO ONE VS NOAH
HAYATA fell to SUGI (not Takashi Sugiura) in the finals of ZERO-ONE'S World Junior Tournament, and as HAYATA doesn't speak much (or rather, can't really get a word in), so YO-HEY made the challenge for ZERO-ONE to come to Noah and face them there.
SUGI, Shoki Kitamura and Tatsuhito Takaiwa will face off against YO-HEY, HAYATA & Tadasuke on the 7th December.


IPW
IPW have announced that some of the NOAH juniors will be coming back in January 2019. Names to be announced.
TAG TITLE TOURNAMENT
Due to Naomichi Marufuji's injury, the GHC Heavyweight Tag Titles have been vacated.
NOAH will hold a tournament on the 7th December to decide the winner, competing teams are:
50 Funky Powers
Maybach Taniguchi & Cody Hall
Kenoh & Masa Kitamiya
Katsuhiko Nakajima & Go Shiozaki
Kenoh and Kitamiya teamed a few years ago and held the GHC Heavyweight Tag championships for about a day, that was until Kenoh ditched him for Takashi Sugiura.
CURRENT TOUR RECAP
So, with Naomichi Marufuji injured, NOAH held a three way match between Kenoh, Katsuhiko Nakajima and Kohei Sato to decide the number one contender to go to the finals and face Kaito Kiyomiya. All three were from A Block, and had the highest points with a history of win or lose over Marufuji.
The match was won by Katsuhiko Nakajima (who as ever, smirked, wound the other two up, sat back outside the ring to watch them kick each other and basically acted like your annoying kid brother).
The Chinese wrestler, MA Zhu-Jiang, made his NOAH debut, and many people want to see more of him. He himself says he wants to be GHC Heavyweight Champion.
Mitsuya Nagai announced that there will be a new member of "The Hooligans", who will be announced on the 7th December at Korakuen Hall, leading to fan speculation of who this could be.
Theories range from: Masa Kitamiya, Katsuhiko Nakajima, Jay Bradley or MA.
Kitamiya, however, seems to be the strongest contender.
Earlier in the day, Hajime Ohara was made the honorary chief of police of Kawasaki, (and he pretty much wore his sash everywhere), and he said the line of the evening when after Hi69 & Minoru Tanaka had beaten Koji Kanemoto and Hiroshi Yamamoto for the belts, that he would arrest Seiya Morohashi for "obstruction of public activities" if he got in the way of The Backbreakers making a title challenge.
The Backbreakers will challenge for the titles on the 16th December at "Great Voyage in Yokohama Vol.2"
Tadasuke faced off against Kotaro Suzuki for the GHC Junior Heavyweight Championship, and failed in his attempt (although massive fan support was for him and even Suzuki had kind words to say about him afterwards).
Daisuke Harada made the challenge afterwards, and Suzuki gave him a stipulation; he will give him the title match, but if Harada loses then RATELS disband, and he shaves his head in penance.
Harada accepted.
Match has been set for the 16th December in Yokohama.
Kaito Kiyomiya and Katsuhiko Nakajima faced off against each other in the finals in a highly intense match to a charged atmosphere. Kiyomiya showing how far he has come since the beginning of the year.
However, he is still a very polite boy, as when Sugiura got in the ring (he had been doing commentary), he asked him for a title match. Sugiura said he had no choice but to give him one. Kiyomiya then said he would be the new face of NOAH, and thanked everyone.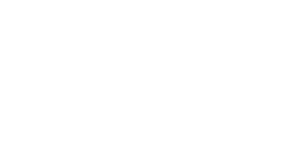 Kaito Kiyomiya has made history this year, he has been the youngest person to win Global Tag League and now the youngest person to win Global League, both of which are records and considering his age, is unlikely to be beaten unless a real prodigy comes along who is younger.
Full recap of Global League 2018 can be found here 
GHC BELT NEWS
GHC Heavyweight Champion: Takashi Sugiura
GHC Junior Champion: Kotaro Suzuki
GHC Heavyweight Tag Champions: Vacant
GHC Junior Tag Champions: Minoru Tanaka & Hi69
TOUR TIDBITS
"I did it! I took it from the champion! This is my entry to the final!! Aaah….what? I'm wrong? What a system! The end is 100 points, like a quiz show! Doesn't it seem like it? Damn it!" ~ Atsushi Kotoge after beating Takashi Sugiura at Global League 2018.
Masao Inoue and Akitoshi Saito have to hide anything sweet they have from the locker room.
KING SHAMELESS CORNER
None this week as he's managed to behave himself in Taiwan.
BROADCASTS
The final night of Global League, 25th November, will be broadcast at 6pm on Saturday 8th December
The event on the 12th December, will be broadcast on the 15th December
The event on the 16th December, will be broadcast on the 22nd December
HEIR TO THE ARK 
Farewell All Japan, Hello NOAH
English translation of Naomichi Marufuji's biography has reached almost the end of Chapter 2, where he takes part in the walkout from All Japan.






Would you like more Pro Wrestling NOAH content? Let us know on social media @theCHAIRSHOTcom and always remember to use the hashtag #UseYourHead!
(NOAH) WEEKLY NEWSLETTER VOL.35~ 19TH MAY 2019
Hisame brings us updates on all our NOAH favourites! RATEL'S, AXIZ and Kongoh! Also a nice update on YO-HEY's unique state of mind.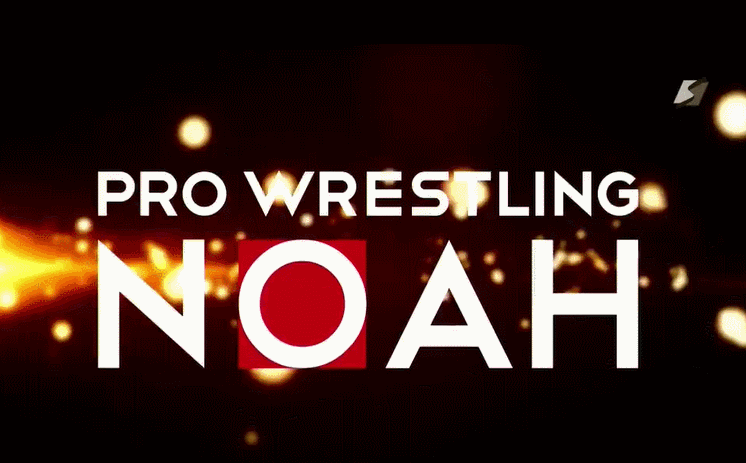 Hisame brings us updates on all our NOAH favourites! RATEL'S, AXIZ and Kongoh! Also a nice update on YO-HEY's unique state of mind.
CURRENT TOUR RECAP
"Under blue skies" NOAH held an event on the 18th May, which was only two events, and was held for their new sponsors, and 500 people on the roof of the Sekichu store in Saitama.
Sekichu are a hardware store who seem to specialize in home cleaning products, they also seem to have some kind of association with both All Japan and DDT too, and Jun Akiyama was there on the day wrapped against the spring cold in a Sekichu jacket.
The day was "non canon" and featured only ten wrestlers (plus the injured Naomichi Marufuji who was on commentary and gave autographs), everything was lighthearted with Go Shiozaki wearing a Sekichu company logo box on his head, and Taniguchi apologizing for knocking down a company display (which he was thrown into by Shiozaki). At the end of the event the fans got the chance to pose with the wrestlers, and it seems that the mascots did the same, and AXIZ also leaned on Hitoshi Kumano and almost squished him.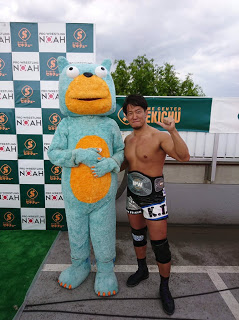 On seeing Daisuke Harada posing with one, IPW'S Ben Basden said "@IPWUK do you really want this representing your company? Fly him over to England already, he clearly has nothing better to do."
The next day, the 19th in Gunma, was when the real events of the show happened, especially on the junior front involving RATELS and their enemies Stinger.
YO-HEY had said that he would be making an announcement in Gunma, and he stepped into the ring to do it after the match (which Stinger had lost via a lariat from Tadasuke on Junta Miyawaki). YO-HEY told Yoshinari Ogawa and Kotaro Suzuki that for Global Junior Tag League, he would indeed be teaming with HAYATA and going for the third consecutive win, but he would be doing this as a member of Stinger. Getting the win in any league, equals a challenge for the belt, but while normally this would mean either another team and another team alone getting it, in this situation it would mean the belt would be half Stingers, and half RATELS. Ogawa didn't like this, and he and Kotaro attacked YO-HEY, stamping on his chest after Ogawa had knocked him down with an elbow.
HAYATA ran to the ring and threw himself over YO-HEY to protect him, and as he was pulled off of him, Daisuke Harada and Tadasuke ran in for the assist, the four of them did their tandem kick and threw Stinger out of the ring.
Afterwards, RATELS helped YO-HEY up.
Daisuke Harada asked the crowd what YO-HEY was? Was he RATELS? Or was he Stinger?
The crowd had no hesitation in unanimously saying that he was RATELS.
YO-HEY removed his Stinger t-shirt, and the four of them did their handshake, before Tadasuke carried a grinning YO-HEY from the ring on his back (I think YO-HEY'S lungs were probably a little overworked after the exertion), and Harada welcomed him home…although he did say that despite the fact that the four of them were going to start again from scratch, YO-HEY should not think that he was going to go easy on him.
YO-HEY later posted on Twitter that RATELS had forgiven him for his betrayal, and were kind.
"I'm home".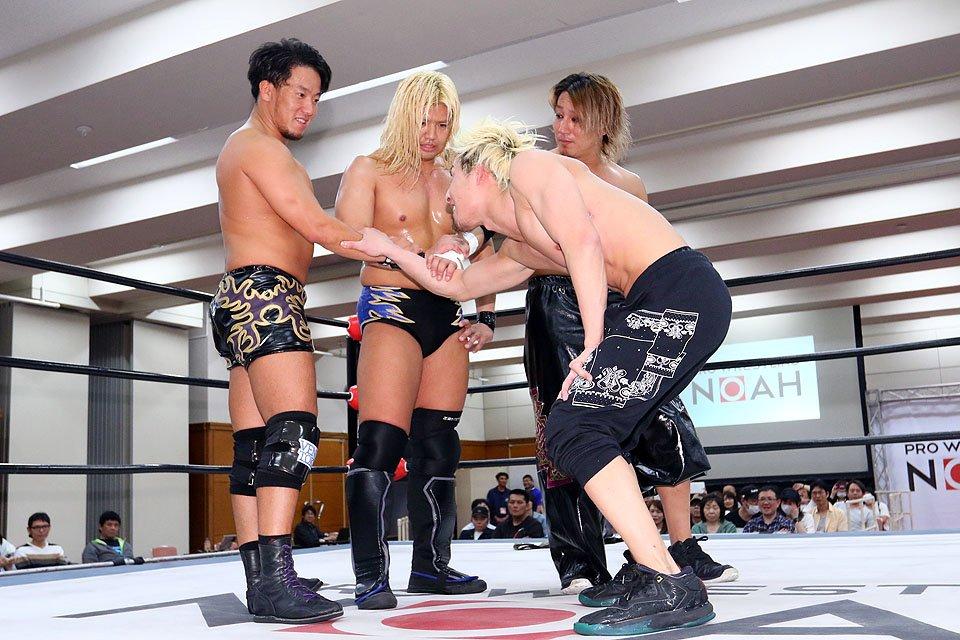 So, now Stinger are a man down and both teams stand at four against two, it will be interesting to see if Naomichi Marufuji joins Stinger. After all, he is feuding with Daisuke Harada, Yoshinari Ogawa and Kotaro Suzuki are old friends (and heels), and in NOAH the line between the interaction in matches and units between juniors and heavyweights is one that is often crossed. 
Elsewhere, Kongoh got another win when the four of them (Kenoh, Masa Kitamiya, Atsushi Kotoge and Yoshiki Inamura) defeated the team of Kaito Kiyomiya, Shuehi Taniguchi, Minoru Tanaka and Akitoshi Saito, with Kitamiya evening the score against Taniguchi with the Saito Suplex. Naturally,
Kenoh started screaming afterwards about the usual things.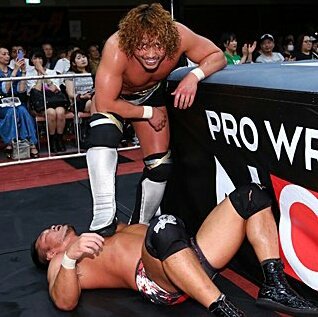 Katsuhiko Nakajima had another one of his classic beating up on Takashi Sugiura with a smug look on his face pictures taken. Nakajima, unfortunately, has failed to realize that this all spurs Sugiura to revenge, which is usually taken in a brutal way in title matches.
Global Junior Tag League starts on the 28th May 2019 at Korakuen Hall.
EVENT RECAPS
Post match promos – Esupowaru Isanuma, Saitama
18th May 2019 – Sekuchi Ageo Store Event
19th May 2019 – YAMADA Green Dome, Maebashi, Gunma
NEWS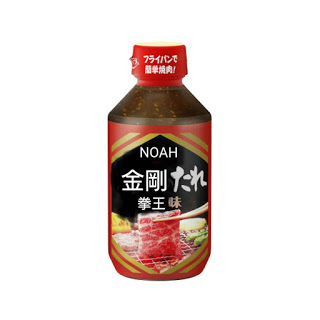 "KONGOH SAUCE"
Two of the NOAH seniors, Naomichi Marufuji and Takashi Sugiura in particular, are baiting Kenoh. As you know Sugiura called the name "Kongoh" tacky, with Kenoh calling him a "stupid old man".
Marufuji, however, seems to have gone a step further to wind him up, after reading an article in "Puroresu Weekly" and photoshopping a bottle of brown sauce which he labelled as the flavor of Kenoh's gut.
Kenoh said he was looking forward to kicking Marufuji (who thought he was a funny guy) on his return on the 28th, Marufuji said sarcastically for
Kenoh to be gentle.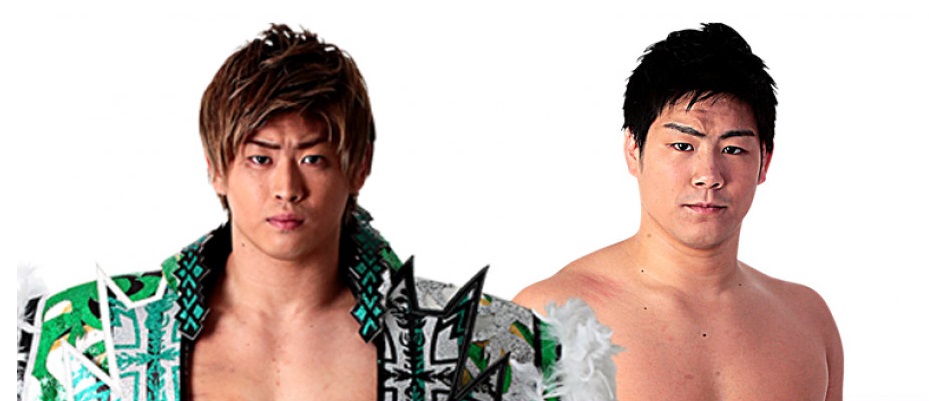 BIRTHDAY PARTIES
Takashi Sugiura will celebrate his 50th birthday on May 31st, NOAH had announced plans to have a fan birthday party for him on the 25th, but not given any further details, and the announcement appears to have vanished from the site.
Kaito Kiyomiya will turn 23 on July 17th with Junta Miyawaki turning 22 on June 14th, NOAH will hold a fan party for them on the 13th July, details to be announced.
Naomichi Marufuji will turn 40 this year in September, so no doubt NOAH will also announce a fan party for him.
CURRENT CHAMPIONS
TOUR TIDBITS
~ YO-HEY signed autographs from both himself and his lung.
~ Daisuke Harada has sworn that he will have a main event for a title match
~ Naomichi Marufuji has been bed bound due to his injury, and spent a lot of time (in between Twitter posts and hospital visits) watching Dragonball Z. He said he watched about twenty episodes.
~ Akitoshi Saito was interviewed on his thoughts of Global Junior Tag League, a league which naturally he is not part of. Heavyweights have never been asked their picks and opinions for it before, so it could be a good way for the Juniors & the Heavyweights to go to war, especially as the juniors were not asked for their opinion over Global Tag League.
~ Kaito Kiyomiya said in an interview that when the twelve year old him heard that Mitsuharu Misawa had died, he cried throughout the day.
~ As part of his rehabilitation, YO-HEY says he has been taking walks in the park.
BROADCASTS
The first night of Global Junior League will be broadcast live on G+ on May 28th 2019 at 6.30pm JST.
The 9th June show (the Misawa Memorial from Korakuen Hall, Tokyo and the second to last night of Global Junior Tag League) will be broadcast by G+ on Thursday 13th at 8pm JST.
LINKS
Global Junior Tag League mini interview: Hitoshi Kumano 
Global Junior Tag League mini interview: Hi69 & Minoru Tanaka 
Global Junior Tag League mini interview: Hajime Ohara
Global Junior Tag League mini interview with Akitoshi Saito
Katsuhiko Nakajima interview on the late Silver King
Ten years after Misawa's death in Hiroshima, champion Kaito Kiyomiya "looks at a new scenery"
Champ talk with Katsuhiko Nakajima 
PICTURE CREDITS: Daisuke Harada, Noah GHC, PKDK, Naomichi Marufuji 
Newsletter written by Hisame
PRO -WRESTLING NOAH WEEKLY NEWSLETTER VOL.34~ 12TH MAY 2019
We're in between events for NOAH! Hisame brings us updates, need to know information, and of course RATEL'S stuff!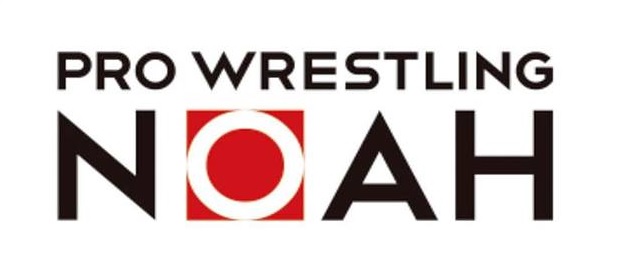 We're in between events for NOAH! Hisame brings us updates, need to know information, and of course RATEL'S stuff!
CURRENT TOUR RECAP
The new owners of NOAH seem to have done away with NOAH giving names to their interim tours, and these will now be known as "NOAH The SPIRIT".
The interim tours between Global Tag League and Global Junior Tag League starting will run for three dates only – the 11th & 12th May and then the the final date on May 19th in Gunma.
NOAH are currently in the grip of an injury bug (three people out, please see below for updates\news), so the cards were changed accordingly with Keisuke Ishii and Kouki Iwasaki being drafted in.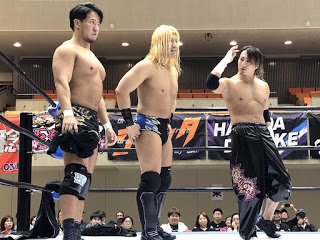 RATELS and Stinger (without YO-HEY) faced off again, with Tadasuke getting his second win over The Stinger team, this time over Kotaro Suzuki on the 12th by reversing The Endless Waltz into The Pac. Tadasuke, being Tadasuke, became manic saying that he "can't control myself" and posting the crazy face icon.
In a more sedate tone, Yoshinari Ogawa tried the handshake again with Daisuke Harada on the 12th May event. I am afraid that I don't know whether Harada took it or ignored it.
Due to his title challenge for the GHC Heavyweight title (9th June) and for the GHC Heavyweight Tag titles (13th June), Takashi Sugiura is now feuding with three people – AXIZ (Go Shiozaki and Katsuhiko Nakajima) and Kaito Kiyomiya. Sugiura and Shiozaki beat the hell out of each other on the 11th May, and there was an equally intense match against Katsuhiko Nakajima on the 12th. Neither the challenger or the champions, however, got the direct win over each other. 
Regarding the title challenges, Sugiura said he is blessed as a wrestler to have them, and even more so that these will take place at the Mitsuharu Misawa memorial shows at Korakuen Hall and Osaka.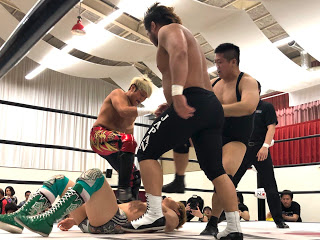 Much to their dismay, Kongoh (the new unit of Kenoh, Masa Kitamiya, Yoshiki Inamura and Atsushi Kotoge) lost their debut match on the 11th against Kaito Kiyomiya, Minoru Tanaka and Hi69. Kenoh and Kiyomiya made a beeline for each other, with Kenoh sticking his fist in Kiyomiya's face (they didn't roll around fighting in the streamers like two kids fighting in the playground this time).
Takashi Sugiura (intent on winding Kenoh up online, although aside from calling him a "thoughtlessly stupid old man", Kenoh seems to be ignoring him now), said that their loss was due to having a comedy wrestler (Kotoge was pinned by Kaito Kiyomiya with the Tiger Driver).
Kotoge, however, had other issues other than Kongoh.
His former tag team partner in "The Revolutionary Cloak Heroes", Mitsuya Nagai, was furious that Kotoge had apparently ditched him for his new crew, and vowed revenge in their singles match which fans had named, "The Revolutionary Showdown". Making small children cry, Nagai threw Kotoge into the crowd using both the "robber cloak" that Kotoge had given him and the chain that Kotoge had tried to remove from him. Kotoge was given the beat down of a lifetime.
Nagai says he "feels relieved" he doesn't have to wear the cloak again.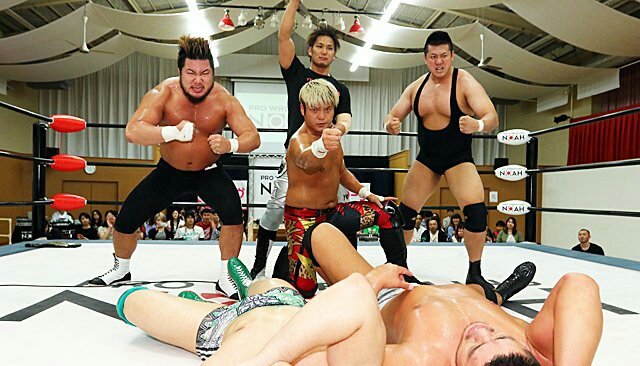 Kongoh debuted their tandem move on the 12th May, whereby Kitamiya (with the assist from Inamura) slam their opponent from the top turnbuckle, with Kenoh following up with the Diving Footstamp for the win.
After the match, Kenoh got on the microphone and started yelling about not being a "yes-man" to LIDET.
Normally, he would point to their banner, but he found that there wasn't one in the arena today, and Kenoh being Kenoh (half paranoid, mostly angry), decided that they hadn't put it up deliberately due to his angry ranting at it.
EVENT RECAPS
Saturday May 11th 2019, Ryumioka Kaikan, Ozaki City
Sunday May 12th 2019: Esupowaru Isanuma, Saitama
Post match promos: Ryumioka Kaikan, Ozaki City
NEWS
COME AT ME YOU BASTARDS (Kenoh's column)Although the interview was done after KAIOH'S loss at Global Tag League, and Kenoh's subsequent screaming fit at Kiyomiya leading to the dissolution of their team, Kenoh was actually quite restrained, and not spewing fire against the "22 year old 3 year career boy" as he termed him. Kenoh's column veered between sounding like a concerned older brother, recounting happier times with him, and a dose of paranoia and anger towards LIDET.
YO-HEY UPDATE
YO-HEY was discharged from the hospital earlier in the week, and told that he must work on building up his strength, and not rush back to work. Various NOAH wrestlers (and others) had visited him in the hospital, with YO-HEY giving them hospital department names (Jiro Ikemen was from proctology and Atsushi Kotoge from mental health). The majority of wrestlers who visited played with the iron grabbing claw that YO-HEY had used to reach for things as he was bed bound with a tube in his lung, and most of the time YO-HEY found himself being pinched with it.
YO-HEY wants to make it clear that he is not returning to RATELS, he will be teaming with HAYATA as a member of Stinger, while HAYATA will remain with RATELS. He says he will address the situation on the May 19th in Gunma. He won't be wrestling though. YO-HEY, however, did acknowledge that for Global Junior Tag league he wanted to reunite with HAYATA, if only for that event in the future.
Interestingly, there has been no mention of Stinger ever visiting him, while RATELS did (Tadasuke taunted him with cigarettes), but ultimately this may mean nothing.
NAOMICHI MARUFUJI INJURED
NOAH announced at the start of "NOAH the SPIRIT 2019" that Naomichi Marufuji would miss the tour with a lower lumbar back hernia. So, while everyone went off with NOAH, Marufuji was left bored at home in Tokyo (no wrestling and no socializing). He was unable to sleep for the first two nights due to pain, but considered it his body adjusting to the condition when he was finally able to snatch a few hours. I think this injury is probably a left over from his manic year in 2018, although he has taken it easier this year, not appearing in any other promotions, and not participating in Global Tag League. Naturally, he got defensive when asked to take it easy and not rush back.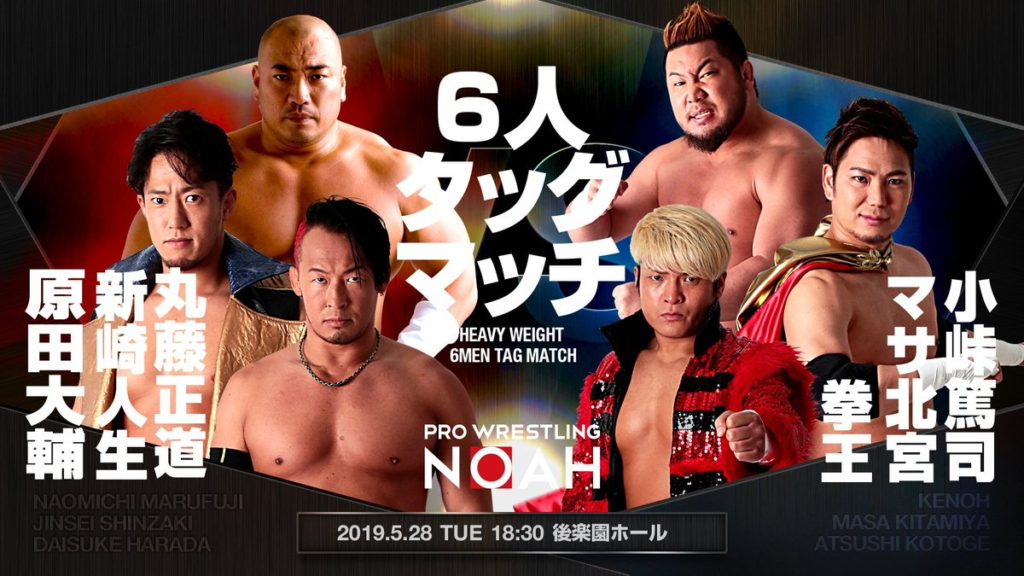 Although he is undergoing treatment, he has said that he will be back for the big match on the 28th May at Korakuen Hall where he will team with Jinsei Shinzaki and Daisuke Harada against Kenoh (who was Jinsei Shinzaki's student), Masa Kitamiya and Atsushi Kotoge. The worrying thing is that even if he is not ready to come back, he will for this match, no matter the cost, and most likely the singles match with Go Shiozaki at the Misawa Memorial show on the 9th.
Given that Daisuke Harada and Marufuji can be childish when tagging together (like doing things to wind each other up like wanting to use the same turnbuckle to stand on during an entrance, not tagging each other in, and Harada not letting Marufuji join in with RATELS handshake, and then Marufuji refusing to let them leave by a certain exit), plus Kenoh's hatred of Marufuji – Shinzaki may well find himself playing the adult. 
Marufuji has also hinted (normally at 1.30am JST) that he is looking for a tag partner…
CURRENT CHAMPIONS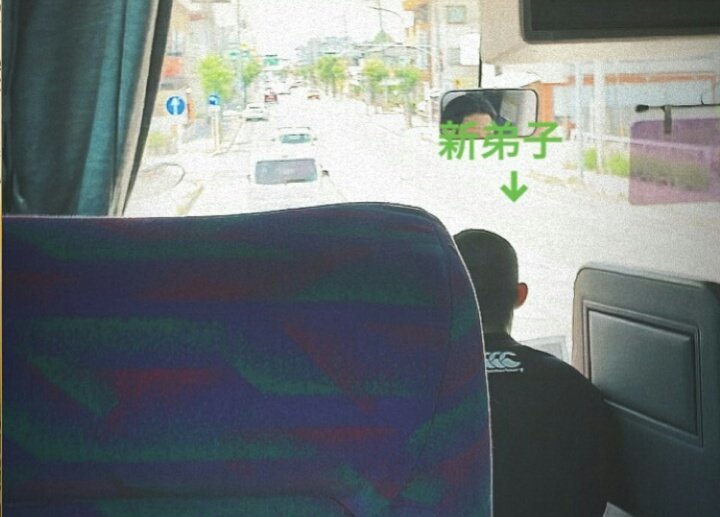 TOUR TIDBITS
~ Fans were greeted in Saitama by 50 Funky Powers disco ball spinning
~ Yoshinari Ogawa gave RATELS the finger
~ Apparently Kenoh & HAYATA sang an anime theme (translated into "Southern Country Boy") for Tadasuke, who was planning to sing it on a show "Matsuko Deluxe", but it was never aired.
~ Kinya Okada (whose nickname is apparently "Chunky"), is working towards his return, although no date has been given as of yet. Takashi Sugiura took a picture of him looking glum on the bus and said he was growing tired of looking at his "steep face".
~ Two new trainees have been seen at ringside, naturally, we will not know the name of these boys until they debut (and of course, if they debut).
~ Kenoh said that when he used to second Jinsei Shinzaki, he would chant a sutra from Shikoku (his home island, and a sacred place for pilgrimages), that the monks would chant for protection on their travels.
BROADCASTS
The first night of Global Junior League will be broadcast live on G+ on May 28th 2019 at 6.30pm JST.
The 9th June show (the Misawa Memorial from Korakuen Hall, Tokyo and the second to last night of Global Junior Tag League) will be broadcast by G+ on Thursday 13th at 8pm JST.
LINKS
Reiwa's Pro Wrestlers: Kaito Kiyomiya
Takashi Sugiura to challenge for the title on Misawa Memorial night in JuneTakashi Sugiura's double GHC challenge at the two Misawa Memorial eventsDouble challenge for the GHC titles, Sugiura's peak at 49 years old"NOAH The Spirit 2019" autograph scheduleAkitoshi Saito & Masao Inoue "Moving Centre" with a resurrection of The Dark Agents
PICTURE CREDITS: Noah GHC, PKDX, Tadasuke
Newsletter written by Hisame