Which match won the Match of the Year vote? Only one way to find out. Read on.
So the votes have been tabulated, and after 339 total votes, we have a winner.
This vote was much closer than last year's, so not to sound like a played out cliche, every vote counted. So in surprising fashion, the winner may not be who you expected.
Let's see who gets the distinction of being our second Match of the Year.
5. NJPW G1 Climax Finals: Hiroshi Tanahashi vs Kota Ibushi – 51 Votes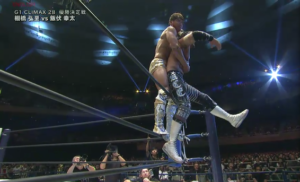 Now personally this was MY Match of the Year, but it suffers from the long reaching appeal. Yes, people like Ibushi, yes, people know who Tanahashi is…but the names aren't as sexy on a grand scale compared to the rest of the list. I'm just happy it made the Top 5.
4. WWE Evolution SmackDown Women's Championship Last Woman Standing: Charlotte Flair vs Becky Lynch (c) – 64 Votes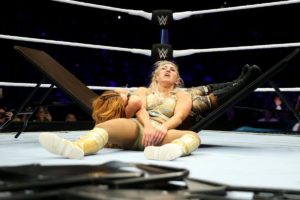 The two women that took the WWE by storm this year and many people consider to be the best of the WWE Women's Division. They left it all on the line this match, and it had the brutal elements of a blow off match for their rivalry. Unsurprisingly, this won a few sections of votes, but there was a large divide on this match. One group it would finish first, another group it would barely get 1 vote.
Not sure if that's still bias against women's wrestling, or just preferring the other matches, but this is still a good sign.
3. NXT Takeover Philadelphia NXT Championship: Johnny Gargano vs Andrade 'Cien' Almas (c) – 73 Votes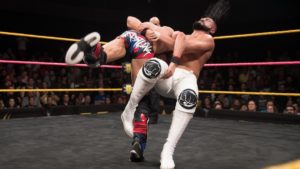 This was an early contender for Match of the Year and it held up fairly strongly all year. In a community where recency bias sways a lot of decision making, this match resonated with fans everywhere. Given how close the top 3 matches were, it's safe to say this one will stick with people for years down the line.
2.  NJPW Dominion Best 2 out 3 Falls IWGP Championship: Kazuchika Okada (c) vs Kenny Omega – 75 Votes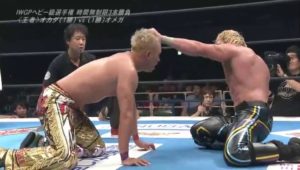 AND OUR BACK TO BACK…wait…it's second? By one vote?! For shame…for shame…
I mostly kid, but this proves how important it is to comment and make your opinion heard. The match that set the IWC on fire and most people hold in high regard because of how it finished Omega's storyline and the infamous 7 star rating, many probably expected this to be the slam dunk winner. Well hey, voters are FICKLE, ask Daniel Bryan and look at Donald Trump. Fickle.
1. NXT Takeover WarGames II NXT Championship: Tommaso Ciampa (c) vs Velveteen Dream – 76 Votes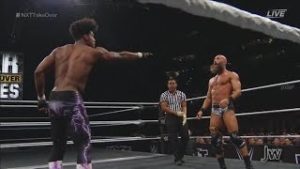 Yes Dream, you guys did it. You edged out the NXT early favorite and the New Japan classic, now stop pointing at Ciampa.
So this match was something different than we're used to last few years. With work rate being the wrestling du jour of the day, the fact that we got a little bit of work rate, but a lot of personality, callbacks and psychology is what makes this special. It could be due to it being the most recent match, but this captured so many elements of wrestling that it is a well deserved winner.
Velveteen has been one of the hottest things in NXT since his match with Aleister Black last year and Ciampa redefined his character and embodied the old school heel. Hard to complain here.
Thoughts:
Well it also makes sense that NXT won, since my company scores and many other writers and personalities preferred NXT over most things this year. Plus, with the vote being ridiculously close, it just helps to reinforce the quality we had in the Top 5 this year. If you're surprised or upset that your favorite didn't win, well there was only a difference of 3 votes between first and third.
USE YOUR HEAD…and make your opinion heard.