Press Release: New Champions Crowned At DEFY Wrestling 'On Edge' (12/14/18)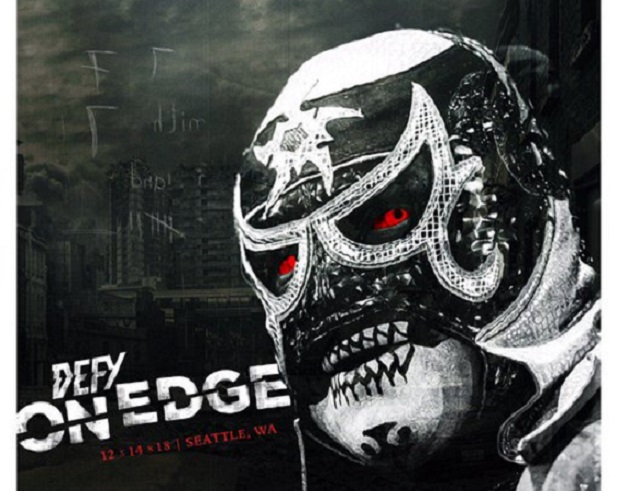 DEFY Wrestling crowned new champions last night!
Among the loads of wrestling going on this weekend, last night DEFY Wrestling was back in Seattle, Washington for their event 'On Edge'.
The Chairshot was issued the following press release today detailing the results of the event by Matt Farmer, including some big title changes taking place:
December 14th DEFY Wrestling crowned a NEW World Champion in the form of one Artemis Spencer. Artemis defeated longtime champion Shane Strickland in and amazing match. The end came after 20 minutes of back and forth action, when referee Aubrey Edwards slapped the mat for the third time. The crowd erupted in one of the loudest and longest ovations you will hear at a wrestling event!
The night was filled with emotional moments. Brody King, who has been competing with DEFY Wrestling for over a year said his farewell after losing to the man known simply as SCHAFF. These two men each had a win over the other, and this match. Brody's final appearance for DEFY for the foreseeable future saw both men battle through out Washington Hall. This match and Brody leaving was very emotional for fans who saw Brody as one of their own, so much so 30 to 40 fans who sit in the front two rows brought ski masks that resemble the one worn by Brody as he enters the ring.
PENTAGON Jr also made his triumphant return to DEFY Wrestling as he battled Chris Ridgeway, who made his United States debut. This was an awesome match, and shows the true potential of Chris Ridgeway as he went toe-to-toe with one of the best in the world. Travel delay's had Chris arriving a mere few hours before stepping in the ring. And while he did not win the match, he won over fans in the United States. Chris Ridgeway is a guy to keep your eyes on.
Other matches saw King Khash and Carl Randers defeat the team of Ravenous Randy Myers and Cody Chhun. DEFY Tag Team Champions the Amerikan Gunz, Mike Santiago and Ethan HD retain their tag gold as they beat Doctor Kliever and Drexl in a wild match that left Drexl getting stitched up by EMT's in the locker room.
One of the most exciting matches of the night, Prince of Parkland Jack Evans. Accompanied by his mentor Bryan Alvarez of F4Wonline.com squared off with "The Machine" and IMPACT Wrestling X-Division Champion Brian Cage. Evans was competing in front of family and friend, but was not shy about letting fans know he was happy with them. In the end the power of Cage was just too much and he left still champion!
We also saw the young Guilermo Rosas come out with an impressive win over Kaimana who is one of Hawaii's top wrestlers.
One of the highlights was announcer Steve Migs introducing WWE Hall of Fame inductee Ivory to the live crowd. Ivory came to support DEFY Wrestling and all of the amazing wrestlers!
DEFY Wrestling returns January 19th to Seattle WA and February 9th to Portland OR. Ticket information will be at www.DefyWrestling.com
Did you get to attend this event? Let us know on social media @theCHAIRSHOTcom and always remember to use the hashtag #UseYourHead!