The Good, Bad and Ugly: Raw Christmas Eve 2018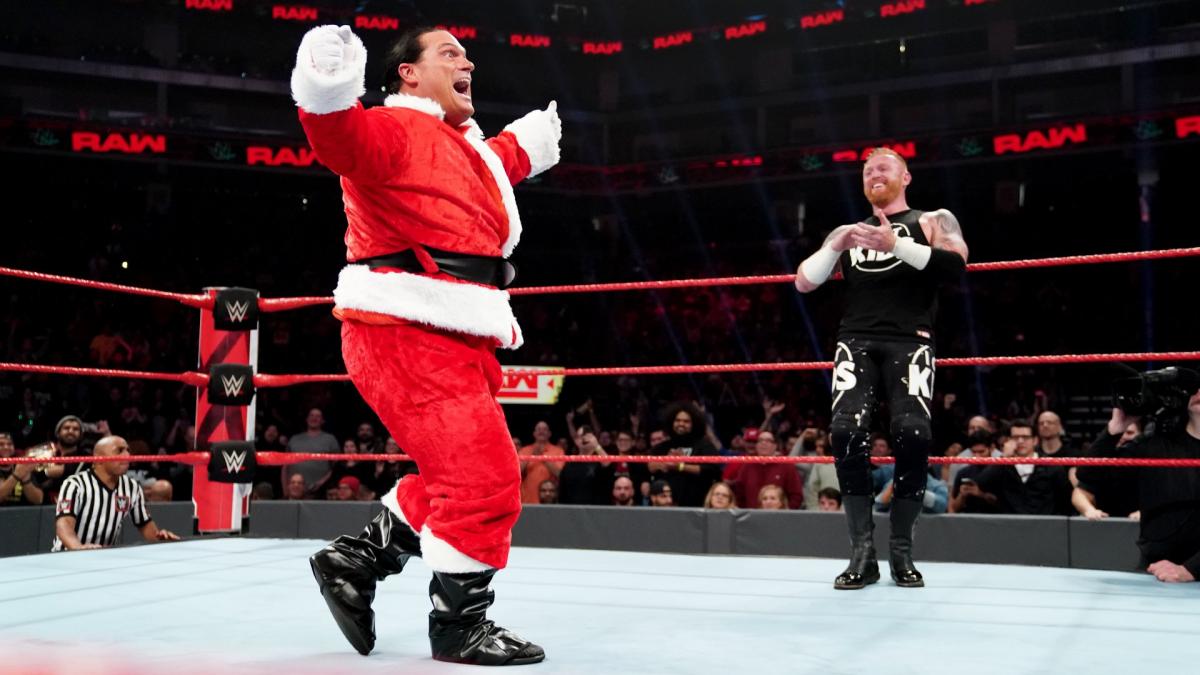 On Christmas Eve we still get to watch WWE Action, as well as a Pre-taped SmackDown Christmas Day.  The Opening Video was Good, and definitely had the proper spirit.  Although the hopes are low this time of year, could there be some surprises? 
THE GOOD
Opening Segment w/ Elias
Elias is Gold.  His mic skills are just incredible.  Opening up the show with Elias is a Good idea.  He is unbelievably over with the crowd, and gets more of a reaction every week passing.  Elias has this somewhat "tweener" attitude that the fans cannot get enough of and it shows.  His promos are short, effective and entertaining.  This week was no different.
Miracle on 34th Street Fight- Elias vs.  Bobby Lashley
With the ringside set up for a food fight and some other surprises, these two big physical athletes went at it right off the bat.  We saw some decent action.  This is a pretty effective.  Now that Lashley doesn't have the burden of having to cut promos as well as, all of the other things Lio Rush brings with his character, he is a force out there.  In a completely ruthless move, Lashley dumped a pile of Lego's in the ring, however Lashley ending up taking the fall onto them.  Elias followed up with a fire extinguisher and smashed Lashley into Rush, who went through the cookie table.  Elias then rolled a strike with a bowling ball down the middle on Lashley's jewels.  Finishing things off, smashing a cello over Lashley's back, Elias picks up the win.   He then drowned Rush in some cookies and eggnog.  This had a lot of potential to get buried with cheese, but it worked.  Good, fun opening. 
Raw Tag Team Championships- Roode and Gable (c) vs.  The Revival
Hell of a Match on paper.  We have some major talent here.  Everything delivered right away, the pace was set and the guys did what they know how to do best.  This was so "old school" and technical.  The way Dawson kept stopping Gable from tagging was fantastic.  Bobby Roode came in on fire and cleaned house flipping Wilder onto Dawson in a sick move.  Gable had the match won but was broken up again by Dawson.  The Revival put on a great show of tag team wrestling move after move, however Gable gets a roll up to retain the titles after a hard fought match.  This was Awesome!  If this is the caliber going forward, we are in for some kick ass content in the future. 
Drew McIntyre vs.  Dolph Ziggler vs. Finn Balor
With all of the heat and talent we have seen with these three lately, this had to be Good.  As expected this was full of action.  McIntyre viciously dominated his smaller opponents and Balor and Ziggler hit some high impact moves that are expected of them.  Balor put on an onslaught of big moves and nearly took out McIntyre until Ziggler hit Balor with a Zig-Zag.  McIntyre came back on top destroying both Balor and Ziggler.  But couldn't maintain, Ziggler looked to have it finished but Balor would not stay down.  Balor with the "coup de grace" for the victory.  After the match McIntyre slapped around Ziggler only to get hit with a "zig-zag."
Mickie James, Dana Brooke and Alicia Fox vs. Sasha Banks, Ember Moon and Bayley
Variety is a Good thing in most cases especially in the Women's Division.  There was a lot of improvement with this this group that constantly seems to under perform.   They played it safe and limited Fox's action which was a Good idea.  Nothing is perfect, however given the fact that nothing major happened, including a botch that Mickie James saved, this match was Good enough to be saved from the Bad list.  Bayley hits a "Bayley to Belly" after a Banks "Backstabber" for the Victory.  Riott Squad ran in and beat the winners down, which seems to be setting up a new feud that should be Good to watch.  The official announcement for the Women's Tag Team Championships coming up, definitely means we will be seeing more set up like this.  Let's hope it continues to deliver Good content. 
Paul Heyman Promo
Paul Heyman does a lot well.  Singing isn't one of them.  However it got a lot of heat with the crowd.  Heyman always knows what he is doing.  Nothing to write home about.  Heyman spouted off his usual stuff, nothing new.  It's like the same Brock Lesnar promo over and over, without Lesnar even being there.  Then Strowman arrived.  The crowd went crazy.  Strowman put a red nose and antlers on Heyman which really was a great sight.  Still again, nothing new happened.  Luckily the whole thing was short, which saved it. 
Heath Slater vs. Jinder Mahal w/ The Singh Brothers
The variety again, is a Good thing.  These types of matches are important to an overall successful program.  Jinder Mahal controlled this match early on, beating down Slater constantly.  All of a sudden Santa Clause came out, infuriating Jinder Mahal.  Heath Slater almost got the pin, until the Singh Brothers interfered giving Slater the victory by disqualification.  A very seasoned Santa Clause hit a textbook "Gore" revealing Rhyno has returned to save his buddy.  This was quick, fun and always Good to see Rhyno.  Who hates a Good surprise? 
Seth Rollins vs. Baron Corbin
Baron Corbin has been one big disappointment weekly.  He just isn't Good.  Rollins sometimes is hit or miss, making this a bit of a crap Main Event.  Raw had a strong showing this week, and this match really didn't make much sense to begin with.  The match itself was physical, it told a story, and the crowd was hot.  On the other note, nothing was standout, but nothing was Bad either.  Rollins controlled the match for the most part, and wins with a "curb stomp" ending a fantastic Monday Night Raw. 
THE BAD
Raw Women's Championship- Ronda Rousey (c) vs. Natalya
The Gauntlet Match that set this up last week was just a whole lot of Bad.  However this is a new week, and Raw so far has been Good.  The two technicians went at it.  We saw a lot of "wrestling" and counters.  We also saw a ton of awkward moves, miscues and a lot of borderline boring air time.  Rousey playing the "friend" role wasn't aggressive and just seemed to go through the motions.  Nattie certainly looked better the more aggressive she got, but still even with certain high points, overall it wasn't Good.  Rousey hit a fantastic "running knee" which by far looks like the best she has.  However Nattie kept fighting back and kept control throughout.  Natalya went for her "sharpshooter" but eventually got hit with a "Piper's Pit."  Rousey then hesitated with her "armbar" and Natalya pounced getting Rousey into the "sharpshooter" again.  Rousey finally turned it on and got Natalya into the "armbar" for the win.  The finish was horrible though.  Natalya literally tapped after Rousey had already released.  Natalya week after week has been horrible in there.  Maybe she shouldn't care so much about where she is from and feel free to brush up at the performance center from time to time.  This just wasn't Good, no matter how much everyone wanted it to be.   
THE UGLY:  N/A
FINAL TALLY
GOOD:  8
BAD: 1
UGLY: 0

OVERALL:  Raw was very GOOD.  It delivered on all levels and was a fantastic way to kick off the Christmas festivities. 
Raw woke up this week.  This was a Good Show almost a clean sweep.  Even with its flaws it was heavily a Good show overall.  Hopefully this momentum will continue and this wasn't a fluke.  We shall see next week.  Merry Christmas to all!  Please comment, like, share and enjoy your holidays!