The Good, Bad and Ugly: SmackDown (12/04/2018)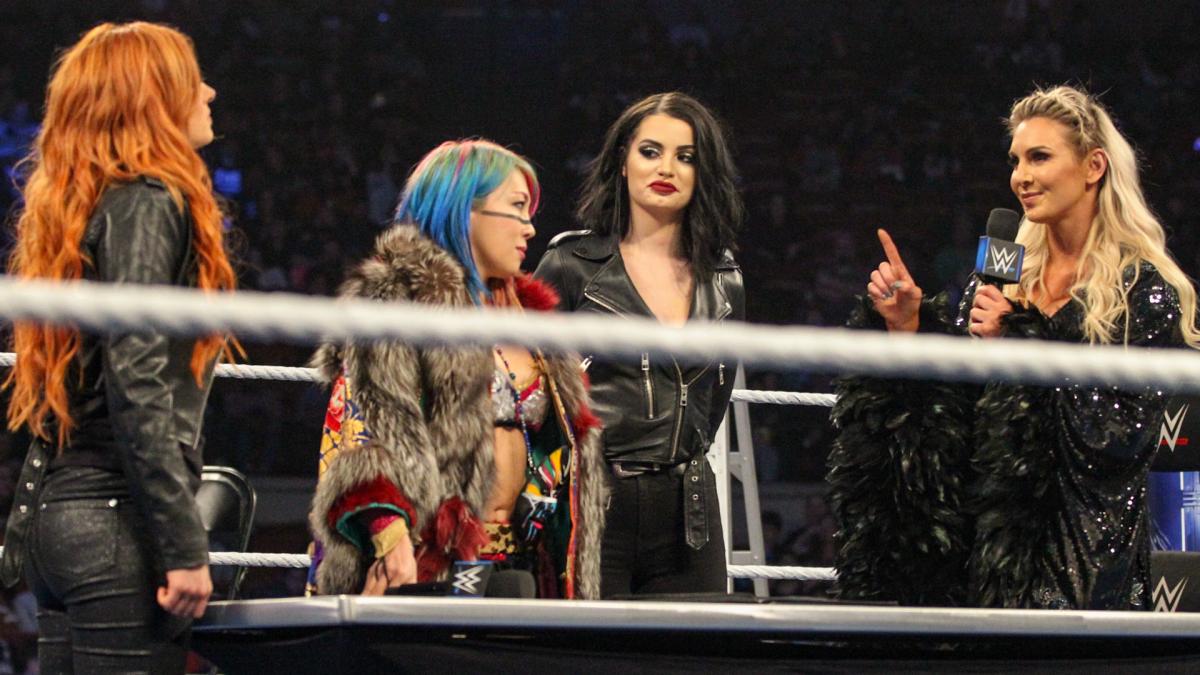 Well after last week was the "Worst Raw Ever" and this week was "Awful But Still An Improvement", SmackDown has to be the high point of the main roster…right? Let's find out what Bobby has to say about it.
With a red hot, well luke warm Raw, our "B for Better" brand had a Good Show last week.  Can they keep the trend going and dominate like always?  Or will we all have a "blue" night from an Ugly show?  Not a chance.  This is SmackDown.
THE GOOD
Opening Segment with GM Paige
Hyping another first for WWE.  We have Asuka, Charlotte, and "The Man" Becky Lynch all together.  All look ready to kick some ass in the first Women's Championship TLC Match.  Again Becky Lynch is so over right now.  The crowd just adores her every move.  She is doing so well on the mic, beaming with confidence that seemed to be missing before.  Charlotte slayed as always, and Asuka came in perfectly solidifying her role in this match.  Mandy Rose and Sonya Deville looked great as well.  Mandy is a natural on the mic, and has gotten comfortable in the ring.  Sonya Deville, definitely got a bump up from her brief interaction against Asuka a week ago in the Battle Royal.  I would love to see a lot more of both of them, as they add something Good to the show.  It was a decent Segway to the opening match which will most likely be Good.
Mandy Rose and Sonya Deville vs. Charlotte and Asuka
Charlotte and Asuka were on fire this whole match.  The swagger was running wild.  The pace was sharp and everything clicked.  Sonya Deville and Asuka have tremendous potential for an epic feud.  Sonya Deville is so talented I want to see more of her as much as possible.  WWE really needs to tap into some of their supporting cast but that is a known fact.  We had a lot of Good action in this match.  After a mixup at ringside, Charlotte kicked Asuka in the face only for Asuka to retailiate leading to a roll up and victory by Sonya Deville.  Deville and Rose Win!
Triple Threat Match:  Xavier Woods vs. Cesaro vs. Jey Uso
No surprise to anyone we have some fantastic talent in this match.  They are also very comfortable with one another, and it showed.  We had a ton of action, lots of high flying, and entertaining spots.  These guys are a major part of the flavor on their respective teams.  Woods and Cesaro are non-stop.  After some unbelievable spots, and intense back and forth, everything going smoothly.  This is the type of talent that needs to be seen every week, as it is just to Good to waste!  We had an insane group of kicks and false finishes before Jey Uso superkicks Cesaro for the victory.  This was a Good time and even better match.
Miz TV
Carmella and R-Truth interrupt the former IC Champion and Movie star with a Dance Interruption, making for a random and funny moment.  This is an interesting segment, having such a heated rival like World Heavyweight Champion, Daniel Bryan.  They have a lot of heat and history, but now as a heel, it will add a bit of uncertainty.  Daniel Bryan as a psychopathic jerk is just perfect.  He is such an interesting heel all around.  Being so over and really not doing anything hate worthy, he has transitioned into his new role smoothly.  I especially love that he is looking down on the fans and borderline snobbish. The Miz interrupting his environmental rant, is wonderful, two heels playing off each other.  Daniel Bryan getting booed, The Miz getting Yes Chants!  Plain Insanity!  Enters AJ Styles, making the crowd pop.  Unfortunately, he was outdone by The Miz, ending his heat early.  Decent promo, still not Bad.
AJ Styles vs. The Miz
Everyone seems excited for this match.  It is a good match-up of characters, skill levels and overall heat.  AJ Styles came out with pure aggression, making this look very personal.  We saw some Good action throughout, seeing both men trying to break each other down.  Working the body, and giving the fans a textbook match.  It wasn't perfect, but we had some good, solid wrestling.  The Miz has earned his legacy and place as a serious contender.  SmackDown is heavy on the commercial breaks, and during the Main Event of the Night, it gets old.   AJ Styles may be the Best Ever.  He really brings it, tonight was no different.  Predictably as Daniel Bryan was at commentary, he got involved long enough for the Miz to regain control and attack the "Phenomenal One" leading to a 2-Count from a devastating "Skull Crushing Finale."  Daniel Bryan got involved again, but got kicked in the head by AJ leading to a roll up into a Calf Crusher for the Win!  Although victorious Styles got destroyed by Daniel Bryan after the match.  Bryan viciously beat the hell out of him, stomping his face repeatedly.  The crowd was irate.  As said before, this mean streak fits Daniel Bryan so well.  He is so edgy and angry. "Fickle!"  The wild craze he portrays is believable.  When that happens, it's magic.
The Bad
Jeff Hardy vs. Randy Orton
I love this feud.  Two veterans that bring it on every time at their highest potential levels.  This was a Good and safe match, as the two men kept things familiar and comfortable.  That's not to say it wasn't physical and exhausting.  These guys go!  Even in the rest spots, these guys know what they are doing.  Then we had some miscues.  We had a few issues that cannot go unnoticed including a scary high spot where Hardy almost landed on Randy Orton's head.  But they gained their composure, however just when it looked like it was over, Samoa Joe ruined this match by interrupting it on the big screen, causing a distraction followed by a disgusting RKO!  Randy Orton Wins!  The ending and miscues were just Bad.  Samoa Joe made it even worse by giving us a cheesy lecture.  This simply pushed this match, as a whole in a Bad direction.
THE UGLY- N/A
Final Tally
Good – 5
Bad – 1
Ugly – 0
Overall:  SmackDown Wins! Another solid, Good Show!
SmackDown is just a Good show.  This so called "B" show is superior in every single way.  Raw has this awesome, untouchable history, and a soft spot in many's heart from the Monday Night War days, but SmackDown has the Goods!  See you later this week for my Pre-TLC article.  Please comment, like and share.





It's a slam dunk that SmackDown was better, wasn't it? Let us know on social media @theCHAIRSHOTcom and always remember to use the hashtag #UseYourHead!