The Good, Bad and Ugly: SmackDown (12/04/2018)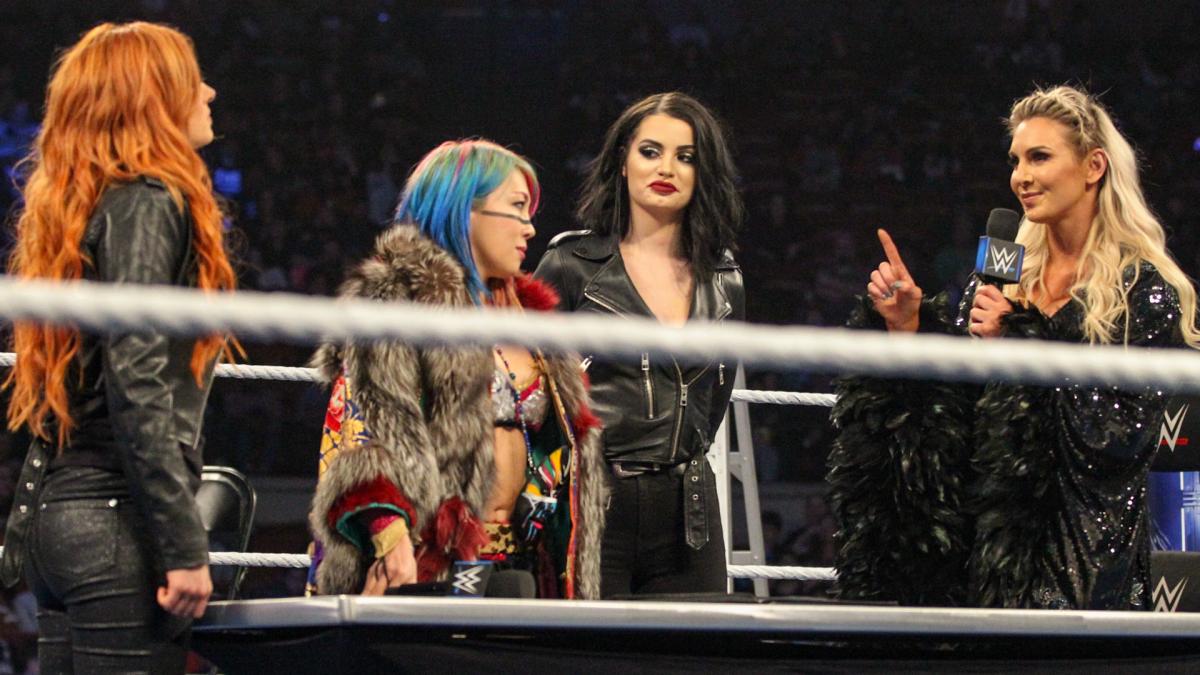 Well after last week was the "Worst Raw Ever" and this week was "Awful But Still An Improvement", SmackDown has to be the high point of the main roster…right? Let's find out what Bobby has to say about it.
With a red hot, well luke warm Raw, our "B for Better" brand had a Good Show last week.  Can they keep the trend going and dominate like always?  Or will we all have a "blue" night from an Ugly show?  Not a chance.  This is SmackDown.
THE GOOD
Opening Segment with GM Paige
Hyping another first for WWE.  We have Asuka, Charlotte, and "The Man" Becky Lynch all together.  All look ready to kick some ass in the first Women's Championship TLC Match.  Again Becky Lynch is so over right now.  The crowd just adores her every move.  She is doing so well on the mic, beaming with confidence that seemed to be missing before.  Charlotte slayed as always, and Asuka came in perfectly solidifying her role in this match.  Mandy Rose and Sonya Deville looked great as well.  Mandy is a natural on the mic, and has gotten comfortable in the ring.  Sonya Deville, definitely got a bump up from her brief interaction against Asuka a week ago in the Battle Royal.  I would love to see a lot more of both of them, as they add something Good to the show.  It was a decent Segway to the opening match which will most likely be Good.
Mandy Rose and Sonya Deville vs. Charlotte and Asuka
Charlotte and Asuka were on fire this whole match.  The swagger was running wild.  The pace was sharp and everything clicked.  Sonya Deville and Asuka have tremendous potential for an epic feud.  Sonya Deville is so talented I want to see more of her as much as possible.  WWE really needs to tap into some of their supporting cast but that is a known fact.  We had a lot of Good action in this match.  After a mixup at ringside, Charlotte kicked Asuka in the face only for Asuka to retailiate leading to a roll up and victory by Sonya Deville.  Deville and Rose Win!
Triple Threat Match:  Xavier Woods vs. Cesaro vs. Jey Uso
No surprise to anyone we have some fantastic talent in this match.  They are also very comfortable with one another, and it showed.  We had a ton of action, lots of high flying, and entertaining spots.  These guys are a major part of the flavor on their respective teams.  Woods and Cesaro are non-stop.  After some unbelievable spots, and intense back and forth, everything going smoothly.  This is the type of talent that needs to be seen every week, as it is just to Good to waste!  We had an insane group of kicks and false finishes before Jey Uso superkicks Cesaro for the victory.  This was a Good time and even better match.
Miz TV
Carmella and R-Truth interrupt the former IC Champion and Movie star with a Dance Interruption, making for a random and funny moment.  This is an interesting segment, having such a heated rival like World Heavyweight Champion, Daniel Bryan.  They have a lot of heat and history, but now as a heel, it will add a bit of uncertainty.  Daniel Bryan as a psychopathic jerk is just perfect.  He is such an interesting heel all around.  Being so over and really not doing anything hate worthy, he has transitioned into his new role smoothly.  I especially love that he is looking down on the fans and borderline snobbish. The Miz interrupting his environmental rant, is wonderful, two heels playing off each other.  Daniel Bryan getting booed, The Miz getting Yes Chants!  Plain Insanity!  Enters AJ Styles, making the crowd pop.  Unfortunately, he was outdone by The Miz, ending his heat early.  Decent promo, still not Bad.
AJ Styles vs. The Miz
Everyone seems excited for this match.  It is a good match-up of characters, skill levels and overall heat.  AJ Styles came out with pure aggression, making this look very personal.  We saw some Good action throughout, seeing both men trying to break each other down.  Working the body, and giving the fans a textbook match.  It wasn't perfect, but we had some good, solid wrestling.  The Miz has earned his legacy and place as a serious contender.  SmackDown is heavy on the commercial breaks, and during the Main Event of the Night, it gets old.   AJ Styles may be the Best Ever.  He really brings it, tonight was no different.  Predictably as Daniel Bryan was at commentary, he got involved long enough for the Miz to regain control and attack the "Phenomenal One" leading to a 2-Count from a devastating "Skull Crushing Finale."  Daniel Bryan got involved again, but got kicked in the head by AJ leading to a roll up into a Calf Crusher for the Win!  Although victorious Styles got destroyed by Daniel Bryan after the match.  Bryan viciously beat the hell out of him, stomping his face repeatedly.  The crowd was irate.  As said before, this mean streak fits Daniel Bryan so well.  He is so edgy and angry. "Fickle!"  The wild craze he portrays is believable.  When that happens, it's magic.
The Bad
Jeff Hardy vs. Randy Orton
I love this feud.  Two veterans that bring it on every time at their highest potential levels.  This was a Good and safe match, as the two men kept things familiar and comfortable.  That's not to say it wasn't physical and exhausting.  These guys go!  Even in the rest spots, these guys know what they are doing.  Then we had some miscues.  We had a few issues that cannot go unnoticed including a scary high spot where Hardy almost landed on Randy Orton's head.  But they gained their composure, however just when it looked like it was over, Samoa Joe ruined this match by interrupting it on the big screen, causing a distraction followed by a disgusting RKO!  Randy Orton Wins!  The ending and miscues were just Bad.  Samoa Joe made it even worse by giving us a cheesy lecture.  This simply pushed this match, as a whole in a Bad direction.
THE UGLY- N/A
Final Tally
Good – 5
Bad – 1
Ugly – 0
Overall:  SmackDown Wins! Another solid, Good Show!
SmackDown is just a Good show.  This so called "B" show is superior in every single way.  Raw has this awesome, untouchable history, and a soft spot in many's heart from the Monday Night War days, but SmackDown has the Goods!  See you later this week for my Pre-TLC article.  Please comment, like and share.





It's a slam dunk that SmackDown was better, wasn't it? Let us know on social media @theCHAIRSHOTcom and always remember to use the hashtag #UseYourHead!
Tiffany: Intriguing Storyline Brewing in NJPW's G1 Climax
Tiffany's rookie experience through New Japan continues! What has she noticed in the G1 Climax?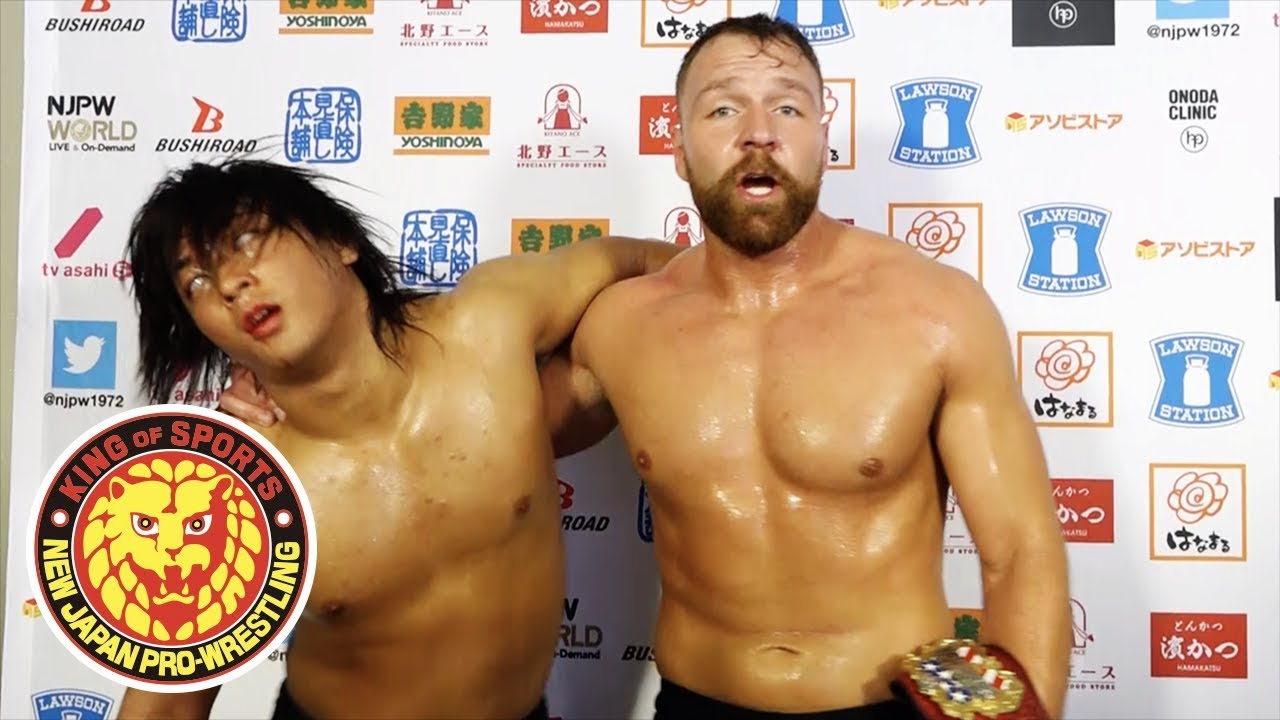 Tiffany's rookie experience through New Japan continues! What has she noticed in the G1 Climax?
So, I've been watching the G1 Climax this year and loving it! Yes, I mostly made the choice to watch it because Jon Moxley declared at Dominion that he wanted in and his request was granted, but I've been genuinely intrigued and excited by the matches of the grueling tournament.
For some background for those who do not watch NJPW, the G1 Climax is NJPW's big tournament of the year. They take a field of around 20 guys and split them into two Round Robin blocks. One day, Block A will have their matches while B Block has tag matches to tease upcoming matches and the next day B Block will have their matches while A Block has tag matches. A win gets you two points, a draw gets you one point, a loss gets you zero points and the two guys who have won their blocks by getting the most points face off in the G1 Climax Final and the winner faces the IWGP Heavyweight Champion at Wrestle Kingdom, NJPW's WrestleMania in January. This tournament takes a month to get done, they don't wrestle every day, but it's usually a few days on, a day or so off, then start all over and, in some ways, is as grueling to watch as it is to do.
As it stands on Sunday, July 21, 2019, Jon Moxley, FKA Dean Ambrose, is the only man in B Block to be undefeated and he has 6 points after 3 matches. In A Block, IWGP Heavyweight Champion, Kuzuchika Okada shares the undefeated mantle with KENTA, FKA Hideo Itami, each of whom have 8 points because A Block had two block shows this weekend, and that is where things get interesting.
We are about one-third to halfway through this tournament and two former WWE guys are in the top of the standings, but where Jon Moxley has largely been embraced by the Japanese fans, KENTA, a native of Japan, has largely been shunned, even getting booed by the Japanese crowd in his match with EVIL in Saturday's A Block match. It would very easy for whomever does the booking for NJPW to create a rivalry between KENTA and Moxley based on how they've been treated since coming to NJPW, especially playing up KENTA resenting Moxley for being loved and/or respected by the Japanese fans, while KENTA has not. Add in Moxley getting, and winning, the IWGP US Championship in his first match, while KENTA, due to the tournament schedule, has not.
That would not have to be the only point of contention between them, they could use Shota Umino, a Young Lion (NJPW rookie) who has becoming Moxley's sidekick, and have KENTA resent how Moxley's…'corrupting' Umino and the teachings of the NJPW Dojo.
Does it HAVE to be KENTA? No, there have been other wrestlers in NJPW who have expressed resentment and skepticism over Moxley, and all of them have paid for expressing those doubts with serious ass-kickings, just ask Juice Robinson, Taichi, and Tomohiro Ishii, but KENTA, who has also just left WWE would make the most sense as they came in about the same time, from the same company, but the way the Japanese fans have welcomed and treated them has been VERY different.
Is this NJPW's plan? I have no idea, Moxley is signed to a full-time contract with AEW, who will have first dibs on his dates once the TNT show starts up. Plus, I'm not familiar enough with NJPW to know how their booking works, but it definitely makes for an intriguing storyline coming out of the G1, so we'll see.
(NOAH) WEEKLY NEWSLETTER VOL.44 ~ 21ST JULY 2019
The Global Junior League is wrapping up, and Marine Day is celebrated by all! Hisame gives the overview on the NOAH course of action!

The Global Junior League is wrapping up, and Marine Day is celebrated by all! Hisame gives the overview on the NOAH course of action!
CURRENT TOUR RECAP
NOAH started the long trek to the finals (and the GHC Heavyweight Tag match championship) at Korakuen Hall on 15th July on Japan's "Marine Day" National Holiday. By the 16th they had moved up to Japan's North to the Shin Yuri Twenty-One Hall, with the dreaded "Demon Staircase from Hell". 19th July in Morioka, 20th in Akita and the 21st in Aomori.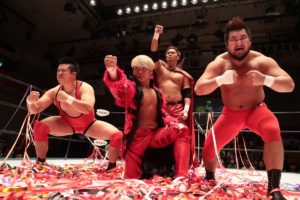 Kenoh debuted his new ring wear (its all red) and Kongoh got their first win over The Sugiura Army (who all came out wearing the "Company Dog T-shirts")
Kenoh has vowed to enter the N-1, win it, win the GHC Heavyweight at Sumo Hall, and then return to the provinces with the belt.
Naomichi Marufuji also debuted new ring wear. He said he changed it from red as red was Kongoh's colors, and he has gone with a black and metallic silver. Black and silver are LIDET'S colors, but Kenoh seems not to have picked up on that yet.
RATELS continued with their periodic squabble (which happens in leagues, and when one of them has a belt which another one challenges for) in a match that one fan termed "speed vs power" with Tadasuke taking on YO-HEY, and defeating him within ten minutes. Elsewhere for RATELS that evening, Daisuke Harada was bloodied by Yoshinari Ogawa, who in turn was bloodied by Harada when he threw him into a table. As YO-HEY said about the match (which he watched on the monitor), that Harada is known for bleeding, but for Ogawa, its very rare.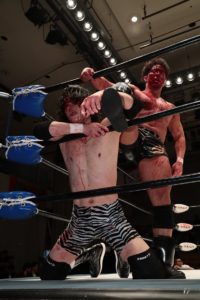 There was blood everywhere by the end of the match, all over the mat, the mats outside (in pools), and senior Referee Nishinaga's shirt was smeared with it. Yoshinari Ogawa won with a sneak roll up (see "Rat Boy" in dictionary), and Harada threw one of his famous tantrums and had to be pulled off Ogawa. Ogawa said afterwards that if you think what he did to Harada was bad then he was going to do worse to YO-HEY (who is "not on Harada's level"). YO-HEY gave a nonsensical confused and rambling promo (please DO NOT GET ME STARTED on it) about hitting Ogawa's nose on the right side. However, in the event of things, neither bled and it was YO-HEY who took the victory.
The bloodshed resolved nothing between Harada & Ogawa as on the 16th when Harada came out to second RATELS, friction once again rose between them, with a fight breaking out at the end of the match as Harada got into the ring to attack Ogawa.
In the main event at Korakuen when AXIZ clashed with the challengers to their GHC Heavyweight tag titles, Kaito Kiyomiya aimed a missile dropkick to Go Shiozaki's knee (despite promising that he wouldn't as he felt that a champion should be "emphatic" at times). Also in the match sparks flew between Chris Ridgeway and Naomichi Marufuji, who had a kick\chop war. After the match they both made the "single match" signal to each other, which is something that fans very much want to see.
After the match (and Go Shiozaki tapping out to Taniguchi), NOAH announced that Shiozaki would be missing time due to a shoulder dislocation. During this time, which was a time of worry for fans and Nakajima, Nakajima came out holding both the tag belts and to AXIZ theme music. Taniguchi made him tap out on the 16th to his modified camel clutch.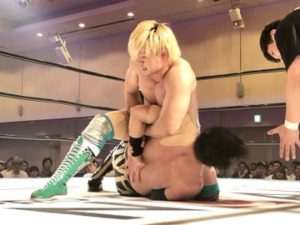 Kaito Kiyomiya has now turned 23 (17th July) and fans have started detecting a change of vibe him in, he seemingly has gone from the nice young (slightly naive) boy of 22, to more steely and less sympathetic person. This was seen when talking about Shiozaki's injury he said something to the effect of, "yeah, we all get injured, and while I sympathize, we are trying to have a title match here", and in the title match he attacked Shiozaki's damaged neck and shoulder. In Morioka, he was seen to have slight smirk on his lips (as opposed to his usual worried expression) when he held the belt up to Kenoh at the end of the main event, and Kenoh stalked off.
Go Shiozaki returned to action on the 20th July. He doesn't seem to have had any further problems, and he says he is fine, but fans think that he is probably a lot worse than he is making it out to be.
The afternoon at Korakuen belonged to the juniors with HAYATA vs Kotaro Suzuki putting on a stellar match, with HAYATA wearing Kotaro Suzuki down by letting him wear himself out. HAYATA wouldn't quit, he took everything that Suzuki threw at him, and likewise with Suzuki taking everything that HAYATA threw at him. The audience were firmly on the side of HAYATA (as opposed to NOAH's first born son), and just as Suzuki hit the Tiger Driver, the time ran out.
Hajime Ohara, it must be said, was not in a good way during the closing stages of Global Junior League as the problem with his neck and shoulder flared up again (it had plagued him during Global Tag League 2018 too), so while fans wanted to see him win, it was probably better that he didn't, especially as he is responsible pretty much for the planning of NOAH's Kawasaki event. During the match on the 16th, the referee was concerned and asked him if he was fit to continue.
The semi final night of Global Junior League 2019 and the GHC Heavyweight title match came on the 21st July 2019 in the Mutsu Grand Hotel in Aomori. It is a small venue, a hotel, which NOAH created a "big match" atmosphere at.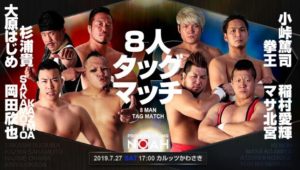 Takashi Sugiura & NOSAWA Rongai teamed up to take on Minoru Tanaka & Kinya Okada. After the match, which Sugiura naturally won, he said that he wanted Kinya Okada to enter The Sugiura Army. Kinya Okada did (and how could he refuse after being commanded by Takashi Sugiura), and he will have his first match as one of them on the 27th July at Kawasaki when they fight Kongoh. His joining The Sugiura Army is a good move as not only does it mean that he has the chance to be mentored by Takashi Sugiura, it also brings him into conflict with Yoshiki Inamura, who is in Kongoh, and calls him "my rival".
Global Junior League 2019 came down to HAYATA vs Tadasuke, following their wins over Hajime Ohara & Kotaro Suzuki (HAYATA, who was seconded by YO-HEY) and Tadasuke (who defeated Daisuke Harada earlier in the evening). When they met in the ring later, Tadasuke gave HAYATA the finger.
Daisuke Harada commented, "RATEL'S showdown in the final, I have nothing but jealousy."
AXIZ defended the GHC Heavyweight tag titles successfully against Kaito Kiyomiya & Shuhei Taniguchi, with Go Shiozaki getting the win with the lariat on Shuhei Taniguchi. They were challenged for the titles by The Return of The Dark Agents (Akitoshi Saito & Masao Inoue).
Title match will take place at NOAH's anniversary show on the 4th August.
EVENT RECAPS
Korakuen Hall, 15th July 2019 
Post match interviews
Shin Yuri Twenty-One Hall, 16th July 2019
Post match interviews
Morioka Gymnasium, 19th July 2019
Post match interviews
Serion Plaza, 20th July 2019
Post match interviews (AXIZ only)
Mutsu Grand Hotel, Aomori, 21st July 2019
NEWS
All Japan announced this week that the memorial for Atsushi Aoki will take place on the 11th August at Korakuen Hall. NOAH wrestlers have been announced to be participating in the event (although he was an All Japan wrestler, Aoki was NOAH  born) with Naomichi Marufuji, Takashi Sugiura, Shuhei Taniguchi and Hitoshi Kumano in attendance.

The main event will see Naomichi Marufuji team with Kento Miyahara and Yuma Aoyogi against Shuji Ishikawa, Shuhei Taniguchi and Suwama. Suwama has wanted a singles match with Marufuji since the Tokyo Sports Award in January, and says that he doesn't care about the other opponents, he wants Marufuji.
In the semi, Jun Akiyama will tag with Takashi Sugiura against Naoya Nomura and Hitoshu Kumano.
CURRENT CHAMPIONS
TOUR TIDBITS


~ NOAH have released a Sugiura Army "Company Dog" towel, which features both of Takashi Sugiura's dogs with his little toy poodle at one end and his beloved Shiba Inu at the other, both barking "Yip! Yip!"
~ HAYATA gave Kotaro Suzuki a slight black eye
~ Kenoh has said that HE will enter the N-1, and if LIDET don't let him, he will go ahead and do it anyway.
~ Yoshiki Inamura turned on Junta Miyawaki when Miyawaki came in to try and help him after the match in Morioka
~ Minoru Tanaka stole Rocky Kawamura's apples and ate one in the ring, and posted that the other one was for his lunch. When asked how they were by Rocky, he said they were tasty.
~ Kenoh's latest bout of paranoia is to claim that LIDET turned the microphone down on him during a promo.
~ Naomichi Marufuji scooped up the white and black feathers left in the ring from Kaito Kiyomiya and AXIZ'S jackets, and putting them in the palm of his hand, blew them into the crowd.
~ Mohammed Yone and Atsushi Kotoge did the Disco Fever vs Revolutionary Pose stand off. This hasn't happened for a while.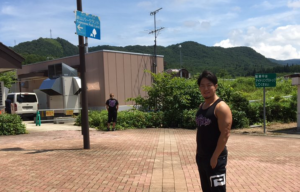 ~ RATELS went on a wander while in Akita, and came across a fenced off area because Bears were in the forest. YO-HEY joked that it was Hitoshi Kumano (who's surname means "Bear", and also incorporates bears into his persona\merchandise), doing a private autograph session. In one picture, in the background, HAYATA had his back to the camera while he stood by some bushes…
~ Minoru Suzuki vs Naomichi Marufuji will be their first match since the Suzuki Gun invasion of NOAH in summer 2016, although the match at TAKAYAMANIA 2 when this takes place, will not be a singles match.
~ Kaito Kiyomiya turned 23 on the 17th July
~ "The Tadasuke Women" were seen again in force at the Shin-Yuri Twenty One Hall. These middle aged to elderly women I believe are family and friends of Mohammed Yone, but they were given the name "The Tadasuke Women" after he played up to them last year. Minoru Tanaka, who sprained his ankle during the match, said that he had been distracted by them, hence the reason for his injury. Tadasuke behaved himself this year.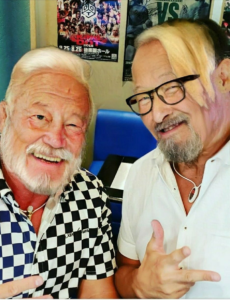 ~ Masao Inoue suffered the usual sneak videos from Naomichi Marufuji on NOAH's long bus journey (they have a twelve hour trip on the 22nd back to Tokyo), and then Marufuji bought out his new toy, "FaceApp" and made him into a woman (who looked a little like Betty Boop) and an old man. Marufuji also made himself into an old man, and then into woman. A photograph of himself and Takashi Sugiura as old grey men (looking like they where hosts of a daytime or direct to video art series) made Sugiura remark that they should challenge for the tag titles.
~ Referee Ben, who was kneeling at ringside, was knocked over by a dueling Chris Ridgeway and Tadasuke
BROADCASTS
NOAH's big Kawasaki Kultz event (and the GHC Heavyweight title, plus the final night of Global Junior League 2019) will air on the 2nd August on G+ at 8.30PM JST
NOAH will be broadcast live on Sunday 4th August at 11.30am JST on G+
LINKS
"Devil Form" Taniguchi – Onslaught on Shiozaki's Weak Point
PICTURE CREDITS: Noah.co.jp, Daisuke Harada, Naomichi Marufuji, Battle Sports