The Good, Bad and Ugly: SmackDown Live 12.11.18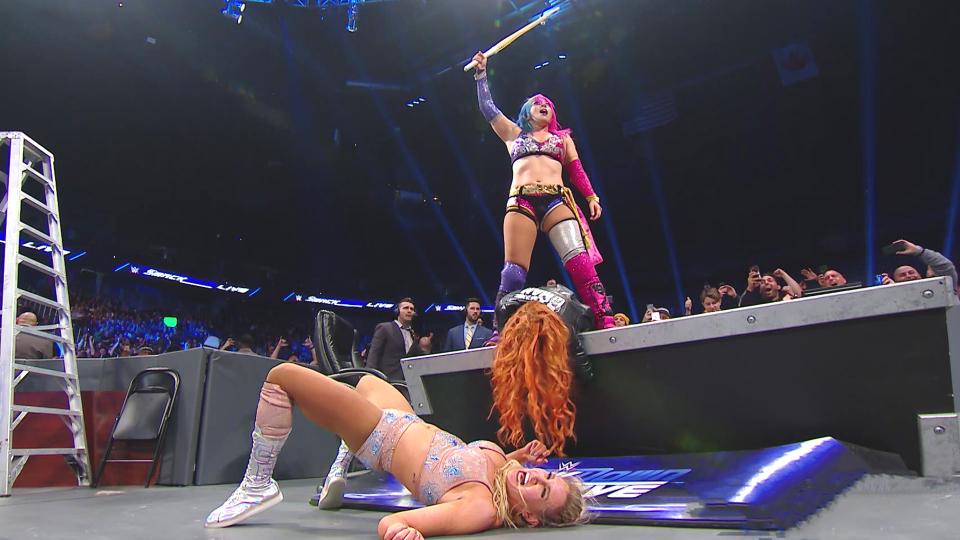 Does the TLC Go Home of SmackDown continue to build excitement, or does it go the way of Raw and help us all get to sleep earlier? Bobby let's us know how things are shaping up.
With Tables, Ladders and Chairs coming up this weekend, we had a semi-sweet Monday Night Raw.  The actual in ring action looked decent.  SmackDown is always looking bright, and tonight shouldn't disappoint.  What surprises are ahead on the Pre-TLC SmackDown?
The Good
Opening Promo w/ Daniel Bryan to Non-Title Match (WWE Champion) Daniel Bryan vs. Mustafa Ali
Daniel Bryan is solidifying his heel persona by continuing his onslaught on the general public and acting as wrestling's Smokey the Bear.  Shaming his once devoted fans, causing everyone to react in some way.  Daniel Bryan continues to pile on that his old self is now dead, and all of the fans are idiots.  Cheap pops and heat continued on.  Until luckily it was interrupted by Ali.  Mustafa Ali is a great talent.  He didn't do much of the talking here.  He mostly fell victim to Daniel Bryan spewing his agenda.  Ali went on to ask Daniel Bryan what's up with his new attitude, only to be disrespected with a slap to the face.  We saw a little action which gave us a taste of what is to come.  Daniel Bryan looked sharp.  His strikes were well done and was full of energy.  This evil, snapped gimmick is working well for him.  He wore down Ali,working the knee.  Old school, clean wrestling.  Ali had minimal offense but stuck to his high spots.  Even with the multiple interruptions and heavy commercials, this was a Good match.  After some incredible feats, Ali misses an inverted 450.  Daniel Bryan went on to tear Ali apart, making him tap to the "Heel Hook." Daniel Bryan Wins, a hot opening match. After the match, overkill set in, with Daniel Bryan viciously attacking Mustafa Ali up the ramp.  This wasn't needed but acted as a callous to Daniel Bryan's changeover to a heel. 
Randy Orton Promo
Orton wielding a chair went about showing off his previous torture of Rey Mysterio, questioning why anyone would want to have a chair match with a guy like him.  Just as he was about finished, Rey Mysterio attacked him out of nowhere, hitting Orton with a chair and a 619, causing Randy Orton to flee.  Not a bad promo.  Short and effective. 
Rusev and Jeff Hardy vs. Samoa Joe and Shisuke Nakamura
Rusev being involved is Good for business.  These four are some of the best in the business.  Rusev has the abilities to carry the WWE as the Heavyweight Champion. Much like a Bobby Roode, he has had moments of being overlooked, however that can change at any moment like we saw on Raw.  Pairing Shinsuke and Rusev is genius and a guaranteed winner.  WWE just has to let them work and it will be fantastic.  After being interrupted by an untimely dance off from Carmella and R-Truth, Shinsuke Nakamura brutally attacked Jeff Hardy from behind.  Samoa Joe continued the assault on Hardy.  This wasn't brilliant considering the talent here, but it was entertaining enough.  As the crowd showed everyone, Rusev when finally given the opportunity, delivered and looked Good in there.  He is a great talent all around.  After a devastating kick to the face, Rusev covers Nakamura for the Victory! 
Asuka vs. Charlotte
Going into this, how could it be Bad?  It really can't right?  First thing, it is a great Main Event, also,having Becky Lynch come out after the contenders were already in the ring was also great.  Charlotte looked completely flawless and confident.  This was very physical.  Asuka not to be outdone did some outstanding work.  Asuka kept after "The Queen" working her arms and beating her down. Charlotte and Asuka went back and forth most of the match.  Charlotte finally trapped Asuka into a "Figure 4" but getting reversed.  The two went back and forth fighting every second. This match was action packed.  Asuka repeatedly kicked Charlotte in the face, until Charlotte hits a spear.  After landing on her feet from a blocked moonsault, Charlotte then kicked out of a roll up from a countered "Figure 4".  Asuka hit the "Asuka Lock" that was countered sending Charlotte and Asuka to the floor. Charlotte then when psycho, Getting Disqualified for using her Kendo Stick.  Before Charlotte could go too far, Becky Lynch got her back, only to get attacked by Asuka.  Asuka went crazy with the Kendo Stick staking her claim of dominance.  Asuka Win!    
THE BAD:  N/A
THE UGLY
New Day Rap Battle:  Usos vs. The Bar
This style of promo has potential.  It can be really Ugly or really Good.  Depending how much cheese is involved vs.actual humor.  The New Day came out looking dapper and ready for the festivities. They are always ready to party.  The Bar had their Run DMC track suits and Flavor Flav clocks for decor.  That's where it ended with a cheese filled "Ice Ice Baby" to remedy their horrendous rap abilities.  The Uso's surprisingly were also not great at this.  This was a completely ridiculous,worthless segment.  Chalk this up as Ugly. 
Miz Promo (Shane McMahon and Miz vs. The Vegas Boys
Begging is just ridiculously over the top, especially in the current SmackDown setting.  It's cheap.  The Miz and Shane are both Good typically on the mic.  This was a smooth promo,however out of the blue Miz calls out a ref for a tag match.  This match was horrible.  Shane had more botches than I have ever seen.  This was absolutely Ugly all around.  Shane ended the debauchery by submission for the victory. 
Tally
Good:  4
Bad:  0
Ugly:  2
Final Results:  Good(ish)
Although the Good outweighed the Ugly on this one, we had some pretty Ugly moments.  More than I have seen on SmackDown in sometime.  This wasn't their strongest show among the past few weeks, but it worked. The highlight of the night was the Main Event!  TLC is Sunday and I would say thanks to SmackDown, we are ready to roll! 
How did you feel about this past SmackDown? Let us know on social media @theCHAIRSHOTcom and always remember to use the hashtag #UseYourHead!
King's WrestleMania Rewind: Charlotte Flair vs. Asuka from WrestleMania 34
Chris king is back with one of the most underrated matches in WrestleMania history–Charlotte Flair vs. Asuka!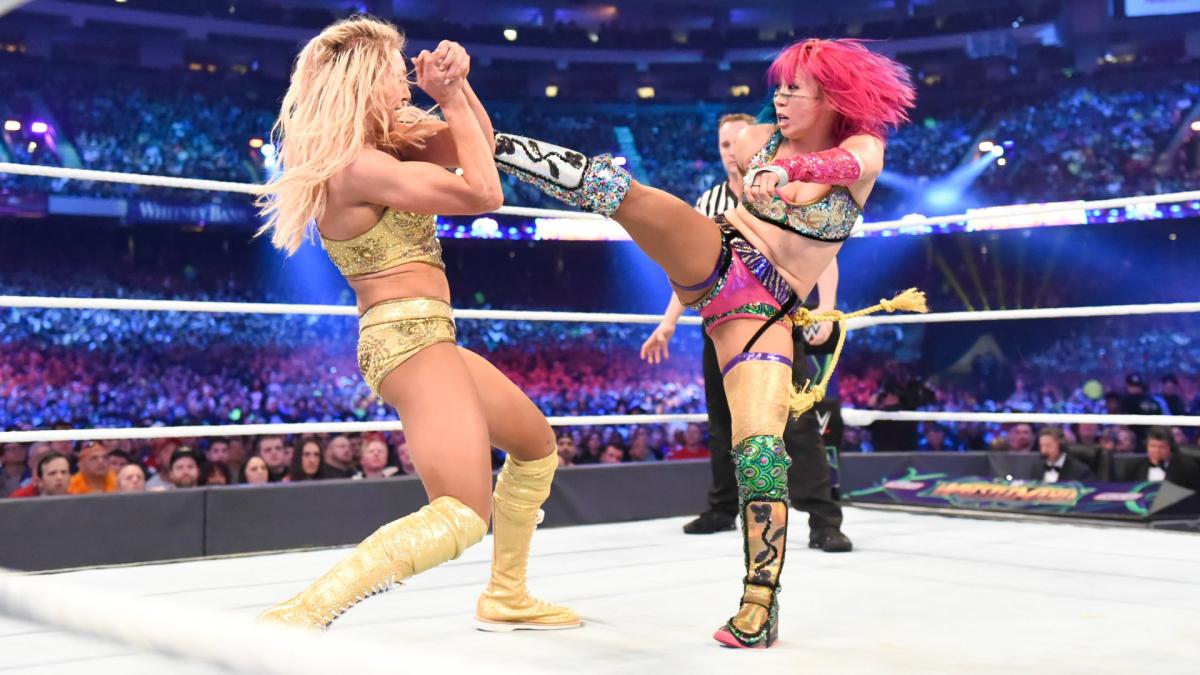 Chris king is back with one of the most underrated matches in WrestleMania history–Charlotte Flair vs. Asuka!
We look back at Charlotte Flair vs. Asuka at WWE WrestleMania 34. 'The Empress of Tomorrow' put her unprecedented and historic undefeated streak of 914 days on the line against 'The Queen's' SmackDown Women's Championship.
For years, this was considered a dream match while Asuka dominated the roster in NXT, while Flair won numerous championships on the main roster on both Raw and SmackDown. The Empress made her long-awaited debut on the September 11th episode of Raw and began to tear through the competition.
Asuka outlasted all twenty-nine other women in the historic first-ever Women's Royal Rumble match to challenge for the title of her choosing. At Fastlane, she made her choice.
The WWE Universe was so excited for this match myself included. Both superstars delivered a fantastic performance on the Grandest Stage of Them All executing counter after counter. Asuka showed off some nasty-looking kicks to her opponent, and Flair hit a thunderous Spanish Fly off the top rope. Flair was seconds away from defeat at the hands of The Empress but she locked in Figure Eight and Asuka was forced to tap out.
I can't even begin to explain how shocked I was at this outcome, as nearly everyone expected The Empress to continue her undefeated streak and walk away with the women's title. This controversial decision was the downfall of Asuka's momentum. She would ultimately win the SmackDown Women's Championship at the 2018 TLC pay-per-view in the triple-threat ladder match.
Fast forward to this year when Asuka has recently returned with her Japanese-inspired persona Kana. Kana is dangerous and ruthless and is heading into a championship with Bianca Belair at WrestleMania 39. The Empress has regained all her momentum and is highly favored to walk away with the Raw Women's Championship. Let's hope that Asuka and Belair can tear the house down and deliver an A+ grade match both women are fully capable of.
King: Dominik Mysterio Needs To Do This At WrestleMania
Chris King is here with what WWE should do with Dominik Mysterio at WrestleMania in his long-awaited match against his father Rey Mysterio Jr.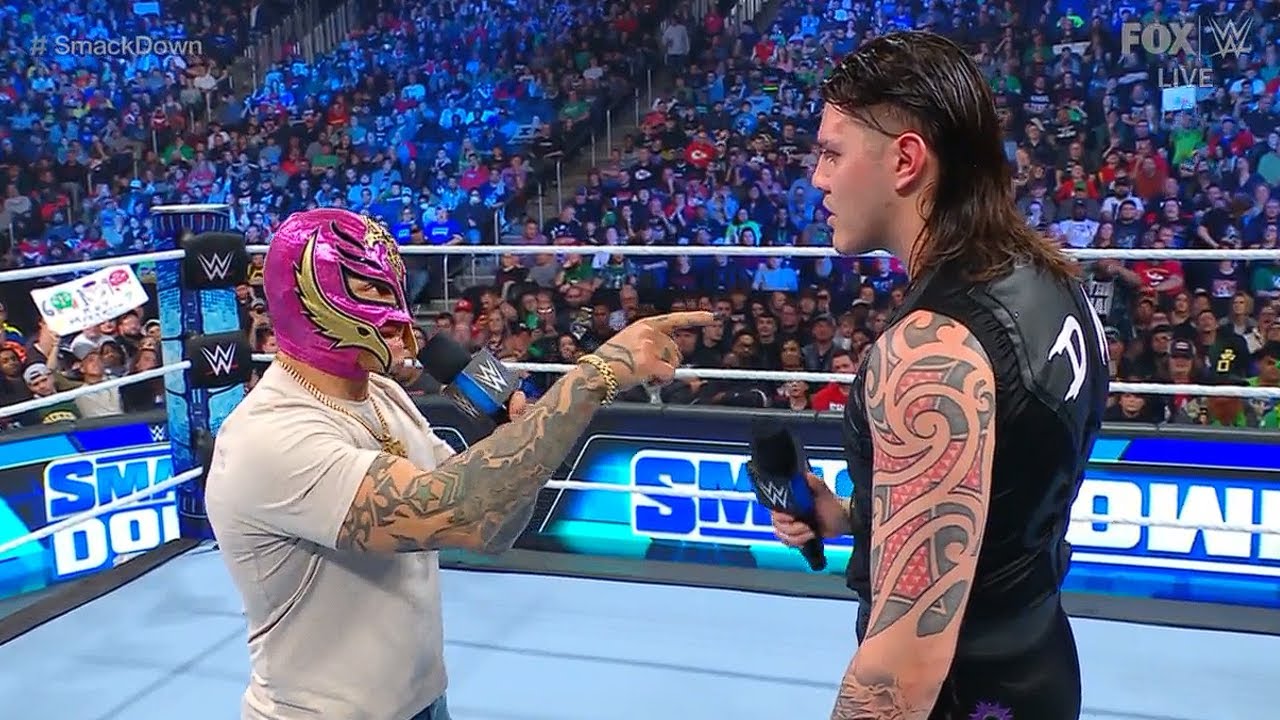 Chris King is here with what WWE should do with Dominik Mysterio at WrestleMania in his long-awaited match against his father Rey Mysterio Jr. 
On this week's episode of Friday Night SmackDown, Rey Mysterio finally snapped and beat some sense into his disrespectful punk-ass kid Dominik. The member of the Judgement Day came out to push his father again for a match on the Grandest Stage of Them All, this time with his mother and sister at ringside. The ungrateful punk told his mom to "Shut Up," as a father even I wanted to jump through the screen and whoop his ass.
Back in October of last year, Mysterio made the emotional decision to possibly quit the company but, instead, Triple H persuaded the Lucha libre superstar to move over to SmackDown to avoid his son. This came after Dominik shockingly turned on his father at Clash at the Castle. Mysterio did everything he could to refuse his despicable son's challenge for Mania but, a man can only be pushed so far. Mysterio will be inducted into the 2023 WWE Hall of Fame and I expect Dominik to embarrass his father during his speech to further this personal feud.
Yes, the WWE Universe hates Dominik and wants to see him get the ever-loving crap kicked out of him but, this feud is missing a special ingredient to capitalize on the biggest heat possible. Throughout this feud, Dominik has made mention of the legendary Eddie Guerrero on several occasions going back to the "iconic" 2005 feud.
I know WWE might not want to go this route but, Dominik MUST come out to Eddie Guerrero's theme at Mania. The disrespectful punk needs to come out in a lowrider to garner nuclear heat. It doesn't matter if The Judgement Day comes out and causes interference for Dominik to get the win, all that matters is that both superstars get the biggest payoff of this nearly year-long feud. Just imagine the Roman Reigns heat after he defeated The Undertaker and multiply that by ten. Dominik portrays the perfect heel and he truly is the missing ingredient that The Judgement Day needed to grow and evolve into a top faction.