The Good, Bad and Ugly: WWE Raw 12/17/18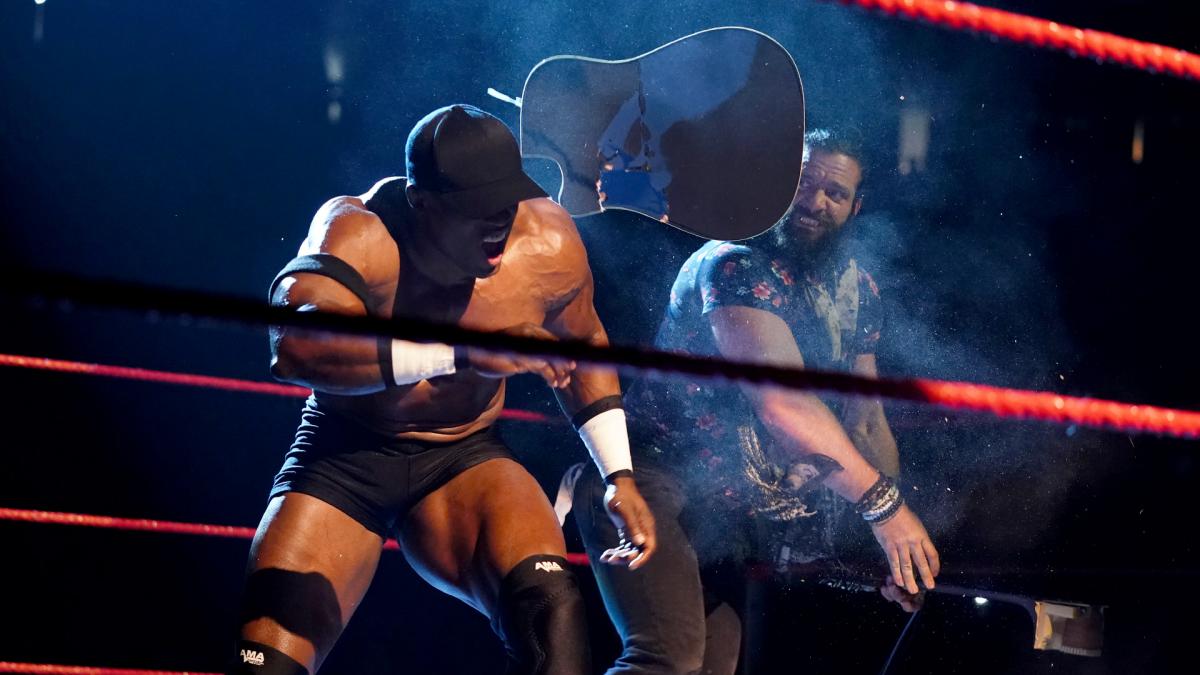 Vince McMahon showed up on WWE Raw to "shake things up!" Was the result Good, Bad, or downright ugly?
With Tables, Ladders and Chairs in the books, Vincent Kennedy McMahon has decided that Monday Night Raw needs him. The rumors are swirling but the wait is over now.  Was Raw finally Good, especially in front of the "Boss?"  Or is it so far gone, even Vinnie Mac can't save it?
THE GOOD
Opening Segment w/ Mr. McMahon
"Change," that's what this is all about.  Vince brought out Stephanie, HHH, and Shane to say that the McMahon's have failed the fans, and that changes now.  It was quick and emotional.  Vince had it all wrapped up, until Baron Corbin showed up.  He wanted to have a conversation about his injustices from TLC, to the chagrin of the McMahons and the audience.  The crowd was so loud, and maintained this noise the whole segment. Corbin got hammered by the crowd. He could barely be heard.  After Corbin plead his case, explaining why he should be the GM, HHH announced he will be permanently GM if he can beat, "The Olympic Champion" Kurt Angle.
Finn Balor vs. Dolph Ziggler
At TLC post-match, Ziggler put a hurting on Finn Balor, setting up the match tonight.    Both guys are high intensity and evenly matched.  This match had strong potential.  This really is a high caliber match especially for Raw.  Not a bad way to boost the ratings using pure Professional Wrestling.  The pace was done well, with Finn and Dolph feeling each other out and countering each other's offense.  Everything looked smooth.  The two fed off of each other and had tremendous rhythm.  Plenty of close falls in this one, it was hard to tell who had control.  It was over, with a "Zig Zag" from Ziggler but only for a two count.  Out comes McIntyre baiting Dolph into a fight.  Ziggler beat down McIntyre and hit a "famouser" on Balor, only for yet another two count.  Balor composed himself but get destroyed by McIntyre, causing Balor to Win by DQ. McIntyre then crushed Zigger, with a "Glasgow Kiss" and "Claymore Kick" to finish Ziggler.
"New Intercontinental Champion" Dean Ambrose Promo
Ambrose leading a "Swat Team" with gas mask, started off shaming the crowd.  Ambrose fed off of cheap heat, with a mix of cheers and boos from the audience.  Ambrose as always antagonized and called Seth Rollins out.  Rollins no-showed and as a result, Ambrose issued an open challenge for the I.C. Title.  Surprisingly, Tyler Breeze accepted. 
Intercontinental Championship – Dean Ambrose (c) vs. Tyler Breeze
Interestingly enough Tyler Breeze is getting a fantastic opportunity for not only the Intercontinental Championship, but to show off to the fans what he can do.  Breeze is a great talent, and this is a perfect chance to show it.  Ambrose took control beating Tyler Breeze down.  Breeze got some big moves off, getting a few close calls with quick pinning combinations.  Out of nowhere, Dean Ambrose hits a "Dirty Deeds" winning a close match, and defending his Intercontinental Championship.  Ambrose really has to stop on the mic, but went off after his match until Rollins music hit.  Rollins attacked revealing he was one of the "Swat" guys with a gas mask.  Ambrose composed himself and retreated. 
AOP vs. B-Team vs. The Revival vs. Lucha House Party (Winner gets a Raw Tag Team Title Opportunity)
Shane McMahon made this match to showcase the many talents of the Raw Tag Team Division.  Depending on the winner, the fans could see something special coming up.  Lucha House Party had a lot of ring time, but mostly getting crushed by everyone.  AOP looked sloppy, but the Revival as always showed their tremendous value.  The match was pure chaos.  The ref and even the camera guy lost control of this one.  It was confusing as hell to watch.  Wilder and Bo Dallas has some great counters until Revival ended it with a "Shatter Machine."  Revival Wins! 
THE BAD
Kurt Angle vs. Baron Corbin w/ Referee Heath Slater
As good as it always is to see Kurt Angle, the match started off rough.  The strikes looked weak and the timing was off.  While the match continued, The Raw Tag Team Champions Gable and Roode and Apollo Crews, were added by HHH to make this a Handicap Match.  This was so over the top.  Corbin tried to runoff but couldn't and continued to get jumped. This was very weird and boring.  Outcomes Shane McMahon making the match No DQ. Pushing this even further.  Heath Slater started in on Corbin.  This really was awkward and kind of a waste.  The McMahon's could have done better than this. Angle Wins with the "Angle Slam." After the match, the gang brought in a table, and Corbin was "Olympic Slammed" adding insult to injury.
Bobby Lashley "Concert"
Bobby Lashley and Lio Rush open with an "Elias" like setting.  Lio was effective at getting the crowd fired up as he always does. Lashley started with the poses. The crowd couldn't wait for this to end. Elias popped up into the ring, was announced and hit Lashley with a guitar before fleeing.  This was a short, unnecessary segment overall, and it really didn't add to the show in any Good way.
Ronda Rousey Promo
The crowd surprisingly let Rousey off easy, considering how they felt about her involvement at TLC.  Her match at TLC was Bad, and her spot in the Main Event made things even worse.  Rousey needs a ton of work on the mic and it shows.   As the promo went on, it got worse, and the crowd started getting antsy. "Becky" chants grew louder as time passed.  Rousey went on to introduce a post-PPV open challenge.  This is always a Good thing.  Stephanie McMahon then brought out a loud group of female talent, and announced the winner of the 8-Person Gauntlet faces Rousey for the title.
Gauntlet Match 1:  AliciaFox vs. Bailey:  Fox is one of the most awkward performers in the locker room. She moves around way too much and over sells.  Bayley couldn't keep up.  This looked Bad.  As it went on it got worse.  For such a veteran, Fox looks so uncomfortable in there.  Bayley tweeked her knee, Fox kicked her in the face and as she was pinning Bayley, she got rolled up for the pin.
Gauntlet Match 2: Dana Brooke vs. Bayley:  Dana Brooke came out aggressive.  She looked decent in there, showing obvious improvement in her ring ability.   Out of the blue, Bayley hits a Bayley to Belly for the pin to continue.
Gauntlet Match 3:  Mickie James vs. Bayley:  Mickie James really struggles in there.  Another vet that just over sells and looks bad, week after week. Everything she did looked Bad. Bayley was exhausted but and the fatigue showed.  Mickie hit a "Mick Kick" but only for a two count.  Bayley kept selling the knee and did some sloppy work.  Mickie hit the worse DDT I have ever seen and moved on.
Gauntlet Match 4: Ember Moon vs. Mickie James: Mickie James viciously attacked Moon right away stopping all momentum.  Again, Mickie James looked awkward and sloppy. Ember took a bad bump on the apron, and the match continued.  It was really sloppy, and hard to watch.  Ember Moon is a great talent but Mickie couldn't hang.  Ember countered a big move and came off with an "Eclipse" to move forward.
Gauntlet Match 5: Natalya vs. Ember Moon:  Ember cut Natalya off right away and started a series of submissions to ware down Natalya.  Again, this wasn't very Good, as Natalya looked slow and not into it. As Ember was flying around the ring, Natalya knocked her out with a close-line and followed it up with some big moves.  After a few reversals, Natalya got a quick roll-up for the pin
Gauntlet Match 6: Ruby Riott vs. Natalya:  After a rough night at TLC due to a lackluster performance by Natalya, here we have Round 2.  Ruby Riott is a tremendous talent but again, she can only do so much.  As this went on though, it got better.  Ruby Riott is a great talent,and the more we get to watch, the better. It wasn't great but decent considering. Natalya again squeaked out a pin out of no where.
Gauntlet Match 7: Sasha Banks vs. Natalya:  Sasha Banks can go and has tremendous talent.  It just didn't shine tonight, much like most of the other Gauntlet Matches.  This was a mess.  The pace was off, there was confusion, and it just didn't click.  Aside from the poor work, the crowd was behind Natalya the whole time.  Natalya worked her way up and got Banks into a "Sharpshooter" right in the middle of the ring only to be devastated in the corner by Banks.  Banks got Natalya into a "Half Crab," however escaped but got sucked right into the "Banks Statement."  Natalya powered back and hit a "German Suplex."  Natalya then worked Sasha before locking "The Boss" again into the "Sharpshooter" only this time for the victory.  Rousey closed the show by coming down to congratulate her friend and hype for the match next week.
THE UGLY:  N/A
Final Tally
Good:  5
Bad:  10
Ugly:  0
Overall Results:  Very Bad! The Gauntlet Match was so long and some of the worst stuff we have seen in recent memory.    
This week's Raw was very important, and it was supposed to be a new format.  We had some highs and lows, however overall, this wasn't Good, it was Bad. It was really Bad.  Raw hasn't changed, it just has a new gimmick that looks like will be shoved down the fans throat.  Can Raw ever bounce back?  We shall see. 
Let us know what you think on social media @theCHAIRSHOTcom and always remember to use the hashtag #UseYourHead!
Kevin Owens vs. Sami Zayn: Get Your Popcorn
Chris King is back as he runs down why he believes Kevin Owens vs. Sami Zayn at WrestleMania is a potential show-stealer.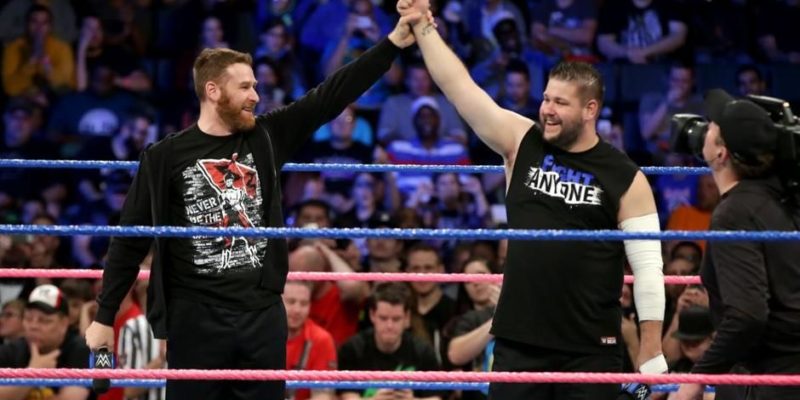 Chris King is back as he runs down why he believes Kevin Owens vs. Sami Zayn at WrestleMania is a potential show-stealer.
Kevin Owens and Sami Zayn are simply incredible performers and storytellers in the ring. Every time they are on the opposite side of each other they create magic. I did a little history lesson on their almost twenty-year rivalry, going back to their days in Ring of Honor and PWG where it all began. Heel Owens to me is a stone-cold killer, he's out for one purpose to be the best. Zayn has found out the hard way what happens when you get in his way.
Poor Zayn didn't learn his lesson and dropped his guard in NXT when KO made his in-ring debut at NXT TakeOver: R Evolution. Owens utterly destroyed his so-called best friend and hit a vicious Pop-up Powerbomb onto the apron. KO then went on to defeat Zayn two months to the day of his debut at NXT TakeOver: Rival to capture the NXT Championship. Owens beat the living shit out of Zayn that night, to the point where the officials have to physically stop the match.
Zayn once again came rushing back for another chance to best his bitter rival but was demolished yet again. Dammit Sami just stay down and live to fight another day. This time Samoa Joe had to stop KO from causing more carnage to Zayn. We would not see the former NXT champ until months later at the 2016 Royal Rumble, where he would cost Owens the WWE World Heavyweight Championship.
The two bitter rivals would fight again during the ladder match at WrestleMania 32 for the Intercontinental Championship, where Zayn would cost Owens the title. At the 2016 Payback pay-per-view, they would do battle again, Zayn would lose yet again. Zayn and Owens would square off one final time at Battleground in another hellacious battle, except this time Zayn finally got his comeuppance after two Helluva Kicks.
Over the past few years, Zayn and Owens have been on the same page, and shockingly enough the same team. The two best friends would come full circle again after Zayn returned to Friday Night SmackDown because of the pandemic. Zayn has been spurting all of this nonsense about this huge conspiracy going on around him for months now. Owens has been unsuccessfully challenging for the Universal Championship but ran into his friend backstage.
A few weeks ago, Zayn attacked his rival, for being paranoid I guess was his excuse. Owens however didn't care and goaded him into a match at this year's Mania. Owens and Zayn are about to create history and fulfill a lifelong dream of having a match on the Grandest Stage of Them All. I can only imagine how incredible this. the moment will be for those two, and the WWE Universe is honored and privileged to be able to experience it.
I'm very thankful that WrestleMania is two nights now because these two wouldn't be given the appropriate amount of time if they were crammed into a seven-hour event. Please just give Owens and Zayn fifteen to twenty minutes, and let them create magic in the ring.
Cook's WrestleMania 37 Night Two Gambling Picks
After delivering (and standing?) his Takeover and WrestleMania Night 1 picks, Steve Cook is back with Night 2. For (sports) entertainment purposes only!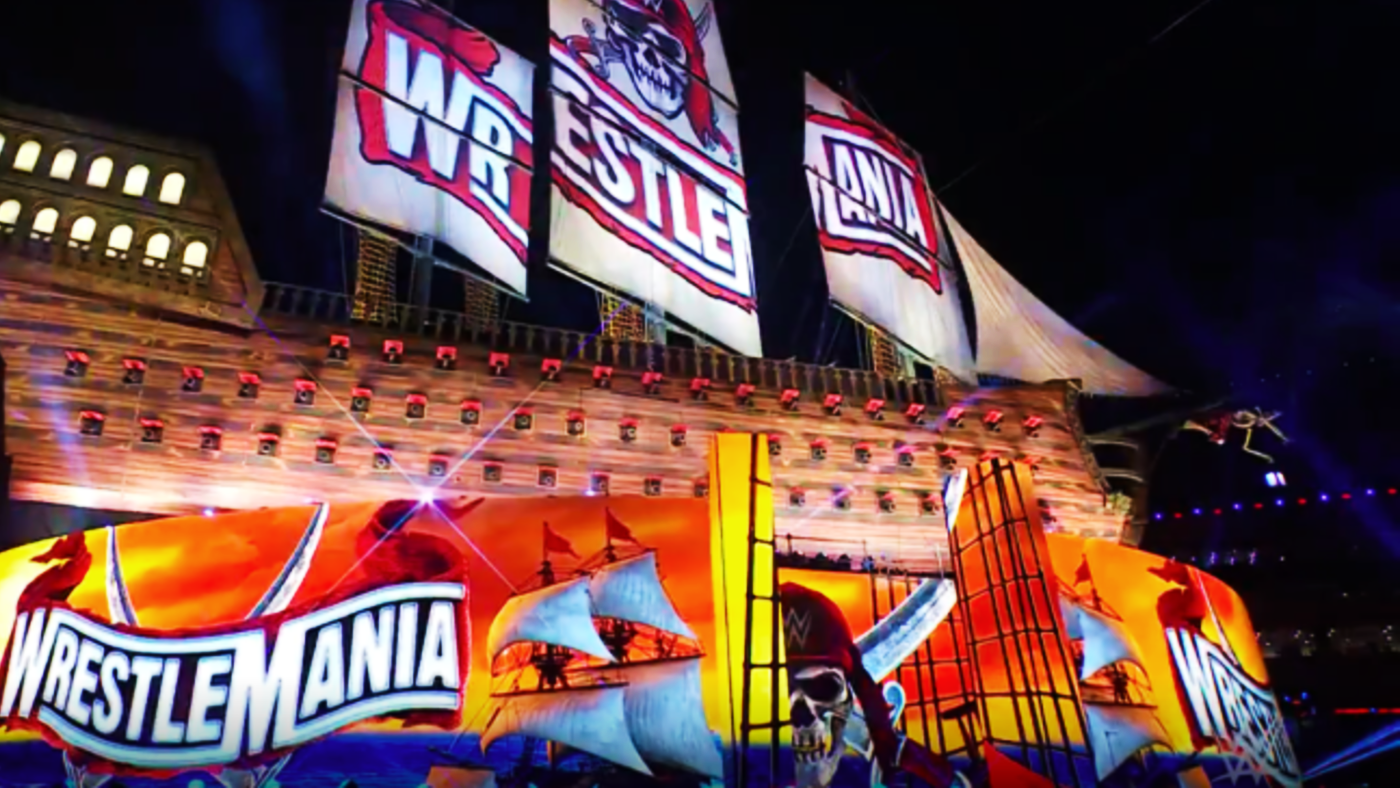 After delivering (and standing?) his Takeover and WrestleMania Night 1 picks, Steve Cook is back with Night 2. For (sports) entertainment purposes only!
Welcome back to the gambling picks!
If you missed Night 1, go ahead and click here!
I'm not going to lie to you guys, I'm already a bit peeved at WWE.
Why? Because they rendered part of my Night 1 pick column useless when they made Sasha vs. Bianca the main event after saying Drew vs. Bobby was! Like, what the hell man? At least I'm pretty confident they won't change the main event of Night 2, so let's make some picks for entertainment purposes only!
Kevin Owens (-350) vs. Sami Zayn (+225)
WTF! This footage is purposely misleading!

Where's the footage of our intense sparring session?
Where's the footage of Logan giving that security guard hell for that mixup?
Where's the footage of the hearty laughs we shared at lunch?

Conveniently left out by the hacks at @WWE! https://t.co/H7WmOt20RB

— Sami Zayn (@SamiZayn) April 7, 2021
Independent wrestling fans would have never seen all this coming a decade or so ago. Kevin Owens as a babyface? Sami Zayn as a heel, without a mask? A YouTube personality as part of the build while Steve Corino agents away & Colt Cabana chills with the Super Smash Brothers? I'd have a hard time explaining all this to 10 Years Ago Me.
Not that this would be at the top of the list of things to warn 10 Years Ago Me about. Just saying…this is all wild stuff.
Kevin Owens is the likely winner as Sami gets punked out by his "buddy" Logan Paul. Slight chance Sami pulls the upset, but I doubt it's worth throwing fake money on.
Randy Orton (+500) vs. The Fiend (-950)
My dick taller then you. Weighs more too. Go to bed you fucking infant. You're welcome for the boost. Go choke on a keyboard. https://t.co/CQUn6WHpGa

— Randy Orton (@RandyOrton) March 29, 2021
I haven't had a lot to say about this feud since it started, and that trend continues here. Not for me, and since I won't be watching live I'll surely be skipping ahead of this one. Hopefully those who are into this type of thing have fun.
Fiend likely wins, but if you really wanna throw a few bucks on Randy Orton at +500, maybe it'll pay off.
United States Championship Match
Riddle (-160) vs. Sheamus (+120)
Why the birds 😭😭 #WWERaw pic.twitter.com/CAvLyQ8oBE

— 👑Adam Goldberg👑 (@adamgoldberg28) April 6, 2021
We can certainly question the methods WWE is using to feature Riddle, but it's clear that they see something in him and want him to be a big deal. Sheamus has had a strong 2021 so far, and will give Riddle a good match and a big win for his first WrestleMania appearance.
I don't have much else to add here. Should be hard-hitting.
Intercontinental Championship Nigerian Drum Fight
Big E (+120) vs. Apollo Crews (-140)
Confused? Maybe you just need a @Snickers #ad pic.twitter.com/1KsqECFR10

— Ettore "Big E" Ewen (@WWEBigE) April 3, 2021
As we all know, the  "Nigerian Drum Fight" goes back to the early days of the legendary Nigerian pro wrestler Power Uti. If you're not familiar with Uti, many consider him to be to the Nigerian Wrestling Federation what Undertaker has been to WWE over the years. They have a ton in common, including holding victories in major specialty matches over Mick Foley.
In the original incarnation of the Nigerian Drum Fight, the object of the match was to bash your opponent's head into a drum in each corner of the ring. The first to hit all four corners in succession won the match. It looks like WWE is shifting the rules somewhat, and are just doing the typical No DQ thing they like to do. I assume that drums will still be legal, but am unsure of the spear.
If the spear is legal, go with Crews. I get the feeling that Big E is in line for the win here, and thus is my pick, especially since he's the underdog.
Raw Women's Championship Match
Asuka (+250) vs. Rhea Ripley (-400)
This year is MY year. 👹#WrestleMania pic.twitter.com/ZkASL8Whvk

— RheaRipley_WWE (@RheaRipley_WWE) April 7, 2021
Once upon a time, Asuka was the new star fresh out of NXT looking to make an impact at WrestleMania. She won the Royal Rumble, but ended up losing at WM to Charlotte Flair. It happens. Just ask Rhea, who lost to Charlotte at last year's WM. The best news for either of these two is that WWE avoided the urge to insert Charlotte in this match, as we know who the betting favorite would be then.
(Well, we think they've avoided the urge. Won't be sure until the bell rings.)
I'm a big Rhea fan and am definitely supporting the Nightmare here. We all know that Asuka's days as champion are numbered, as she's seemed like an afterthought for most of her reign. However, there are reasons to believe that Asuka could get it done here. Mostly, the fact that her feud with Charlotte isn't over yet.
Nah, I gotta stick with Rhea Ripley here. I'm not sure how Vince & the main roster creative folks feel about Rhea, but they probably haven't had enough time to turn against her yet.
Universal Championship Triple Threat Match
Roman Reigns (+150) vs. Edge (+115) vs. Daniel Bryan (+200)
Everyday is an opportunity and possibly a first impression. Earn the right to be remembered. #NeverContent https://t.co/JDsnzqd04g

— Roman Reigns (@WWERomanReigns) April 8, 2021
This is the first WrestleMania main event in a long time where the favorite doesn't seem super obvious on paper. For one thing, there's no reason for Roman Reigns to lose the Universal Championship. He's superb in the role right now and should sit at the head of the table as long as possible.
Then there's Edge, who against most other champions would be the obvious favorite. He's making his big comeback complete by main eventing WrestleMania. Having him win only makes sense, and there are plenty of ways to go with it after, whichever side of the fence you want to put him on.
Daniel Bryan is the longest shot in this match, but we all know that's when he's at his most dangerous. One last run on top for Bryan wouldn't be met with many arguments, and you can set whoever you want with him after & it'll work.
Any of these picks are a winner in my book. I'm going to go with Roman Reigns because it isn't often you'll get those kind of odds on him. Usually he's the heavy favorite, and for good reason. I wouldn't be surprised by any outcome here, and that's what makes this match a true main event.