The Good, Bad and Ugly: WWE Raw 12/17/18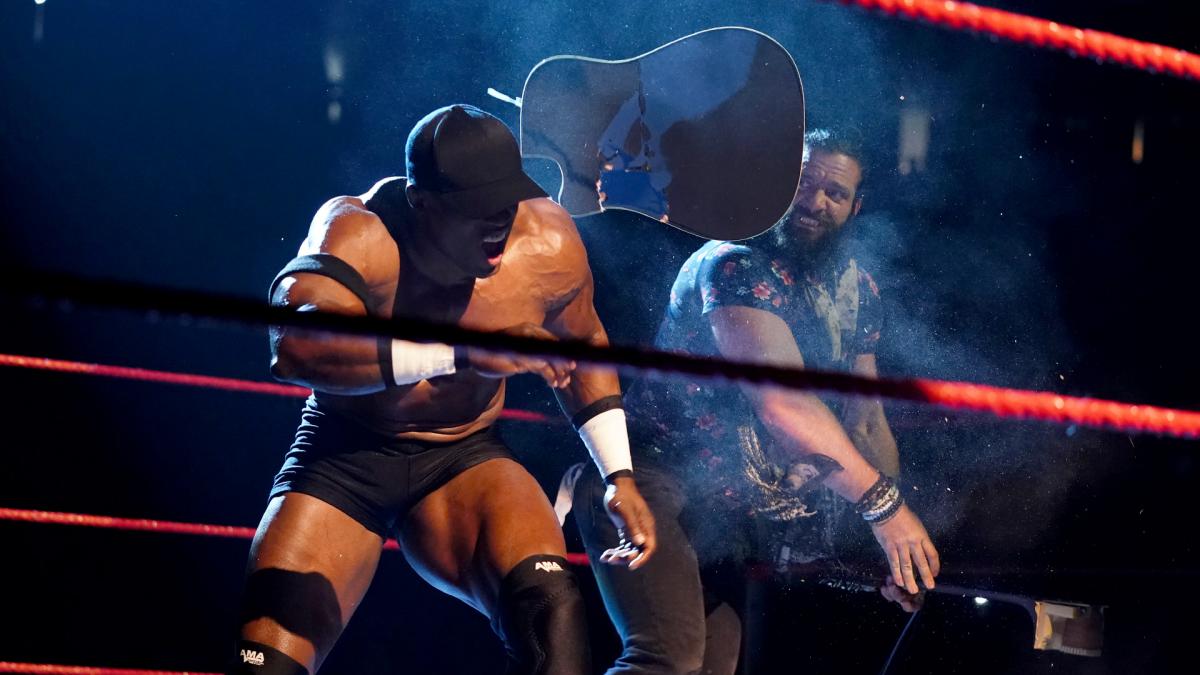 Vince McMahon showed up on WWE Raw to "shake things up!" Was the result Good, Bad, or downright ugly?
With Tables, Ladders and Chairs in the books, Vincent Kennedy McMahon has decided that Monday Night Raw needs him. The rumors are swirling but the wait is over now.  Was Raw finally Good, especially in front of the "Boss?"  Or is it so far gone, even Vinnie Mac can't save it?
THE GOOD
Opening Segment w/ Mr. McMahon
"Change," that's what this is all about.  Vince brought out Stephanie, HHH, and Shane to say that the McMahon's have failed the fans, and that changes now.  It was quick and emotional.  Vince had it all wrapped up, until Baron Corbin showed up.  He wanted to have a conversation about his injustices from TLC, to the chagrin of the McMahons and the audience.  The crowd was so loud, and maintained this noise the whole segment. Corbin got hammered by the crowd. He could barely be heard.  After Corbin plead his case, explaining why he should be the GM, HHH announced he will be permanently GM if he can beat, "The Olympic Champion" Kurt Angle.
Finn Balor vs. Dolph Ziggler
At TLC post-match, Ziggler put a hurting on Finn Balor, setting up the match tonight.    Both guys are high intensity and evenly matched.  This match had strong potential.  This really is a high caliber match especially for Raw.  Not a bad way to boost the ratings using pure Professional Wrestling.  The pace was done well, with Finn and Dolph feeling each other out and countering each other's offense.  Everything looked smooth.  The two fed off of each other and had tremendous rhythm.  Plenty of close falls in this one, it was hard to tell who had control.  It was over, with a "Zig Zag" from Ziggler but only for a two count.  Out comes McIntyre baiting Dolph into a fight.  Ziggler beat down McIntyre and hit a "famouser" on Balor, only for yet another two count.  Balor composed himself but get destroyed by McIntyre, causing Balor to Win by DQ. McIntyre then crushed Zigger, with a "Glasgow Kiss" and "Claymore Kick" to finish Ziggler.
"New Intercontinental Champion" Dean Ambrose Promo
Ambrose leading a "Swat Team" with gas mask, started off shaming the crowd.  Ambrose fed off of cheap heat, with a mix of cheers and boos from the audience.  Ambrose as always antagonized and called Seth Rollins out.  Rollins no-showed and as a result, Ambrose issued an open challenge for the I.C. Title.  Surprisingly, Tyler Breeze accepted. 
Intercontinental Championship – Dean Ambrose (c) vs. Tyler Breeze
Interestingly enough Tyler Breeze is getting a fantastic opportunity for not only the Intercontinental Championship, but to show off to the fans what he can do.  Breeze is a great talent, and this is a perfect chance to show it.  Ambrose took control beating Tyler Breeze down.  Breeze got some big moves off, getting a few close calls with quick pinning combinations.  Out of nowhere, Dean Ambrose hits a "Dirty Deeds" winning a close match, and defending his Intercontinental Championship.  Ambrose really has to stop on the mic, but went off after his match until Rollins music hit.  Rollins attacked revealing he was one of the "Swat" guys with a gas mask.  Ambrose composed himself and retreated. 
AOP vs. B-Team vs. The Revival vs. Lucha House Party (Winner gets a Raw Tag Team Title Opportunity)
Shane McMahon made this match to showcase the many talents of the Raw Tag Team Division.  Depending on the winner, the fans could see something special coming up.  Lucha House Party had a lot of ring time, but mostly getting crushed by everyone.  AOP looked sloppy, but the Revival as always showed their tremendous value.  The match was pure chaos.  The ref and even the camera guy lost control of this one.  It was confusing as hell to watch.  Wilder and Bo Dallas has some great counters until Revival ended it with a "Shatter Machine."  Revival Wins! 
THE BAD
Kurt Angle vs. Baron Corbin w/ Referee Heath Slater
As good as it always is to see Kurt Angle, the match started off rough.  The strikes looked weak and the timing was off.  While the match continued, The Raw Tag Team Champions Gable and Roode and Apollo Crews, were added by HHH to make this a Handicap Match.  This was so over the top.  Corbin tried to runoff but couldn't and continued to get jumped. This was very weird and boring.  Outcomes Shane McMahon making the match No DQ. Pushing this even further.  Heath Slater started in on Corbin.  This really was awkward and kind of a waste.  The McMahon's could have done better than this. Angle Wins with the "Angle Slam." After the match, the gang brought in a table, and Corbin was "Olympic Slammed" adding insult to injury.
Bobby Lashley "Concert"
Bobby Lashley and Lio Rush open with an "Elias" like setting.  Lio was effective at getting the crowd fired up as he always does. Lashley started with the poses. The crowd couldn't wait for this to end. Elias popped up into the ring, was announced and hit Lashley with a guitar before fleeing.  This was a short, unnecessary segment overall, and it really didn't add to the show in any Good way.
Ronda Rousey Promo
The crowd surprisingly let Rousey off easy, considering how they felt about her involvement at TLC.  Her match at TLC was Bad, and her spot in the Main Event made things even worse.  Rousey needs a ton of work on the mic and it shows.   As the promo went on, it got worse, and the crowd started getting antsy. "Becky" chants grew louder as time passed.  Rousey went on to introduce a post-PPV open challenge.  This is always a Good thing.  Stephanie McMahon then brought out a loud group of female talent, and announced the winner of the 8-Person Gauntlet faces Rousey for the title.
Gauntlet Match 1:  AliciaFox vs. Bailey:  Fox is one of the most awkward performers in the locker room. She moves around way too much and over sells.  Bayley couldn't keep up.  This looked Bad.  As it went on it got worse.  For such a veteran, Fox looks so uncomfortable in there.  Bayley tweeked her knee, Fox kicked her in the face and as she was pinning Bayley, she got rolled up for the pin.
Gauntlet Match 2: Dana Brooke vs. Bayley:  Dana Brooke came out aggressive.  She looked decent in there, showing obvious improvement in her ring ability.   Out of the blue, Bayley hits a Bayley to Belly for the pin to continue.
Gauntlet Match 3:  Mickie James vs. Bayley:  Mickie James really struggles in there.  Another vet that just over sells and looks bad, week after week. Everything she did looked Bad. Bayley was exhausted but and the fatigue showed.  Mickie hit a "Mick Kick" but only for a two count.  Bayley kept selling the knee and did some sloppy work.  Mickie hit the worse DDT I have ever seen and moved on.
Gauntlet Match 4: Ember Moon vs. Mickie James: Mickie James viciously attacked Moon right away stopping all momentum.  Again, Mickie James looked awkward and sloppy. Ember took a bad bump on the apron, and the match continued.  It was really sloppy, and hard to watch.  Ember Moon is a great talent but Mickie couldn't hang.  Ember countered a big move and came off with an "Eclipse" to move forward.
Gauntlet Match 5: Natalya vs. Ember Moon:  Ember cut Natalya off right away and started a series of submissions to ware down Natalya.  Again, this wasn't very Good, as Natalya looked slow and not into it. As Ember was flying around the ring, Natalya knocked her out with a close-line and followed it up with some big moves.  After a few reversals, Natalya got a quick roll-up for the pin
Gauntlet Match 6: Ruby Riott vs. Natalya:  After a rough night at TLC due to a lackluster performance by Natalya, here we have Round 2.  Ruby Riott is a tremendous talent but again, she can only do so much.  As this went on though, it got better.  Ruby Riott is a great talent,and the more we get to watch, the better. It wasn't great but decent considering. Natalya again squeaked out a pin out of no where.
Gauntlet Match 7: Sasha Banks vs. Natalya:  Sasha Banks can go and has tremendous talent.  It just didn't shine tonight, much like most of the other Gauntlet Matches.  This was a mess.  The pace was off, there was confusion, and it just didn't click.  Aside from the poor work, the crowd was behind Natalya the whole time.  Natalya worked her way up and got Banks into a "Sharpshooter" right in the middle of the ring only to be devastated in the corner by Banks.  Banks got Natalya into a "Half Crab," however escaped but got sucked right into the "Banks Statement."  Natalya powered back and hit a "German Suplex."  Natalya then worked Sasha before locking "The Boss" again into the "Sharpshooter" only this time for the victory.  Rousey closed the show by coming down to congratulate her friend and hype for the match next week.
THE UGLY:  N/A
Final Tally
Good:  5
Bad:  10
Ugly:  0
Overall Results:  Very Bad! The Gauntlet Match was so long and some of the worst stuff we have seen in recent memory.    
This week's Raw was very important, and it was supposed to be a new format.  We had some highs and lows, however overall, this wasn't Good, it was Bad. It was really Bad.  Raw hasn't changed, it just has a new gimmick that looks like will be shoved down the fans throat.  Can Raw ever bounce back?  We shall see. 
Let us know what you think on social media @theCHAIRSHOTcom and always remember to use the hashtag #UseYourHead!
King's WrestleMania Rewind: Eddie Guerrero vs. Rey Mysterio (WrestleMania 21)
In the next WrestleMania Rewind, Chris King takes us back to WWE WrestleMania 21, and Rey Mysterio vs Eddie Guerrero in a battle of tag team champions!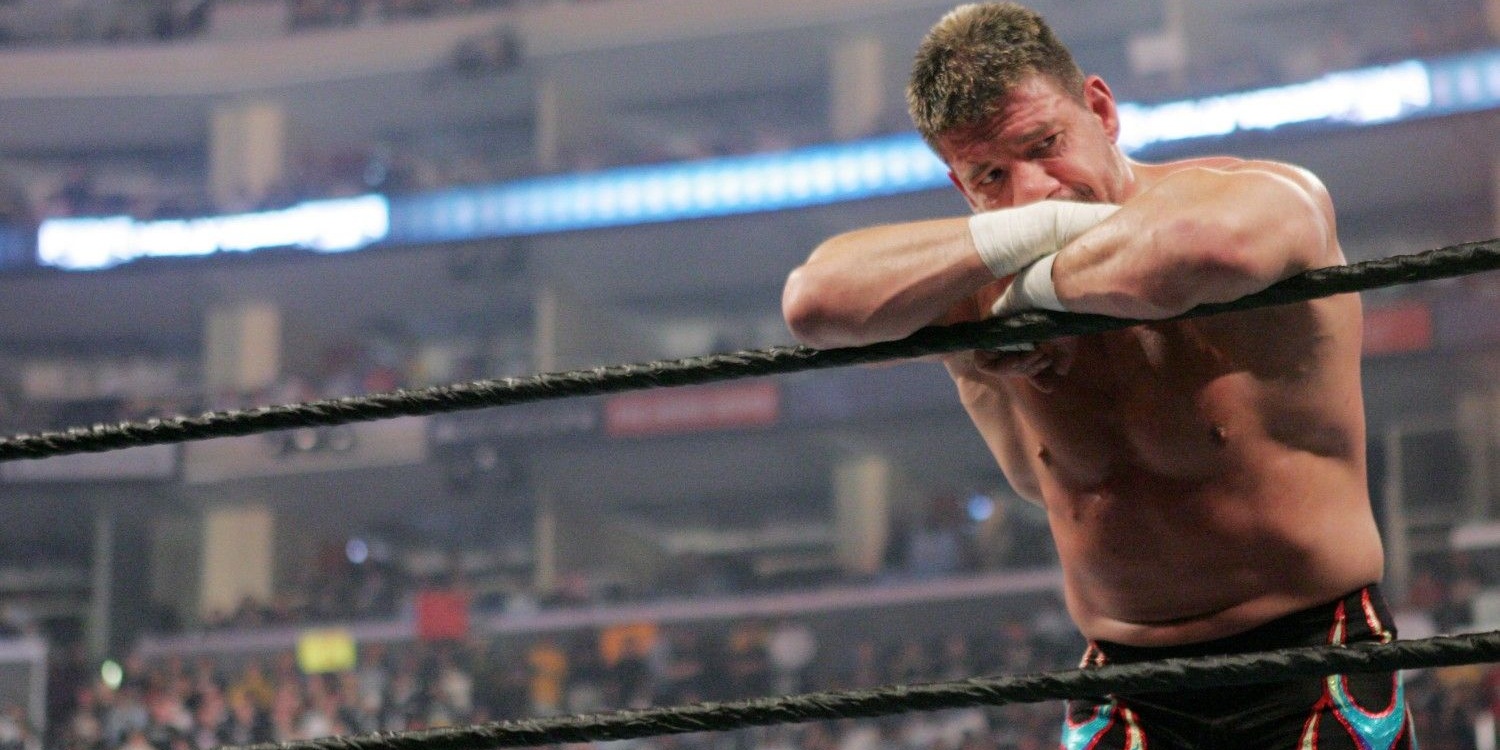 In the next WrestleMania Rewind, Chris King takes us back to WWE WrestleMania 21, and Rey Mysterio vs Eddie Guerrero in a battle of tag team champions!
Chris King is back with his third edition of WrestleMania Rewind. This week he's bringing us back to some 'Latino Heat.' We're rolling back to WrestleMania 21 where Eddie Guerrero faced longtime friend and rival Rey Mysterio.
This would be Guerrero's last Mania match caused by his unfortunate death. Over on SmackDown, Mysterio and Guerrero would become the tag team champions at No Way Out where they defeated MNM.
Chavo Guerrero would get into the head of Latino Heat by making him believe Mysterio was trying one-up his tag team partner. Chavo went as far as to tell his uncle to stop using the Guerrero name.
Guerrero would finally give in to his nephew's manipulation and went on to challenge Mysterio to a one-on-one match at WrestleMania 21. I For the first time in history, both tag team champions would face each other. Guerrero vs. Mysterio was the first match on the stacked card. Both partners threw everything at each other including the kitchen sink in a battle of one-up-manship.  In an incredible high-octane match that saw both superstars delivering counter for counter, Mysterio pulled off the win with a surprise pin roll up.
A few months later, what once was a friendly battle turned into a nasty fight involving the custody of Mysterio's real-life son Dominik Mysterio. After several torturous weeks, both former tag team champions would face off in a ladder match with the custody of Dominick on the line. I forgot how amazing this rivalry was and it's definitely worth a watch. Sadly, we would lose Latino Heat in November of 2005. There will never be another Eddie Guerrero. Viva La Raza!
King's WrestleMania Rewind: Stone Cold VS. Scott Hall (WrestleMania X8)
Chris King is back with another WrestleMania Rewind, looking at the NWO's Scott Hall battling Stone Cold Steve Austin at WWE WrestleMania X8 from Toronto!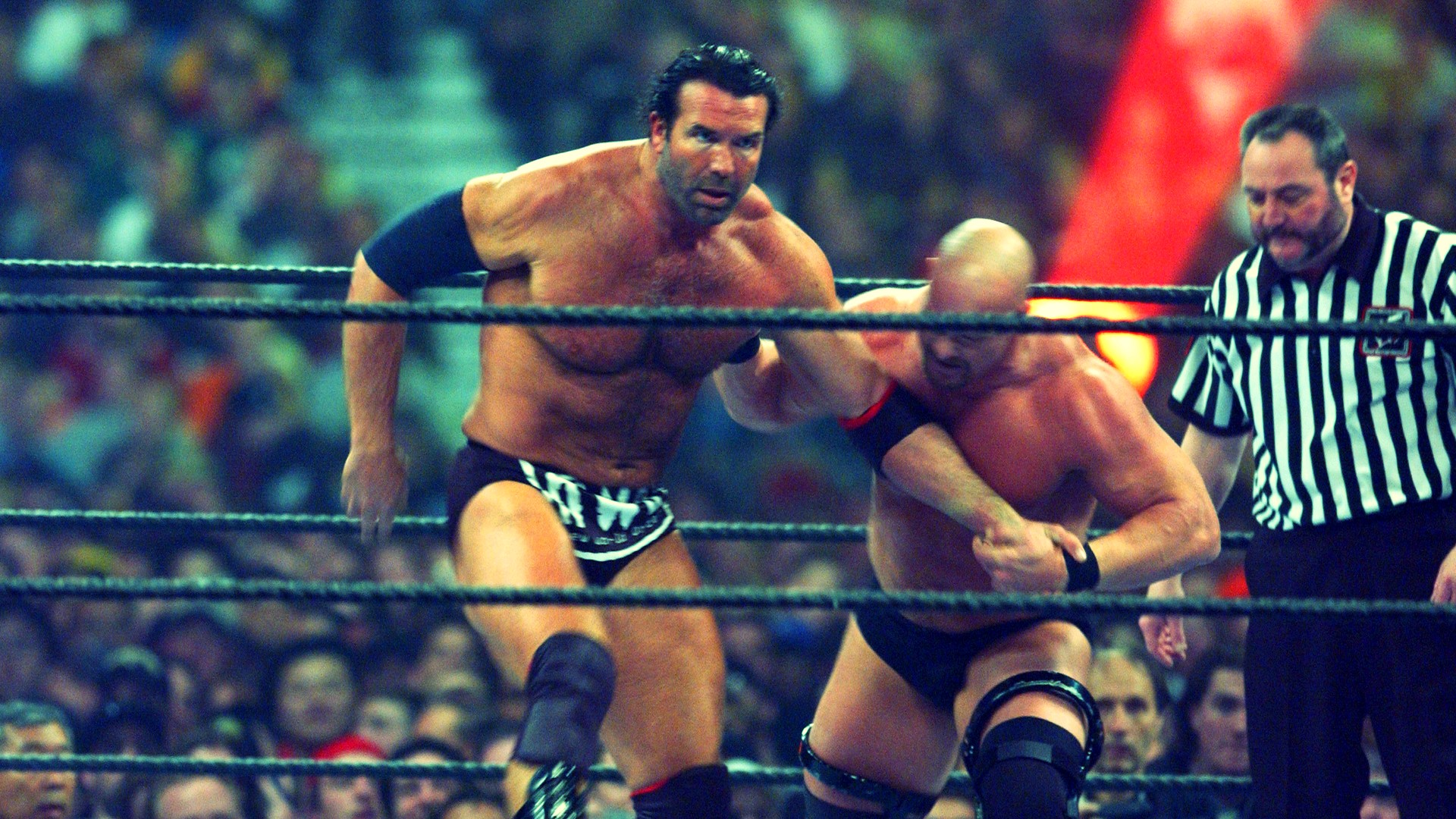 Chris King is back with another WrestleMania Rewind, looking at the NWO's Scott Hall battling Stone Cold Steve Austin at WWE WrestleMania X8 from Toronto!
Chris King is back this week with another edition of WrestleMania Rewind, where he is rewatching all the past Mania matches and feuds. This week you're in for a treat as we look back at 'Stone Cold' Steve Austin vs. Scott Hall at WrestleMania X8.
In late 2001, Vince McMahon bought out his competition WCW and acquired the rights to a plethora of talent including Booker T, Eddie Guerrero, Chris Benoit, and the iconic trio known as NWO. Hulk Hogan; Kevin Nash, and Scott Hall were hell raisers, and what better way to make a name for yourself than take out the two top superstars in the WWE The Rock, and Stone Cold?
The NWO cost Austin his chance at becoming the Undisputed Champion at No Way Out during his match with Chris Jericho. Adding insult to injury, the NWO spray-painted 'The Texas Rattlesnake' with their brand logo just like they did in WCW. As you can imagine, Austin was pissed and out for revenge against the group and primarily Scott Hall.
Hall would challenge Stone Cold to a match at WrestleMania 18. Both superstars beat the living hell out of each other leading up to this highly-anticipated match for who runs the WWE.
The glass broke and Stone Cold made his iconic entrance, and black and white NWO covered Halls' entrance alongside Kevin Nash. With the odds stacked against 'The Toughest S.O.B' could Austin or NWO prove their dominance? Sadly the NWO  broke up that very night when Hulk Hogan came to the aid of his adversary The Rock after their 'iconic' dream match. Stone Cold would ensure the victory with the Stunner. Hall would perform an Oscar-worthy sell over the finisher.
What a time to be a wrestling fan in the 2000s when nothing was impossible for WWE. Who would've thought WCW would go out of business and Hogan would make his long-awaited return to WWE?