Top 5 Matches: November Vote & Second Chance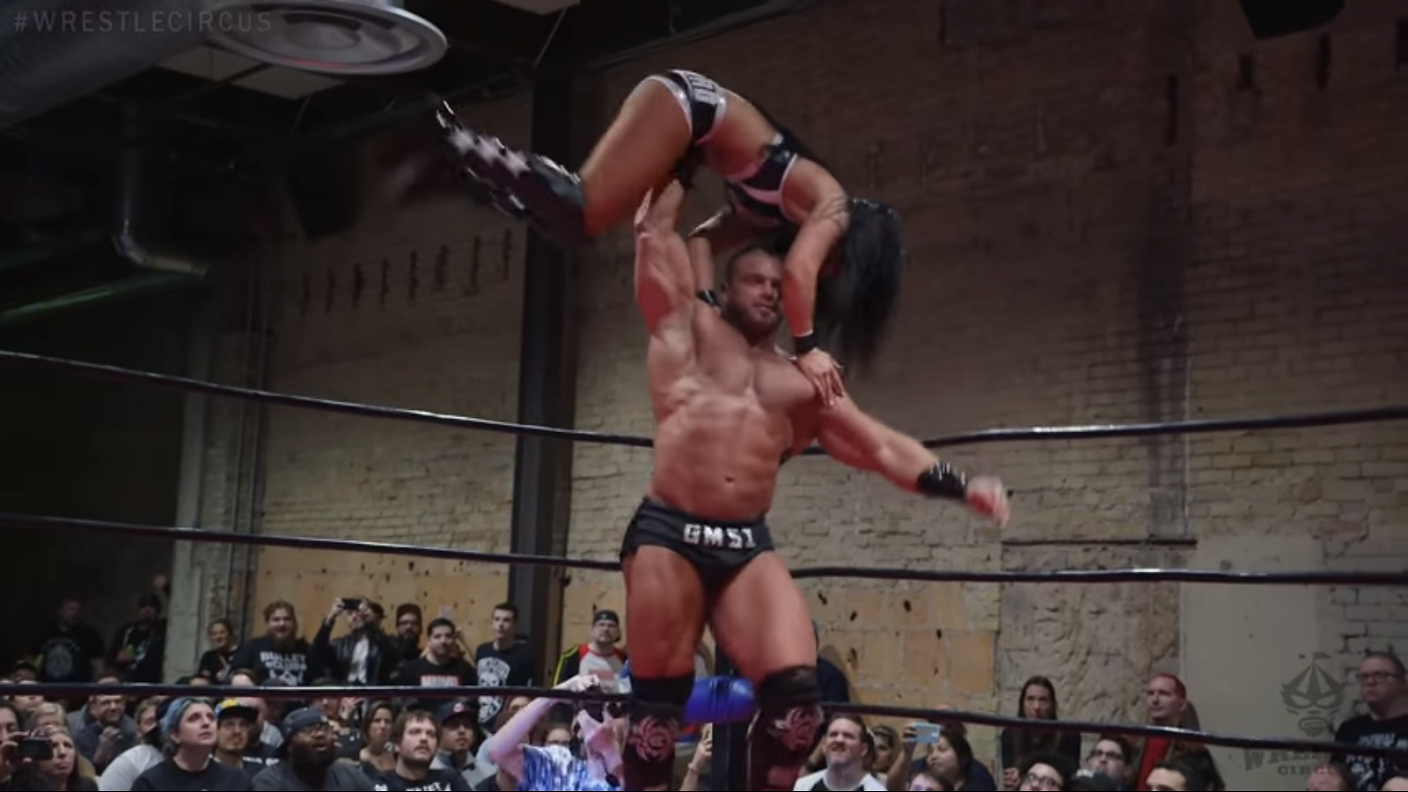 With the November match pool being finalized, let's see what we  have for November and the Second Chance throughout the year.
So without further ado, let's get to the list of matches that are eligible for November.
SmackDown WWE Championship Match: AJ Styles (c) vs Daniel Bryan
NOAH Global League: Naomichi Marufuji vs Kenoh
NXT Takeover WarGames II NXT Championship: Tommaso Ciampa (c) vs Velveteen Dream
NXT UK: Toni Storm vs Jinny
NXT UK UK Championship: Pete Dunne (c) vs Jordan Devlin
Out of this crop of matches for November, I have to say, Velveteen Dream vs Tommaso Ciampa , was hands down my favorite of November.
Now with that out of the way, let's go over the second chance matches. I picked a few personally that I felt deserved another shot, as well as asking a few Chairshot personalities.
Our resident Joshi and Japanese coverage expert Mathew Sarpraicone's Choice:
4.19.2018 Sendai Girls :  Meiko Satomura vs Io Shirai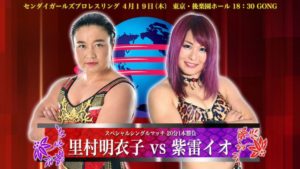 This is definitely a big match as both Io and Meiko have only fought three times in their career, and this one will be their fourth encounter together so you know this match is gonna be special. I know I praise Io in my Stardom coverage for how good she is, but Meiko is currently my favorite female wrestler right now, the woman is fantastic in the ring, the co-founder of Sendai Girls, and has had an amazing career next to Manami Toyota, who is arguably the greatest female wrestler of not only Japan, but of all time. This is definitely gonna be a huge place and no better place to do it than the legendary Korakuen Hall, so let's see how this encounter goes.
I think this might be my favorite female match of 2018 so far and it's not just because these are two of my favorite women in the ring, but because the chemistry and story they can tell in the ring. This is probably just me, but Io really fits well in the Sendai Girls roster if she ever decides to wrestle more shows for them instead of Stardom and it would be a nice change of pace for her career since she has done everything in Stardom, but I'm sure she'll go when she's ready. Meiko also moves like she hasn't aged a bit and shows how good she is in the ring, and when you get these two females in the ring, you just get magic. There was never a dull moment throughout the match as you feel like you get something special in the match in just about every minutes and it keeps picking up as time goes on. Io would go for her Moonsault Press, but Meiko would kick her down and hit her Death Valley Bomb, but Io would kick out of it. Meiko would then go for her Scorpio Rising which is a beautiful Shining Wizard Axe-Kick and soon as she nails it, the bell would ring meaning that the match is a draw due to the twenty minute time limit and the crowd would give them a standing ovation. They would show each other respect after the match and it's well deserved.
Winner: Time Limit Draw
Rating: **** 1/2
My first addition to the second chance list (I do these weekly, excuse me, I gave myself 2): 
10.21.2018 AJPW Raising an Army Memorial Series Triple Crown Championship Match: Zeus (c) vs Kento Miyahara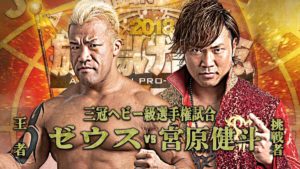 It is now time for our main event of the show as Zeus is set for his second Triple Crown Championship defense against the ace of the company and winner of the Oudou Tournament, Kento Miyahara. The last time these two fought one on one, Kento was the champion and Zeus would beat him to finally win his first Triple Crown Championship. Zeus only had one defense in his name when he defeated Shuji Ishikawa and I was hoping he could have a couple more defenses under his belt before the two would cross paths again, but now it looks like it's the time for them to fight. The outcome of this match is pretty crucial since it'll decide the direction of the company going forward and how things would be booked for the upcoming months. Can Zeus defeat Kento twice in a row or will Kento become a four-time champion?
I'm gonna bring up one issue people had before I go any further and people felt like the crowd not fully interacting in the match hurt the feel of it to make it not as important and I'm gonna have to disagree here since I feel like the fans were just too invested into the match that they would just wanna pay attention to it since this match is a big deal since you have two of their top guys fighting for the biggest prize to see who should actually lead the company into the future out of these two fan-favorites. If I had to say one word to describe this match, it would have to be tremendous because that's exactly what it was from the beginning to the end of it while the ring work was technically a masterpiece while the story of it was just breathtaking to give us a MOTY contender, and rightfully so.
This match just a lot of emotion and intensity between the two of them from every grapple, every strike, and just any move that these two would deliver or counter, it all meant something and you can feel it just by watching this match. This match should show you what exactly Zeus is capable of with how well rounded he is for a guy his size that can throw you with his power while moving quickly like a cruiserweight to throw you off guard, Zeus is the real deal and eyes should be on him. Kento is also no exception as he's proving why he's arguably the greatest in Japan right with how talented he is in the ring, his swagger, and just overall work with these two men should be more than enough for you to follow this company. Zeus would start to show a bit of frustration towards Kento as he would start to pummel him with mean forearms while he was on the ropes as the referee would try to pull him off until he got shoved out of the way and Zeus continue the attacking, but he would eventually be held back by the referee again to calm him down a little which looked like it worked thankfully because that would've been a bad way to end the match.
Kento started to get back into the groove of the match and use the energy of the crowd to get the strength to his a Blackout onto Zeus as he would hit his Shutdown German Suplex Hold as it looked like it's the end, but Zeus would kick out of it and would be considered the first one to kick out of his finisher, leaving Kento speechless and the crowd going crazy! Kento would try to get him up for it the second time as Zeus broke free of the hold to hit a couple of Lariats and hits hit Jackhammer to try and put him away, but Kento would also kick out of it now as it looks like this match could go either way now! Both of these men were showing no surrender into the match and you can tell how important it is to win this match, but Kento would hit a few more Blackout's and hits a second Shutdown German Suplex Hold as he pins Zeus to win his fourth Triple Crown Championship!
I was hoping Zeus would win to hold a little bit longer, but it was a bittersweet moment since the match was incredible and Kento showed that he's the one to lead the company. After the match, Kento would tell Zeus that they should help build All Japan together to help it grow into what it used to be and the two would shake hands as the crowd would start chanting not for Kento or Zeus, but for All Japan as a whole. It was an incredible moment to end the show and they represented King's Road Style very well here. I cannot express enough for you guys to start getting into All Japan Pro Wrestling if you haven't done so already, they're a great product that doesn't get much appreciation anymore and does deserve praise for the year they've been having for professional wrestling. Just go to ajpw.tv and subscribe to their service, it's only $8 a month and it's well worth the money, you'd be crazy to say no to it and it's not hard to catch up and follow the product, you can go to the Champions Carnival or the Oudou Tournament to start it off and get familiar with their roster, do it now. So what will be next for Kento now that he is champion again? The day after the show, Kento would talk in a press conference about his next goal which is to go for the most title defenses in the company as Toshiaki Kawada holds that record with 10 title defenses while Kento was only able to make it up to eight with his first run as the champion, so now he looks to try and break that record this time and I wish him luck in that.
Winner: Kento Miyahara via Shutdown German Suplex Hold
Rating: ******
Our Owner/Publisher Greg Demarco's Second Chance Choice: 
4.22.2018 Impact Wrestling Redemption World Championship Triple Threat: Fenix vs Austin Aries (c) vs Pentagon Jr.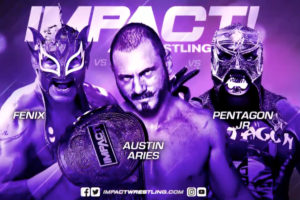 The thrown together main event because Alberto decided to no show during Mania weekend. It's also really a curious situation with Fenix and Pentagon being so visible to Americans within the last month. Both made their WrestleCircus debuts, MLW Fusion main event, ImpactvsLU special event and now Redemption.
Aries tried to take the fight to the brothers immediately, and we got a nice callback to the last triple threat, when Fenix and Pentagon went for the stereo superkicks, but Aries avoided it. After that, it was definitely a free for all. Pentagon had a lot of moments where he baited his little brother into moves, but Fenix had glimses of brillianc. He also had the same issue as other high fliers though, with the top rope. Fenix (and Aero Star in an earlier match) lost balance often, but Fenix is much smoother and made it look like an extended set up, opposed to an obvious botch.
From that point, we see Aries slowly gain momentum back, and keep each man in opposite corners, before they decide to team up. It's this point where the big brother tactics work wonders. Since it looks like Pentagon tells Fenix to pin him, then superkicks him. From that point Pentagon puts Fenix in a Gory Special and then also lifts Aries into a Package Piledriver, for an amazing combination move.
Pentagon then, breaks Aries' arm and hits his Pentagon Driver. AND NEW Impact Wrestling World Champion, Pentagon Jr! Even through the awkward spot with Fenix and the top rope, the match was hard hitting, had some call backs and showed a lot from all three men. Plus it's the first hiccup in Aries' "Belt Collector" gimmick, so that's a wrinkle we might not have been getting with Alberto.
Winner: Pentagon Jr via Pentagon Driver
Rating: **** 3/4
From our's and Twitter's favorite Pro Wrestling NOAH expert, we get Hisame's Second Chance Choice:
8.23.2018 Pro Wrestling NOAH Kawasaki Sports Association 70th Anniversary GHC Heavyweight Championship Match: Go Shiozaki vs Takashi Sugiura (c)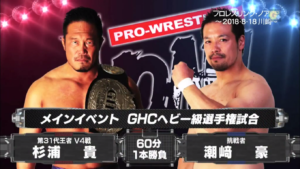 The story here is a continuation of the Super New Generation versus the veterans. Funnily enough for anyone that knows Go, he's closer to the veteran's ages than the New Generation, but hey, it's who he's aligned with. So after defeating Kenoh, Go stepping up makes you figure that the New Generation will keep challenging until someone beats Sugiura. Let's see if Go is the chosen one.
This was one of those Japanese matches with layers based on how much you knew. I mean the fact that Shiozaki came out to his old theme from the glory days with Misawa, already add a layer before the match starts. So as goes with a feud that has over a decade of layers, this was just a hard hitting match. Sugiura kept things grounded with submissions and his Misawa style elbows, where Shiozaki added a little more high flying. A big Suicide Dive to the outside and a gorgeous Moonsault were just a little taste of the lengths Shiozaki was willing to go to.
Even with all the layers, the match still holds up as a great showing between the two regardless of knowledge. There's just too much to try and highlight since the match went over 30 minutes and really picked up in violence during the last 6 or 7. Sugiura did have to rely on the Avalanche Style Olympic Slam to finally put away Shiozaki. So the amount of tricks left up his sleeve could be a story that plays across the entire Super New Generation angle.
Just go find this match, and you won't be upset with the 33 minute investment.
Winner: Sugiura via Avalanche Olympic Slam
Rating: **** 3/4
Now my second pick may surprise some, here's a small hint…it's not Japanese! SHOCKER!: 
2.17.208 WrestleCircus Ringmaster Title / Sideshow Title Match: Brian Cage (c) vs Tessa Blanchard (c)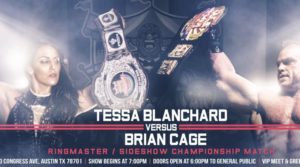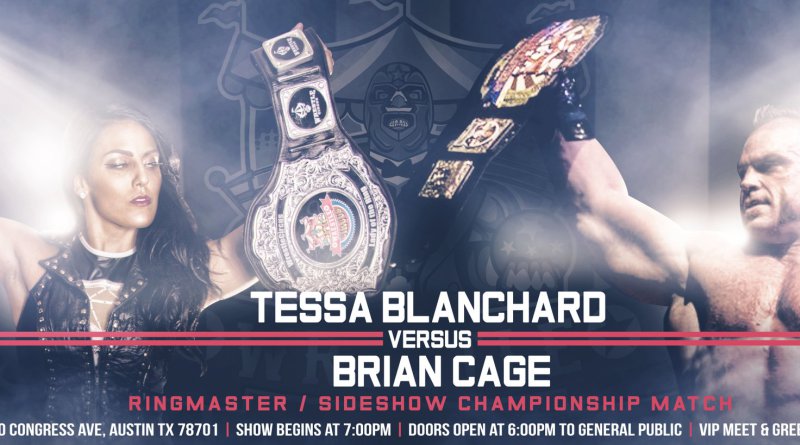 The opening salvo of crowd chants was actually pretty amusing. Cage and his crew did the slow to start heel thing, and the crowd was heavily behind Tessa.
So Cage dominates the early going, but also plays the part of cocky heel, underestimating his female opponent. Tessa picks up some momentum on the outside after Cage turns his back on her. She goes through about half of the front row, hitting Cage with repeated CHAIRSHOTS. When the action gets back in the ring, most of her offense was built around countering Brian's power offense.
He flung her in the air, she caught him with a beautiful DDT. He tried to Powerbomb her, she hit a Canadian Destroyer. She absorbed plenty of his signature moves, and even landed her Top Rope Codebreaker (Magnum). This went back and forth, and had many believable near falls for Tessa. Cage finally ends up keeping her down after a Discus Lariat and Drill Claw, but it was such a good fight.
Even through a few awkward spots, the story the match told was very nice, the in-ring work was impressive and it was damn entertaining. If anyone had thought Tessa got her position based on her last name, watch this match, and shut the hell up. Beautiful match.
Winner: Cage via Drill Claw
Rating: *****
Thoughts:
Well this is a difficult decision. Most of these matches suffer from the same issue, being that there aren't a ton of eyes of the products. I enjoyed all of these matches, and they're all tremendous choices. But since I need to decide, I'm going to have to pick, WrestleCircus: Brian Cage vs Tessa Blanchard, for my vote this week.
WrestleCircus has had issues securing a venue most of this year, but that shouldn't take away from how amazing this match was. It happened during the beginning of the year and still holds up. Not only was it an intergender match, it was wrestled believably and looked extremely competitive.
Can't go wrong with any of these. So remember, two votes this week, and next week will start trimming down our MOTY pool. I'm fairly confident it will look a little different than most sites.






What was your match of November and Second Chance Choice? Let us know on social media @theCHAIRSHOTcom and always remember to use the hashtag #UseYourHead!
Andrew's Top 5 Matches: Week Ending 3/7/2021
Now this was a pretty packed week of wrestling action! Between the normal television products, we had four different New Japan events, AEW Revolution and Stardom's All Star Cinderella!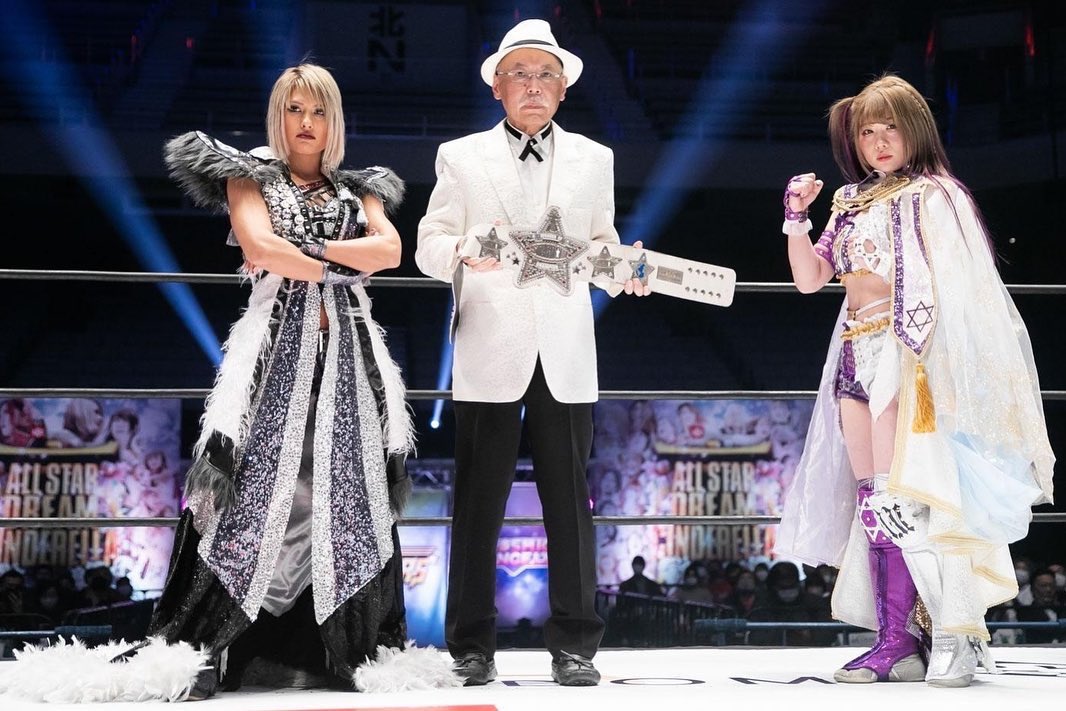 Now this was a pretty packed week of wrestling action! Between the normal television products, we had four different New Japan events, AEW Revolution and Stardom's All Star Cinderella!
There were even more events that I just couldn't find time for, because trying to balance consumption with any other hobby or interest is mad difficult on weeks like this. Yes – first world problems, I'm aware.
Anyway! Let's see what match won last week to fill out February!
February Pool:
NXT: Tommaso Ciampa & Timothy Thatcher vs The Undisputed Era
NXT Vengeance Day: Johnny Gargano vs Kushida
AEW Dynamite: Riho vs Serena Deeb
NJPW Castle Attack 2.27: Jay White vs Tomohiro Ishii
My vote will go to Riho vs Serena Deeb. Yes Gargano and Kushida was a beautiful match, but Riho and Deeb really helped a tournament and division that is the laughing stock of an already meme worthy company. So I feel like it had a larger impact for the year.
Before we get into the Top 5, yes I saw the Sting cinematic, and it falls in line with my feelings about the Boneyard match and what not. I don't officially rate cinematics, but I thought it was damn good, definitely comparable to Undertaker's Boneyard match. It would've made the Top 5 if I rated cinematics.
Quick Top 5:
New Japan Cup 3.6.2021: Kazuchika Okada vs Shingo Takagi
Rating: **** ½
New Japan Cup 3.5.2021: Taichi vs Hirooki Goto
Rating: **** ½
Stardom 10th Anniversary: Wonder of Stardom Championship: Hair vs Hair: Giulia (c) vs Tam Nakano
Rating: **** ¼
New Japan 49th Anniversary: IWGP World Heavyweight Championship Match: Kota Ibushi (c) vs El Desperado
Rating: **** ¼
New Japan Cup 3.7.2021: Hiroyoshi Tenzan vs Will Ospreay
Rating: ****
Honorable Mentions:
New Japan 49th Anniversary: New Japan Cup: Great O-Khan vs Tetsuya Naito
Rating: *** ¾
NXT UK: UK Women's Championship: Kay Lee Ray (c) vs Meiko Satomura
Rating: *** ¾
IMPACT!: Deonna Purrazzo vs Jordynne Grace vs Kiera Hogan
Rating: *** ¾
AEW Revolution: AEW Women's Championship: Hikaru Shida (c) vs Ryo Mizunami
Rating: *** ½
NJC 3.7.2021: Gabriel Kidd vs Zack Sabre Jr
Rating: *** ½
Stardom 10th Anniversary: Mayu Iwatani vs Yoshiko
Rating: *** ½
NJC 3.6.2021: New Japan Cup: Juice Robinson vs KENTA
Rating: *** ½
IMPACT!: Black Taurus vs Chris Bey vs Ace Austin
Rating: *** ½
New Japan 49th Anniversary: New Japan Cup: Satoshi Kojima vs Jeff Cobb
Rating: *** ½
NJC 3.7.2021: LIJ (SANADA, BUSHI, Shingo Takagi & Tetsuya Naito) vs CHAOS (Hirooki Goto, SHO, Kazuchika Okada & Tomohiro Ishii)
Rating: *** ¼
AEW Revolution: AEW World Heavyweight Championship: Exploding Barbed Wire Deathmatch: Jon Moxley vs Kenny Omega (c)
Rating: *** ¼
NJC 3.6.2021: New Japan Cup: Tomoaki Honma vs Minoru Suzuki
Rating: *** ¼
NJC 3.5.2021: Suzuki-Gun (Minoru Suzuki, Zack Sabre Jr, DOUKI) vs Gabriel Kidd, Yuya Uemura & Tomoaki Honma
Rating: ***
AEW Face of the Revolution Ladder Match: Penta El Zero M vs Cody Rhodes vs Scorpio Sky vs Ethan Page vs Max Caster vs Lance Archer
Rating: ***
NJC 3.7.2021: Bullet Club (Jay White, EVIL, Dick Togo & KENTA) w/Gedo vs Ryusuke Taguchi, Toa Henare, Hiroshi Tanahashi & Juice Robinson
Rating: ***
New Japan 49th Anniversary: LIJ (BUSHI, SANADA & Shingo Takagi) vs CHAOS (Kazuchika Okada, SHO & Tomohiro Ishii)
Rating: ***
NJC 3.5.2021: Bullet Club (EVIL, Yujiro Takahashi, Chase Owens & Taiji Ishimori) w/ Dick Togo vs Hiroshi Tanahashi, Tiger Mask IV, YOSHI-HASHI, David Finlay
Rating: ***
AEW Dynamite: Shaq & Jade Cargill vs Cody & Red Velvet 
Rating: ***
5. New Japan Cup 3.7.2021: Hiroyoshi Tenzan vs Will Ospreay
From My Results:
Ospreay fires up, but runs into a BIG LARIAT from Tenzan! Fans fire up as Ospreay stumbles about, into Tenzan's scoop! T T D!! Cover, TWO!! Ospreay survives but Tenzan wants the Anaconda Vice again! Ospreay flails and reaches as Tenzan thrashes around again. Ospreay fights up, but Tenzan hits the ANACONDA BUSTER! Cover, TWO!!! Ospreay survives again but Tenzan heads up top! Ospreay anchors a leg but Tenzan clubs at him! Ospreay tucks Tenzan in! CHEEKY NANDOS! And then Ospreay gets Tenzan up for a LAST RIDE! Cover, TWO!?! Tenzan survives and fans fire up, but Ospreay calls his shot!
Ospreay springboards, OSCUTTER!! Cover, TWO?!?! Tenzan survives and no one can believe it! Ospreay gets up, reels Tenzan in, underhooks and gets Tenzan up, but Tenzan slides off to headbutt! MONGOLIAN CHOP! And again! Tenzan fires up, scoops but Ospreay resists! Ospreay elbows away on Tenzan, scoops him, and pops him up to a fireman's carry, for a SIT OUT SLAM!! Cover, TWO!! Tenzan survives but Ospreay takes off the armband! Ospreay brings Tenzan up, around, and hits a DREAM CRUSHER ELBOW! Ospreay keeps going, underhooks and lifts, for STORMBREAKER!! Cover, Ospreay wins!!
Winner: Ospreay via Stormbreaker
3t. New Japan 49th Anniversary: IWGP World Heavyweight Championship Match: Kota Ibushi (c) vs El Desperado
From Mitchell's Coverage:
NO! Ibushi fights out to wrench and LARIAT! Ibushi fires up and fans respond in kind! Ibushi gets Desperado up, reels him in, and lifts, for a LAST RIDE!! Cover, TWO!! Desperado lives but Ibushi vows to end it! Ibushi grits his teeth, gets Desperado's wrists and sits him up. Desperado wrenches through to ES EL CULERO! Cover, TWO!!! ROUNDHOUSE from Ibushi hits clean! Ibushi sits Desperado up again, KAMI- NO! ROLL UP, but to the STRETCH MUFFLER!! And he puts it on tight! Then gets NUMERO DOS SUPREME! Ibushi endures but he is caught! Desperado holds on as hard as he can but Ibushi refuses to give in!
Ibushi pries an arm free, reaches, but Desperado rolls him from ropes! Ibushi make sit a cover, TWO!! KAMIGOYE!!! Cover, TWO!??!?! Ibushi can't believe Desperado still lives! Ibushi gets the wrists again, for ANOTHER KAMIGOYE!!! Cover, Ibushi wins!!
Winner: Ibushi via Kamigoye
3t. Stardom 10th Anniversary: Wonder of Stardom Championship: Hair vs Hair: Giulia (c) vs Tam Nakano
Tam and Giulia has been an on going feud since Stardom returned to activity. Giulia has been seen as the new It Girl, and Tam is always popular with her cute exterior, but her drive for the white belt was for her former tag partner. Arisa Hoshiki had to retire for a second time because of neck injuries, and even though they fought and acted like oil and water for a while, Arisa and Tam became great friends. This being Tam's fourth shot at Giulia, her only win so far being in the 5 Star Grand Prix. So when Tam demanded one more title shot, Giulia wanted the Universe's Cutest to put her hair on the line. Tam agreed, and that brings us here.
This told a great story. Tam had moments of despair and frustration where Giulia was just toying with her and Tam couldn't find an angle to get in offense. Giulia's hubris was her undoing though. Giulia had Tam down in the ring for a 10 count, but she shoved the referee and went into full mount to continue the punishment.
After that point, Tam's frustration turned into motivation, we had a great slap exchange which showed Tam's heart and Giulia even clasped her hands behind her back, showing that much disrespect to Tam. It's honestly hard to tell if Giulia was trying to get this side of Tam out, or if she was just cocky, but it was great heel psychology.
Tam countered the Glorious Driver variations often, landed the Shining Knee, ther Tiger Suplex Hold and really started to come alive in the second half of the match. Once Tam landed Giulia's Glorious Driver, it was all but over. So Tam hammerlocks both of Giulia's arms, and locks in the Twilight Dream for the win! Tam finally has the white belt!
The story of the match was great, the emotion of the struggle for the last 9 months was fantastic and Tam finally gets a chance to show how she went from a teased and lost girl who needed Io Shirai and Mayu Iwantani to protect her at different times; to now she's leading her own faction, and a great asset to Stardom.
【🔥PPVアーカイブ配信中‼️🔥】

ジュリア vs 中野たむの敗者髪切り戦など、超激闘のスターダム日本武道館大会を是非ご視聴下さい❣️

PPVのアーカイブ視聴期間は3/6(土)23:59まで‼️

🔻PPV購入はこちらhttps://t.co/SNFVmQvXGY

🔻PPV for fans from overseas!!https://t.co/HO5xqM9ytQ#STARDOM pic.twitter.com/iRezTkLHzp

— スターダム✪STARDOM (@wwr_stardom) March 5, 2021
Winner: Tam via Twilight Dream
1t. New Japan Cup 3.5.2021: Taichi vs Hirooki Goto
From Mitchell's Coverage:
Taichi paces, drags Goto but Goto is dead weight. Fans rally up and Taichi drags Goto by his hair. Taichi stands Goto up but Goto blocks the forearm into a spin and suplex, SHOUTEN KAI!! Both men are down again and fans fire back up! Goto grits his teeth and rises again! Goto gets himself to ropes while Taichi sitrs. Goto drags himself to his feet, Taichi is in a daze but Goto powers up now. Taichi sits up into the BUZZSAW! But he pops right up to BOOT?! Goto forearms, Taichi mule kicks, Goto HEADBUTTS! Taichi is down but Goto shakes his head. Fans are thunderous again as Goto fires up and drags Taichi into the dragon sleeper!
Taichi slips out, Alabama lifts, but Goto escapes to dragon sleeper! Taichi gets out to ROUNDHOUSE! Taichi hooks the arms, TAICHI STYLE GEDO CLUTCH! TWO!!! Goto narrowly escapes and the fans are thunderous yet again! Taichi and Goto slowly rise, and Taichi goes to a corner. Taichi fires himself up, builds power and takes aim, but Goto blocks the kick! Goto fireman's carries to G T W!!! Cover, TWO!?!?! Taichi survives and the fans are now electric! Goto isn't done, he dragon sleepers to TRUE G T R!!! Cover, GOTO WINS!!
Winner: Goto via GTR
1t. New Japan Cup 3.6.2021: Kazuchika Okada vs Shingo Takagi
From My Results:
Shingo added his arrogant flair to a lot of things in this match, including the Rainmaker pose that Japanese Commentary called the "Pumping Steel Maker", which also worked well when Shingo countered the Rainmaker with his own Pumping Steel Maker. Even injured this was a great slugfest between the two. Okada still hit a good number of his classics, but he was visibly hampered as the match wore on. Shingo managed to escape the Money Clip twice, which was an important element since Shingo passed out to the Money Clip in the G1.
Superplex, Noshigami, Made in Japan and an Uranage Backbreaker were some of the bigger moves towards the end that swayed the momentum for Shingo. Shingo went for Last of the Dragon a few times, but Okada usually had an answer. At the end, Okada slips behind the Last of the Dragon, winds up the Rainmaker, but Shingo ducks it and continues the momentum to lift Okada to his shoulders and finally hit his finish to win the match!
Winner: Takagi via The Last of the Dragon
Thoughts:
Well now this is a very Eastern centric week, but I tried, you saw other stuff in honorable mentions. Now I'm conflicted since I'm a big fan of Tam, and really enjoyed her story the last few months. However, Shingo versus Okada II is fantastic. These two have great chemistry and it's cool to think of the former top guy of Dragon Gate facing the current top guy of New Japan is nice dream matching.
Big match Holy Emperor showed up really well for a loss, I just personally don't see it surpassing my Shingo/Okada fanfic of amazingness. So yeah, Tam Nakano vs Giulia is close to winning my vote, but beefy Shingo getting the Rainmaker rub is my vote this week!
There we go, Japan was great this week and I never even got around to NOAH's show. *grumbles about time and flat circles* 
News From Cook's Corner 3.8.21: Explosions R Us
Cook brings us all the explosive news! Big, small, literal, figurative…an explosion is an explosion…right?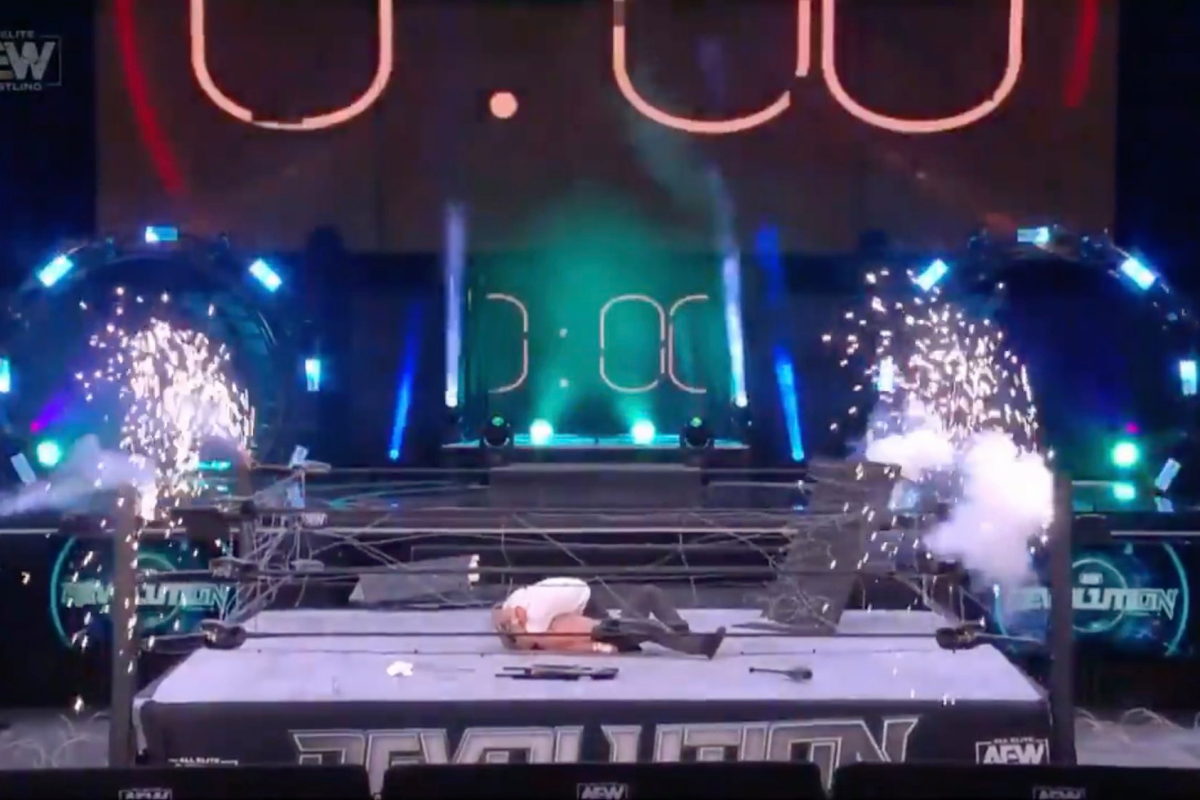 Hi, hello & welcome to News From Cook's Corner! So much going on in the world of wrestling this week that it's tough to keep track of it all. We do our best here, and pretty much anything I don't cover here is covered in a column or podcast here at the Chairshot.
I would say that the rest of March might be a bit busy for me due to college basketball, but the Louisville Cardinals men's team probably has two games left at most. One ACC Tournament game, then one game in whatever other tournament they make. Fun! At least the women should be able to make a pretty good run, and that won't affect things too much. Especially since I'm cutting back on the drinking and also not watching games out of the house anymore.
I might actually be productive this March! That'd be nice. Let's be productive and go through the news!
Was There A Revolution?
Yes there was! I was working during the first part of it, but we definitely need to talk about some of the major happenings of this show…
Hall of Fame Worthy Signing = Christian Cage
I'm never really a fan of hyping up surprise signings for major shows. Everybody gets their hopes up to the point where unless it's Ric Flair somehow in his prime again it ends up being a disappointment to most people. Pretty much every WWE Hall of Fame level talent not doing anything right now tried to make us think it was them on social media. It ends up being Christian Cage, complete with TNA theme song.
Definitely two schools of thought on this one. Christian has a lot of admirers that were happy to see him return at the Royal Rumble. They then wondered where he went afterwards. It makes sense. Christian had to leave WWE in the mid-2000s to get a real chance to shine as a main event level star. Now, he has to leave WWE again to get a real chance to end his career on his terms.
Then there are those out there making the TNA comparisons. It's a lazy talking point, but you're not going to get people off of it once it starts. As long as Christian adds to the shows and doesn't detract from them, I don't see the issue. I also think he's worthy of being in the WWE Hall of Fame, so I can't accuse AEW of false advertising here.
It has to be asked, though. How did WWE let this happen? How did they not make sure Christian was locked up after the Royal Rumble? Booking Edge & Christian against Roman Reigns & Jey Uso, or Jey & a returning Jimmy Uso, seemed like an obvious & logical way to keep the Edge/Reigns story moving. Seems like a missed opportunity for them, but I'm guessing that Vince McMahon doesn't see it that way.
Ethan Page Returns From The Dead
It's happened before. Allie died in Impact's Undead Realm, then re-appeared in AEW. Now it's Ethan Page. Maybe it's a Canadian thing? Page appeared in the Face of the Revolution ladder match, having a good performance but coming up short to Scorpio Sky. Page is a good talker and a solid in-ring talent, hopefully he won't get lost in the shuffle here.
Maybe he could form a team with his brother Adam Page. I just hope John Silver doesn't get confused now that there are two Pages. Actually, three when DDP is around.
Double or Nothing announced for Sunday, May 30
It'll be AEW's second straight Sunday PPV event, which Tony Khan says he'll only try to do on three-day weekends going forward. To which I say "What in the blue hell is a three-day weekend?" Must be nice! DoN will be going head to head with the Coca Cola 600, but apparently NASCAR has fewer crossover fans with AEW than boxing or UFC.
One bad exploding ring ruins the night
It's a shame, too. The inner blood mark in me was enjoying seeing the various clips of explosions & barbed wire & blood and all that stuff that "smart" fans are supposed to act like is garbage. What can I say, I'm a sick fuck. I don't need to see the blood & guts every week, but there's definitely a time & place for it. Kenny Omega & Jon Moxley's time & place was on Sunday night, and it seemed like a pretty exciting time for all involved…up until the finish.
According to AEW, this is the ring being "blown up".

You can recreate this with a few sparklers in the safety of your living room #AEWRevolution pic.twitter.com/CUbVuknBb7

— Wrestle Critic (@WrestleCritic) March 8, 2021
We all know how these things work. Opinions on wrestling matches & shows are largely based around the finish. A good finish can make us forget a match sucked. A good main event can turn a thumbs down show to a thumbs up. On the other side of the spectrum, a bad finish can turn us against a match, or against an entire show.
AEW Revolution would have been more well received had the closing explosion not been a dud. They should have just started firing off the explosives used for Cody's entrance again, that could have covered the ring stuff up. All it takes is one bad explosion to make people forget three & a half hours.
Maybe the moral of the story is to not have your show end with an explosion, but I don't want to entirely dissuade future pyromaniac wrestling promoters.
Is the "Wednesday Night War" Over?
Speculation is rife that NXT will be moving to Tuesdays in April, with the first Tuesday episode coming two days after WrestleMania. The idea of NXT switching nights has been talked about for the past several months now, and the rumors really picked up when it was announced that NBCSN would be closing up shop and some of their main properties would be moving to USA.
So Wednesday Night Hockey is a bigger deal than I thought it was. Who knew? That's what I get for sticking with Fox Sports Tennessee coverage of Nashville Predators games.
Nothing has been officially announced yet, but apparently William Regal has a "landscape changing announcement" scheduled for this week's NXT episode. Could be it. Could also be an announcement that they're going to put security guards in the NXT parking lot so people don't get beat up. Ya never know.
I'd like to wait until everything's official until we start speculating on the fallout, but I do get the feeling that AEW won't see as big an increase in viewers as you might think. I tend to think that wrestling fans that wanted to watch AEW on Wednesday night were already doing so. Maybe there's some NXT viewers that haven't checked out AEW yet, and maybe some of the holdouts in that older demo are swayed by AEW bringing in more people in their age group, but I'd pump the brakes on any idea of Dynamite getting those Raw ratings numbers.
NWA Update
Last week we knew that the NWA was holding tapings from March 21-21. We now know that the March 21 show will air on FITE, is called "Back For The Attack", and will cost viewers $19.99. We also know that NWA Powerrr will be back airing regularly on Tuesdays at 6:05 starting on March 23, and will be available on FITE "via a low-cost subscription bundle".
It's obviously risky putting all of your content behind a paywall. You can't even find the old episodes of Powerrr for free anymore. The idea seems to be that there are enough people that enjoyed what the NWA was doing pre-pandemic that a pretty good number will be willing to fork out whatever price it is per month to keep taking the ride. FITE has been a reliable streaming platform in my experience, so if you're going to try something like this they're probably the best bet. It definitely helps increase FITE's presence to add "exclusive home of the NWA" to their portfolio.
In other NWA-related news, Serena Deeb, AEW roster member & current NWA Women's Champion, recently had her left knee scoped. The Internet tells me that recovery from such a procedure takes approximately six weeks, so Deeb might not be available to work the coming TV tapings. They could use those tapings to build up a challenger for her, which I figure they will since taking the title off of her in the boardroom wouldn't make too many people happy.
Then again, Serena said she'd be back "before you know it". Theoretically she could return on an episode taped in advance and we wouldn't know it if there were no spoilers!
Joey Ryan Almost Got Back In The Business!
It was close! There was a show scheduled to run in Knoxville, Tennessee on March 20 called "Wrestling For Women's Charity". Sounds innocent enough, right? They posted their info on the social media with the venue address, ticket prices, streaming details, covid protocols (which, by the way, some of you Southern promoters seem to be doing a pretty poor job with your protocols from the clips I've seen. Not naming any names, but pretty much any show south of Kentucky with a recognizable star looks like a virus pit.), and the usual stuff. Of course there was a show poster, and one of the wrestlers on it just happened to be one Joseph Cornelius Meehan-Ryan.
This obviously got some attention, and the Internet started doing some digging around. What they found out was that the event was being run by Bar Wrestling, which is the fed that Meehan was running in Southern California prior to #SpeakingOut. Apparently the wrestlers involved didn't know about this, and started pulling out of the show. FITE, who was mentioned by the show as their streaming partner, said they wouldn't be airing the show. Tony Khan said that the AEW wrestlers wouldn't be participating, but offered to donate to the chairty. Then, Khan wondered if there was actually a charity, considering who was involved.
There was a charity! Since Joseph Meehan-Ryan claims to have found God since the fallout of #SpeakingOut (who apparently has commanded him to sue his fellow wrestlers), he was going to divert money to Project GRL, part of Joyce Meyer Minstries' missions arm. In case you're like me & wondering who Meyer is, she's one of those televangelists that flies around in private jets & owns several homes funded by the people sending her money for Jesus. It seems like a pretty lucrative deal if you can make it work.
The show was cancelled, but whoever was running the Twitter account had to get in one last shot:
"We apologize for riling everyone up. It is clear that we're in over our heads. We'll say that everybody booked was fully aware of all details including going through AEW's 3rd party booking system for talent. Rather than put talent in a tough situation, we've canceled the show."
Throwing everybody under the bus, which is 100% on brand for Meehan. People wonder if he'll use this as more evidence that he can't make a living and file some more lawsuits. Me, I'd prefer that he find another way to make a living, but I know that we'll be dealing with this guy trying to do things and suing people for years to come. Wrestlers will just have to be more careful about who they accept bookings from, which is probably a good idea anyway.
Another Week, Another Lawsuit
Last week, we talked about Kelly Klein filing a lawsuit against Ring of Honor, Sinclair Broadcasting Group & others concerning her alleged mistreatment by the wrestling promotion. This week, it's her partner in crime (are they still partners in areas other than crime? No idea.) Joey Mercury. We mentioned how one of the interesting parts of Klein's lawsuit involved challenging ROH's classification of her as an independent contractor, and Mercury's lawsuit addresses that as well.
Mercury claims that he was forced to resign, ROH refused to respond to his claims of an unsafe work environment, and that he was paid less than others with his job positions. He also says that he was misclassified as an independent contractor rather than an employee, which he figures he was since he was a producer.
I look forward to discussing another ROH lawsuit next week. Has Joseph Meehan-Ryan sued them yet? Surely he's got some beef with how he was used there way back in the day.
No More Thigh Slaps!
Vince McMahon has had enough. He has stands all he can stand until he can't stands no more. All these young kids slapping their thighs and legs when they kick somebody. No more! There are signs backstage now telling the wrestlers not to slap their leg when kicking.
Many people will be happy with this, as they feel that thigh/leg slapping is one of the things killing the business. It's never really bothered me, but I might just be used to it. I will say that leg slapping got Yoshihiro Tajiri over with me way back in the day. Did anybody ever time it better?
Welp, that's all the damage I can do here this week. Make sure to keep coming back to The Chairshot for your best show coverage, wrestling opinions and NFL quarterback top 5 lists! Thanks for reading, and keep your stick on the ice.