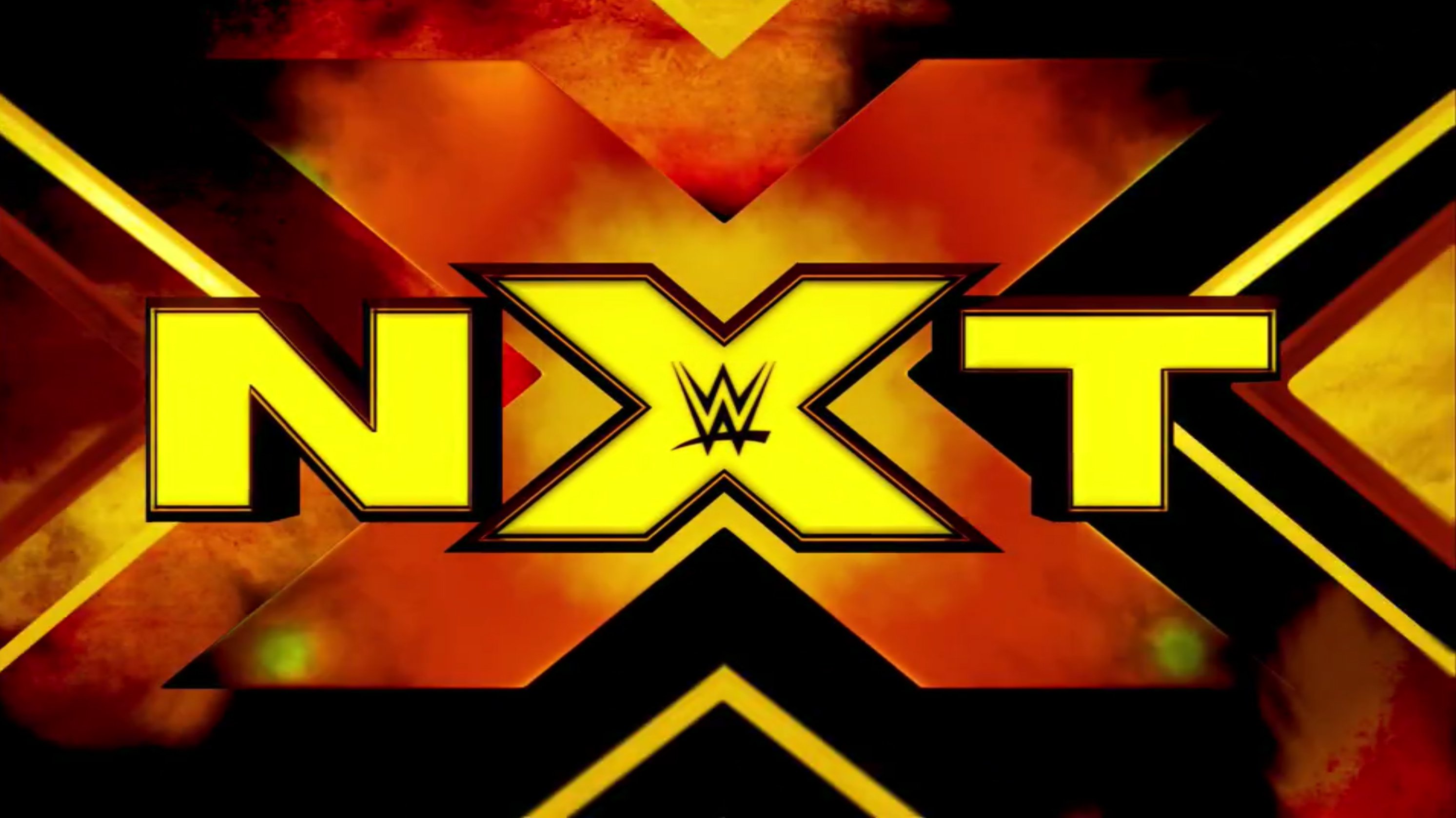 WWE NXT is the apple of many an internet fan's eye, but there's  more than one reason why. Abe has a look at the reasons!
Most of us know some of the obvious reasons why NXT consistently cranks out a great product. It's a shorter weekly program so we're not overexposed to talent. Only five pay-per-views per year means each feud has time to flourish. Those are the big ones. I've tried to dive deeper recently to find more. Let's see if we can make sense of why NXT stands out from the rest.
It's TV-PG Programming For Adults
If you're a wrestling fan, you've probably heard at least one other wrestling fan say that they wish things went back to the way they were in the Attitude Era. You might have even said this yourself. I'm here to say that isn't necessary. Although I can still find things to enjoy about Monday Night Raw, I understand why some fans have stopped tuning in. Raw may be stale to some fans but NXT is already producing the show you're looking for. And it's doing it without the blood or lingerie pillow fights of the past. Not promoting such things also means you can still enjoy it with your children.
NXT truly has its own personality. Even though I'm not familiar with the artists, the #NXTLoud soundtracks for TakeOver events aid in storytelling just as much as everything else. The live band performances at TakeOvers and NXT live events at music festivals form the identity of the brand more than I previously realized. It's during the tapings at Full Sail as well. Those fans watch every aspiring wrestler grow into a star and you call tell they care. It's a family. The more intimate setting also creates a different energy for each match. The events at Full Sail studios are essentially indy wrestling shows with world-class production crews.
It's all of the little things that go into creating the show. If you ask me, I think Raw is a tad overproduced. That probably sounds weird. It's the flagship for wrestling programming so it should look like it, right? Well, I've always been a fan of the NXT setup. As soon as the match starts, the crowd lights are turned down and all spotlights are on the ring. That's what the fans paid to see, after all: the wrestlers. Maybe that's just a me thing but I don't think any of us were a fan of those big, colorful letters that used to appear on screen during promos. Those are just a couple examples. Sometimes less is more.




We're Invested
During every episode of NXT, the writers make sure we care about each story. No segment is wasted and everything has a purpose. There are no "This is Your Life" skits or endless segments of Sami Zayn going through Bobby Lashley's Instagram page. The hour restriction of material helps cut to the chase but I can't even remember a time where social media bashed an NXT segment because it was dumb or boring. It's not just the segments but NXT is billed as the future of the company for a reason.
We've seen numerous talents from NXT thrown to the wayside on the main roster but we've also seen Finn Balor, Seth Rollins, Dean Ambrose, Roman Reigns, Bray Wyatt and Kevin Owens become world champions. And that's just the men's side. Pretty much the entire women's roster on both Raw and Smackdown are NXT grads. Any person that walks through the curtain at Full Sail could be a future star. Dakota Kai actually debuted as Evie back in 2015 when she was the opponent in Nia Jax's first match. Jason Jordan was being presented as just another great athlete until he struck gold with American Alpha. Roman Reigns wrestled his first NXT match under the name Leakee. Becky Lynch, Bayley, and Sasha Banks originally came off as average wrestlers before we watched them find their stride. We've seen the visible results of the formula working. This is why I'm equally concerned for 205 Live and NXT UK.
Before 205 Live, Eddie Guerrero and Rey Mysterio were cruiserweight standouts that rose all the way to the main event picture. Paul London and Brian Kendrick were among WWE's longest reigning tag team champions ever. However, it's been over two years since the revival of the cruiserweight division and we haven't seen a single 205 Live superstar make the jump to the main roster. Fans wanted to see Mustafa Ali answer Seth Rollins' open challenge. I know I'd want to see Buddy Murphy rub elbows with the main roster. So I really don't understand the strict separation. Guys like AJ Styles and Daniel Bryan are one missed meal away from being cruiserweights. In fact, Finn Balor is already under 205 pounds. I understand that they're bigger stars but why can't the 205 Live guys get a chance to expand their audience? Imagine if 205 Live resembled the prestige of NJPW's junior heavyweight division. Finn Balor, Kenny Omega, The Young Bucks, Ricochet, Marty Scurll, Jyushin Thunder Liger, and many others were products of that very division.
Regarding the UK division, Pete Dunne is one of the company's longest-reigning champions of all time. Fans want him to fight Brock Lesnar but the only time we've seen him with the main roster was when he was losing to Enzo Amore. So this is why I'm worried about NXT UK. I don't want it to turn into another sideshow act where the talent never get to appear on television. Zack Gibson draws nuclear heat any time he even breathes on the microphone. Rhea Ripley and Toni Storm are the future of women's wrestling. Don't get me wrong. These shows are great opportunities to be presented in front of bigger audiences. But if they're stuck there forever, then what's the end goal?
We Have Other Wrestling To Watch
If you think about it, NXT needs Raw and Smackdown. Would you feel that one hour of NXT a week is enough if we didn't have five hours of wrestling to watch every Monday and Tuesday? I know that many fans watch wrestling from other promotions there may be even more that are strictly WWE. Think about NXT as the dessert to your main roster meal. It's sweeter, smaller, and easier to consume. By the time we've watched Raw, Smackdown, and NXT, we've found things we like from each show and are satisfied as a result. That's what also allows NXT to have fewer TakeOver events. We may actually lose track of wrestling if there were only five NXT pay-per-views a year with nothing else in between.
I know Raw is an easy target. I get that their booking decisions are mind-boggling sometimes but writing three hours of television every week is an insane thought to me. The writers have to think about future feuds and shows while the entire locker room are performing in live events during the second half of the week. I write fantasy booking articles for this website where I try to book certain stories and events. It's pretty challenging. Every booking article is its own puzzle. I can't imagine what the WWE writer's room is like. NXT, on the other hand, has the luxury of a little more breathing room.
The main roster and NXT are not the only beneficially mutual relationship in wrestling. Every promotion has their own style. Where Lucha Underground lacks in technical wrestling, it makes up for in violence and cinematic storytelling. New Japan Pro Wrestling doesn't have the giant LED ramps of WWE but is basically a Match of the Year factory. If I'm watching other promotions for an extended period, I start to miss WWE. When Raw and Smackdown finish, I look forward to the change of pace that NXT brings. The promotions not only compete and work with each other but the wrestlers continue to learn and grow by wrestling all of over the world. I guess what I'm trying to say is that all wrestling is good wrestling.
What do you think?
Let us know on social media @theCHAIRSHOTcom and always remember to use the hashtag #UseYourHead!
King's WrestleMania Rewind: Charlotte Flair vs. Asuka from WrestleMania 34
Chris king is back with one of the most underrated matches in WrestleMania history–Charlotte Flair vs. Asuka!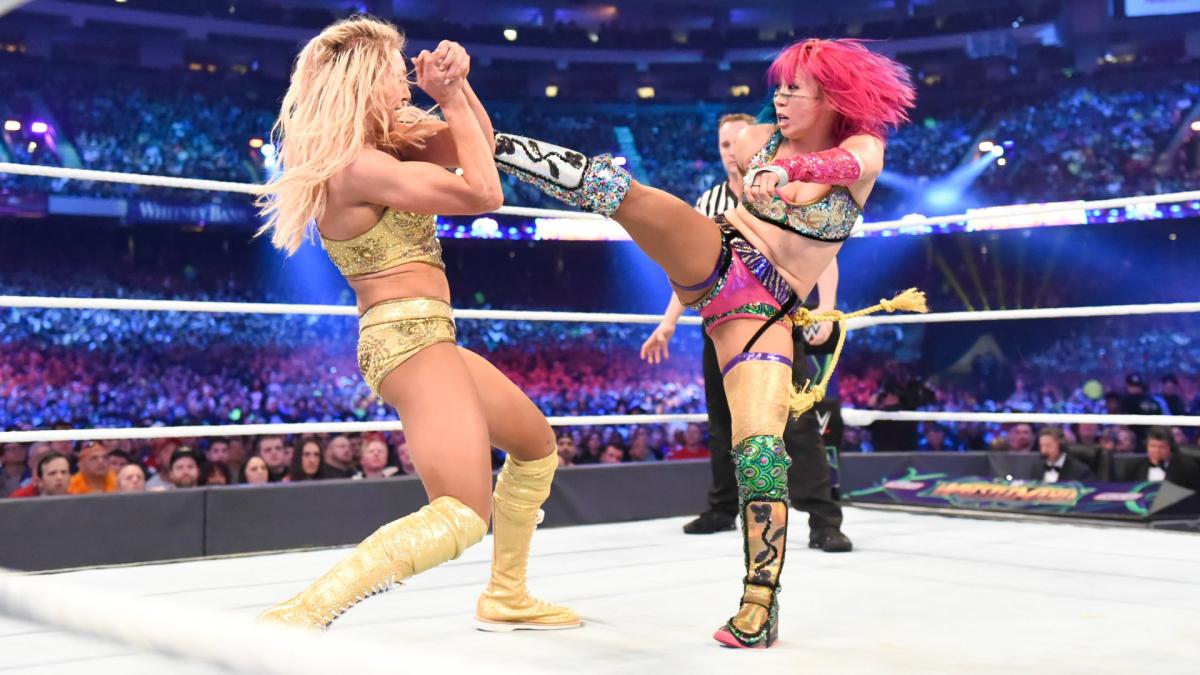 Chris king is back with one of the most underrated matches in WrestleMania history–Charlotte Flair vs. Asuka!
We look back at Charlotte Flair vs. Asuka at WWE WrestleMania 34. 'The Empress of Tomorrow' put her unprecedented and historic undefeated streak of 914 days on the line against 'The Queen's' SmackDown Women's Championship.
For years, this was considered a dream match while Asuka dominated the roster in NXT, while Flair won numerous championships on the main roster on both Raw and SmackDown. The Empress made her long-awaited debut on the September 11th episode of Raw and began to tear through the competition.
Asuka outlasted all twenty-nine other women in the historic first-ever Women's Royal Rumble match to challenge for the title of her choosing. At Fastlane, she made her choice.
The WWE Universe was so excited for this match myself included. Both superstars delivered a fantastic performance on the Grandest Stage of Them All executing counter after counter. Asuka showed off some nasty-looking kicks to her opponent, and Flair hit a thunderous Spanish Fly off the top rope. Flair was seconds away from defeat at the hands of The Empress but she locked in Figure Eight and Asuka was forced to tap out.
I can't even begin to explain how shocked I was at this outcome, as nearly everyone expected The Empress to continue her undefeated streak and walk away with the women's title. This controversial decision was the downfall of Asuka's momentum. She would ultimately win the SmackDown Women's Championship at the 2018 TLC pay-per-view in the triple-threat ladder match.
Fast forward to this year when Asuka has recently returned with her Japanese-inspired persona Kana. Kana is dangerous and ruthless and is heading into a championship with Bianca Belair at WrestleMania 39. The Empress has regained all her momentum and is highly favored to walk away with the Raw Women's Championship. Let's hope that Asuka and Belair can tear the house down and deliver an A+ grade match both women are fully capable of.
King: Dominik Mysterio Needs To Do This At WrestleMania
Chris King is here with what WWE should do with Dominik Mysterio at WrestleMania in his long-awaited match against his father Rey Mysterio Jr.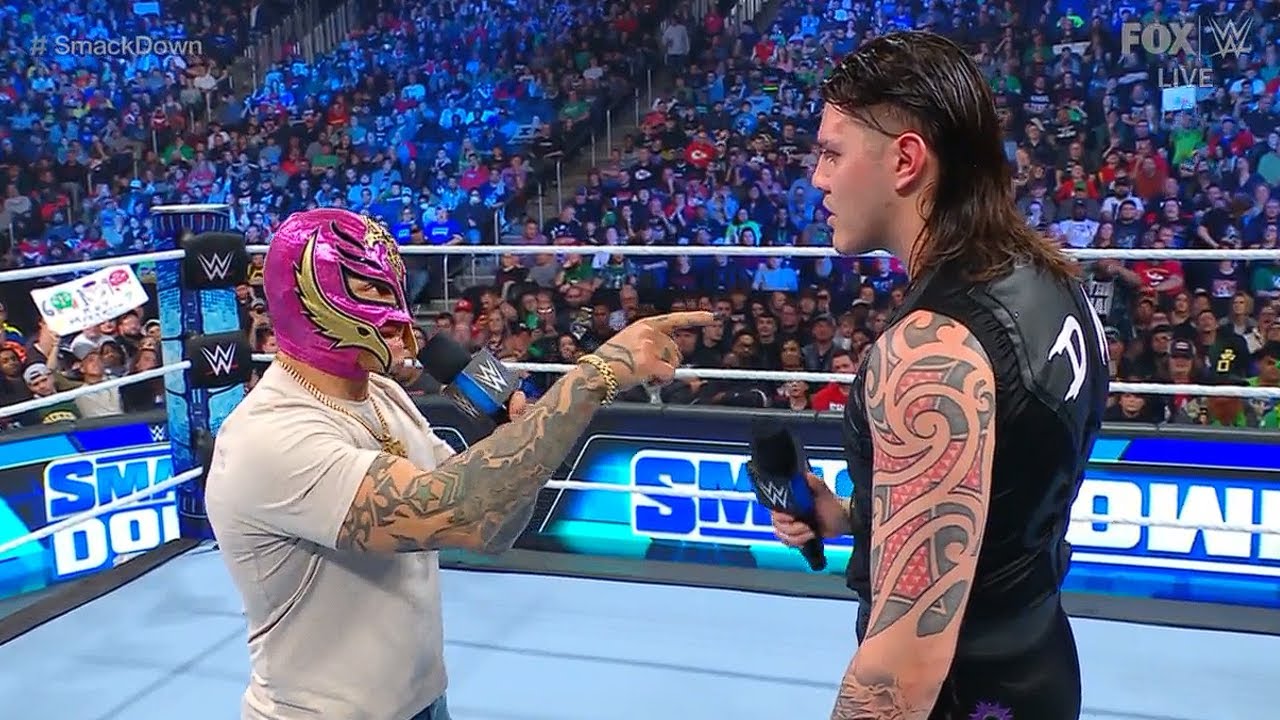 Chris King is here with what WWE should do with Dominik Mysterio at WrestleMania in his long-awaited match against his father Rey Mysterio Jr. 
On this week's episode of Friday Night SmackDown, Rey Mysterio finally snapped and beat some sense into his disrespectful punk-ass kid Dominik. The member of the Judgement Day came out to push his father again for a match on the Grandest Stage of Them All, this time with his mother and sister at ringside. The ungrateful punk told his mom to "Shut Up," as a father even I wanted to jump through the screen and whoop his ass.
Back in October of last year, Mysterio made the emotional decision to possibly quit the company but, instead, Triple H persuaded the Lucha libre superstar to move over to SmackDown to avoid his son. This came after Dominik shockingly turned on his father at Clash at the Castle. Mysterio did everything he could to refuse his despicable son's challenge for Mania but, a man can only be pushed so far. Mysterio will be inducted into the 2023 WWE Hall of Fame and I expect Dominik to embarrass his father during his speech to further this personal feud.
Yes, the WWE Universe hates Dominik and wants to see him get the ever-loving crap kicked out of him but, this feud is missing a special ingredient to capitalize on the biggest heat possible. Throughout this feud, Dominik has made mention of the legendary Eddie Guerrero on several occasions going back to the "iconic" 2005 feud.
I know WWE might not want to go this route but, Dominik MUST come out to Eddie Guerrero's theme at Mania. The disrespectful punk needs to come out in a lowrider to garner nuclear heat. It doesn't matter if The Judgement Day comes out and causes interference for Dominik to get the win, all that matters is that both superstars get the biggest payoff of this nearly year-long feud. Just imagine the Roman Reigns heat after he defeated The Undertaker and multiply that by ten. Dominik portrays the perfect heel and he truly is the missing ingredient that The Judgement Day needed to grow and evolve into a top faction.