Will 2019 Surpass 2018 for Women's Wrestling in WWE?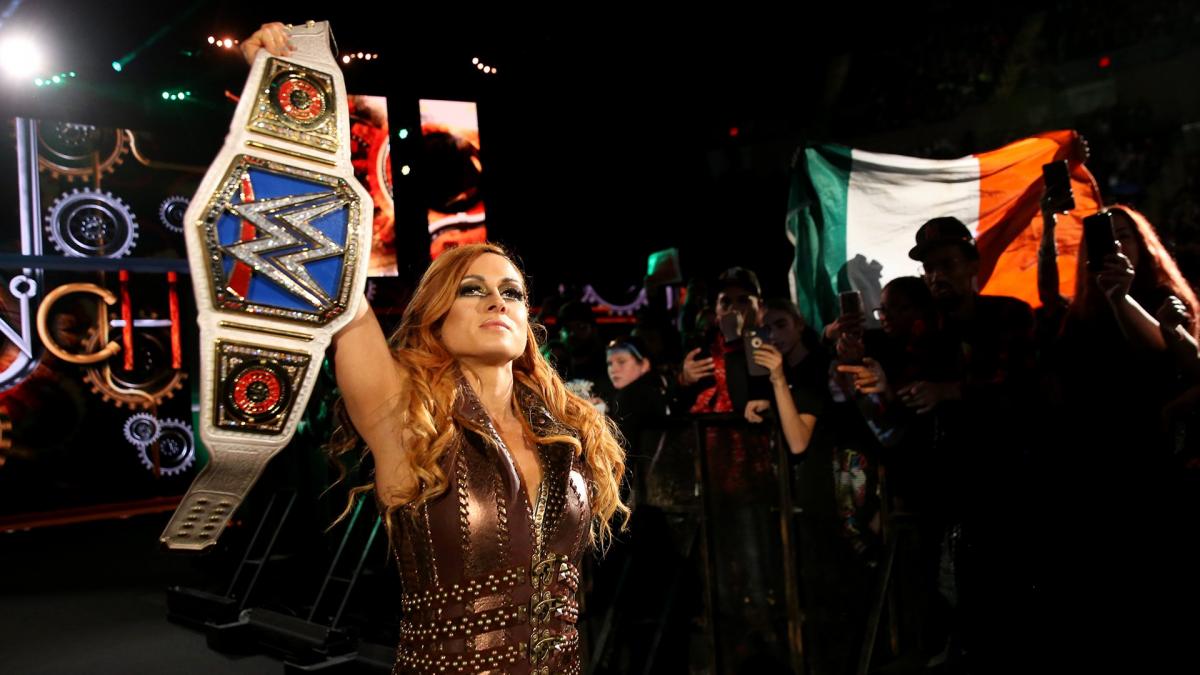 Women's wrestling in WWE is at an all-time high. That's because of the company's commitment to spotlighting the women's division. After all, the female Superstars of WWE cannot kick down doors if the company will not allow them to do it. WWE can claim that the Women's Evolution came because the fans demanded it. But Vince McMahon's company had to be willing to play along.
But the biggest reason why women's wrestling is so successful these days is due to the work of the Superstars involved. Charlotte Flair, Becky Lynch and Ronda Rousey dominated WWE in the latter half of 2018 and that momentum will carry them into 2019. So could 2019 be even bigger for women's wrestling in WWE?
Longtime WWE fans and supporters of women's wrestling are surely happy right now. For years, the women were kept in one spot and one spot only. As long as the women stripped down to their underwear and oftentimes less, everything was good. They were eye candy and nothing more. 
The idea of women actually rising above their station and doing something on par with the men was unheard of. It was laughable. That's not because of the women themselves, but because of the way WWE treated them.
Of course those days are long gone now. The women of WWE are working main events all over the world. They earned their own pay-per-view and they rise to the occasion every time they take the stage. The times have changed so much in fact that the risqué days of The Attitude Era are now nothing but a distant memory. The women have truly come into their own.
So after realizing and accepting that fact, fans are now looking forward instead of behind. The women have stepped up and seized the day. They're must-see television and that is not the exception; it's the norm. Much of that is due to the work of The Four Horsewomen.
Flair, Lynch, Bayley and Sasha Banks came to WWE's main roster with one very simple mission: they wanted to steal the show. Their goal was no different than that of any man that came before them. The quartet wanted to be the best and they would prove their mettle every night in the ring.
When fans looked at them, they didn't necessarily see four female wrestlers. They saw four wrestlers. The Four Horsewomen deserve all of the praise and adulation they receive because without them, the division would likely be standing still right now. 
But instead, women's wrestling has never been hotter. In fact, Becky Lynch has never been hotter. Indeed, "The Man" has caught fire like no one dreamed possible and she's now the most popular Superstar in WWE. It's not AJ Styles, it's not Seth Rollins and it's not Finn Bálor. It's Becky Lynch. She is the top guy in WWE right now because the fans say she is. 
Even Charlotte Flair, who was booed as a babyface against Becky, is now cheered as a heel. Why? Is it because the fans just love to cheer for the villains? Or is it because Charlotte is right where she needs to be and is completely in her element and the fans appreciate it? The WWE faithful knows when something is working and they recognize it when they see it.
Of course it's hard to imagine women's wresting in WWE today without The Baddest Woman on the Planet. Ronda Rousey did what Kurt Angle did before her. She took her skill-set and she adapted it a WWE ring. She's a natural in every sense of the word. It hasn't always been easy and it hasn't always been perfect. But she has improved with every match and she continues to get better every week.
Ronda brought mainstream sports appeal with her when she came to WWE. That's exactly what Vince McMahon wanted from her and it's precisely what he got. But he also got more than that from Rousey, because she gives maximum effort every time.
Rousey could have coasted by on her reputation and she could have demanded the Superstar treatment backstage. But by all accounts, Ronda is just one of the boys. She's happy to be there because she's living her dream. Like The Four Horsewomen, Ronda Rousey is fighting to impress. She wants to be the best.
So where does WWE go from here? The only logical destination is WrestleMania. But just any match on The Grandest Stage of Them All will not be enough. The women of WWE have fought for and have earned the main event. But does WWE agree with that notion?
Rousey was built to main event Mania and it's surely why she was brought in to begin with. WWE knows what it has with her. The company sees her effort and there's no reason to believe that she cannot be in the top match on the top event of the year. After all, who else should be?
Roman Reigns is out of action. Brock Lesnar has no viable big money opponents. Triple H likely won't physically be ready to compete, which means Batista will probably not be back. Shawn Michaels has seen better days and the same is true of The Undertaker. When it comes to elite level talent, no one is bigger right now than Lynch, Flair and Rousey. 
If WWE does not book one, two, or all, of the three in the main event of WrestleMania 35, then many fans will likely consider it a failure on the company's part. The trio, along with many others, have fought extremely hard to achieve greatness in the company. WWE must recognize that greatness and validate that work. If not, then what has all of this been for?
The Women's Evolution doesn't need a payoff. The female Superstars of WWE will continue to move forward whether or not they get the main event at Mania. But reaching that point once means possibly reaching that point again. If women's wrestling is truly on par and often excels past men's wrestling, then the WrestleMania main event is the next logical step. The fans know it. With any luck, WWE knows it as well.