WWE Week in Review – December 10-16, 2018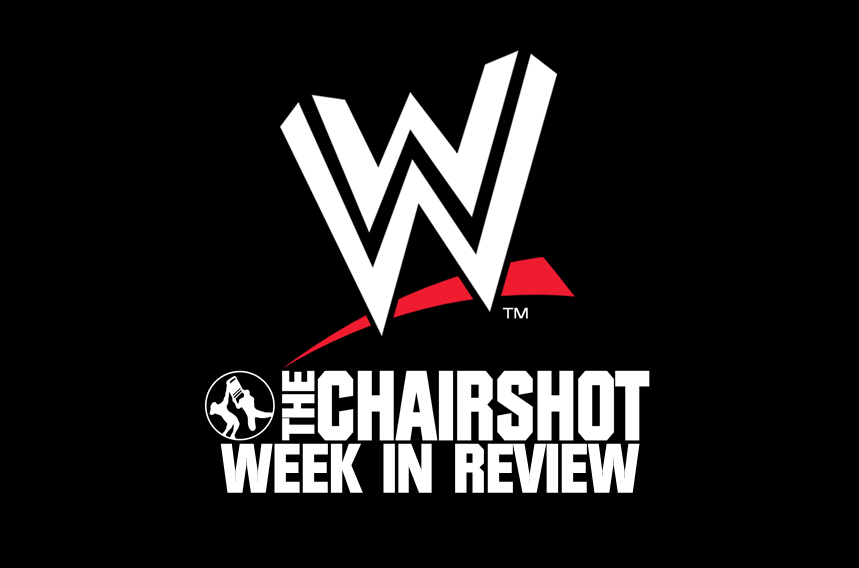 An extremely busy week in WWE as everyone gears up for the end of the year. Tiffany covers what happened!
TLC is here!!! As everyone prepares for the last PPV of the year, the jockeying for position going into the Royal Rumble begins.
On RAW, Seth Rollins takes a stand against Baron Corbin's tyranny. Drake Maverick's battle for respect has unexpected consequences. Ruby Riott takes her disrespect for Nattie to new levels. Bayley gets some expected help in her battle against Alicia Fox. Heath Slater finds himself  between a rock and a hard place, and the war of words between Ronda Rousey and Nia Jax gets physical.
On SmackDown, Daniel Bryan faces an opponent with a lot of heart, Miz's behavior gets out of control, Randy Orton gets a taste of his own medicine, and Charlotte and Asuka meet for a WrestleMania rematch.
On NXT UK, Rhea Ripley's next challenger has a lot of magic, the war between Moustache Mountain and Gallus continues, the announcement of the tag team championship ignites a battle for supremacy, and a battle of the undefeated streaks gets underway.
On 205 Live, in the final show before TLC, Buddy Murphy and Cedric Alexander both look to gain some momentum, and Kendrick and Tozawa look for a way to end their feud with Gulak and Gallagher.
On NXT, the tournament for a spot in the #1 Contender's match begins with two Mae Young vets, the battle lines are drawn between Team Shirai and the Horsewomen, and Ricochet's request for competition brings in a blast from NXT's past.
How'd WWE do? Let's find out!
RAW
Baron Corbin vs Seth Rollins: For weeks, Baron's Corbin has been running roughshod over the RAW roster. While Finn Balor, Elias, and Strowman have made a stand, they haven't had much luck.
On Monday, Seth Rollins, who had been part of the initial resistance to Corbin's corrupt regime, turned his attention from Dean Ambrose, to the RAW situation. Calling Corbin to the ring, Rollins wasted no time in ROASTING the Acting GM, blaming him for the lackluster RAWs of the last few weeks.
Corbin tried to defend himself, but Rollins wouldn't have it, listing all of Corbin's sins, including helping Brock Lesnar the Universal Championship.
Stung, Corbin lashed out at Rollins, vowing to make his life a living hell after TLC, but Rollins isn't intimidated, or impressed, and challenges Corbin to a TLC match that night. Corbin refuses, but after repeated mocking by Rollins, agrees, and makes it for the Intercontinental Championship. Smart move, Seth.
Backstage, Rollins admitted that maybe it hadn't been the greatest idea to provoke Corbin, but he wants to be a leader in the RAW locker room and that means stepping up.
The match was surprisingly good. The deck was definitely stacked against Rollins considering that Corbin had the ref in his pocket, but Rollins battled through, retrieving his championship and holding it high, but he isn't in the clear just yet.
RAW Women's Division: The feud between Nattie and the Riott Squad has been going on for months and has been extremely ugly, with Riott taking every opportunity to mock Nattie's wrestling heritage, implying that Nattie is in WWE because of her family's influence.
On Monday, Nattie cut a promo, declaring her pride in her heritage and her family and vowing to teach Riott a lesson in respect at TLC. She then dedicated her match to her dad.
The Riott Squad came out with a covered table. Ruby got on the mic and mocked the neverending Nattie pity party. As far as Riott was concerned, Nattie disgraced the Hart name. To rub a little more salt into the wound, it was revealed that the table they'd brought out had Jim Neidhart's picture on it, with Riott vowing to put Nattie through THAT table, much to her distress.
This year's Mixed-Match Challenge has had a serious bite from the injury bug. Of all the teams on RAW, only Mahal/Alicia Fox and Bayley/Balor had survived, until Balor was injured by Drew McIntyre last week. But never fear, Bayley had a great replacement in Apollo Crews, who wasted no time helping Sasha fend off Jinder Mahal and the Singhs, allowing Bayley to get the win over Fox.
The war of words between Nia Jax and Ronda Rousey has gotten increasingly heated, but both women seemed to want to save the fisticuffs for their match at TLC.
A press conference was advertised but was scrapped for some reason. Nia cut a really good promo, vowing to do to Rousey what she did to Becky Lynch. Rousey, for her part was in the mood to fight, but instead, Ember Moon and Tamina had a match. The match was okay, Ember would pull out a victory with some help from Rousey, but the big story was the brawl that broke out between Rousey and Jax six days before their match at TLC. Rousey got the upper hand, but will she still be standing with that title on Sunday night?
RAW Tag Team Championship: Over the past couple of weeks, Drake Maverick has been using the AoP to get revenge on Bobby Roode and Chad Gable for mocking his bladder malfunction at Survivor Series, and for the past two weeks, AoP have come out on top. After last week's farce of a match, Rood and Gable were given another chance to capture the tag team championships in a 3-2 Handicap Match.
The match was okay. AoP are pretty rough, but Roode and Gable were able to hang with them and Maverick played his part to perfection. It honestly looked like AoP was going to pull out another victory, but Maverick's ego got the better of him. He got himself tagged in and made the mistake of wasting time to mock Roode's 'Glorious' gimmick, giving Roode the opening for a rollup pin. Roode and Gable are the NEW RAW Tag Team Champions! Maverick and AoP are stunned, as is the crowd. Roode and Gable got one over on AoP, but will they survive the rematch?
Dolph Ziggler vs Drew McIntyre: Last week, Dolph Ziggler pulled off a surprising win over former friend, Drew McIntyre, with some help from Finn Balor. Ziggler was surprisingly ungrateful for Balor saving his bacon last week, saying that he didn't need help because he was Dolph Ziggler and would prove it again in his second round with McIntyre, the man he claimed he'd plucked from 'obscurity' instead of the injured list of NXT.
Ziggler should've been grateful for Balor's help, because his one-on-one with McIntyre was a nasty ass-kicking. Ziggler did his best, and nearly had McIntyre on a couple of occasions, but the Scottish Psychopath would prove to be more than Ziggler could handle. To add insult to injury, McIntyre not only kept attacking Ziggler, he hit a Claymore Kick to Ziggler outside the ring, injuring him, while smiling.
Dean Ambrose: We're going to have to come up with a new nickname for Dean Ambrose, because the former Lunatic Fringe does NOT want to be called that anymore, as he made very clear to Charly Caruso.
When asked about his thoughts on Seth doing a TLC match for the IC title six days before their match at TLC, Ambrose said that it was typical of Seth. Seth always wanted the spotlight for himself, also that Seth doing something so reckless showed that the Architect was losing his grip, which would lead to victory for Ambrose.
When Caruso brought up the subject of what Roman Reigns thought of this situation, Ambrose CLAIMED that he didn't care what Reigns thought, though his face said differently. That wasn't good enough for Caruso, who showed a montage of the feud and repeated her question. Ambrose simply walked away, without a word.
After Rollins successfully retained the Intercontinental Championship, Ambrose came out to the ramp, reminding Seth that while he may have survived Baron Corbin, he's hasn't beaten Ambrose yet.
Elias vs Lio Rush (with Bobby Lashley): The feud between Elias and Bobby Lashley has really become Elias vs Lio Rush with Rush constantly sticking his nose in. Last week, Elias got some revenge when he El Kabong'd Rush.
This week's encounter was decidedly in Rush's favor: Balor was out with injury/illness, Lashley was firmly in Rush's corner, and so, unwillingly was the ref, as demonstrated by the fact that Lashley was allowed to blatantly interfere in the match without being a DQ, which ensured Rush a victory over the Drifter, but you can bet that this isn't over.
So, what was up with this ref? Well…
Heath Slater: Last week, Heath Slater ended his best friend's career to save his own and then found himself demoted from in-ring competitor to referee. Even worse was the fact that he now found himself being pressured by Baron Corbin to do things Corbin's way with the threat that Corbin would fire him if he didn't.
So Slater, clearly against his own judgement helped Rush beat Elias and TRIED to help Corbin beat Rollins, but Rollins was able to prevail. It's not clear if Slater will be punished for his failure on Monday, but it's clear that Corbin is playing a dangerous game.
SmackDown
WWE Championship: Daniel Bryan kicked off SmackDown on Tuesday, claiming that he wanted to apologize for calling fans 'sheep', but it wasn't the fans he wanted to apologize to, he wanted to apologize to sheep for comparing them to wrestling fans, who he claims are parasites. Bryan claims that the fans are too stupid to accept that the old Daniel Bryan is dead and insults Las Vegas.
Fortunately, Mustafa Ali, Bryan's opponent comes out. Ali tried to introduce himself, but Bryan rebuffed him, saying that he knew who Ali was, unlike the fans. But the fans DO know who Ali is and love him.
Bryan seems to be trying to chicken out of the match, claiming that the fans won't care and are too fickle and xenophobic to appreciate what they're about to see. Ali seems puzzled. He doesn't get what happened to Bryan, the man he credits for inspiring him and a lot of the 205 roster to pursue wrestling. What happened to the old Bryan that was always up for a fight? Bryan's answer is to ask Ali what kind of car he drives, which Ali points out has nothing to do with this, but he drives an SUV.
This enrages Bryan because Ali is a small guy, but Ali points out that he's got a family, not to mention that he lives in Chicago, which can get REALLY nasty in winter time. Bryan doesn't care, he calls Ali ignorant and sucker punches him a few time before Ali fights back.
Once it got started, this match was really good. Ali's easily to most over star of the 205 roster and the fans were firmly behind him. Unfortunately, Bryan's nasty streak would give him a submission victory over Ali. However, Bryan wasn't done and attacked Ali as he tried to make his way up the ramp.
WWE United States Championship: Shinsuke Nakamura and Samoa Joe took on Jeff Hardy and Rusev in tag team action. The match was really good, Rusev and Hardy were a good team, but the match didn't really move either story forward, despite Rusev getting the pinfall on Shinsuke Nakamura.
SmackDown Women's Division: Charlotte and Asuka will be facing Becky Lynch for the SmackDown Women's Championship on Sunday, but it was clear last week that the two women had lingering issues with each other stemming from their WrestleMania match.
The match was great and a worthy rematch for WrestleMania. Charlotte and Asuka held nothing back, which kept Becky Lynch interested the whole time. Asuka would get the DQ victory after Charlotte's frustration got the better of her and she pulled out the kendo stick.
But Charlotte wasn't done. She attacked Lynch as Lynch was leaving, even though  Lynch had not involved herself in the match. Enraged, Lynch fired back, giving Charlotte a taste of her own medicine before being taken out by Asuka, who was standing tall as SmackDown went off the air.
SmackDown Tag Team Championship: The Bar, the Usos, and the New Day will be facing off for the tag team championship on Sunday, but on Tuesday, they decided to have a little fun in the form of a rap battle between the Usos and the Bar, with New Day as the refs.
How did it go? Well, we discovered that the only thing more cringe-inducing than middle-aged white guys trying to be rappers is middle-aged, white, European men trying to rap, though 'Ice Ice Sheamy' was definitely hilarious.
This farce finally ended in fight that ended with the Doctors of Thuganomics for Dummies standing tall, but will they still be standing tall with the titles on Sunday?
Miz and Shane McMahon: Ever since Crown Jewel, Miz has been trying to hitch his wagon to Shane McMahon's coattails and Shane McMahon has been trying to shake him off as nicely as he can.
This week, things came to a head when Miz's antics got out of control. He not only created a situation where Shane was facing two jobbers on his own, essentially, but it was revealed that he'd promised the jobbers $5000 for their services and lead the referee to believe that everything was above board, much to the outrage of Paige, who sent the jobbers packing without their $5000.
When confronted about this whole thing by a furious Shane, Miz was unrepentant. Shane owes him one, in his mind, and Miz has never, for all his accomplishments, been considered the Best in the World, until Shane won the World Cup. In his mind, they could do so much more. He offers Shane a handshake, but an angry Shane rebuffs him.
Randy Orton vs Rey Mysterio: It was announced that Randy Orton and Rey Mysterio will try to settle their differences in a chairs match on Sunday. This match stipulation seems to be a surprise to Orton, who finds himself puzzled by Mysterio's willingness to do a chairs match considering the beating his throat has taken due to Orton and chairs. Clearly, Mysterio is looking for revenge, but in Orton's mind, victims don't get revenge.
Orton should've given this more thought because his 'victim' snuck up behind him and swung a steel chair like Joe DiMaggio used to swing  a bat and Orton was treated to some of his own medicine with the chair before finally escaping. Mysterio was standing tall on Tuesday, but will he still be standing on Sunday?
NXT UK
Episode 15
We start off with a recap of the road so far and are then told that the NXT UK Tag Team Championships ARE coming, so the next few weeks will be full of teams jockeying for position to be put in the field for the new belts.
Flash Morgan Webster vs Fabian Aichner: Last week, Fabian Aichner pulled off a shocking win over Mark Andrews, showing a surprising mean streak in the process.
This match was great! Aichner's build like a brick wall, but he can move those muscles around! Flash kept up with him, but was at a distinct disadvantage when it came to strength and power.
It looked like Aichner was going to pull off another win, but a timely distraction from Mark Andrews bought Webster enough time to get a pin. Aichner was LIVID but there's nothing anyone can do about it, at least for now.
Amir Jordan and Kenny Williams vs Grizzled Young Veterans: Amir Jordan and Kenny King have been trying to get on the same page, but have continually run into problems, especially against Zach Gibson and James Drake. Amir is excited because he and Williams seem to finally be getting on the same page, but Williams doesn't think this is a time for dancing, they need to focus on beating the GYV.
Well, Jordan and Williams were certainly more focused and the teamwork had improved, but they were not as solid a team as the Grizzled Young Veterans, who pulled off a pinfall on Williams, much to the anger of the crowd.
Gallus vs Moustache Mountain: The ongoing feud between the Coffey Brothers, Wolfgang, and Moustache Mountain has been going since NXT UK started. The feud continued this week with a match between Joe Coffey and Trent Seven.
The match was fantastic! Coffey is another big man who can really move around and is a great brawler. Seven has a size disadvantage, but he's INCREDIBLY strong, which made for an interesting match.
Ultimately, though Mark Coffey and Wolfgang were at ringside and did insert themselves in the match, Joe would get a CLEAN pin on Seven, capitalizing on Seven's bad leg not being able to hold him up for a torture rack. Gallus stands tall, at least for now.
Isla Dawn vs Killer Kelly: Since Toni Storm has been out of action after injuring herself during the Women's Tournament finals, Isla Dawn has really stepped up and impressed everyone with her impressive ring skills. Well, almost everyone. Rhea Ripley has not been impressed and tried to scare Dawn off by beating Candy Floss last week, only to find herself nearly getting beaten by Ms. Floss.
This week, Dawn took on Killer Kelly in a wonderful match, that showed how well Dawn could deal with a hard-hitter like Killer Kelly. Kelly was very impressive in her own right, but Dawn had momentum, and perhaps, the Goddess, on her side, putting Kelly away with a suplex for the pin.
After her victory, Dawn gave an in-ring interview where she stated that her eyes were focused on the winning the Women's Championship. She called Ripley out and challenged her to a match, promising that she (Dawn) would walk out Women's Champion. We'll see where this goes and if the Goddess is enough to put away the Aussie Riptide.
Dave Mastiff and Eddie Dennis: This is actually an odd, but oddly compelling storyline. Dave Mastiff and Eddie Dennis have both been undefeated in NXT UK, so it seems inevitable that they'll meet. How we got there was Dennis getting miffed that all the attention was being given to Mastiff and Mastiff's streak, and not his own, and challenging Mastiff to a match, which Mastiff accepted.
Episode 16
Ashton Smith and El Ligero vs Gallus: I think this ranks as one of the oddest, but cool, pairings in NXT UK and they were taking on Mark Coffey and Wolfgang.
The match was good, Smith and Ligero worked well together, but they were definitely at a size and strength disadvantage with Wolfgang and Coffey and that would prove the deciding factor when Coffey knocked poor Smith into next week an enziguri.
Backstage, Gallus was ecstatic with their win, declaring themselves, probably rightly, as the team to beat, not Grizzled Young Veterans or Mustache Mountain. And that goes double for Pete Dunne and Travis Banks.
NXT UK Women's Division: It's official! Rhea Ripley and Isla Dawn will face off for the NXT UK Women's Championship next week, per GM Johnny Saint. The fight is on!
Xia Brookside has been making quite a splash since the Mae Young Classic. When asked about her upcoming match against Jinny, Brookside admitted that she wasn't the most experience but feels good and sees this match as an opportunity. Jinny, for her part, didn't seem all that impressed with Brookside.
The match between these two ladies was very good. Xia certainly is developing into a good competitor, but Jinny had more experience, and that turned out to be the deciding factor. Jinny picked up the win with her Touch of Couture. Whatever happens with Ripley/Dawn, the winner will have Jinny nipping at their heels.
Joseph Conners vs Jack Starz: This match was quick and nasty. Starz has a lot of pluck, but Conners is mean as hell and not afraid to take anyone out and that's what happened to Starz, who learned to not look down at the hands of Conners.
Eddie Dennis vs Dave Mastiff: The battle of the undefeated streaks was every bit as brutal as you can expect. Neither Dennis or Mastiff are known for being refined wrestlers, but this was still a great match. Dennis is used to overwhelming his opponents, but that didn't work on Mastiff. Still, it was a close thing, but Mastiff pulled out the win with his nasty cannonball and there is only ONE undefeated man in NXT UK. Oh, Bruiserweight!
205 Live
WWE Cruiserweight Championship: Buddy Murphy was scheduled to meet Cedric Alexander at TLC for a Cruiserweight rematch, but on Tuesday, he took on Gran Metalik, who has been pretty impressive in LHP's feud with Maria's Minions.
The match was REALLY good. LHP has a bad habit of not being taken seriously as a team, but all three members are great competitors, and it was nice to see Metalik show off a little. However, Murphy isn't called 'The Juggernaut' for nothing and finally put Metalik away with Murphy's Law. He survived Gran Metalik, but will he survive Alexander?
Party of Gulak vs Akira Tozawa and Brian Kendrick: Last week, Brian Kendrick and Drew Gulak met in a singles battle to end their issues, but Kendrick had to settle for a DQ win after interference from Jack Gallagher. This week, Tozawa and Kendrick had a meeting with Drake Maverick and we find out that Maverick AGREE's to a Tag Team Street Fight. Maverick professes some confusion about this, but Kendrick says that things have changed since his return because he wants to keep his dream alive. Now, he sees thing differently.
Tozawa is in full support of this change of heart and proposes a makeover to show the change, but not before taking a little dig at Maverick over the RAW Tag Team Championship.
Gulak and Gallagher, for their parts, were less than impressed, but vowed to beat Tozawa and Kendrick and end Kendrick's career because the beating last week didn't go far enough because Kendrick's still here.
Cedric Alexander vs Tony Nese: Cedric Alexander will FINALLY get his rematch on Sunday, but on Tuesday, he took on Murphy's running buddy, Tony Nese. These guys are always fun to watch, and this week was no exception. It honestly looked like Nese was going to walk out of Vegas with another victory over Alexander, but Alexander battled back and was kind enough to check Nese's back for the pinfall. However, an angry Murphy walked out and a fight broke out with Murphy running for his life. Alexander stood tall, but will it be enough to beat Murphy on Sunday?
NXT
NXT Women's Division: NXT caught up with Dakota Kai and Io Shirai and asked them about their ongoing feud with the Three Horsewomen, especially after last week's brutal encounter between Kai and Baszler. Shirai won't stand for one of her friends being bulled, but this will be settled in a match NEXT WEEK.
The Horsewomen were NOT impressed. Nor was Baszler worried about the upcoming Fatal 4 Way. They laughed off the challenge of Sane, Kai, and Shirai, but considering the beating all three women took last week, they might end up eating their arrogance.
The first Qualifier for the Women's #1 Contender match started this week with Mia Yim taking on Mae Young veteran, Reina Gonzalez. We also learned that Belair and Lacey Evans both got byes to the final match, but what Evans did to deserve it is a mystery to me.
Yim and Gonzalez put on a great match and showed that they knew each other's moves extremely well. Gonzalez nearly had the win a few times, but let her frustration get the better of her, leaving her vulnerable to some Sole Food and a Yim victory, Yim moves on the Fatal 4 Way, but who will be contestant #4?
NXT North American Championship: Last week, Ricochet asked for some competition for his North American Championship and Regal responded admirably with a blast from the early days of NXT: Tyler Breeze! Prince Pretty has been on the main roster, but with his partner, Fandango being out with injury, he doesn't have much to do, so here we go.
This match was so good, it's not fair to try and describe it. Breeze is a fantastic competitor and his work with Ricochet was so great to watch. Ricochet would ultimately retain, but it really didn't matter, both men won as far as the fans were concerned with such a great match.
NXT Tag Division: A few weeks ago, Lorcan and Burch got a win over the Mighty, but the victory was hollow considering that the Mighty avenged the loss by attacking Lorcan and Burch and were the ones left standing.
The return match was every bit as brutal as the first one. The Mighty are not pushovers by any stretch of the imagination, and Lorcan and Burch CERTAINLY aren't.  Burch and Lorcan would pull of another win, and this time, the Mighty STAYED down. Even if Undisputed Era wasn't worried about Heavy Machinery, they NEED to be worried about Lorcan and Burch.
EC3 vs Bobby Fish: EC3 was looking for a fight when he came back to NXT after being injured at the hands of the Undisputed Era and boy, did he get one. The match was quick but very physical with 3 getting the win via an inside cradle, much to Fish's embarrassment.
Enraged, the Undisputed Era attacked 3, but 3 has some unexpected backup: Heavy Machinery! Knight and Dozer destroyed Undisputed Era, but saved a special beating for Kyle O'Reilly, subjecting him to a One Percenter and Dozer's devastating elbow. Looks like Undisputed Era's really kicked the hornet's nest now.
Johnny Gargano: Johnny Gargano sent us another video promo this week. In his mind, he'd done nothing wrong to Aleister Black. Taking Black out before TakeOver: Brooklyn was about the greater good and Black had no reason to be mad about Gargano costing him his rematch.
Gargano expressed no fear about being put in a steel cage with Black, saying that he'd beat the devil himself to make sure the story got the right ending.
Aleister Black: Black cut his own promo on Gargano, commenting that humans tend to make everything about their feelings. Black isn't worried about being locked in a cage with Gargano. He welcomes it because it's clear that Gargano is past the point of redemption, his sins call for total annihilation, which will happen in the cage.
TLC
WWE Championship Match – Daniel Bryan vs AJ Styles: Three weeks ago, Daniel Bryan turned on the fans when he robbed AJ Styles of his championship right before Survivor Series. To make things worse, he declared the death of the Yes! Movement and chided the fans for everything from being 'fickle' to eating processed foods.
The match was amazing, as expected and it looked like Styles was going to get his title back, but Bryan got a surprise pinfall win, even though Styles claimed he got his shoulder up in time. This isn't over, however.
WWE Intercontinental Championship Match – Seth Rollins vs Dean Ambrose: Two months ago, Dean Ambrose shocked the world when he turned on Seth Rollins, mere hours after Roman Reigns announced that he was taking time off to have cancer treatments. Since then, the feud has only gotten nastier, and weirder. Now, it's time to settle this.
Rollins vs Ambrose is a feud that never disappoints, and this was no different. Ambrose has included some new moves in his repertoire and these two just tore each other apart. Ultimately, Rollins took his eyes off the ball and, just like he promised, Dean Ambrose is the NEW Intercontinental Champion. Congrats, Dean!
TLC Match – Braun Strowman vs Baron Corbin – If Strowman wins, he gets Brock Lesnar at Royal Rumble, if Corbin wins, he's permanent manager of Monday Night RAW: After Baron Corbin cost Braun Strowman the title at Crown Jewel, the Monster among men moved heaven and earth to be allowed to get his hands on the tyrannical GM, only to be sidelined by Corbin and his cronies.
It looked like Corbin was going to win by default, but the Monster among men DID show up, in a sling and announced that while he couldn't technically compete, there was still going to be a match. Taking a page out of Corbin's book, Strowman had as his backup all the people Corbin had screwed over during his reign, including Heath Slater, who took off his ref's shirt to get in on the action.
Corbin tried to bail out but was stopped by Kurt Angle, who'd also been screwed over by Corbin. After that, it was no contest as Corbin was fed to the sharks and put away with everyone's finisher, leaving him ready for his defeat by Strowman. Corbin is OUT as RAW GM! Merry Christmas and God bless us, everyone!
TLC Match for the SmackDown Women's Championship – Becky Lynch vs Charlotte Flair vs Asuka: The feud between Becky and Charlotte has been white hot, especially since Survivor Series and though I'm not a fan of Asuka being included, Becky and Charlotte are the perfect pair to make history for women again in the first Women's TLC match.
The match was INCREDIBLE! There were some snide comments about botches, but all three women more than proved their toughness and resilience. In the end, Ronda Rousey would cost Charlotte and Becky the match by pushing them off the ladder, leaving the door open for Asuka to climb the ladder and become the new SmackDown Women's Champion. Rousey got the last laugh this time, but now she's got two VERY angry, dangerous women gunning for her.
RAW Women's Championship Match – Ronda Rousey vs Nia Jax: After months of anticipation and promos, Ronda Rousey and Nia Jax had their rematch from Money in the Bank.
The match was okay, Rousey sold her ass off for Jax and broke out some new moves, including a flying crossbody that was really good. Ultimately, despite some help from Tamina, Rousey would pull off a submission win over Jax and retain her title. Who will be the next to step up?
After the match, Jax wasn't in the mood to talk…Until she ran into Becky Lynch, who paid Jax back for costing her her Survivor Series match with a  HARD shot to the face.
Tables Match – Natalya vs Ruby Riott: The EXTREMELY personal feud between Nattie and Ruby Riott was hopefully put to an end on Sunday when the two women met in a Tables match on Sunday. Riott had her custom Jim Neidhart table in tow, with the vow to put Nattie through still in the air.
The match was incredibly physical, Liv Morgan, who was NOT a competitor took a NASTY spear from the apron through a table, which infuriated Riott. Nattie also showed quite a mean streak when she pulled out a picture with Ruby on it. Ultimately, Nattie would get her revenge, and the victory, but it remains to be seen if Riott will let it go.
Triple Threat Match for the SmackDown Tag Team Championship – The Bar vs The Usos vs New Day: The teams that could easily be the PG Era's E&C, the Hardy Boyz, and the Dudleys, faced off, again, in a Triple Threat Match for the SmackDown Tag Team Championship.
The match was excellent, as always, but the fact that only these three teams keep meeting for the tag titles made it feel a little stale. Ultimately, the Bar would retain the tag team championship, and hopefully move on to other teams.
WWE Cruiserweight Championship – Buddy Murphy vs Cedric Alexander: After months of working and fighting to prove himself worthy of his contractually obligated rematch, Cedric Alexander FINALLY met Buddy Murphy to hopefully regain his Cruiserweight Championship.
The rematch was every bit as great as the one at Super Show Down. Alexander's trials to get back to the title picture had taught him a lot about caution, but unfortunately, despite his best efforts, Murphy lived up to his Juggernaut moniker and was able to outlast the Soul of 205 Live and retain his Cruiserweight Championship. So, who will be the next man to step up and challenge the Juggernaut?
Finn Balor vs Drew McIntyre: Finn Balor had already helped cut off the head of the Corbin Commission snake, but he still had to deal with the Scottish Psychopath, who had already shown no respect for anyone, including former friend Dolph Ziggler.
McIntyre dominated the match from the start, but Balor refused to stay down, battling back the Psychopath every time, including kicking out of a White Noise from the top turnbuckle. Ultimately, with an unexpected assist from Dolph Ziggler and a steel chair, Balor pulled out the win. An enraged McIntyre tried to go after Balor, but his ribs were pretty injured in the match, however, this is probably far from over.
Balor wasn't happy about Ziggler's interference and Ziggler didn't appreciate what he saw as Balor's lack of gratitude, despite not being exactly grateful for Balor's help last week. It looks like we've got a Balor/Ziggler feud in the works.
Chairs Match – Randy Orton vs Rey Mysterio: The bizarre and disturbing feud between Rey Mysterio and Randy Orton, or Orton's feud against anyone more loved than he was, culminated in a chairs match.
Orton's confusion over Mysterio's decision to do this match didn't last long. Mysterio has gained quite an aggressive streak in his time away from WWE. Ultimately, Rey would get the pin, though it looked like Orton got his shoulders up. Orton couldn't believe it, but the victim got one over on the victimizer.
Guitar on a Pole match – Elias vs Bobby Lashley: The war of words, fists, between Elias and Lashley came to a head on Sunday and the prize was getting to El Kabong your opponent with one of Elias' guitars.
Lashley had the advantage of Lio Rush in his corner, but Elias had developed eyes in the back of his head. Lashley, for his part, still doesn't seem to have gotten over his dislike of being on ladders because he didn't seem all that thrilled about climbing one. Rush tried his best to help, but no one was going to El Kabong anyone but Elias, who retrieved his guitar for the win. However, the victory turned out to be hollow when Lashley and Rush double-teamed Elias and took him out with his own guitar..
Mixed Match Challenge Finals – Jinder Mahal and Alicia Fox vs R-Truth and Carmella: It's come down to this. With brand pride and coveted spots in the Royal Rumbles at stake, Mahalicia and Fabulous Truth, the most unlikely teams to win this thing faced off in the Mixed Match Challenge.
The match was…interesting, thought the dance break with Fabulous Truth and the Singhs was a highlight. However, despite the best efforts of Mahal, Alicia, and the Singhs, the Fabulous Truth would reign as Carmella would make Fox tap to the Code of Silence, earning them the #30 spots in their respective Royal Rumbles.
Tiff's Takes
RAW: Loved Corbin being kayfabed blamed for RAW's woes, which always happen this time of year.
The TLC match was great, really enjoyed that one.
The tag title change was perfect, protected AoP, let Roode get some revenge on Maverick.
The Nattie/Riott feud needs to end.
We need a new nickname for Dean Ambrose since he doesn't want to be the Lunatic Fringe anymore.
SmackDown: New Daniel Bryan is an amalgamation of everything people hate about environmentalists and vegans.
The Miz/Shane thing is interesting, not great, but interesting.
Mustafa Ali proved his star quality with Bryan.
I really don't get the hype for Asuka.
Why anyone believed that a big company like WWE would pay jobber $5000 each, which is top tier guy money, is a little beyond me.
NXT UK: I'm SO ready for NXT UK to either go back to being one episode a week or on a different night.
Isla Dawn continues to impress, but I don't think she's going to be taking Toni Storm's spot as top babyface for the Women's Division.
I think we're all ready for the NXT UK tag team championships so all these teams are going to be working towards something.
Mastiff/Dennis was fantastic.
Fabian Aichner is really impressive.
205 Live: This week was really about getting ready for TLC and that's fine with me.
NXT: Loved the emphasis on the ladies this week.
Not sure why Lacey Evans got a bye.
Can't wait for Gargano/Black.
Ricochet/Breeze was AMAZING! Definitely match of the week contender.