WWE Week In Review: December 24-30, 2018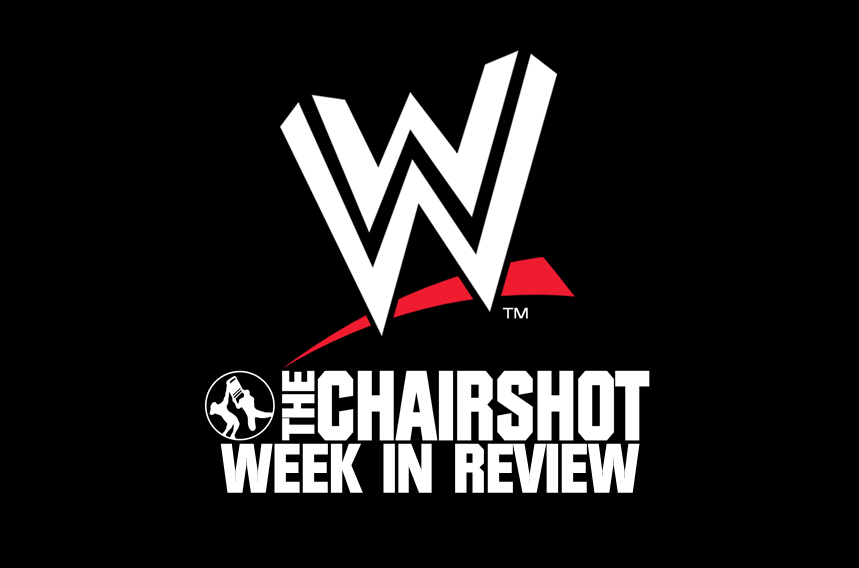 It's Christmas Week for WWE and there's plenty of holiday cheer and mayhem to go around.
On RAW, the New Era continues and a game-changing announcement shakes the Women's Division. Elias and Bobby Lashley take their fight to the streets. Ronda and Natalya's friendship is put to the test, and Seth Rollins faces Baron Corbin in the main event.
On SmackDown, Mustafa Ali's ascent continues, but will an angry Daniel Bryan stop him? The SmackDown tag division takes a new direction. Rusev Day finds a reason to celebrate. Miz puts Shane on the spot, and AJ Styles finds himself pushed to the brink by Vince McMahon.
On NXT UK, Toni Storm stakes her claim on the Women's Division, but Rhea Ripley finds herself pushed to the limit by the Virtuosa. The jockeying for position in the tag team division continues, and Jordan Devlin looks clear out the dregs of the locker room.
On 205, it's the best of 2018, but a huge announcement about the Cruiserweight Championship promises and explosive start to the new year.
On NXT, the battle for the #1 Contendership is on in the Women's Division. Heavy Machinery takes on the Undisputed Era, and Tommaso Ciampa has an idea for Johnny Gargano.
How'd WWE do? Let's find out!
RAW
Check out Mitchell's WWE Raw Results & Review for 12/24!
Universal Championship: Brock Lesnar was NOT on RAW, big shock, but his advocate was. Getting into the holiday spirit, Heyman cut a promo to the tune of 'Silent Night', but the promo was the same as ever.
He was interrupted by Braun Strowman, who spreads his own Christmas Cheer, which involves turning Heyman into Paul E. The Red Nosed Advocate, complete with antlers and red nose, while vowing that Lesnar was going to 'Get these hands' at the Royal Rumble.  Merry Merry!
Santa Claus: We all know that Santa can't be everywhere at once and has to have helpers to get all the work done. Well, old Saint Nick had some…interesting helpers this year.
The first one was a Santa that sounded like Vince McMahon, and Vince-a Claus announced that John Cena WILL be returning to RAW and SmackDown in 2018.  Also, Dolph Ziggler and Drew McIntyre will meet in a steel cage match next week. Gifts given, Vince-a Claus turned in his gear.
WWE Women's Division: One of Vince-a Claus' announcements was to make it official that there WILL be a Women's Tag Team Championship coming to WWE in 2019.
Sasha Banks and Bayley have every intention of being the inaugural Women's tag team champions, but first, they, and partner Ember Moon had to deal with the trio of Dana Brooke, Mickie James, and Alicia Fox.
The match was really good. Dana Brooke has come a long way from her early days on RAW and it was nice to see her get some TV time. Ultimately, the Boss-Hug Connection would pull out the win with their Hug Statement on Mickie James, putting their names on the list for that Tag Team gold. However, the Riott Squad Grinches crashed the celebration and left the babyfaces flat in the ring. If Sasha and Bayley think those tag titles are theirs for the take, the Riott Squad just sent a warning shot.
Last week, Natalya was the last woman standing after last week's grueling gauntlet match. This week, the Queen of Harts had a chance to take the Women's Title away from her friend, Ronda Rousey.
The match was incredibly good! The two women proved to be evenly matched in terms of skill and desire. It actually looked like Nattie would be the one to beat Rousey for the title, but Rousey was able to break the Sharpshooter and made Nattie tap out with the armbar, but broke it as soon as Nattie tapped out. The two women shook hands, re-affirming their friendship, but who will be the one to finally beat Ronda Rousey?
RAW Tag Team Division: Last week, Revival pull off a big upset when they defeated three other teams, including former champs, AoP to become the new #1 Contenders for Roode and Gable's RAW Tag Team Championships.
As expected for these teams, the match was really good. However, the Revival, despite a fantastic effort, were defeated, DESPITE the fact that Gable pinned Dawson instead of Dash. The Revival were furious, as they should've been, but it's not clear if anything will be done as the McMahon family are busy shaking things up. Hopefully, some pillars of wrestling will stand.
In other tag team news, the B-Team seemed to have made it their mission to be as obnoxious as possible by singing Christmas carols to anyone they happened to come across. How that ended with them losing their voices instead of some teeth, I have no idea.
Elias vs Bobby Lashley – Miracle on 34th Street Fight: The holiday themed street fight has become a fun and beloved mainstay of RAW and Smackdown and this wee was no different. Elias and Bobby Lashley will try to settle their differences in name of the holiday spirit.
As far as street fights go, this was pretty good. Elias and Lashley made full use of all the goodies of destruction offered to them including: Kendo sticks made to look like candy canes, a lovely dinner, Christmas trees, and lots of presents. As always, Lio Rush did his best to help Lashley, but Lashley was defeated by the ultimate weapon: Legos. Elias would pull out the victory after Lashley landed back first on the plastic blocks that anyone who has stepped on one will tell you, are more painful than any thumbtack.
Elias didn't forget Lio Rush. In the spirit Christmas, Elias treated Rush to the delicious looking dinner that had reasonably survived the fracas, but pouring the eggnog on him and sending the Man of the Hour crashing through the tap.
Finn Balor vs Dolph Ziggler vs Drew McIntyre: What started as two separate squabbles between Drew McIntyre and anyone he deemed beneath him, has become a three-way feud for respect…I think.
The match was really good, but the fact that it was a triple threat without anything at stake made it sort of a pointless match. Ziggler and Balor managed something resembling teamwork when it came to McIntyre, but that didn't stop them from tearing each other apart, which let McIntyre get the advantage.
In the end, Balor would win by pinning Ziggler, but McIntyre wasn't happy with this and berated Ziggler, who he had dismissed as a nobody, for losing and costing McIntyre another chance at saving RAW, implying that RAW wasn't big enough for both of them. Furious, Ziggler took advantage of a distraction by the ref to nail McIntyre with the ZigZag before storming off. If McIntyre is trying to save RAW, he's going about it the wrong way.
Heath Slater vs Jinder Mahal: One of changes the McMahons seemed to have done, without any real fanfare, was to promote Heath Ledger back to being a wrestler. However, Slater found himself in a match against Jinder Mahal, who also had the Singhs with him.
The match was quick and it looked a bit hopeless for Slater, who was essentially up against three men, when Santa came out, distracting Mahal. However, just when it seemed that Slater was going to pull of the victory over his former band mate, the Singhs attacked, giving Slater a DQ win.
Hope was not lost, however, Santa came to Slater's rescue and scared off Mahal and his cronies with a GORE!!! That's right, the ManBeast is back on RAW and the two friends celebrated their victory with the WWE Universe.
Dean Ambrose vs Seth Rollins: The Moral Compass of WWE didn't have a match this week, but that didn't stop him from embracing the holiday spirit, or trying to. He addressed his former friend, Seth Rollins and said he wanted to wish Rollins luck in his match, but that would be a lie. He wanted Rollins to get what he deserved, which is nothing. Ambrose, however, finally got what he wanted and deserved for Christmas, the Intercontinental Championship, so he's very merry, but he wonders just how AWFUL Christmas was going to be for Rollins if he should lose to Baron Corbin during their match tonight. However, as far as Ambrose was concerned, that would be what Rollins deserved.
As for Rollins, well, he might be focused on Baron Corbin now, but he hasn't forgotten Dean Ambrose. The Architect says that while Ambrose had taken the Intercontinental Championship, he hadn't taken Rollins' heart.
The match between Rollins and Corbin was pretty good. Corbin's not the best wrestler in the world and seems to have refused to accept that he's not GM anymore, insisting on wrestling in his GM clothes, instead of his wrestling gear.
Ambrose must've decided to let Rollins win or lose on his own, because the Moral Compass didn't show his face, but that didn't stop Corbin from doing everything he could to ruin Rollins' Christmas, but Rollins powered through and pulled out the win with a patented Curb Stomp to get a nice win for Christmas, but will he be as lucky against Ambrose?
SmackDown
Check out Mitchell's WWE Smackdown Results & Review for 12/25!
WWE Championship: Daniel Bryan kicked off SmackDown by ruining the Christmas Fabulous Truth Segment and the Holly Jolly Dance Break!
Bryan, forgetting that he knew that wrestling would involve being away from his family on Christmas, complained about being stuck in California, which he called a cesspool. Bryan then railed against the materialism of Christmas and the usual Greenpeace jargon that makes everyone roll their eyes. He then made the mistake of calling Truth a joke.
Truth pointed out that he's going to be #30 in the Royal Rumble, while Bryan would be lucky to still be champion by the Rumble. Things broke down pretty quickly after that and a fight broke out, which Bryan was the last man standing, but kept attacking Truth until the refs came out and broke things up. Hopefully, this hateful little Grinch gets his comeuppance before too long.
WWE United States Championship: Shinsuke Nakamura has held the United States Championship for months and I can't say it's been a stellar reign. He's also spent the last few weeks trying to avoid facing Rusev in a fair fight. This week, there was no other way out, Nakamura would have to face Rusev for the United States Championship.
The match was fantastic! Both men put everything they had into the fight as Nakamura tried desperately to hold on to his title by any means necessary. However, Rusev would finally emerge as the victor after a thunderous Machka Kick and cap off his Christmas by becoming the NEW United States Champion. Merry Christmas and Happy Rusev Day!
SmackDown Tag Team Division: Last week, the Usos and the Good Brothers had a hell of a match that was broken up by the invasion of SAnitY and the Bar. This week the…Good Penitentiary took on the SAnitY Bar in 8 Man tag team action. New Day was on commentary, for some reason.
As is usual in big multi-man matches, the match was chaos. In the end, it was the Good Brothers who would be getting a big Christmas present when Gallows pinned Cesaro after a Magic Killer.  Look out, Bar, the Good Brothers are coming.
After the match, the Usos were talking when they encountered Mandy Rose and Sonya Deville. Mandy, who had previously made provocative statements about Jimmy, who is Naomi's husband, tried to get Jimmy under the mistletoe. Before Jimmy could answer, an ENRAGED Naomi charged at Mandy Rose, only to be grabbed by Jimmy. Denied her chance to rip out Mandy's hair by the extensions, Naomi had to settle for throwing her shoe at her.
Jimmy hastened to reassure Naomi that she doesn't need to worry about Mandy Rose, he's a better man than that. BUT, that mistletoe is still up there, so there were kisses to be had and Mandy Rose was able to keep her hair for now.
Miz and Shane McMahon: For months, Miz has been trying to get Shane McMahon, who stepped in for Miz at Crown Jewel, to be his tag team partner, getting increasingly desperate the more Shane refused to give in. Well, after Miz seemed to have past Vince's test, it was time to get down to business: Will Shane please be his tag team partner.
Shane hemmed and hawed and tried to get out of it, but Miz pulled out all the stops and even brings in his own father to get Shane to agree, and finally, seeing no real way out of it, Shane agreed to be Miz's tag team partner. So Miz got what he wanted for Christmas, but how long is this partnership going to last?
AJ Styles: It's been a tough few months for AJ Styles. His epic year-long run with the WWE Championship came to a screeching halt when Daniel Bryan robbed him of the championship, then he lost his rematch in a slight count controversy, THEN he watched as up and comer, Mustafa Ali pinned Daniel Bryan in tag-team action, putting him in line for a title shot.
However, things got tougher on Tuesday. Styles was called in for a meeting with Vince McMahon. Vince claimed to have no idea who The Phenomenal One was, which is an odd thing to say to the man who has been one of your company's top champions for a year.
However, what Vince meant was he wanted to see what Styles was made of. He knew that there was a dark side to Styles and he wanted to see it unleashed. So he prodded and provoked Styles, finally slapping the former champ in the face. That did it. Styles unloaded on Vince, leaving the Chairman laying in a heap on the floor of his office, with an evil smirk on his face, but will he still be smiling next week?
Samoa Joe vs Jeff Hardy: For weeks, Jeff Hardy and Samoa Joe have been engaging in a war of words with Samoa Joe constantly throwing Jeff Hardy's past substance abuse in his face. Samoa Joe cut a promo before their match, continuing to needle Hardy about his past issues, promising to 'help' Jeff get over his issues.
The match was pretty good, but Joe found out what Randy Orton found out: Never, EVER, piss off Jeff Hardy, because the Rainbow Haired Warrior absolutely snapped on his tormentor. Joe dominated some of the match, but Hardy had had enough of Joe's nonsense and kicked Joe so much that he was actually disqualified by the referee, which didn't help the situation any. Hardy lost his temper and found himself choked out in the Coquina Clutch. Joe got the last laugh this week, but Hardy put him on notice about what happens when you push him too far. Will Joe take the hint?
Mustafa Ali vs Andrade Almas: Last week, Mustafa Ali shocked the WWE Universe when he PINNED Daniel Bryan in tag team action, thus putting him in line for a title shot. This week, the Beacon of Light took on El Idolo in a sort of rematch from last week.
The match was amazing!! Almas and Ali wrestled like they'd been doing it for years. Zelina Vega was on hand to try and help Almas pull out the victory, but Mustafa Ali's Heart proved more powerful than Almas' fury and pulled out a win with the 054.
Backstage, Ali was congratulated by his former 205 teammates, Brian Kendrick, Akira Tozawa, and Cedric Alexander. He also got a surprisingly warm welcome from Shelton Benjamin. However, this lovely scene is broken up by Grinch Bryan, who attacked Ali, screaming that Ali doesn't deserve to be on the Main Roster. Does Bryan sense a worth challenger to his WWE Championship?
NXT UK
Check out Mitchell's NXT UK Results & Review for 12/26!
Episode 19
NXT UK Women's Division: Last week, Toni Storm made her triumphant return from injury, putting away Charlie Morgan in a great match. This week, Storm staked her claim on the Women's Championship by interrupting GM Johnny Saint as he and Sid Scala were announcing NXT UK's first TakeOver Special. Toni had the force of the NXT UK Universe behind her, leaving Saint and Scala little choice but to give her the title shot she was looking for. Look out, Rhea, Toni's coming for you.
Rhea Ripley wasn't convinced, however. As far as she was concerned, the only person who got to decide who she faced was herself. However, Saint and Scala were ready for her complaints and told her that she'd be facing NXT's Virtuosa, Deonna Purrazzo 'next week'.
Isla Dawn came up short in her match against Rhea Ripley last week and that always sucks, but clearly the Goddess had decided that it wasn't her time just yet. Jinny wasn't convinced, however. As far as the Fashionista was concerned, Dawn failed because she choked and wasted her chance. That would NEVER happen to Jinny, Jinny would've won that match, because she's a queen, which is better than a witch. I have a feeling Isla Dawn is going to remind Jinny of what happens when queens piss off witches.
Jordan Devlin vs Kenny Williams (with Amir Jordan): Kenny Williams and Amir Jordan have been trying to be a tag team, but have been having some glitches, so Williams took on Jordan Devlin in singles competition. Will the Luckyan's luck hold against the Ace?
Well, even luck has its limit. Despite an admirable effort by Williams, who nearly got Devlin a few times, the Irish Ace's skill was too much for luck, and Williams was put away with Ireland's Call.
After the match, Devlin conducted an in-ring interview and called out the fakes, posers, and pretenders he saw in the NXT UK locker room. There's one, he's got his eyes on and Devlin vowed to take that man on next week.
Eddie Dennis vs Dan Moloney: The Headmaster from Hell has been feuding with Dave Mastiff, but this week, he took on Dan Maloney in one-on-one action.
The match was a quick one. Maloney proved to be a tougher nut to crack than most of Dennis' victims…er, opponents, but the match was interrupted by Dave Mastiff, who was looking for revenge for Dennis' sneak attack last week. Dennis wisely bailed out before he got completely destroyed, but Maloney wasn't that smart. Angry at being DQ'd because of Mastiff, Maloney demanded an apology from Mastiff, but Mastiff's answer was a forearm to the face and a trip to the Void that was meant for Dennis.
The Grizzled Young Veterans: Since NXT UK was in Liverpool this week and we were given a tour of the city by it's #1 son, Zack Gibson. In his own, heelish, way, Gibson showed a great pride in his city, touting that the city was built on the shoulders of hard-working people who were never afraid to get their hands mucky, but he claimed it's become overrun with leeches who turned on him for winning the 2018 UK Tournament.
He also showed us the Royal Liver Building (??) and told us about the legend of the stone Liver Birds that would herald the destruction of the city if they ever flew away. Gibson claims that the birds aren't the heralds of the destruction of the city if they leave, if HE leaves, the city will crumple because he's the true Liverpool legend. Moreover, Liverpool NEEDS their #1 son to become the inaugural NXT UK Tag Team Champon. Will GYV make good on this plea?
Tucker and Jack Starz vs Tyson T-Bone and Saxon Huxley: With the announcement of the tournament starting next week, the jockeying for position in the tourney started in earnest. Jack Starz hoped to secure a place for himself with new partner, Tucker, against T-Bone and Huxley.
How did it go? Well…Starz and Tucker might want to go back to the drawing board because they were really overmatched by T-Bone and Huxley, who just wiped the floor with them. Starz and Tucker tried, they really did, but T-Bone and Huxley wiped the floor with them, securing their second win as a team.
Joe Coffey vs El Ligero: Gallus was less than impressed when they found out that Joe was going to face the Leeds Luchador in singles action this week, warning that all Ligero was going to get was a trip to the hospital. However, Saint and Scala had some news for Gallus: The NXT Tag Team Tournament starts next week and Mark Coffey and Wolfgang are going to be competing in the semi-finals against Moustache Mountain.
Much to everyone's surprise, including mine, Coffey vs Ligero was NOT an out-and-out squash. Ligero more than held his own against the Iron Chicken, nearly getting three counts on him several times. Alas, 'almost' only counts in horseshoes and hand grenades. Coffey was able to put Ligero with the Bells and got the pin. It was another win Coffey was able to get without his fellow kings by his side. Should Pete Dunne be concerned? And what about Jordan Devlin?
Episode 20
NXT UK Women's Division: Rhea Ripley has been on an unholy tear since she shocked the wrestling world by defeating Toni Storm in the NXT UK Women's Tournament Finals. Toni will be getting a chance at redemption at TakeOver: Blackpool, but Ripley has to get past the Virtuosa first.
I cannot express how great this match was. Purrazzo comes by the Virtuosa moniker honestly and gave Ripley more of a fight than the Bad Attitude Aussie was expecting. It looked like Ripley's frustration was going to cost her when Purrazzo refused to stay down. However, Ripley's Riptide pulled Purrazzo under, allowing Ripley to retain her championship.
After the match, an enraged Ripley attacked Purrazzo, but Toni Storm wasn't going to let this poor sportsmanship stand. She ran Ripley off, but both women know that there will be nowhere to run at TakeOver.
Grizzled Young Veterans vs Mike Hitchman and Jay Melrose: The tag team tournament is about to start, and EVERYONE wants to be part of it. The Grizzled Young Veterans have been making a case to be the first NXT UK Tag Team Champions, but they have to impress Saint and Scala first.
The match was pretty good, but it was clear that while Hitchman and Melrose were good singles competitors, they needed to work on being a team. GYV were a seasoned team and it showed as they put away the Boar and the Primate with a nasty Ticket to Ride for the win.
After the match, Gibson berates the Liverpool crowd for not supporting him and turning their backs on him, including saying he doesn't actually live in Liverpool, which he found very offensive. Liverpudlians can turn their backs on him, but Gibson will still rep Liverpool because he's the only one worthy.
Gallus vs Moustache Mountain: The feud between Gallus and Moustache Mountain has been going on since NXT UK started and has largely ended in Gallus' favor, but the two teams will meet in the semifinals of the Tag Team Tournament next week. The Big Strong Boys vowed to make Gallus a speedbump to their big moment in Blackpool, but time will tell how these two teams will fare against each other.
Dave Mastiff vs Josh Morrell: This match never actually got started. Poor Morell, who was supposed to be making his debut, got jumped from behind by Eddie Dennis. Mastiff, never one to back away from a fight, dared the Headmaster from Hell to get in the ring, but Dennis just smiled and said it would happen in due time. Think we put another match on the Blackpool card.
Mark Andrews vs Marcel Barthel: Barthel has been making appearances in NXT US, but seems interested in hanging his hat in NXT UK, while Mark Andrews is looking to get into the Tag Team Tournament with Flash Morgan Webster, but he also needs the blessing of the GMs, but first he's got to get through Barthel.
The match was fantastic! Barthel is a great wrestler, but has gotten very little air time on NXT US. It was an honest back and forth match and both guys looked great in the process.
However, Barthel got an unexpected assist from Fabian Aichner, who is still out for revenge after Andrews cost him his match against Webster a few weeks ago. Aichner's treachery gave Barthel the opening for the victory, which he took, and the two shook hands, apparently coming to a new understanding. Andrews and Webster have another obstacle in their way.
205 Live
As there was no live SmackDown this week due to the Christmas holiday, there was no 205 Live. Still, the superstars of 205 had plenty of resolutions for the coming year. We got a farewell message from Mustafa Ali, who promised that he would always be the Heart of 205.
Last week, Cruiserweight Champion, Buddy Murphy, demanded more competition from GM Drake Maverick. This week, Drake Maverick said that there would be some qualifying matches over the next few weeks to decide who would face Buddy Murphy. Kalisto, Drew Gulak, Akira Tozawa, and Lio Rush will face off in tournament matches next week, and Cedric Alexander and Hideo Itami will face off in a one-on-one match the week after that, with the winners facing each other to be the #1 Contender.
NXT
Check out Mitchell's WWE NXT Results & Review for 12/26!
NXT Championship: Tommaso Ciampa was feeling pretty vindicated this week after seeming to reunite with former tag team partner, Johnny Gargano. Clearly, Gargano had been listening to Ciampa's preaching and it paid off for him. Just one little problem, Gargano pinned a FORMER champ, not THE champ, so he's not in line for a title shot.
However, Ciampa has another suggestion for his…friend (??), what about that lovely North American Championship that Ricochet is carting around. Ricochet has been looking for competition, so it would be a perfect fit. Then DIY, if they've actually reformed, would be holding the top titles and running the show. We'll have to wait and see what Gargano does, but if I were Aleister Black, or Ricochet, I'd be watching my back very carefully.
NXT Women's Division: Well, it's come to this, the big Fatal Four Way to decide the new #1 Contender for Shayna Baszler's NXT Women's Championship. Our contestants are: Lacey Evans, Bianca Belair, Io Shirai, and Mia Yim.
The match was fabulous! All four women absolutely tore the house down. In the end, Bianca Belair would get the win by pinning Lacey Evans, backing up her claim to be the EST of NXT, but will she still be the EST after dealing with Baszler?
NXT Tag Team Division: The Forgotten Sons have been quietly building up quite a win streak since debuting on NXT over summer. Jaxson Ryker hasn't had a lot of singles matches since the debut, but that hasn't stopped him from dominating the ones he's had. This week he took on Mitch Taverna.
The match was quick and brutal. Ryker quickly overpowered Taverna and never let up, quickly picking up the pin after a rebound powerbomb. All three members of FS are undefeated, but when will they get the tag title shot they've been looking for?
Speaking of the champions, Undisputed Era faced Heavy Machinery in a Tag Team Championship Match. Heavy Machinery is getting ready to head to the main roster, but heading to the main roster as the CURRENT NXT Tag Team Champions sounds much better.
Unfortunately, despite a valiant effort and a fabulous match, Undisputed Era won clean, pinning Dozer after Strong Elimination. Guess Heavy Machinery will have to go the main roster empty handed. Cole and Fish came out onto the ramp to celebrate. Who is going to stop Undisputed Era in 2019?
That's it for Week in Review! We'll be back next week with the last/first shows of the years and getting ready for the ramp up for the Royal Rumble. Have a safe and fun New Year, don't drink and drive, and be good to each other.