WWE Week In Review: November 26 – December 2, 2018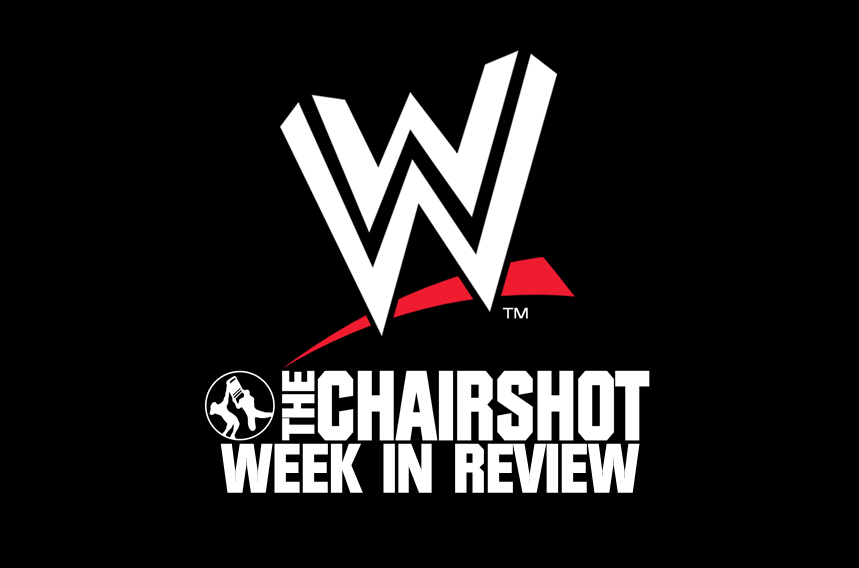 This week, all eyes are firmly on TLC as WWE prepares for the final PPV of 2018. What did WWE do?
On RAW, Baron Corbin's tyranny continues unabated and Strowman's allies, Finn Balor and Elias, struggle to keep the resistance up. Alexa Bliss gets a promotion that means bad news for Sasha Banks and Bayley. The war of words between Dean Ambrose and Seth Rollins continues and Rollin's Open Challenge brings out a very real threat. Ronda Rousey and Nia Jax prepare for their own match, but the Riott Squad isn't done with Rousey's friend, Nattie.
On SmackDown, Becky Lynch returns and confronts Charlotte over her actions, but both must face a mutiny in the women's division. The Bar struggles with the loss of Big Show against the Usos. Miz's schmoozing of Shane McMahon continues. Randy Orton and Rey Mysterio try to put an end to their feud, and the celebration of Jeff Hardy's career brings out a surprising opponent.
On NXT UK, the first NXT UK Women's Champion is crowned, Jordan Devlin gets the shot of a lifetime against Pete Dunne, Eddie Dennis' rampage continues, the Coffey brothers face an unexpected foe
On 205, Maria Kanellis' plan for the Lucha House Party hits an unexpected snag, and Cedric Alexander and Mustafa Ali face Buddy Murphy and Tony Nese in a battle for supremacy.
On NXT, the fallout from War Games continues. Candice LeRae faces questions about her actions, Kairi Sane finds ready allies for her battle against Shayna Baszler and her friends, and Lars Sullivan and Keith Lee face off in an epic main event.
RAW
Baron Corbin vs Braun Strowman: Last week, Baron Corbin and his friends had run roughshod over Braun Strowman and his allies, Finn Balor and Elias, shattering Strowman's elbow and leaving both Elias and Balor in heaps in the ring.
Corbin and company saw no reason to be remorseful about their actions, in fact, they were gleeful abut it. Corbin said that what happened to Strowman and friends was what happened to people who were on the wrong side of history. He was going to keep his job as RAW GM after TLC and anyone who had opposed him could expect the same.
As for Strowman, Corbin claimed that he'd sent a camera crew to Birmingham to talk to Strowman. Strowman was there and his arm looked nasty, but his anger wasn't dimmed by the anesthesia. He vowed that, when he got back, he was going to make Corbin, Lashley, and McIntyre pay for what they'd done, even if he might not be at TLC.
At this point, the lights went out, but, instead of the Undertaker, the culprit was revealed to be Elias, who reminded us that WWE means 'Walk With Elias'. Elias said that anyone, including pant-pissing Drake Maverick would be a better GM than Corbin. He also has a song for Bobby Lashley, which consists of singing 'Bobby Lashley Sucks!'.
Elias vs Bobby Lashley (with Lio Rush, Baron Corbin, and Drew McIntyre: This looked like it was going to be a 3-1 handicap match, but it ended up being 1-1, at least at first.
Lashley dominated the first part of the match, but Elias managed to keep battling back, until he found himself outside the ring, which let Lashley get a cheap shot in and regain control. Elias came back and regained his footing, but the match was initially stopped by DQ after Rush pulled the ref out of the ring when Elias had the match won. Corbin got on the mic and declared that the match was now No DQ.
An enraged Elias snapped and was actually getting the better of Lashley when Corbin and McIntyre intervened, giving the Drifter a three on one beat down before Lashely would finally get the pin.
Later on, Corbin would take on Finn Balor one on one, or at least that's how it started. When it became clear that he couldn't beat Balor on his own, Corbin called in the troops and declared a 3-1 Handicap match instead. Balor and his demon have a lot of fight in them, but going against three huge men proved to be more than even they could handle, and Balor received a nasty beatdown to close out RAW. Will anyone stop the tyranny of Baron Corbin?
RAW Women's Division: Alexa Bliss has been riding high since the RAW Women's Team beat the SmackDown Women's Team, even though the win came by Nia Jax sacrificing fellow teammate, Sasha Banks. Corbin, however, has been impressed by Alexa's handling of the situation, and, admitting that he needed help running RAW, appointed Alexa as head of RAW's Women's Division, which is probably the worst idea he's come up with.
Nia Jax has been on quite a roll since Evolution, she's the #1 Contender for the RAW Women's Championship, she became one of the most reviled people in wrestling after her reckless punch took Becky Lynch of Survivor Series, she's reunited with her BFF, Alexa Bliss, and formed an alliance with cousin Tamina Snuka.
This week, Jax addressed her upcoming match against Ronda Rousey at TLC. She was proud of what she'd done, especially taking out Becky Lynch because that took something away from Ronda Rousey that Rousey had really wanted, just like she was going to take the title away. According to Jax, everyone knows Rousey can't beat her, including Rousey. Nia would've beaten her at Money in the Bank if Alexa Bliss hadn't interfered, but that's water under the bridge. In fact, Ronda Rousey isn't as good as everyone thinks she is, she can't win when it really counts.
To prove her point, Jax showed footage of her match against Rousey and how close she'd come to beating Rousey. To press the point home, she showed footage of the Flair/Rousey match, which Rousey won by DQ.
Before this can get much further, Rousey comes out, dressed to fight. Ronda's not worried about Nia's jabs, she finds them quite funny. Rousey concedes that Jax has been very lucky these past few months, but her luck's run out now. Rousey wants to fight and is willing to have that title match now, unless Nia and Tamina have a hot date elsewhere.
Uhm, EW!
Nia refuses to rise to the bait, at least a little. She'll wait until TLC to get her match, but for now, she settles on getting a cheap shot in, with some help from Tamina. Nattie runs out to help even the odds for her friend, but is blindsided by the Riott Squad, who are clearly not over Ruby Riott's defeat last week at the hands of Nattie. Rousey goes to her friend's aid, but it's clear that she's got more problems than Jax and Snuka.
Sasha Banks and Bayley were talking in their locker room about how much fun they'd had at Starrcade when Alexa Bliss walked in. She wanted to thank them for helping her get the job as Head of the Women's Division. Banks and Bayley, who have both had plenty of problems with Bliss, weren't interested and told her to get lost.
Stung, Bliss suggested that the reason they'd never gotten along is because they'd never gotten to know each other, and she intended to change that. Banks and Bayley were skeptical, with very good reason, given Bliss' track record.
One theme of this season of Mixed Match Challenge has been substitution. Ember Moon got her chance to compete in the Challenge because Alexa Bliss was injured, but with Strowman out with his elbow, another substitute needed to be found. Unfortunately, the injury bug is going around, and all WWE had to offer Ember was Curt Hawkins. Ember was…less than thrilled, Hawkins was over the moon. FINALLY, he had a chance to end his infamous losing streak, even if he had to settle for a tag team victory. Unfortunately, his enthusiasm did nothing to endear him to his partner.
Ember took on Alicia Fox, who was backed up by Jinder Mahal and the Singh Brothers. Thankfully, for Ember, the match was short and she was able to put Fox away with a thunderous Eclipse, though not before taking out Mahal and one of the Singhs with a double Eclipse.
Hawkins was more excited about the win than Ember was, though she warmed a little to him.
Alexa Bliss made good on her promise to have a little chat sesh with Sasha Banks and Bayley so they could get to know each other. She arranged a Q&A session in the ring with the Milwaukee crowd as the questioners.
It went about as well as could be expected. Banks and Bayley were both adamant that they wanted Alexa gone from RAW. Banks just wanted her sent to SmackDown, Bayley suggested hell.  However, Banks and Bayley were right to be suspicious of Bliss' motives because the Goddess showed how treacherous she was by having Jax, Snuka, James, and Dana Brooke, who had been an ally, jump Legit Huggers. Banks and Bayley fought them off, but any veneer of goodwill has been trashed.
Seth Rollins vs Dean Ambrose: After a near death experience, Dean could be forgiven for being a little more off-kilter than usual, especially when it comes to germs. Mr. Ambrose wasn't at RAW this week, or so he claimed, because he was at his doctor's office getting inoculated against every disease known to the human race. Why? Because Milwaukee is filthy and the people there are crawling with germs, and if they cheer for Seth Rollins, they're probably too stupid to get their vaccinations, so Dean's protecting himself. But don't worry, he'll be at RAW next week and will destroy Seth Rollins.
As for Seth Rollins, he re-instituted his Open Challenge, but before that got going, he addressed his former friend. He said that he was done chasing Ambrose around and that Ambrose could inoculate himself all he wanted, but there was no vaccine for the ass-kicking Rollins was going to give him. Rollins didn't think that Ambrose was with his doctor, but is ready for him if he shows up.
The challenger turned out to be Ziggler, who is very happy to see that Rollins is back to being himself. However, for Ziggler, the return of Seth 'Freakin' Rollins means that Seth is going to drop that Intercontinental Championship to Ziggler. Never mind that Ziggler only beat Rollins because he had help from Drew McIntyre.
The match was amazing, as was expected, but without interference from either McIntyre or Ambrose to put the odds in his favor, Ziggler was defeated by Rollins with the Falcon's Arrow. The Intercontinental Championship is still in the hands of the KingSlayer, but the Lunatic Fringe is still lurking.
RAW Tag Team Division: For the last few weeks, the Revival, long spokesmen for the traditionalists in the crowd, have found themselves in the embarrassing position of being beaten by the very untraditional Lucha House Party, and since LHP is being allowed to compete 3-2 due to a misunderstanding of Lucha House Rules, that embarrassment has started being tinged with frustration, which the Revival didn't hesitate to vent before their match against LHP this week.
Despite the Revival's best efforts to neutralize LHP's numbers advantage, but the wily Luchadors were always one step ahead of them, pulling out yet another win over the increasingly frustrated Revival.
Drake Maverick has been the laughing stock of the wrestling world since his bladder malfunction during Survivor Series. His attempt to get AoP to extract some revenge on Bobby Roode and Chad Gable backfired badly. This week, Maverick defended his malfunction, citing that anyone would've done the same when confronted by a 7' giant with his hand around their throat. The fact that LOTS of people have been in that position and HAVEN'T peed their pants on PPV doesn't seem to have occurred to Maverick, he wanted to inflict his pain and humiliation on Roode and Gable, through AoP.
In the history of wrestling, there have been a lot of terrible matches, and this tag team CHAMPIONSHIP match was definitely one of them. Roode and Gable tried to get something worthwhile out of this thing, but they were hampered by questionable writing. Drake Maverick, with the cunning of a twelve year old, took off with Roode's prized robe and let Roode see him 'peeing' on the robe. The distraction was enough to let AoP hit a low blow and get the pin, retaining the championship.
Jinder Mahal vs No Way Jose: Alicia Fox barely had time to register that she'd gotten beaten again when No Way Jose, and his followers, conga-lined their way to the ring for Jose's match against Mahal.
The match was quick, and ended in Mahal's favor, so Team Mahalicia broke even Monday night.




WWE Week in Review: February 11-17, 2019
Tiffany gives us her thoughts on the Elimination Chamber week in review!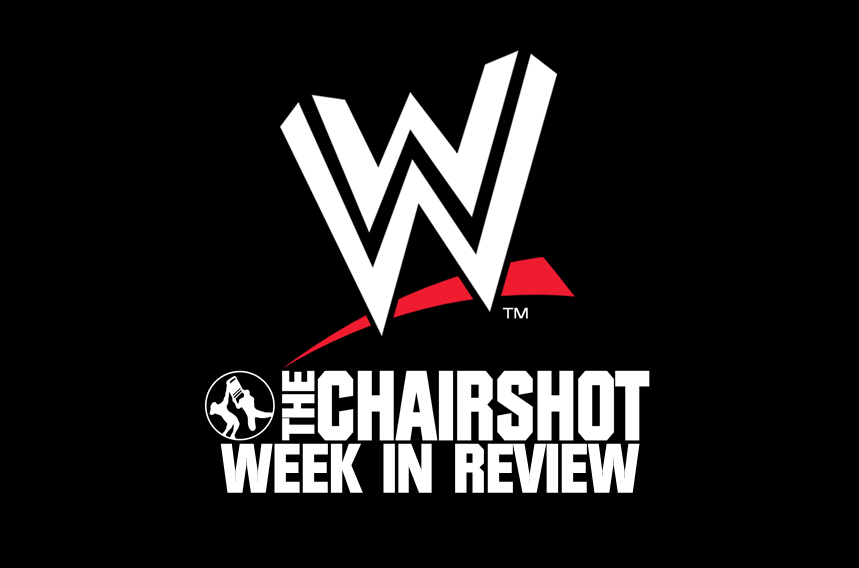 Tiffany gives us her thoughts on the Elimination Chamber week in review!
RAW
Becky Lynch vs The McMahons:  Since this was an episode long story, I'm just going to include it all here. This was pretty much Austin vs McMahon with less swearing and middle fingers. I think everyone knew that the whole apology thing was BS before they finished saying it, but seeing Becky mull her options was interesting.
That said, I'm NOT happy about Charlotte Flair being shoehorned into this. She's excess baggage in a match that doesn't need her. Becky Lynch was the talk of sports, not just wrestling, SPORTS, last year, not Charlotte Flair. All WWE had to do was not screw up Rousey vs Lynch and they screwed it up MASSIVELY. Hopefully, this will get fixed before April.
Boss Hug Connection vs Riott Squad vs Nia and Tamina was a go-home match with stakes attached: the loser will be the first entry in the Elimination Chamber, meaning that they'll have to stay in the longest of the six teams involved.
It was a really good match, Liv Morgan showed herself to be very scrappy, taking on Nia Jax who outsized her in every respect. Normally, I would say that Boss Hug Connection losing means that they'll win at Elimination Chamber, but I really think WWE's going to build Nia and Tamina as an unstoppable team for WrestleMania.
Elias/Lucha House Party was a weird segment considering all the commercial breaks and cut aways. It makes me wonder if there were some technical problems that they were trying to work out. Add in the absolute randomness of LHP coming out and it not being for a match. It was just a weird segment and I'm not sure what the point was.
Drew McIntyre vs Finn Balor/Six Man Tag went WAY too long and was BORING on top of it. I sort of got the McIntyre/Balor thing because McIntyre is allied with Lashley, but the whole run-in and thing with Angle and Strowman and the six man was just…UGH!
Speaking of Angle, this is really hard for me to say but, he needs to retire. I get that he wants to give back and get the young guys over, but it was pretty obvious that the Wrestling Machine can't go the way he used to and it was really sad to watch.
Kevin Owens: I'm not a Kevin Owens fan, so his segment didn't do much for me, personally, but I'm glad he's recovered from his surgeries.
Nikki Cross vs Ruby Riott was a match straight out of NXT, where they actually did have a rivalry when Nikki first debuted with SaniTy and it was really great. I was a little disappointed that Nikki lost, but Riott needs the momentum for her match at Elimination Chamber, so her winning didn't hurt my feelings and she and Nikki looked great.
Seth Rollins' segment alone and with Heyman was really good. It's still not clear that Seth will be able to beat Lesnar on his own, but he made it clear that he's willing to do whatever it takes to do so. I loved Rollins saying what a lot of people have felt about Brock Lesnar and his Universal Title runs.
Rumor is that Dean Ambrose changed the script of his segment with Rollins and what he said was more in character for Ambrose than whatever Vince had in mind. It also teases possible way for Rollins to beat Lesnar at WrestleMania.
Dean Ambrose vs EC3 was an okay match, but the important thing is that Ambrose won the match, even with a roll up, giving 3 a taste of his own medicine. Even though the crowd was DEAD after a very lackluster show, Ambrose got quite a pop when he won, so hopefully face!Dean will stick around for awhile longer.
Revival vs Rood/Gable: Last week, I voiced my frustration over the booking of the Revival and how they should've been tag champions by now and it FINALLY happened. After months of screwy, and sometimes downright STUPID, losses, the Revival are the RAW Tag Team Champions after a fantastic match with Roode and Gable.
Thoughts: This was a BORING RAW. The cuts and segments were all over the place. It was like they couldn't figure out the show sequence and were just winging it.
SmackDown
Pedro Morales: Pedro was before my time, but in his day, he was a great babyface champion and took the title off of Ivan Koloff after Ivan's shocking victory over Bruno Sammartino after Sammartino had held the title for seven years. He was also a two time Intercontinental Champion and holds the record for most days as Intercontinental Champion. Rest in Peace, Pedro.
Charlotte Flair: I've been pretty vocal about not being happy about Charlotte being shoe-horned into the RAW Women's Championship match at WrestleMania, and I still feel that way. I don't care if Charlotte vs Ronda Rousey was always the plan, plans can change and there's no reason why Becky Lynch vs Ronda Rousey needs to be a Triple Threat when every other member of the Four Horsewomen got a one on one with Rousey. However, Charlotte did a good job of embracing the hate that she's getting, but it's clear that WWE's really angered the fans with this decision and will have to tread carefully or they're going to turn the fans completely against the show in general.
Mustafa Ali being out of the Elimination Chamber match SUCKS! However, I'm hoping the concussion won't keep him out for too long.
Triple Threat Tag Match was a good bookend for the tag match on RAW, but why in the world were the IIconics not involved? They could've just done commentary or something. That said, it was nice to see Naomi finally get some revenge on Mandy Rose and get a pinfall win on her. Also, Naomi/Carmella has turned into my favorite SmackDown tag team for the Women's Division.
McMiz TV was about what I expected it to be: cringey and over the top, but it was a good segment and I loved the Usos standing tall while casting doubts on McMiz's chances on Sunday.
Elimination Chamber Gauntlet Match was amazing for one reason: Kofi Kingston. Kofi has been a staple of WWE TV for over a decade and it was nice to see him really get a chance to shine away from New Day. I could be wrong, but I believe Kofi set a record by lasting an hour in the match. After he was finally eliminated, the match was a lot less interesting, and Randy Orton's sneaky win wasn't a surprise when I realized that there was five minutes left and Kofi was still in. Do I think Kofi will be champion off of this? No, not really, because he's been performing like this for a decade and it's never gotten him closer than the Intercontinental Championship, and he hasn't held that in years, but we'll see on Sunday.
Thoughts: A solid show overshadowed by the Gauntlet Match, but got everything in place for the two big matches on Sunday. My biggest issue with SmackDown was that the Gauntlet match was really the only exciting match and that stopped after Kingston was eliminated. Other than that, the show was forgettable. Hopefully that will change next week.
205 Live
Lucha House Party are always fun to watch in the ring, but I've never thought of them as compelling promo guys, but their in ring promo on Tuesday was pretty good.
Lince Dorado vs Jack Gallagher was a really good match, and it was nice to see Gallagher in action since WWE hasn't seemed to know what to do with him and Gulak if they're not feuding with Kendrick and Tozawa. Gulak's gimmick still bothers me because he reminds me too much of RL politicians, but it makes it easy to hate him. Gallagher getting a win was a surprise, but it wasn't an unwelcome one and it looks like it's going to be LHP vs Party of Gulak for now.
Humberto Carrillo's interview was really interesting. I'm still not a fan of the whole Gulak thing of showing a POC the 'proper' way to do something they're obviously good at or saying that their style is lack, but Carrillo is a great wrestler and it makes for an interesting first feud for him.
Ariya Daivari's promo was interesting. He basically bashed everyone he's been attached to without naming names. I think he'll make a great #1 Contender but I don't see WWE doing a Heel vs Heel storyline for the Cruiserweight Championship just yet.
Mike and Maria's promo was much in the same vein as Daivari's: Been working for x number of years and not gotten the recognition they deserved and is better than the people he lost to. I do like the whole 'Not the losses but the process' thing, but I think WWE still doesn't know what to do with them and that really needs to change. Kanellis would be a great babyface challenger for Murphy.
Tony Nese vs Noam Dar was a fantastic main event for 205, which is par for the course for them. This started as a small feud, but it's definitely the most interesting feud right now. I was a little disappointed that Dar lost, but if that means this feud continues, I'm all for it.
The only problem with 205 doing No DQ matches is having to work around SmackDown and/or dealing with a crowd that might be worn out from two hours of main roster wrestling.
Murphy vs Tozawa Contract Signing went about as well as any contract signing in WWE could be expected. There was a lot of trash talk and vows of victory. I was surprised that blows weren't exchanged though, it's almost become a staple of contract signings that someone gets beat up.
Thoughts: A pretty good episode of 205, but not a wowzer. It had goo matches, but nothing really jaw-dropping. Nese vs Dar was fantastic, but the crowd wasn't into it after SmackDown, which is a real problem.
NXT UK
Toni Storm and Rhea Ripley's promo was really fantastic. I've been a little disappointed that Toni hasn't defended her title since winning it off of Ripley when Ripley defended the title almost ever week or so. WWE kept things simple by having Ripley use the usual heel excuse of dumb luck to explain the face's victory, but Ripley stating outright that she hates Storm because of everyone comparing her to Storm was interesting as you seldom have a heel stating that they HATE the face for whatever reason. I loved the fight between the two and am really looking forward to the rematch.
Jordan Devlin vs Noam Dar was every bit as great as I thought it would be. Devlin's done a great job of building his brand as a loud-mouthed heel, but there's no denying that he's super talented. Dar is extremely underrated, in my opinion. I was a little surprised that Devlin lost but having the loss be due to Travis Banks protected Devlin and got that feud back on track. Plus, it gave Dar a win he really needed.
Jinny vs Mia Yim: I believe I said last week that I don't get Jinny and this week's match solidified that feeling. I. Don't. Get. It! There is nothing interesting about Jinny. She's got an average look, average promo skills, and average in-ring ability, there's really nothing about her that explains why she should've beaten Mia Yim, who is better than her in every respect as far as the ring goes.
That said, the match was good, but I'm not thrilled with Mia Yim getting beaten by someone she should've wiped the mat with.
Pete Dunne vs Wolfgang was a FABULOUS match! Wolfgang gets overlooked a lot since he joined Gallus, but it's not often that you see a big guy that can move like he can. I found it odd that Walter, who is apparently being pushed to face Dunne didn't get involved, but it was a great match and Pete Dunne looks unstoppable, so that's all that matters.
NXT
Shane Thorne vs Dominik Dijakovic was exactly what I expected from any match with Dijakovic: Rough and tumble. It was a good match, but I can't say I'm overwhelmingly impressed with Dijakovic since he almost never has a match longer than five minutes.
Undisputed Era's promo was really good. Usually a faction losing all their belts is a sign that a split is coming, but that doesn't seem to be happening with Undisputed Era, at least not right now.
Sky Pirates and Bianca Belair's Promo was really good and established that Belair isn't a face now, though her assertion that she's still undefeated is kind of stupid.
Street Profits vs Humberto Carrillo and Stacy Ervin Jr would've been a good, if random, match if WWE had just let them wrestle instead of adding Ohno and Lee for no real reason and then having European Alliance and the War Raiders run in at the end. It just made the segment feel very disorganized.
Aliyah vs Taynara Conti: I've been saying for awhile that NXT needs to do something with Aliyah. She's a great talent and is a great heel, but she tends to get overlooked. That said, I was shocked when she got Conti, a LEGIT blackbelt in Judo, to tap out to the Total Aliyanation, which isn't the most elegant or impressive thing I've ever seen but it definitely did the job.
I HATED the Horsewomen running in on a match that didn't concern them just to prove how 'bad' they were, especially since Aliyah, Borne, and Conti are tweeners/heels. Just a stupid ending to a really good match.
Ricochet vs Adam Cole was AMAZING, as I expected it to be.  I really can't think of much more to say than that. I wasn't surprised by Ricochet's win or the Undisputed Era standing tall. I was surprised by Aleister Black's run-in, but I'm not against it. It at least gives Ricochet an ally against the UE.
Elimination Chamber
Men's Elimination Chamber Match for the WWE Championship: The men's Elimination Chamber for the WWE Championship was the main event, and not a deserving main event, in my opinion. I think the Women's Tag Championship should've main evented.
The match was okay. Elimination Chamber matches can be a little hit or miss and this was a hit. Styles being eliminated was a surprise because I really thought it would be down to him and Bryan. Kofi Kingston's performance was AMAZING and it was a damn shame that WWE chickened out of giving the crowd a truly shocking moment on the Road to WrestleMania, but Bryan retained, just like I though he would.
Women's Elimination Chamber Match for the WWE Women's Tag Team Championship: I have to admit that I was very unhappy about this match being starting match because it definitely had a lot more interest than the Men's Chamber match.
Overall, this was a really good match, but it was ROUGH, as is usual for a Chamber match. Riott Squad were my favorites coming out of the box, but I still rooted for Boss-Hug Connection. I was SHOCKED when Boss-Hug won it, my money was on Samoan Dynasty or even the IIconics.
Intercontinental Championship: I'm going to be honest, I didn't really care about this match. I like Balor, but Lashley bores me rigid and I don't really care about Rush other than to say he's annoying.
The match was okay, but I wasn't into it. However, I am THRILLED that Balor won and FINALLY has a title after being on the main roster almost two years and with only a one day reign as Universal Champion to his name. The end of the Lashley/Rush feud was an unexpected bonus, but I'm not sure what they're going to do with Lashley without Rush because Lashley has the personality of a dry mop.
RAW Women's Championship: Not gonna lie, I skipped Charlotte's promo because I'd rather have my eardrums ruptured than listen to her and because my wifi kind of stinks, I was a little behind. I LOVED that Ronda ditched her usual shorts because watching her tug at them drove me nuts.
I feel bad for Ruby Riott that that pitifully short match was all she got just so WWE can build a match we've already seen and nobody wants to see again. Thank God, Becky showed up to save us all. Watching her beat the living hell out of Charlotte AND Rousey was very satisfying, but the use of Riott was utter BS.
WWE Cruiserweight Championship: This was a really good, very physical match. I'm a huge fan of Tozawa and I was very impressed with his, and Murphy's, performance. I was not surprised that Murphy won, but I was disappointed. Murphy's a good champion, but it's time for someone else to hold the belt.
Braun Strowman vs Baron Corbin: The neverending, feud between Corbin and Strowman got another airing as the two took each other on in a No DQ match. The match was every bit as bad as I expected it to be and worse, and my expectations were LOW. I can't say the end was a shock, but I was hoping that this feud would end and it's not. Mocking the Shield? Not cool and I hope Dean stays in WWE long enough for the Shield to beat all of them up.
SmackDown Tag Team Championship: First and foremost, congrats to Miz and Maryse on their second child!
I'm going to admit that I haven't been feeling this whole Miz/Shane thing and I still don't since Shane has never been the best wrestler in the world and Miz gets on my last nerve.
The match against the Usos was as good as can be expected. I was shocked, given what happened with Jimmy Uso last week, that WWE would put the belts on the Usos, but I'm very happy about it. It looked like McMiz would steal it from the Usos, but Shane's bravado got the better of him.
Thoughts
This was another okay week for WWE, I can't say it's one of the best ones they've had on the road to WrestleMania. Every show had its solid points, but WWE was definitely playing it safe, which is understandable since the company's biggest PPV is coming up.
Elimination Chamber was okay, it was definitely a B-PPV, but there were enough nice surprises to keep it from being a total snoozer. Now we have Fastlane in three weeks and WWE's going to really have to ramp up the build to get people into WrestleMania.
Top 5 Matches: Week Ending 2/17/2019
With New Beginning Osaka to start the week, and Elimination Chamber to end, what makes Andrew's cut for Top 5 matches?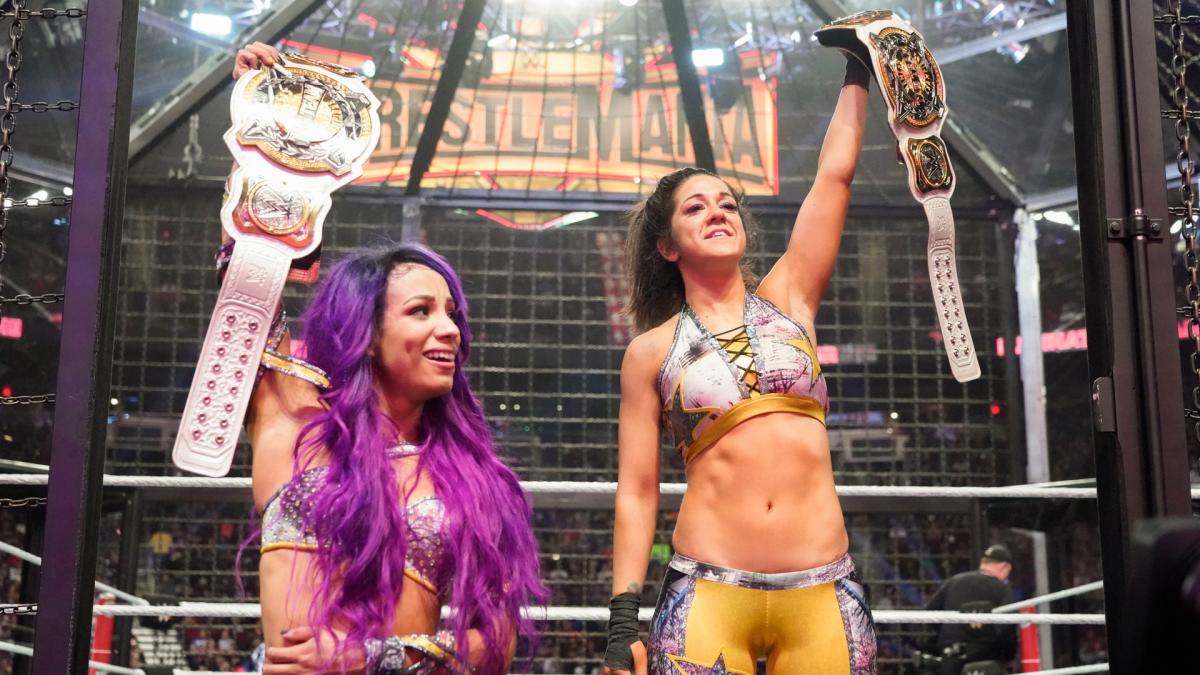 With New Beginning Osaka to start the week, and Elimination Chamber to end, what makes Andrew's cut for Top 5 matches?
So this was an eventful week. Osaka, Uncaged and Elimination Chamber all happened, and hell, even SmackDown and Raw put on 1 match each that was worth noticing. Given everything to process, and how there was a bit of good stuff to pick from for everything…this is one of those times where I have a tie.
But before we reveal the tie, we need to reveal the winner last week! It wasn't a difficult vote since slower weeks when I go hunting, tends to mean the random matches don't get adequate love. With that said, yes, Matt Riddle vs Drew Gulak, ran away with the votes.
So let's get to this week, and one mini surprise on the list!
5 (t). WWE Raw: Raw Tag Team Title Match: Bobby Roode & Chad Gable (c) vs The Revival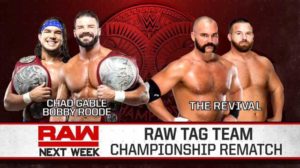 Snippet From Mitchell's Coverage:
Raw returns once again, and Gable slams Dawson down to catapult him into buckles! Fans rally up, hot tags to Dash and Roode! Roode rallies on The Revival, and gives Dash a big back drop! Dawson runs into a urenage! Dash runs into a gourd buster onto Dawson! Roode fires up as he tackles them both in the corner! Roode hops up and aims at Dash, but Dash gets clear. He clotheslines Dawson instead, then gives Dash a GLORIOUS Spinebuster! Cover, TWO! Roode is shocked but The Revival still lives. Dash crawls away but Roode winds it up. GLORIOUS but Dawson saves Dash from the DDT! Dash rolls Roode, TWO! Tag and Dash bucks Roode off. Gory Special, BULLDOG! Cover, TWO!! Roode lives and The Revival can't believe it!
Dawson tags Dash and they double whip. Roode sunset flips, Gable crossbodies! Cover, TWO! Dash runs into boots and Roode tags to Gable. Gable hops up, but dash scoops. Roode slips out, Gable moonsaults but misses. Gable waistlocks Dash while Roode climbs, GLORIOUS Blockbuster and German Suplex combo! Cover, but Dawson breaks it just in time! Fans realize "This is Awesome!" as all four men catch their breath. Roode runs at Dawson but Dawson tosses him out. Gable hits Dawson with a rolling kick, then wheelbarrows Dash to a victory roll! TWO and Dash gets to the apron. Dash shoulders back then climbs up, but Gable leaps up to join him! They fight, Dawson tags. Dash sunset flips and Dawson climbs, Doomsday Device! Cover, but Roode pushes Dash into it! All four men are down and fans are loving it!
Fans again declare "This is Awesome!" as the teams regroup. The Revival stand up first and drag Gable up. They double suplex but Roode saves Gable. Roode ducks their clotheslines and shoves Dash into Dawson. Roode then tosses Dawson out and Gable climbs up. Dawson DDT's Roode! Gable leaps for a sunset flip with jackknife bridge! TWO!! Dash tags in even as Gable atomic drops Dawson. Gable is ready with haymakers, then whips Dawson. Dawson reverses, but Gable leaps, INTO SHATTER MACHINE!! Cover, The Revival win!!
Winner: Revival via Shatter Machine
Rating: ****
5(t). WWE Elimination Chamber: Women's Tag Team Championship Elimination Chamber: The IIconics vs Liv Morgan & Sarah Logan vs Tamina & Nia Jax vs Bayley & Sasha Banks vs Mandy Rose & Sonya Deville vs Carmella & Naomi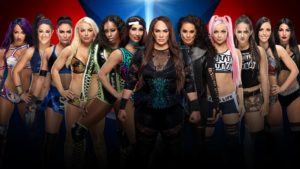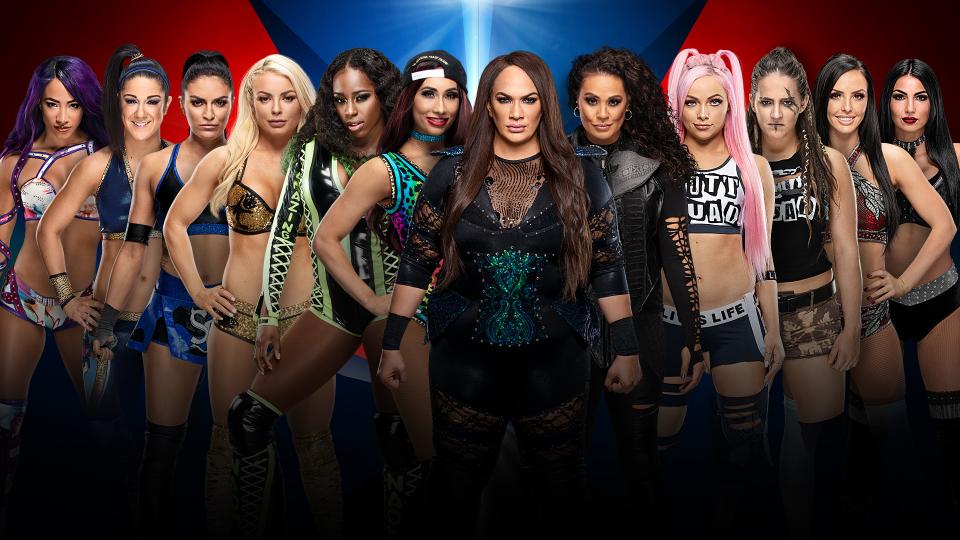 From My Review:
Well the beginning of this chamber match started off pretty awful actually. But once the rest of the teams got involved, the match actually got better. Riott Squad performed really well, IIconics had a nice tandem pin to eliminate Naomi and Nia took the Big Show bump of crashing through a pod. Honestly a little surprised they put the belts on Sasha & Bayley right away. With Sasha's injury and faces chasing belts usually being an easier way to write a Mania angle, they instead took the easy route and just put the belts on the fan favorites right away. Surprised not because it doesn't make sense, surprised because WWE usually takes detours and goes around the block a few times before eventually ending up where it should've been. But yea, bad first couple minutes, but turned into a damn good match.
Winner: Banks & Bayley via Modified Bank Statement
Rating: ****
4. RevPro High Stakes: Will Ospreay vs PAC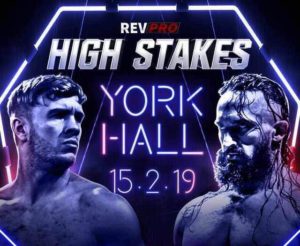 The NEVER Openweight Champion Will Ospreay, faces the Open the Dream Gate Champion PAC. In a match that's been dubbed a dream match by many, let's see how this 30 minutes match plays out.
Ospreay starts off the first few minutes by flipping out of PAC's moves, as a way to frustrate the Bastard. Eventually they go into the usual Indy exchange of kip ups, duck unders and stuff that makes the crowd cheer. Early on Ospreay gets busted up either from PAC's Apron Thrust Kick, Moonsault or stomping on his face. The bleeding stopped fairly quickly, so it didn't turn the match into a mess at least.
After the slower build up of 'anything you can do, I can do better', the match started to become a hard striking affair. PAC hit some stiff shots and a real Hurricanrana (you don't see the actual move often anymore). Eventually Ospreay gets an advantage and PAC is prone in the Hidden Blade (unprotected Elbow that got so much hype when it concussed Ibushi), but CCK interfere in the match. Jonathan Gresham and Chris Brooks beat on Ospreay a little and go to grab a belt to hit him with, but grab the Dream Gate title. Big no-no.
PAC sees this and steps on the strap before Brooks can pick it up and basically shows some pride in the match. He kicks away the belt, then he and Ospreay take out CCK ending in stereo Planchas, with both men sliding back into the ring never taking their eyes off one another. Aussie Open comes out to take CCK away, and then we hit a portion of the match that made me groan.
Ospreay literally starts hitting reference moves. Rainmaker, Scurll style finger break, Benadryller and then a Shooting Star Press, and to no one's surprise, PAC kicks out. Stormbreaker attempt number one, but PAC tries to counter with a Frankensteiner, Ospreay stops him and hits the Styles Clash, for another near fall. Uughh…
The finish sees the 1 minute call happen, Ospreay tries another Stormbreaker, PAC flips off the shoulder and low blows Ospreay in front of the ref. PAC then tells the ref to ring the bell, the ref decides not to and he wants a finish. PAC hurries to the top rope for Black Arrow, but then hears the final 10 second count down. So he just stands on the top rope and counts along with the crowd, flipping the bird for 1 of course.
So what was framed as Ospreay's match to win at 2 different points (3 if you count the fact it should've been DQ), PAC forces the Draw. Ospreay and fans ask for 5 more minutes, but PAC just walks off. Good match, hopefully leading to something because the lack of a distinct finish, low blow and interference took away from a match that could've been a classic.
Still worth the watch though.
Winner: TIME LIMIT DRAW
Rating: **** 1/4
3. SmackDown Live: Elimination Chamber Guantlet Match: Kofi Kingston vs Daniel Bryan vs Jefft Hardy vs Samoa Joe vs AJ Styles vs Randy Orton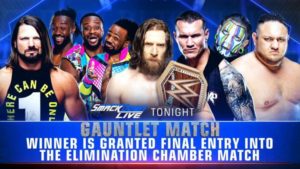 From My Review:
Now comes the gauntlet and the New Day reveal of who they're picking as the fill in for Mustafa. Kofi and Daniel Bryan start things off, and this alone was a solid match. Now it did great things by showing Daniel is vulnerable without help. New Day got banished, Rowan did as well, and in his scrambling to try and win quickly, Bryan gets caught by a Trouble in Paradise, Kofi gets the pinfall. Jeff Hardy comes out and immediately tries to throw some of his bigger signature moves on an already weakened opponent. Hardy misses a lot, and then gets caught in the S.O.S. Now with Joe coming out at 3, most of us probably saw this going the same way as Rollins from last year, and here's where the plucky workhorse loses, but nay! Kofi manages to reverse the Sleeper Hold into a pin. Joe being the angry man he is, sinks in the Coquina Clutch after the loss, so AJ has to break it up. Now AJ does what Cena didn't do well last year. Trying to play the whole " You don't need to continue, you're hurt, just stop" angle. AJ showed real concern cause he helped him back into the ring and seemed sincere. Kofi got fired up and what we saw wasn't bad at all. Kofi versus AJ could definitely be a good number 1 contender match, maybe at Fastlane or Mania. AJ catches Kofi with the Calf Crusher, and awaits Randy Orton. As the crowd gives Kofi the standing ovation, Randy flies in from off camera and hits and RKO out of nowhere for the 1-2-3, right at 10 eastern. Perfect punctuation. Yes a couple spots here or there were a little sloppy, but generally speaking this was a great match. Maybe even better than last year's Raw gauntlet.
Winner: Orton via RKO
Rating: **** 1/4
Honorable Mentions:
NJPW New Beginning in Osaka IWGP Junior Heavyweight Title Match: Taiji Ishimori (c) vs Ryusuke Taguchi
Winner: Ishimori via Bloody Cross
Rating: ****
WWE Elimination Chamber: Cruiserweight Championship: Buddy Murphy (c) vs Akira Tozawa
Winner: Murphy via Murphy's Law
Rating: ****
Impact Wrestling Uncaged: Knockout's Championship Street Fight: Tessa Blanchard vs Taya Valkyrie (c)
Winner: Taya via Double Footstomp through Table
Rating: *** 3/4
NXT UK: Pete Dunne vs Wolfgang
Winner: Dunne via Cross Armbreaker
Rating: *** 3/4
NJPW New Beginning in Osaka: Kazuchika Okada vs Bad Luck Fale
Winner: Okada via Rainmaker
Rating: *** 3/4
Impact Wrestling Uncaged: Elimination 4v4: Team Impact (Fallah Bahh, Sami Callihan, Eli Drake & Eddie Edwards) vs Team AAA (Puma King, Psycho Clown, Hijo del Vikingo & Aerostar)
Winner: Team Triple A 4-3
Rating: *** 3/4
NXT UK: Noam Dar vs Jordan Devlin
Winner: Dar via Cradle
Rating: *** 1/2
AJPW Jr Battle of Glory: Atsushi Aoki vs Black Menso-re
Winner: Aoki via Cloverleaf
Rating: *** 1/2
Impact Wrestling Uncaged: Fatal 4 Way Impact World Championship: Killer Kross vs Moose vs Johnny Impact (c) vs Brian Cage
Winner: Johnny via Starship Pain
Rating: *** 1/4
NXT UK: Jinny vs Mia Yim
Winner: Jinny via Dirty Pin
Rating: ***
2. NJPW New Beginning in Osaka IWGP Heavyweight Championship Match: Jay White vs Hiroshi Tanahashi (c)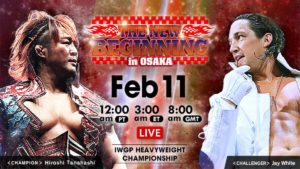 From Mathew's Article:
This match was mostly about one thing and that was the evolution of Jay White and his character in New Japan over the past year and everything he's been doing since this new persona has been unveiled to the world. Jay's character has evolved with how his mindset works, how he speaks, the mind games, and the following he has gained when he was the new leader of Bullet Club. Tanahashi, despite having a classic with Kenny Omega recently, he's still injured and body is still busted and you can see that with how he moves in the ring and when Jay attacked his knee recently, he found a target point to use throughout the match. The best part about this was that the interference with Gedo was very minimal and I'm glad that was the case since that would've been overkill if he did it constantly, even Tanahashi would attack Gedo a few times when he just had enough of his shit.
Gedo would be used as a distraction once again to give Jay enough time to try and hit Tanahashi with the chair but would move out of the way as he accidentally hits Gedo with the chair. Tanahashi was able to get High Fly Flow in but onto Jay's back and wasn't enough to put him away and as he went for the second one, Jay would roll out of the way. Whenever Tanahashi would try to hit a big move in the match, Jay would use the ropes to hold himself up so that Tanahashi wouldn't get a chance to hit a Slingblade. This was a smart move as he would do it a few times and whenever Tanahashi had him away from the ropes to try and hit it, Jay would fall to his knees to buy himself a little bit of time. Jay would attack the knee a little bit more but Tanahashi would finally get a chance to get some Dragon Screws in before applying the Lucky Cloverleaf to try and make JAy tap out but Jay had the ropes just in time. Jay caught Tanahashi to try and go for the Blade Runner but Tanahashi turned it into a Slingblade and would hit another one to put Jay down. Tanahashi is up on the ropes once again as he would attempt another High Fly Flow but Jay caught him in midair to hit the Blade Runner and he connects this time for the pinfall and we have a new champion!
I'm actually speechless as to seeing Jay White win the IWGP Heavyweight Championship here since I expected Tanahashi to at least have a few successful defenses under his belt before dropping it at the G1 Supercard or Dominion, but it looks like they backed themselves up into a corner with Jay White since he had a ton of momentum leading to this match that losing here would hurt him slightly. Jay White has been wrestling for six years and has been with New Japan for about four of them and he has now defeated the ace to win the IWGP Heavyweight Championship. It looks like New Japan has a new star made to fill the void of Kenny Omega, which Jay did beat early in 2018 along with Kazuchika Okada, and now Hiroshi Tanahashi, Jay is the new star and we're indeed in the Cutthroat era.
Winner: White via Blade Runner
Rating: **** 1/2
1.  WWE Elimination Chamber: WWE Championship Elimination Chamber: Kofi Kingston vs Randy Orton vs AJ Styles vs Samoa Joe vs Jeff Hardy vs Daniel Bryan (c)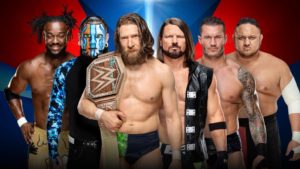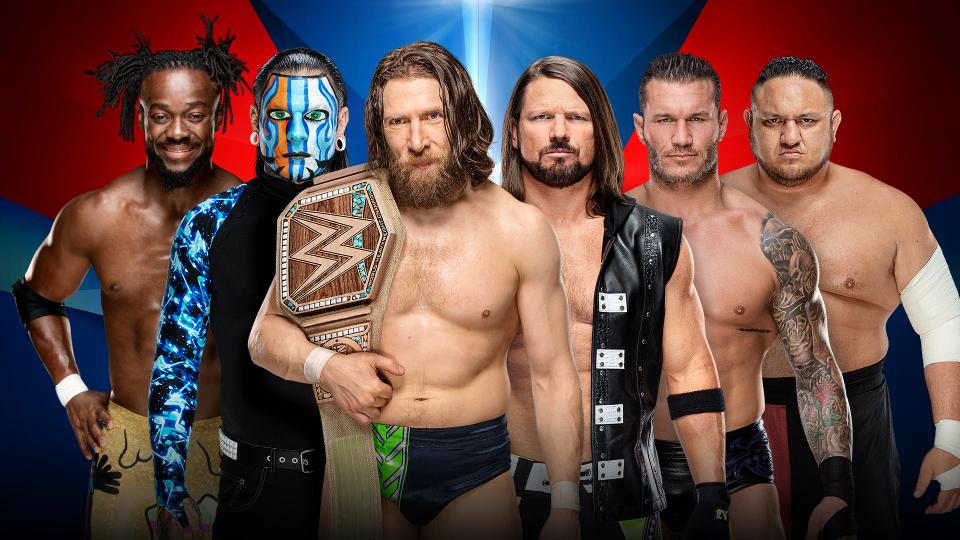 Snippet From Mitchell's Coverage:
Kofi dropkicks Orton! Kofi drags Styles up, but Styles gets him with the STO backbreaker, just like the Gauntlet match! Styles drags Kofi up as fans rally. Styles whips Kofi to a corner, then runs in, only for Kofi to put him outside. Kofi turns around into Styles' forearm, then Styles springboards, into an RKO!! Cover, Orton ELIMINATES Styles! Orton grins as he watches Styles be helped out of the Chamber. But Kofi rolls Orton! TWO, Trouble in Paradise misses. Kofi kicks Orton back, then climbs up, only for Orton to trip him up. Orton drags Kofi out from the top rope, for a SUPER draping DDT! Fans duel as Orton hears the voices in his head. Orton stalks Kofi but catches Bryan in a powerslam! Orton goes back to Kofi but Kofi denies the RKO! TROUBLE IN PARADISE! Cover, Kofi ELIMINATES Orton!
Kofi is one of the final two with Daniel Bryan! Houston is thunderous for how close Kofi is to achieving a dream! Kofi and Bryan are in opposite corners, and Kofi fires himself up. Bryan and Kofi stand up stare down. They approach, and start throwing hands! Bryan kicks so Kofi kicks, and repeat! They go back and forth, but Kofi eggs Bryan's kicks on! Bryan kicks and Kofi kicks! Trouble In Paradise misses, Bryan dropkicks the legs out! Bryan dares Kofi to sit up, and starts giving him No Kick! He kicks again and again, but Kofi ducks the buzzsaw! SOS!! Cover, TWO!! Kofi was so close yet so far from finally being world champion! Houston is at a fever pitch as Kofi and Bryan reset.
Kofi runs in but misses in the corner! Fans rally up as Bryan takes his time looming over Kofi. Bryan throws angry haymakers, saying Kofi doesn't deserve to be here. Bryan gives Kofi more kicks, then runs corner to corner, for a big dropkick! And then another! And a third! A fourth! Kofi jumps out and double stomps out Bryan! Cover, TWO!! Houston is right there with Kofi on how close he was again. Kofi wills himself to his feet and to a corner. He aims at Bryan as he stands. Kofi runs but Bryan bails out. Kofi goes after Bryan and throws him into chains! He does it again and again and again! Kofi only picks up speed as he rams Bryan into steel! He drags Bryan up, bulldog but Bryan sends Kofi into the pod!
Bryan drags Kofi into the ring, and waits for Kofi to stand. Fans are not giving up on Kofi, but Bryan is taking am. Bryan runs at Kofi, KNEE PLUS! Cover, TWO!? Kofi survives and shocks Bryan! But Houston is eating this up! Bryan grows angry, and grabs Kofi's arms. Bryan stomps away on Kofi's face! And again and again and again! Cover, TWO! Bryan wants another shot, Kofi stands, TROUBLE IN PARADISE! Cover, TWO to a cradle! TWO, and Kofi kicks Bryan. Bryan catches Kofi's arm into a form of the Labell Lock! But he also rakes the eyes and nose! This isn't illegal in the Chamber! Kofi reaches and gets the ropebreak! Bryan lets go out of exhaustion. Bryan sits up and drags Kofi around. Houston declares "This is Awesome!"
Bryan climbs up top but Kofi kicks him down! Kofi climbs up and throws hands. Bryan climbs to the pod but Kofi pursues. Kofi clubs Bryan down then headbutts him against the Plexiglas. Kofi throws Bryan into it as fans chant "Yes! Yes!" He drags Bryan up, but Bryan resists. Kofi throws body shots but Bryan continues to block the risky suplex. Bryan fights and now he bounces Kofi against the Plexiglas! Bryan decides to use Kofi's idea, but now Kofi resists! Kofi fights back and clubs Bryan down. Bryan slips down to the post but Kofi again pursues. Kofi boots Bryan again and again and sends him all the way down! Kofi stands, leaps, but FLOPS! Bryan aims from the corner, KNEE PLUS!! Cover, Bryan wins!
Winner: Bryan via Knee Plus
Rating: **** 1/2
Thoughts:
Well the top matches of this week were all very close. I'm torn on quite a few of these matches. Revival finally getting the monkey off their back and winning the belts, Bayley & Sasha being the inaugural 'modern era' or however they're spinning it Women's Tag Champions, Jay White doing something no one has ever done, that being beating Tanahashi on a first defense. Since admittedly Pac/Ospreay was disappointing on surface level since there was no clean finish, I guess we know what my pick is.
Men's Elimination Chamber match is my vote! Started off slow, had spots that tried too hard and just looked dumb, but that's nit picking. Kofi's story was fantastic, once a few people got eliminated the match really started to take shape. Plus the entire Kofi/Bryan portion was almost a match within itself. Just so many nice layers, and even though Kofi didn't win, I think he won over many people that weren't really fans of his prior.