AEW Will Be The Next Big Thing In Professional Wrestling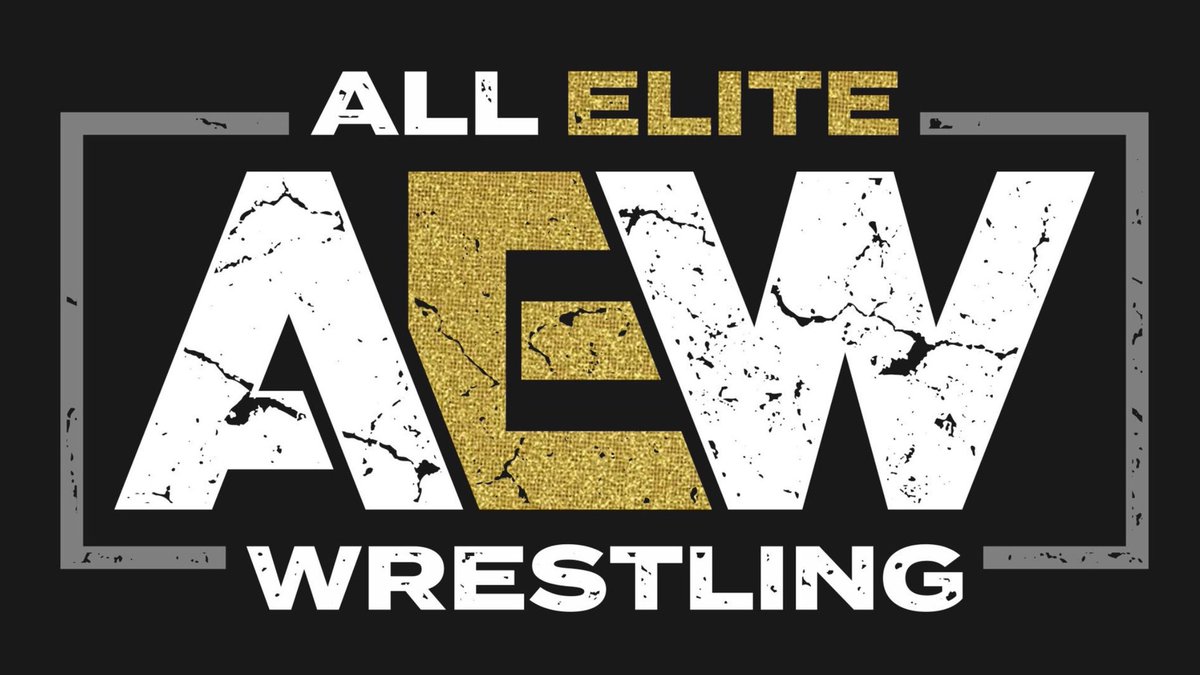 David Levin chimes in on the future outlook for All Elite Wrestling, and the impact it can have on the wrestling business.
I have purposely not written this week until now. Usually, I write a piece on SmackDown Live and my thoughts about Tuesday night's show. I was ready to lend my thoughts to the show in Jacksonville this week until the All Elite Wrestling rally held outside TIAA Bank Field prior to WWE's invasion of the Veteran's Memorial Arena.
While the crowd outside the stadium did not compare to the hoards that packed WWE's event that night, the news of a new wrestling promotion breaking into a business dominated by the McMahon Family for the last two decades is big news. The fact AEW is being backed by Shad and Tony Khan, owners of the Jacksonville Jaguars, is even bigger news.
It looks like the Khan's are in the wrasslin' business, and may be able to take this upstart brand farther than other neophytes have gone before.
The Khans have shown they can be successful with the NFL, with their Premier League soccer club and now are trying their hand at professional wrestling. The game plan is aided by deep pockets which means this has a chance for staying power. With any wrestling promotion, money helps with stability. Unlike with TNA, which has struggled with television deals, the Khans can afford to find the right promotional deal to reach its audience.
Also, having Cody Rhodes, Kenny Omega, Chris Jericho and Britt Baker (yes, big crush here) on board certainly leads to credibility. As Jerry Lawler said, in a story written by Tom Clark, he believes the Khans and this promotion has a chance to do something big in this industry. Lawler's comments came on his Dinner with the King podcast.
"I wish them luck. It definitely will be a force to be reckoned with. When you have that much money, you can do pretty much anything. I think they'll definitely get the thing off the ground and they'll definitely be able to hire some big name talent."
There have been plenty a wrestling start ups over the years. Once WWE bought out WCW, there was very little competition. The McMahons were essentially facing them selves in terms of trying to create a better product. TNA came along trying to salvage the old ideas of the NWA and while it is still on life-support, it has failed to deliver in popularity.
Other promotions like ROH and NJPW have appealed to the masses. And while the death of ECW was a got shot to those niche fans that liked blood and the insane, wrestling has been void of something new and exciting. That is until now.
I cover the Jaguars on a full-time basis and know if the Khans dream it, it can happen. Tony Khan has a vision with this that can and should work.
I've lived in Jacksonville for 38 years. And as a youngster my father would take me to the old Colosseum here in town where I would watch Dusty Rhodes on a weekly basis. I remember old-school wrestling like Jack and  Jerry Brisco. I remember how the spinning toe hold of Dory Funk, Jr. won world titles and how the Masked Assassin was the most evil villain on the planet.
I guess you could say that this new beginning is personal to me.
Often stated,  I believed in the old ideals of the NWA. I am a fan of the figure-four leg lock and the Texas Death Match. I remember more "Loser Leave Town" matches then I can remember. And when the likes of Rhodes, Roddy Piper, Bruno Sammartino, and Randy Savage left this earth, it affected me greatly.
Professional wrestling was something in my childhood that you enjoyed watching on a Saturday morning, but you didn't talk about quite a bit because it was a taboo subject. It wasn't mainstream like it is today. You can thank the McMahons for Innovacion and changes. You can thank the likes of Jeff and Jerry Jarrett for trying to maintain ideals of the old guard. Paul Heyman created reality wrestling so to speak with ECW. Now, a father and son team that owns a professional football team Is trying to break another barrier.
For those of us who were there on Tuesday, it was exciting and regardless of whether WWE was in our backyard, I get the feeling that AEW made a lasting impression that we're gonna talk about for a while.
That's what the Khan's did when they purchased the Jaguars. That's what they did when they put the worlds largest score boards in a football stadium. That's what they did when they purchased a premier soccer club. And now that's what they're going to do with a new wrestling promotion.
Whether you like it or not, learn to love it, to paraphrase the great Ric Flair, learn to love it because it's going to be here for a while. And as long as the Khans have the vision to make AEW innovative and exciting, it has a chance to leave an indelible mark on a sport void of a challenge to the old guard.
NXT Minus 6: Too Early To Fantasy Book War Games?
Everyone loves fantasy booking. Right?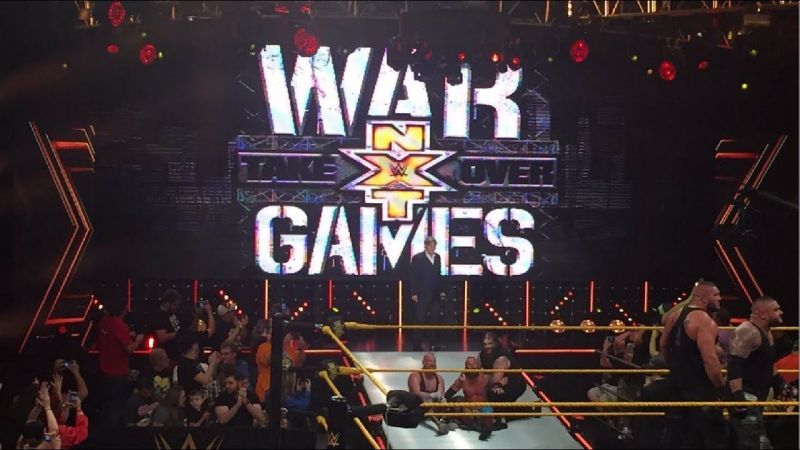 The answer is No. It's not too early.
6. NXT teases us with a Matt Riddle-Arturo Ruas match that went 3 minutes? I know it's not happening, but those guys deserve a Takeover spot. Kudos to NXT for playing up the mma aspect. Everything from Mauro's commentary to the ref stoppage made this feel like it should have been in an octagon. If you haven't already seen it, check out Ruas' match from the Evolve 10th Anniversary show. Dude is a killer.
5. We got the final opening round match of the Dusty Rhodes Everyman Classic. Bronson Reed is good. He delivered what might be the biggest frog splash I've ever seen. There is always a place for athletic big men, but he's not the story.
4. Dexter Lumas is creepy. The key to wrestling is to crank your personality up to 11. If this creepy thing is any part of Dexter Lumas, I don't want to be in a room with him. I don't trust him around my kids. I wonder how many crimes against humanity he's already committed. Creepy in a way that Bray Wyatt can only hope to be.
3. Tyler Breeze enters the running for Savage Burn of the Year. He looked at Jaxson Ryker and asked "Weren't you Buddy Murphy?" Brutal. That line alone is worth the return of Prince Pretty.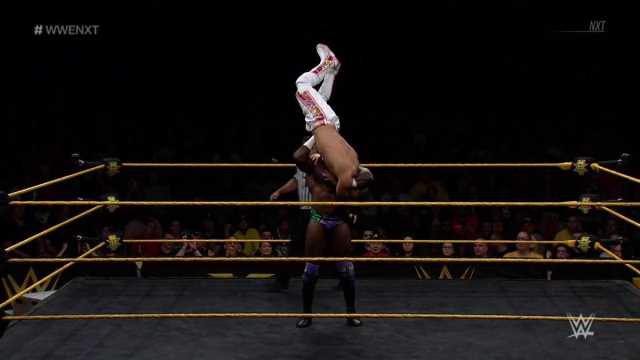 2. I finally got the moment I was waiting for: an interesting KUSHIDA match. I was ready to send him to 205 in exchange for Akira Tozawa. And if this is Apollo Crews, I will gladly take him back full time in NXT. Stellar matchup and worth watching. 4.4 stars. 
1. Oh no, this cannot be happening. They're turning Keith Lee into Kassius Ohno 2.0? He's talking about getting passed over for the new guys? And he's jobbing to Damian Priest next week? Been here a year and zero Takeover matches? The Ridiculous Keith Lee deserves better. THIS…CAN…NOT…BE…HAPPENING!!!
Bonus time: Old school versus new generation. Tyler Breeze heads up a cast of NXT OGs to take on Undisputed Era in (cue William Regal voice) War Games to determine NXT supremacy. Keep Apollo around. Throw in Cesaro and Harper, maybe even Samoa Joe, and you've got yourself one hell of a brawl. Either that or Undisputed Era versus the Club. I'm cool with both.      
Tiffany's Takes: WWE NXT (7-17-19)
Who will be the first to challenge Adam Cole for the NXT Championship?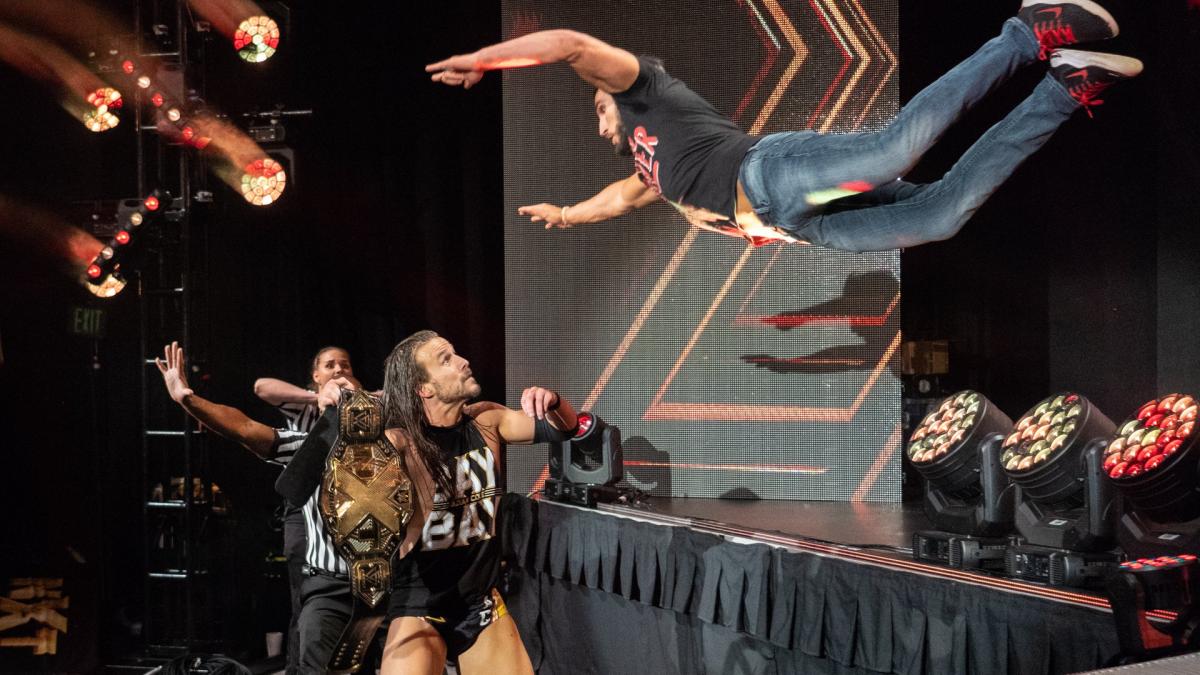 Who will be the first to challenge Adam Cole for the NXT Championship?
Have I ever told anyone that I can't stand Matt Riddle? I have? Okay. I don't even know what it is, but he sets my teeth on edge. I will give him props for having a good match with Arturo Ruas, but I'm not sure what they're doing with his character, except teasing a heel turn after that NASTY beatdown of Ruas. I am here for Killian Dain vs Riddle, that even sounds like fun!
Looks like we are going to Undisputed Era vs Street Profits at some point, but I'm waiting for UE to make a big deal about Street Profits being on the Main Roster for the last couple of weeks.
I love that Mia Yim is learning from everyone's mistakes in dealing with Shayna Baszler and is going after Baszler's friends, who are the real reason she's stayed on top for so long. This feud is going to get nasty in a hurry and I can't wait!
The next match of the NXT Breakout Tournament  had a lot to live up to after two AMAZING matches and one not so amazing. I'm not sure what in the world Australian Strong Styles is, I'm guessing it's like any 'Strong Style' in that it's pretty hard hitting. I also didn't know Australia had a Black Forest, it was never on 'Crocodile Hunter'. I did like this match, however. I can't say it was as amazing as some of the other matches, but it was really good. Bronson Reed won the match for Australia, so we'll see what happens in Round 2.
Someone should tell Tyler Breeze that having a beard doesn't make you a man. I've seen teenagers with better facial hair. I did love the little dig at Forgotten Sons, but I don't think Breeze really wants to pick a fight with Jaxson Ryker, that's not going to end well.
Well, it looks like we'll likely get a confrontation between Io Shirai and Candice LeRae next week, unfortunately for Kacy Catanzaro, she's going to be Shirai's punching bag before that.
I wasn't really into KUSHIDA vs Apollo Crews. I'm just not a huge fan of either guy. The match was really good, but I don' t think anyone really thought Crews was going to beat KUSHIDA, who is getting built into a title contender, but it was a longer match than Crews has been having for most of his WWE run, so there's that.
I'm still not into Keith Lee, I just don't get it, but I'm super stoked  about the prospect of Lee vs Damian Priest, that promises to be a wild match.
So, it's officially official, we WILL be getting Adam Cole vs Johnny Gargano III and it sounds like it's going to be the last one. I did like Gargano comparing his victory tour of trying to inspire young people in Cleveland with Cole's obnoxious antics at the Gargano restaurant. Also, love the 'Johnny Badass' thing, very cool. NXT TakeOver: Toronto II is going to be a wild ride in that Three Stages of Hell match! Thank you, William Regal for booking that!
That's it for Tiffany's Belated NXT Takes! Tune in Monday for Monday Night RAW!