Alexa, Mandy & Scarlett: Bringing Sexy Back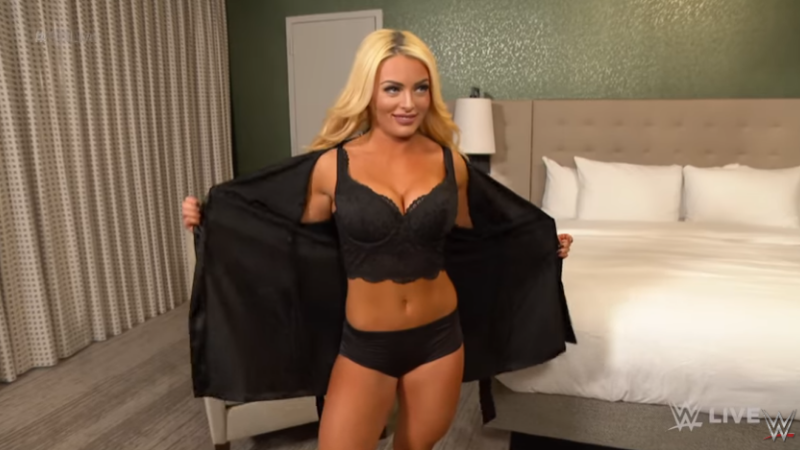 It's a hot button topic currently, yes HOT, no I don't think this is a clever lead in…just read the sexy article, Cook is fantastic.
My most recent column here was a celebration of Scott Steiner. I assume you all know why I was compelled to write about my admiration for Big Poppa Pump. Steiner appeared on last week's episode of Impact & got to take in the beauty of Scarlett Bordeaux up close and personal.
In case you missed it, or need another look, here ya go:
It was an easy thing to write about featuring people that most of us like. Scarlett has long been a favorite of those of us behind the scenes at The Chairshot, and everybody has loved the Big Bad Booty Daddy since the WCW days. My interest was piqued, and I wasn't the only one.
Hopefully Eric Ames doesn't get mad at me for stealing his gimmick, but he doesn't do it for Impact so I think I'm in the clear. I was looking at some of the view numbers for clips of last week's Impact episode, and it's pretty clear when you look at them who #TheDraw for Impact Wrestling actually is:
Tempers EXPLODE Between Johnny IMPACT, Brian Cage & Killer Kross! – 90,023 views
Lucha Bros vs Rascalz – 41,967 views
Sami Callihan Offers Rich Swann a Spot in oVe! – 57,612 views
Willie Mack vs Sami Callihan – 33,874 views
Scott Steiner RETURNS for a Lap Dance from Scarlett Bordeaux! – 860,027 views
Tessa Blanchard Sends a VIOLENT Message to Gail Kim – 100,821 views
Rosemary's DISTURBING Warning to Allie & Su Yung! – 54,588 views
Johnny IMPACT vs Killer Kross: NO DQ – 80,622 views
So people seem to dig the main event scene (probably because of Johnny), and Tessa's stuff does real well, and HOLY SHIT THAT'S A BIG JUMP UP TO STEINER & SCARLETT. This is why I've been saying for awhile now that Impact needs to turn up the sexuality a bit. When you're running your TV show at 10 PM on a Friday night on Pursuit & Twitch, you need something like that to get peoples' attention.
Sex sells, especially on Friday night
Let's be honest. If you're sitting at home on a Friday night watching the Pursuit Channel or on the Twitch site or whatever, there isn't much going on in the romance department for you. Hey, there's nothing to be ashamed of. We've all been there. My Friday night memories started with ABC's TGIF lineup when kids didn't want to hang out with me in elementary & middle school. Then in high school when girls didn't want to go out with me, it became all about TNN's Friday Night ThrillZone. ECW Wrestling & RollerJam, bay bay!
None of that is important to my point, which is that Impact Wrestling should be trying to draw from this demographic that's larger than anybody wants to admit. The shows I watched on Fridays certainly did. ECW & RollerJam were all about the T & A, and Boy Meets World had Topanga. The Impact brass knows this & they're going down that road. As an added bonus, it's a road that WWE doesn't want to go down because of PG & sponsors & blah blah blah.
Or is it?
It's no secret that WWE's been looking for some answers to their ratings issues. One proven ratings getter over the years is sexuality. It's not a 100% stone cold lock to draw interest & keep people around, but it's a way to get people that wouldn't otherwise be checking you out.
I haven't really been keeping up with the gossip, but I do have a theory on this whole storyline with Naomi, Jimmy Uso & Mandy Rose. I have been operating under the assumption that it's there at the behest of USA, in order to plug the new Temptation Island series that the network is running after SmackDown Live. WWE's been keeping it PG at the behest of sponsors & networks. If the network wants things turned up a notch or two, well, you gotta keep the network happy, right? If Mandy Rose in lingerie keeps the network happy, who am I to argue with them?
A lot of people apparently find this offensive. I, for one, am offended by the poor story-telling. Mandy already has a WWE cameraman shooting the whole thing, why does she need somebody taking pictures? And who uses that type of camera in 2019? I appreciate Mandy going for professional-looking pictures, but it wasn't really necessary. Sonya Deville taking pictures with her cell phone could have had the same effect.
I can defend Mandy/Naomi from the perspective that there's a story involved. It might not be the perfect story, but there is an issue that will lead to a match or two. It's not a complete waste of time. The T & A aspect is a bonus, not the only reason that the segment is there.
45 seconds that broke YouTube
This bit on Raw with Alexa Bliss…well, I got no real defense for this.
If you looked up "clickbait" in the dictionary, that thumbnail would be next to it. Forty-five seconds of somebody walking in on Alexa Bliss in the locker room got over five million YouTube views. Some are saying this means that the Attitude Era needs to return and we need to go back to the bra & panties matches. I don't know about all that, but I feel like there's one thing that we're all overlooking here when we're citing YouTube numbers as signs of interest…
We know people are watching these things multiple times, right? I mean, maybe the teenagers just need forty-five seconds of Alexa Bliss, but older folks need a little bit more, if you know what I'm saying. Hell, it wasn't even that long. Alexa wasn't actually in the clip for more than fifteen seconds. That's not even enough time for some of us to take the proper notice.
So we all understand the view count is inflated by old people hitting refresh like twenty times, right?
The bottom line
Here's the thing. I'll freely admit this clip did nothing for me. I'm a fan of Alexa, don't get me wrong, but I'm at the point in life where I need a little bit more than that out of a video. It'd be easy for me to cast the people that watched this over and over and over again aside as sorry so & sos. However, I remember being a teenager during the Attitude Era that I was a sorry so & so that wore out his VHS tape of Armageddon 1999. You old schoolers will know why I was doing that. I was even lending that tape to my friends in school, because that's what we had to do back in the day.
You have to keep in mind that those young boys that grew up on John Cena are now growing up & going through the same things we went through. They're having the same feelings about women in spandex that we did. Presumably, their parents are keeping an eye on things & the kids aren't all over the the porn sites.
So I'm not going to judge the folks repeatedly watching the Alexa Bliss segment on YouTube. Once upon a time, that would have been me.
This is the next step for the Women's Evolution. Has WWE & pro wrestling as a whole evolved to the point where serious women's wrestling can main event on the same show with random scantly clad activity backstage & storylines with women trying to steal each others' husbands?
We have to find out at some point. It might as well be now.