Andrew's Impact Wrestling Homecoming 2019 Ratings & Review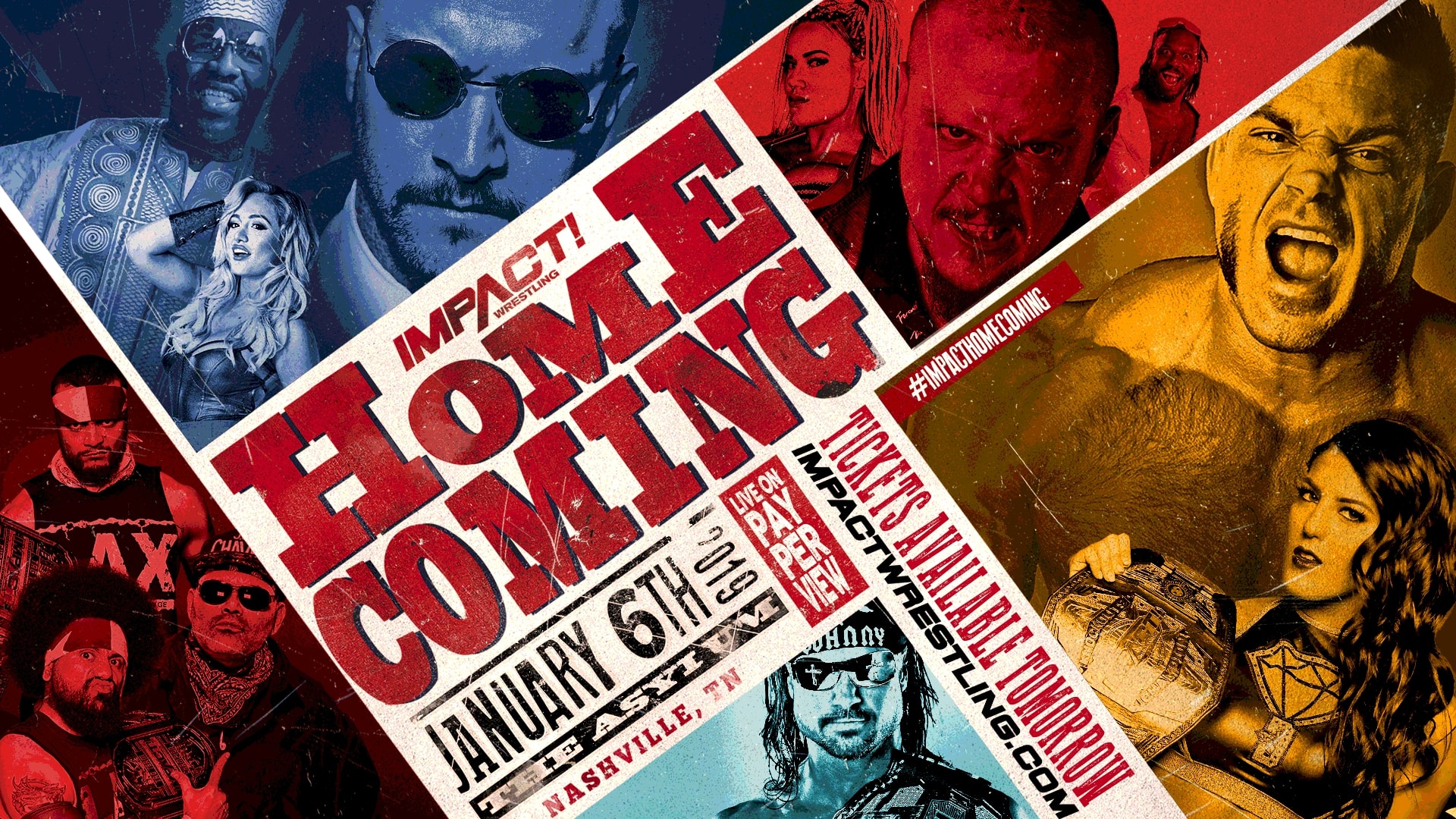 The first show isn't called Genesis anymore, but they are back in the Asylum. So will this be a sweet Homecoming for the company formerly known as TNA?
Impact Wrestling Homecoming is aptly named, and it also comes at a weird time. We know they're moving to an obscure hunting channel, but the product has been so good leading up to this event.
Eli Drake's witch pursuit thing against Hardcore wrestlers, Brian Cage cashing in Option C for a World Title shot and Taya Valkyrie with one last shot against Tessa Blanchard for the Knockout's Championship. We all know Tessa B ain't nuthin to F with, but will Homecoming live up to the build?
Ratings:
Ultimate X Match for X Division Title: Rich Swann vs Jake Crist vs  Trey vs Ethan Page – Swann retrieves the title @13:40 – ** 1/2
Allie & Su Yung vs Kiera Hogan & Jordyn Grace – Allie wins via Mandible Claw @8:55 – **
Falls Count Anywhere: Eddie Edwards vs Moose – Edwards wins via DDT @13:20 – *** 1/4
Sami Callihan vs Willie Mack – Callihan wins via Piledriver @10:15 – *** 1/2
Monster's Ball Match: Abyss vs Eli Drake – Drake wins via Consecutive Wooden Oar Shots @12:15 – ** 1/4
Impact Tag Team Championships: LAX (c) vs Lucha Bros – LAX retains via Tandem Inverted Suplex @11:20 – **** 1/4
Knockout's Championship w/Guest Referee Gail Kim: Taya Valkyrie vs Tessa Blanchard (c) –  Taya wins via Road to Valhalla @10:30 – *** 3/4 – TITLE CHANGE!!!
Impact World Championship: Johnny Impact (c) vs Brian Cage -Impact retains via Avalanche Cradle @19:35 – **** 
Review Notes:
Trey comes out looking like Ricochet…guess it's a reference to his Fresh Prince of Mid-Air nickname. The match was spotty as expected but hey even the belt had a nice callback. The belt fell and came undone causing an awkwardly long camera shot on the outside while Baby Ref saves the day. Swann flips out of a Super Frankensteiner, runs to the opposite corner and races Trey to the belt. It was weird and a little uneventful, but it was somewhat unique. So there's that.
The match was sloppy and mediocre. Not really shocked, but it was decent enough story telling. Kiera ate the Mandible Claw, they were gonna throw her into the coffin but Rosemary returns from the coffin. She tried to approach her friend Allie, but Allie ran off petrified. So now I guess we get Rosemary trying to save her Bunny.
Eddie and Moose was a fun match. Typical hardcore kind of stuff, good use of weapons and brawling. Alisha slides into the ring towards the end, does her usual shtick of telling Eddie to stop. Then says "Let me do it", and takes the Kendo Stick from him and beats Moose a few times before Eddie finishes it. So everything is good in the Edwards household finally, now lets see where these two go.
Hard hitting match with minimal Dave Crist interference. Willie had a comeback attempt towards the end where he was kicking out at 1 two times in a row. Sami Callihan looked like he was out of ides until he hits a Lariat that turned Mack inside out, and followed up with a Piledriver for the win. Go figure…a Piledriver is the finish.
Eli sold his ass off most of the match, but Abyss matches have just been clunky at best the last few years. Big Release German Suplex from inside the ropes as Abyss sends Drake flying through tables. There were thumb tacks, staple guns, chairs and zip ties. Granted the zip tie idea didn't work, so I'm glad they didn't spend too much time trying to work on that. It was okay, but very plodding.
Well now, LAX and Lucha Bros start off at a blistering pace and never really slow down. Some of the transitions were faster than the other partner were ready for though. Most notably when Pentagon and Fenix hit their Double Footstomp/Fear Factor tandem and Ortiz doesn't quite push Fenix into the pin to break it up, so Santana has to kick out. But the match was fast, a lot of crisp moves, but very much a spot fest. Also the awkward use of tags and the fact that camera caught Pentagon just kinda standing on the outside watching the finish instead of even trying to get in the ring. So yeah…very fun, the crowd loved it, but plenty of noticeable issues.
Early highlight was a Taya corner with a sign that says "Dicks Out 4 Taya" and then Tessa Dropkicked her head into the guardrail. The match was well wrestled, and then we get to the Heel/guest referee dynamic. Tessa didn't like a few two counts, accidentally hit Gail Kim, then Gail tried to take the title out of Tesssa's hands and accidentally hits Taya, but all near falls. Tessa gets completely distracted, attacks Gail, Gail counters, hits Eat DeFeat, Taya hits Road to Valhalla and we get a new champion. Maybe Gail comes out of retirement to face Tessa, or maybe someone champions her cause. All very logical progression on this story.
BIG ANNOUNCEMENT – Impact will be simulcast on Twitch Fridays at 10pm so even if you don't get Pursuit, you can still watch for free.
Very good match. The match proved they both knew each other, countering moves, avoiding things and having fairly good chemistry together. However, the finishing sequence, last 3 minutes, whatever you want to call it, were very typical TNA (I'm aware the company is called Impact, but people should know what I mean). Johnny's little Survivor buddies got in Cage's face, tried to jump the rail so the referee and no security had to keep them at bay. Cage hits a Drill Claw for a 15 count, but the ref is preoccupied. Then when he goes for a Slingshot Suplex, Johnny counters it in a very sloppy way, so the cradle looks more like a car crash, and he barely holds Cage down for a 3. So a damn good match, that could've been match of the night, gets immensely ruined with the last few minutes.
Overall Score: 6.5/10
Given how good 2018 was for Impact by focusing on the in-ring action aside from the gimmicky WCW/TNA bullshit, this is painfully disappointing. The match quality took a severe hit because of how they wanted stories to play out, many spots didn't make as much sense and overall the show came off worse. Killer Kross attacking Johnny and Taya at the end of the show just made it feel even more like 2000 WCW.
Yeah the show wasn't bad, but compared to the Redemption, Slammiversary and Bound for Glory…this was sad. Felt more like one of those "Special Episodes" of Impact instead of PPV worthy.