Andrew's Impact Wrestling Homecoming 2019 Ratings & Review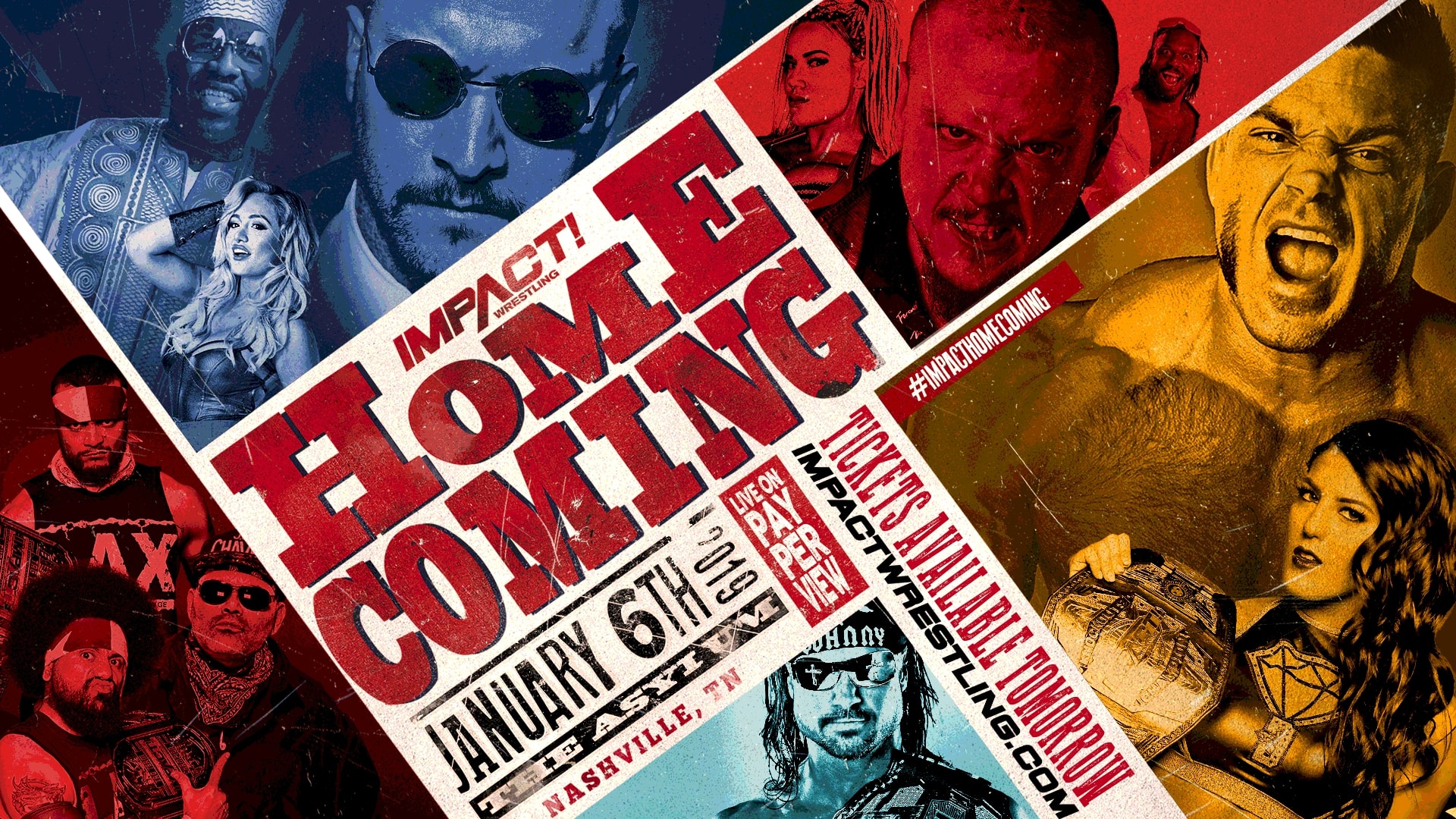 The first show isn't called Genesis anymore, but they are back in the Asylum. So will this be a sweet Homecoming for the company formerly known as TNA?
Impact Wrestling Homecoming is aptly named, and it also comes at a weird time. We know they're moving to an obscure hunting channel, but the product has been so good leading up to this event.
Eli Drake's witch pursuit thing against Hardcore wrestlers, Brian Cage cashing in Option C for a World Title shot and Taya Valkyrie with one last shot against Tessa Blanchard for the Knockout's Championship. We all know Tessa B ain't nuthin to F with, but will Homecoming live up to the build?
Ratings:
Ultimate X Match for X Division Title: Rich Swann vs Jake Crist vs  Trey vs Ethan Page – Swann retrieves the title @13:40 – ** 1/2
Allie & Su Yung vs Kiera Hogan & Jordyn Grace – Allie wins via Mandible Claw @8:55 – **
Falls Count Anywhere: Eddie Edwards vs Moose – Edwards wins via DDT @13:20 – *** 1/4
Sami Callihan vs Willie Mack – Callihan wins via Piledriver @10:15 – *** 1/2
Monster's Ball Match: Abyss vs Eli Drake – Drake wins via Consecutive Wooden Oar Shots @12:15 – ** 1/4
Impact Tag Team Championships: LAX (c) vs Lucha Bros – LAX retains via Tandem Inverted Suplex @11:20 – **** 1/4
Knockout's Championship w/Guest Referee Gail Kim: Taya Valkyrie vs Tessa Blanchard (c) –  Taya wins via Road to Valhalla @10:30 – *** 3/4 – TITLE CHANGE!!!
Impact World Championship: Johnny Impact (c) vs Brian Cage -Impact retains via Avalanche Cradle @19:35 – **** 
Review Notes:
Trey comes out looking like Ricochet…guess it's a reference to his Fresh Prince of Mid-Air nickname. The match was spotty as expected but hey even the belt had a nice callback. The belt fell and came undone causing an awkwardly long camera shot on the outside while Baby Ref saves the day. Swann flips out of a Super Frankensteiner, runs to the opposite corner and races Trey to the belt. It was weird and a little uneventful, but it was somewhat unique. So there's that.
The match was sloppy and mediocre. Not really shocked, but it was decent enough story telling. Kiera ate the Mandible Claw, they were gonna throw her into the coffin but Rosemary returns from the coffin. She tried to approach her friend Allie, but Allie ran off petrified. So now I guess we get Rosemary trying to save her Bunny.
Eddie and Moose was a fun match. Typical hardcore kind of stuff, good use of weapons and brawling. Alisha slides into the ring towards the end, does her usual shtick of telling Eddie to stop. Then says "Let me do it", and takes the Kendo Stick from him and beats Moose a few times before Eddie finishes it. So everything is good in the Edwards household finally, now lets see where these two go.
Hard hitting match with minimal Dave Crist interference. Willie had a comeback attempt towards the end where he was kicking out at 1 two times in a row. Sami Callihan looked like he was out of ides until he hits a Lariat that turned Mack inside out, and followed up with a Piledriver for the win. Go figure…a Piledriver is the finish.
Eli sold his ass off most of the match, but Abyss matches have just been clunky at best the last few years. Big Release German Suplex from inside the ropes as Abyss sends Drake flying through tables. There were thumb tacks, staple guns, chairs and zip ties. Granted the zip tie idea didn't work, so I'm glad they didn't spend too much time trying to work on that. It was okay, but very plodding.
Well now, LAX and Lucha Bros start off at a blistering pace and never really slow down. Some of the transitions were faster than the other partner were ready for though. Most notably when Pentagon and Fenix hit their Double Footstomp/Fear Factor tandem and Ortiz doesn't quite push Fenix into the pin to break it up, so Santana has to kick out. But the match was fast, a lot of crisp moves, but very much a spot fest. Also the awkward use of tags and the fact that camera caught Pentagon just kinda standing on the outside watching the finish instead of even trying to get in the ring. So yeah…very fun, the crowd loved it, but plenty of noticeable issues.
Early highlight was a Taya corner with a sign that says "Dicks Out 4 Taya" and then Tessa Dropkicked her head into the guardrail. The match was well wrestled, and then we get to the Heel/guest referee dynamic. Tessa didn't like a few two counts, accidentally hit Gail Kim, then Gail tried to take the title out of Tesssa's hands and accidentally hits Taya, but all near falls. Tessa gets completely distracted, attacks Gail, Gail counters, hits Eat DeFeat, Taya hits Road to Valhalla and we get a new champion. Maybe Gail comes out of retirement to face Tessa, or maybe someone champions her cause. All very logical progression on this story.
BIG ANNOUNCEMENT – Impact will be simulcast on Twitch Fridays at 10pm so even if you don't get Pursuit, you can still watch for free.
Very good match. The match proved they both knew each other, countering moves, avoiding things and having fairly good chemistry together. However, the finishing sequence, last 3 minutes, whatever you want to call it, were very typical TNA (I'm aware the company is called Impact, but people should know what I mean). Johnny's little Survivor buddies got in Cage's face, tried to jump the rail so the referee and no security had to keep them at bay. Cage hits a Drill Claw for a 15 count, but the ref is preoccupied. Then when he goes for a Slingshot Suplex, Johnny counters it in a very sloppy way, so the cradle looks more like a car crash, and he barely holds Cage down for a 3. So a damn good match, that could've been match of the night, gets immensely ruined with the last few minutes.
Overall Score: 6.5/10
Given how good 2018 was for Impact by focusing on the in-ring action aside from the gimmicky WCW/TNA bullshit, this is painfully disappointing. The match quality took a severe hit because of how they wanted stories to play out, many spots didn't make as much sense and overall the show came off worse. Killer Kross attacking Johnny and Taya at the end of the show just made it feel even more like 2000 WCW.
Yeah the show wasn't bad, but compared to the Redemption, Slammiversary and Bound for Glory…this was sad. Felt more like one of those "Special Episodes" of Impact instead of PPV worthy.
Andrew's Impact Wrestling Ratings & Analysis 6/14/2019
The first episode from the Melrose Ballroom in New York! Let's see how the first step to Impact Wrestling Slammiversary goes!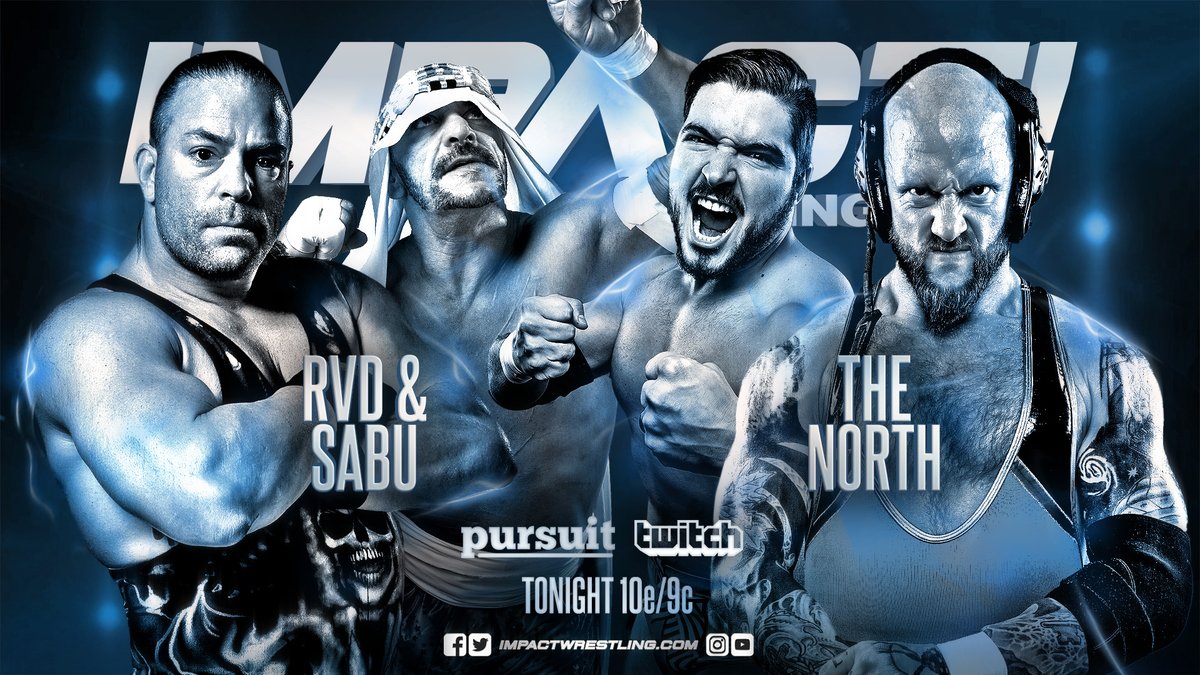 The first episode from the Melrose Ballroom in New York! Let's see how the first step to Impact Wrestling Slammiversary goes!
After some of the shenanigans from last week with Sandman bringing back Kenny, drunk Trey almost winning the tag titles for The Rascalz and Fulton and Sami Callihan trying to steal Melissa; this week has a lot of moving pieces.
Tessa also started a bit of an angle with oVe, which I'm curious about. It's one thing to beat up on Disco, but a bunch of degenerates led by Sami Callihan could be dangerous.
If you're still not sold on the Impact product, you need to learn respect like The Rascalz.
A huge BRAWL breaks out between LAX and The Rascalz! They want another shot at the Tag Team Championships! @SantanaLAX @Ortiz5150 @Konnan5150 @DezmondXavier @zachary_wentz @TheTreyMiguel #IMPACT

▶️ – https://t.co/sWu6SEAzEF pic.twitter.com/vQpZKUwBFl

— IMPACT (@IMPACTWRESTLING) June 15, 2019
Ratings:
The North (Ethan Page & Josh Alexander) vs RVD & Sabu w/Super Genie: The North win via Tandem Inverted Mat Slam – ** 1/2
Jessica Havok vs Nasha Slammovich: Havok wins via Tombstone Piledriver – *
Raj Singh vs Cody Deaner: Raj wins via Step Over Arm Wringer Driver – * 3/4
Jordynne Grace vs Madison Rayne: Rayne wins via CrossRayne – ***
Killer Kross vs The Sandman: Kross wins via Kross Jacket Choke – N/A
Michael Elgin vs Willie Mack: Elgin wins via Elgin Bomb – *** 1/4
Analysis:
Kid Ref allowed a lot in this match. He takes a very Japanese referee mentality when it comes to these matches, like he expects chairs so he just allows them. Sabu and RVD had a lot of classic offense, but Moose interfering on behalf of the North, was too much. Alexander caught Sabu, threw him around a little and then used a Tandem Inverted Mat Slam to finish him off. Apparently this sets up The North for a title shot at Bash at the Brewery.
Moose and The North are no longer buddies after The North allowed the ECW Originals to get a little revenge on Moose.
This was just a job match of destruction. Masha, Nasha, Asha…why give the girl such a dumb name when she's just jobbing. Sheesh. I do hope that was a bad name Impact just threw on her and it's not her working name. Havok just demolished the poor girl. Afterwards James Mitchell hops on the stick and says Havok is going to be the next Knockouts Champion after she dismantles Rosemary. He also called her the Kaiju Queen…which I like as a nickname.
Gimmicky match. Raj broke his nose at some point, Cody did some Redneck Hulk Up thing, heel interference, Gama faked a heart attack…kind of paint by numbers gimmick match to get to what I'm assuming is a tag match between the two in a couple weeks.
Rosemary with a good promo, and she looked quite good as well. Just all Aces for Rosemary.
Impact Plus Flashback: Dixie Goes Through a Table, IMPACT, August 7,2014
.@TheSamiCallihan barges into the WOMEN'S LOCKER ROOM but @Tess_Blanchard is right there to answer the door!#IMPACT

▶️ – https://t.co/sWu6SEAzEF pic.twitter.com/GIdlwp3lFL

— IMPACT (@IMPACTWRESTLING) June 15, 2019
Solid match. Scary moment when Madison looked like she was supposed to float over the top rope and land on the apron, but she over shot and just fell into the barricade. Luckily it didn't look to hurt too much and could be argued that Jordynne is so powerful it was meant to happen. Aside from that and a small slip in the corner, the match was pretty good. Kiera Hogan coming out with her new bad girl Blue Flame persona on commentary was great. She looked fantastic in her dress with her new personality.  A subtle distraction from Kiera costs Jordynne the match, but she didn't physically interfere.
Sandman tried to jump Kross mid entrance, bit Kross was keen to the tactic. Sandman did get in a few shots with the fists and the cane, but Kross locks in the choke and as Josh Matthews said, " Exit light". Eddie Edwards makes the save when Kross won't let go of the hold, so it's continuing the build for their blow off.
A little Smoke Show backstage moment with Fallah, Scarlett, Taya and John E. Bravo. More comedy driven than Scarlett being sexy, and it's actually really awesome. Scarlett comes off more adorable/endearing, but Taya's bitchiness is a little forced. Watch this for Scarlett and Fallah.
.@Lady_Scarlett13 informs @TheTayaValkyrie that she has to defend her Knockouts Championship against @realsuyung NEXT WEEK or risk losing it! #IMPACT

▶️ – https://t.co/sWu6SEAzEF pic.twitter.com/8l1Qw2akCN

— IMPACT (@IMPACTWRESTLING) June 15, 2019
Solid match for what felt like an 8 minute match. Willie and Big Mike put in great work, and Willie getting distracted since Mike attacked Rich Swann protects him a little. Also Johnny Impact eating a German Suplex from Big Mike at least makes it obvious he's not allied with Johnny.
Overall Score: 6.75/10
This was a good show, but some of the finer points didn't seem as good as previous weeks. The fact it took Impact 1 hour to figure out the sound for the Twitch interaction was amusing yet dumb. Don Callis and Melissa were supposed to do it together, but Melissa loses against technology most weeks and this was such a big loss she just stopped trying to call in through Skype.
We had a few decent matches, but most of them felt like matches to get to the next story point. So a few short worthless matches, a few gimmicked matches, and we have an entertaining, yet a little flat episode. I'm just really amused by Scarlett being more charming and funny…hell Laredo Kid robbing the Rascalz after the bar fight was great too.
Twitch Views:
5/3/2019 – LOW: 4,000/HIGH 6,550
5/10/2019 – LOW: 3,800/HIGH: 7,130
5/17/2019 – LOW: 6,900/HIGH: 12,220
5/24/2019 – LOW: 5,200/HIGH: 10,070
5/31/2019 – LOW: 4,550/HIGH: 8,075
6/7/2019 – LOW: 7,100/HIGH: 13,606
6/14/2019 – LOW: 3,400/HIGH: 8,250
Okay so after so really solid weeks, this was one of those slow burn episodes. The show gradually built the viewership as the show went on, but didn't really hold like most weeks. Most weeks I say " It started off low but never dropped below 6,000 once it got there". This week was just a slow increase and never had one of those obvious benchmarks. A little weird, but the numbers remain within that 6-8,000 consistent viewers.
Andrew's Impact Wrestling Ratings & Analysis 6/7/2019
The last show from the 2300 Arena! How do the ECW originals impact the show tonight?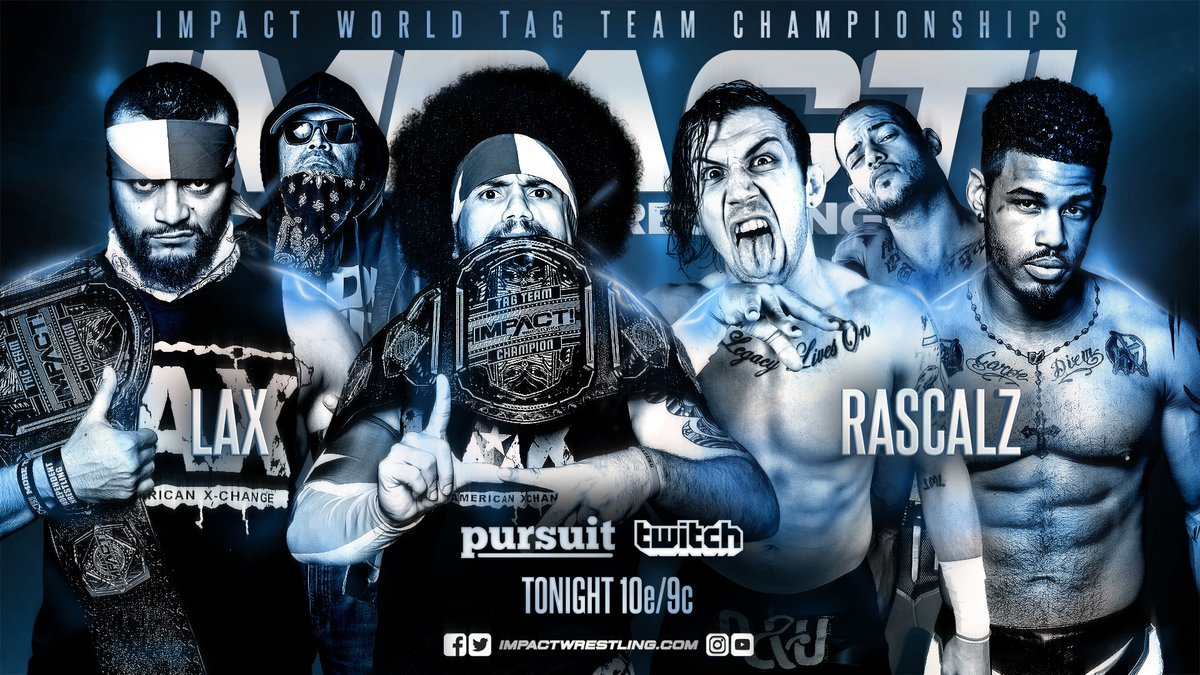 The last show from the 2300 Arena! How do the ECW originals impact the show tonight?
Between Tessa Blanchard knocking out Disco Inferno and The Rascalz getting a tag match, we've got some interesting options tonight.
Do we get more ECW nostalgia like last week? Or do the newer generation take the spotlight?
Either way, reincarnate your interest in the Impact Wrestling product, just like Kenny! Or is it Kenny 2.0? Nah, it's Kenny come back from the dead…right?
The SANDMAN helps @TheEddieEdwards feel a little more comfortable with his new kendo stick! #IMPACT

▶️ – https://t.co/sWu6SEiYN7 pic.twitter.com/j4INxNmW01

— IMPACT (@IMPACTWRESTLING) June 8, 2019
Ratings:
Ace Austin vs Cousin Jake: Austin wins via The Fold – ** 3/4
Rosemary w/Su Yung vs Taya Valkyrie: Rosemary wins via DQ – * 1/2
Madman Fulton vs Two Jabronis: Fulton murders them – N/A
Jake & Dave Crist vs Fallah Bahh & Scarlett Bordeaux: Dave Cris wins via Loaded Fist – ** 3/4
Kiera Hogan vs Jordynne Grace: Grace wins via Grace Driver – ***
Tag Team Championship Match: LAX (c) vs Dez & Wentz: LAX retain via Dusty Finish – ****
Analysis:
Nice contrast of styles to start the show with. Big Jake is considerably larger than Ace, so he used his speed and technical ability to keep Jake's head spinning. Eventually Jake caught him with a big lariat and started his comeback. But the Desi Hit Squad attacked Cody Deaner on the outside, distracting Jake and allowing Ace to pick up the win. Solid match, with a story wrinkle. Good start.
Backstage interview to hype Taya's non-title match with Rosemary.
Well I guess the only real excuse for this, is that Rosemary is still working her way back after injury. Cause all of her more traditional matches since her return, have been hard to watch. Jessica Havok returns to Impact as James Mitchell's new weapon. She wipes out Rosemary and Taya, they get Su Yung back and celebrate.
The Rascalz @DezmondXavier & @zachary_wentz prepare for their Tag Team Championship opportunity against LAX @SantanaLAX & @Ortiz5150 TONIGHT!#IMPACT

▶️ – https://t.co/sWu6SEiYN7 pic.twitter.com/Fc0ISHIPRt

— IMPACT (@IMPACTWRESTLING) June 8, 2019
IMPACT Plus Flashback Moment: Raven vs Shane Douglas, Hair vs Hair, NWA-TNA PPV #62, September 17,2003
Fulton has a Squash match, nice. And by nice I mean…a waste of time. But it feeds into the Crists vs Scarlett and Fallah, so, it's something.
This tag match wasn't bad at all. Fallah tried to keep Scarlett out of the match as long as possible. He fired up and showed a good amount of aggression. When Scarlett got in, she did pretty well. Fallah and Scarlett even hit a Doomsday Device. However, the roll of quarters did in the fan favorite Beauty and The Bahh. The Crists then try to beat on Scarlett more, but Tessa Blanchard makes the save to a nice reaction.
Sami and Fulton steal Melissa's sandals and try to take her to a party during the Twitch live exclusive stuff. Watching on Twitch is great.
Kiera and Jordynne have a much more competitive match than one would expect. Kiera had a counter for nearly everything Jordynne threw and used her speed to get around Jordynne's power. Solid match that also does a lot to fully confirm Kiera's heel turn.
Okay the main event was great. Yes it was a bit of a spot fest, but Trey's enjoyment of Ortiz's moonshine was established last week and played a part in the match this week. So a high work rate match that saw a bunch of near falls, came down to a Dusty Finish. Ortiz was mad Trey was drinking his moonshine, so he took a swing, got hit in the stomach and blinded the referee. Feeling overzealous, a drunk Trey does his diving Meteora finisher and pins Santana. Kid Ref comes in, counts the fall and The Rascalz win! But when the assigned referee can see, he admonishes Kid Ref and reverses the decision since Trey wasn't a legal competitor. Fun match, fun wrinkle.
Overall Score: 7.75/10
Twitch really adds a layer to the enjoyment factor. The story progression and matches were all pretty solid. Even Rosemary's less than average match had good story ramifications. I'm also curious if Trey's drinking problem will play into the future story of The Rascalz.
Plus on Twitch we learned about how crazy Eddie Edwards really is (Kotoge is proud) and that Fulton has a baby room in the basement where he likes flowers and The Little Mermaid VHS tapes. I'm not kidding, Twitch is an experience some weeks!
Twitch Views:
5/3/2019 – LOW: 4,000/HIGH 6,550
5/10/2019 – LOW: 3,800/HIGH: 7,130
5/17/2019 – LOW: 6,900/HIGH: 12,220
5/24/2019 – LOW: 5,200/HIGH: 10,070
5/31/2019 – LOW: 4,550/HIGH: 8,075
6/7/2019 – LOW: 7,100/HIGH: 13,606
Well now, we set a new second highest Twitch viewership for Impact this year! Still hasn't quite eclipsed the 14k set closer to the beginning of the move, but still damn good. Three out of the last four weeks have had over 10k viewers. Not sure what's driving the interest, but it's a good sign for Impact.