Andrew's Impact Wrestling Homecoming 2019 Ratings & Review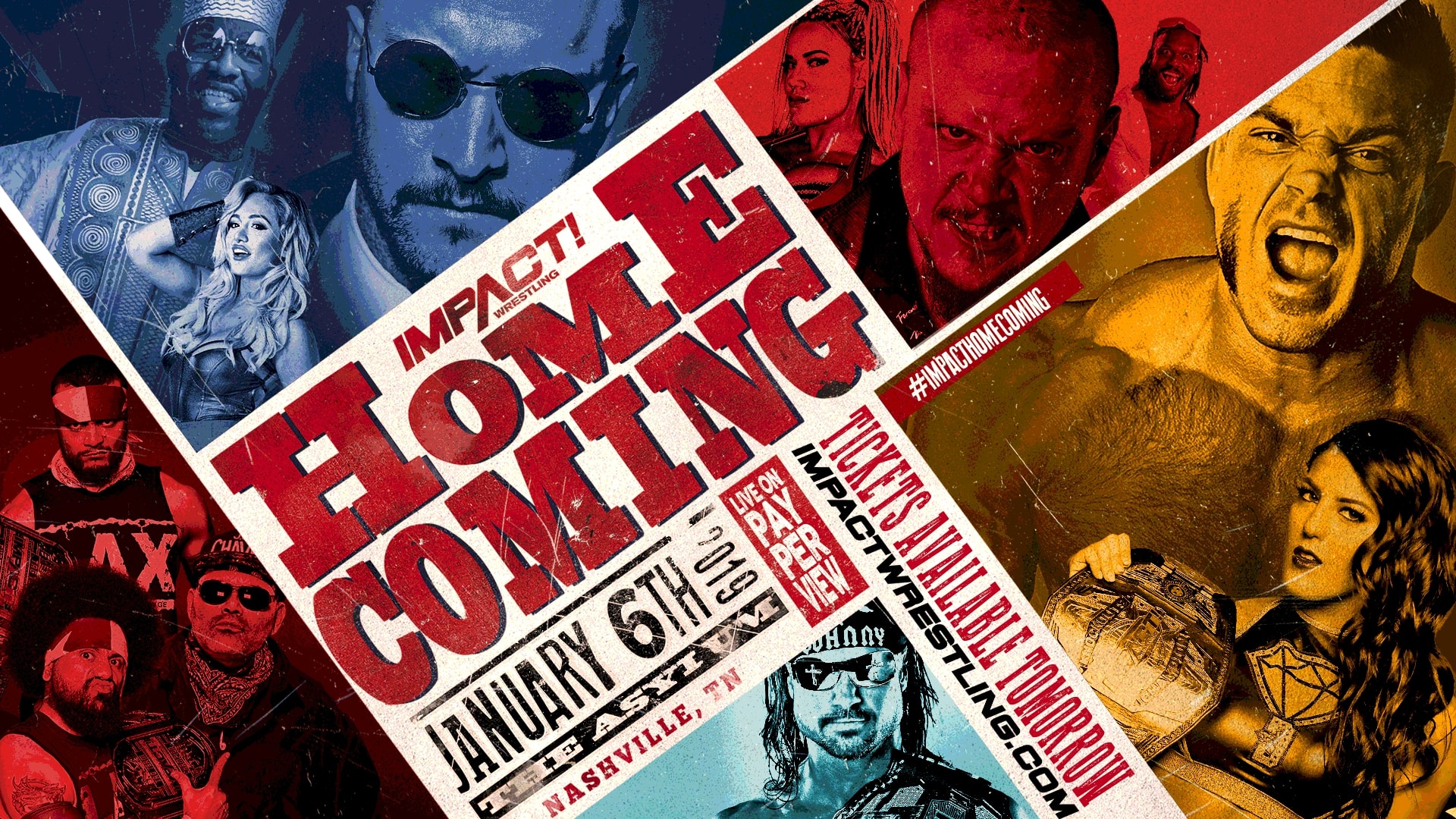 The first show isn't called Genesis anymore, but they are back in the Asylum. So will this be a sweet Homecoming for the company formerly known as TNA?
Impact Wrestling Homecoming is aptly named, and it also comes at a weird time. We know they're moving to an obscure hunting channel, but the product has been so good leading up to this event.
Eli Drake's witch pursuit thing against Hardcore wrestlers, Brian Cage cashing in Option C for a World Title shot and Taya Valkyrie with one last shot against Tessa Blanchard for the Knockout's Championship. We all know Tessa B ain't nuthin to F with, but will Homecoming live up to the build?
Ratings:
Ultimate X Match for X Division Title: Rich Swann vs Jake Crist vs  Trey vs Ethan Page – Swann retrieves the title @13:40 – ** 1/2
Allie & Su Yung vs Kiera Hogan & Jordyn Grace – Allie wins via Mandible Claw @8:55 – **
Falls Count Anywhere: Eddie Edwards vs Moose – Edwards wins via DDT @13:20 – *** 1/4
Sami Callihan vs Willie Mack – Callihan wins via Piledriver @10:15 – *** 1/2
Monster's Ball Match: Abyss vs Eli Drake – Drake wins via Consecutive Wooden Oar Shots @12:15 – ** 1/4
Impact Tag Team Championships: LAX (c) vs Lucha Bros – LAX retains via Tandem Inverted Suplex @11:20 – **** 1/4
Knockout's Championship w/Guest Referee Gail Kim: Taya Valkyrie vs Tessa Blanchard (c) –  Taya wins via Road to Valhalla @10:30 – *** 3/4 – TITLE CHANGE!!!
Impact World Championship: Johnny Impact (c) vs Brian Cage -Impact retains via Avalanche Cradle @19:35 – **** 
Review Notes:
Trey comes out looking like Ricochet…guess it's a reference to his Fresh Prince of Mid-Air nickname. The match was spotty as expected but hey even the belt had a nice callback. The belt fell and came undone causing an awkwardly long camera shot on the outside while Baby Ref saves the day. Swann flips out of a Super Frankensteiner, runs to the opposite corner and races Trey to the belt. It was weird and a little uneventful, but it was somewhat unique. So there's that.
The match was sloppy and mediocre. Not really shocked, but it was decent enough story telling. Kiera ate the Mandible Claw, they were gonna throw her into the coffin but Rosemary returns from the coffin. She tried to approach her friend Allie, but Allie ran off petrified. So now I guess we get Rosemary trying to save her Bunny.
Eddie and Moose was a fun match. Typical hardcore kind of stuff, good use of weapons and brawling. Alisha slides into the ring towards the end, does her usual shtick of telling Eddie to stop. Then says "Let me do it", and takes the Kendo Stick from him and beats Moose a few times before Eddie finishes it. So everything is good in the Edwards household finally, now lets see where these two go.
Hard hitting match with minimal Dave Crist interference. Willie had a comeback attempt towards the end where he was kicking out at 1 two times in a row. Sami Callihan looked like he was out of ides until he hits a Lariat that turned Mack inside out, and followed up with a Piledriver for the win. Go figure…a Piledriver is the finish.
Eli sold his ass off most of the match, but Abyss matches have just been clunky at best the last few years. Big Release German Suplex from inside the ropes as Abyss sends Drake flying through tables. There were thumb tacks, staple guns, chairs and zip ties. Granted the zip tie idea didn't work, so I'm glad they didn't spend too much time trying to work on that. It was okay, but very plodding.
Well now, LAX and Lucha Bros start off at a blistering pace and never really slow down. Some of the transitions were faster than the other partner were ready for though. Most notably when Pentagon and Fenix hit their Double Footstomp/Fear Factor tandem and Ortiz doesn't quite push Fenix into the pin to break it up, so Santana has to kick out. But the match was fast, a lot of crisp moves, but very much a spot fest. Also the awkward use of tags and the fact that camera caught Pentagon just kinda standing on the outside watching the finish instead of even trying to get in the ring. So yeah…very fun, the crowd loved it, but plenty of noticeable issues.
Early highlight was a Taya corner with a sign that says "Dicks Out 4 Taya" and then Tessa Dropkicked her head into the guardrail. The match was well wrestled, and then we get to the Heel/guest referee dynamic. Tessa didn't like a few two counts, accidentally hit Gail Kim, then Gail tried to take the title out of Tesssa's hands and accidentally hits Taya, but all near falls. Tessa gets completely distracted, attacks Gail, Gail counters, hits Eat DeFeat, Taya hits Road to Valhalla and we get a new champion. Maybe Gail comes out of retirement to face Tessa, or maybe someone champions her cause. All very logical progression on this story.
BIG ANNOUNCEMENT – Impact will be simulcast on Twitch Fridays at 10pm so even if you don't get Pursuit, you can still watch for free.
Very good match. The match proved they both knew each other, countering moves, avoiding things and having fairly good chemistry together. However, the finishing sequence, last 3 minutes, whatever you want to call it, were very typical TNA (I'm aware the company is called Impact, but people should know what I mean). Johnny's little Survivor buddies got in Cage's face, tried to jump the rail so the referee and no security had to keep them at bay. Cage hits a Drill Claw for a 15 count, but the ref is preoccupied. Then when he goes for a Slingshot Suplex, Johnny counters it in a very sloppy way, so the cradle looks more like a car crash, and he barely holds Cage down for a 3. So a damn good match, that could've been match of the night, gets immensely ruined with the last few minutes.
Overall Score: 6.5/10
Given how good 2018 was for Impact by focusing on the in-ring action aside from the gimmicky WCW/TNA bullshit, this is painfully disappointing. The match quality took a severe hit because of how they wanted stories to play out, many spots didn't make as much sense and overall the show came off worse. Killer Kross attacking Johnny and Taya at the end of the show just made it feel even more like 2000 WCW.
Yeah the show wasn't bad, but compared to the Redemption, Slammiversary and Bound for Glory…this was sad. Felt more like one of those "Special Episodes" of Impact instead of PPV worthy.
Andrew's Impact Wrestling Ratings & Analysis 3/22/2019
Andrew checks in on IMPACT to see how Johnny validates his betrayal of The Machine called Cage!
Andrew checks in on IMPACT to see how Johnny validates his betrayal of The Machine called Cage!
Even though I rated last week barely above average, we did get a bigger story arc that people seemed to be interested in according to YouTube numbers.
That's got to account for something when it drew some attention, even on a show that was a little lackluster. However, now we're on the Go Home to Against All Odds!
With the TV special looming, Sami Callihan tries to make an example out of Richie and take the X Division title. Let's see how that turns out!
.@TheSamiCallihan wants to take EVERYTHING from @GottaGetSwann.

And he's going to start with the X-Division Championship TONIGHT! #IMPACT

WATCH NOW – https://t.co/jyZYT78lVE pic.twitter.com/zggZ4AWNEd

— IMPACT (@IMPACTWRESTLING) March 23, 2019
Ratings:
Moose vs Trey: Moose wins via Spear – * 1/2
Fallah Bahh & KM vs Eli Drake & Eddie Edwards: Eddie wins via Boston Knee Party – ** 1/4
Ace Austin vs Damian Hyde: Ace wins via The Fold – **
Ethan Page vs Willie Mack: Mack wins via Stunner – ** 1/4
X Division Championship Match: Sami Callihan vs Rich Swann (c): Swann retains via Cradle – *** 1/2
Analysis:
Moose has a bone to pick with the Rascalz since they were making jokes about him striking out with Melissa. As for the match, I don't know what happened here. Moose looked great with deliberate power moves, but Trey had more missteps than Johnny has last names. He got tied up in the ropes at least once, he came out of a Tiger Feint reversal weird, completely wiffed a Code Breaker attempt…and those are just the notable things that stuck out. I like the way Moose wrestled this match, but yeah, Trey was made the match rough. MOOSE!
Solid tag match, Eli and Eddie have this odd couple chemistry which is perfect. Eddie grabbed Kenny the kendo stick and Don said " That's the most famous Kenny in wrestling at the moment". That popped me more than I'd like to admit, but the wrinkle came when Eddie threw Kenny back outside to Eli so Eli could hit KM while the ref continued to admonish Eddie. So Eddie is okay with Eli using Kenny and they seem to keep building this team nicely. Fun match.
GWN Flashback Match: Brian Cage vs Fenix ReDefined August 30,2018.
Rolando Menendez gets shoved into a trash can.
Ace Austin in another enhancement match, but this time he dominates better and shows off his agility. Ace looked smooth as butter, so a much better showing for the new talent.
Madison Rayne maybe?
Two weeks. #IMPACT

WATCH NOW – https://t.co/jyZYT6QL46 pic.twitter.com/0TYN2wD3wd

— IMPACT (@IMPACTWRESTLING) March 23, 2019
Johnny explains his heel turn and blames the smarks. Starting to be a tired excuse for reasons, but hey, it's wrestling. Johnny plays the "I've defended this title more than anyone" reasoning. He makes an analogy that people only watch wrestling for the crashes like NASCAR. Taya says they control the belts so they have the power. It was kind of a flat promo, but solidifies them as shitty heels.
Rosemary and Jim Mitchell have a moment where Rosemary says she'll go back to the undead realm and talk to HIM, if Jim won't give her what she wants. So we know where this is going. But since Supernatural was announced to be coming to an end, do things not bode well for Rosemary?
Decent match where Willie and Ethan both showed their hybrid abilities. Ethan's "All Ego" has been biting him in the ass often enough during his time in IMPACT. A Cross Arm Iconoclasm gave Page a near fall, but Willie puts together the right combination of offense and lands the Stunner for the win. Nothing super special, but decent TV match.
What did @realKILLERkross just tell @TheRealMorrison? #IMPACT

WATCH NOW – https://t.co/jyZYT6QL46 pic.twitter.com/7oLQIwhSOO

— IMPACT (@IMPACTWRESTLING) March 23, 2019
Rolando interviews Disco at the bar. Glenn says he doesn't have to try since it's a girl. It's actually quite amusing.
Melissa catches Gail Kim coming out of management's office about Tessa's earlier demands, and then a brawl between LAX and Lucha Bros kicks up.
Really good match between Swann and Callihan. Signature moves kicked out of, nice back and forth…just a generally solid match with good flurries from both men. Rich with the surprise Cradle win allows for Sami to get upset and we get a new face to IMPACT! Sawyer Fulton shows up and reveals an oVe shirt. Seems like he's going by Mad Man Fulton in IMPACT. This all makes sense after being a part of Sami's Death Machines stable in MLW as well.
Overall Score: 6/10
Decent show, slightly above average. The show felt a little better than last week, but still fell a little flat as a 'Go Home' show. We got a few good filmed segments either for comedy or story progression. Eli and Eddie's match lends to more build for them. The main event was really good wrestling wise and story wise. Nothing was pushed by leaps and bounds, but we got everything we could want in a weekly TV show. Story progression, solid wrestling and different elements of entertainment.
Twitch Views:
Week 1: High – 10,350 / Low – 8,500
Week 2: High – 8,000 / Low – 6,500 
Week 3: High – 8,500 / Low – 7,900  
Week 4: High – 7,100 / Low – 5,300
Week 5: High – 7,450 / Low – 5,650
Uncaged: High – 9,000/ Low – 8,000
Week 6: High – 8,025/ Low – 5,300
Week 7: High – 14,400/Low – 9,800
Week 8: High – 7,200/Low – 4,500
Week 9: High – 9,700/Low – 4,000
Week 10: High – 4,900/Low – 4,150
Well now, first night of the NCAA Tournament could've played into a huge hit for the top end. The show comes in with it's lowest viewership since being on Twitch. Yes, maybe the barely average show last week didn't help, but whenever WWE has a lower audience during a large event, people love to use THAT as the reason. So see, I can do it too. You can't stop me. No take backs.
All seriousness though, the show averaged like 4,600 viewers and after 3 fairly strong weeks, this has to be a disappointment. Next week is Against All Odds, so maybe people were taking the week off before the TV Special…but still, not great.
Andrew's IMPACT Wrestling Ratings & Analysis 3/15/2019
Andrew keeps the IMPACT Wrestling coverage coming! Does Brian Cage gets his title shot?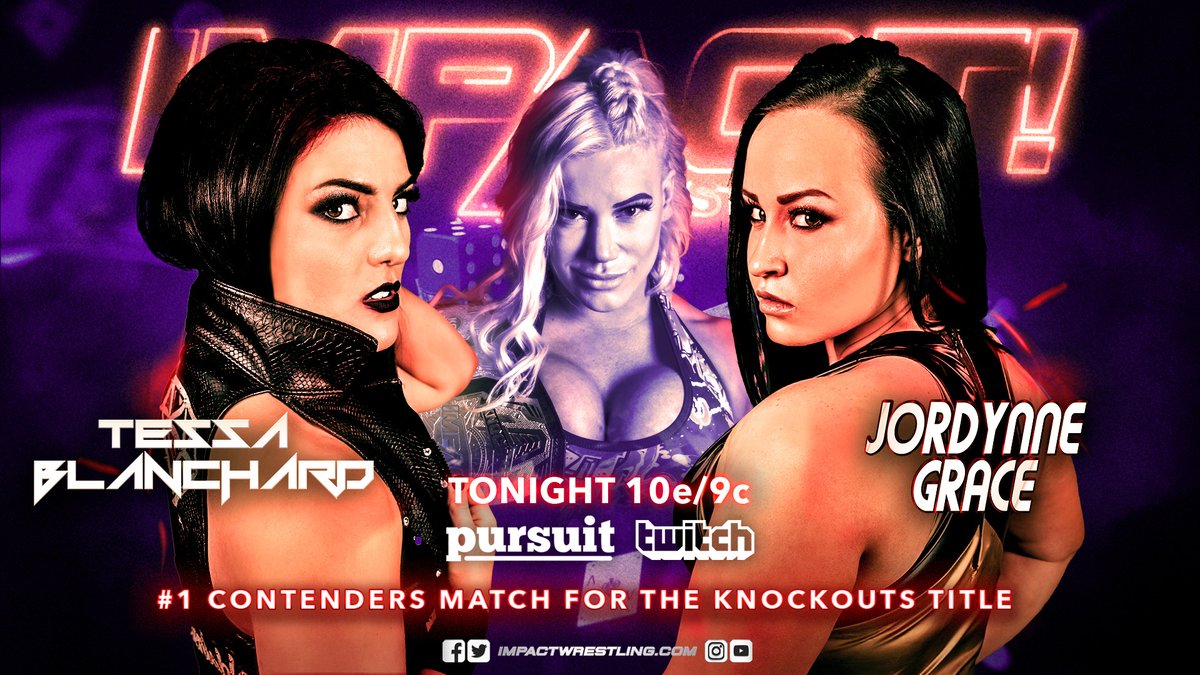 Andrew keeps the IMPACT Wrestling coverage coming! Does Brian Cage gets his title shot?
So this show has potential to make some big story waves coming off the Dark War, Eli and Eddie trying on being a team and Brian Cage's rematch.
That gives us a lot of unresolved issues with a few weeks until Against All Odds.
Speaking of unresolved issues…Ohio Versus Everything…amirite?!
"I'm going to take everything you love away from you." @TheSamiCallihan is coming for EVERYTHING. #IMPACT

WATCH NOW – https://t.co/jyZYT6QL46 pic.twitter.com/0nEmytzqEZ

— IMPACT (@IMPACTWRESTLING) March 16, 2019
Ratings:
Sami Callihan & oVe vs Willie Mack, Rich Swann & Tommy Dreamer: Callihan wins via Piledriver – ** 1/2
Glenn Gilbertti vs Kikutaro: Glenn wins via Chart Buster – ** 1/4
KM & Fallah Bahh vs Reno Scum: Fallah wins via Belly to Belly Suplex – **
Number 1 Contender Match: Tessa Blanchard vs Jordynne Grace: Grace wins via Grace Driver – *** 1/4
Desi Hit Squad vs Eli Drake & Eddie Edwards: Eddie wins via Kendo Stick Strike – ** 1/2
Analysis:
Well okay…this match was very, slapstick. Dreamer played up a lot of comedy. He readjusted from the top all the way to the bottom turnbuckle before doing a Double Axehandle. Sami spat a big loogie on his face and he ate it, which caused Sami to have a gross out face. Swann and Mack helped Sami do a kip up, they egged him on to do a Frog Splash. Then the match ends with Sami slipping out of a Spicolli Driver, hitting a groin claw and then Piledriver. Just a lot of goofball indy spots that some people enjoy but I don't really care for. But hey, when puking on someone's dick goes viral…I guess there's definitely a crowd for this.
Melissa is back on twitch video! So yup, I think they figured out their formula unless she has a conflicting booking.
Rascalz segment, just watch:
It's all fun and games with @TheMooseNation and The Rascalz until Moose starts to strangle somebody. #IMPACT @TheTreyMiguel @DezmondXavier @zachary_wentz

WATCH NOW – https://t.co/jyZYT6QL46 pic.twitter.com/OdJgj8w42s

— IMPACT (@IMPACTWRESTLING) March 16, 2019
Alright, Disco was amusing. He asked for a clown, got Kikutaro and went to the announce table just to say " Isn't this guy like the champion of New Japan or something". As for the match, it's alright. Disco is still in great shape, plays up goofy jerk, hits his Disco move occasionally and even attempts the Village People's Elbow. Which is the People's Elbow but he does the YMCA dance first. Kikutaro did some Muta references during the match, so that was a little neat. Not bad for what it was, but two comedy matches to get the show rolling is a little rough.
Rolando Menendez investigative reporter segment with Taya. Taya says she's concerned but I don't buy any of this. Johnny CharismaVacuum needs to drop the belt.
Scum took out Fallah early, so it was a lot of KM fighting from underneath. Fallah eventually got back to the apron, wanted the hot tag and performed decently while favoring his leg. Short match, but not bad, just short and a little simple.
Konnan asks Pentagon and Fenix when the rematch is and they basically blow him off in cool Spanish Cero Miedo kind of ways.
LAX segment after the commercial break with a pissed off Konnan with Ortiz and Santana playing more comedy support. Scarecrows man.
Tessa dominated most of this match, and it was a solid match. But Tessa's temper and the Gail Kim situation distracted her numerous times to yell at the referee or the crowd. After the loss Tessa freaks out and tries to kill the bell keeper kid in a pink shirt and pizza tie. Gail comes in for the save and clears Tessa out. Hopefully this leads to a match at Rebellion.
After the altercation in the ring:
.@gailkimITSME has been SUSPENDED by @ScottDAmore for going too far and putting her hands on @Tess_Blanchard. #IMPACT

WATCH NOW – https://t.co/jyZYT6QL46 pic.twitter.com/yDxmi0KFzO

— IMPACT (@IMPACTWRESTLING) March 16, 2019
GWN Flashback Match: Sting vs RVD at TNA Slammiversary 2010.
Broken Bunny back stage segment. Rosemary doesn't know where the rest of the Bunny is, so it seems like we're going to keep this angle going a little longer.
The tag match was actually really solid even though it was really short. But there was some nice story elements when Eli got frustrated, slides in, takes out the other two but Gama distracts the ref and Eli throws in Kenny and Eddie uses it, then throws it back out seamlessly for the pinfall. Eli and Eddie actually look like they have a moment of understanding. This could be the birth of a great tag team run.
Another GWN Flashback? Abyss vs Sabu at TNA Turning Point 2005. So…did someone hit the wrong button or did Melissa and Don get busy so this is in lieu of the Skype sessions? Ahh the barbed wire sandwich match, that's right!
And Melissa accidentally interrupts the show feed after the Flashback. She always has some kind of technical difficulty. So glad she committed to the gimmick.
Well Killer Kross carries out Johnny's body and a cinder block. It looks like he's going to smash Johnny's head, security tries to break it up, Kross kills them. Taya drags out Cage to help, Cage refuses until Taya gets involved. Cage slides in to protect Taya, and then she low blows him. Johnny kips up and the beat down of Cage begins. Taya and Johnny are now heels, Kross is laughing on the outside, and Cage is knocked out with the cinder block in the ring. Top 10 Anime Betrayals.
Overall Score: 5.5/10
Okay show from Impact Wrestling. Also, I'm very picky with my brand of comedy, and what Dreamer was doing and the whole Disco/Kikutaro segment was fine. But it felt a little odd especially when the oVe/Rich Swann story is so personal and gritty, then you have goofy spots. It's just a tone shift I don't appreciate. It's like if Metallica did Children's Songs (yes it's a reference to the old Jim Breuer joke…but if you get that, then you know what I mean).
So yeah, if you ask me, this just felt like an entire filler episode. Aside from the heel turn from Taya and Johnny (that most saw coming after the disingenuous satellite interview last week), this was mostly skippable.
Twitch Views:
Week 1: High – 10,350 / Low – 8,500
Week 2: High – 8,000 / Low – 6,500 
Week 3: High – 8,500 / Low – 7,900  
Week 4: High – 7,100 / Low – 5,300
Week 5: High – 7,450 / Low – 5,650
Uncaged: High – 9,000/ Low – 8,000
Week 6: High – 8,025/ Low – 5,300
Week 7: High – 14,400/Low – 9,800
Week 8: High – 7,200/Low – 4,500
Week 9: High – 9,700/Low – 4,000
This is another slow start week. Granted some of it could've been because of the ROH Anniversary show, but the high is actually the 3rd best historically. Also a point of note is that after the numbers shot up (took about 30 minutes), the viewers never dropped below 8,500. I'm surprised the number stayed as strong as it did for a show that was tied with the lowest score I've given so far this year.
Funnily enough,  the last 5.5 show came two weeks before UNCAGED, and we're two weeks before Against All Odds. I wonder if that's a coincidence or a trend that two weeks before a big show is the throw away show? Only one way to find out, right?