Andrew's Impact Wrestling Homecoming 2019 Ratings & Review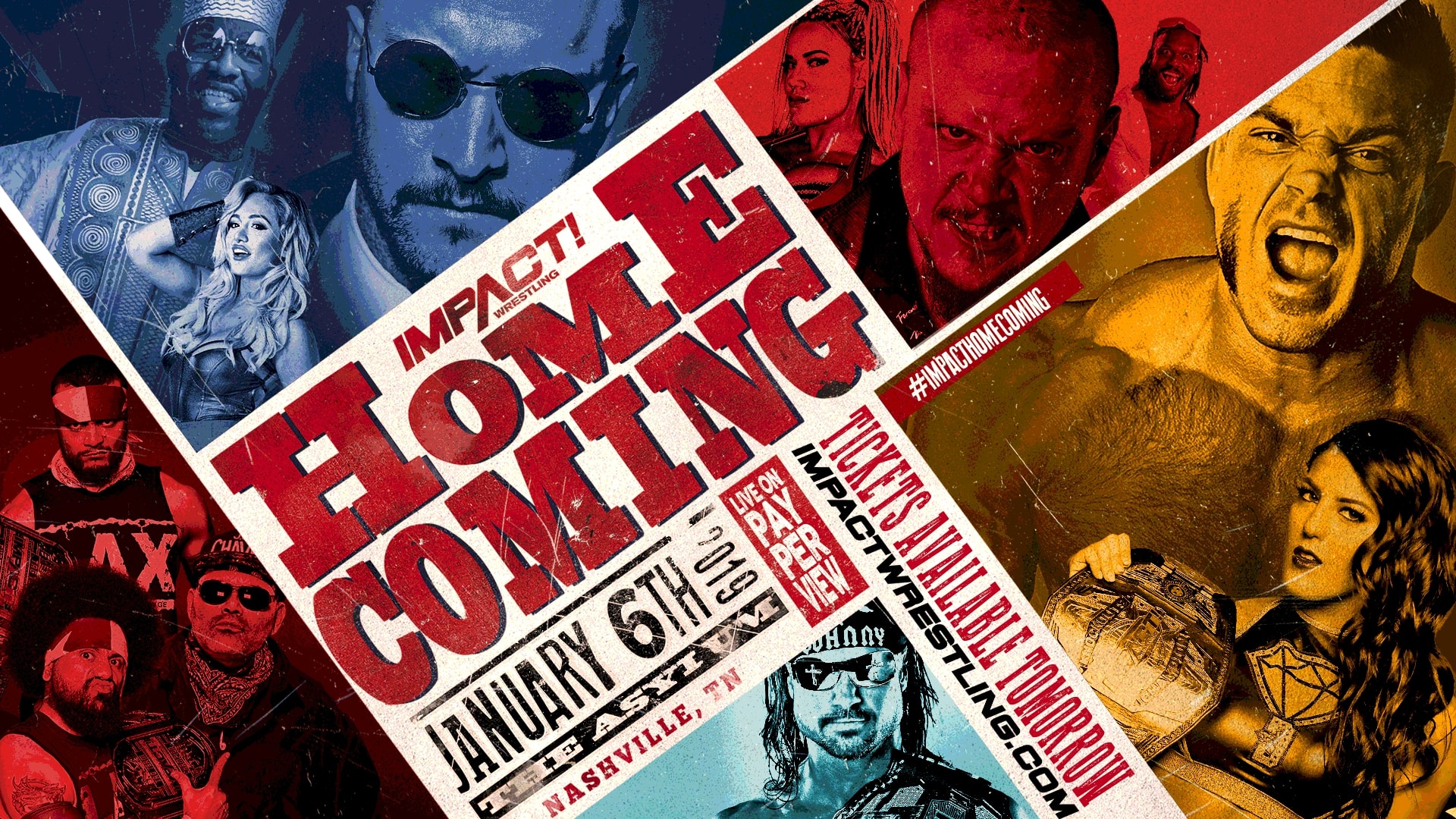 The first show isn't called Genesis anymore, but they are back in the Asylum. So will this be a sweet Homecoming for the company formerly known as TNA?
Impact Wrestling Homecoming is aptly named, and it also comes at a weird time. We know they're moving to an obscure hunting channel, but the product has been so good leading up to this event.
Eli Drake's witch pursuit thing against Hardcore wrestlers, Brian Cage cashing in Option C for a World Title shot and Taya Valkyrie with one last shot against Tessa Blanchard for the Knockout's Championship. We all know Tessa B ain't nuthin to F with, but will Homecoming live up to the build?
Ratings:
Ultimate X Match for X Division Title: Rich Swann vs Jake Crist vs  Trey vs Ethan Page – Swann retrieves the title @13:40 – ** 1/2
Allie & Su Yung vs Kiera Hogan & Jordyn Grace – Allie wins via Mandible Claw @8:55 – **
Falls Count Anywhere: Eddie Edwards vs Moose – Edwards wins via DDT @13:20 – *** 1/4
Sami Callihan vs Willie Mack – Callihan wins via Piledriver @10:15 – *** 1/2
Monster's Ball Match: Abyss vs Eli Drake – Drake wins via Consecutive Wooden Oar Shots @12:15 – ** 1/4
Impact Tag Team Championships: LAX (c) vs Lucha Bros – LAX retains via Tandem Inverted Suplex @11:20 – **** 1/4
Knockout's Championship w/Guest Referee Gail Kim: Taya Valkyrie vs Tessa Blanchard (c) –  Taya wins via Road to Valhalla @10:30 – *** 3/4 – TITLE CHANGE!!!
Impact World Championship: Johnny Impact (c) vs Brian Cage -Impact retains via Avalanche Cradle @19:35 – **** 
Review Notes:
Trey comes out looking like Ricochet…guess it's a reference to his Fresh Prince of Mid-Air nickname. The match was spotty as expected but hey even the belt had a nice callback. The belt fell and came undone causing an awkwardly long camera shot on the outside while Baby Ref saves the day. Swann flips out of a Super Frankensteiner, runs to the opposite corner and races Trey to the belt. It was weird and a little uneventful, but it was somewhat unique. So there's that.
The match was sloppy and mediocre. Not really shocked, but it was decent enough story telling. Kiera ate the Mandible Claw, they were gonna throw her into the coffin but Rosemary returns from the coffin. She tried to approach her friend Allie, but Allie ran off petrified. So now I guess we get Rosemary trying to save her Bunny.
Eddie and Moose was a fun match. Typical hardcore kind of stuff, good use of weapons and brawling. Alisha slides into the ring towards the end, does her usual shtick of telling Eddie to stop. Then says "Let me do it", and takes the Kendo Stick from him and beats Moose a few times before Eddie finishes it. So everything is good in the Edwards household finally, now lets see where these two go.
Hard hitting match with minimal Dave Crist interference. Willie had a comeback attempt towards the end where he was kicking out at 1 two times in a row. Sami Callihan looked like he was out of ides until he hits a Lariat that turned Mack inside out, and followed up with a Piledriver for the win. Go figure…a Piledriver is the finish.
Eli sold his ass off most of the match, but Abyss matches have just been clunky at best the last few years. Big Release German Suplex from inside the ropes as Abyss sends Drake flying through tables. There were thumb tacks, staple guns, chairs and zip ties. Granted the zip tie idea didn't work, so I'm glad they didn't spend too much time trying to work on that. It was okay, but very plodding.
Well now, LAX and Lucha Bros start off at a blistering pace and never really slow down. Some of the transitions were faster than the other partner were ready for though. Most notably when Pentagon and Fenix hit their Double Footstomp/Fear Factor tandem and Ortiz doesn't quite push Fenix into the pin to break it up, so Santana has to kick out. But the match was fast, a lot of crisp moves, but very much a spot fest. Also the awkward use of tags and the fact that camera caught Pentagon just kinda standing on the outside watching the finish instead of even trying to get in the ring. So yeah…very fun, the crowd loved it, but plenty of noticeable issues.
Early highlight was a Taya corner with a sign that says "Dicks Out 4 Taya" and then Tessa Dropkicked her head into the guardrail. The match was well wrestled, and then we get to the Heel/guest referee dynamic. Tessa didn't like a few two counts, accidentally hit Gail Kim, then Gail tried to take the title out of Tesssa's hands and accidentally hits Taya, but all near falls. Tessa gets completely distracted, attacks Gail, Gail counters, hits Eat DeFeat, Taya hits Road to Valhalla and we get a new champion. Maybe Gail comes out of retirement to face Tessa, or maybe someone champions her cause. All very logical progression on this story.
BIG ANNOUNCEMENT – Impact will be simulcast on Twitch Fridays at 10pm so even if you don't get Pursuit, you can still watch for free.
Very good match. The match proved they both knew each other, countering moves, avoiding things and having fairly good chemistry together. However, the finishing sequence, last 3 minutes, whatever you want to call it, were very typical TNA (I'm aware the company is called Impact, but people should know what I mean). Johnny's little Survivor buddies got in Cage's face, tried to jump the rail so the referee and no security had to keep them at bay. Cage hits a Drill Claw for a 15 count, but the ref is preoccupied. Then when he goes for a Slingshot Suplex, Johnny counters it in a very sloppy way, so the cradle looks more like a car crash, and he barely holds Cage down for a 3. So a damn good match, that could've been match of the night, gets immensely ruined with the last few minutes.
Overall Score: 6.5/10
Given how good 2018 was for Impact by focusing on the in-ring action aside from the gimmicky WCW/TNA bullshit, this is painfully disappointing. The match quality took a severe hit because of how they wanted stories to play out, many spots didn't make as much sense and overall the show came off worse. Killer Kross attacking Johnny and Taya at the end of the show just made it feel even more like 2000 WCW.
Yeah the show wasn't bad, but compared to the Redemption, Slammiversary and Bound for Glory…this was sad. Felt more like one of those "Special Episodes" of Impact instead of PPV worthy.
Andrew's IMPACT Wrestling Results & Match Ratings: 9.29.2022
Bound for Glory is 8 days away, but Victory Road just happened. What kind of show do we get with some fallout and penultimate hype?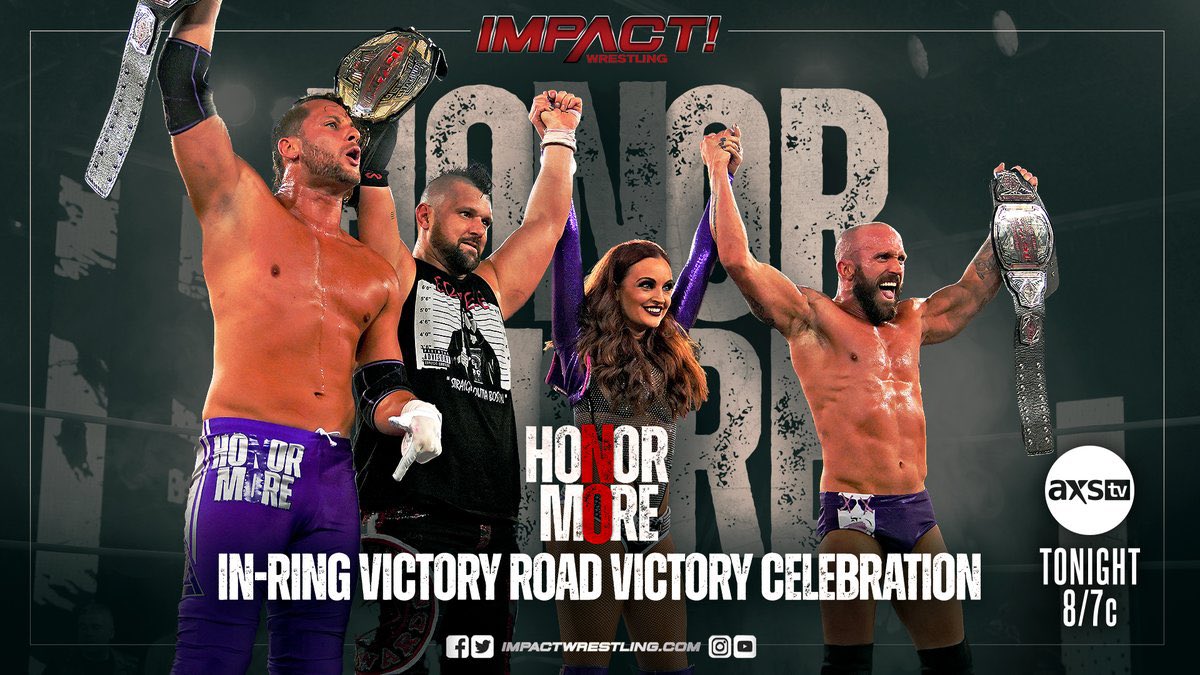 Victory Road just happened, but Bound for Glory is like 8 nights away? You know I forgot that it was such a quick turn around. That makes tonight weird, since there's some fallout, but then there's gonna be a lot of table setting for Bound for Glory.
This episode could be awful. The last week or so haven't exactly set the world afire, so I'm curious if the highlight really is just gonna be the Monster's Ball with Masha and Allie Katch.
*insert joke about possibly gagging and balls and Swinger's Dungeon*
"What's THIS!?"@swinger_johnny @ZickyDice @JohnEBravo1st @FearHavok #IMPACTonAXSTV pic.twitter.com/107u7AmCgP

— IMPACT (@IMPACTWRESTLING) September 30, 2022
Ratings:
Bullet Club (Ace Austin & Chris Bey w/Juice Robinson) vs Trey Miguel & Laredo Kid: Bullet Club win via Finesse & Fold – **
IMPACT Digital Media Championship: Brian Myers (c) vs Crazzy Steve: Myers retains via Roster Cut – ** 1/2
Delirious vs Black Taurus: Black Taurus wins via Destination Hellhole – ** 1/4
PCO & Vincent vs Rich Swann & Heath: Rich wins via Phoenix Splash – ** 1/4
Pick Your Poison: Monster's Ball Match: Masha Slamovich vs Allie Katch: Masha wins via Russian Death Device – *** 1/2
Results:
Bullet Club (Ace Austin & Chris Bey w/Juice Robinson) vs Trey Miguel & Laredo Kid
I don't think I could care less about this match if I tried. Trey and Laredo are worthless. Laredo has eaten so many terrible losses and Trey is just bad. If the BC Juniors don't win…I will really question the booking.
My biggest takeaway early is the commentary tries to put over Trey "turning heads". No he doesn't, he is legitimately hard to watch and everything that Will Ospreay did wrong in his early career; is basically Trey, but with less personality. Oh did you expect play by play? They isolate Laredo, decent tandem attacks, when Trey comes in it's bad offense typical Cruiser garbage with laughable facials and body language.
Just typical crap with Trey. Were there some cool high spots? Sure. Do I care? NOPE.
.@MeanGiaMiller caught up with @AEW's @FrankieKazarian to talk about his match with X Division Champion @SpeedballBailey at #BoundForGlory!#IMPACTonAXSTV pic.twitter.com/BhxRTg14iL

— IMPACT (@IMPACTWRESTLING) September 30, 2022
IMPACT Digital Media Championship: Brian Myers (c) vs Crazzy Steve
Steve starts with some of his quirky mat wrestling, Arm Wringers into Drop Toe Holds and face biting. It shocked Myers early, but he takes a small shortcut and starts trying to slow down the psycho from Decay. Steve bounces off the ropes and Myers does his sliding trip move before commercial.
Back from commercial, Snapmare from Steve and the neck twister into some corner offense of Hip Attacks and Sentons for 2. Myers dodges King Kill 33, lands a few pot shots, Implant DDT for 2. Into the corner, face bite, Upside Down, after the rope break Myers grabs the referee to block Steve. Eye Poke, Roster Cut, AND STILL…
Simple, but entertaining. Plus it continues Myers' arrogant, full of himself for absolutely no reason persona. Oh and he offers up an Open Challenge for Bound for Glory. Maybe Bobby Fish? Someone new? Could be interesting. 
.@joehendry WILL motivate @IMPACTWRESTLING!#IMPACTonAXSTV pic.twitter.com/OvsvBw7tBi

— IMPACT (@IMPACTWRESTLING) September 30, 2022
Delirious vs Black Taurus
Delirious is between gibberish and Stone Cold early on while they're just trading shots. Delirious twists the Nose Ring…in the mask…and Taurus sells it momentarily before stomping the foot and decking him. This is just a weird match. I mean we all know Delirious is weird, but he's not all comedy; and Taurus is supposed to be legit-ish.
Admittedly, with the exception of Victory Road, it has been years since I've watched a Delirious match. So the level of ridiculousness has hit Toru Yano levels, especially after the 10 count Leg Drops. Taurus powders, comes back in, Shoulder Tackle, Blackhole Backbreaker into a Samoan Drop. As soon as Taurus looks in charge, Delirious throws together a combo, eats a Headbutt and then Destination Hellhole.
Sheesh okay after 2 interview segments we get to Honor No More's victory celebration segment. Just a lot of talking and inaction, so this just goes to feed that weird feeling I had coming into the show because of the timing. Eddie does the usual thing where hates on PCO and accuses him of being the weak link, which is a smart story angle since the fans tend to like PCO's gimmick and this makes him more sympathetic to casual observers. 
Oh good Taven is talking now. Wait did I just say that? DAMN YOU IMPACT! Made me like Matt Taven. Maria stirs the pot a little saying that Eddie is a better wrestler than Josh and Moose…by the implications. 
Thank God, Josh Alexander finally breaks up the segment with…more talking. Okay never mind. Jesus since the end of the Delirious match it was like 15 minutes before Josh finally charged the ring and threw down a bit with Honor No More. Rich Swann and Heath make a bit of the babyface save for Josh, but the numbers are still on Honor No More's side. Oh MCMG come down in a tracksuit and dress clothes! Someone wasn't ready to be doing a run in.
PCO & Vincent vs Rich Swann & Heath
Well isn't that convenient that four of the men in the donnybrook were supposed to be in a match anyway.
Rich uses his quickness to try and stay ahead of PCO, but PCO cuts him off in the corner into the Corner Hung Codebreaker, then the leaned against the ropes Leg Drop thing. Vincent throws together a T-Bone Suplex into a Flatliner and keeps the vibes flowing on Rich Swann.
PCO clears out Heath, but PCO's hand gets stuck in the ropes. Vincent eats a flip kick and the Phoenix Splash while PCO and Heath are brawling on the outside after the rope issue with PCO.
.@TheSamiCallihan will be the SPECIAL REFEREE in a match between @SteveMaclin and @TheMooseNation NEXT WEEK on #IMPACTonAXSTV! pic.twitter.com/ILztgFdp4H

— IMPACT (@IMPACTWRESTLING) September 30, 2022
Pick Your Poison: Monster's Ball Match: Masha Slamovich vs Allie Katch
Haymakers and Headbutts start things off as they both hit the ropes and lay out one another with dual clotheslines. Trash can lid duel, Masha gets first contact, but Allie blocks and returns 3 shots. German Suplex from Masha into whipping her with a chain, some choking and then general pulling with the chain in Katch's mouth or around her eyes. Katch claws at Masha's eyes to try and get some space.
Headbutts and Biting from Masha as Allie tries to power out of a Bow and Arrow. More chain choking…I'm not sure if this is a wrestling match or BDSM prep at the moment. Ahh Masha needs more Cowbell but Allie cuts her off with a trash can lid. Allie tries a Piledriver through a door, but Masha turns it into an Air Raid Crash into the opposite corner.
Commercial break, and Allie is getting choked again. Spots get a little redundant, slams, chokes, and blood. OHHH – it's a "Use the Door" chant. I thought it was – nah – I won't say what I thought it was. Chairshot from Masha misses, but a Snap Suplex from Masha onto the chair gets some usefulness. Straight Right to the gut and an Axe Kick allows Masha to hit the Death Valley Driver onto the propped up chair. Masha goes back to biting after it was only 2. Allie cuts off Masha going to the top, Superplex onto the trash can lid, into a Death Valley Driver through the door – but Masha kicks out.
Allie tries a Piledriver on the apron a few times, but Masha blocks. Masha tries for the Release German to the floor but Allie holds on. Dazed strikes, bites and then a Russian Leg Sweep through the table lays both out for a short time. Masha grabs a black bag, it's gotta be tacks for Monster's Ball. Masha eats a few tacks for good show, picks up Allie but Allie fights. Piledriver into the tacks from Allie, only 2. Allie opens a trash can, and empties a bunch of cut up soda cans. Hits Masha with the can, Masha fires, Spinning Heel Kick and then Russian Death Device into the pile of tacks and cans.
Overall Score: 6.25/10
The main event was pretty good, maybe even a little better than I gave it credit for; I'm just sick of seeing some crazy hardcore match so often from Impact. It feels like its weekly, and that's too damn much. Trey is terrible, and that's a hill I'm willing to die on. He sells poorly, he doesn't tell a story with his wrestling and he looks like an idiot pretending to be something he isn't; and that's talented.
Myers is fine with his classic delusional heel style, Delirious gave a bit of a rub to Taurus so I'm guessing he's probably next up in the X Division. But a straight 15 minutes of interviews and talking is just too damn much especially when the surrounding wrestling isn't very good or hearty enough to help people tolerate talking time.
I do however love Joe Hendry. So…yeah. There's always some quirky gimmicks that just resonate well with me, and this is gorgeous.
All in all, decent enough; though next week could be a real banger of a Go Home.
Andrew's IMPACT Victory Road Results & Match Ratings: 9.23.2022
Victory Road is the last speed bump before Bound for Glory! Main Event promises to be a bloody mess with Barbed Wire Massacre!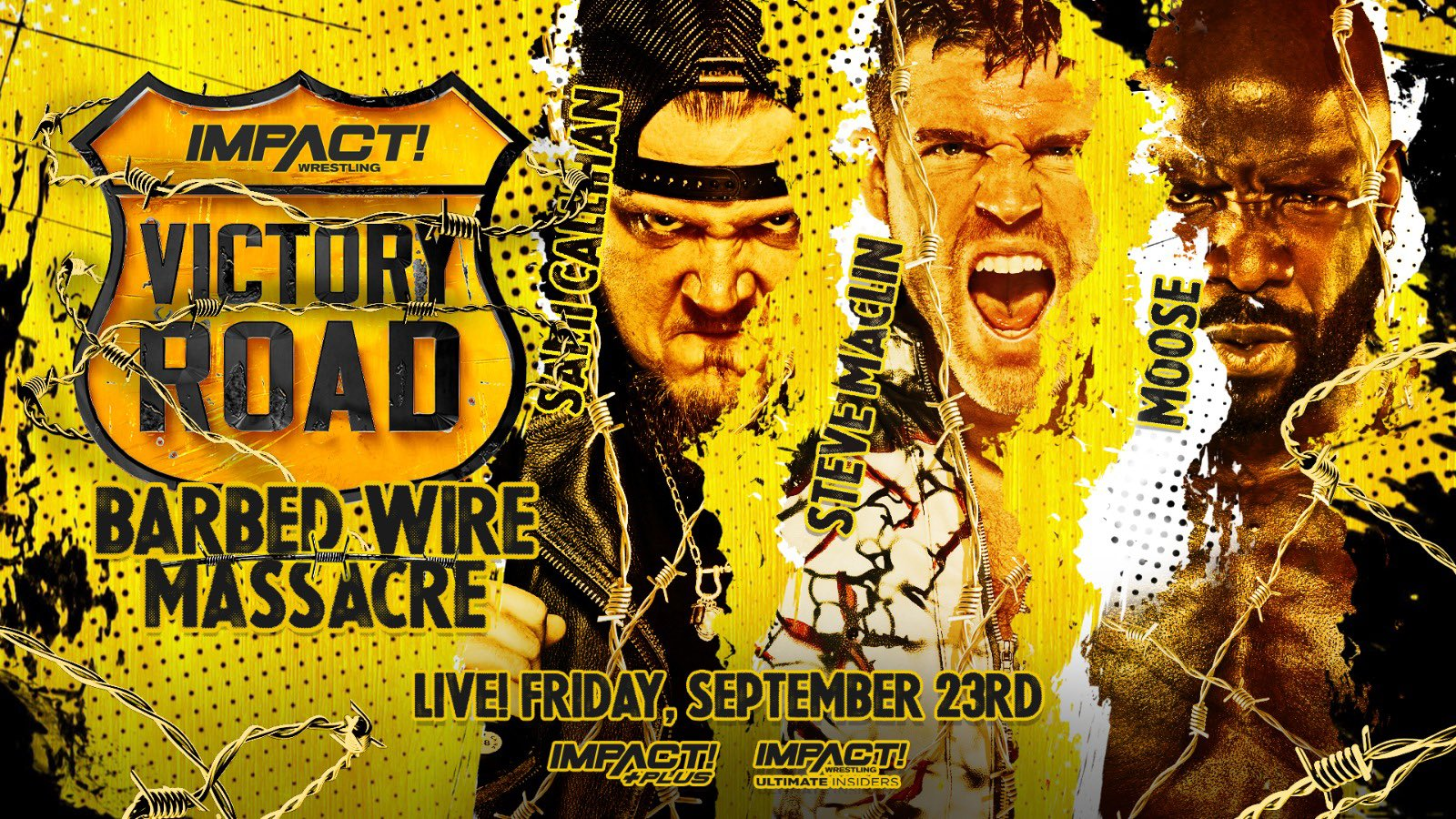 Victory Road is here and we've got an interesting card on the docket. Delirious challenges Mike Bailey for the X Division Championship, Triple Threat Revolver number one contender match for the X Division, Barbed Wire Massacre and a few higher profile bouts without a huge gimmick.
Mickie James takes on her first real opponent, Gisele Shaw, during this "Last Rodeo" tour she's doing. Killer Kelly also gets a somewhat legit opponent in Tasha Steelz. We also get Masha's choice in the Pick Your Poison angle. Max the Impaler will take on Jordynne Grace, as a way to soften up the champion for Masha before Bound for Glory.
So let's see how this show shakes out!
Results:
Tasha Steelz w/Savannah Evans vs Killer Kelly: No Contest? – **
X Division Championship: Speedball Mike Bailey (c) vs Delirious: Bailey retains via Flamingo Driver – ***
Honor No More (PCO & Vincent) vs Motor City Machine Guns: MCMG wins via Dirt Bomb – *** 1/4
Mickie James vs Gisele Shaw: Mickie wins via Mick-DT – ***
X Division Triple Threat Revolver Match: Mia Yim vs Trey Miguel vs Laredo Kid vs Alex Zayne vs Kenny King vs Yuya Uemura vs Frankie Kazarian vs Black Taurus : Kaz wins via Slingshot Cutter – *** 1/4
Honor No More (Eddie Edwards & OGK w/Maria Kanellis) vs Heath, Josh Alexander & Rich Swann: Eddie wins via Die Hard Flowsion – *** 1/4
Max the Impaler w/James Mitchell vs Jordynne Grace:  Jordynne wins via Grace Driver – *** 1/2
Barbed Wire Massacre Match: Moose vs Sami Callihan vs Steve Maclin: Maclin wins via KIA – **** 1/4
Results:
Tasha Steelz w/Savannah Evans vs Killer Kelly
Tasha has had this gimmick of coming down with Disney influenced attire. Mad Hatter, Scar from the Lion King…and today, Ursula. 
Kelly tries to bait in Tasha to come in and choke her, Tasha takes the bait and then they start swinging. Kelly gets the best of the slugfest when she starts incorporating her legs, which she swings them in an interesting way. She even throws a Pump Kick that looks more like a Split that just connected with Tasha's chin.
Tasha does manage to trip up Kelly on the apron, so she gets a small burst of offense; all while Kelly smiles. Kelly crawling around on the ground and maintaining eye contact even when she's technically underneath in the match. This definitely screams of a style that probably unlocked a few people's kinks while watching.
Tasha lands a Shiranui, forward roll Dropkick, into a Rings of Saturn. Kelly powers through (with a little bit of a stumble), sets Tasha in the corner, Fisherman's Buster into Knees to Face and a German Suplex that Tasha tries to fend off.  Kelly trips up Tasha as she tries to charge the corner, Hesitation Dropkick from Kelly and Savannah interrupts the match a little. Tasha with a desperate Stratusfaction, but only 2, Savannah attacks again this time with a chain, Kelly Stun Guns Savannah and locks in her Killer Klutch with the chain. The referee is going to disqualify her, so she puts the Referee to sleep and Impact officials come out to pull her off.
Sooo…no contest?
X Division Championship: Speedball Mike Bailey (c) vs Delirious
Delirious pushes the pace early in his…unique way, but Speedball eventually takes over with more controlled striking and precision attacks. However, Delirious catches him with his awkward offense and strings together quit a bit, even tying up his wrists and then just throwing him down into the mat. Indelicate offense…but effective.
A Triangle Head and Arm choke has Bailey fading a little, but he manages to get to the ropes and fire back, punctuating his short comeback with the Twisting Shooting Star Press that he does. Delirious counters Bailey, they powder out, Delirious focuses on some big strikes to the back and body. Bailey tries the Flamingo Driver, but the back gives out, Delirious with a Cobra Stretch Backbreaker. Tornado Kicks get countered, Delirious hits a Running Knee of his own, Shadows Over Hell for 2! Strike exchange, Backfists from Delirious, Kicks from Bailey. Standing Moonsault Knees from Bailey, Buzzsaw, no! Cobra Stretch attempt into a Suplex from Delirious. Superkick from Bailey, Flamingo Driver is good and Bailey retains!
That is now 9 defenses for Bailey. You have to think his reign is coming to an end soon, either from his Bound for Glory opponent or Option C. 
Honor No More (PCO & Vincent) vs Motor City Machine Guns
Vinnie and PCO are told to go soften up the number 1 contenders for OGK's tag gold. You all should know that unless the Steiner Brothers reunite, I won't ever cheer against The Guns. So…I'm biased here. 
Early on nothing crazy, PCO and Sabin start, they tussle a little, Vinnie and Shelley go back and forth but then MCMG tandem attacks begin. Vinnie starts fighting back once PCO hits the apron to distract Shelley. Satellite Russian Leg Sweep and some tandem work for the Honor No More duo. Vinnie and PCO have a lot of dysfunction, Vinnie clocks PCO a few times accidentally and it looks like we're heading towards PCO exiting Honor No More.
Sabin starts working over Vinnie, Cradle Shock attempt but Vinnie slips it, fluid Guns action. Stormbreaker style maneuver from Sabin for 2. Double Yakuza on Vinnie, looking for Skull and Bones but Vinnie breaks up the teamwork. Backdrop and both men are down. Vinnie slowly gets to PCO, PCO comes in and murders Sabin in the corner with a hung Codebreaker and a Draping DDT into a nasty Guillotine Leg Drop. Reverse DDT from PCO, tag to Vinnie, Redrum – and Shelley makes the save!
PCO works over Shelley, but Shelley hits the side step and PCO flies to the outside. High Speed Dirt on Vinnie, Double Sole Butts…Dirt Bomb? I think they called their Double Driver Dirt Bomb, its been a little bit since I've seen them do it.
Mickie James vs Gisele Shaw
Top wristlock, chain wrestling start. So it's slow, but showing that Mickie is trying to prove a point and be very methodical. Gisele Shaw eventually breaks out of the Wristlock with an Escalera, into a Rope Walk, Corkscrew, Arm Drag. It's a little sloppy looking, but never dangerous, just took a beat or two longer than it should have. Mickie however responds by wrestling Gisele down, licking her hand and spanking her.
As I've noticed (and many of us as well), Mickie really steers into more of the sexual pop spots. Gisele hits a few strikes and then a Final Cut for 2. Cravat keeps Mickie mostly grounded until she rallies out. Mickie fights out, tries to catch Gisele with a Frakensteiner, Gisele fights her off and dumps her outside. Gisele acts like she's okay with the count out…charges for a Baseball Slide but Mickie captures her in the ring skirt.
Mickie hits her own sliding attack and starts laying it to Gisele. As soon as they start heading back in, Gisele grabs Mickie during the entrances and flings her into the post. Mickie is still on the outside and Gisele hits a Tornillo. Raining Elbows, into the Cravat again. Gisele really shines when she focuses on her striking ability with a small flair of Lucha. Gisele goes for the Knee, Mickie blocks and forces her into a Split, kicks her while she's still mid split and hits Knees of her own for 2. A quick few strikes and a neckbreaker give Mickie another near fall.
Full Nelson Backbreaker from Gisele, into a high intensity Flatliner from being bent over her knee. Only 2, Shaw misses with the Spin kick, single like Flapjack from Mickie, Avalanche Thesz Press, kick out by Gisele. Mick-D – NOPE! Enzuigiri from Gisele for 2, so she Exposes her knee to add impact on that V-Trigger style of attack she does. Mickie dodges, counters, Mick-DT and she wins!
The finish definitely looked goofy, but the match in general was solid. 
X Division Triple Threat Revolver Match: Mia Yim vs Trey Miguel vs Laredo Kid vs Alex Zayne vs Kenny King vs Yuya Uemura vs Frankie Kazarian vs Black Taurus
Things start quick, Laredo Kid hits a lot of early high flying offense to take early momentum. Stacks both Mia and Trey together, hits a 450 Splash, tries to pin both of them individually and only gets 2.  Trey eventually counters some of Laredo's offense, Cheeky Nandos, into the Tiger Feint in the corner. Mia counters him and hits a few big spots, Eat DeFeat on Laredo Kid, and Kid is the first out. Big oof for Laredo Kid.
Alex Zayne is next up. Mia tries to attack him before he comes down to the ramp, he catches her and slams her on the ramp. Trey tries to do something, Zayne stops him, flips back in, and pulls of a combo move of Uranage'ing Mia into Trey only for near falls though. Again Mia takes advantage of being on the top rope, hits both men, tries to follow it up after they powder, but they hit her with the Double Gamengiri. Trey hits the reverse Rana on Zayne, Mia kicks Trey in the back of the head, Crucifix Bomb from Mia to Zayne, and Zayne is eliminated!
Kenny King is next up. This works towards a few weeks ago when Yuya debuted, Mia interrupted the match which cost Kenny the match. So Mia and Kenny have heat, and Kenny tries to leverage the triple threat aspect to his favor. Mia and Trey do start arguing like idiots on who's gonna fight Kenny. Reverse Powerbomb across the top rope from Kenny, then he hits the Spinebuster on Mia; and Kenny is rolling. Trey and Mia do finally start working together, Mia hits Pay Dirt on Kenny, but he kicks at two and then powders. Mia is too focused on Kenny, Trey and her start to go back and forth, so Kenny Rolls her Up with tights for the elimination.
Yuya Uemura is who we have now. Missile Dropkick entry on Trey, a few quick Crossbodies help him roll pretty fast. Dragon Suplex from Kenny takes the barely upgraded Young Lion down, but only a near fall. Double Overhook Belly to Belly from Yuya gives the young wrestler a chance to fire off one on one with Trey. Trey lights him up with a few kicks, misses the Stomp, Jacky Bryant Snap Kick, Tilt-a-Whirl Argentine Driver gives Trey the pinfall.
KAZ is next! Kenny looks like he's gonna have Trey and Kaz fight themselves, but tries to shanghai some offense. Kaz doesn't fall for it, and controls both men for a couple minutes hitting classic Kaz offense, Springboard Guillotine, Running Russian Leg Sweep, just good Kaz stuff.  Pile up in the corner, Trey hits a desperation Meteora, but overshoots the landing so all 3 men are down for a breather. Trey tries to get some fluid action against Kenny, but Kaz plucks him out of the air and chokes him out.
Black Taurus is the final entrant. So next pinfall or submission wins. Taurus dominates early since he's the fresh man, but then we see Kenny and Kaz pick a few spots to try and keep their chances alive. Taurus has a couple close calls with a few of his bigger spots, Kaz gets a Victory Roll on Taurus, then a Bridging Suplex on Kenny for a double pin, but they kick out. Taurus powders, slingshot Cutter to King and Kaz wins!
Little vignette with Rosemary, Taya, JesSICKa and VXT. Then Bobby Fish shows up. Fish is poking fun at how much heat he's had lately. So I'd take this, and the rumours about CM Punk not coming back to AEW, as having some weight. Fish's promo does drag a little, but it stops exactly when it starts to feel too long. He says he's here to pick a fight and then Raj Singh and Shera show up. 
The crowd trips up Raj during his promo and Bobby pulls the "who are you" angle, and that saves the promo. Shera being turned into a Gatekeeping midcarder is sad, but not unexpected. Raj however is worthless. Rohit Raju was the only talented on from the Desi Hit Squad. 
Honor No More (Eddie Edwards & OGK w/Maria Kanellis) vs Heath, Josh Alexander & Rich Swann
Team IMPACT is flowing early. The only tag that HNM makes early with when Eddie decides to duck Josh in the beginning. Aside from that, Mike Bennet is getting worn out like barn shoes for a good five minutes.
Of course, eventually Honor No More grab a foot, cause some trips, take shortcuts and get back to a level of parity. Nothing about this match as really stuck out beyond usual 6 man stuff. OGK manages to rip Heath and Josh off the apron to keep Rich isolated, but again, nothing really mind shattering. As things start to break down and Josh gets in with Eddie, there's heavy moves that connect. Blue Thunder Bomb, Back Breakers, its just more of the Kings Road style of match. In which the slow build through the match is part of the story telling and we're getting to wrinkles. Eddie hits a Tiger Driver after OGK hit a few running spots, only 2. Another Tiger Driver + Just the Tip, and Rich breaks up the pin.
Rich was on the apron, had the chance to tag Josh, but decides to Senton into the pile of Honor No More. Maria and Taven get involved while Rich and Heath are down on the outside, Die Hard Flowsion, and Honor No More wins!
The take away of course is the fact that Rich chose to attack the pile instead of backing up Josh. So the whole conspiracy theory concept will probably continue for Josh. He's gonna go full DTA at this point, unless Ethan Page returns. 
Max the Impaler w/James Mitchell vs Jordynne Grace
One of the few times I can type the sentence, Jordynne is losing the power game here. Max just ragdolls Jordynne, forcing Jordynne to try and be the agile one. Jordynne chops, and Max doesn't move. Jordynne tries to lift, and there's no give. Forearms and rope assisted offense finally starts to rock Max a little, but they get up quickly. Jordynne dives, and Max just whips her down into the apron.
Max literally has Jordynne pinned against the ringpost as they lift her up off her feet by the neck. Max slides in occasionally to break the counts, but just continues to impose their will on Jordynne. Jordynne barely maanges to counter a Powerbomb into a Back Body Dorp, and Jordynne finally isn't getting beat on. She tries to do something to Max, but Max drives her into the post and then misses a Spear.
Jordynne goes for a bunch of slaps and the Aja Kong style backfist, before a Hip Attack into a Vader Bomb, for 2. A quick burst of offense has really been the first time in a while that Jordynne had any forward momentum here. Max tries to lift Jordynne for a Death Valley, Jodynne fights off, hits the ropes and then eats a Spear from Max for a 2 count.
Sunset Bomb from Jordynne gives her some determination, snap Grace Driver and Jordynne wins!
Jordynne names her Pick Your Poison choice. Allie Katch in a Monster's Ball Match. I mean…I like Allie Katch, but she's not nearly the obstacle that Max was. So it really fell flat. 
.@theraveneffect is the NEWEST MEMBER of the @IMPACTWRESTLING Hall Of Fame!#VictoryRoad pic.twitter.com/7uC2tRqPAo

— IMPACT (@IMPACTWRESTLING) September 24, 2022
Barbed Wire Massacre Match: Moose vs Sami Callihan vs Steve Maclin
Maclin coming out in the Punisher paint is pretty cool, while Sami comes out with some flannel looking like Cactus Jack.
After a small stall, Sami incites both men. Sami ducks Moose and Moose ends up Pouncing Maclin through a door. Then Sami hits the Piledriver on Moose, but just starts looking around since he doesn't want this to end early. Moose goes for a rope run, but stops since he forgot about the barbed wire, Sami tries to take advantage but Moose shoves him into it, and Sami just laughs and screams "I like it!". Sami tosses Moose and Moose turns it into a Tope con Hilo onto Maclin. Now they brawl on the outside.
Sami slams Moose into the guardrail and clocks Maclin for good measure. Maclin has literally not been able to get out of the gates. Sami goes after Maclin a little and that just ends up pissing him off. So when Sami gets distracted with his theater of pain, Maclin starts to lay into Sami, using the barbed wire, stairs, Sami counters and we start getting to some big haymakers. Lariats, Suplexes, just going for a few different home run shots until they all slowly rise for the Fighting Spirit spot.
Maclin and Moose team up a little on Sami, Moose throws Sami into one side of the ring, then he drapes Maclin over the top of another barbed wire covered rope, Sami pops up and Suplexes Moose into the barbed wire. Sami grabs a barbed wire chair, Maclin and Sami jockey for positioning, but Sami Suplexes Maclin onto the chair. Sami also pulls out a Barbed Wire N64 Controller. See unlike the pen from yesterday, this one is actually a little clever.
Sami puts Maclin in a Crossface with the N64 wire, Maclin fights out, Skuds Moose, Busaiku Knee to Sami, Moose pulls out Maclin and Powerbombs him onto the apron. Chokeslam directly onto the barebed wire, but Sami kicks out. Lights Out attempt, but Maclin hits him with the chair and hits KIA. Sami breaks it up with the barbed wire ball. Sami looks to be setting up a barbed wire table with designs on sending Moose through it. Sami plays to the crowd, Maclin comes up from behind him and locks in a Sleeper. Sami slumps down, then climbs up to the top rope with the barbed wire chair and jumps at Moose. The table doesn't break, but that's almost worse since Maclin just buries Moose against the guardrail.
Barbed Wire Bat versus Barbed Wire Trash Can Lid when Maclin gets back in. Sami and the bat win, as he even does the sit out bat drop with the "Bang Bang" flourish for the obvious Foley reference. Slap fight, and then Sami Powerbombs Steve through another door. Cactus Driver '97 and…Maclin kicks out! Thumbs Up, Thumbs Down, Maclin Uppercuts the balls and hits KIA on the piece of Door left in the middle of the ring! MACLIN WINS!
Overall Score: 7.25/10
So fun takeaways here is that Maclin got the big win, so he should be in line for a well deserved push. Josh Alexander should start a becoming an island, which plays into Honor No More's hands. Bobby Fish showing up could lead to some fun matches and you can't be mad at Frankie Kazarian being in an X Division Championship match for the first time in like 8 years.
Also I do appreciate that Raven is the Hall of Fame nominee this year. He's a blast from the past, who wasn't really active on the roster when they got inducted. So it's just a little refreshing.
I'm not gonna sit here like the event was super important since none of the matches were really worth going out to find, except for the main event. Nothing was bad, we moved along a lot of storylines and even got a debut I wasn't expecting. So it's a decent show. Must see? Nope. But if you've got the time and like the product; you won't be mad.