Andrew's NXT Takeover: Phoenix 2019 Ratings & Notes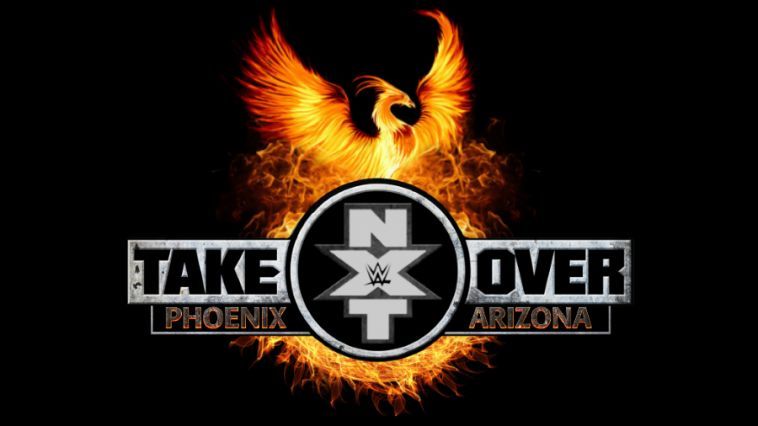 Andrew brings us ratings and overall thoughts on the first NXT Takeover of the new year!
Well the IWC tends to mark the Takeovers as the real must see events during these big WWE PPV weekends. Do we get another banger of a show that sets the bar too high for Royal Rumble, or does this show come down to Earth a little?
With many proven talents, this card could be fire. The only thing that sticks out is the Matt Riddle and Kassius Ohno match. Hopefully that's not too much of a down moment on the show.
Ratings:
NXT Tag Team Championship: Undisputed Era (c) vs War Raiders: Raiders win via Fallout @16:55 – **** 3/4 – TITLE CHANGE!!
Matt Riddle vs Kassius Ohno: Riddle wins via Repeated Elbows, TKO @9:15 – ** 1/2
NXT North American Championship: Johnny Gargano vs Ricochet (c): Gargano wins via Slingshot DDT @23:35 – **** 1/2 – TITLE CHANGE!!
NXT Women's Championship: Shayna Baszler (c) vs Bianca Belair: Baszler retains via Kirifuda Clutch @16:25 – **
NXT Championship: Aleister Black vs Tommaso Ciampa (c): Ciampa retains via Fairy Tale Ending @26:30 – **** 1/4
Review Notes:
War Raiders come out with Viking war horns, dark lightning and soldiers as the crowd starts to bustle before eventually appearing and going into their normal theme. With such a big entrance, I'm not surprised they won, hell I picked them in the staff picks. But this match was tremendous. Era started off quick and basically had this match feeling like a Tornado/Lucha match with the amount of times all four men were involved in the action. Hansen kicked out of the High/Low tandem finish, Raiders pulled out most of their moves though. Thor's Hammer, Rowe's Powerbomb/Bodyslam combo, Hansen's Back Handspring Double Elbow, just a lot of good stuff. The matched flowed well, Raiders showed resiliency and Undisputed Era stuck to the gameplan of trying to just use speed and double team maneuvers to get an upper-hand. Just damn damn good.
This match was a little better than expected. Ohno was 0-4 on Takeovers and 0-2 against Riddle, so he had something to prove, and did pull out a lot of stops. Stepping on toes, biting toes, general underhanded tactics still weren't enough. If anything it just pissed off Riddle more, so he hits a close range Knee Strike and starts raining down elbow strikes until Ohno taps out. Also I have to mention, Nigel had a great V for Vendetta/Guy Fawkes reference when he was talking about the first meeting between these two and said something to the effect of "Remember, Remember, that night in December".
Velveteen Dream shows up in a limo with two women and a hat, in similar fashion to The Godfather. Gotta love Dream's propensity to make references.
Well now, great match. A few awkward moments here and there, but all in all, both Gargano and Ricochet put on a hell of a show. Ricochet's movie stunt Wall Run Backflip off the post onto Gargano was impressive. The way he just shrugged off distance or difficulty of jumping over the turnbuckles and post to dive onto Gargano, just all great. Gargano exposes the cement as a callback to his Ciampa feud, but doesn't go through with it right away. Then, he's pushed to the brink, shoved Ricochet into the post whilst on the apron, as a callback to his match against Andrade, and eventually hits a Brainbuster on the exposed floor. Impressive match, but one big takeaway is that Ricochet really needs to tone down the excessive flips, especially since that's mostly why he lost and when he got caught by Johnny, plus the misses felt obvious, so they didn't add anything to the match.
I had more than a few issues with the Baszler/Belair match. Baszler did not go after the "injured" shoulder nearly enough, and if she's such a submission specialist, she should know how to go after an injury. The finishing sequence was sloppy, the roll in the ref bump, and Belair doing the 450 Splash that missed everything except Shayna's foot, just the whole thing fell apart in the last couple minutes. Bad camera angles on the Kirifuda Clutch hurt the believability too. Could"ve been a decent match, but sloppiness hurt the match and it would've been nice to see some logic from a former MMA fighter instead of just going to her Kirifuda Clutch twice.
This was a damn good match. Ciampa worked over the plant leg heavily to try and take away the Black Mass. Seth Rollins could learn some things from Aleister Black, since he actually sold a busted up leg well and for the entire match. Two nice wrinkles I picked up were Mauro's commentary about Tommaso calling himself Tommy Sports Entertainment, and asking if Aleister will end…Tommy, yes Tommy End, we get it. The second wrinkle was hearing Nigel call his own move when Ciampa hit a Rope Hung Cutter onto the apron, but Nigel called it Tower of London. Also, Ciampa had a beautiful transition from a roll up, into a Draping DDT and then a Fairy Tale Ending, but that wasn't the finish. So what hurt this match to me were two things, another 'exposing the concrete' spot shortly after Gargano did the same thing and too damn many false finishes. When Black hit Black Mass, it made sense for Ciampa to be able to roll to his side, since it took time for Black to crawl over to Ciampa. But 4 Fairy Tale Endings? Really? And the fourth one coming after Aleister almost pulled off a miracle Black Mass, but his leg gave out and it just looked awkward. The finish to this match really took it down a peg, but it's still damn good.
Overall Score: 7.25/10
So this wasn't a bad show, but the order of the card was a little weird and it definitely under performed compared to what we're lead to expect from Takeovers. Though we see Gargano win his first singles' title, War Raiders unseat Undisputed Era and Bianca's undefeated streak was broken…this didn't feel as fantastic as most usually do. I guess we can be thankful Takeover wasn't so outstanding, cause now even the smarkiest of fans can't completely discredit Royal Rumble tomorrow.
The show was still perfectly fine. As I listed off, some things did happen that make this show worth watching, but maybe we just expect too much from NXT. I guess we'll see if Brooklyn V picks it back up, or maybe NXT might be cooling off a little.
King's WrestleMania Rewind: Charlotte Flair vs. Asuka from WrestleMania 34
Chris king is back with one of the most underrated matches in WrestleMania history–Charlotte Flair vs. Asuka!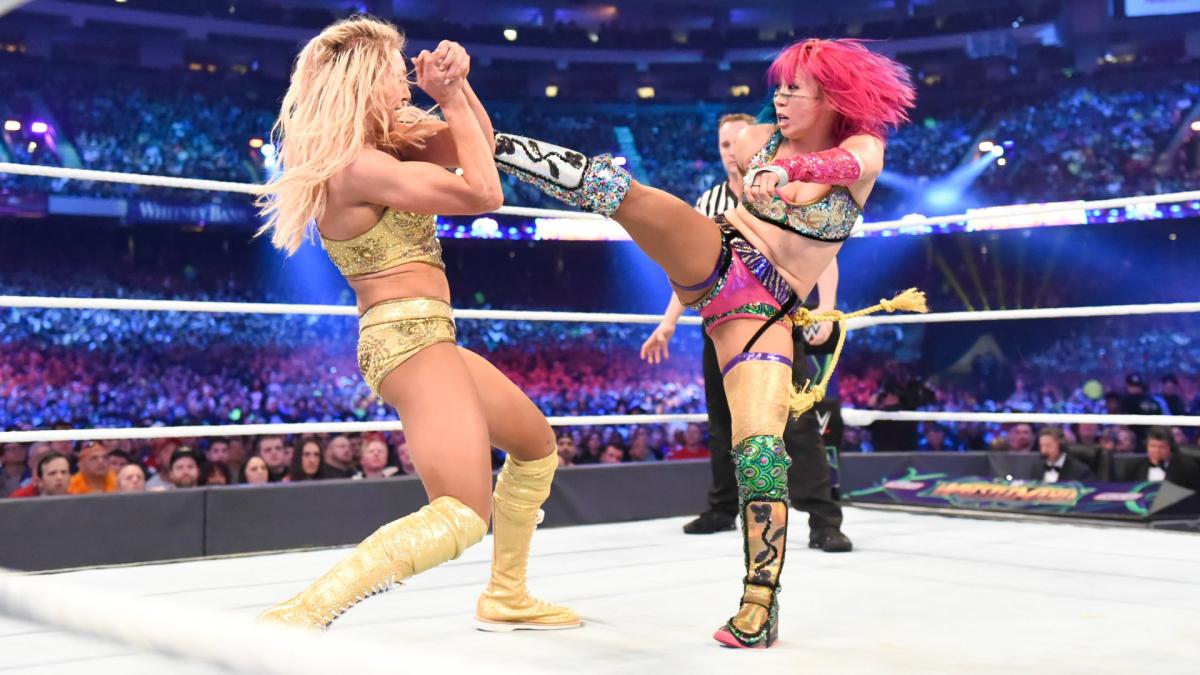 Chris king is back with one of the most underrated matches in WrestleMania history–Charlotte Flair vs. Asuka!
We look back at Charlotte Flair vs. Asuka at WWE WrestleMania 34. 'The Empress of Tomorrow' put her unprecedented and historic undefeated streak of 914 days on the line against 'The Queen's' SmackDown Women's Championship.
For years, this was considered a dream match while Asuka dominated the roster in NXT, while Flair won numerous championships on the main roster on both Raw and SmackDown. The Empress made her long-awaited debut on the September 11th episode of Raw and began to tear through the competition.
Asuka outlasted all twenty-nine other women in the historic first-ever Women's Royal Rumble match to challenge for the title of her choosing. At Fastlane, she made her choice.
The WWE Universe was so excited for this match myself included. Both superstars delivered a fantastic performance on the Grandest Stage of Them All executing counter after counter. Asuka showed off some nasty-looking kicks to her opponent, and Flair hit a thunderous Spanish Fly off the top rope. Flair was seconds away from defeat at the hands of The Empress but she locked in Figure Eight and Asuka was forced to tap out.
I can't even begin to explain how shocked I was at this outcome, as nearly everyone expected The Empress to continue her undefeated streak and walk away with the women's title. This controversial decision was the downfall of Asuka's momentum. She would ultimately win the SmackDown Women's Championship at the 2018 TLC pay-per-view in the triple-threat ladder match.
Fast forward to this year when Asuka has recently returned with her Japanese-inspired persona Kana. Kana is dangerous and ruthless and is heading into a championship with Bianca Belair at WrestleMania 39. The Empress has regained all her momentum and is highly favored to walk away with the Raw Women's Championship. Let's hope that Asuka and Belair can tear the house down and deliver an A+ grade match both women are fully capable of.
King: Dominik Mysterio Needs To Do This At WrestleMania
Chris King is here with what WWE should do with Dominik Mysterio at WrestleMania in his long-awaited match against his father Rey Mysterio Jr.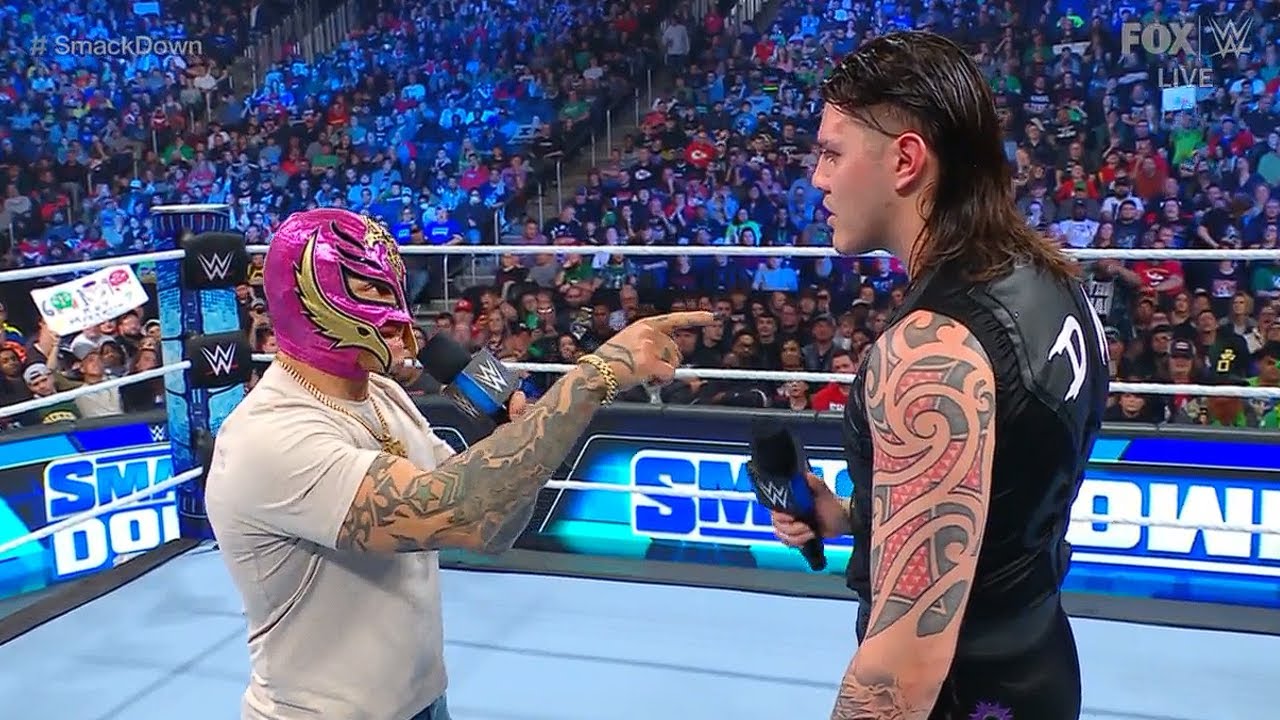 Chris King is here with what WWE should do with Dominik Mysterio at WrestleMania in his long-awaited match against his father Rey Mysterio Jr. 
On this week's episode of Friday Night SmackDown, Rey Mysterio finally snapped and beat some sense into his disrespectful punk-ass kid Dominik. The member of the Judgement Day came out to push his father again for a match on the Grandest Stage of Them All, this time with his mother and sister at ringside. The ungrateful punk told his mom to "Shut Up," as a father even I wanted to jump through the screen and whoop his ass.
Back in October of last year, Mysterio made the emotional decision to possibly quit the company but, instead, Triple H persuaded the Lucha libre superstar to move over to SmackDown to avoid his son. This came after Dominik shockingly turned on his father at Clash at the Castle. Mysterio did everything he could to refuse his despicable son's challenge for Mania but, a man can only be pushed so far. Mysterio will be inducted into the 2023 WWE Hall of Fame and I expect Dominik to embarrass his father during his speech to further this personal feud.
Yes, the WWE Universe hates Dominik and wants to see him get the ever-loving crap kicked out of him but, this feud is missing a special ingredient to capitalize on the biggest heat possible. Throughout this feud, Dominik has made mention of the legendary Eddie Guerrero on several occasions going back to the "iconic" 2005 feud.
I know WWE might not want to go this route but, Dominik MUST come out to Eddie Guerrero's theme at Mania. The disrespectful punk needs to come out in a lowrider to garner nuclear heat. It doesn't matter if The Judgement Day comes out and causes interference for Dominik to get the win, all that matters is that both superstars get the biggest payoff of this nearly year-long feud. Just imagine the Roman Reigns heat after he defeated The Undertaker and multiply that by ten. Dominik portrays the perfect heel and he truly is the missing ingredient that The Judgement Day needed to grow and evolve into a top faction.