Andrew's ROH Honor Reigns Supreme 2019 Ratings & Notes

The Cabarrus Arena brings us ROH's first big event of the year. Now free of The Elite, how does ROH start to rebuild their brand?
North Carolina used to be a hot bed for wrestling, so with ROH trying to rebuild their title pictures, will the heart of some of the beloved 80s wrestling help to breathe life into Ring of Honor?
We all know I'm not the biggest fan of ROH, but I'm always willing to be impressed and swayed into a different head space.
Let's see if this show does that.
Ratings:
Shinobi Shadow Squad vs Corey Hollis, Josey Quinn & John Skyler – Shinobi Shadow Squad wins via Oyasuminasai – * 1/2
Beer City Bruiser vs Mark Haskins – Haskins wins via Double Footstomp – **
Best Friends vs FinJuice – Finlay wins via Trust Panda – ** 3/4
Tracy Williams vs Flip Gordon – Williams wins via referee calling the match due to Flip injury – N/A
Proving Grounds Match: Hurricane Helms, Luchasaurus & Delirious vs The Kingdom – Kingdom wins via House of 1000 Horses – * 1/2
Bandido vs PJ Black – Bandido wins via Revolution Fly – *
4 Corners Survival Instant Rewards Proving Ground Match: Rhett Titus vs Shane Taylor vs Jonathan Gresham vs Jeff Cobb – Cobb wins via Tour of the Islands – *** 1/4
Women of Honor Championship Street Fight: Jenny Rose vs Kelly Klein (c) – Klein retains via K Power on a pile of chairs – * 1/2
Marty Scurll, Brody King & PCO vs Silas Young & The Briscoes – PCO wins via PCO Moonsault – *** 3/4
ROH World Championship Match: Jay Lethal (c) vs Dalton Castle – Lethal retains via Lethal Injection – ***
Review Notes:
Soo…Skyler, Hollis and Quinn kick things off with an open challenge to anyone since they're the best trio in ROH apparently. Cheeseburger brings out his newer trio of the Shinobi Shadow Squad….and I guess we're supposed to care. Some sporadic moves, Skyler and that team try to control the match but, after Cheeseburger, Eli Isom and Ryan Nova tag in and out a little more fluidly. They hit their triple move called Oyasuminasai (Goodnight in Japanese), and that's that.
Mark Haskins is still a new name to ROH and Bruiser seems to play the Gatekeeper role with a few of the newer guys. Bruiser tells Haskins this is America, we fight, not that fancy British shit. And we see a little more of a slugfest than Haskins is most likely accustomed to. Every time Bruiser went to the top rope, it cost him the momentum he had. So a big missed Vader Bomb and Frog Splash gave Haskins enough time and opportunity to hit his Double Footstomp.
Best Friends still have a few tentative moments with Chuckie's instability as of late, and FinJuice is on the rise. Juice recently put together a new stable called Lifeblood with Bandido, Tracy Williams, Haskins, Finlay and Tenille Dashwood. So all of the Lifeblood members are prolly in for a good night. The match was fun, solid and Chuckie kept it together even though Finlay got the win on Chuck. Decent match.
What can I say, he threw a drop kick, came up gimpy and the announcers brought up something about him nursing the knee for a while. So I guess we'll see where this goes, but that's another win for Lifeblood, technically.
Every time the Kingdom is on, I feel an overwhelming urge to take a nap or walk away for 15 minutes. Vinny even holds back Luchasaurus and Hurricane with the Jurassic World "keeping the raptors back" kind of motion. Lots of dumb gimmicks, not a lot of wrestling or fluidity to the match. It's stuff like this that is mostly why I have an issue tolerating Ring of Honor.
Uuughh….spotty at first which I expected, but also very botchy and sloppy. This match could've been great, but just didn't work. Another win for Lifeblood though. But this was awful. Also didn't help that they finally pulled back on the camera to show the floor seems full but the rest of the building is pretty empty.
Shane Taylor says the 4 Way match is an insult so he walks out, and the match becomes a Triple Threat. Gresham and Titus take turns trying to take out Cobb, eventually Cobb gets knocked out of the ring and Titus dominates Gresham. Rhett is in the best shape he's been probably ever. But Cobb breaks up the pin attempt and finishes Titus. Silas Young distracts Cobb after the match and Shane returns to jump Cobb and hold up the belt as the age old symbol of "I got next".
Kelly comes out with her "Camp Klein", and they play a small role in the match, but it's kinda awkward. Kelly is great, don't get me wrong here. But Rose really isn't and that makes the whole match awkward. The table didn't break so Kelly calls an audible and Rose was visibly nervous and Kelly had to communicate too many times too obviously. Hopefully Kelly's matches get better.
Okay now this was the first match to really catch my attention. Mark Briscoe tried out his Redneck Kung Fu on PCO, and that was a fun battle. A lot of car crash style moments, and Young tried to Canadian Destroyer PCO on the apron and that didn't work correctly, but no one got hurt, so it was just a hold your breath moment. Villain Enterprises established themselves nicely and PCO pinning Jay Briscoe most likely lines up a tag team title shot in the future. So between Brody King pulling off an Arabian Moonsault Arm Wringer Toss…thing…it was quite cool since Brody is like 6'5″. Damn good match though.
Nick Aldis and Camille show up to cut a promo. Typical Aldis 10 Pounds of Gold…integrity, tradition…stuff. Also made mention of the Crockett Cup and that it will be in this same place April 27.
Dalton tried to start off quickly with some tosses and suplexes, but he still has his waist bandaged so Lethal had a big bullseye for early offense. The match was hard hitting, but once we got to the Suicide Dive spot, the match seemed to really drag. A bad Elbow Drop from Jay got turned into a crucifix pin, and that's never good when you telegraph the counter by half assing the move. A few counters on moves were supposed to be exciting but really just felt like it was extending a match that no one really cared about. Lethal ducks under a lariat and hits the Lethal Injection for the pinfall.
Overall Score: 4.5/10
So the crowd was dead through most of the show, when they finally panned out we saw that there were many empty seats at the show…and that was obvious. Aside from the Villain Enterprises match, the crowd was really kind of dead. The first few matches should get people charged up, but Cheeseburger does nothing for me and Bruiser's match wasn't awful, just not a lot of time and the story being told was a little odd. Even Cobb's match, though decent, didn't really wake the crowd up much.
This whole show was a boring grind, where nothing really happened and it was just hard to sit through. After this event I'm looking forward to WWE Raw tomorrow since on average it'll be at least as good, if not better than this. So thank you ROH, you made me excited for WWE.
Steve Cook's Fave Five: April 2021
It's a little more than halfway through April! You know what that means…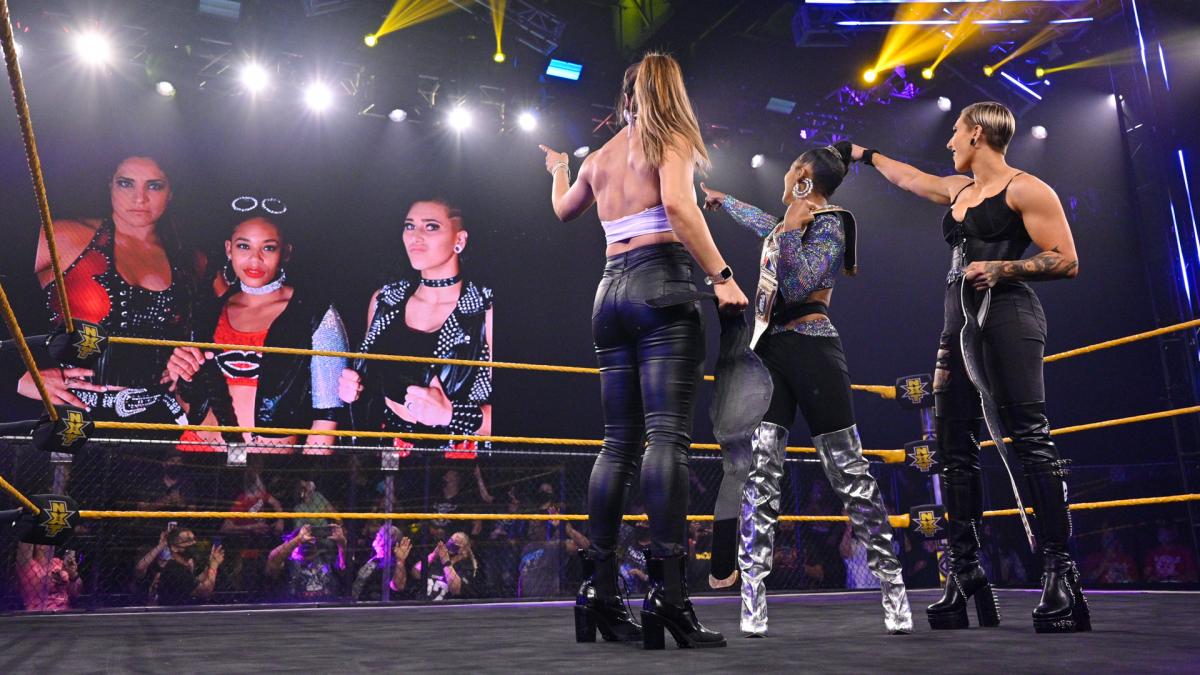 It's a little more than halfway through April! You know what that means.
It's time to talk about my current five favorite wrestlers like I'm Booker T. Let's break down the Fave Five!
5. Samoa Joe
A gentle reminder that Samoa Joe is one of the greatest talkers in the game pic.twitter.com/p4TZeZIAV7

— Kenny Majid – A Kenny For Your Thoughts Podcast (@akfytwrestling) April 15, 2021
I figure what happened between Samoa Joe & WWE was the following: WWE offered Joe an announcing contract since either they didn't want to use him in the ring or their doctors wouldn't clear him to wrestle. Joe looked at the contract, noticed the financial discrepancy, realized he could probably get NJPW to let him train young boys in California for that kind of money and said "thanks but no thanks". Nothing else really makes sense to me.
Unfortunately, those who thought that WWE wouldn't utilize Joe to their fullest potential were right. It wasn't all WWE's fault though. Joe had a lot of miles on his tires when he got there. Injuries are always more of a concern with larger wrestlers the older they get. And when Joe was healthy, he did get to do some good stuff and show people a glimpse of the Samoa Joe that people like me raved about back in the mid to late 2000s.
In any event, Joe got his WWE run. It was a thing that happened. I'd be shocked if he doesn't wind up in AEW because he seems like the kind of guy Tony Khan would throw all the money at. Should be fun!
4. Kris Statlander
Like she never left 👽 #AEWDynamite pic.twitter.com/rlNgLBAFoU

— All Elite Wrestling on TNT (@AEWonTNT) April 15, 2021
AEW does have a pretty insane number of factions right now. It risks the possibility of all of the groups blending together, with none of them really capturing the attention of fans. However, there are positive things about AEW's faction warfare that shouldn't be overlooked. It makes booking fresh matches to fill cards pretty easy. You can have groups facing off each week, but in different combinations that keep it fresh.
Another good thing: It can help us decide how we feel about characters that we might be on the fence about. Kris Statlander's character was a topic of discussion from the moment she entered AEW. A lot of people weren't sure how to take her. Wrestling aliens, or wrestlers who think they're aliens, aren't exactly common. Its the kind of thing that gets over in the indies, because those feds attract fans that are more willing to buy into unique concepts. Mainstream is a tougher sell.
Aligning Kris with the Best Friends makes sense to those in the know, since she came up working shows with them. It also helps people that don't know about her figure out more. The Best Friends are a happy go lucky group that are the whitest of white meat babyfaces you'll find in AEW, and that's a good thing. They're welcoming to people with unique personalities, as Orange Cassidy's presence establishes. A friendly alien couldn't ask for a better group to surround herself with, and from their appearances so far she seems like a perfect fit.
Add in the fact that the time on the shelf helped her get into better shape and refine her look & presence, and the sky's the limit for Statlander. As long as she can stay in the ring, I'm expecting big things from her in 2021.
3. Tay Conti
Sometimes, all one needs is a change of scenery to approach their true potential. Tay spent a few years at the WWE Performance Center learning how to be a professional wrestler. During her time there, Tay never showed much in the way of potential. Even though she had a combat sports background and had the type of physical appearance that gets attention, Conti's TV time was very limited and uneventful. She seemed like one of those wrestlers that was bound to stay in developmental until WWE gave up on them, then drop off the face of the earth without most wrestling fans noticing.
Tay's story took a different route. She ended up being one of the cuts that AEW took an interest in, and was brought in for the Deadly Draw Women's Tag Team Tournament. Her teaming with Anna Jay worked well on & off-camera, and she pretty much fit right in with the group immediately. She started training with Dustin Rhodes, and pretty much immediately started looking better in the ring & figuring out what worked for her. Now, she's one of the people helping AEW's women's division go to a higher level.
This isn't meant to denigrate WWE's Performance Center or its methods. There just isn't a wrestling training center out there that's going to work for everybody. Tay had to find what worked for her. The people that recently got cut will have to do the same. Hopefully, the people that recently got signed by WWE will thrive in that environment.
2. Bianca Belair
We've recently seen three new Women's Champions under the WWE umbrella, all of whom are great in their own way. I've talked about Rhea Ripley before, she's got unlimited potential and so far she's done very well on the main roster. Raquel Gonzalez is doing very well on NXT and her push to the championship made perfect sense & got over. I do think the best of the title changes was Bianca's defeat of Sasha Banks in the main event of WrestleMania Saturday. It was a special moment for Bianca, a very fun match to watch, and a great performance from both Bianca & Sasha Banks, who did everything she could to make Bianca in that match.
You see the video of the NXT segment up above, with the three current Women's Champions under the WWE umbrella celebrating together. Apparently there was a picture taken in 2019, and there were pictures taken after this week's NXT, with Triple H making sure to get in there as he likes to do with all new champions. I've never really been a fan of that sort of thing, even the "Horsewomen" celebrations on previous NXT shows didn't do much for me.
Besides the usual complaints people have about things like that, the thing that I didn't like was how Rhea & Raquel came off. They were all smiling & happy like they were Big Daddy Cool Diesel after beating Mr. Bob Backlund in 1994. Completely against what Raquel has been up to this point, and what Rhea has been when she's been at her best. Hopefully this is just a one-time thing for Rhea for the portion of the NXT audience that likes their lady wrestlers crying & happy after their performances, and hopefully it's leading to Raquel getting dismembered by Dakota Kai, who can't be happy about her heater winning the championship and then turning into Smilin' Diesel.
Fortunately for Bianca, it does nothing to affect her character or our opinion of her. That's why I think her title run will go best. I'm also putting her here because I'm pretty well convinced there isn't a wrestling move or spot she can't do well. Insanely talented, and the more experience she gets the better she'll be.
1. Darby Allin
Sometimes you just want to watch something that's stupid fun. Something that doesn't need too much thought in order to enjoy it. Just people doing crazy things to entertain an audience. Darby Allin matches are just what you need when you're looking for something like this. There isn't anybody crazier in pro wrestling today than Darby, which is probably for the best. I'm convinced this kid has a death wish.
The one thing that kinda gets me about Darby sometimes is how he kicks out of everything. Poor Matt Hardy wasn't going to beat that kid unless he shot him with a gun, and apparently there's a metal detector at Daily's Place. (Shoutout to Matt by the way, hell of an effort in that match.) But then I remember that Darby Allin is a daredevil and constantly posting videos online where he's jumping off high places and doing crazy things. Obviously, it's going to take a little more to beat a daredevil than your average pro wrestler.
What's it going to take to beat Darby Allin? That's a good reason to keep watching.
NXT Minus 6: About that Cole-O'Reilly match…
It was the Takeover match that held the most promise. Where did it go wrong?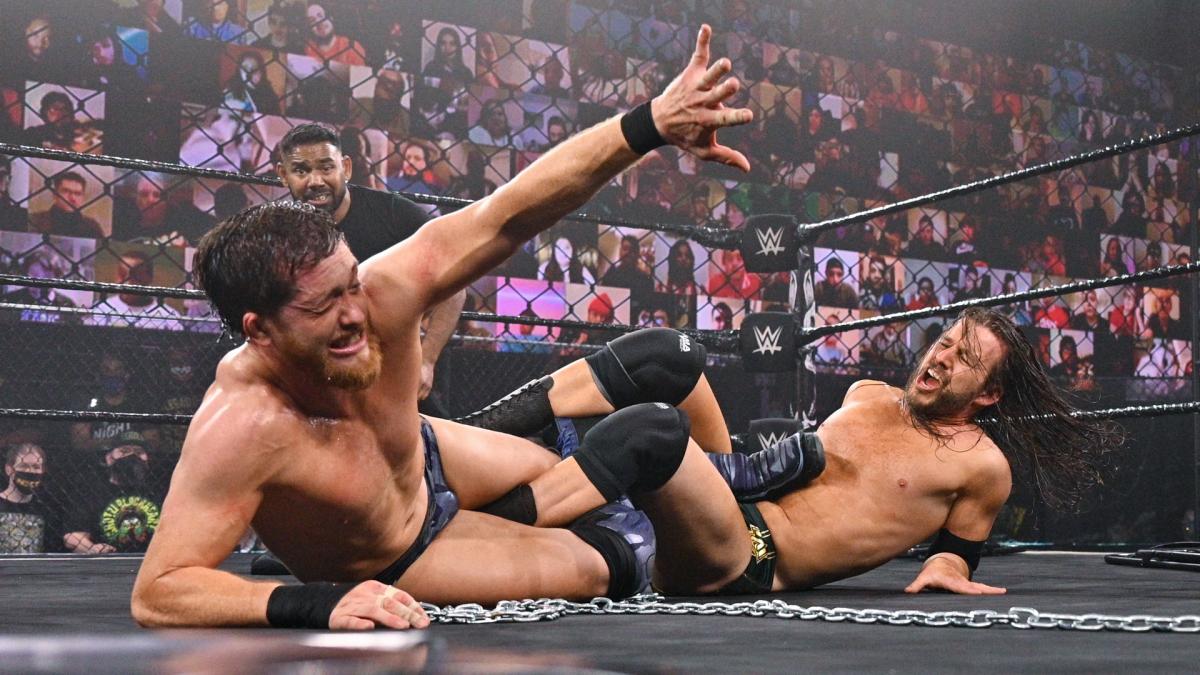 It was the Takeover match that held the most promise. Where did it go wrong?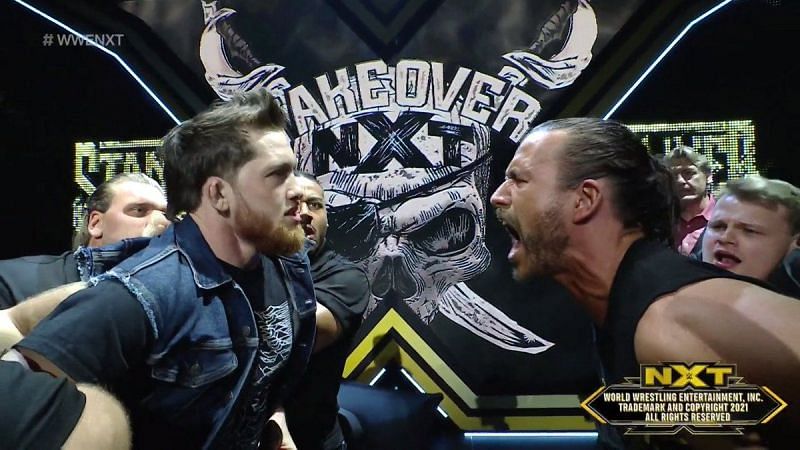 6. I was jacked to 11 for Adam Cole versus Kyle O'Reilly. I was ready to give it a Tokyo Dome 6 stars. MOTY before the bell rang. A masterwork of storytelling. I correctly predicted it would be an unsanctioned match. Then the action started, and it quickly became "be careful what you wish for because you just might get it."
5. After the first few acts of violence, it was apparent that the problem with the match would be the stipulation. The last NXT unsanctioned match was Johnny Gargano versus Tommaso Ciampa in 2018. That was 3 short years ago, but things move quickly in today's world. There is very little chance an unsanctioned match can deliver the level of violence it promises as long as NXT is on the PG-13 Peacock.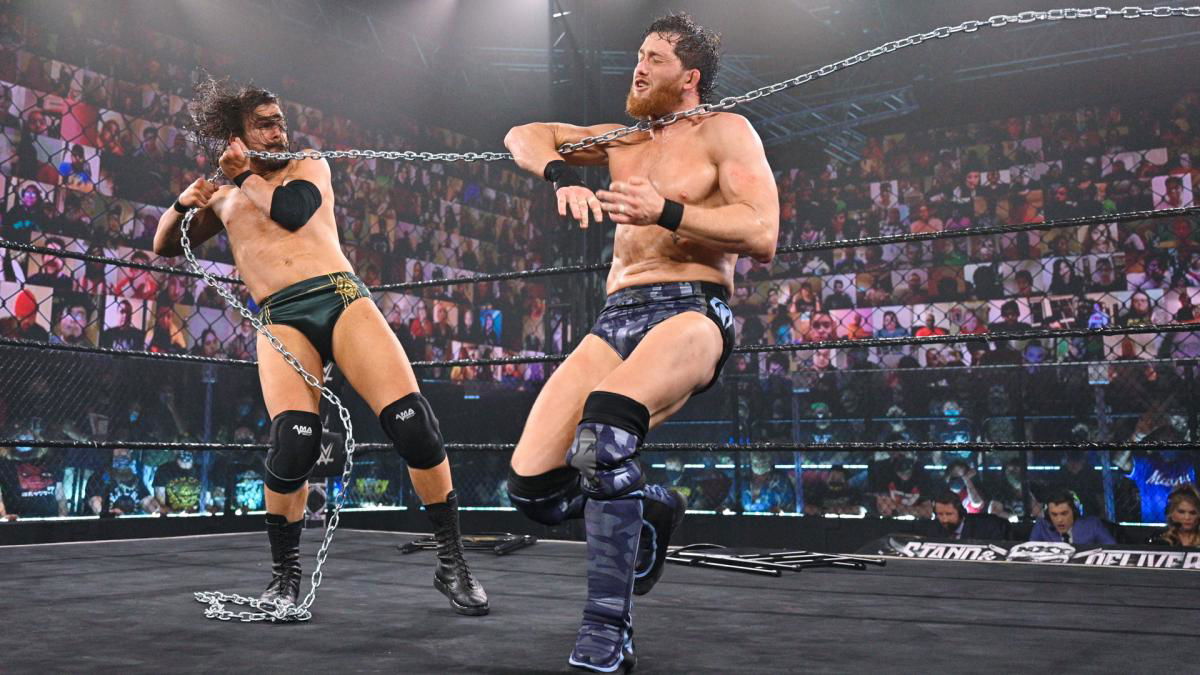 4. Fans are losing their minds over all the content Peacock is leaving on the cutting floor. A lot of it was offensive and would never work today, but that's not the point. The fact is there's only so much violence Peacock's parent company NBC will tolerate from wrestling. Take the chain, for example. Other than the clothesline, it was practically useless. O'Reilly tried to make it work, but it fell flat. In an unsanctioned match, 20 feet of heavy duty chain should be all you need to decimate another human being.

3. Maybe I'm a victim of my own wrestling memory. An unsanctioned match in Memphis in the 80's would have been a bloodbath. Someone would have been hung over the top rope with the chain around his neck. Whipped across the back. Hog tied. Someone would have wrapped it around their fist for a few stiff shots to their opponent's forehead. But that goes back to my original point. None of that would fly today even if NXT was only on the WWE network.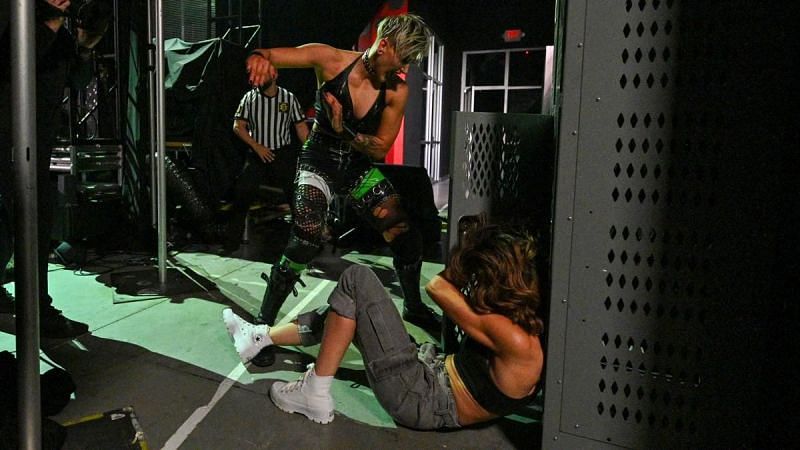 2. I'll go so far as to say the only violent-promising stipulation that interests me is Falls Count Anywhere. There is zero drama in wrestlers pulling chairs from under the ring. The chance to use the naturally occurring environment as a weapon still holds a world of suspense. Someone is going through windows, walls, off the stage, over the guardrail, stuffed in a locker. Honestly, I'm tired of people getting hit in the stomach with folding chairs. Of all the ways to hit someone with a folding chair, that's the least practical. 
1. I'm sorry to say Kyle O'Reilly versus Adam Cole didn't deliver what I expected. Maybe I'm in the minority. Maybe I don't need over-the-top violence to entertain me. Maybe I don't need wrestling to keep pushing the envelope. Five of my top 6 matches of 2021 are straight up wrestling matches. Maybe all I need is two (or three or four) strong characters and a good story. Damn, I sound old.