Andrew's WWE Raw & SmackDown Live 1/14 & 1/15/2019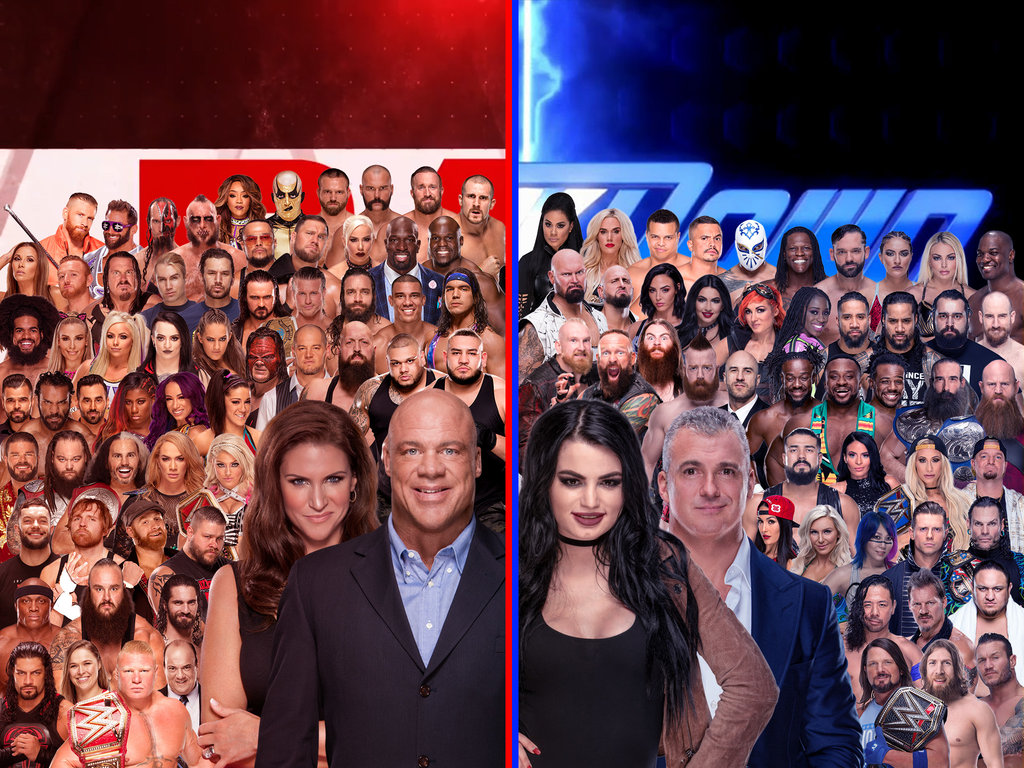 Andrew gives us his thoughts on this week's Raw and SmackDown Live! Does Raw finally outperform SmackDown Live this week?
Well if you read my Honor Reigns Supreme article, you'd know that left such a bad taste in my mouth, that I was excited for WWE this week.
So I guess it's time to see if the initial anticipation paid off.
Raw Ratings:
Ronda Rousey & Sasha Banks vs Tamina & Nia Jax – Banks wins via Bank Statement – **
The Revival vs Lucha House Party – Dawson wins via DDT – * 1/2
Natalya, Bayley & Nikki Cross vs The Riott Squad – Bayley wins via Elbow Drop – ** 3/4
Jinder Mahal vs Finn Balor – Balor wins via Coup de Grace – ***
Intercontinental Championship Triple Threat: Dean Ambrose (c) vs Bobby Lashley vs Seth Rollins – Lashley wins via Spear – *** 1/2 – TITLE CHANGE!!!
Fatal Four Way for Universal Championship Match at Royal Rumble: Finn Balor vs Drew McIntyre vs Baron Corbin vs John Cena – Balor wins via Coup de Grace – *** 1/4
Review Notes:
Braun kicks things off, oh god, he's gonna talk. *spins the See-N-Say* Okay, Cow says Moo and Braun says something about getting hands, Beastie Boy, rawr rawr, Baron Corbin…whatever. The he finds Corbin in a limo, tears the door off, it was Vince's so he admonishes the Monster and fines him $100,000 – and Braun mouths off. So Vince not being one to take kindly to that, pulls him out of the Universal Title match and kicks him out of the building after he flips the limo.
After the Braun stupidity is over, now we get Sasha and Ronda. Sasha did most of the work, Nia somehow looks worse than Tamina, even the preview for Glass did better in the match, and they try really hard to force animosity between Sasha and Ronda by making Sasha be unable to understand body language and comprehend context in a sentence. Maybe she's low key dyslexic and this brought back bad memories of reading pages out loud in school.
A line forms outside of McMahons door…okay, time to see Jerry Lawler and a bunch of random characters…great.
Revival get a real tag match against the Lucha House Party, so maybe the conspiracy is over…but they interrupt the match with interviewing people meandering around outside of Vince's office. You're only really legitimate tag team on Raw, that people like, and you're trying to rebuild…and you kill the momentum of the match with pointless interviews. So what we did see was alright, and the DDT being a finish is nice, but the wrinkle of Wilder having to push Kalisto's foot off the rope, doesn't make a ton of sense. Is it karma? Is it doubling down on them being bad guys? Is it just stupid? Tune in next week on Dragon Ball – wait…no.
Vince heads to the ring to announce a replacement and instead we get Cena. Cena who tries to say when Austin, Rock and Lesnar left, they had no passion coming back. He tries to recreate his debut Ruthless Aggression line, McIntyre comes out and schools Cena with lyrics to Word Life saying Cena's Time is Up and Drew's Time is Now. So it was cute. Corbin comes out cause he's delusional. Then lastly Finn comes out to play the little engine that could. Vince says he's small, Finn says he never believed in him, but he'll prove he can beat Lesnar. Fatal Four Way match is created after McIntyre wins the initial squabble and Vince nearly orgasms seeing Drew and what he did.
Jinder, makes up a story about tending to a broken Singh, so Vince tells him to pick one and winner gets the 4-way spot. Jinder picks Finn, cause you always pick the smaller guy, right?
Bayley and Natty were trying to separate Ronda and Sasha earlier when the Riott Squad got mouthy and challenged the two that aren't really friends to find a third and face them. Bayley has a great line as they fade to commercial since Natty accepted on behalf of them, she just looks at her and says something like " Oh?! We're good now?!" – which nicely points out the stupidity of some of these throw together matches.
Now the Riott Squad do nothing for me, but Nikki Cross making her Raw debut added a new life to this match that I didn't know it needed. Nikki made this match entertaining, and at this point, her shear joy just brightened up my enjoyment of the entire show. Decent match too, but Nikki, always let Nikki play.
Jinder versus Finn wasn't bad. Regardless of what some people think about Jinder, the match work was solid. If you just don't like him, sure that's fine, but this was Jinder's best match in a long time and again, I thought it was pretty decent.
Lio Rush speaks, and it's calm, direct and Lashley is looming in the background like an ominous force instead of a posing imbecile. I don't know how to feel…cause I liked this promo…but Lio Rush is annoying.
The triple threat was… good. No real complaints aside from my usual gripes about Seth's inability to sell, PLUS Lashley pinning Ambrose does allow for a rematch most likely at Rumble cause he can point out it wasn't a 1 on 1 match and the odds were stacked against him, conspiracy stuff, so I can see it happening. Lashley with the IC title at least gives him something when he should've been a main event guy from day 1 on his return, at least this is a step in the right direction.
Alexa Bliss…ugh I know I say she's the best female character on Raw, cause she is. But walking in on her changing added nothing to anything, it was done purely for the "hot chick partially clothed" pop. And then her two episodes of Moment of Bliss have been…awful and trainwrecky. Otis randomly appearing and babbling makes him seems more moronic and not endearing like NXT made him seem like a hyper country bro. But yeah, he acted more like he needs a harness and a helmet. At least the Women's Tag Titles look nice and aren't the big ugly WWE logo design.
This four way wasn't bad, but the two commercials hurt the flow, it turned into more of just disjointed cool spots that eventually lead to something but you weren't sure how we got there. Kinda like a drunk train ride and you end up somewhere dangerous, but sexy…yet the right person goes over. So…drunken miracles do happen folks.
Overall Score: 7/10
GO FIGURE! I really enjoyed this episode. As I mentioned on Raw Reaction the appearance of Nikki Cross and that little fire starter ball off energy actually just made me enjoy the show. There's something about seeing someone run about the ring, be it because she's manic, frantic or just having fun…but it's nice. So from that point I got a little less nit picky, enjoyed nonsensical things like Dean and Seth cooperating because I got the fact they were going for "they did it out of muscle memory" not so much liking each other.
Plus seeing Finn get a semi-legitimate push for the Universal Championship is always refreshing. We've seen smaller guys give Brock believable matches, so maybe Finn or the Demon can tear the belt off the Beast.
SmackDown Live Ratings:
Becky Lynch vs Peyton Royce – Lynch wins via Disarm-Her – **
Asuka vs Billie Kay – Asuka wins via Asuka Lock –N/A
Samoa Joe vs Mustafa Ali – NO CONTEST
Andrade Almas vs Rey Mysterio – Almas wins via Draping Hammerlock DDT – ****
The Miz w/ Shane McMahon vs Sheamus w/Cesaro – Miz wins via Rollup – ** 1/4
Review Notes:
Becky pulls in, cute but lacking personality interviewer tries to question her, she says she'll say it in the ring. On her way in she sees Otis and Tucker with the New Day making a meat, eggs, powder, take a few panckes, generally assuming a protein shake of doom since their whole NXT shtick is 'Steaks and Weights'. Otis tries some and likes it, New Day almost pukes, Otis offers it to Becky. Becky agrees, takes a decent mouthful (giggity) and says it's good but weak and marches to the ring. Otis mumbles something that sounds like "she is the man". This was actually the correct way to introduce Otis' brand of buffoonery since he's supposed to be simple but charmingly dumb…not Festus 2.0.
Becky and Asuka argument turns into the IIconics teasing and saying they'll win Rumble. Becky says why wait, get your ass in here now. So Peyton apparently offers herself as tribute.
What was this match? Asuka was watching intently, Billie didn't really get involved much, but Peyton held her own for what felt like at least 10 minutes. If this was supposed to help Peyton look like a competent threat, I think it hurt Becky more than helped Peyton. Advantage though, Asuka adorably screaming in Japanese basically getting across the point of "if you can do it so can I". So she literally drags Billie into a match, the referee shrugs and doesn't question an angry woman screaming in a language he doesn't understand. Asuka went for a Fujiwara Armbar while looking at Becky to make a point, but took too long, Billie got a small opening but then Asuka chokes her out with the Asuka like in what felt like 40 seconds.
AJ walks out while Becky and Asuka are still arguing, and apparently new music is the signal to leave. AJ walks down the ramp, around the ring, through the crowd, up to the concession stand. This is him taking Daniel Bryan's promo from last week and turning it on it's ear. He starts endorsing hot dogs and merchandise before Daniel Bryan jumps him. Daniel hates fun obviously…
Jimmy gets a note from Mandy Rose with a hotel key enclosed. WHAT DOES THE UCE DO!?
Joe jumps Mustafa mid pose, beats on him until the LED on his chest goes out. So if that's like Iron Man, Mustafa is now dead. Someone else needs to assume the suit. TJ Perkins maybe?
Sonya gets to the bottom of Mandy's evil plan to break up a marriage cause she just hates Naomi. Catty…but it happens. Sonya seems a little disgusted though.
In my article last week I think I claimed I wanted a best of 27 between these two. And I still want more. This was so damn good. Also, FINALLY, Zelina does what she should've been doing from the beginning. She got involved just enough to give Andrade the opening to beat Mysterio when Almas was on the brink. If this is the beginning of returning to their NXT dynamic, then I just need more Vega and Almas on my TV in general.
 Jimmy actually goes to the hotel, he pauses, heads in, Mandy takes off her robe to show a lacy black outfit and Jimmy says no. But as his rebuking her advances, a Paparazzi guy shows up out of nowhere snaps some pictures and runs away. Mandy puts the robe back on, said she never wanted him, just wanted to ruin the marriage and now Naomi will crumble. Jimmy laughs it off, walks out, and Naomi pops in and beats some ass. So Mandy's plan didn't work at all, I wonder if Sonya tipped them off and this could split those two into a feud or something.
Miz and Shane are fantastic. Miz throws a celebration for Shane's birthday, gets him a pair of Jordan's where Shane's reaction sounded close to legit. Then Miz runs a little reel of clips which is actually kinda nice with the story they're telling. Shane buys into their team idea a little more by telling Miz that when he was a kid he had a dream to be tag team champs. His dream partner as a kid was Andre the Giant, but he's still proud to call Miz his friend. There did seem to be a small hesitation during some of this where maybe there were some real comments that weren't exactly scripted, but that just makes you buy into them more. The Bar interrupt the celebration and Shane does the talking now. Says Sheamus thinks he's a big man for sucker punching Miz last week. Well they'll have a match right now and it's fair. Miz tries to say he's not dressed and Shane retorts nicely with "I wasn't in my gear when I stepped in for Best in the World" and Miz is like "is this what you want for your birthday?" and Shane is like " This is my Birthday wish, yes". The immaturity,yet, simplicity of the exchange is what made it perfect. Miz is trying to impress Shane so of course a good point and birthday wish is something that Miz won't deny.
The match was never supposed to be groundbreaking, but it was fun for what it was. Cesaro tries to interfere, Shane sends him through a cake on a table, distracting Sheamus long enough for Miz to get the Rollup. Sheamus tries to attack Miz afterwards, Shane helps out his partner, Miz hits Skull Crushing Finale, and then Shane positions for Coast to Coast. Miz gets the other cake and we get Coast to Cake…mostly, and Shane looked to have killed himself at the same time.
Overall Score: 6.25/10
SmackDown felt more like a story building episode this week and less geared towards the in-ring action. Nothing was bad, some things were done purposely to push storylines forward, so it felt about average if not a tick below for a SmackDown.
So for the first time in my doing these articles, and even recent memory…Raw was the better show this week. I mean…wow. Either ROH broke me or WWE just happened to push all the correct button for me. You know, like the song the Pussy Cat Dolls talked about, not the irritating buttons.
King's WrestleMania Rewind: Charlotte Flair vs. Asuka from WrestleMania 34
Chris king is back with one of the most underrated matches in WrestleMania history–Charlotte Flair vs. Asuka!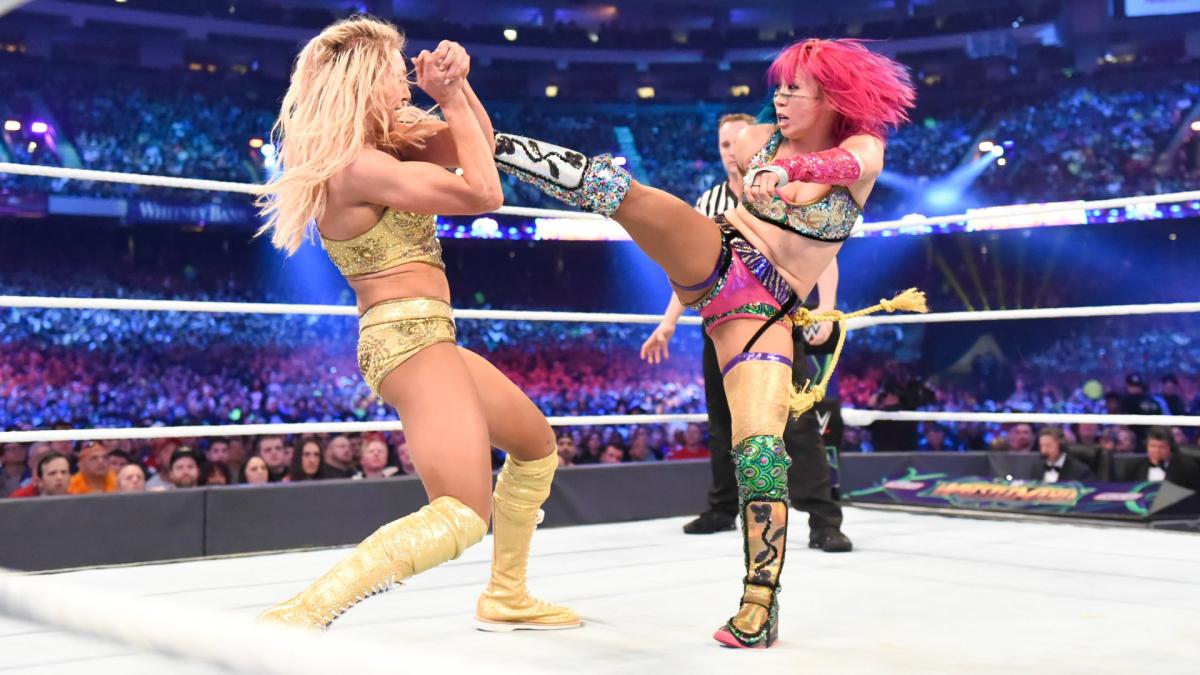 Chris king is back with one of the most underrated matches in WrestleMania history–Charlotte Flair vs. Asuka!
We look back at Charlotte Flair vs. Asuka at WWE WrestleMania 34. 'The Empress of Tomorrow' put her unprecedented and historic undefeated streak of 914 days on the line against 'The Queen's' SmackDown Women's Championship.
For years, this was considered a dream match while Asuka dominated the roster in NXT, while Flair won numerous championships on the main roster on both Raw and SmackDown. The Empress made her long-awaited debut on the September 11th episode of Raw and began to tear through the competition.
Asuka outlasted all twenty-nine other women in the historic first-ever Women's Royal Rumble match to challenge for the title of her choosing. At Fastlane, she made her choice.
The WWE Universe was so excited for this match myself included. Both superstars delivered a fantastic performance on the Grandest Stage of Them All executing counter after counter. Asuka showed off some nasty-looking kicks to her opponent, and Flair hit a thunderous Spanish Fly off the top rope. Flair was seconds away from defeat at the hands of The Empress but she locked in Figure Eight and Asuka was forced to tap out.
I can't even begin to explain how shocked I was at this outcome, as nearly everyone expected The Empress to continue her undefeated streak and walk away with the women's title. This controversial decision was the downfall of Asuka's momentum. She would ultimately win the SmackDown Women's Championship at the 2018 TLC pay-per-view in the triple-threat ladder match.
Fast forward to this year when Asuka has recently returned with her Japanese-inspired persona Kana. Kana is dangerous and ruthless and is heading into a championship with Bianca Belair at WrestleMania 39. The Empress has regained all her momentum and is highly favored to walk away with the Raw Women's Championship. Let's hope that Asuka and Belair can tear the house down and deliver an A+ grade match both women are fully capable of.
King: Dominik Mysterio Needs To Do This At WrestleMania
Chris King is here with what WWE should do with Dominik Mysterio at WrestleMania in his long-awaited match against his father Rey Mysterio Jr.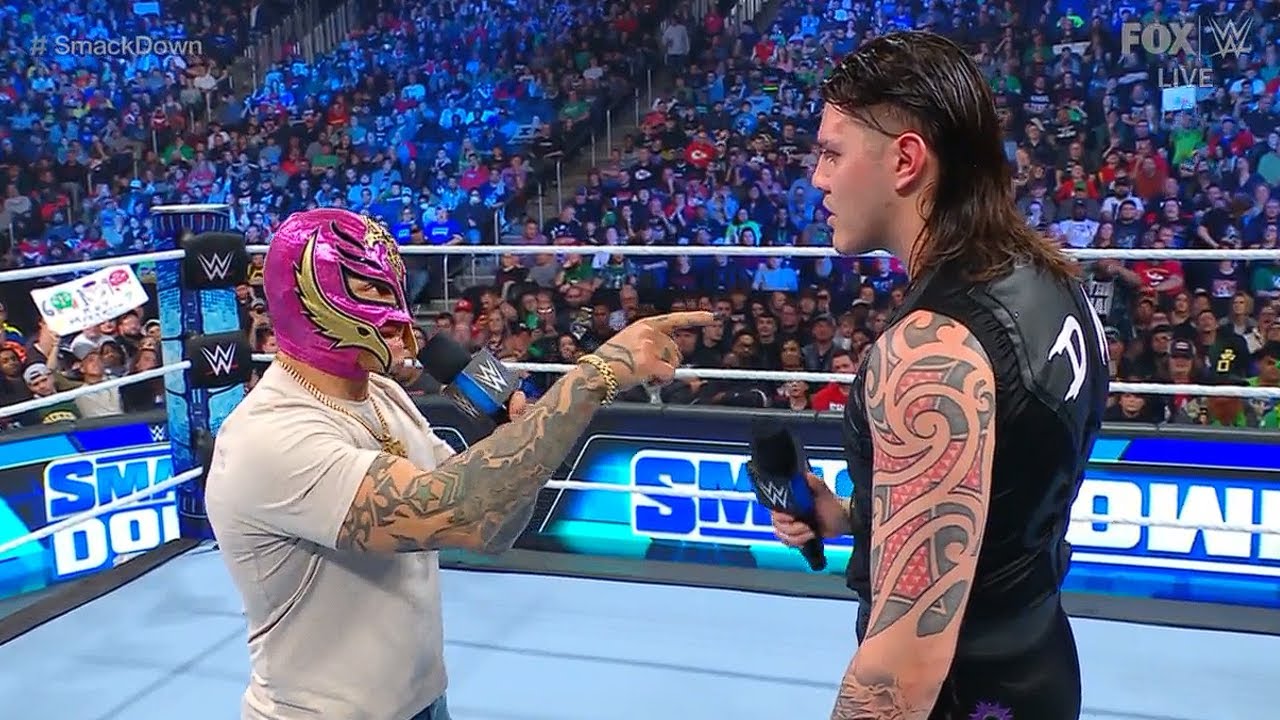 Chris King is here with what WWE should do with Dominik Mysterio at WrestleMania in his long-awaited match against his father Rey Mysterio Jr. 
On this week's episode of Friday Night SmackDown, Rey Mysterio finally snapped and beat some sense into his disrespectful punk-ass kid Dominik. The member of the Judgement Day came out to push his father again for a match on the Grandest Stage of Them All, this time with his mother and sister at ringside. The ungrateful punk told his mom to "Shut Up," as a father even I wanted to jump through the screen and whoop his ass.
Back in October of last year, Mysterio made the emotional decision to possibly quit the company but, instead, Triple H persuaded the Lucha libre superstar to move over to SmackDown to avoid his son. This came after Dominik shockingly turned on his father at Clash at the Castle. Mysterio did everything he could to refuse his despicable son's challenge for Mania but, a man can only be pushed so far. Mysterio will be inducted into the 2023 WWE Hall of Fame and I expect Dominik to embarrass his father during his speech to further this personal feud.
Yes, the WWE Universe hates Dominik and wants to see him get the ever-loving crap kicked out of him but, this feud is missing a special ingredient to capitalize on the biggest heat possible. Throughout this feud, Dominik has made mention of the legendary Eddie Guerrero on several occasions going back to the "iconic" 2005 feud.
I know WWE might not want to go this route but, Dominik MUST come out to Eddie Guerrero's theme at Mania. The disrespectful punk needs to come out in a lowrider to garner nuclear heat. It doesn't matter if The Judgement Day comes out and causes interference for Dominik to get the win, all that matters is that both superstars get the biggest payoff of this nearly year-long feud. Just imagine the Roman Reigns heat after he defeated The Undertaker and multiply that by ten. Dominik portrays the perfect heel and he truly is the missing ingredient that The Judgement Day needed to grow and evolve into a top faction.