Andrew's WWE Raw & SmackDown Live Ratings & Notes
Andrew adds some ratings and some review notes about Raw and SmackDown. Let's see what he has to say.
Well this week's article is a little delayed due to unforeseen technical difficulties and the re-launch of POD is WAR! Give it a listen since Chris Platt and I hit some current topics and we even have a little surprise for the third voice.
So let's see how the two shows played out.
Raw Ratings:
Bobby Lashley, Dean Ambrose & Drew McIntyre vs Seth Rollins, Finn Balor & John Cena – Rollins wins via Stomp – *** 1/4
Lumberjack Raw Tag Team Title Match: Chad Gable & Bobby Roode (c) vs The Revival – Gable retains via cradle – ** 1/2
Baron Corbin vs Elias – Corbin wins via End of Days – 1/2
Jinder Mahal & Alicia Fox vs Apollo Crews & Ember Moon – Ember wins via Eclipse – N/A
#1 Contender Match: Sasha Banks vs Nia Jax – Banks wins via Bank Statement – **
Falls Count Anywhere Intercontinental Championship Match: Dean Ambrose (c) vs Seth Rollins – Ambrose retains via pinfall after Bobby Lashley interference – ** 1/2
Review Notes:
Show kicks off with a backstage brawl between Rollins and Lashley. Cena then promptly ignores that, comes out and says something similar to last year about entering Rumble for an easy track to Mania. Drew McIntyre interrupts and Cena does his old stand by of " You aren't saying anything new", that he's been using the last 3 years or so since he's been a part timer. So there's a lot of irony, hypocrisy… and stupidity without need in that statement. Drew then says he's different because he'll show him instead of talk…then we get crap. Lio comes out, says he'll sue, Rollins attacks Lashley again, Ambrose shows up for reasons, and then Balor makes the save, so yay, 6 man tag.
6 Man Tag was fine, a couple new little wrinkles on move sets, and aside from the crowd being fairly Pro-Cena, there's no reason to care about this match. EXCEPT! Since Rollins gets the pin, even though Triple H wasn't paying attention, it still earns him an Intercontinental Title shot at the end of the show. Reasons folks…reasons.
Mean Gene Okerlund tribute here, with Hulk Hogan. Now yes, he's a very divisive personality at the moment, and everyone has the right to feel as they do. But as a tribute from one man who lost a close friend, it was sweet, humbling and touching. It might've gone a touch to the pandering side towards the end when he was fantasy booking a show in the clouds with a lot of the beloved wrestlers who aren't with us anymore. But honestly, it was nice as a tribute.
Lumberjack match because Roode and Gable pinned the wrong person…soo…lumberjacks are supposed to point out injustices now? Funnily enough, Revival get screwed again since Dawson's foot was under and on the bottom rope at different times during the 3 count, but the referee saw nothing. The Ascension even tried to point it out…so…yeah, a fairly well wrestled match with some good tag team spots got kicked in the balls by a heavily gimmicked finish.
Elias has a nice little riff, but of course, he gets cut off by Baron Corbin. The match no one cares about happens, the crowd even starts chanting "CM Punk", and Corbin hits End of Days because…well…I guess everyone entering the Rumble needs to look competent.
THE WORST PROMO OF THE YEAR ( yes I'm implying some amusing element since we're a week into the year) – Heyman does the usual Heyman and Braun looks to have forgotten his lines so bad, he literally says the same thing Brock did. One funny line of asking if Heyman's ass gets jealous of his mouth with all the crap that comes out aside, this was Kaio-ken times 10 of cringe. Braun proved, beyond a shadow of a doubt, why he won't be getting that belt. Dude couldn't carry a promo segment against an infant and a See-N-Say.
Jinder and Alicia come out for their match, Jinder wants Alicia to start the calming chant (Alicia calm? Jinder is high), that doesn't go well so they just insult fans. Fat guy, bearded girlfriend, standard fair insults, but sadly an upside from the last 30 minutes or so. As for the match, it happened, it was over fast and Alicia sells the Eclipse like a champ. Points for her.
Moment of Bliss debut! Alexa is the best thing in the Raw women's division, but even she was powerless to save this segment. It was weird, Ronda putting Sasha over hard was odd since the words and the recent booking don't resonate well. Nia came in claiming she weighs 300.5 ounces, and we all know that's a lie. She must be using Steiner Math to figure out her weight using the metric system and forgot to reconvert.
Anyway, the match happens and it was kinda okay until they tried to do too much. Nia is not good in the ring, she can't even drop Sasha off her shoulders across the top turnbuckle correctly. Then Sasha nearly dies trying to do a Frankensteiner off the apron. What started off with potential literally crashed and burned on the floor. But Sasha wins with a somewhat innovative way of putting on the Bank Statement, so there's that.
At this point I was hoping the show was over, but the College Football Championship wasn't much better so, rock and hard place, ya know?
This match between Rollins and Ambrose is hopefully the end between them for a while. There was action I suppose, but it was a hollow match, there was nothing compelling or no real reason to be invested in it anymore. They moved to the back, through the crowd and then back to the ring, and I didn't care. They exposed the cement, I didn't care. The best thing to come from this was Lashley getting involved and finally getting his huge chorus of boos because people were mad at him aside from just being annoyed at Lio Rush.
Overall Score: 4/10
A pro for Raw was that there was a good bit of wrestling, however, it was mediocre to poor, so that pro…turned itself into a con. Maybe this will set up a few storylines, but currently it's painful, same ole same ole, and less entertaining than golf being played in molasses.
SmackDown Live Ratings:
R-Truth vs Daniel Bryan – Bryan wins via Knee Plus –  ** 1/4
Andrade Almas & Samoa Joe vs Rey Mysterio & Mustafa Ali – Almas wins via Hammerlock DDT – *** 1/4
The Bar vs The Usos – Cesaro wins via Gotch Neutralizer – ***
#1 Contender Triple Threat – Becky Lynch vs Carmella vs Charlotte Flair – Lynch wins via Dis-Arm-Her – *** 1/2
Review Notes:
Daniel Bryan starts off the show at the concession stand ranting about processed foods, soda, hot dogs, just being a general Buzz Killington about junk food. As he's proceeding down there crowd there were a couple Elite and Nick and Matt Jacksonville shirts in the crowd, so I guess WWE didn't kick out everyone wearing AEW stuff. Small notice, Daniel did say Change the World. Hold onto that, because more to come since R-Truth ambushes Bryan before their apparent match and goes all buck wild on him.
The match was fine, Truth showed a lot of fire that we haven't gotten to see in a long time and if they wanted to push him, hey, they could. But Bryan catches him with one Knee Plus and Truth is out for the 3.
Tag match was a big highlight. Mysterio and Almas have great chemistry as shown by the very lucha spot of the head stand, hands clasped luchroll spot that turned into a very smooth Canadian Destroyer from Mysterio on Andrade. Give me like a best of 27 between Mysterio and Almas all year, I'll watch it. Oh there were other people in this match…they did things, but Almas got the pin on Mysterio to hopefully set up that epic 27 match gauntlet. 1 match for every kid Heath Slater has.
Usos hype up the crowd before the match and they come out…and what do you expect? These are 4 of the best workers in WWE, it was a solid TV match. Of course Mandy Rose comes out in a towel making it seem like she left her clothes at Jimmy's place, which gives Cesaro the opening. But it continues the storyline, so fine. Miz comes out after to challenge them to a match at Rumble against him and Shane, Sheamus hits  Brogue Kick before Cesaro says yes.
Shane and Miz are an amusing tandem because all of their segments are kinda awkward, yet charming. Plus watching Shane come around slowly to Miz's way of doing things is funny. It feels like they might be setting this up for as soon as Shane fully trusts Miz and is excited for the team, then Miz is over it or turns on him. I kinda hope not because Miz could do some good work staying more comedic this year.
Triple threat was great. Carmella has been stepping up a lot in her last few important singles matches where they let her actually wrestle. A few nice false finishes for all the women before Becky takes advantage of Carmella getting a little too cocky and slaps on the Dis-Arm-Her for the submission victory. The fun thing I noticed in this match was apparently Becky did the Stunner in house shows, and there's been a lot of Stone Cold comparisons, and she did the Stone Cold style Thesz Press by raining down punches after landing the press. So Asuka vs Becky is now actually official for Rumble.
Overall Score: 7/10
Really good show, could've ranked higher if the matches had a little more time, but for a 2 hour show, nice balance, good stuff. I made mention of the Change the World line in Bryan's promo, because commentary made it a point to call the talent Elite at some point. I forget exactly since this is later than I'd usually be writing this up, but it's suspect. Plus Buddy Murphy even dropped the Elite word in a recent Tweet. So the petty aspects of Vince know no bounds. Trying to subconsciously insert these words into the WWE product before AEW goes national so it's not easily synonymous. Clever…but still like – Richard Petty.
Andrew's Top 5 Matches: Week Ending 4/18/2021
Definitely a quieter week compared to Mania week. While there were some interesting things that happened, what really stuck out? Find out!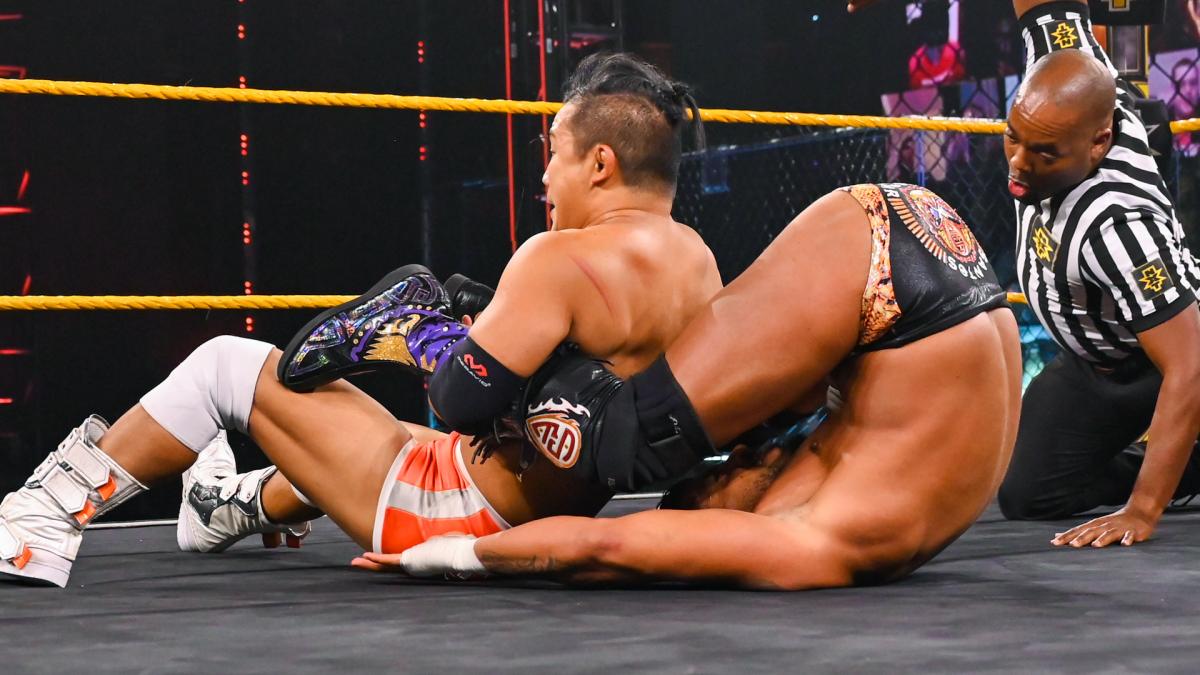 Definitely a quieter week compared to Mania week. While there were some interesting things that happened, what really stuck out? Find out!
Speaking of Mania week, this is a first, so I'm gonna go with it. Just like nothing is for certain in pro wrestling, sometimes votes don't break clean. So I'm allowing the first tie in the 4 years we've done these votes. Last week; Walter vs Tommaso Ciampa & Bianca Belair vs Sasha Banks, tied at the top of the voting.
Now that we've done something different and that will make the April pool interesting…but let's get to this week!
Quick Top 5:
Champion Carnival: Zeus vs Yuma Aoyagi
Rating: *** ½
NXT: Cruiserweight Championship: Kushida vs Santos Escobar
Rating: *** ½
IMPACT!: Josh Alexander vs TJP
Rating: *** ¼
MLW: MLW Openweight Championship: Alexander Hammerstone (c) vs Mil Muertes
Rating: *** ¼
AEW Dynamite: AEW Tag Team Titles: Young Bucks vs Fenix & Pac
Rating: *** ¼
Honorable Mentions:
Champion Carnival: Shinjiro Otani vs Jake Lee
Rating: ***
WWE SmackDown: Jey Uso vs Cesaro
Rating: ***
NXT UK: Amir Jordan vs Kenny Williams
Rating: ***
NXT: Tag Team Titles: Killian Dain & Drake Maverick vs MSK (c)
Rating: ***
AEW Dynamite: Dax Hardwood vs Chris Jericho
Rating: ***
NXT: The Way vs Dexter Lumis, Bronson Reed, Shotzi Blackheart & Ember Moon
Rating: ***
Champion Carnival: Shotaro Ashino vs Kohei Sato
Rating: ***
3t. AEW Dynamite: AEW Tag Team Titles: Young Bucks vs Fenix & Pac
Fans hope these four "Fight Forever!" but there is a time limit. And now there's a ring count. Fenix gets Matt up and into the ring at 5 of 10, then Pac follows. Pac and Matt stand, Pac RAMS Matt into the corner! Pac hoists Matt up top, tags Fenix, and Pac goes up to get Matt in a SUPERPLEX! Fenix goes right up for a FROG SPLASH!! Cover, TWO!?! Fenix doesn't stop, he puts Matt back in the drop zone and Pac tags back in. BLACK ARROW! Pac covers, but Nick returns to barrel through Fenix and BREAK it! Fenix storms right at Nick and throws him, but Nick spins around to CLOBBER Fenix! Nick drags Matt to their corner, tags in, and Nick runs at Pac, but gets a BOOT!
Pac and Nick stagger, Nick runs in but Pac dodges, but Nick holds ropes to deny the German Suplex! LOW BLOW where the ref couldn't see!! Fenix tags in, springboards, into a SUPERKICK!! Nick DEMASKS Fenix!! Insult, meet injury! DOUBLE SUPERKICKS!!! Cover, the Bucks win!!
Winner: Bucks via Double Superkicks
3t. MLW: MLW Openweight Championship: Alexander Hammerstone (c) vs Mil Muertes
Salina de la Renta has expanded Promociones Dorado to be working with Azteca Underground. So Mil Muertes is trying to be used as the ringer to finally bust up Hammer's nearly 2 year reign as Openweight Champion. Mil put a bit of a beating on Hammerstone previously and walked off with the title. So the champion is hot, and the fight has potential.
The match started off quickly where Hammerstone leads with a Pump Kick and goes after Mil to get the anger over, but Mil eventually puts the brakes on Hammer a little and takes things to the outside. Mil really starts to dominate some of the outside game before coming back in.
After returning to the ring, it turns into a counter punch match. Hammerstone hits a Pumphandle Fall Away Slam, but Mil isn't to be overshadowed and lifts Hammerstone up with relative ease later on. As the counter punch aspect continues, Mil heads to the ropes possibly looking for the Reaper's Trident, but Hammerstone catches him, hits Nightmare Pendulum out of nowhere and retains by the skin of his teeth.
Solid power match, with some fun elements and showing the wear and tear on Hammerstone might finally be catching up with him.
Winner: Hammerstone via Nightmare Pendulum
3t. IMPACT!: Josh Alexander vs TJP
Both men showing more of the technical side of them instead of the X Division we are used to seeing throughout the years but the two are using a good amount of speed against each other, picking up in the later part of the match up. They go to different styles rapidly from technical, to agility, strength and striking too around the end.
Every time TJP goes for an Armbreaker or his signature Octopus, Josh scouts it and gets into an Ankle Lock. TJP also has the move caught and transitions into an STS. TJP goes for a Mamba Splash but it keeps getting countered into the Ankle Lock again. TJP yet again reverses it into an Arm Bar and Josh Alexander realizes that he has to win with something else and breaks the Armbreaker with a Powerbomb and hits a Double Underhook Piledriver to finish off TJP this matchup.
Winner: Alexander via Divine Intervention
1t. NXT: Cruiserweight Championship: Kushida vs Santos Escobar
From Mitchell's Coverage:
Escobar gets Kushida up, fireman's carries, but Kushida elbows free! Kushida shoves and atomic drops! Kushida whips, hip tosses, cartwheels and dropkicks! FAST BALL! PENALTY KICK to the arm! Kushida underhooks, but Escobar fights to wrench free. The bad arm lets go, Kushida runs in to SHOTEI! Another shout out to Liger! Kushida puts Escobar up top, climbs up, but Escobar CHOPS! Kushida hops down to GAMANGIRI the arm! Kushida climbs back up, hammerlocks for a SUPERPLEX!! Then ANOTHER! Bridging cover, ROPEBREAK!!! Kushida can't believe how close that was but fans are thunderous for "NXT! NXT!"
Kushida aims, runs and leaps, to get the arm! Escobar fights the Hoverboard, the go around, Escobar wrenches out to ENZIGURI! Kushida PELES!! Both men are down, Kushida crawls over to Escobar as fans rally up. They both sit up, Kushida fires a forearm but Escobar gives it back. They brawl to their feet, Kushida and Escobar KICK and KICK and KICK! Escobar reverse the whip, Kushida handsprings, into a BACKSTABBER!! Escobar drags Kushida up, reels him into the fireman's carry, but Kushida sunset flips!! TWO!! Escobar has a sunset, TWO! Kushida sits on the prawn hold, and WINS!!!
Winner: Kushida via Cradle
1t. Champion Carnival: Zeus vs Yuma Aoyagi
Yuma got back into it when hitting a Crossbody onto Zeus but would kick out at one. Yuma tossed Zeus into the ropes but Zeus would hit a Flying Clothesline instead as the two are down but Zeus is getting up first, lifting him up for a Bearhug and tossed him over. Zeus calls for the Chokeslam but Yuma fights him off, delivering an below to the face and as he ran the ropes, he ducked under Zeus to hit a German Suplex. Yuma climbed to the top rope but Zeus chops him before coming up to hit a Superplex as the two men go down. Zeus hits the Chokeslam this time and climbs to the top rope to hit a Frog Splash but Yuma kicked out at two! Zeus quickly went for the Facelock and looks like he could tap but Yuma had his foot on the rope. Zeus called for the Jackhammer but Yuma reversed it into a German Suplex but Zeus quickly got up to attempt a Lariat, however, Yuma ducked again to hit another German. Yuma has the End Game locked in but Zeus was close enough to grab the rope, and break the hold. Zeus went for a Lariat but Yuma ducked as they ran the ropes, making Zeus hit the Lariat this time as Yuma was turned inside out. Zeus went for one more Lariat as Yuma reversed it into a Crucifix Pin and gets the surprising victory over Zeus! Big win for Yuma and Zeus is no longer undefeated.
Winner: Yuma via Crucifix Pin
Thoughts:
Welp, kinda glad we had a tie last week. Not exactly the most jaw dropping stuff, but solid for a normal week. Kushida's shock was fun, Yuma's shock helps him if AJPW doesn't do their usual weird storytelling, Alexander builds momentum for Rebellion, and Hammerstone vs Muertes was pretty solid. That leaves the Bucks match, which apparently became a sticking point as people are trying to prove a non-existent point. Being overt and making it so easy to follow that 1st graders understand and then overreacting like an imbecile is not effective psychology for an adult.
So anyone that wants to say "Look the Young Bucks can tell stories". Normally the Young Bucks need weeks of promo, BTE, and obvious bread crumbs; which isn't clever. So no, they really do lack the ability to be convincing and enthralling without making everything they do blatantly obvious and over the top. It was fine for a spectacle, but as a match, everything lacked.
That given, I'm gonna give my vote to Kushida vs Santos Escobar. It was fun, well done and left a lot to build off of.
News From Cook's Corner 4.19.21: Spring Cleaning 2021
Spring cleaning happens everywhere, and Steve Cook points out his highlights of the recent news!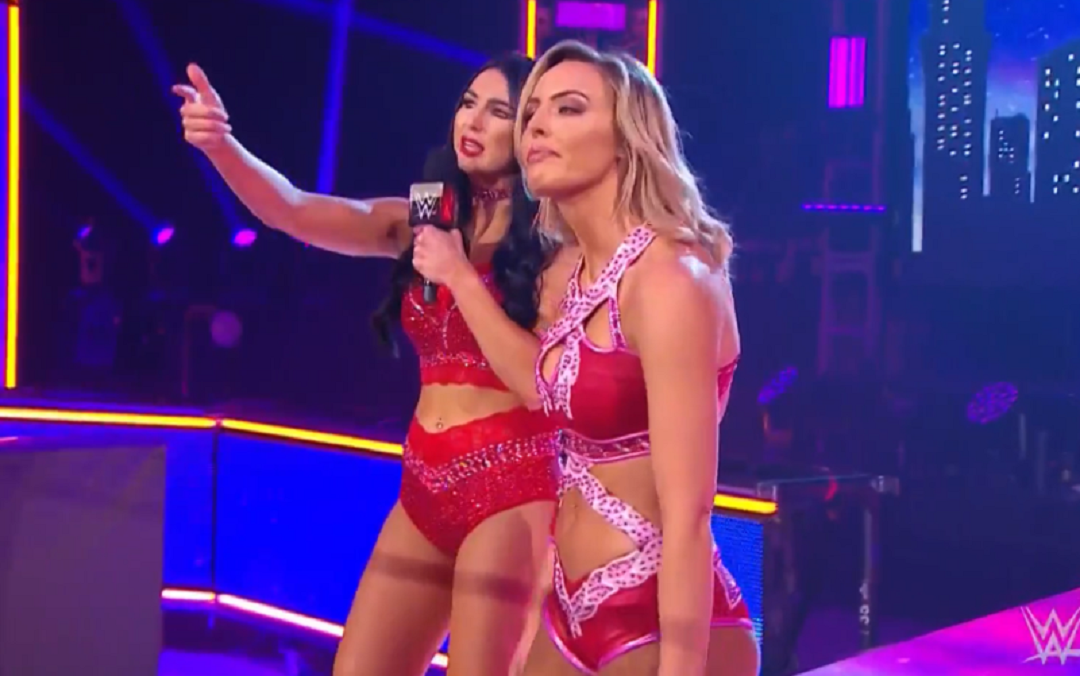 Hi, hello & welcome to News From Cook's Corner! Tomorrow will mark one year since this column has made its glorious return. All in all, I think I'd give this year of News From Cook's Corner a solid "C". Not my best, but not my worst either. Considering the year that's taken place for all of us, I'd be willing to bump it up to a "C+" based off of degree of difficulty. A rough year for wrestling, a pretty full plate at work…not really the best time to produce your best writing.
Thing is, I know I can do better. I'm glad my work draws whatever interest it does, and I appreciate everybody that reads & likes my stuff, but I'm a greedy son of a gun. I want more. Gonna try and make that happen by the time the second anniversary of the third News From Cook's Corner run rolls around. How am I going to do that?
Well, hopefully I'll figure it out by then.
For now, let's run through some rasslin news!
Spring Cleaning
That's what we used to call it back in the day. Every year in the time following WrestleMania, WWE would release a number of wrestlers from their contracts & wish them well in future endeavors. The practice stopped during the 2010s largely for two reasons…
1. WWE wanted to have every professional wrestler in captivity under contract.
2. Linda McMahon was trying to get elected to political office, and her family's company firing a bunch of people didn't make her claim of being a job creator look very good.
Sure, people would leave or get released from time to time, but we went years without that day where the axe fell and it seemed like people would never stop getting fired. Not a great time to be a wrestler without much going on in WWE,
We talked about Samoa Joe in the Fave Five column and nothing else has been reported on that front. Except that everybody is talking about how much they would love to finally see a rematch between Joe & CM Punk, and Punk seems like he'd be up for it. I kind of wonder if they could put that together themselves and make some money off of it, or get one of these other feds to book it. FITE re-tweeting a Bleacher Report article about it tells me they're seeing if they can get involved in something with these guys. I mean, their new owners are promoting boxing shows built around Jake Paul, and it seems to be working, so why the hell not?
Billie Kay & Peyton Royce
Back when the Iiconics split up, everybody told me that Peyton was in store for big things because Vince McMahon liked her and was going to give her a singles push. Nothing that happened after the split indicated that anybody associated with Vince or Creative had any interest in Peyton Royce. She went to a tag team with Lacey Evans that didn't make anybody forget about Peyton's old tag team, then once Lacey went out of action there was nothing for Peyton to do. She gave an emotionally-charged promo on Raw Talk that got some people talking, but it didn't lead to anything.
Billie was supposed to be left behind after the team split, but got a bit more run on SmackDown with a gimmick where she would distribute her resume to everybody. Dunno if they were trying to send her a message or not, but she got the darn thing over. Fightful reported that Kevin Dunn didn't understand Billie's appeal, which is one of those things that isn't surprising at all because it's Kevin Dunn & the only thing he understands is bad television.
It's kind of a theme with these releases. A good percentage of these people were in tag teams that split up for reasons that ended up being irrelevant. Singles pushes that never went anywhere because somebody lost interest.
Mickie James
Mickie was one of those girls back in the day that history tries to overlook now in a desire to emphasize how today's women's wrestling is the best ever. It seemed like her in-ring career was just about done anyway, and WWE probably has enough people to train and whatnot, so the release doesn't come as a huge surprise. A shame to many, as we all like Mickie.
Like a good number of people released by WWE lately, Mickie has a significant other employed elsewhere. Does she follow Nick Aldis to the NWA? Billy Corgan's company sure could use a boost, as not many of their other recent additions have generated a ton of interest. Not saying Mickie turns the tide for them, but she's damn sure a bigger draw than Tyrus. Mickie vs. Serena Deeb sounds good to me, as does Mickie vs. Thunder Rosa, and I'm sure Kamille could learn something from her. Book it, William!
Chelsea Green
Chelsea finally made her main roster debut back in November and was set to be part of Team SmackDown at the Survivor Series until a wrist injury during the match changed those plans. She had a couple of start-stops like that just when it seemed like her time.
Could still be her time somewhere else though! She's already taking outside bookings and I'd guarantee that we'll see her on one of the other TV wrestling promotions before 2021 ends. She's got history with Impact and friends there too, so that seems like the best fit. That said, I think she'll have her choice of where to go.
Tucker
Making lemonade. pic.twitter.com/5Jvvmol88o

— TUCKy (@REALLeviCooper) April 15, 2021
I never heard anybody say one word about this cat until he popped up on Twitter day of his firing smoking joints and ripping Vince. Now he's everybody's favorite! Not hating on the guy though, I thought he was solid enough in Heavy Machinery, and it was obvious they had nothing for him after that split. What wasn't as obvious was they had nothing for Otis either.
Anyway, Tucker's better off somewhere that somebody might at least book a match for him.
Wesley Blake
Remember that big hullabaloo over Jaxon Ryker's tweet last summer? It got the Forgotten Sons taken off of TV and everybody wanted Ryker to get the hook. I never saw it happening, simply because Ryker's tweet wasn't anything that the WWE front office would have disagreed with in private. Sure enough, Ryker still has a job while the rest of the Forgotten Sons have been released.
Blake was in a well-regarded tag team with Buddy Murphy that got Alexa Bliss over as a star before moving on to the Forgotten Sons. He'll be teaming with somebody somewhere.
Bo Dallas
Bo was already making plans for life after wrestling. Maybe he'll do some well paying indies or something, but I doubt we see him on a large stage again. Besides, all his family's stroke is with WWE.
Kalisto
Kalisto was one of those guys that showed a lot of talent before arriving in WWE, and he had a solid run early on too. Not so much in the past couple of years, and I read something from thecubsfan that made a lot of sense. Expectations for Kalisto will be high now, but there's no guarantee he'll live up to them. Dude's spent the last several years un-learning the stuff that fans outside of WWE liked about him. He won't magically become Octagon Jr. or Samuray del Sol again, like people might expect.
So if people lower those expectations, I think they'll be happy with what they see from him in AAA or wherever else he ends up. A US indy tour seems inevitable since that's where he made his name to begin with.
In closing, it should be noted that getting fired by WWE isn't the end of the world. Everybody here has feasible options they can move on to, and the door's always open for a comeback. Heck, Drew McIntyre was let go by WWE some years ago, and he improved himself to the point where he eventually became WWE Champion.
I don't even mind WWE trimming their roster, just don't give me the "budget cuts" excuse. WWE can afford anybody they want at a price that doesn't hamper the almighty profit margin too much. If fans, or WWE tries to justify firing people with "budget cuts", don't buy it.
Just say you don't want these people around anymore. You have no use for them. Be honest!
I'm also not going to make any suggestions on who should be fired, as WWE will just keep them around forever. People tell me they still see money in Velveteen Dream…I'm not sure what kind of money they'd see in him at unless the FBI puts out a reward for his capture.
Announcing News!
Last week I sat here and explained to you how it doesn't matter who commentates on shows, what actually matters is the content of the shows. Sometimes, it feels like people in the business read my columns, then set out to prove me wrong. This is a ridiculous, self-serving belief since it assumes that people in the business read this shit, but it's just a feeling I get on some occasions, such as this one.
WWE completed their current announcing picture not long after last week's column, putting Pat McAfee next to Michael Cole on SmackDown. It makes sense, McAfee is quite the talker and has football commentary experience, and also has a fanbase that he can implore to watch SmackDown. I feel like an opportunity has been missed considering his in-ring performance against Adam Cole, but McAfee doesn't seem into doing that full-time, and seems quite happy talking for a living. Wouldn't we all?
Then we have Impact Wrestling making a big announcement. Mauro Ranallo will be calling the main event of their Rebellion show, which pits Impact Champion Rich Swann against AEW Champion Kenny Omega in an apparent unification match. You always have to add "apparent" in front of "unification match" given the past hundred years of pro wrestling history. It's nice to see Mauro return to pro wrestling, and it's not like he's had a problem getting work since leaving WWE.
Is Mauro going to make anybody buy Rebellion? Will Pat get more people to watch SmackDown? I'm leaning towards "probably not" on both. Yet it seems like that's what these promotions think will fix things. Maybe I'm wrong. They'll do their best to prove it.
AEW did a little bit of cleaning too
I feel that I need to go ahead and mention this as well, since we already covered WWE firing a bunch of people, and WWE fans will get mad if I don't mention other companies letting people go. More importantly than all that, I just find this particular story fascinating for some reason.
Ivelisse hasn't been seen in AEW since February. There had been some speculation that she had gotten into trouble backstage due to some issues with Thunder Rosa. Some tried to say there were no issues, but people that watched their match on Dynamite knew better.
Ivelisse: I don't know why I got released.

Also Ivelisse: pic.twitter.com/rvvzE2geEA

— Soundwave (@LocalSoundwave) April 14, 2021
She didn't appear too often on Dynamite after that, but got a solid push on Dark. Ivelisse won fifteen straight matches on Dark, whether as a single or teaming with Diamante. Lost her last one, and hasn't been seen since. What's up with that?
According to Ivelisse on social media & during an interview with Lucha Libre Online, it's due to heat with a coach & with Thunder Rosa. Rosa & Ivelisse have had bad blood since their days in Lucha Underground, and apparently Rosa ran her down to anybody in AEW who would listen. See, I don't completely doubt that. I don't know if Thunder Rosa was giving everybody her unsolicited opinions, but if somebody asked her what she thought of Ivelisse, she probably gave an answer.
I imagine that'd be the nice thing about being under NWA contract instead of AEW contract. One can be a little more truthful.
You feel bad for anybody getting fired, and Ivelisse has the potential to be a star somewhere. Unfortunately, it seems like she keeps getting in her own way, and it also seems like she doesn't realize that she's part of the issue. Not saying she hasn't been wronged in some of these situations, it's the wrestling business and not many of these people are wearing halos.
It's a lesson a lot of us could stand to learn. If the same bad things keep happening to us, maybe there's something we can do to make things better.
That's all I got time for right now. Thanks for reading, and until next time, keep your stick on the ice.