Andrew's WWE Raw & SmackDown Live Ratings & Notes
Andrew adds some ratings and some review notes about Raw and SmackDown. Let's see what he has to say.
Well this week's article is a little delayed due to unforeseen technical difficulties and the re-launch of POD is WAR! Give it a listen since Chris Platt and I hit some current topics and we even have a little surprise for the third voice.
So let's see how the two shows played out.
Raw Ratings:
Bobby Lashley, Dean Ambrose & Drew McIntyre vs Seth Rollins, Finn Balor & John Cena – Rollins wins via Stomp – *** 1/4
Lumberjack Raw Tag Team Title Match: Chad Gable & Bobby Roode (c) vs The Revival – Gable retains via cradle – ** 1/2
Baron Corbin vs Elias – Corbin wins via End of Days – 1/2
Jinder Mahal & Alicia Fox vs Apollo Crews & Ember Moon – Ember wins via Eclipse – N/A
#1 Contender Match: Sasha Banks vs Nia Jax – Banks wins via Bank Statement – **
Falls Count Anywhere Intercontinental Championship Match: Dean Ambrose (c) vs Seth Rollins – Ambrose retains via pinfall after Bobby Lashley interference – ** 1/2
Review Notes:
Show kicks off with a backstage brawl between Rollins and Lashley. Cena then promptly ignores that, comes out and says something similar to last year about entering Rumble for an easy track to Mania. Drew McIntyre interrupts and Cena does his old stand by of " You aren't saying anything new", that he's been using the last 3 years or so since he's been a part timer. So there's a lot of irony, hypocrisy… and stupidity without need in that statement. Drew then says he's different because he'll show him instead of talk…then we get crap. Lio comes out, says he'll sue, Rollins attacks Lashley again, Ambrose shows up for reasons, and then Balor makes the save, so yay, 6 man tag.
6 Man Tag was fine, a couple new little wrinkles on move sets, and aside from the crowd being fairly Pro-Cena, there's no reason to care about this match. EXCEPT! Since Rollins gets the pin, even though Triple H wasn't paying attention, it still earns him an Intercontinental Title shot at the end of the show. Reasons folks…reasons.
Mean Gene Okerlund tribute here, with Hulk Hogan. Now yes, he's a very divisive personality at the moment, and everyone has the right to feel as they do. But as a tribute from one man who lost a close friend, it was sweet, humbling and touching. It might've gone a touch to the pandering side towards the end when he was fantasy booking a show in the clouds with a lot of the beloved wrestlers who aren't with us anymore. But honestly, it was nice as a tribute.
Lumberjack match because Roode and Gable pinned the wrong person…soo…lumberjacks are supposed to point out injustices now? Funnily enough, Revival get screwed again since Dawson's foot was under and on the bottom rope at different times during the 3 count, but the referee saw nothing. The Ascension even tried to point it out…so…yeah, a fairly well wrestled match with some good tag team spots got kicked in the balls by a heavily gimmicked finish.
Elias has a nice little riff, but of course, he gets cut off by Baron Corbin. The match no one cares about happens, the crowd even starts chanting "CM Punk", and Corbin hits End of Days because…well…I guess everyone entering the Rumble needs to look competent.
THE WORST PROMO OF THE YEAR ( yes I'm implying some amusing element since we're a week into the year) – Heyman does the usual Heyman and Braun looks to have forgotten his lines so bad, he literally says the same thing Brock did. One funny line of asking if Heyman's ass gets jealous of his mouth with all the crap that comes out aside, this was Kaio-ken times 10 of cringe. Braun proved, beyond a shadow of a doubt, why he won't be getting that belt. Dude couldn't carry a promo segment against an infant and a See-N-Say.
Jinder and Alicia come out for their match, Jinder wants Alicia to start the calming chant (Alicia calm? Jinder is high), that doesn't go well so they just insult fans. Fat guy, bearded girlfriend, standard fair insults, but sadly an upside from the last 30 minutes or so. As for the match, it happened, it was over fast and Alicia sells the Eclipse like a champ. Points for her.
Moment of Bliss debut! Alexa is the best thing in the Raw women's division, but even she was powerless to save this segment. It was weird, Ronda putting Sasha over hard was odd since the words and the recent booking don't resonate well. Nia came in claiming she weighs 300.5 ounces, and we all know that's a lie. She must be using Steiner Math to figure out her weight using the metric system and forgot to reconvert.
Anyway, the match happens and it was kinda okay until they tried to do too much. Nia is not good in the ring, she can't even drop Sasha off her shoulders across the top turnbuckle correctly. Then Sasha nearly dies trying to do a Frankensteiner off the apron. What started off with potential literally crashed and burned on the floor. But Sasha wins with a somewhat innovative way of putting on the Bank Statement, so there's that.
At this point I was hoping the show was over, but the College Football Championship wasn't much better so, rock and hard place, ya know?
This match between Rollins and Ambrose is hopefully the end between them for a while. There was action I suppose, but it was a hollow match, there was nothing compelling or no real reason to be invested in it anymore. They moved to the back, through the crowd and then back to the ring, and I didn't care. They exposed the cement, I didn't care. The best thing to come from this was Lashley getting involved and finally getting his huge chorus of boos because people were mad at him aside from just being annoyed at Lio Rush.
Overall Score: 4/10
A pro for Raw was that there was a good bit of wrestling, however, it was mediocre to poor, so that pro…turned itself into a con. Maybe this will set up a few storylines, but currently it's painful, same ole same ole, and less entertaining than golf being played in molasses.
SmackDown Live Ratings:
R-Truth vs Daniel Bryan – Bryan wins via Knee Plus –  ** 1/4
Andrade Almas & Samoa Joe vs Rey Mysterio & Mustafa Ali – Almas wins via Hammerlock DDT – *** 1/4
The Bar vs The Usos – Cesaro wins via Gotch Neutralizer – ***
#1 Contender Triple Threat – Becky Lynch vs Carmella vs Charlotte Flair – Lynch wins via Dis-Arm-Her – *** 1/2
Review Notes:
Daniel Bryan starts off the show at the concession stand ranting about processed foods, soda, hot dogs, just being a general Buzz Killington about junk food. As he's proceeding down there crowd there were a couple Elite and Nick and Matt Jacksonville shirts in the crowd, so I guess WWE didn't kick out everyone wearing AEW stuff. Small notice, Daniel did say Change the World. Hold onto that, because more to come since R-Truth ambushes Bryan before their apparent match and goes all buck wild on him.
The match was fine, Truth showed a lot of fire that we haven't gotten to see in a long time and if they wanted to push him, hey, they could. But Bryan catches him with one Knee Plus and Truth is out for the 3.
Tag match was a big highlight. Mysterio and Almas have great chemistry as shown by the very lucha spot of the head stand, hands clasped luchroll spot that turned into a very smooth Canadian Destroyer from Mysterio on Andrade. Give me like a best of 27 between Mysterio and Almas all year, I'll watch it. Oh there were other people in this match…they did things, but Almas got the pin on Mysterio to hopefully set up that epic 27 match gauntlet. 1 match for every kid Heath Slater has.
Usos hype up the crowd before the match and they come out…and what do you expect? These are 4 of the best workers in WWE, it was a solid TV match. Of course Mandy Rose comes out in a towel making it seem like she left her clothes at Jimmy's place, which gives Cesaro the opening. But it continues the storyline, so fine. Miz comes out after to challenge them to a match at Rumble against him and Shane, Sheamus hits  Brogue Kick before Cesaro says yes.
Shane and Miz are an amusing tandem because all of their segments are kinda awkward, yet charming. Plus watching Shane come around slowly to Miz's way of doing things is funny. It feels like they might be setting this up for as soon as Shane fully trusts Miz and is excited for the team, then Miz is over it or turns on him. I kinda hope not because Miz could do some good work staying more comedic this year.
Triple threat was great. Carmella has been stepping up a lot in her last few important singles matches where they let her actually wrestle. A few nice false finishes for all the women before Becky takes advantage of Carmella getting a little too cocky and slaps on the Dis-Arm-Her for the submission victory. The fun thing I noticed in this match was apparently Becky did the Stunner in house shows, and there's been a lot of Stone Cold comparisons, and she did the Stone Cold style Thesz Press by raining down punches after landing the press. So Asuka vs Becky is now actually official for Rumble.
Overall Score: 7/10
Really good show, could've ranked higher if the matches had a little more time, but for a 2 hour show, nice balance, good stuff. I made mention of the Change the World line in Bryan's promo, because commentary made it a point to call the talent Elite at some point. I forget exactly since this is later than I'd usually be writing this up, but it's suspect. Plus Buddy Murphy even dropped the Elite word in a recent Tweet. So the petty aspects of Vince know no bounds. Trying to subconsciously insert these words into the WWE product before AEW goes national so it's not easily synonymous. Clever…but still like – Richard Petty.
King's WrestleMania Rewind: Charlotte Flair vs. Asuka from WrestleMania 34
Chris king is back with one of the most underrated matches in WrestleMania history–Charlotte Flair vs. Asuka!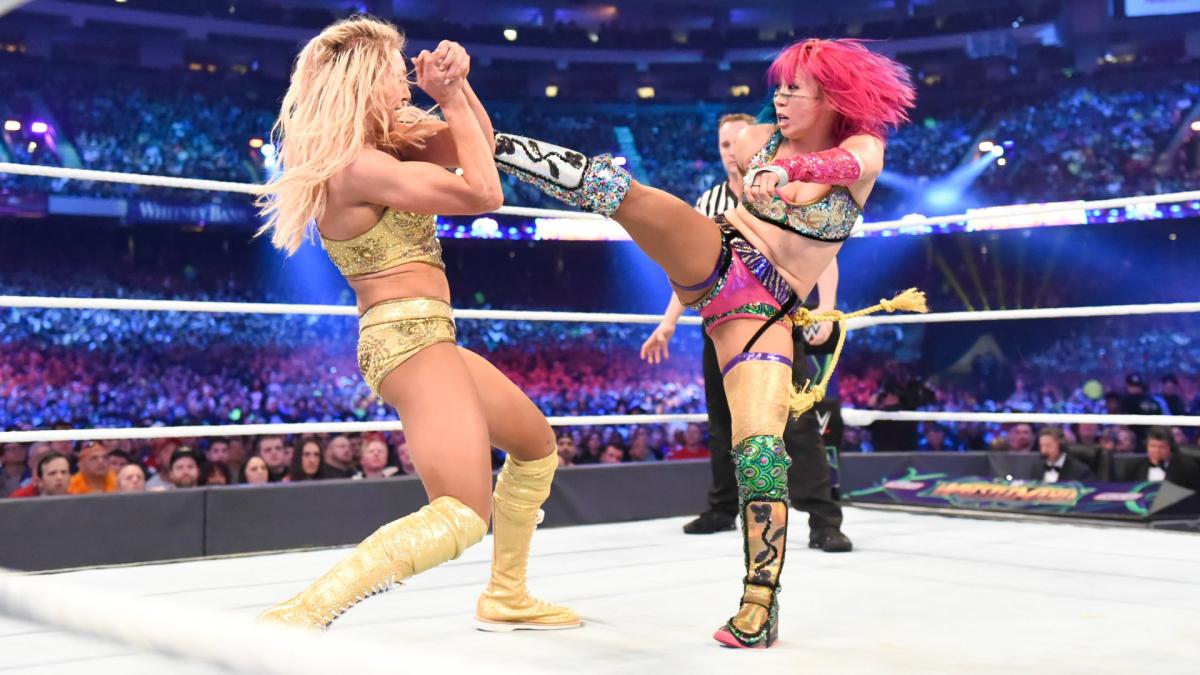 Chris king is back with one of the most underrated matches in WrestleMania history–Charlotte Flair vs. Asuka!
We look back at Charlotte Flair vs. Asuka at WWE WrestleMania 34. 'The Empress of Tomorrow' put her unprecedented and historic undefeated streak of 914 days on the line against 'The Queen's' SmackDown Women's Championship.
For years, this was considered a dream match while Asuka dominated the roster in NXT, while Flair won numerous championships on the main roster on both Raw and SmackDown. The Empress made her long-awaited debut on the September 11th episode of Raw and began to tear through the competition.
Asuka outlasted all twenty-nine other women in the historic first-ever Women's Royal Rumble match to challenge for the title of her choosing. At Fastlane, she made her choice.
The WWE Universe was so excited for this match myself included. Both superstars delivered a fantastic performance on the Grandest Stage of Them All executing counter after counter. Asuka showed off some nasty-looking kicks to her opponent, and Flair hit a thunderous Spanish Fly off the top rope. Flair was seconds away from defeat at the hands of The Empress but she locked in Figure Eight and Asuka was forced to tap out.
I can't even begin to explain how shocked I was at this outcome, as nearly everyone expected The Empress to continue her undefeated streak and walk away with the women's title. This controversial decision was the downfall of Asuka's momentum. She would ultimately win the SmackDown Women's Championship at the 2018 TLC pay-per-view in the triple-threat ladder match.
Fast forward to this year when Asuka has recently returned with her Japanese-inspired persona Kana. Kana is dangerous and ruthless and is heading into a championship with Bianca Belair at WrestleMania 39. The Empress has regained all her momentum and is highly favored to walk away with the Raw Women's Championship. Let's hope that Asuka and Belair can tear the house down and deliver an A+ grade match both women are fully capable of.
King: Dominik Mysterio Needs To Do This At WrestleMania
Chris King is here with what WWE should do with Dominik Mysterio at WrestleMania in his long-awaited match against his father Rey Mysterio Jr.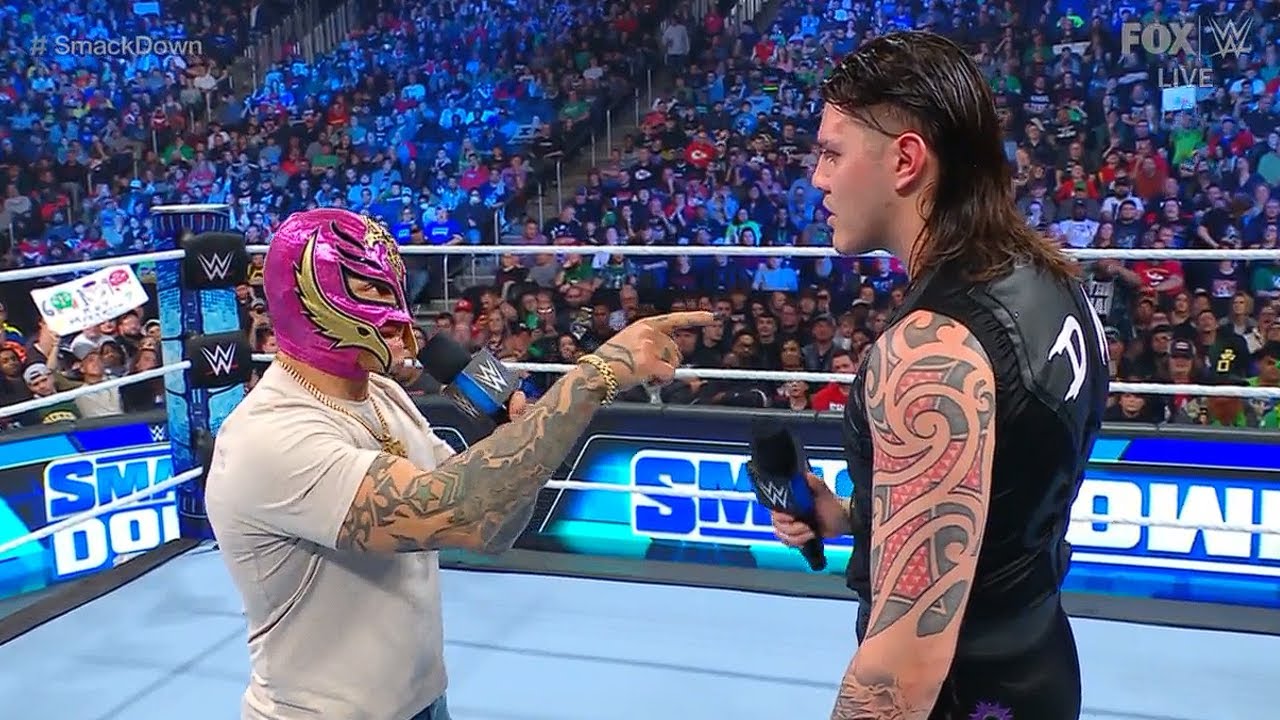 Chris King is here with what WWE should do with Dominik Mysterio at WrestleMania in his long-awaited match against his father Rey Mysterio Jr. 
On this week's episode of Friday Night SmackDown, Rey Mysterio finally snapped and beat some sense into his disrespectful punk-ass kid Dominik. The member of the Judgement Day came out to push his father again for a match on the Grandest Stage of Them All, this time with his mother and sister at ringside. The ungrateful punk told his mom to "Shut Up," as a father even I wanted to jump through the screen and whoop his ass.
Back in October of last year, Mysterio made the emotional decision to possibly quit the company but, instead, Triple H persuaded the Lucha libre superstar to move over to SmackDown to avoid his son. This came after Dominik shockingly turned on his father at Clash at the Castle. Mysterio did everything he could to refuse his despicable son's challenge for Mania but, a man can only be pushed so far. Mysterio will be inducted into the 2023 WWE Hall of Fame and I expect Dominik to embarrass his father during his speech to further this personal feud.
Yes, the WWE Universe hates Dominik and wants to see him get the ever-loving crap kicked out of him but, this feud is missing a special ingredient to capitalize on the biggest heat possible. Throughout this feud, Dominik has made mention of the legendary Eddie Guerrero on several occasions going back to the "iconic" 2005 feud.
I know WWE might not want to go this route but, Dominik MUST come out to Eddie Guerrero's theme at Mania. The disrespectful punk needs to come out in a lowrider to garner nuclear heat. It doesn't matter if The Judgement Day comes out and causes interference for Dominik to get the win, all that matters is that both superstars get the biggest payoff of this nearly year-long feud. Just imagine the Roman Reigns heat after he defeated The Undertaker and multiply that by ten. Dominik portrays the perfect heel and he truly is the missing ingredient that The Judgement Day needed to grow and evolve into a top faction.