Chairshot Classics: WCW Slamboree 1995 – A Legends' Reunion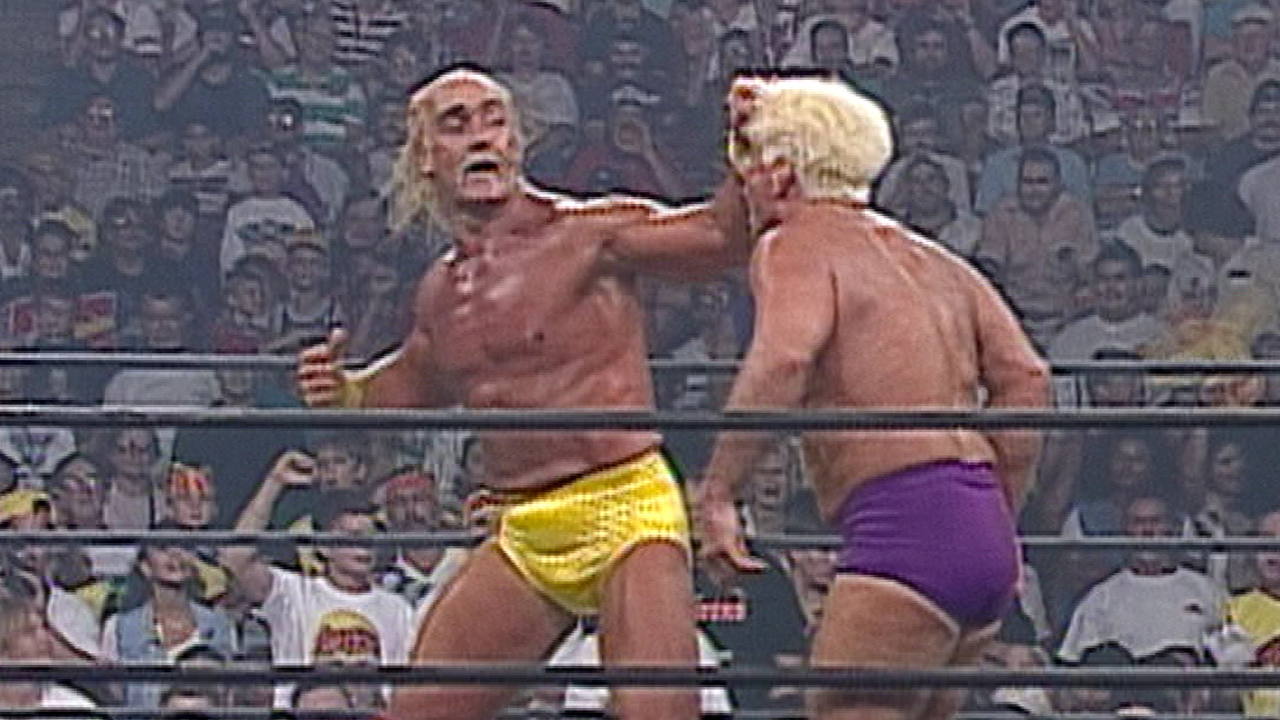 Our weekly Chairshot Classics WCW PPV series continues with Slamboree '95!
Following a brutally cheesy inaugural Uncensored event in March, what would WCW do to follow-up? Let's not waste any time and get to the action!
Match #1 for the WCW World Tag Team Championships: The Nasty Boys (Brian Knobs & Jerry Sags) vs. WCW World Tag Team Champions Harlem Heat (Booker T & Stevie Ray) w/Sister Sherri
Jerry Sags makes his way down to the ring by himself at the open. Brian Knobs was previously injured and they're not sure what his status is. The "Nasty" chants break out for Sags who is by himself. Booker T will start it off for Harlem Heat. He lectures the chanting crowd and rounds the ring. They exchange slaps and strikes, Sags takes the advantage and hits an inside out clothesline. Booker eats turnbuckle, Irish whip and Sags comes in with another big lariat. Stevie rushes the ring, but Sags takes it to both champions with a double DDT.
Sherri is on the apron and she eats a right from the Nasty Boy. Sags sets up a pumphandle slam on Booker and lands it. He makes a cover and Booker kicks out at two. Sags pursues in the corner, but Booker lands a right. The champs double team Sags and Stevie is tagged in. He tries an elbow, but Sags moves. Double leg takedown by Sags and he hits a low blow head butt. Sags sets up again and he drops a leg across the mid section. He makes a cover and Booker T comes in for the save. Scoop slam by Sags and he heads up the turnbuckles. Double ax from the top rope and Booker is forced to make the save once again. Sags tries a cover but Sherri pulls his leg.
Jerry pursues the valet who baits him into a beat down from Stevie Ray. The ref pulls him off and Sags rolls to the floor, where he's double teamed by Booker and Sherri. Stevie heads out, drives him into the steel and rolls him back into the ring. Double team in the ring by the champs and Booker grabs a reverse chin lock. Back to vertical, Sags tries to go to the eyes but Booker stays in control. He misses an elbow, but with a spin-a-roonie comes back to his feet and hits a heel kick. Tag is made to Stevie, Sags is sent for the ride and he eats a drop kick. Side slam by Stevie and Sags is set up for a senton by Booker. He's slow to make a cover and Sags gets his shoulder up.
A quick tag is made back to Stevie who lands a leg drop and a big forearm. Another fast tag back to Booker who lifts Sags and sends him to the ropes. Sags reverses a back drop into a piledriver, and finally from the back, here comes a taped up Brian Knobs. Sags makes the hot tag and Knobs cleans house. Scoop slams and back elbows for both. He hits a bulldog on Booker and back drops Stevie over the top. Sherri climbs to the top rope and leaps but Knobs catches her out of the air and drops her hard on the canvass before dumping her to the floor. Knobs tags in Sags, hits a powerslam, Jerry hits a top rope elbow and we have new champs!
Winners and NEW WCW World Tag Team Champions: The Nasty Boys (Sags/Top Rope Elbow Drop)
After The Bell: The Blue Bloods are standing at the top of the ramp in suits, looking disgusted with the new champions. They seem to want a piece of them, but they shake their heads and head to the back. The Nasty Boys join Eric Bischoff after, and if The Blue Bloods want an opportunity, they're going to get one.
EA's Take: Very good opening match between two teams who are no strangers. The story of Knobs escaping from the back after being kayfabe injured was a nice touch and it popped the crowd when he came rushing down. I continue to respect Sherri's bumping as a valet. The introduction of The Blue Bloods (Regal and Eaton) will help a pretty thin tag team division.
Backstage: 'Mean' Gene Okerlund is joined by Kevin Sullivan. He'll be facing the man formerly known as The Butcher. He told him not to show up, and he hasn't slept in the last 5 days. The problem is that 'The Man With No Name' still believes in Hulkamania, and he heads for the ring after some deranged musings.
Match #2: Kevin Sullivan vs. The Man With No Name
A brawl breaks out immediately, and a big knee lift sends Sullivan to the floor. TMWNN follows him immediately and continues his assault. Back in the ring, a countoff series of rights is delivered to Sullivan and he gets his eyes rakes. Uppercut by TMWNN and Sullivan eats turnbuckle. A whip to the ropes and TMWNN locks in a sleeper, Sullivan drops to the mat to reverse it and dumps him to the floor. TMWNN hits the steel and they exchange chops. Sullivan is rolled back into the ring, TMWNN takes position in the corner with a splash. Sullivan has a knee driven his neck and gets an eye rake, but he fights back with chops.
It only wakes up TMWNN and he fires back with rights. A big chop between the eyes knocks Sullivan down and he gets a two count. TMWNN sets up for and hits a piledriver. TMWNN is slow to cover and Sullivan barely escapes. He pursues but Sullivan goes to the eyes. TMWNN is smashed into the turnbuckle and dumped outside for a shot on the ring post. Sullivan rakes his back and rolls him back in. TMWNN blocks a chop and fires back. To the ropes they go, TMWNN hits a big lariat. He tries a running splash, but Sullivan moves out of the way. Sullivan sets him up for the tree of woe and he hits a running knee. Double stomp by Sullivan and we have a winner.
Winner: Kevin Sullivan (Devil Stomp)
After The Bell: A strange voice starts yelling and an image of a creepy man appears on the big screen. He summons Sullivan, but Kevin bails out through the crowd.
EA's Take: How many monikers has the man best known as Brutus Beefcake had? Clearly the post-match is planting the seeds for the proper Dungeon of Doom and things are about to get even MORE weird. Hard to imagine after Uncensored, eh?
Backstage: 'Mean' Gene is joined by WCW World Heavyweight Champion Hulk Hogan, 'Macho Man' Randy Savage & Jimmy Hart. They were late showing up tonight because Macho Man was dog paddling from the beach, his dad Angelo was doing the backstroke, and he wishes that he ran into Vader and Flair in the parking lot. With all the power on their side, there is no way they're making it out alive. Savage says the monster maniacs will not be denied, nothing is raining on their parade. Whatcha gonna do? Ooohhh Yea!
Match #3: Dick Murdoch vs. Wahoo McDaniel
Gordon Solie has joined commentary for this legends match. Both men measure and lock up, McDaniel takes position in the corner and it's a messy break. Another collar and elbow, McDaniel with an arm drag. A third tie up and McDaniel scores another arm drag. Murdoch blocks a strike and drops an elbow on the head. Murdoch charges into the midsection on McDaniel and grabs a wristlock. McDaniel fires back with a slap across the face and Murdoch falls on the canvass. Collar and elbow tie up, Murdoch hits some knee lifts and a big elbow. McDaniels fights back and chops Murdoch between the eyes. McDaniels gets the top wristlock, he takes position in the corner and the ref calls for a break.
Murdoch doesn't oblige, he hits some short range rights but McDaniels strikes back and Murdoch falls to the mat. Murdoch's head hits the turnbuckle multiple times and he eats another chop. Murdoch almost buckles but he hits some knees and stomps. Murdoch bails to the floor and lays an elbow across McDaniel's throat on the apron. Irish whip by Murdoch, he climbs to the top rope and he hits a modified bulldog. McDaniels is sent for the ride, he eats a back elbow and an elbow drop for a two count. Big elbows across McDaniel's forehead. Wahoo reverses a whip to the ropes, hits a backhand chop across Murdoch's throat and that's good for 3.
Winner: Wahoo McDaniel (Backhand Chop)
EA's Take: I get the whole legends thing, but broadcasting the match in black and white was a little cheesy, in my opinion. I love Solie's voice, though. Due to both men's age and old style, this match was obviously slow. I fear the modern crowd with their boring chants and ability to get more fired up by beachballs wouldn't give legends like this the respect they should get if WWE did something like this now.
Backstage: 'Mean' Gene is joined at this time by Big Bubba Rogers. He recognizes that Sting is one of the best wrestlers in the world today, but he is one of the few who has a pinfall victory over him. What people don't know is that when the referee counted 1-2-3, he knows the faith in him disappeared. He plans to do it again because he's big enough, bad enough, and because he can.
Match #4 for the IWGP Heavyweight Championship: 'Mr. Wonderful' Paul Orndorff vs. IWGP Heavyweight Champion The Great Muta
The "Paula" chants inevitably come out and Mr. Wonderful takes it out by yelling at Nick Patrick. The official blows right back up to him and let's him know who is in charge. Muta backs him up swinging with some kicks, Orndorff wants space. Collar and elbow tie up, they reverse wristlocks and Muta takes advantage. Drop toe hold by Orndorff but he can't grab a headlock, Muta reversing with a hammerlock by Orndorff is on the ropes. Muta motions that he's going to kill him and Orndorff tells him where to stick it. Collar and elbow, chain wrestling with Orndorff into a hammerlock. Muta flips out with a single leg and a stomp and both men back up and feel each other out.
Collar and elbow, side headlock by Muta, they hit the ropes and Muta hits a shoulder tackle. He ducks a clothesline and hits a spin kick, Orndorff rolls out. Muta teases a leap from the top rope but Mr. Wonderful sees him and walks away. Collar and elbow hookup, Muta with the side headlock and a takeover. Orndorff counters with a roll up, Muta kicks out and gets back in control. Orndorff escapes and wrestles his way into a hammerlock. He drives the knees into Muta's shoulder and really cranks the arm. Back to vertical, it's knee lifts and rights from Orndorff. Muta is on the receiving end of a short clothesline but Muta moves away from an elbow drop, scores with a dropkick, a snapmare, and a theatrical elbow drop.
Another snapmare and Muta goes into a reverse chin lock. Orndorff works back to vertical, tries a reversal but it's quickly countered by Muta with a head scissor. Orndorff rolls to his knees, Muta tries cranking back and he strikes Wonderful in the eyes. Desperation belly to back suplex by Orndorff and he's slow to get up. Stomps to the back of the head by Orndorff and he dumps Muta to the floor. He follows and chokes the IWGP champ with a camera chord. He returns to the ring and poses as the crowd boos. He pulls Muta back to the apron and hits a vertical suplex. He comes in with an elbow drop and cranks on Muta's chin.
He keeps the knee at the top of the back for leverage. The crowd gets behind Muta as he works his way to his feet. He hits some body shots, breaks the hold and knocks Orndorff down with rights. To the ropes, Muta tries a dropkick but Orndorff puts on the brakes. Wonderful drops an elbow across the back and tries a front facelock. They're on their feet, Orndorff hanging on. Muta counters by lifting with an inverted atompic drop. Short clothesline by Muta, he heads for the 2nd rope and drops an elbow but Orndorff moves. Wonderful hits some forearms and drives Muta's head into the mat.
Vicious kicks by Orndorff and he hits a snapmare before driving a fist between the eyes, Muta kicks out at two. Orndorff wants a piledriver but it's reversed with a backdrop. They exchange rights before Muta hits a spin kick. Big back elbow in the corner by Muta and he follows with a bulldog. Muta with a lateral press and Orndorff kicks out. Shoulder block by Muta and he follows with a side breaker. Muta scores with a moonsault from the top rope and he retains the title.
Winner and STILL IWGP Heavyweight Champion: The Great Muta (Moonsault)
EA's Take: Great to see Muta again. He's a guy who deserves to go in the Hall of Fame, but I'm not sure if or when that will happen due to his lack of WWE ties. Just a solid, smart match by two pros here. You had to know the New Japan champion was retaining, but it was enjoyable nonetheless. You also will get a new appreciation for Orndorff through all of these Chairshot Classics as well, as unfortunately he's almost remembered more for his injury and weak arm than anything else.
Backstage: 'Mean' Gene gets a word with WCW World Television Champion Arn Anderson, 'Nature Boy' Ric Flair & Vader. What The Enforcer is going to do tonight is going to show Alex Wright why people his age call him Mr. Anderson. Flair is already planning to celebrate his and Vader's victory, Hogan and Savage have run roughshod long enough. When Hogan looks at Vader, he's looking at the most powerful wrestler in the world today. He can run, but he can't hide because it's Vader time.
Match #5 for the WCW World Television Championship: 'Das Wunderkind' Alex Wright vs. WCW World Television Champion 'The Enforcer' Arn Anderson
Collar and elbow tie up, they jockey for position and Wright hits an arm drag. They lock up, Wright grabs the headlock, Anderson throws him to the ropes but he puts on the brakes and drops down to re-grab the headlock on the mat. Back to vertical, they hit the ropes again, Wright confuses Anderson by flipping around, hits a drop kick and goes back to the headlock. Anderson tries countering with a roll up but Das Wunderkind stays in control. Back to their feet, Anderson powers into position on the ropes and drives his shoulder again.
Wright reverses a whip, Anderson catches the boot but Wright hits an enzigure. Back to the mat with the headlock and he cranks away. Left hand body shots by The Enforcer, he grabs the leg but Wright hits a backflip and a dropkick. European uppercut and a side headlock takeover by the kid and he hangs on. Back to vertical, Anderson lifts the knee and lays in a punch. He sends Wright for the ride, Wunderkind grabs a boot, Anderson tries an enzigure but misses and Wright moves into complex crossface submission. Anderson pulls himself to the ropes to break the hold and he bails out for some regroup. He takes too long and Wright hits him with a baseball slide before flying over the top rope with a crossbody.
He fires in some rights, Enforcer fights back but Wright makes him eat the ring post. Back in the ring, Wright tries hyperextending the arm and he works down to the mat for some submission work. With leverage, Wright drives his knees into Anderson's arm. Up to their feet, Anderson is trapped in a hammerlock but breaks it with an elbow to the side of the head. Some kicks and a headbutt by Arn before dragging Wright's eyes across the top rope. Wunderkind fights back with European uppercuts. Anderson misses with an atomic drop, but the vintage spinebuster is on point. Double ax handle by Anderson and he stomps away before slingshotting Wright into the bottom rope.
Blatant choke by The Enforcer and the ref has to call for a break. He uses the ropes for leverage to drop the boot across Wright's throat. Anderson cranks with a wrist lock and works over the shoulder. Single leg sweep by Anderson, he appears to try a Figure Four but Wright boots him away. From the 2nd rope, Wright counters with a right to the midsection. Snap suplex by Wright and he heads for the top. He leaps with missile dropkick and Double A is forced to kick out. They hit the ropes, Anderson grabs a front facelock and they exchange inside cradles. On their feet, Anderson pokes the eyes, Irish whip but Anderson runs into elbows. Wright ducks a punch, but Anderson takes advantage of the positioning and scores a DDT out of nowhere to retain his belt.
Winner and STILL WCW World Television Champion: 'The Enforcer' Arn Anderson (DDT)
EA's Take: I was looking forward to this one as soon as I did the template. It's also the first time I remember hearing the Arn music, later adapted in general 4 Horsemen matches. I love how many clean finishes there are in this show so far. As Scott Hall has explained, that's 'Curt Hennig Booking — if you're going to make someone, make them and take their finish".