Chris Platt's NJPW Wrestle Kingdom 13 Diary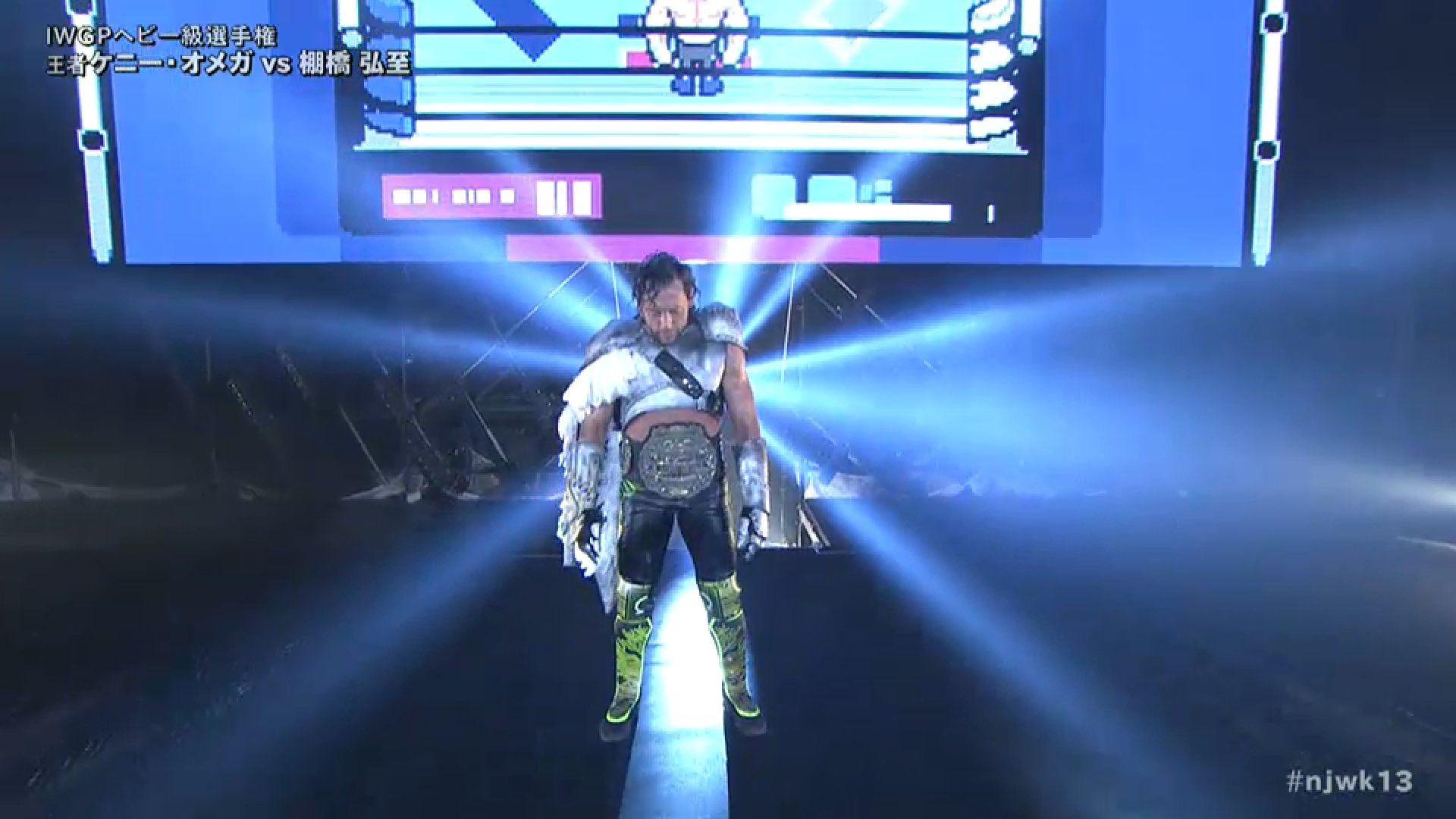 Chairshot Radio personality Christopher Platt brings you his diary of New Japan WrestleKingdom 13! Follow along and see how the show struck him.
Greetings & Salutations. It's your man, Mr. Velvet Pipes and novice New Japan watcher, giving you a running diary of Wrestle Kingdom 13!
NEVER Openweight Championship: Kota Ibushi (c) vs Will Ospreay
Tonight's festivities are kicking off with Will Ospreay facing Kota Ibushi
These are two of my favorites in the world to watch inside a ring & two of the best in the world period
Good to see Ospreay's neck still in place
Ibushi has the Ric Flair circa NWO Nitro haircut
Does every NJPW match have to have the dick measuring, forearm spot in the middle of the ring?
Damn, that knee Will took was something else
BTW, Kevin Kelley is doing his best Michael Cole impersonation on commentary
There you go Will! A Melonfarmer naught gonna keep slapping me in the face without getting kicked in the face
Kota looking like Koba from Planet of the Apes
Damn good match
There's only so much of a push you can expect for Ibushi considering how he doesn't want to sign long-term with anyone
Kota doing the stretcher job
Ospreay is the future of this industry
If he can find a way to not break his neck, add 20 lbs, and maintain his agility, he'll be a main eventer anywhere in the world
IWGP Jr Heavyweight Tag Team Titles: Roppongi 3k vs Shingo Takagi & BUSHI vs Yoshinobu Kanemaru & El Desperado(c)
Next up we have the boy band known as Roppongi 3k vs Kanwmru & El Desperado vs BUSHI & Shingo Takagi for the IWGP Jr Tag Team Titles
I gotta admit, nobody does pomp and circumstance like NJPW. Americans could learn a lot from them. There's only so many nondescript white guys in plan trunks doing flipping shit you can see
Nothing wrong with adding sizzle to the steak
Chico El Luchador >Rocky Romero
This brother has a Japanese mullet
Sho looks like a tan Justin Bieber
Hell of a clothesline
Is that Jushin on commentary?
Mulletman picks up the win for his squad.
Word to the wise…don't fight a man with a mullet or jheri curl in 2018
The Boy Band mad they lost their belts… you can only be so tough looking like a boy band
NJPW going to LA to Charlotte to Nashville…that's like going from Ruth's Chris, to Waffle House, to gas station taquitos
Rev Pro Undisputed British Heavyweight Title: Zack Sabre Jr vs Tomohiro Ishii (c)
ZSJ give me Alex Wright vibes
ZSJ looks like the lost member of Cobra Kai
Sweep the leg Zack!
Thus far, everyone's hair on the show looks like they stop seeing American tv in 1999
Ishii left his neck at home for tonight's festivities.
ZSJ and Roderick Strong should have a winner is the next Superman match
Is Ishii a bear or pit pull Kevin Kelley cause that's quite a difference
ZSJ looks like me in tighty whiteys..with a slightly bigger bulge
I mean me with the bigger bulge
All jokes aside, Michael Phelps is a damn good wrestler
I meant ZSJ
ZSJ wins British Heavyweight title in a decent match
Just hard to believe a giraffe could beat rhinoceros
IWGP Heavyweight Tag Championships: EVIL & SANADA vs The Young Bucks vs Guerillas of Destiny (c)
Up next The Young Bucks (maybe the best team in the world) vs Evil and Sanada vs Guerillas of Destiny for the IWGP tag titles
"The Good Guy" Tama Tanga!
The Tanga's dad could beat up everybody in the ring at the same damn time
I wasn't the biggest Bucks fan but they showed me something in 2018
Evil's a bad ass
Train wreck of a match but I can dig it!
Gotta be a plus going through such a cutthroat industry with your brother
Evil and Sanda pick up the win a good frenetic paced tag match
IWGP US Heavyweight Title: Cody (c) vs Juice Robinson
My main man Juice Robinson is up next facing Cody
Juice has all the tools:  charisma, the look, and good enough in the ring to be a huge star
Shout out to Cody for having the hottest chick in the game
Cody and Brandi rocking the Jaguar colors
Pure coincidence I'm sure
What are the odds we see Dustin Rhodes in AEW in some capacity?
Cody and Brandi are legit one of the hottest acts in the game
Side note: Pump Friction was the name I gave to the porno I'd show young ladies back at the dorm in college
Juice won. Wow…didn't see that coming (note the sarcasm)
IWGP Jr Heavyweight Title: Kushida (c) vs Taiji Ishimori
Now we have Kushida vs Taiji Ishimori
I don't know about you but I have a strong craving for top ramen right now
Shout out to Doc Brown and Marty McFly
Oh my God he killed a kid!
The rest of this article is dedicated to that kid that got blown up
I don't wanna hear any of you lames saying WWE has too many titles when every match on this card has been for a title thus far
In terms of in ring product, pro wrestling is at an all-time high; I still miss legit stars though
If you'll excuse me, this appears to be the smoke break match
And yet another title change. Can't lie, all these title changes have been surprising. It's almost as if New Japan is preparing for a mass exodus or something
Kazuchika Okada vs Jay White
Now we have Okada vs Jay White
Okada has been living his best life since losing the heavyweight title
He seems to be having a lot more fun wrestling
New Japan has strapped the rocket to Jay White's back and he's delivered
He's delivered more than I thought he could and is heading towards being a legit main eventer
Jay White is the correct moniker…only thing more fitting is Jay Casper
Okada's so damn good in the ring
Wow. Don Callis quoting Lex Luger
He made up for it by calling Gedo a human wood tick. Classic
I do like that NJPW makes wins and loses count. There's something to that
Okada throws a pretty legit flying elbow
Excellent heel work by Jay White in this bout
The crowd is into it for really the first time this evening
That's a testament to both Okada being the man and Jay White's heel persona
Good match with Jay White picking up the win.
Honestly thought this one could have used a little more time
It appears New Japan is basically using the Tanahashi story for Okada
No Disqualification IWGP Intercontinental Championship: Tetsuya Naito vs Chris Jericho (c)
The 'Best in the World' Chris Jericho puts his Intercontinental Title on the line vs Naito
Naito looking like a cross between 'Saturday Night Fever' and 'Eyes Wide Shut'
Seriously Japan, I dig the pageantry, but let's get y'all some tapes from this millennium
Coming to the ring with your band's music = GOAT status
Jericho dressed like the Legion of Marcel Marceau
Red Shoes!
Shout out to Y2J representing for all the dad bods out there
Vintage Jericho with the springboard dropkick
I think Naito just lost a couple of inches
Jericho is teaching a master's class on being a heel tonight
Naito is really good as well
He oozes charisma and is doing a great job playing the sympathetic babyface
The announcers are doing a good job of playing up how big of a deal Jericho is
I love how the Boston Crab has become the Walls of Jericho
The crowd is really into this one
Got em!
Kick out!
Naito with the Codebreaker!
This is the hottest the crowd has been all night
German on the chair!
LOL Callis with the 'Japanese two'
They're starting to pick up the pace
Match of the night thus far!
Both men played their parts well and the No DQ stip really helped
The gaga helped a veteran Jericho who doesn't has fastball any more tell an entertaining story
Well played by both men
IWGP Heavyweight Championship: Kenny Omega (c) vs Hiroshi Tanahashi
Now we have our main event with Omega defending his World Heavyweight Title vs Tanahashi
New Japan has done an excellent job of telling the Tanahshi road to redemption story
The outcome of this match will tell us quite a bit about the immediate future of pro wrestling
Apparently, Omega killed an eagle on his way to the ring
Wonder how the lack of his 'partner' at ringside will affect Kenny
There's a definite big fight feel that's coming through the tv
Is Kenny the best big match wrestler in the game?
I'd really like to see Omega wrestle Ricochet or AJ Styles
I'd like to see Tanhashi versus Cena or Pentagon Jr
Omega playing the good cocky heel
Callus having a good night on the stick
Tanahashi's chest looks like hamburger meat
Red Shoes!
Kenny tweaked his knee
Tanahashi tweaked Kenny's knee
That cloverleaf gotta hurt in real life
Styles Clash!
Damn! That sounds like it hurt
Which one goes through the table?
Welp. Asked and answered
Oh shit! I don't know how you fake some of this stuff
Here we go with the dick check….but they've earned it
They been wrestling for a minute now
I hate to agreed with Ballz and Meltzer but this is a damn good match
Hell of a reverse of the one winged angel
The crowd is bananas
Omega kicked out of 2 consecutive frog splashes
DRGAON SUPLEX OFF THE TOPPPPPP!
And the crowd goes wild!
Tanahashi picks up the win
Which pretty much means Kenny's going to All Elite
Overall the show started off strong, lagged in the middle, but pick up steam in the last 2 matches
Omega/Tanahashi did the damn thing. Match of the night, and set the bar high for the rest of the year
Overall
Somewhat of a transitional show, with a a lot of theoretical moving parts
But if you're a wrestling fan, I recommend you checking it out
I give the show overall a 7/10