Good, Bad, & Ugly: WWE Smackdown (1/8/19)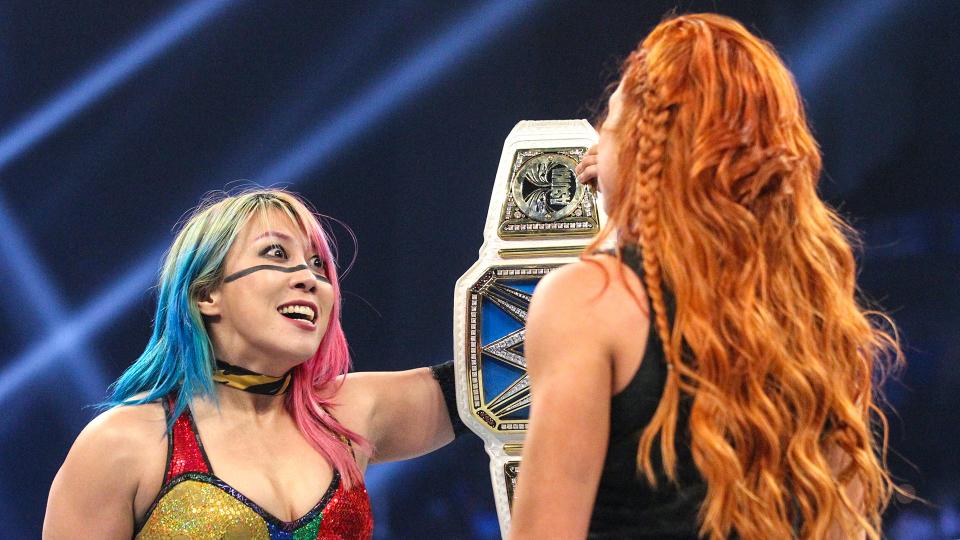 Does WWE Smackdown follow a strong Raw with a Good show of their own? That's for Bobby Fernandes to decide!
Monday Night Raw is now behind us, and it was a strong showing this week.  SmackDown is expected to outperform as it has week after week.  Raw was special this go around, as it was a bit of a tribute to "Mean Gene" Okerlund, and everyone brought their "A" game.  SmackDown almost always brings their "A" game and tonight should be no different.  WWE is in full swing on the Road to WrestleMania with the ever prestigious Royal Rumble coming up very soon.  AEW is eating up all the attention signing huge names and continuing to build an arsenal to compete.  With Raw doing their part, will SmackDown continue to impress the masses?
THE GOOD
Opening Vignette w/ Daniel Bryan
We all get it, Daniel Bryan is a heel.  He is a great heel at that, but this was a very boring segment.  Maybe we are all just "fickle" but this insane Daniel Bryan is a bit boring at times on the mic.  The old school heel tactics are Good though, going after fans food, and signs.  Overall though, this was on the Bad side, until R-Truth beat the hell out of Daniel Bryan and defended the fans honor.
Non-Title Match (WWE Champion) Daniel Bryan vs. R-Truth
R-Truth is one of those veterans that can still go, and doesn't seem to ever slow down.  He brought it tonight and worked his ass off out there.  Daniel Bryan of course did his thing and brought it as always.  This was a quick but Good Match, a lot of offense in a short time. Daniel Bryan Win's with a running knee.  As he was making his exit, the "New" AJ Styles came out and greeted the Champion with a Good old fashioned beat down.  Good energy and successful opening match.
Rey Mysterio and Mustafa Ali vs. Cien Almas w/ Zelina Vega and Samoa Joe
This match had the makings to be a fireworks display!  Everyone involved is high energy and simply nasty in the ring.  Surprisingly, Ali and Samoa Joe started off a little flat, and slow.  Nothing special.  Then it was time for Mysterio and Cien Almas, and besides a small but painful botch, I thought I was watching a Cruiserweight Match from an old WCW Event.  This was just fantastic, and a feud between Almas and Mysterio would be extremely beneficial especially to the audience.   Samoa Joe started killing it also brutalizing Ali with a "fall-away slam" across the announce table.  There were a few botches and mishaps but that can happen in such an intense match with such high flying competitors.  The ending was nuts!  The piledriver spot, the 619 miss into the finish, Ali almost killing Joe over the top, so much to see, a generous amount of action.  Cien Almas pins Rey Mysterio!  Almas and Samoa Joe Win!  How is WWE planning on competing with AEW?  We just saw it, and it is beautiful!
Rusev Promo
A different tone of the United States Champion, Rusev.  Lana is hurt and is being used as some heat for this fight.  This feud is fantastic without an ounce of promos or talking.  They could just come out as themselves and work in front of the audience who would eat it up.  That isn't what is happening though, we have a cliché storyline.  It isn't Bad because the talent is exemplary, no matter what the matches (if they actually have one) will be successful.  Angry Rusev is great though, and the less funny Rusev is the better he looks.
For a Shot at the SD Tag Team Titles at Royal Rumble Non-Title Match (Tag Team Champions) The Bar vs. The Usos
Here we have some massive potential.  Contrasting teams, both have immense success, and are loved by the audience.  It would be nice to see some new tag teams immerge or bump up on SmackDown though.  Whoever is next for a Title push will certainly be in Good hands with either of these teams.  All four wrestlers individually showed their strengths, and of course killed it teaming up as well.  The Usos really worked hard out there and successfully kept putting Shamus over.  It looked Good.  Cesaro is above average.  His bump over the barrier looked to make a row of kids happy!  Up close and personal and always 100%.  "The Swiss Superman" is just amazing.  The Usos stayed amped the entire time.  The energy was intense as it looked like Jimmy Uso was going to get the hot tag.  Out of the blue, Mandy Rose comes out in a towel, causing Jimmy to be distracted, Jay gets hit with the "Neutralizer" Cesaro and Shamus Win!  The Miz seizes his opportunity and gets a "Brough Kick" for his trouble.  He also got a Title shot for him and Shane McMahon vs. The Bar.  The whole thing packaged the way it was, telling multiple storylines effectively, hitting all cylinders, and giving the fans genuinely Good content.  It is all a win. Sonya Deville overpowering a very pissed of Naomi, that also is a plus.  Let's all hope we see a lot more Sonya Deville.
Winner Faces Asuka for the SD Women's Championship at Royal Rumble- Carmella vs. Charlotte vs. Becky Lynch
This was and is a really Good plan, Carmella changes the environment a bit and makes this whole thing better, if that is even possible.  The confidence all three competitors give off is overwhelming.  Carmella capitalized early on Lynch and Charlotte starting things off.  It was short lived though when Becky Lynch decided to dominate.  All three went at it though not disappointing and solidifying once again they are the "Main Event."  Even when they were catching their breath it looked Good.  Carmella rolling into the "Cone of Silence" and Flair powering out was fantastic!  Charlotte's "double moonsault" was also unique and looked great.  This was an incredible match!  They put it all out there always changing roles and fighting for position.  Carmella had the match locked several times, then Charlotte, then Becky, then Carmella and so on!  It could have gone any way, all hitting their respective move sets. In the end Lynch trapped the "Disarmer" on Carmella for the Win, and moves on to Asuka at the Royal Rumble for the Title.  Great Match!  Asuka of course had to get a closer look and faded out with the two amazing talents face to face.
FINAL TALLY
GOOD ALL OF IT!
BAD- 0
UGLY- 00
OVERALL
Great, Good and all around enjoyable.  This was a really fun SmackDown.  Awesome writing and talent.  The only complaint was the opening which also came out better than Bad.  WWE is awake and will not be intimidated by competition.  They thrive on it.  The quality since the arrival of AEW has been noticeably improved.  WWE is on light speed, and will keep us watching every show!
Fantastic Raw and SmackDown and hopefully some normal NXT this week will make for some successful ratings and fan awareness.  WWE is on fire and will be hard to stop as long as they continue doing whatever it is they are doing.  Keep it up!  Please continue to read, like and share!  Thank you for the support!
King's WrestleMania Rewind: Charlotte Flair vs. Asuka from WrestleMania 34
Chris king is back with one of the most underrated matches in WrestleMania history–Charlotte Flair vs. Asuka!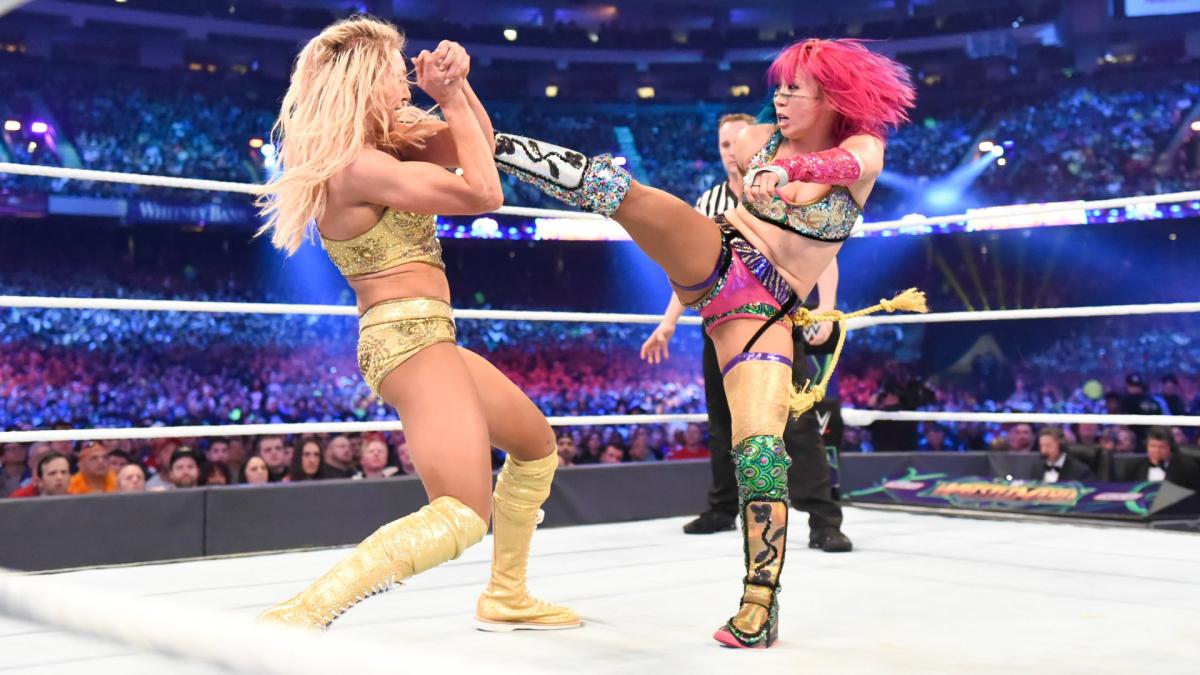 Chris king is back with one of the most underrated matches in WrestleMania history–Charlotte Flair vs. Asuka!
We look back at Charlotte Flair vs. Asuka at WWE WrestleMania 34. 'The Empress of Tomorrow' put her unprecedented and historic undefeated streak of 914 days on the line against 'The Queen's' SmackDown Women's Championship.
For years, this was considered a dream match while Asuka dominated the roster in NXT, while Flair won numerous championships on the main roster on both Raw and SmackDown. The Empress made her long-awaited debut on the September 11th episode of Raw and began to tear through the competition.
Asuka outlasted all twenty-nine other women in the historic first-ever Women's Royal Rumble match to challenge for the title of her choosing. At Fastlane, she made her choice.
The WWE Universe was so excited for this match myself included. Both superstars delivered a fantastic performance on the Grandest Stage of Them All executing counter after counter. Asuka showed off some nasty-looking kicks to her opponent, and Flair hit a thunderous Spanish Fly off the top rope. Flair was seconds away from defeat at the hands of The Empress but she locked in Figure Eight and Asuka was forced to tap out.
I can't even begin to explain how shocked I was at this outcome, as nearly everyone expected The Empress to continue her undefeated streak and walk away with the women's title. This controversial decision was the downfall of Asuka's momentum. She would ultimately win the SmackDown Women's Championship at the 2018 TLC pay-per-view in the triple-threat ladder match.
Fast forward to this year when Asuka has recently returned with her Japanese-inspired persona Kana. Kana is dangerous and ruthless and is heading into a championship with Bianca Belair at WrestleMania 39. The Empress has regained all her momentum and is highly favored to walk away with the Raw Women's Championship. Let's hope that Asuka and Belair can tear the house down and deliver an A+ grade match both women are fully capable of.
King: Dominik Mysterio Needs To Do This At WrestleMania
Chris King is here with what WWE should do with Dominik Mysterio at WrestleMania in his long-awaited match against his father Rey Mysterio Jr.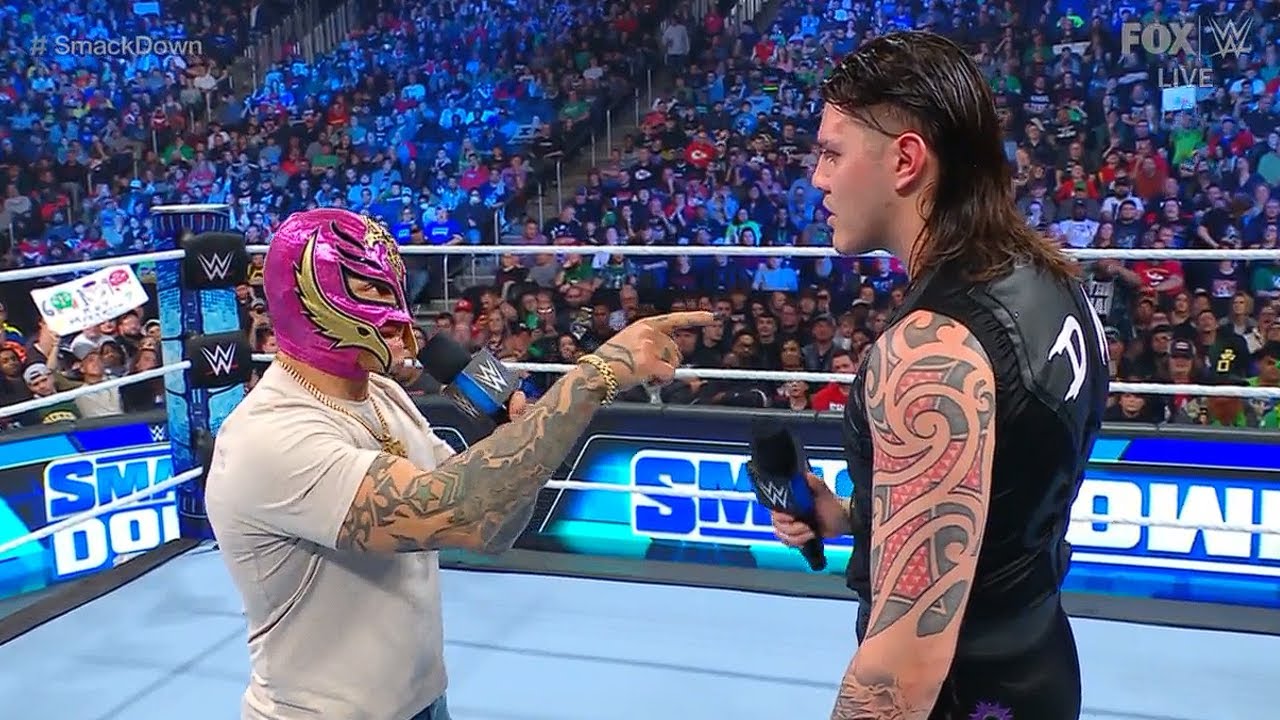 Chris King is here with what WWE should do with Dominik Mysterio at WrestleMania in his long-awaited match against his father Rey Mysterio Jr. 
On this week's episode of Friday Night SmackDown, Rey Mysterio finally snapped and beat some sense into his disrespectful punk-ass kid Dominik. The member of the Judgement Day came out to push his father again for a match on the Grandest Stage of Them All, this time with his mother and sister at ringside. The ungrateful punk told his mom to "Shut Up," as a father even I wanted to jump through the screen and whoop his ass.
Back in October of last year, Mysterio made the emotional decision to possibly quit the company but, instead, Triple H persuaded the Lucha libre superstar to move over to SmackDown to avoid his son. This came after Dominik shockingly turned on his father at Clash at the Castle. Mysterio did everything he could to refuse his despicable son's challenge for Mania but, a man can only be pushed so far. Mysterio will be inducted into the 2023 WWE Hall of Fame and I expect Dominik to embarrass his father during his speech to further this personal feud.
Yes, the WWE Universe hates Dominik and wants to see him get the ever-loving crap kicked out of him but, this feud is missing a special ingredient to capitalize on the biggest heat possible. Throughout this feud, Dominik has made mention of the legendary Eddie Guerrero on several occasions going back to the "iconic" 2005 feud.
I know WWE might not want to go this route but, Dominik MUST come out to Eddie Guerrero's theme at Mania. The disrespectful punk needs to come out in a lowrider to garner nuclear heat. It doesn't matter if The Judgement Day comes out and causes interference for Dominik to get the win, all that matters is that both superstars get the biggest payoff of this nearly year-long feud. Just imagine the Roman Reigns heat after he defeated The Undertaker and multiply that by ten. Dominik portrays the perfect heel and he truly is the missing ingredient that The Judgement Day needed to grow and evolve into a top faction.