In This Corner: 5 Ways All Elite Can Be Successful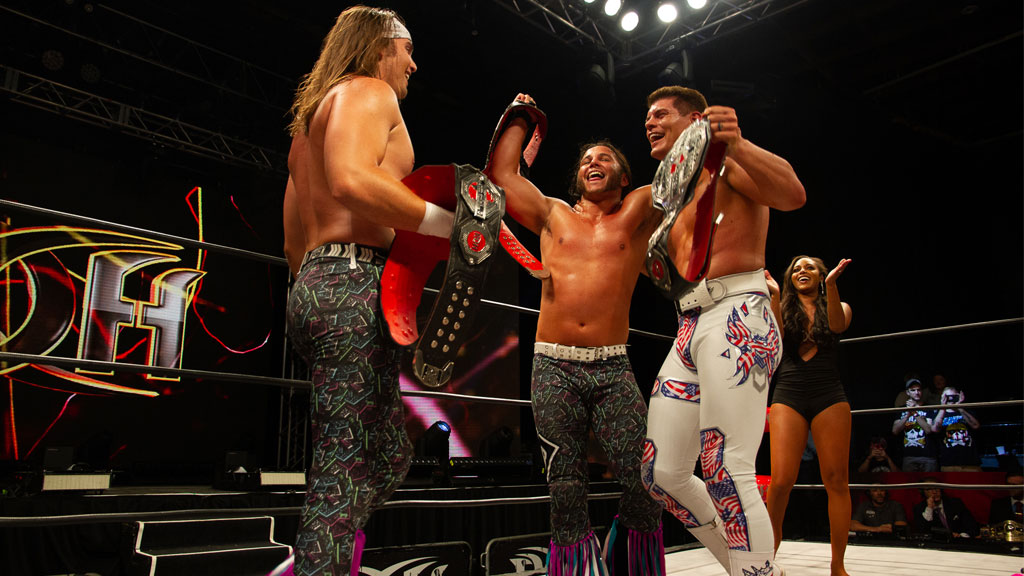 The long rumored, long talked about All Elite Wrestling is finally official. While there isn't many specifics yet, there is plenty of speculation what various roles people will hold in the company. Since the original rumors of the initial trademark filings for AEW this past fall, I have thought what are five of the things it would take for the company to succeed? While many of the reason will probably be more than obvious, I thought this would be as good of time as any to examine just exactly what AEW will need to do to succeed.
Television
I think this will be one of the most important factors for the company to be successful. I had, as I am sure many others did as well, that IMPACT would have been picked up by a larger network such as a WGN or one of the Turner stations. There are multiple rumors that as many as five networks have multi-year television offers on the table The key will be getting on to a viable network. AXS TV is likely an options as they already air NJPW content and will be launching the WOW shows in just a few weeks. The Turner networks (TBS and TNT) could be likely options, as could WGN. Remember that WGN America aired the All In: Zero Hour prior to the ALL IN pay-per-view. Having a product that is easily accessible to viewers will go a long way in the company being successful.
Talent
The talent that will be a part of AEW will be just as crucial as the company having a television outlet. We know that on some level, The Young Bucks, Cody Rhodes and Chris Jericho will have some sort of role in the promotion. There is also talk of Kenny Omega, Hangman Page, and Christopher Daniels and what roles they will play. The independent and international wrestling scenes have a wealth of talent. Does the company take the approach of brining in will recognized indie stars and building homegrown talent, or do they attempt to bring in established stars from IMPACT, WWE, or someone of a caliber of CM Punk perhaps? There will be rumors throughout 2019 on what wrestlers from what companies may be jumping ship. While I don't expect this to be like the talent raids of the 80's and late 90's, I expect there to be a few interesting moves. There are many wrestlers in the WWE who could benefit from a change of scenery, including Dolph Ziggler, Finn Balor, Luke Gallows, Karl Anderson, etc etc.
Working Agreements With Other Promotions
It has been rumored that AEW will unlikely have a working relationship with ROH due to the competition both companies will have for securing talent. However, a working relationship with ROH, if possible, NJPW, IMPACT, etc can only be a benefit.  It can be much like the territorial days where one wrestler would be finishing up a six month run with a company, and would move on to a new territory. For a company like NJPW, it would only provide the company more exposure to the US fans.
Have A Vision (Don't Be Like WWE)
The one thing that can make AEW fails is if it tries to be WWE. I wouldn't even worry about becoming competition to the WWE. Be the alternative. The ALL-IN show already proved that people are looking for an alternative to WWE. They cannot be like TNA was when they moved to Monday nights to compete head to head with WWE.
Coherent Storylines
My assumption is that Cody Rhodes learned a few things about storyline creation from his father. Dusty Rhodes is often considered to be one of the greatest minds in the business. In some shoot interviews, Dusty stated that at any given time he had 1000's of legal pads filled with storyline and creative ideas.  One of the biggest knocks on WWE is the incoherent storylines that lead to nowhere or make absolutely zero sense. While AEW will most likely focus more on wrestling, I would fathom the promotion will have week to week storylines as well.
Final Thoughts:
It is an exciting time to be a wrestling fan. I've lived through the 80's and 90's boom periods, and I would say this is the closest we have been to a boom period happening again. I am a WWE mark through and through, but to be honest, their product has been unwatchable at times lately, and has felt stale. The plus side for the WWE is that competition has always brought out the best in the company. My hope is AEW becomes a great alternative and causes WWE to dig their head out of the sand.
The Miz: WWE's Newest Babyface Wins Fans Over
2019 , Miz is a face, Daniel Bryan is a heel…cats and dogs are sleeping together, right? David breaks down why Miz as face actually works this time around!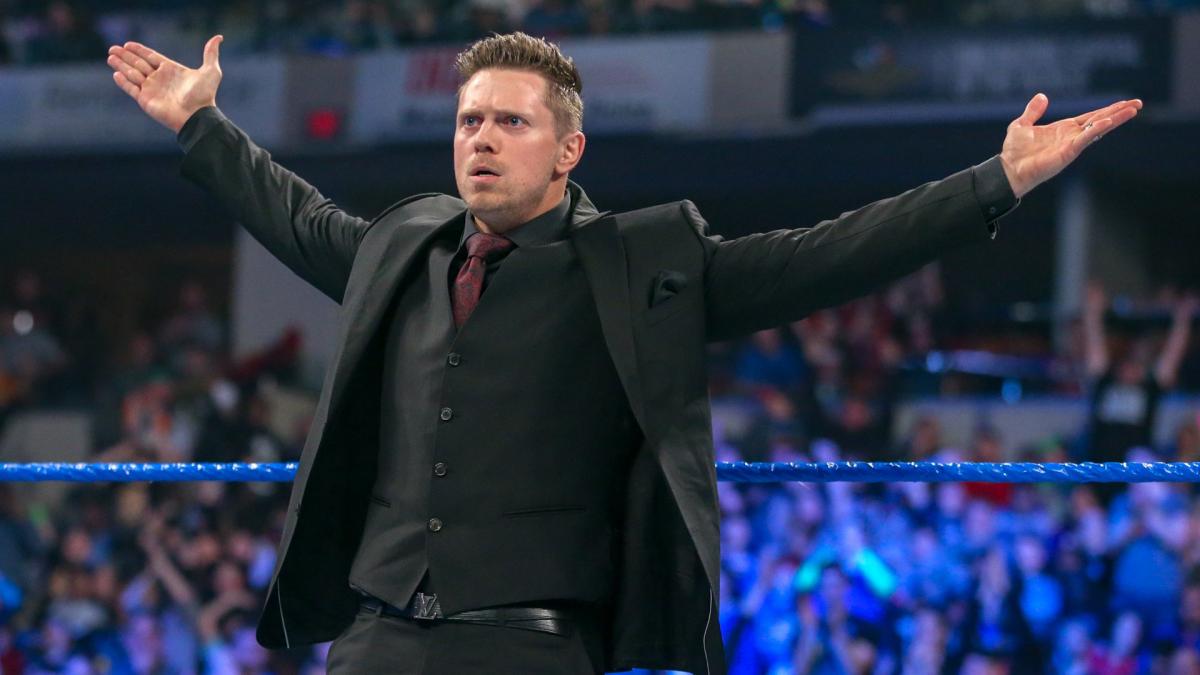 2019 , Miz is a face, Daniel Bryan is a heel…cats and dogs are sleeping together, right? David breaks down why Miz as face actually works this time around!
When WWE decided to flip the script and give Daniel Bryan his chance at becoming the company's top heel, I immediately wondered what would happen to The Miz and how he would impact Tuesday nights.
For any of us who doubted the possibility that Mike Mizanin could pull off a run as a top baby face, we should all apologize now. One of my favorite characters in wrestling today proved once again last night that it does not matter which role he plays, there is brilliance and how he does it.
I'm not 100 percent excited about this program with Shane McMahon, however I think it is a great storyline the WWE put together in one of the more shocking twists and turns of the year so far. McMahon, much like his father Vince, is a natural heel. The Miz has shown versatile to make it work in either side of the squares-circle. Like his matches before, this could be a defining moment for McMahon, who will once again prove he is better than expected in a wrestling ring.
For The Miz, I'm curious how this all plays out given after this feud I wonder which direction the creative team will take in developing his character even more.
This promo on Tuesday night was nothing short of brilliant. And for a performer who is used to working off heat from the crowds, he showed the ability to win them over. The mark of a great wrestling performer is the ability to work as a babyface or a heel and keep the wrestling fan engaged.
It also presents a potential challenge to Bryan in the future should WWE keep the company title around his waist.
As I've discussed before, wrestlers need other wrestlers to be great. Jack Brisco needed Dory Funk, Jr. Ric Flair needed Ricky Steamboat and Dusty Rhodes. The Miz needs Bryan. From a fan perspective, seeing those two in a ring and a role reversal is worth the price of admission alone.
My concern as I just touched on it, is the company will drop the ball in character development. It will lose sight of what it has in the performer and the self promoter. There is no one better than the former WWE and Intercontinental champion.
The Miz's words were real, succinct, passionate and gripping. Never for a lack of animation, he is just as dynamic when speaking his mind. There should be another world title run in his future, but I wonder with the most recent push of Kofi Kingston, does this mean the A-lister becomes the B+ superstar?
By the way, the comment about Vince not owning Kofi was spot on at the moment.
I suspect the feud between co-owner of WWE and the man I like to call the company's greatest asset will continue past April. How it concludes is predictable. McMahon is not a full-time performer and should not be. As for The Miz, the doors opened a little wider on Tuesday night. We saw a focused and determined wrestler on television. I'm betting that translates to one of the best years he's had in this business in 2019.
Mustafa Ali Should Be Thankful For KofiMania
Steve Cook reminds us that Kofi's current angle is due to Mustafa Ali's injury. Which, may have turned out beneficial for…Mustafa?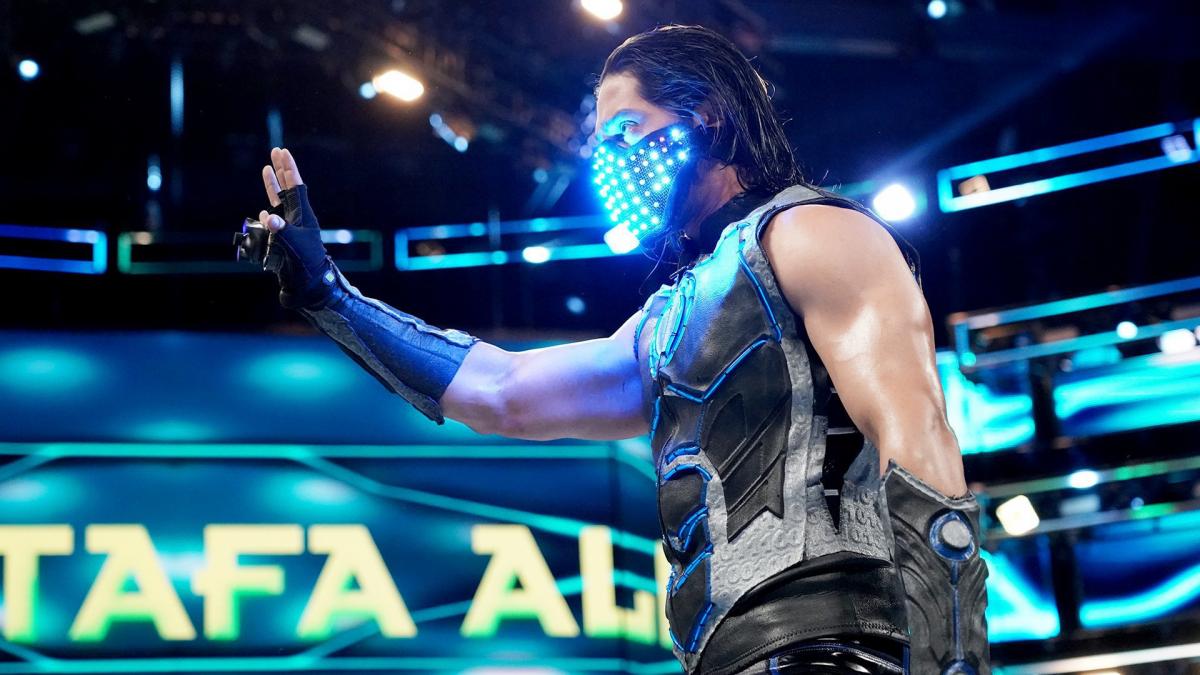 Steve Cook reminds us that Kofi's current angle is due to Mustafa Ali's injury. Which, may have turned out beneficial for…Mustafa?
When I first heard it, I didn't believe it.
Don't get me wrong. I don't mean to demean the ability of Mustafa Ali. In his limited time under WWE's umbrella of entertainment, he's amazed crowds with unbelievable moves. He's also shown the ability to be likable, much to the amazement of some that believe that people of his descent can't be supported by the WWE Universe.
Ali is a remarkable story. He was sixteen years old when he had his first match in February 2003. Mustafa worked graveyard shifts as a police officer while pursuing his wrestling dream, along with having a family.
He has a good head on his shoulders & a very promising future.
WWE is high on Ali, as they have every right to be. So high, in fact, that the word around the campfire was that Ali was slated to challenge for the WWE Championship at WrestleMania. Those plans were put on hold just before the Elimination Chamber, when Ali suffered an injury that forced him out of the Chamber match for the WWE Championship. Ali still might have been in line for a title shot, as there was still plenty of time before WrestleMania when he was scheduled to come back.
But a funny thing happened, Kofi Kingston was tapped to take his place, and the fans in Houston went absolutely crazy for him. We've been watching Kofi on WWE television for eleven years now. We saw him break into WWECW as a fresh-faced, happy-go-lucky Jamaican kid. Upon his arrival on Raw (and later SmackDown), he became a regular in the Intercontinental & United States championship scene, depending which show he was on. He also became a tag team specialist, winning tag team championships with CM Punk, Evan Bourne & R-Truth.
Then The New Day happened, and it took Kofi's popularity to a whole other level. Kofi, Xavier Woods & Big E have become one of the most successful trios in wrestling history. The only downside? It put Kofi's singles career on ice. There were no more quests for secondary titles in hopes of breaking into the main event scene as a legitimate contender for a top championship. Kofi, Big E & Xavier had their role. Pump up the crowds, make money off merchandise & be happy.
You can make a lot of money doing that. But eventually you develop a taste for something more.
Honestly, it seems more like Big E & Xavier developed that taste for Kofi. They've been speaking up for him ever since this thing started at Elimination Chamber. Back at Money in the Bank when New Day was granted a slot in the match, they insisted that Kofi take it. It makes sense. New Day has achieved so much on the tag team side of things that the only thing left for them to do is reach the top of the mountain. One of them obtaining a top singles championship will be like all of them doing so.
Kofi got Mustafa's slot at Elimination Chamber, and the fans bit on it hard. Here was a guy they had been watching for years busting his butt and doing whatever he was asked to do at the best of his ability. To the Houston fans, Kofi more than deserved to be there. He deserved to be WWE Champion. It seems like most of the WWE Universe is falling in line with the idea. Kofi's being thrown obstacles left & right now, and even people that should know better are really buying into the idea that WWE doesn't want Kofi Kingston in the WWE Championship match at WrestleMania.
It's an incredible thing. Kofi's lucky to have gotten this opportunity. Do you know who's even more lucky that Kofi got this opportunity?
Mustafa Ali.
It's kind of funny when you think about it. Ali's been wrestling longer than Kingston. He's more than paid his dues to get to WWE. He's defied the odds his entire career. Ali is an amazing story that is really difficult to root against. However, if he got pushed right into a WWE Championship match at WrestleMania after a couple of months on SmackDown, people would root against him. Specifically, the fans that attend WrestleMania would root against him.
Mustafa has paid his dues. But we didn't get to see it. We've seen Kofi Kingston paying dues for over a decade now. Not to sell Mustafa's experiences short, but we weren't at the indy shows watching him work. We weren't on the graveyard shift with him. Kofi Kingston has been right in front of us for eleven years, proving that he deserves to be at the top of WWE just as much as anybody else does. It's easier for us to identify with Kofi.
Had Ali been placed into the WrestleMania match with Daniel Bryan, the same thing would have happened that happened at Fastlane in Cleveland. He would have gotten booed, he would have had a nice performance and that would have been it. Bryan would have moved on to the next thing in time for the next PPV while Mustafa Ali would be looking for his next goal.
He deserves better, and he'll get better.
We need to see Mustafa Ali work his way up. It's not his fault that most of us don't watch 205 Live, but the fact of the matter is that we don't. We need to see him against the best of WWE, busting his ass and proving he belongs with the best in the business every single night.
It'll take longer to get there. The reward will be much better. Once Mustafa Ali reaches the top of WWE, there will be no doubt that he deserves it. He won't be somebody getting a push because of his life story, or because there was nobody else around at the time. He'll be a superstar that the WWE Universe has grown to love & respect.