Joe's CMLL Review & Results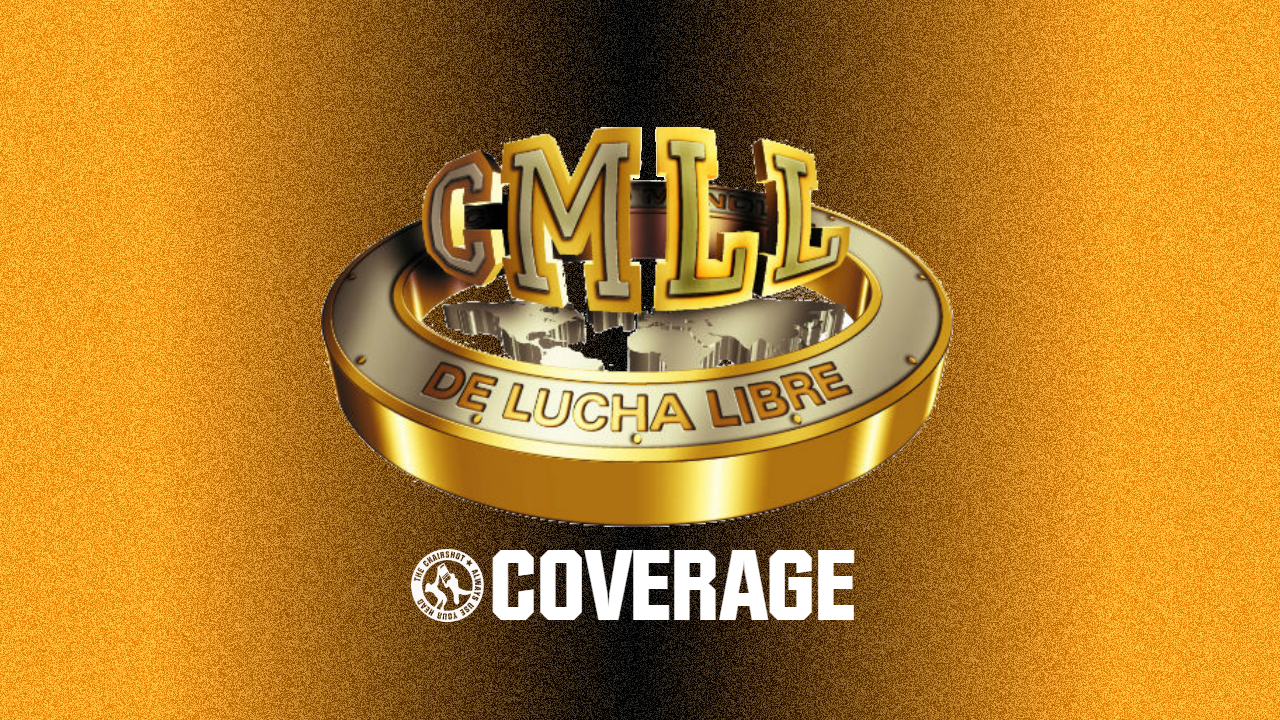 Joe brings us everything we need to know about CMLL this past week.
Arena Puebla Monday
Black Tiger and Sombra Diabolika vs Ares and Guerrero Especial
Ares and Sombra start the match out with some grappling. Especial comes in to take on Tiger but Ares helps take out Sombra and they team on Tiger for a bit. Sombra and Tiger make a come back, throwing Especial into Ares. Sombra gets Ares in a single leg crab and Tiger submits Especial with an abdominal stretch. First Fall: Black Tiger submits Guerrero Especial with an abdominal stretch.
The second round starts with all these guys exchanging spots on each other. One takes out the other and the next guy comes in. Ares hits a top rope splash on Black Tiger for the pin. Especial submits Sombra with a neck stretch. Second Fall: Guerrero Especial submits Sombra with a neck stretch. 
Ares and Especial team on Black Tiger to start the round. They move their attack to Sombra once they take out Tiger. Tiger and Sombra make a come back and they trade spots until Sombra caught Especial in a neck breaker and Tiger pins him. They tie up Ares in the ropes and Sombra hits a leg drop on him for the win. Third Fall: Sombra Diabolika pins Ares with a leg drop.
Winners: Black Tiger and Sombra Diabolika
Astral, Principe Diamante, and King Jaguar vs El Malayo, Joker, and Fuerza Chicana
Principe starts out with Malayo and they do some grappling on the ground. Joker comes in next with King Jaguar. They go back and forth exchanging for acrobatic spots. Chicana breaks up a head lock Jaguar had on. He puts Joker in a figure four and it gets broken up again. Jaguar is upset about this and he attacks Chicana. There's a stare down after. Chicana gets in next with Astral and they do some grappling as well. They ramp up the action and Astral gets the advantage. He hits a hurricanrana on Malayo and then Malayo comes back in and beats on him. Principe comes in and takes out Malayo. However the momentum changes and Malayo gets Jaguar in a neck stretch and Joker gets Principe in an abdominal stretch. First Fall: Joker submits Principe with an abdominal stretch.
The round starts with Jaguar getting teamed up on. Chicana irish whips Principe but he does a roll and goes out of the ring. Jaguar walks over to check on him, while Astral gets teamed on. Jaguar comes back in to help and he gets Malayo in a leg lock for the submission and Astral gets Chicana in some inverted surfboard stretch. Second Fall: Astral submits Fuerza Chicana with an inverted surfboard stretch.
This round starts with the team of Principe, Astral, and Jaguar having the other team on the ropes. Astral tricks Joker to the outside and then hits an asai moonsault. Principe hits a fisherman's suplex on Malayo and pins him. Third Fall: Astral defeats El Malayo with a fisherman's suplex.
Winners: Astral, Principe Diamante, and Jaguar
Super Muneco, Super Pinocho, and Super Raton vs Rocky Santana, El Gallego, Romano Garcia
This match starts with a ton of posturing. Pinocho and Rocky finally start wrestling after almost 5 minutes of posturing. Raton and Gallego come in and they go back and forth. Raton ends up getting the upper hand bringing in Muneco and Garcia. Soon after all of them end up in the ring, and the Supers all splash on their three opponents who kick out. Santana, Gallego, and Garcia continue to team on Muneco and then ref DQs them for not breaking it up at his command. First Fall: Super Muneco wins the fall via DQ when the other team disobeyed the ref.
Pinocho starts the round out making the other team look foolish. Garcia and Gallego argue, then make up by kissing each other on the cheek. Raton comes in now and takes out the other team easily as well. The momentum changes and they take out the Supers, and Rocky gets Raton in a arm stretch submission for the fall. Second Fall: Rocky Santana submits Super Raton with an arm stretch.
Round starts with some back and forth action.. action I guess I'd say. Pinocho hits a middle rope dive on Gallego. Raton gets the advantage on Rocky. While the refs back is turned Garcia kicks Muneco in the groin and then pins him. Post match Raton pushes the ref for missing it. Third Fall: Garcia pins Muneco with a groin shot the ref missed.
Winners: Rocky Santana, El Gallego, and Romano Garcia