Joe's Lucha Libre Weekly 1/13/2019: News & Analysis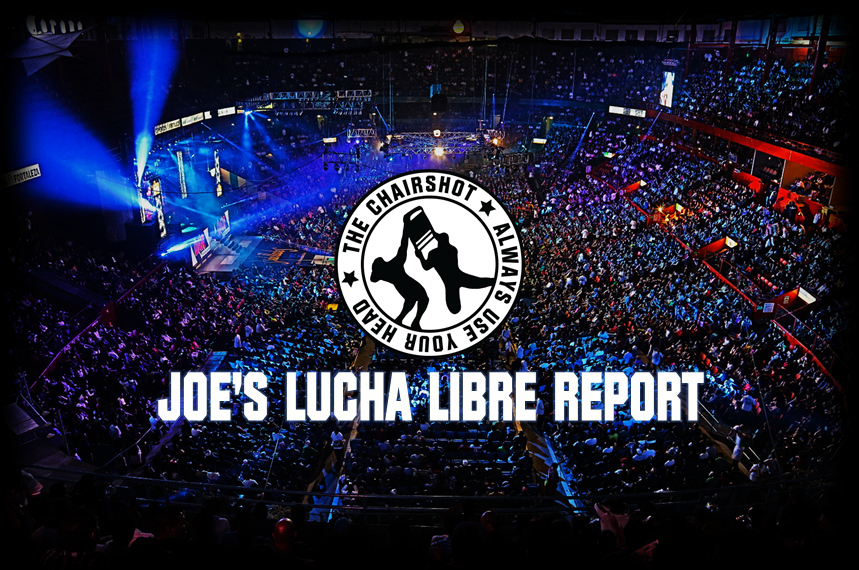 Lucha Libre coverage brought to you by our man Joe! Anything you might've missed, he's hear to educate!
CMLL
New Year's Show
The main event of this show was Caristico vs Ultimo Guerrero in a singles match. Caristico won in two falls, the first by submission, the next by DQ. It was a fine match, more an angle to me. Now the co-main event was the big show stealer. We saw the return of Fenix teaming with his brother Pentagon and Dragon Lee. They faced Sanson, Cuatrero, and Forastero. This was a great match which saw the former team winning. Dragon Lee picked up the fall on Cuatrero. Wonder if they will set up a trios title match soon. Kraneo, Volcano, and Hijo de LA Park took on Villano IV, Hijo del Villano III, and Mephisto. This match was interesting. It's a very interesting pairing. Hijo del Villano looked a lot better than he did on the last show. We had a mask vs hair match in the middle of this show between some low mid carders. Camorra and Akuma lost to Yago and Hijo del Signo. The crowd didn't really care that much about this match. This show drew 16,000 fans. Almost a sell out.
Last Friday Arena Mexico
This show got over 10,000 fans as well and did very well, as it should, it was a stacked card. The main event saw Angel de Oro, Niebla Roja, and Soberano faced Sanson, Cuatrero, and Forastero for the trios championships. This was a good match which saw the latter retaining their championships. Dragon Lee and Cavernario had a special singles match and a very long one at that. It was a great match that you should absolutely go out of your way to watch. Dragon Lee ended up winning in 3 falls. The last fall had to have gone 20 minutes or so. The athleticism in this match was incredible. Rush, Terrible, and Bestia del Ring faced Atlantis, Kraneo, and Volcano. This match was… nothing really. Just keeping Los Ingobernables strong. You had Caristico, Volador, and El Valiente face Ultimo Guerrero, Mephisto, and Euforia. Caristico, Volador, and Valiente won decisively in two falls. And we also had a lightning match with Titan and Triton in which Titan won. It was an overall good show. Perhaps great.
Arena Puebla Monday
This wasn't really that important of a show Rush, Vangellys, and Bestia faced Kraneo, Hechicero, and Valiente in the main event. It was a weird pairing because Hechicero is a rudo mostly, and he showed that in this match double crossing Valiente. So they're probably setting up a match in the future. Rush and his gang won the match. Maybe even next week, I don't know the billboard isn't out yet. The co-main event featured Niebla Roja, Stigma, and Stuka faced Mephisto, Felino, and Ephesto. Mephisto's team won in what was an alright match. There was a lot of posturing on this show. Honestly it wasn't that great of a show. You'll save time reading my review rather than watching it.
Arena Mexico Tuesday
The main event of this show sees Rush, Mistico, and Dragon Lee faced off against Sanson, Cuatrero, and Forastero. It was a match I guess to get Lee and Rush in the ring together. This match also felt like it was setting up a match between Rush and Sanson. Rush, Mistico, and Dragon Lee won this match. The co-main event saw Caristico, Volador, and Soberano facing Ultimo Guerrero, Terrible, and Gran Guerrero. It was a fun match which saw the latter team winning. And then for the next match that was at the top of the bill we saw a lightning match between Angel de Oro facing Templario in which was a nice match with a cool finish.
Preview Arena Mexico Friday
I assume these shows for the next few days will be a little weaker since the roster is split doing the FantasticaMania shows which I will likely do some kind of review for the televised shows. Main event for this show is Rush, Villano IV, and Bestia facing Niebla Roja, Euforia, and Valiente. A little odd, because Euforia works rudo a lot. The co-main event is Kraneo, Volcano, and Stuka facing Mephisto, Luciferno, and Ephesto. So you can see that this show is a little weak.
AAA
Well there isn't much here besides they have a show on January 19th and I haven't seen any line up anymore yet, so I'll keep everyone updated if I ever see a billboard. Yeah, there's pretty much no AAA news to report on.
UPDATE:
Before this piece gets approved, full disclosure, the January 19th show line up got released Thursday Night and it is:
Psycho Clown, Dr. Wagner Jr, and La Parka vs Rey Escorpion, Blue Demon Jr, and Hijo del Fantasma. Pagano and Brian Cage vs Texano Jr and Joe Lider. Maximo, Murder Clown, and Taya Valkyrie vs La Mascara, Chessman, and Faby Apache. Killer Kross vs Dave the Clown vs La Parka Negra. Myztezuz Jr, Laredo Kid, and Hijo del Vikingo vs Mocho Cota Jr, Carta Brava Jr, and Tito Santana. Nino Hamburguesa, Lady Shani, and Dinastia vs Lady Maravilla, Villano III Jr, and Lanzelot.
FantasticaMania Line ups
I will post the top two matches on each show and anything I perceive to be important.
day 1: Fujin, Raijin, Toa Henare, and Kojima vs Shingo Takagi, Bushi, Naito, and Terrible. Kushida, Soberano, and Mistico vs Namahage, Cavernario, and Caristico.
day 2: The main event is the same as the first day. Jyushin Thunder Liger, Dragon Lee, and Volador Jr vs Namahage, Gran Guerrero, and Caristico.
day 3: Main event is the same again. Tiger Mask, Dragon Lee, and Volador Jr vs Namahage, Gran Guerrero, and Caristico.
day 4: I'm not sure what the line up is here. Volador and Mistico are billed as being in the main event an co-main event so I have no idea what's up here. Not very New Japan like.
The deal here is there's going to be some kind of tag team tournament that concludes on the last day.
day 5: Finally a different main event, Dragon Lee and Mistico vs Flyer and Volador Jr. Atlantis Jr and Atlantis vs Cuatrero and Sanson.
day 6: The full card isn't released yet but we have a Soberano Cavernario special singles match and a tag match between Kojima, Henare, Fujin, and Raijin (These two are Sho and Yoh) vs Terrible, Naito, Bushi, and Takagi
day 7: The card is listed as the same as day 6. I'll update next week if things change.
day 8: We have the "My dad is a heel wrestler" special tag match where guys reprise their roles from that movie.
Here & There
Well I'm not sure there's anything else going on outside of the Lucha world as regards to Lucha talent. We'll see if there's any kind of working relationship between All Elite Wrestling and a Mexican promotion.