Lucha Libre Weekly: News & Analysis
Joe Dinan checks in with your look at the world of Lucha Libre, with had another crazy week!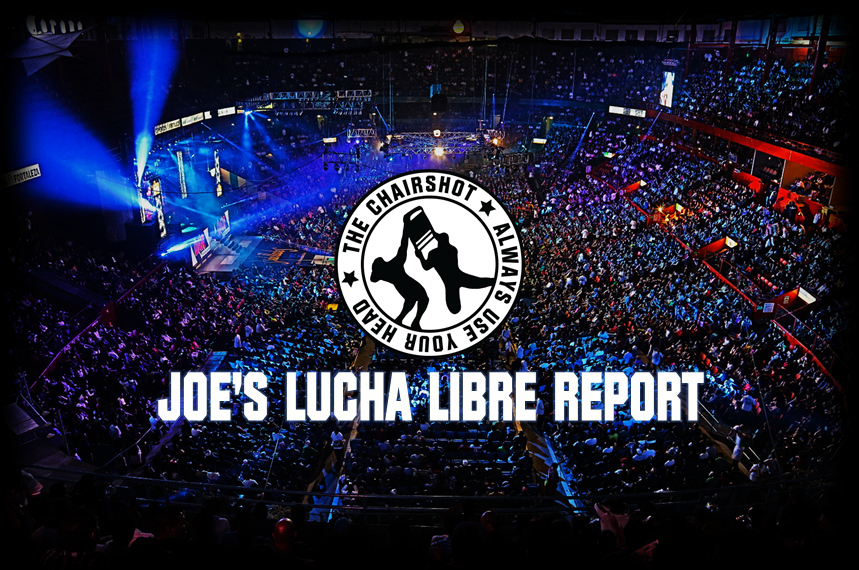 Joe Dinan checks in with your look at the world of Lucha Libre, with had another crazy week!
CMLL
Arena Mexico Last Friday
This show drew uncharacteristically well despite having a pretty weak line up and a lot of their roster missing. I don't have the number but I believe it's over 10,000. Maybe Rush being in a big singles match did it.
Arena Puebla Monday
The main event of this show saw Rush, Villano IV, and Vangellys facing off against Kraneo, Euforia, and Valiente. You can see the effect Fantastica Mania is taking on the roster. Rush, Villano IV, and Valiente won the match. This continues the streak of Rush beating Euforia as he did last Friday. The co-main event was a lightning match between Niebla Roja vs Luciferno. It was very close to the ten minute time limit but Luciferno won with a Styles Clash. Very interesting, considering the next night Roja takes on Mephisto, who is the leader of the Sons of Hell tag team. The rest of the show was basically nothing important, however, I did enjoy Princesa Sugehit teaming with Marcela to take on Comandante and Amapola. You don't see Sugehit and Marcela team and they're both so good.
Arena Mexico Tuesday
The main event of this show was a special singles match between Niebla Roja and Mephisto. It went well over 20 minutes with Roja winning with a top rope face buster. It's interesting that he lost to Luciferno to beat Mephisto but I guess it was the whole creating odds angle that WWE is famous for. The co-main event saw Shocker, Euforia, and Bucanero facing Rey Cometa, Kraneo, and Volcano. Interesting because Euforia was working baby face the last two weeks and now he's back on the Rudos side. The former team ended up winning the match.
Arena Mexico this Friday
CMLL is promoting their Champion of the Universe tournament which is going to span from Feb 1st through the 15th, so this will be the last Friday show before that, so I'm sure things will be announced and set up for that tournament. The top of the card this Friday with a full roster now, looks like, Fenix, Pentagon, and Diamante Azul vs Rush, El Terrible, and La Bestia del Ring. The co-main event is Caristico, Volador Jr, and Atlantis facing Ultimo Guerrero, Cavernario, and Gran Guerrero. The special match is Soberano vs Templario in a lightning round match. The card is a lot better with the full roster back. With Penta and Fenix here I expect this show to exceed 10,000 fans as well.
AAA
AAA on Twitch 1/19
This was a fun standard AAA show. Storyline wise it wasn't much but it was there first show of the year. The main event saw Psycho Clown team with Dr. Wagner Jr and La Parka facing Rey Escorpion, Blue Demon Jr, and Hijo del Fantasma. Parka introduced his son earlier in the show, known as Hijo de La Parka. There's so many damn LA Park rip offs it's crazy. The latter team won, sending the crowd home with some heat which is fine because you're going to want to build up new angles. AAA like CMLL has their next big show in March and it's already almost February. Pagano vs Brian Cage vs Joe Lider vs Texnao Jr. This was billed as a tag match but it was a fatal four way. Pagano pinned Texnao to win but to me the story was Brian Cage literally couldn't move. He should not be wrestling. His legs are wearing down. It might be time for Mr. Cage to drop some weight. The match proceeding that was Killer Kross vs Dave the Clown vs La Parka Negra. This match was strictly to get Kross over as a monster. I think it worked.
AAA on Twitch 1/26
The main event for this show is Psycho Clown, Dr. Wagner Jr, and Aerostar vs Rey Escorpion, Hijo Del Fantasma, and Monster Clown. Intertwining feuds for the main event, highlighting Aerostar more. The co-main event is Monster Clown, Drago, and Laredo Kid vs Chessman, Averno, and Super Fly. Pagano and Joe Lider will wrestle Ciclope and Miedo Extremo yet again. This has got to be the 4th or 5th time in the last two months. Drago vs La Parka Negra vs Argenis vs Golden Magic. Myzteziz Jr, Hijo del Vikingo, and Nino Hamburguesa vs Mocho Cota Jr, Carta Brava Jr, and Tito Santana. The opening match is Mascara de Bronce, Raptor, and Vanilla vs Jack Evans, Australian Suicide, and La Hiedra
Here & There
Rush's contract details for Ring of Honor appear to be 155,000 for one year. The thinking is Dragon Lee is probably going to exclusive to ROH in America too since he's Rush's brother. No word on MLW's new wrestlemania weekend show. I'm guessing they'll fill Pentagon in. Speaking of which, if Pentagon and Fenix are let out of their contracts they're going to get massive deals from either AEW, ROH, or WWE. They wouldn't do well in WWE because they don't speak English well. ROH would be interesting because they'd work New Japan and that'd be so exciting, but AEW is the wild card because The Young Bucks absolutely love them. But they loved Bandido too and they lost him. So it's not guaranteed everyone's just going to AEW. Ring of Honor has a lot of money since they're not paying Cody and the Bucks anymore.
CMLL is going to start there Champion of the Universe tournament on Feb 1st, 8th, and 15th.