Mandy Rose Is The New Face of The Women's Division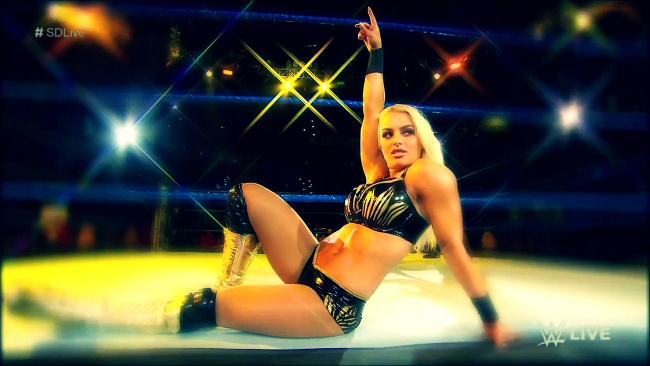 With all of the buzz around the women's division, is Mandy Rose slowly becoming the block to build around? Carol let's us know how she sees things.
There's no doubt that WWE's Women's Revolution is in full-swing. The company is making it a priority to push their female wrestlers and give them equal television time alongside the male roster. As the new year begins, WWE is going to continue to showcase their female talent. One star that WWE fans will see more of is Mandy Rose.
Recent reports suggest that WWE higher-ups are impressed with the wrestler and want to push her as their next star. If the rumors of Rose's push are true it's going to be met with mixed reactions.
Mandy Rose has shown that she's more than a pretty face. The former fitness model is athletic and quickly learned the ropes in her journey to become a wrestler. Her transition from fitness model to wrestler has drawn comparisons to WWE legend Trish Stratus.
So will Mandy Rose become a champion like Trish?
Mandy does have the potential to become a Women's Champion and the new face of the women's division. Plus, her push would give fans a break from seeing the same women in the title picture. No offense to Becky Lynch or Charlotte Flair, they're great wrestlers, but after a while it'll get tiresome seeing them constantly competing for the championship.
While Mandy Rose would offer a breath of fresh air to the women's division, her push would also cause some backlash.
WWE fans are very vocal, after all they do chat disrespectful names at the wrestlers during matches. Given that Mandy fits in with the blonde stereotypical woman WWE likes, she'll be the subject of criticism from the WWE Universe. Despite being a good wrestler, fans may feel that Mandy isn't a good fit to be champion and can't compete in the big league like the 4 Horsewomen.
Mandy Rose's eventual push has its pros and cons. On the one hand, it'll be a huge change for the women's division and show that the other female wrestlers can work their way up to the top. However, it could also backfire if the fans have anything to say for it. Even though the fans have been begging for changes, they may not like Mandy being the new face of the women's division and feel that it should go to someone else.
Mandy has appeal, and she would be a great spokesperson doing interviews and red carpet appearances for WWE. So it's not surprising that WWE would that WWE wants to make her their next breakout star. She is deserving of a push, but WWE needs to be careful with how they plan it.
So far they've been slowly pushing Mandy by giving her a storyline on SmackDown. Currently, she's feuding with Naomi in a storyline that see Mandy flirting with Naomi's husband to get under her rival's skin. After their feud is over, it's possible WWE will make the transition to Mandy becoming a championship contender.
How the fans react to Mandy Rose's push is a different story, but whether they like it or not, Mandy's shown she's ready to be the next face of WWE's women's division.