(NOAH) WEEKLY NEWSLETTER VOL.17 ~ 4TH JANUARY 2019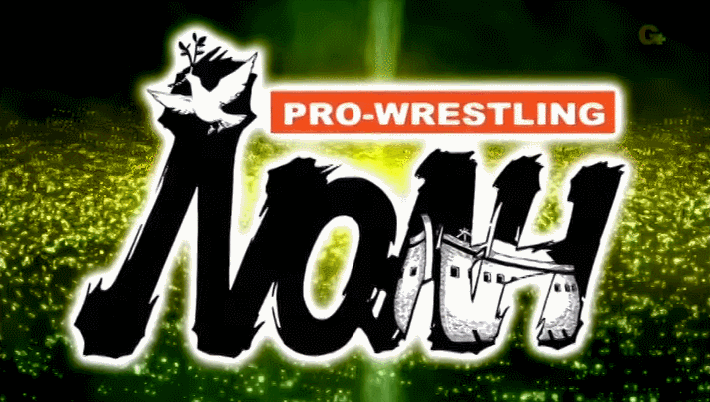 Hisame brings us a great lead in to NOAH's Navigation for the Future, on January 6th. 
NEWS
Kenoh & Kiyomiya press conference
NOAH held the match signing on the 4th January between Kenoh and Kaito Kiyomiya. Kenoh was on fire, veering between seeing Kiyomiya as either a concerned older brother seeing a boy not ready for what "the company script" was making him out to be, a teacher who would show him the proper way to do things, or simply a schoolyard bully who would beat him up for his milk-money. Sadly, Kiyomiya could not compete with the force of nature which was Kenoh, and once again came off as sounding very polite and somewhat bland next to him.
Kenoh's other focus, aside from getting the belt, was getting both Marufuji and Sugiura to challenge him for it. Sugiura because he defeated Kenoh for the belt in March, and Marufuji because Kenoh's obsession is that he will challenge him for the belt, and Kenoh will defend it against him, and if he doesn't challenge, he will nominate him as challenger. As far as losing the belt to Sugiura goes, Kenoh is of the opinion he never actually "lost" it; no, to his mind he lent it to Sugiura, and Sugiura, instead of giving it back to him, "sublet" it to Kiyomiya.
Kenoh says he cannot forgive either of those things.
After this interview, Kenoh seemingly went shopping (a fan asked him for a picture), and Kiyomiya went to eat a tomato (his favorite food) and appear on Battlemen, where he drew his New Year Calligraphy, which said simply "rise".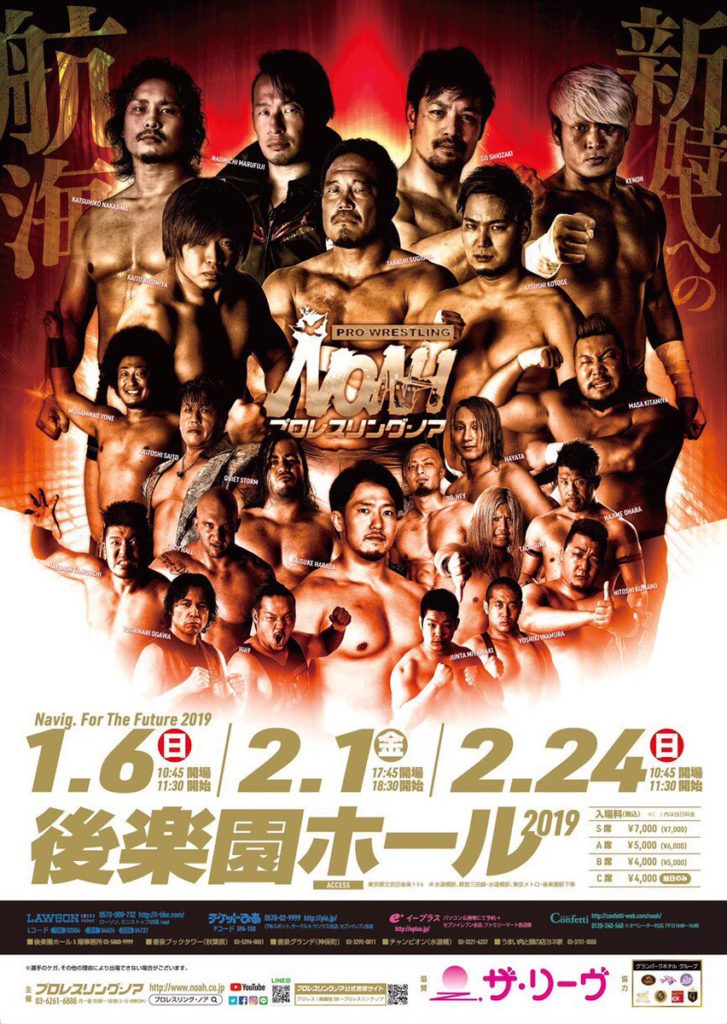 NOAH start "Navigation for the Future 2019" on January 6th at Korakuen Hall.
President Uchida (or else Naomichi Marufuji or Go Shiozaki) will make the usual New Year opening speech as the roster stand in the ring, and then afterwards the action starts.
~ Kinya Okada will take on Masa Kitamiya
~ Yoshiki Inamura is having a "seven match series", starting with his hero, Takashi Sugiura.
~ Hi69 & Minoru Tanaka will face Atsushi Kotoge & Masao Inoue
~ The Backbreakers (Hajime Ohara & Hitoshi Kumano) will take on (to assess worthiness for tag championship match) Junta Miyawaki & Seiya Morohashi
~ Akitoshi Saito & 50 Funky Powers (Mohammed Yone & Quiet Storm) will face The Hooligans (Mitsuya Nagai, KAZMA SAKAMOTO and Mitsuya Nagai).
50 Funky Powers are starting a feud with them after the win by Maybach Taniguchi & Yuji Hino in "Great Voyage in Yokohama Vol.2"
~ RATELS (Daisuke Harada, Tadasuke & HAYATA) take on former friend YO-HEY with Yoshinari Ogawa & Kotaro Suzuki (Harada, I sincerely hope this is your plan, as YO-HEY sounds so sad these days)
~ Yuji Hino & Maybach Taniguchi will defend the GHC Heavyweight Tag Titles against Katsuhiko Nakajima & Go Shiozaki, following the bloodbath and double crossing in Yokohama at the end of the year.
~ Kaito Kiyomiya will make his first defence of the GHC Heavyweight against Kenoh (I ran a poll, out of 122 people only 29% expected Kenoh to win, while 71% voted in favor of Kiyomiya retaining)
I am afraid there is still no word about when Naomichi Marufuji will return from injury.
IPW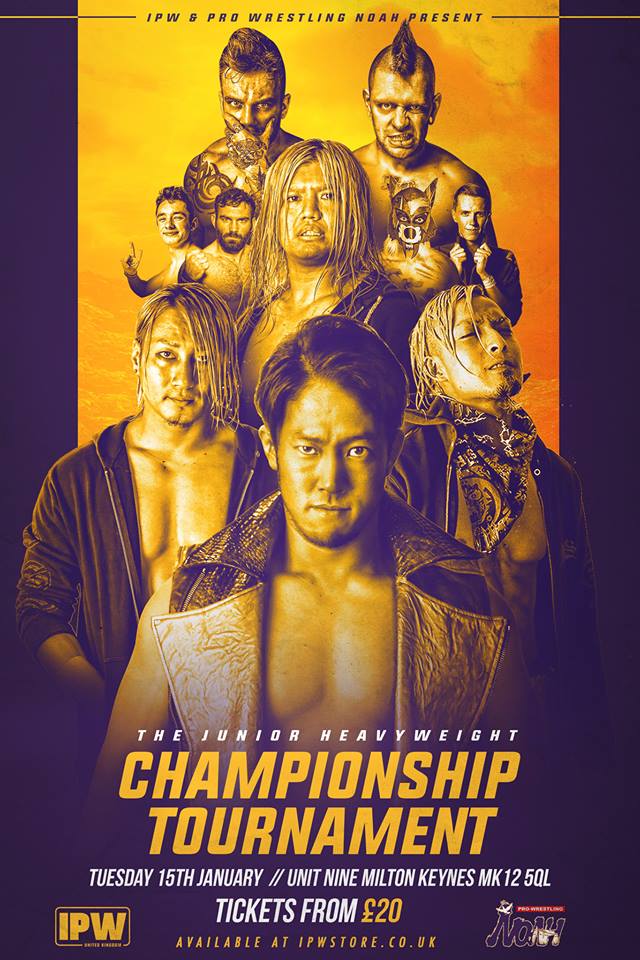 IPW have announced the NOAH participants for the Junior Heavyweight Tournament on the 15th January in Milton Keynes, UK, will be all of RATELS (or what was all of RATELS): Daisuke Harada, YO-HEY, HAYATA& Tadasuke.
I have written a short guide for anyone who wishes to know more about them, in which case please click on the relevant names above.
The Britwres athletes taking part in the tournament are Chris Ridgeway (please say we get him vs Harada as we were promised last year), Kid Lykos, Ben Basden (new boy, but said to be a submission specialist, would be interesting to see him vs Hajime Ohara or Yoshinari Ogawa one day) and James Castle
Tickets can be purchased here
GHC BELT NEWS
TOUR TIDBITS
~ Takashi Sugiura has gotten himself a cute little dog, while Hitoshi Kumano filmed an unbearably cute video of his pulling a pillow around
~ Atsushi Kotoge filmed a typically manic New Years message, which took place in public (and somehow failed to attract any police attention)
~ Kenoh was given a cake that resembled women's breasts, and didn't quite know how to react (credit – Purodino)
~ Naomichi Marufuji is evidently released back into late nights and drinking for the festive season
~ Kaito Kiyomiya was given a box of his beloved tomatoes on Battlemen.
~ Takashi Sugiura photographed himself on the tanning bed at the dojo. No doubt the cold did not deter HIM from walking around in the nip (unlike YO-HEY).
KING SHAMELESS CORNER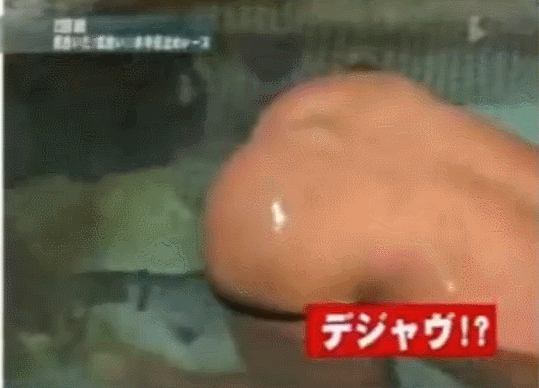 BROADCASTS
Samurai TV will broadcast the first night of "Navigation For The Future 2019" LIVE on the 6th January at 11.30am JST
BOOK CORNER
"PHOTO the LIVE"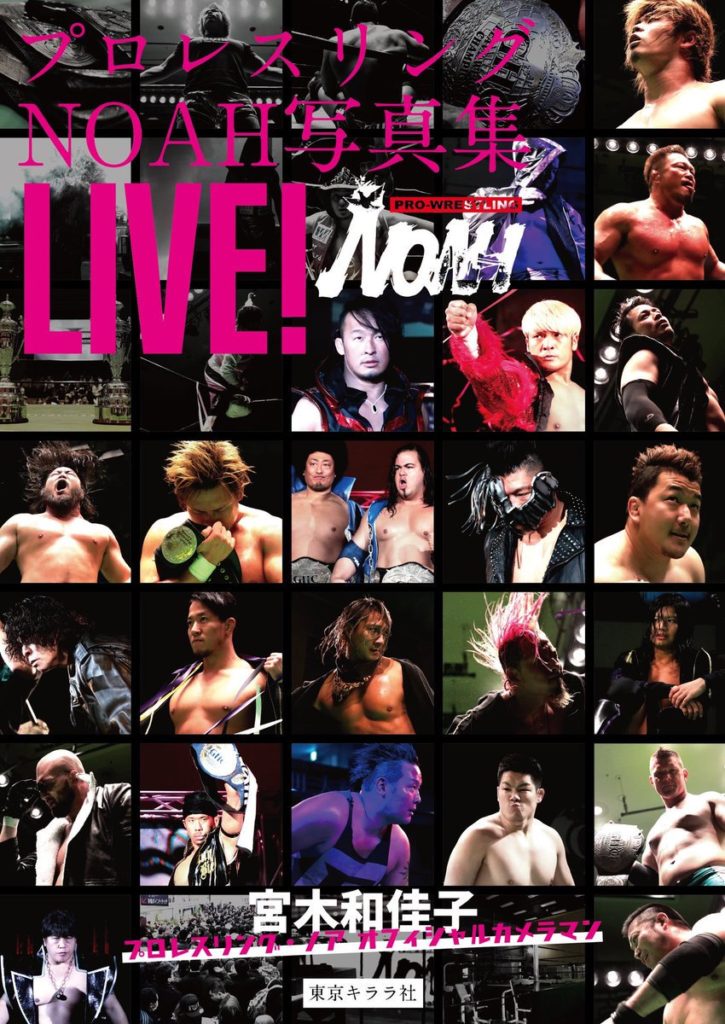 NOAH have not released a photobook since probably "The Golden Era" when KENTA & Marufuji were a tag team ("Shin Uchi") and Kenta Kobashi had one.
"PHOTO the LIVE" is a series of photographs taken by Miyaki Wakako, NOAH's official photographer responsible for the match photography and for the wrestler photo portraits (she also used to be the official photographer for Big Japan and has worked with other promotions besides that); in 2013 she started teaching photography and has taught more than 500 students in four years.
The book covers the period from August 2017 to roughly the late spring\early summer of 2018, just after Global Tag League wrapped up. The photographs, all color (some black and white) are mainly taken in the ring, although there are some studio shots. None of these present wrestling through a filter or in any kind of idealised setting; sweat flies, faces contort on punches, bruises are seen coming up after matches, spit comes out of mouth on impact. These pictures are not flattering, but they were not designed to flatter, they were designed to be raw.
They show the blood, the sweat, the toil, the grind of professional wrestling, and they also illustrate just how hard Noah have worked to get back on form after the "dark era".
There is no text (aside at the back which gives bios of the wrestlers), so this is perfect for anyone who does not speak and\or read Japanese.
If you can get hold of a copy, then I highly recommend it to anyone who follows NOAH, or else likes either wrestling or sports photography books.
OTHER BOOKS
I have managed to source a copy of Jun Izumida's book, the one that apparently revealed about NOAH having links to organized crime. I haven't actually bought it yet, but from reading the reviews, it appears to be a very very very bitter book, detailing why he left NOAH (I think there were a lot of conflicts with others) and hence the reason why no one wants to speak of him or remember him, unlike both Haruka Eigen and Ryu Nakata.
Over the festive period two other books arrived, both on Mitsuharu Misawa, and both written during his lifetime. One covers his life from childhood to NOAH, the other one seems to be more about why he created NOAH. Both have been added to the library for translation at a later date.
Heir to the Ark (Naomichi Marufuji's biography), translation into English continues
LINKS
A challenge to the youngest GHC Heavyweight Champion, Kaito Kiyomiya, ""I will take back the belt and rescue that young man from crisis" 
Green Guide for the Gaijin: A primer on etiquette when attending a puro event 
Kenoh's "New Year Card" 
2019 Greeting from Noah's Representive Director, Yosuke Fukui 
The world of Puroresu and the hope of three people: Kiyomiya, Hayashite & Aoyagi make their vows towards a new era 
NOAH FROM THE VAULT (with thanks to Purodino for translating these)
HAYATA'S dream girl 
An interview with Kenoh over a drink 
Photos & gifs – credit to NOAH GHC, IPW & Puroresu Weekly