(NOAH) WEEKLY NEWSLETTER VOL.18 ~ 12TH JANUARY 2019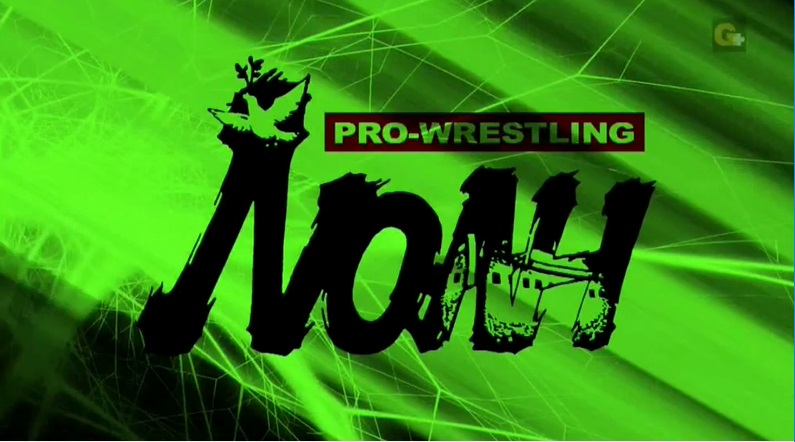 We got the important Day 1 review for Navigation for the Future last week from Andrew, but Hisame is the expert. She clarifies things from that first day, on top of events since January 6th.
NEWS
"NAVIGATION FOR THE FUTURE 2019" BEGINS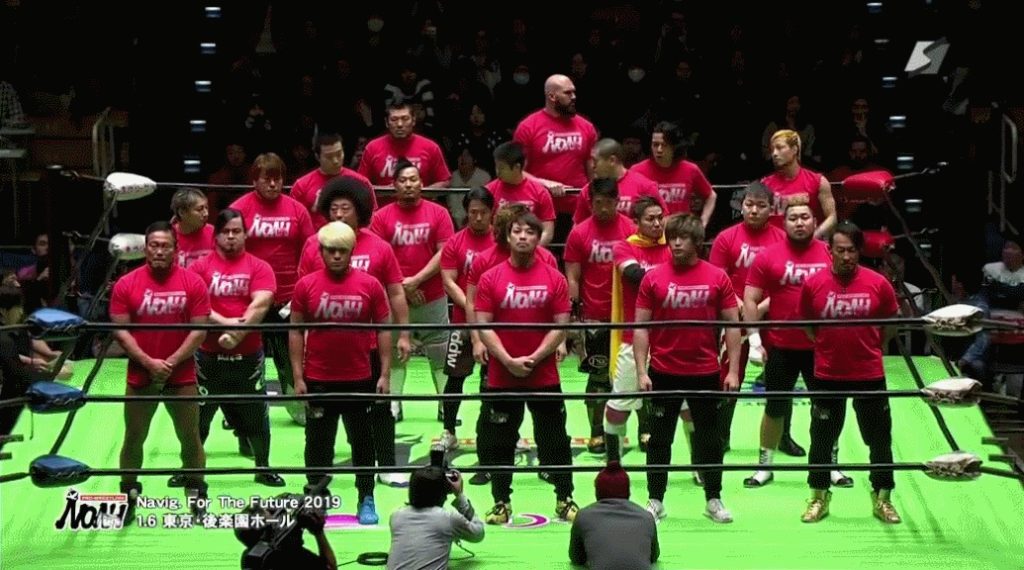 NOAH began their year in Korakuen Hall on the 6th January. The roster filed to the ring (this years color is red) and stood while Go Shiozaki made the traditional New Years speech (this is either done by himself as Chairman of the NOAH Wrestlers Association, President Uchida or Naomichi Marufuji, but usually by himself), and although naturally he wasn't competing, Marufuji was there.
Kinya Okada took on Masa Kitamiya, which ended with Kitamiya doing a massive spear on him which winded him.
Yoshiki Inamura took on his hero, Takashi Sugiura. Inamura put up a good fight, and like all the heavyweights, participated in the unofficial competition that they seem to have, which involves lifting Sugiura up and for as long as possible. He even once or twice managed to knock Sugiura down. However, the match finished as it only could, with the win by Sugiura via the infamous chokehold.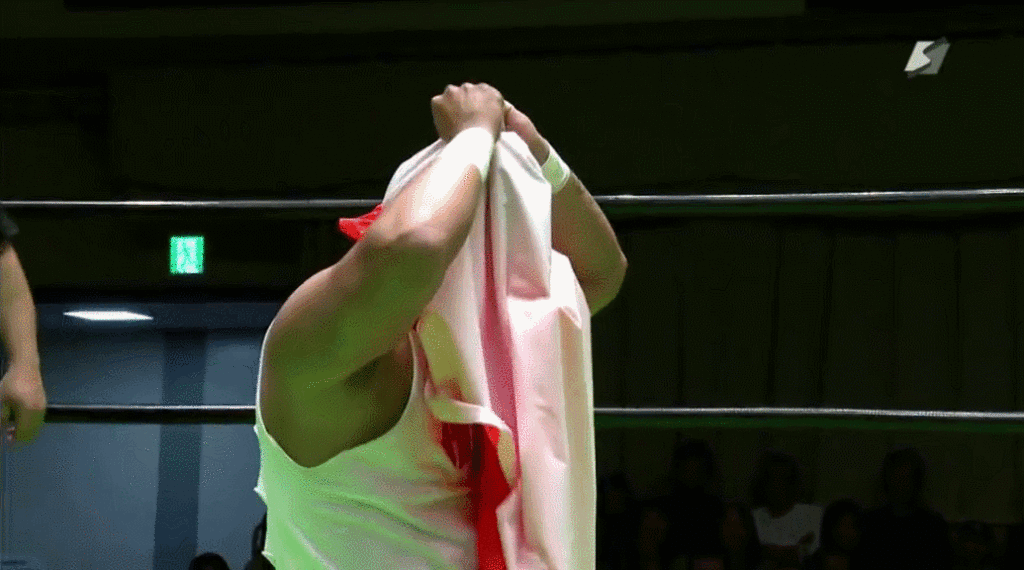 Atsushi Kotoge teamed with Masao Inoue against Hi69 and Minoru Tanaka.
The cape was the star of this match; Minoru Tanaka wore it on his head, Hi69 put it on to do the "Revolutionary Splash" and then got into a fight with it when he took it off over his head and it got kind of stuck.
Kotoge thought that they were going to join the "Revolutionary Army" (which so far has only one member, and no one wanting to join), when Tanaka sarcastically put the cape on at the end of the match and did the revolutionary fist when his arm was raised for the win.
They didn't want to become his junior corps however, and Kotoge found himself thrown out of the ring, and looked up to see Minoru Tanaka using the cape to wipe Hi69's ass…
The Backbreakers had their "assessment" match with Seiya Morohashi and Junta Miyawaki to see if they were eligible to challenge for the GHC Junior Tag Team titles. They weren't as they lost, but afterwards Ohara predicted great things for Miyawaki, and said that he had the potential to be putting on a belt in the spring.
In the meantime, The Backbreakers have been challenged by Keisuke Ishii and Kouki Iwasaki.
The Hooligans had their first match of the evening when Akitoshi Saito teamed with 50 Funky Powers against them (Mitsuya Nagai, KAZMA SAKAMOTO and Cody Hall).
Due to interference by The Hooligans, who shoved Referee Nishinaga down, the match was abandoned after five minutes. This was a taster of what was to come in the title match.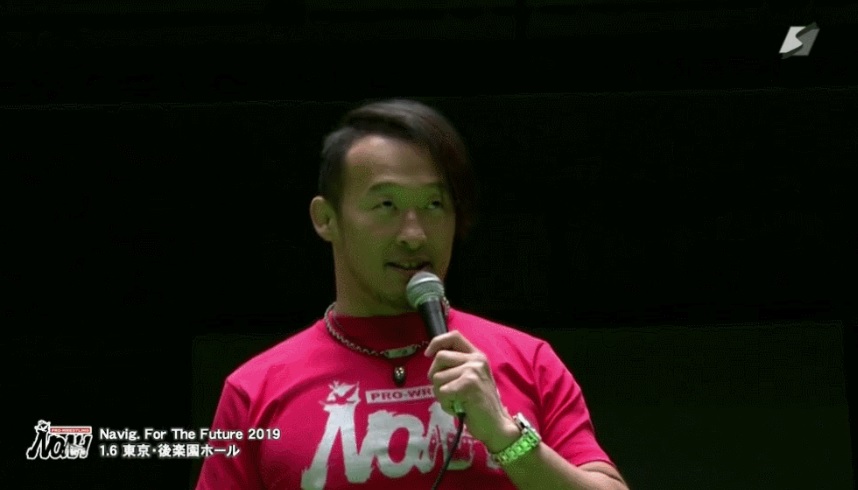 A much healthier, happier and relaxed looking Naomichi Marufuji announced that he would be returning to the ring on the 1st February. After that he remained on commentary for the rest of the event.
The three remaining RATELS took on YO-HEY and his new friends, Yoshinari Ogawa and Kotaro Suzuki. Harada was not wasting any time as he stamped across the ring while he was being announced, not even bothering to look away from YO-HEY or even remove his RATELS jacket as he attacked him. YO-HEY won against the man he used to call "The Boss".
After the match, HAYATA was bending over Harada, as YO-HEY looked on at Ogawa and Suzuki approaching them. HAYATA stood up, Ogawa said something to him, HAYATA put his hands on his hips and looked away, and the three of them left. HAYATA left soon after, leaving the seconds to help Harada out of the ring.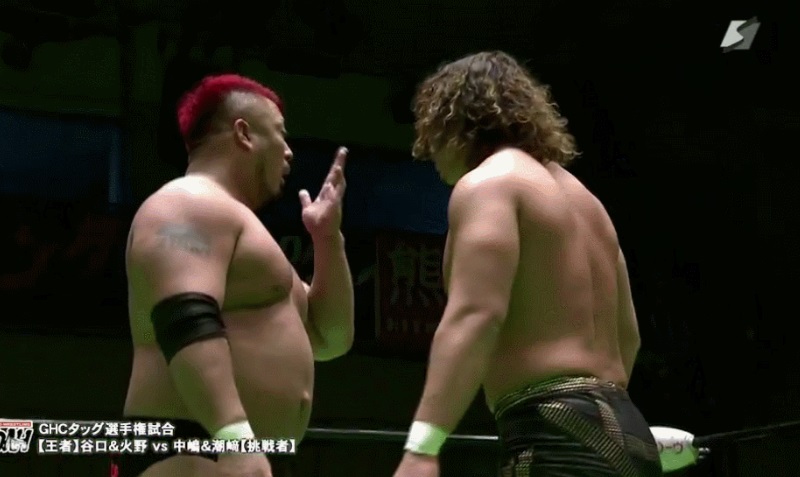 The Hooligans had their second match of the evening as Yuji Hino and Maybach Taniguchi defended the GHC Heavyweight Tag Team Championship against Go Shiozaki and Katsuhiko Nakajima, following the bloodbath in Yokohama at the end of the year.
The problem with this match was the stop start, stop start, Hooligan interference, which after a while got tiresome. The booking was in itself very Suzuki-Gun, which is not something people really want to be reminded of. When the match was allowed to flow, we got some good moments, especially the dynamic between Katsuhiko Nakajima and Yuji Hino when neither would sell each others moves; Nakajima's eyes filled black when Hino yawned in response to his kicks.
In the end (and beating up Atsushi Kotoge on the way who seems to have attached himself to Shiozaki and Nakajima, although no one has probably asked him to), The Hooligans retained.
Fifty Funky powers then challenged them for the titles with Quiet Storm telling them that everyone was sick of The Hooligans, and the way they fight, and they would finish them.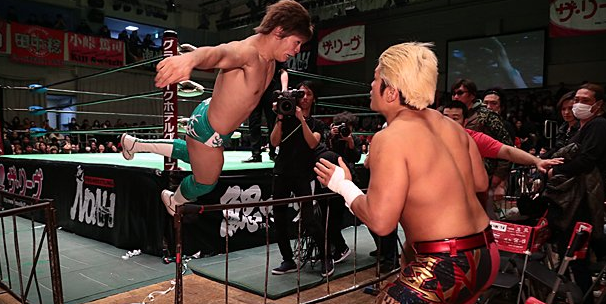 In the main event, Kaito Kiyomiya came full circle, and beat Kenoh to retain the GHC Heavyweight championship.
Kenoh entered with slicked back hair and the usual scowl (he hasn't debuted the hair since, probably because he was teased, or else he is saving it for big matches), and Kiyomiya entered with a Kobashi mannerism, where he pauses to look at the crowd as if he can't believe they are cheering for him. They had what will be probably the start of their epic battles. Kenoh had said that neither he and Kiyomiya were the same people they were in January 2018, but I don't think he really knew that Kiyomiya was not this young boy anymore, who he swung alternately between seeing as a younger brother, and an a potentially dangerous rival, who he had so easily kicked around in 2018. Sugiura had underestimated Kiyomiya during Global League, and Kenoh, while not making the same mistake, made the mistake as seeing Kiyomiya as still somewhat green and unprepared for his role as the GHC Heavyweight Champion.
Kiyomiya knew Kenoh well, he was able to dodge his moves, and he also knew when to play dead and come out of his daze. They had great chemistry together, and this match, already a match of the year to some, was hard fought all the way through, and a solid fight from the start.
At one point, seeing Marufuji on commentary, Kenoh paused to glare at his hated obsession.
After the match, Atsushi Kotoge (mercifully wearing a fresh new cape which hadn't been anywhere near Hi69's hindquarters, although lets face it, ALL those cloaks probably have a rude backstage story to tell on a Misawa level), came out to challenge Kaito Kiyomiya.
Kotoge proposed starting a revolution together, and fortunately for Kiyomiya, he was saved from this by Masa Kitamiya, who also challenged and said sensibly (and firmly) that "the GHC Heavyweight does not need a comedy wrestler".
Kiyomiya, as polite as ever, left the company to arrange the details and Kotoge and Kitamiya will face each other on January 20th to determine the number one contender, with the winner facing Kiyomiya on February 1st.
During the pre-matches, neither Kotoge or Kitamiya got the pin or had the pin given on them by Kiyomiya directly.
Kaito Kiyomiya says that he wants to be an approachable champion, one that talks to fans and makes people leave the event smiling. He was driven by Kenoh to become champion, and he is driven by the memories of the dark days of Suzuki-Gun and the vicious circle it created with the fans who felt the crisis in Noah, which was transmitted to the wrestlers, and when no one was happy. As well as being the youngest GHC Heavyweight Champion on history, he also wants to beat Takashi Sugiura's defensive record of fourteen people.

NOAH are currently approaching the end of their three day in a row event. Hi69 said that the attendances have not been good, and more people need to come, but for winter in the provinces, the attendances weren't bad; there was a long line to see Katsuhiko Nakajima, and according to Kaito Kiyomiya, a lot of new fans came to the events.
IPW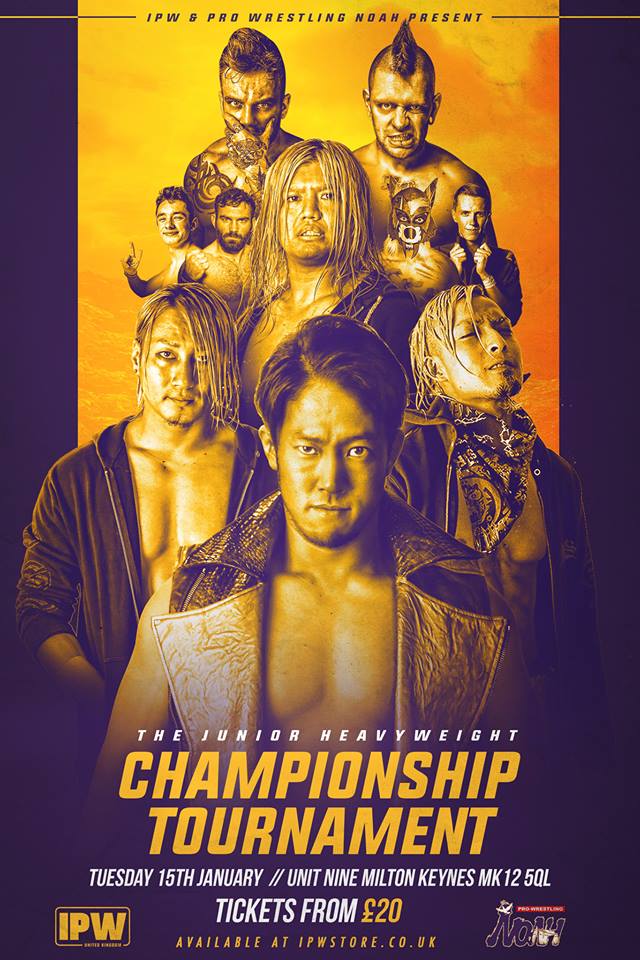 RATELS (including YO-HEY) are taking part in IPW'S Junior Tournament on the 15th January. Their opponents for the first round have been announced as:
Daisuke Harada vs Chris Ridgeway
HAYATA vs Kid Lykos
YO-HEY vs Ben Basden
Tadasuke vs James Basden
While Harada is yet to comment on his opponent (who seems to do the Sugiura mouth-guard thing), although he did say that this will be the first time he will ever have competed for a belt concurrently in another promotion, HAYATA doesn't use social media, YO-HEY said he wanted to meet Mr. Bean, Tadasuke has commented that he will "knock down" his opponent.
Tickets can be purchased here
DDT
Naomichi Marufuji and Go Shiozaki will be taking part in DDT'S 22nd anniversary event "Judgement 2019" on February 17th.
President Uchida represented Marufuji at the press conference (Marufuji has had to be very strict with his rehabilitation, and so cannot travel with NOAH to the events in the countryside, and sometimes has to miss things for treatment), and was met with Tetsuya Endo (who will be Marufuji's opponent), eating his lunch.
Endo basically said he respects Marufuji, but he doesn't care about the actual match, he's out to crush him, he also said that he didn't think that Marufuji would be physically or mentally ready for it either.
Fortunately, having had the experience of both Kenoh and Sugiura in his face and therefore being familiar with such behavior, President Uchida just ignored him.
CURRENT CHAMPIONS
TOUR TIDBITS
~ Hajime Ohara announced that NOAH will be returning to Kultz Kawasaki on the 27th July, and he will once again be involved in the booking of the show.
~ Yuji Hino said about Mohammed Yone, "The Afro is dead".
~ YO-HEY appears to have an invisible friend…
~ Atsushi Kotoge's cloak fell off when he attempted to do the "Revolutionary Cloak Splash"
~ HAYATA did not second Harada and Tadasuke in Hamamatsu
~ Takashi Sugiura bought home a little yellow hat for his puppy. He also said he realizes that his account should be used for photographing people, and not his dog, but he doesn't apologize; he is going to keep photographing his dog.
~ There seems to be friction developing between Kenoh and Katsuhiko Nakajima, and the fans want to see a single match.
~ Despite the manner in which he left NOAH, and where he is now, Taiji Ishimori appears to be on good terms with Marufuji. Marufuji congratulated him on winning the IWGP Junior in New Japan, and Ishimori thanked him and said he remembered the lessons and experience he had in NOAH. Even if he does return as a Freelancer, which he may well do one day, hopefully Ishimori will be back in the NOAH ring one day.
~ Two small kids ran to Kenoh (who was standing watching the ring action) and asked if they could shake his hand, he was very gentle with them in doing it.
~ Tadasuke turned 33 on the 13th January.
~ President Uchida hinted that a GHC Heavyweight Title defense could take place in Canada (or on IMPACT) as a thank you to Scott D'Amor who took care of him when he was overseas.
KING SHAMELESS CORNER
He's been good as he's got a new dog.
His good behavior won't last, especially when summer comes, or when he finds Masao Inoue at the urinal.
BROADCASTS
I am afraid that no broadcasts have been announced as of yet, although it is likely that the last day of tour (1st February which is the GHC Heavyweight title match and Marufuji's return) will be broadcast, and perhaps the 26th January in Osaka.
BOOK CORNER
The translation of Naomichi Marufuji's biography, "Heir to The Ark" continues.
In this chapter he dispels a lot of the myths surrounding himself and KENTA. Its a commonly held (and dearly held belief) that they were close, if anything, they were anything but. They rarely had any contact outside the ring, never socialized or had really had any significant contact out of tour, and Marufuji said he lent him a CD which he never returned.
LINKS
"No memory of the match" ~ Kaito Kiyomiya, the youngest champions first defense
Marufuji's enthusiastic return on the 1st February at Korakuen
The Hooligans do as they like
"Whichever comes, I will not lose" GHC Heavyweight Champion, Kaito Kiyomiya's confidence about Kotoge and Kitamiya
Kaito Kiyomiya's first defense and an ambition in Canada
The birth of the youngest GHC Heavyweight Champion ~ Kaito Kiyomiya's interview (1st defense)
Wrestling Grand Prix Fighting Spirit winner Kaito Kiyomiya, "My starting point for battle came from Fujinami and Choshu"
NOAH FROM THE VAULT
Kaito Kiyomiya's "My Turning Point" (translated by Purodino)
Photos & gifs – credit to Noah GHC, IPW, PDXD & Puroresu Weekly
NOAH WEEKLY NEWSLETTER VOL.187 ~ 29TH SEPTEMBER 2022
Keiji Mutoh continues his Retirement tour and bringing out faces from the past! NOAH has a new champion! Interesting inter-promotional battles on the horizon as well!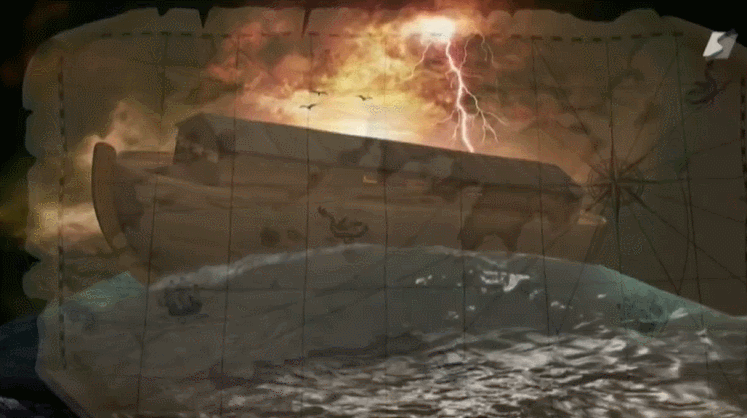 NEWS
Kaito Kiyomiya is the new GHC Heavyweight Champion, nominates Kazuyuki Fujita as challenger
Following provocation by Kenoh not only saying that he was going to be the one to inherit Keiji Mutoh's Shining Wizard and the memory of Keiji Mutoh himself (and the outright claim that Kiyomiya would simply forget about Mutoh once Mutoh had retired, which Kiyomiya didn't even bother responding to), Kenoh went one step further at their last pre match on the 19th September by pulling Keiji Mutoh's pose, kissing his hand, putting it to Kiyomiya's lips and then exploding it. Kiyomiya erupted in fury at this, it was far more than any verbal provocation of Kenoh's, which I guess he has learned to ignore over the years. They fought for the GHC Heavyweight in Nagoya on September 25th, with Kiyomiya emerging victorious following a modified Shining Wizard. As Kenoh left it was like a spell was broken. Kenoh went backstage and muttered about Kiyomiya being the company favorite and in his interview the day after winning the title, Kiyomiya said nothing about Keiji Mutoh. Mutoh as we know had been a focus of both Kiyomiya and Kenoh leading up to the title match.
Back in the ring, Kiyomiya called out his next opponent. Kazuyuki Fujita. Fujita came to the ring, carrying a can of beer which he swigged from. Getting in the ring he circled Kiyomiya and took off his t-shirt. Kiyomiya said that he was expecting a fight, but Fujita did something that no other NOAH wrestler had (or perhaps would) do, and that was to throw himself at Kiyomiya and then make nuzzling motions against his head, while he licked the belt. Kiyomiya pushed him off, and Fujita retaliated by pouring beer over his head.
Kiyomiya screaming that he hated beer was met with Fujita toasting him from the ramp and yelling "Kampaiii" ("cheers") after a fight had broken out, and Kiyomiya threw him from the ring.
Backstage, Kiyomiya said his reason for nominating Kazuyuki Fujita as his challenger was that he had never been defeated for the GHC Heavyweight. Fujita had to give up the belt due to Coronavirus. It has been a recurring theme of most of the GHC Heavyweight champions since Go Shiozaki, that Fujita has been the man to beat in order to cement yourself as champion. Kiyomiya was picking up that torch.
As for Fujita, he played it as if he was a Casanova and had been asked out on a date by warning Kiyomiya that when you experience Fujita, you can never go back because you were never going to be the same. He was going to "make it a night to remember". He sipped his beer, and licked his lips afterwards.
Title match has been set for NOAH's return to Ariake on the 30th October.
STINGER lose, NOAH Junior Regulars win, enter Tadasuke (with a chair)
Following a period of brutal attacks on Seiki Yoshioka (by the end of the match he could hardly use one side of his body) and a title challenge where Atsushi Kotoge was bloodied up, The NOAH Junior Regulars emerged victorious and bought the tag titles home to their unit. They had very little time to celebrate their win and put ice on their wounds, when Tadasuke burst in and attacked Atsushi Kotoge with a chair while Hi69 beat up on the already incapacitated Seiki Yoshioka. Tadasuke (wild grin on his face) got on the microphone and made a challenge for the tag titles. Then Tadasuke wiped the blood from Kotoge that had got on his hands on his hair, leaving red streaks in the peroxide. Tadasuke was even waving the bloodied seat of the chair, which had detached during the attack, around backstage.
Title match will be on the 30th October when NOAH return to the Ariake complex.
Takashi Sugiura and Satoshi Kojima, NOAH's most dysfunctional tag team, win the GHC Heavyweight tag titles
It must be said that with the combined efforts of Satoshi Kojima and Hideki Suzuki, we almost have our Sugi back.
At the press conference/title match signing, Sugi and Kojima appeared dressed in suits and wearing dark glasses. They looked something between The Men In Black and "Dangerous Detectives" (as Tokyo Sports called them  which stems from a Japanese TV show). Hideki Suzuki was on form, not only mistranslating Timothy Thatcher and stating at one point that Thatcher said he came to Japan to "beat you up" and being rude to a journalist for being overfamiliar with his "punk mouth", the highlight of the press conference was his long close up stare at Sugi, who was trying not to laugh.
The dysfunctional team won the titles in Nagoya on the 25th September, and despite their falling out during the match, Sugi actually gave Kojima a proper handshake. Then they went back to squabbling backstage over Kojima talking on the mic when it was Sugi who got the win. No challengers have come forward as of yet.
HAYATA retains the GHC Junior, Ninja Mack makes his long awaited challenge
It had been an emotional match for YO-HEY, and for fans. Cutting out the aerial techniques that had characterized their earlier matches, both he and HAYATA demonstrated how much they had both evolved by concentrating on a more NOAH based ground attack with submissions. YO-HEY might have failed in the challenge, but he had at least gotten one win over HAYATA in the pre-match. He knew the title match would be different and he would need to level up, and afterwards he reflected and said he would start from rock bottom in order to make his next challenge. What fans had noticed that while things had changed between them, some things were the same, such as YO-HEY coloring his hair, his tongue (and even his boxer shorts) purple, which is HAYATA's color, and HAYATA not speaking as much as he has done in previous title challenges, as he is content to let YO-HEY talk. After the match, Ninja Mack came to challenge. HAYATA accepted by saying, that he was "finally interested in the belt" and acknowledging him as challenger. Title match will of course be on the 30th October. But HAYATA is not immediately going into a fallout match with Ninja Mack at NOAH's next event on the 30th, but is having a tag match against YO-HEY.
Keiji Mutoh's Retirement Road
Keiji Mutoh has been very busy.
– 23rd September: Great Muta appears in AEW
The Great Muta made a surprise appearance in AEW to rescue Sting, who had been tied to a chair by Darby Allen. Muta came to the ring, advanced on Sting and then turned and spat green mist into the face of Allen and then reunited with Sting. Keiji Mutoh announced that Sting would attend Muta's retirement on the 22nd in Yokohama, but has not said in what capacity, although it is assumed that they will tag. Regarding any further appearances in America, Mutoh said he didn't think it was likely, but did warn that The Great Muta may pop up somewhere as you never knew where he would turn up next.
– 25th September: Keiji Mutoh Retirement Road: Love Forever 2
Keiji Mutoh teamed with his junior Kazuyuki Fujita to take on Mutoh's classmate, Masakatsu Funaki and Katsuhiko Nakajima, who Mutoh has known since he was a boy, and still calls affectionately "Katsuhiko". Nakajima said he was going to break up this class reunion, and while Mutoh did get kicked (Nakajima smirked and said it was fun when Mutoh later complained his leg still hurt) but it was Fujita who got the worst of it. During the match, Nakajima pulled out Mutoh's Space Rolling Elbow. Mutoh was initially not pleased, but then he became very happy to see it and said that he thought that "Katsuhiko" did it because he had some small measure of feeling for him. I think had Nakajima been a more acrobatic wrestler, Mutoh might have handed it to him. Mutoh won the match with The Shining Wizard, pinning Nakajima. This was Mutoh's farewell to Nagoya, his classmate, his junior and Nakajima.
– 26th September: Hiroshi Tanahashi comes to the press conference and a tag match is announced
Hiroshi Tanahashi presented 38 roses to Mutoh when he came to the press conference. Each rose symbolizes a year of Mutoh's career. Mutoh joked that he should have laid them at his feet, as had happened in boxing recently. Tanahashi said he wasn't good at ad-libbing, and then introduced himself as "one of the greatest New Japan talents in the past one hundred years". During the press conference, a tag match was announced. New Japan's Hiroshi Tanahashi, Togi Makabe and Honma Tomoaki will team together against the team of Naomichi Marufuji, Keiji Mutoh and Keiji Mutoh. This will take place on the 30th October. Mutoh has not given up hope of appearing one final time in the New Japan ring.
– 16th October: A new match is announced
NOAH announced that due to fan demand, Keiji Mutoh will be appearing in Fukuoka. He will tag with Ninja Mack and Satoshi Kojima against Naomichi Marufuji, HAYATA and Jack Morris. Satoshi Kojima is of course connected to Mutoh through All Japan and New Japan, Naomichi Marufuji has wanted a match against Mutoh (he will be tagging with him as we know on the 30th October) and HAYATA has been a big fan of Mutoh for a while, as he has influenced a lot of his style and persona. HAYATA thinks of himself and The Great Muta as "The Phantom Team". Muta doesn't like to speak and HAYATA said, neither does he.
Naomichi Marufuji and Katsuhiko Nakajima head overseas
Naomichi Marufuji and Katsuhiko Nakajima will appear for Evolution Pro Wrestling in New York for their anniversary show on November 12th. Marufuji's match is yet to be announced, but Nakajima will take on Josh Alexander. Alexander has said he wonders how Nakajima is going to kick after he snaps his ankle. They will also appear at King of Indies in San Francisco on November 19th.
NOSAWA vs Katsuhiko Nakajima (and Kenoh)
After being beaten up by Katsuhiko Nakajima who gave him some pretty stiff soccerball kicks outside the ring at Korakuen Hall recently, (although he would tell you that Nakajima tried to beat him up), NOSAWA Rongai has been on a quest to face Nakajima in a match. Then he threw in Kenoh, so it could be himself and Eita versus Kongoh. Hideki Suzuki told him that he was probably going to die, but NOSAWA has taken no notice and kept on with his demand. His demand has not been met because rather than facing Nakajima and Kenoh, NOAH have booked him against rookies Yasutaka Yano and Kai Fujimura. NOSAWA thinks he is having to go through some kind of trial.
ELSEWHERE IN NOAH
– Hideki Suzuki has hinted that perhaps Takashi Sugiura might like to get back online.
– Yoshiki Inamura and YO-HEY continued their guild, despite the fact that YO-HEY said someone attacked and burned their castle down. A picture was taken of YO-HEY and Inamura playing the game, with YO-HEY seated cross legged on Inamura, who was doing a bridge in the ring. We have seen Inamura used as a weight, but is he now used as furniture?
– NOAH's Director, Narihiro Takeda, wrote on a NOAH Note that he would like for Darby Allin to come to NOAH one day.
– Tadasuke got a match thrown out by ripping off Alejandro's mask. Tadasuke did not care, and did not even respond when Alejandro asked if he wanted a mask for himself?
– Daiki Inaba had his long awaited singles match with Katsuhiko Nakajima, but failed to revenge himself for Nakajima's behavior in W-1. Nakajima even went for the cocky pin by grinning and leaning on Inaba.
– There was usual chaos at the NOAH Junior Space sessions as Daisuke Harada is not there to take control. Atsushi Kotoge seems to be the main culprit, forgetting to invite Seiki Yoshioka in and at one time even failing to press record.
– It's probably best that Daiki Inaba, who apparently likes to be in the nip backstage, was not present when NOAH was at Differ. It was bad enough that Sugi used to wander around naked…
– Mitsuharu Misawa wrote in a diary entry for 2006 about filming an advert for THE LEAVE, and having to sing first thing in the morning while they were filming. Probably due to the fact that he had a problem with his throat anyway, was a heavy smoker and had taken "so many chops and kicks" to it in his career, he said he sounded very hoarse.
EVENT RECAPS AND POST MATCH PROMOS
SUNNY VOYAGE – September 19th 
N-INNOVATION – September 21st 
GRAND SHIP 2022 IN NAGOYA/KEIJI MUTOH RETIREMENT ROAD – September 25th
CURRENT CHAMPIONS
(This event will not be broadcast live, but hopefully this match will be shown via Instagram)
THIS WEEK IN NOAH
– Friday, October 7th
STAR NAVIGATION 2022 – Korakuen Hall, Tokyo
Time: 18:30 JST
Broadcast: WrestleUniverse/ABEMA (live)
– Saturday, October 8th
STAR NAVIGATION 2022 – Korakuen Hall, Tokyo
Time: 18:30 JST
Broadcast: WrestleUniverse (live)
Note about broadcasts
Unless you are living in Japan or have a VPN you know is compatible with ABEMA, please do not subscribe to the service. For fans living outside of Japan, a subscription to WrestleUniverse would be better as they show more NOAH shows than ABEMA, and usually the events get uploaded very quickly. ABEMA broadcasts are only in Japanese, you can only watch them live, and this is the only NOAH they show. They do not broadcast old shows as these belong to Samurai TV.
BIRTHDAYS & ANNIVERSARIES
Wednesday, 5th October: Keiji Mutoh debut anniversary (38)
Wednesday, 5th October: Seiki Yoshioka debut anniversary (14)
LINKS
"I want to protect this belt for the rest of my life", new GHC champion Kiyomiya holds morning press conference to establish a new NOAH landscape
Mutoh's Retirement Road, tag match against Tanahashi in round three: "I want to grab the secret of secrets", Tanahashi presents 38 roses
Great Muta teaming up with Sting for last match? "Agent" Mutoh's opinion 
"I wonder if I can transmit more" YO-HEY aims to revitalize the junior ark with his first championship
AEW Shock! Great Muta appears in America! Rescues Sting and shake of hands
"Follow Me You Bastards" – Kenoh's Weekly Pro Column
GHC Junior Match Signing: YO-HEY "Last Chance, I don't think as my ex partner now", HAYATA "I don't feel anything"
"Taka & Satoshi" reveal a "dangerous detective" look, mischievous Suzuki is a reckless interpreter, the GHC tag signing ceremony is thrown into chaos by bizarre question and answer between the two teams
 A "Comrade" and an "Older Brother", Masakatsu Funaki talks about his thoughts on Mutoh's retirement, "I want to kick him mercilessly"
BOOK CORNER
"Donmai, Donmai" – Mitsuharu Misawa's diary
With thanks to: Metal NOAH
GIF taken from WrestleUniverse & NOAH Official YouTube
Picture credit: YO-HEY & NOAH.co.jp
(NOAH) NOAH WEEKLY NEWSLETTER VOL.186 ~ 18TH SEPTEMBER 2022
Hisame sorts through some of the larger points as NOAH slowly comes into the Fall season!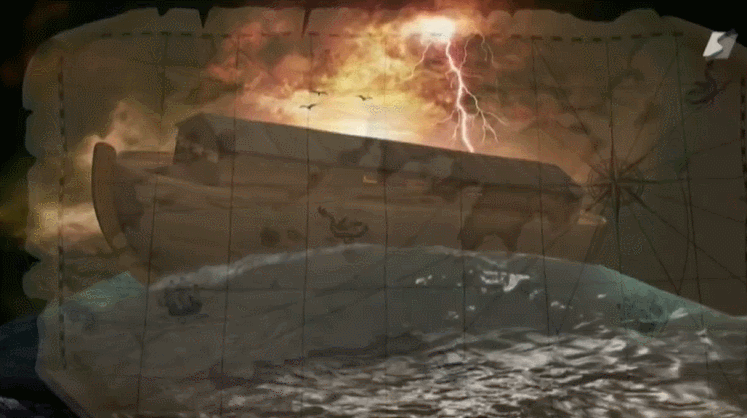 NEWS
Kenoh, Kiyomiya & The Shining Wizard
At the time of writing, the two pre matches between Kenoh and Kaito Kiyomiya are even, both has one win over the other. Kiyomiya defeated Kenoh at Korakuen Hall on the 15th using a variation of The Shining Wizard, with Kenoh (who swore he would never lose to that move again), using Keiji Mutoh's version of The Shining Wizard to defeat Kiyomiya. Prior to doing it, Kenoh had even gone as far to pull Mutoh's pose and he did it again while leaning over Kiyomiya. Kenoh stated backstage that he didn't believe that after Mutoh had retired that Kiyomiya would continue using the move, so therefore he, Kenoh, would use it and cherish both the technique and Keiji Mutoh. If you thought Kiyomiya was made mad enough by Kenoh patting him on the head, wait until they clash again at Yokohama Radiant Hall on the 19th.
YO-HEY & HAYATA
In the past you got the impression that HAYATA didn't really care about his opponents, they were just there to be beaten and for him to move on after beating, this time the feeling is very different. Compared to all of HAYATA'S other title defenses so far, this has been the most personal (anything involving YO-HEY is always more personal than anyone else), the most bitter and the most savage. Whilst HAYATA seems to want to keep YO-HEY in mint condition for the title match, as neither Yoshinari Ogawa, Chris Ridgeway or himself seem to want to concentrate on breaking down his knees or damaging his arm (unlike poor Seiki Yoshioka, who is getting the brunt of all three, Ridgeway even tearing off his bandages and attacking the bone), YO-HEY has taken to attacking HAYATA after matches. Both matches so far have been inconclusive and neither has the win over the other, but at Korakuen on the first night YO-HEY dropkicked HAYATA in the face, at the second he gave him the GAMEN-G. YO-HEY has described this as a "switch being turned on" in him, and says he has a strategy for the title match. HAYATA naturally has said nothing, which is odd considering how vocal he has been in the title challenges before.
Taka & Satoshi
Satoshi Kojima and Takashi Sugiura have made a functional dysfunctional tag team. Their first pre match against Hideki Suzuki and Timothy Thatcher contained a misfire when Sugiura caught Kojima by accident and they had a spat. The second time, Sugiura was made to tap out by Timothy Thatcher in a match that reminded me of the Galleria fight between the T-800 and T-1000 in Terminator 2. Kojima came to the ring, Suzuki got in it and then Kojima took everyone out and closed the show on the microphone. Sugi started complaining that not only had Kojima arrived too late to help, but his theme music had started playing. Kojima said it wasn't deliberate, Sugi didn't believe him. The handshake where Kojima offers his palm and Sugi his finger (not the finger) seems to have become their thing, and Kojima will face off against Timothy Thatcher in a singles match on the 19th in Yokohama. Thatcher has sworn revenge for what happened at Korakuen.
NOAH's New Debut
NOAH's 16th NOAH Born, Taishi Ozawa, made his debut at Korakuen Hall on the 15th September. Weighing in at 87kg and with a height of 181cm (which is marginally smaller than Yoshiki Inamura and Shuhei Taniguchi at 182cm), he has naturally gone into the heavyweight division. His first match lasted 6 minutes and 31 seconds, and got him praise from the fans and wrestlers alike. After the match, Yoshiki Inamura praised him and said he wants him to grow stronger and make his body bigger. Personally, I can see Ozawa becoming one of NOAH's ultra-heavyweights, but this may mean he has to give up doing dropkicks, which you don't see too much of amongst NOAH's heavyweights. NOAH celebrated this debut by broadcasting messages from support from fans on the screen, the President of The Leave presented him with flowers and special commemorative face masks were given at the door.
NOAH & Dragon Gate Joint Event
NOAH held a press conference on the 9th September to discuss the NOAH and DragonGate joint event which will be held on the 11th November at Korakuen Hall. Sadly Daisuke Harada does not think his neck will be in good enough condition for him to take part, so he has nominated himself as "Event Ambassador". Cards announced so far are Seiki Yoshioka vs YAMATO (who said that local idiot Kzy agreed to this nonsense, and that if he liked festivals so much he should do a solo strip show, but getting back to Yoshioka, he was going to pay) and Mochizuki Junior, Ryu Fuda & Madoka Kikuta vs Kai Fujimura, Yasutaka Yano & Yoshiki Inamura. This latter match sets two sets of rookies against each other, and NOAH and DragonGate's resident hosses.
GLOBAL2Days
In addition to the NOAH & DragonGate joint event, the day before NOAH will hold the first day of the two days at Korakuen Hall they have called "GLOBAL2Days". Night 1 will be a NOAH show only, with all the titles put on the line. No cards yet have been announced for this.
NOSAWA vs Katsuhiko Nakajima?
NOSAWA Rongai declared that he wanted a singles match with "little bitch" Katsuhiko Nakajima, after Nakajima (tongue stuck out at the side of his mouth) gave him a round of soccer ball kicks. Hideki Suzuki said something along the lines of that while he thought NOSAWA was dead following this, NOSAWA probably was going to be dead after this. At the time of writing nothing has been announced yet, and Nakajima said it was "fun".
Yuya Susumu
Due to cervical neck sprain, Yuya Susumu will miss about four events (which includes the past two Korakuen Hall events and probably the N-Innovation and one more event after that)
ELSEWHERE IN NOAH
– Kenoh apparently has a sense of humor similar to Mitsuharu Misawa's i.e. blue. His column was once him yelling about his enemies, now he is making innuendos about how anatomy reacts to gravure models.
– Chris Ridgeway says that he has plans to not only get the GHC Junior Heavyweight, he also wants to bring the GHC National to the juniors.
– Katsuhiko Nakajima has likened the Nagoya Keiji Mutoh Retirement Road match as being like a reunion as it involves Mutoh's classmate Masakatsu Funaki and their junior, Kazuyuki Fujita, and says he is going to destroy that atmosphere. He has also warned Mutoh to be careful in Nagoya, as he may not reach the Tokyo Dome.
– The children at NOAH's most recent fan event (Tokyo Verdy) were fascinated by Kaito Kiyomiya and Masa Kitamiya's muscles, despite the fact that they got pulled over by them at the tug of war. They let the children win the first time, but were pretty merciless the next time.
– Hideki Suzuki burst in wielding a pipe chair when Satoshi Kojima and Takashi Sugiura were talking backstage and threatened to throw it at someone. Sugi suggested he throw it at Kojima, Kojima, (had he been a New Yorker), basically said, "Hey, I'm talkin' here!"
– Junta Miyawaki will challenge Tromba for the ASPW Openweight Championship on Saturday November 5th in Guadalajara.
– Jack Morris interrupted The Shutter Chance…I don't think anyone in NOAH has ever done that before.
– Yoshiki Inamura's reaction to Disco was to stand with his arms crossed and glare at Mohammed Yone. Yone did not forget this insult.
– NOAH have taken part in a team gaming event, which sees Kongoh (who sat apart from everyone else) join in. YO-HEY and Yoshiki Inamura seem to have formed a guild. STINGER, naturally, are not taking part.
EVENT RECAPS AND POST MATCH PROMOS
– STAR NAVIGATION 2022 (THURSDAY SEPTEMBER 15TH, KORAKUEN HALL)
– STAR NAVIGATION 2022 (FRIDAY SEPTEMBER 16TH, KORAKUEN HALL)
CURRENT CHAMPIONS
*This event will not be broadcast live, but hopefully this match will be shown via Instagram
THIS WEEK IN NOAH
SUNNY VOYAGE 2022 – Yokohama Radiant Hall, Yokohama
Time: 17:30 JST
Broadcast: WrestleUniverse (Live)
Title match signing (GHC Heavyweight Tag, GHC Junior Heavyweight)
Live on NOAH's Official YouTube at 17:00 JST
Wednesday, September 21st
N INNOVATION – Shinjuku FACE, Tokyo
Time: 18:30 JST
Broadcast: WrestleUniverse (Live)
GRAND SHIP 2022 in NAGOYA/PRO WRESTLING LOVE FOREVER IN NAGOYA – OUTBREAK (Keiji Mutoh Retirement Road)
Start: 16:00 JST
Broadcast: WrestleUniverse (Live)
LINKS
Keiji Mutoh talks freely, "PPV at Retirement Match", "Cut Ties" for O-Khan
Long awaited one on one fight with Katsuhiko Nakajima. Will Daiki Inaba's obsession with Katsuhiko Nakajima be fulfilled?
"I don't have the sense for a name! (laughs") The secret story of the birth of the Shining Wizard variation & recruitment of technique name!
"Finish it all at once" GHC Junior Tag Team Champion Chris Ridgeway Interview, complete belt and league domination, ambition of GHC National Challenge
Kaito Kiyomiya receives reinforcement from the kick world, if he fails to take the GHC in the Kenoh match, "I can't go to the top anymore"
"After the N-1!, the 15th & 16th Korakuen are two consecutive events, the next big match is 25th September Nagoya (Aichi Prefectural Gymnasium). Focusing on developments for the four major GHC fights, a new battle begins
NOAH collaborates with Tokyo Verdy! Naomichi Marufuji, "I want to put up a ring at Ajinomoto Stadium and have a match"
"I'll let you challenge my GHC Heavyweight" GHC Champion Kenoh nominates himself for Keiji Mutoh's Retirement Match, Next Year on 21st February At Tokyo Dome
Junior Brand Event: YO-HEY and Kotoge introduce the highlights of the 21st September Shinjuku N-Innovation Competition
GHC Heavyweight signing ceremony: Kenoh "A beautiful story, I'm gonna break it down and I'm gonna draw it", Kiyomiya prepares for "Last Chance"
"I want to become white ash" Keiji Mutoh's retirement stage will be 21st February at The Tokyo Dome, "Pubic Persuasion" Chono will also go to his retirement match
Funky Kato is dazed about Keiji Mutoh's retirement, the final opponent is "Not Okada"
"I'm using it, so it's my technique!" with Mutoh finisher at full power, Kaito Kiyomiya defeats Kenoh towards the culmination of their five year story
Katsuhiko Nakajima and the 25th September Nagoya match with Keiji Mutoh, who will retire at The Dome next year
OLD INTERVIEWS
"Dandyism?", it's not like that"
Interesting interview with Mitsuharu Misawa from circa February 2002, in which he discusses Kodo Fuyuki's retirement, friendship, NOAH, All Japan, his childhood and his juniors.
BOOK CORNER
"Donmai, Donmai" – Mitsuharu Misawa's diary
GIF taken from WrestleUniverse & NOAH Official YouTube