Remembering Mean Gene Okerlund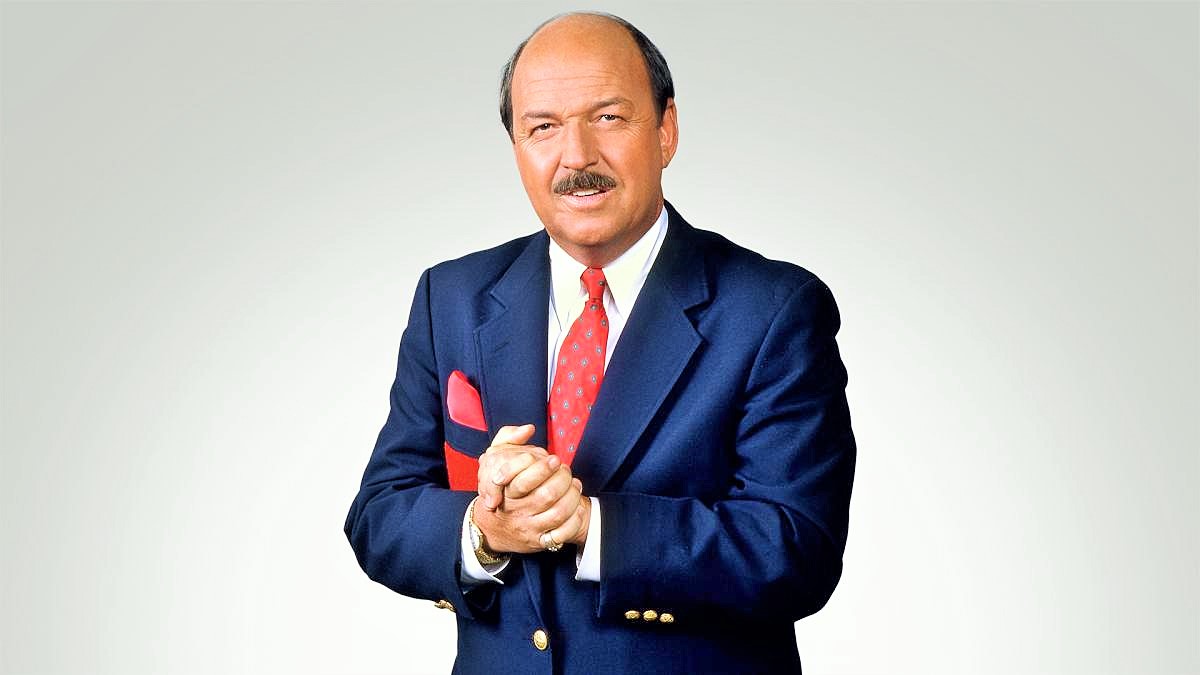 Ite Lemalu looks back at the amazing career of Mean Gene Okerlund, a talent who can never be replaced.
"Well you know something, Mean Gene!" This phrase, made famous by Hulk Hogan is just one of many lines that are associated with 'Mean' Gene Okerlund. The legendary wrestling broadcaster was an active part of the wrestling profession for almost 50 years, having worked as the lead interviewer with the American Wrestling Association (AWA), WWE, and WCW.  Sadly, Gene Okerlund passed away on the 2nd of January at the age of 76.
Okerlund's career in broadcasting began as a disc jockey at a top 40 radio station in the 1960s. In the early '70s, Okerlund worked in sales at a television network that also housed and broadcasted programmes for Verne Gagne's AWA. During one weekend when the regular commentator was unavailable, Okerlund was approached by Gagne to fill in on commentary.
Okerlund eventually became a full-time announcer with the AWA where he was positioned primarily as a television interviewer. As part of his role, Okerlund worked with members of the AWA roster to record segments which promoted their matches. It was during his time with the AWA where Okerlund was given the nickname 'Mean Gene' by his associate, Jesse Ventura. Okerlund was a pioneer of wrestling interviews, he would skilfully control the dialogue while putting the focus on those that he conversed with. In addition to his ability to guide wrestlers through the process, he was also instrumental in helping them to develop their communication skills. He would continue doing this with many wrestlers throughout his career.
'Mean' Gene signed with the WWE at the end of 1983. The WWE had begun taking steps to expand to a larger promotion and therefore they sought after some key players like Okerlund, Hogan, Ventura and Bobby Heenan. These figures were regarded for the ability to appeal to a broader audience and were essential to the WWE's quest to building a national and international following.
As the WWE became a worldwide promotion, Okerlund remained at the forefront of all the company's high profiled interview segments for weekly TV and other major extravaganza's such as Saturday Night's Main Event on NBC and the first nine WrestleManias.
In November 1993, Okerlund joined WCW as the company was preparing to grow and compete with the WWE. Okerlund became the premier voice for WCW and remained with the company until it closed down in 2001.
Okerlund returned to the WWE as a guest commentator for the Gimmick Battle Royal at WrestleMania 17, however, he did not return as an interviewer on weekly television. Instead, he appeared in a special capacity fronting shows from the WWE studio. These projects included a show called WWE Confidential and history based programmes, Madison Square Garden Classics and Vintage Collection. Okerlund was also the master of ceremonies at the first several WWE Hall of Fame inductions. 'Mean' Gene himself was inducted into the WWE Hall of Fame in 2006 by Hulk Hogan.
'Mean' Gene Okerlund was a significant and recognisable figure in the wrestling profession. He contributed his own flavour to the interviews so that the wrestlers would enhance their appeal with the fans.
RIP 'Mean' Gene Okerlund