Sex Appeal Will Not Boost Ratings Long Term For WWE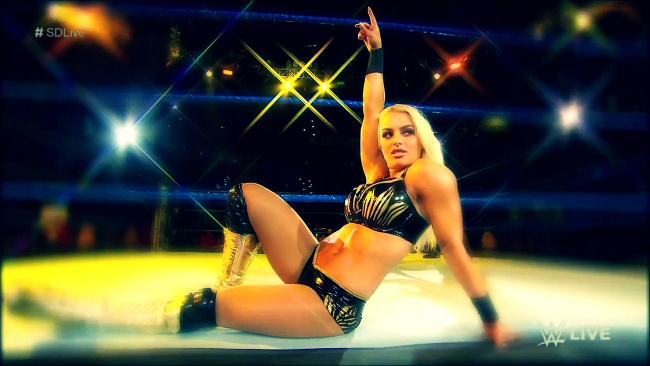 In the latest editions of both RAW and SmackDown we saw in Mandy Rose and Alexa Bliss segments trying to make things edgier in the WWE in a way to raise the ratings of both shows after a terrible streak of all-time low ratings seen last month. Doing this is just an immediate solution for this crisis of ratings WWE has.  
The effect
The Alexa Bliss segment with the WWE ''official'' entering by mistake to her private locker room as of this moment has 5.9 million views on YouTube and Mandy's hotel room segment gathered 2.7 million views on YouTube as well, being the most seen videos of each show. This was predictable to happen since both women are attractive and this kind of segments always get the attention of people especially casual fans of the WWE product.
3 steps forward and 7 steps backwards
On Monday we saw the reveal of the WWE women's tag team belts. The championships have a very great look and outshine most of the belts in the WWE main roster but the fact people to this day are talking more about the Alexa and Mandy segments was poor timing by the WWE and people are focus on what next sexy segment will WWE do next week instead of talking about the belts. WWE just like in 2018 must work a lot of things in the women's department.
A short term thing
This sex appeal segments for obvious reasons will get the attention of some people and gather a great deal of views on YouTube but that will only work on the short term. If we think on long term that act will become irrelevant pretty quick and the ratings will keep going down. This is just another bad idea from Vince McMahon and shows things haven't change at all. WWE should instead focus on improving its booking heading to WrestleMania.
WWE should stop this now
As all reports have told us, the main event of WrestleMania 35 will most likely be Ronda Rousey Vs Becky Lynch Vs Charlotte Flair, and as WWE builds to this historic moment in women's wrestling history having sex appeal segments while booking and building up this match, doing this type of segments will take the thunder out of such historic moment. WWE needs to realize this type of segments in 2019 are not ok.
The Scarlett Bordeaux case
 Some people will mention Scarlett Bordeaux and her character on IMPACT. Her case is a bit different since she is doing a parody of the ''WWE Divas'' era of things, while I'm not fan of some aspects of the gimmick and segments this is clearly made as a parody and updated of that era. Scarlett is booked as this mastermind and narcissist wrestler/manager. To compare her act to the Mandy and Alexa segments would be unfair to Scarlett. The character of Bordeaux wants the reaction and attention but is not as a desperate attempt to get ratings like in WWE's case.