Stardom New Years Stars 2019 Day 1 Results & Review (1/2/2019)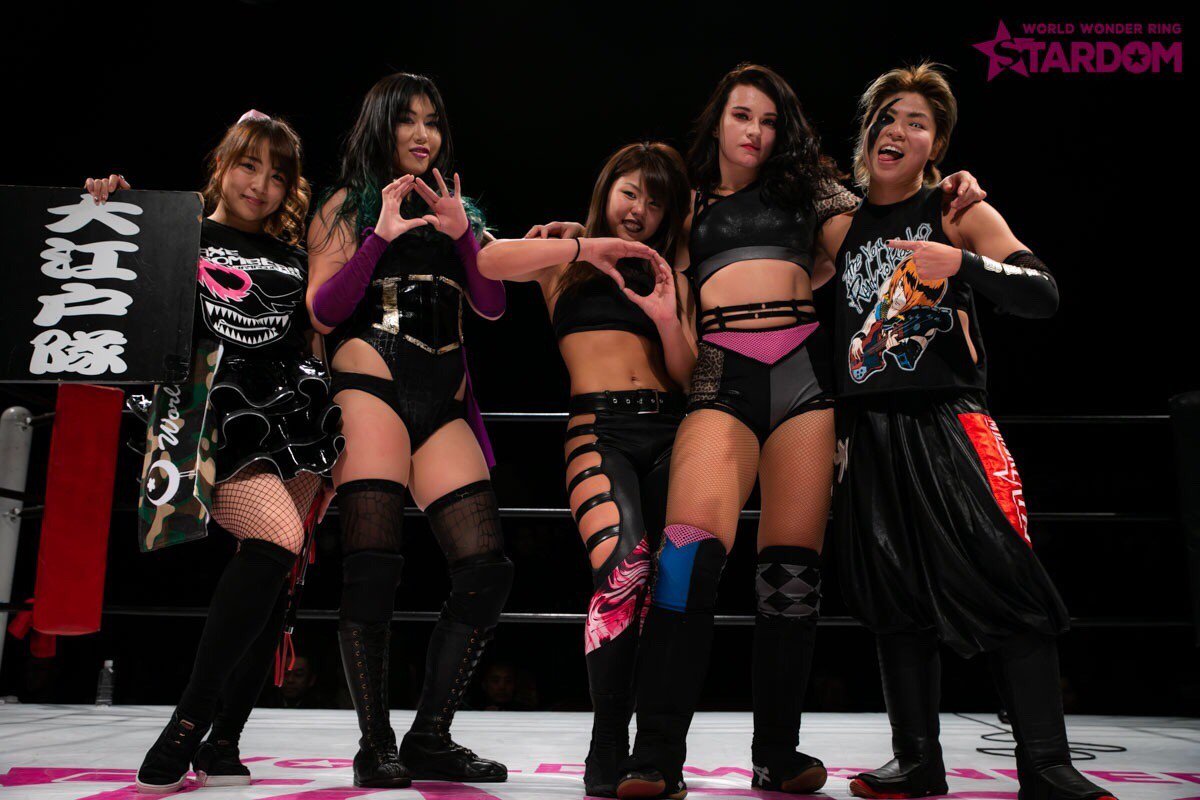 New Year, New Years Stars Stardom event! Do things start off hot, or are we looking for more of a simmer to the start of the year? Mathew let's us know.
Welcome back to Stardom as we start some coverage for 2019. It's been over a month since I covered Stardom due to being too focused on All Japan's Real World Tag League, so let's take a quick little recap of what we missed during that gap.
Arisa Hoshiki made her return to Stardom and has joined STARS, AZM has defeated Natsu Sumire to win back her mask and flag, Momo Watanabe and Utami Hayashishita have not only won the Goddesses of Stardom Tag League but have also won the Goddesses of Stardom Championships, meaning Utami is apart of Queen's Quest. BUT WAIT, THERE'S MORE – Hazuki defeated Mary Apache for the High Speed Championship, and Jungle Kyona got the pin on Kagetsu to set up a World of Stardom Championship match at their 8th Anniversary Show on January 14th.
We got a lot to look forward to 2019 so let's get started with our first Stardom show of 2019 and…dive right in!
Three Way Match
Kaori Yoneyama vs. Natsuko Tora vs. Alex Gracia
Review: Our first match of 2019 here in Stardom is a Three-Way Match between two of JAN's members, Kaori Yoneyama and Natsuko Tora, and Alex Gracia. Alex Gracia is someone completely new it looks like and this is also her first time in Japan as she calls herself the Pink Dream, I don't know where she had her first real start but I do wish her well and see how she does here. Will Alex be able to win in her Stardom debut or will it go to one of the JAN girls?
This one is pretty much how most triple threats go with all of them getting a little bit of offense with not much big shown on here. How did Alex fair off in her debut? Honestly, she didn't do badly at all as she sold fine, her bumps were clean, and nothing really stood out as her messing up or anything. Kaori and Natsuko also did their best to help her out in the match and had decent back and forth action. Kaori would hit the Senton on Alex to go for the pin but Natsuko would hit a Senton of her own on top of Kaori to break the hold before she made her way up the top rope to hit her Splash on Alex for the win. After the match, Stardom Trainee, Saya Iida came to the ring and said she would like to challenge her to a match when she makes her debut. Natsuko said she's very happy about the challenge, but she's going to make her regret it when they fight. Good luck to Saya and same to Alex.
Now on https://t.co/q8dHnF58vW! It's the first Stardom match of 2019, a three way battle! The Stardom debut of Alex Gracia as she faces Natsuko Tora & Kaori Yoneyama! pic.twitter.com/eLAdt4VnK1

— We Are Stardom (@we_are_stardom) January 6, 2019
Rating: Tony Schiavone and a quarter
Three on One Handicap Match
Viper vs. Hanan, Hina, & Rina
Review: Our next match is a Handicap Match but not a two on one but a three on one as Viper makes her return to Stardom to take on Hanan and her sisters, Hina and Rina. Hina and Rina are Hanan's younger sisters as they are both twelve years old and have made their debut a little after the last show I covered so I have no idea how good they are or anything, but I'll be going to find out now. Will Viper be able to fight off the sisters or will they find a way to get a surprise win?
I'm not exactly sure if Hanan, Hina, and Rina are exactly the right opponents for her since I feel like Hina and Rina are still very green in the ring and while Hanan has improved a lot, still probably not ready for someone like Viper. Least they were smart with Viper not really selling the strikes they were giving her due to the fact that she's bigger than all three of them while they're young and weak, so I'm glad they made it believable. There would be times that the sisters would outsmart her like when Hanan was behind Viper while Rina Dropkicked Viper to make her trip as all three of them went for a pin, them dodging the turnbuckle spots, and even Hanan pinning Viper when Rina and Hina held her down with an Armbar. The sisters wouldn't last much longer as Viper slammed all three of them down and hits a Diving Body Press onto all of them for the victory.
Divided Viper stands. United she falls!https://t.co/a7jwJZdm7Q#StardomWorld #STARS pic.twitter.com/HTgBhIyXUN

— Spirit of Jazz (@SpiritOfJazzz) January 7, 2019
Rating: Vince Russo and three quarters
Tag Team Match
Jungle Kyona & Ruaka vs. Mary Apache & Sadie Gibbs
Review: Our next match is a regular tag match with JAN members, Jungle Kyona and Ruaka taking on former High Speed Champion, Mary Apache and Sadie Gibbs. Sadie Gibbs is another new girl much like Alex Gracia with little to no info about her but it looks like she's from the UK scene with her accent. I always do enjoy seeing new people enter the world of professional wrestling and let's see what she can do. Can Sadie and Mary win or will JAN take it?
So now that I've seen Sadie make her debut, how did she do? I think she had a decent amount of time to get a fair rating of her and I think she definitely does have the potential there as she has the look, she had a little sloppy moment in the ring but she managed to recover from it and is a solid athlete. Ruaka did improve quite a bit since I've last seen her and was able to hold her own against Mary in the match. It didn't feel much of a tag match since Mary and Sadie was an odd pairing while Jungle and Ruaka didn't do so much teamwork together, but it was still a solid match for the time we were given and nothing was terrible. Sadie would wow the audience when she does a cartwheel into a backflip to the outside of the ring to land on her opponents. Sadie would bring Ruaka into the ring and hits the Michinoku Driver for the three count and wins in her debut. Was kinda surprised with the outcome since I expected Kyona to get a win for some momentum towards her match with Kagetsu and maybe pin Sadie, but I guess they wanted Ruaka to eat the pin. Congratulations to Sadie Gibbs and best of luck to you!
Rating: Eric Bischoff
Six Man Tag Team Match
Oedo Tai (Kagetsu, Hazuki, & Natsu Sumire) vs. Hana Kimura, Jamie Hayter, & Bobbi Tyler
Review: We got a six-man tag match next with Oedo Tai members, Kagetsu, Hazuki, and Natsu Sumire taking on Hana Kimura as she brings Jamie Hayter and Bobbi Tyler with her. Bobbi is a Freelancer from the UK scene and this is her Stardom debut with about three years of experience under her belt, so let's see how she fairs with Stardom. It appears as though Hana is not done with Kagetsu and Oedo Tai yet and would possibly want a rematch with her soon since she didn't technically tap when they last fought. Will Hana be able to win to get Kagetsu's attention or will Oedo Tai win this one?
What better way to start the new year than with Oedo Tai doing a dance for the audience and Nao Yamaguchi is back as their permanent manager due to her unable to compete in the ring still after that concussion. I'm not sure who drugged Sumire's mochi but she started moving her body around and started to dance to 'We Will Rock You' by Queen as the fans sing along as I think she saw Bohemian Rhapsody recently, she's awesome. The match started off a little bit over the place when they were outside, especially with Hana and Kagetsu as they fought on top of the bleachers for a little bit. Jamie would slap Sumire's taped up shoulder as it made her cry but Sumire psyched her out to attack her a little bit and when did Jamie improve? Because she did a lot better here than she did at the Five Star Grand Prix, I wanna see more of this Jamie please because she's awesome like this.
For Hana, I still get confused about how she performs a lot better anywhere else but with Stardom, it's just completely different for her with how she wrestles and I don't get why that is as it frustrates me. Bobbi did impress me in the match as she pulls a Clothesline to the corner shades of Miz and tops it off with a Flatliner on Kagetsu but she gets a two count. It looked like Bobbi was going to get the win but Jamie betrays her teammates to help out Oedo Tai! She throws Hana out of the ring while Kagetsu hits the Oedo Coaster onto Bobbi to get the pinfall! After the match, Jamie would talk to Oedo Tai as she requests to join the faction and Kagetsu accepts her without hesitation, welcome to Oedo Tai!
Now on Stardom World! Oedo Tai enters 2019 and they take on Hana Kimura, Bobbi Tyler and Jamie Hayter! https://t.co/q8dHnF58vW pic.twitter.com/ijJGCJFURY

— We Are Stardom (@we_are_stardom) January 7, 2019
Rating: Eric Bischoff and a quarter
Elimination Ten Man Tag Team Match
STARS (Tam Nakano, Starlight Kid, Saki Kashima, Arisa Hoshiki, & Natsumi) vs. Queen's Quest (Momo Watanabe, Utami Hayashishita, Bea Priestly, Konami, & AZM)
Review: Our main event for the evening is an elimination match with our two factions, Queen's Quest and STARS. Representing Queen's Quest for this one are Momo Watanabe, Utami Hayashishita, Konami, AZM, and Bea Priestly and representing STARS, Tam Nakano, Starlight Kid, Saki Kashima, Natsumi, and Arisa Hoshiki. Basic rules for an elimination match in Stardom as you can win by pinfall, submission, and throwing them over the top rope. Also, if you're wondering where Mayu Iwatani is, she's unfortunately out due to a minor injury she suffered from her ankle and should make a short recovery soon. We do have future matches building up with Utami and Starlight fighting for the Future of Stardom Championship the next day and Momo defending the Wonder of Stardom Championship against Tam Nakano, so this would be a build-up for momentum with these two factions. Do Queen's Quest win or will it go to STARS?
The first part of the match is Tam and Momo starting things off while showing us a little preview of what's to come as they kicked each other back and forth for a little bit and after being in a stalemate, they tagged in Utami and Starlight. Those two would also give us a little preview before tomorrow's title match and would quickly tag out to not spoil us anymore. They usually do these ten tag matches well together out of the other multi-man tag matches since they all have a fair amount of time to shine while giving one some momentum before elimination. They would do their usual spot where they are all going for a unit Suplex but Tam would grab the referee to have them help them out with the Suplex as six is better than one to make STARS beat Queen's Quest in the battle of Suplexes this time around. Natsumi had some improvement in the ring when she does the Wheel Barrel into a roll-up on AZM and is moving a lot crisper until AZM stopped her momentum and Queen's Quest do their famous 5 person Dropkick onto Natumi before AZM hits a Double Stomp off the top rope to eliminate her.
AZM would celebrate a little too soon as Saki almost threw her over the top rope when she wasn't looking but Queen's Quest would be able to save AZM. Konami is in the ring now as he and Saki go at it for a minute until Saki threw her into the corner and ran into her, but Konami would throw her over the top rope. Saki was hanging on as Konami would try to kick her off as STARS would attempt to Dropkick her and Bea but they would dodge out of the way as they accidentally hit Saki to eliminate her as well. Arisa gets in the ring now to try and fight Konami but Momo would hold Arisa by the ropes as Tam does the same to Konami, but Starlight and AZM come in to Dropkick their opponents but accidentally hit their partners. AZM and Arisa are in the ring as AZM would try to get the quick pinfall as Arisa kept on kicking out of them as they now both go back and forth till they stopped after they kept kicking out. Arisa would run into AZM and think she kicked her in the face and pinned her to get her eliminated. Konami is back in as she hits a Misle Dropkick onto Arisa and Starlight comes in to try and fight her off until Konami kicked her in the chest and in the face to knock her down for a two count but she's not done as Konami goes running to the top rope as Starlight pushes her off to eliminate her!
We're now tied with three members each as Momo and Tam are now in the ring with each other once again and the two would go at it until they would be over the top rope and onto the apron where they will keep on fighting. Momo would kick Tam down and hits her with the Package Driver but Tam didn't roll out as Momo then hits the Somato only for Tam to slide under her to hit a German Suplex onto Momo on the apron and before Tam would roll out, she would take Momo with her for a double elimination. Utami and Starlight are next in the ring as Starlight hits a Dropkick while Utami responds with a Shoulder Tackle to take her down, but now Starlight would hit the Sliced Bread #2 for a kickout. Utami would go for the Torture Rack and Starlight fought out of it go for a Hurricanrana but Utami would hold her up to try and throw her out as Starlight tosses them both out, leaving Arisa and Bea the last two in the match. The two start kicking each other in the head and it looked like Bea would win when she pushed her off the top rope but Arisa was still holding on as Bea ran into her for only to be tossed over as the two are now on the apron. The two fought a little bit more as Arisa had the advantage and ran towards Bea to only eat a knee to the face to get eliminated as Bea wins it for Queen's Quest! After the match, Momo said this would be a great year for Queen's Quest and told Tam that she was going to beat her when they have their match. Utami would tell Starlight that she will take the title away from her and before she could give Starlight a chance to speak, Utami pulls the mic away from her as they closed the show. I can't wait for these matches to happen.
Now on Stardom World! Queen's Quest vs STARS in a 5 on 5 Elimination Match! Only on https://t.co/q8dHnF58vW! pic.twitter.com/QpfySulA3O

— We Are Stardom (@we_are_stardom) January 8, 2019
Rating: Bruce Prichard
Overall: Aside from two impressive debuts, Jamie joining Oedo Tai, and a great main event, I thought the show was a little lackluster but there's also enough enjoyment out of it and plenty of hype towards the 8th Anniversary show along with what's in store for tomorrow.
Favorite Match: STARS (Tam Nakano, Starlight Kid, Saki Kashima, Arisa Hoshiki, & Natsumi) vs. Queen's Quest (Momo Watanabe, Utami Hayashishita, Bea Priestly, Konami, & AZM)
Least Favorite Match: Viper vs. Hanan, Hina, & Rina
Score: 6.5/10