The Good, Bad And Ugly: NXT (01/09/2019)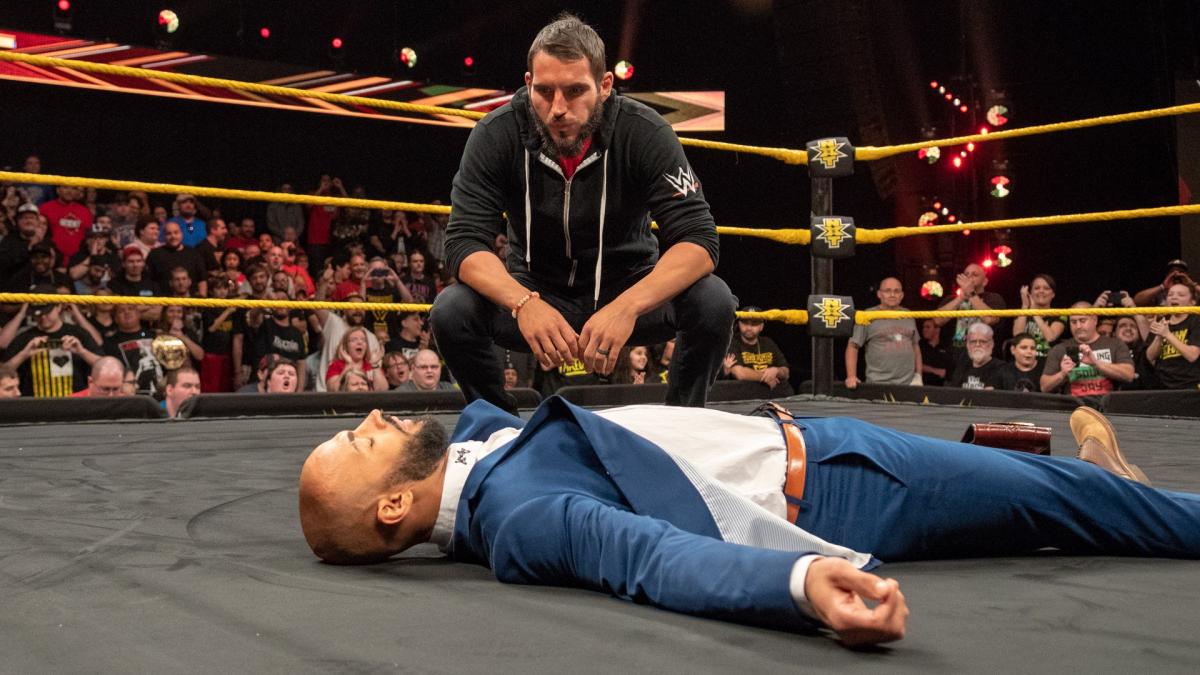 Does NXT return to the usual quality product it has been in the past? Bobby lets us know how good, bad or ugly it was.
NXT last week was ridiculous, only in the worst way possible.  A horrendous use of 2 hours that could have been jam packed with the best action possible, was filled with a corny award show and it really sucked.  This week we have potential to get back to normal, we hope.
THE GOOD
Johnny Gargano Promo
Gargano was talking a lot of trash, and has some high hopes, but when he started jawing about Ricochet, the man himself with the belt in hand obliged.  Johnny Wrestling, no, Johnny Takeover is talking about taking the North American Championship but Ricochet is having none of that.  Apparently, the NXT Champion Tommaso Ciampa also had something to say on the topic, as well as surprisingly Aleister Black.  Aleister Black made the lights go out and then did his best to make Ciampa fade to black.  While all of the chaos ensued, Gargano being the opportunist he is, superkicked the North American Champion Ricochet in the face.  I hope WWE Main Roster took notes.  This was a successful opening segment, and a Good way to open. 
Nikki Cross vs. Bianca Belair
Nikki Cross is certifiably insane, and it will be interesting how she is used on the Main Roster, as she is super talented and unique.  Bianca Belair is being pushed to the max, and seems unstoppable.  A win over Cross could be huge.  Belair destroyed cross, full of stiff shots and an impressive display of power.  Very few have beaten up Cross as easy as Belair did this week.  Of course Nikki Cross doesn't lay down for anyone, she tried to fight back reversing an impressive "stall suplex."  Nikki tried but it was short lived, and she just couldn't contain the powerful Bianca Belair.  Nikki Cross hit her "fishermen neckbreaker" but Bianca smartly rolled out of the ring.  Cross gave chase but got crushed on the ramp.  After almost a double countout the two warriors duked it out in the ring.  Cross got the upper hand briefly.  Ultimately Belair hit the "KOD" for the impressive victory.  All Good here, as usual, Belair is continuing to climb the ladder to the top. 
EC3 vs. Adam Cole
EC3 is incredibly talented.  He spent so much time in Impact/TNA and was essentially their "John Cena."  Once up in the Main Roster we can only hope for the dream match to happen.  Adam Cole is straight gold!  He simply is just awesome!  This is a hell of a match even for NXT.  Clean, entertaining match.  EC3 chopped Cole harder and louder than I have ever heard, it just echoed.  Of course the action went back and forth.  Cole is so sharp and EC3 is almost unstoppable.  This was just nonstop.  Even when they rested it looked Good.  EC3 had it in the bag but of course Undisputed couldn't let their golden boy lose and interfered giving way to Adam Cole hitting a "Superkick" and "The Shot" for the victory.  Undisputed then beat the hell out of EC3 until the War Raiders ran in for the save.  The War Raiders demolished Undisputed.  Pure dominance from the big guys.
THE BAD
Fabian Aichner & Marcel Barthel def. Stanley Watts & Hector Kunsman
A lot of names not known to the masses.  That is what NXT is all about though, opportunity.  This match was okay, nothing special.  It looked like a typical "indie show" style match.  Not NXT worthy however.  Watts was a great highflyer, and with his size got thrown around all over the ring.  Aichner and Barthel had a sick finisher, a last ride into a German suplex.  Aichner and Barthel Win!  This just wasn't that Good. 
THE UGLY: N/A 
Final
Good- 3
Bad- 1
Ugly- 0
Overall:  Of course back to regular action we had a Great show.  NXT is a superior product and always a joy, well except last week.  Great matches, great storytelling, and extremely great talent! 
What a successful week for the WWE/NXT product.  GOOD job all around.  It was a pleasure to watch.  If this is what having real competition (although it hasn't even started yet) we are in for a real treat.  Once things get kicked off with AEW it is no telling how big WWE will and can get.  See you next week with more of your favorite articles, and of course The Good, Bad and Ugly!