The Good, Bad And Ugly: NXT (01/09/2019)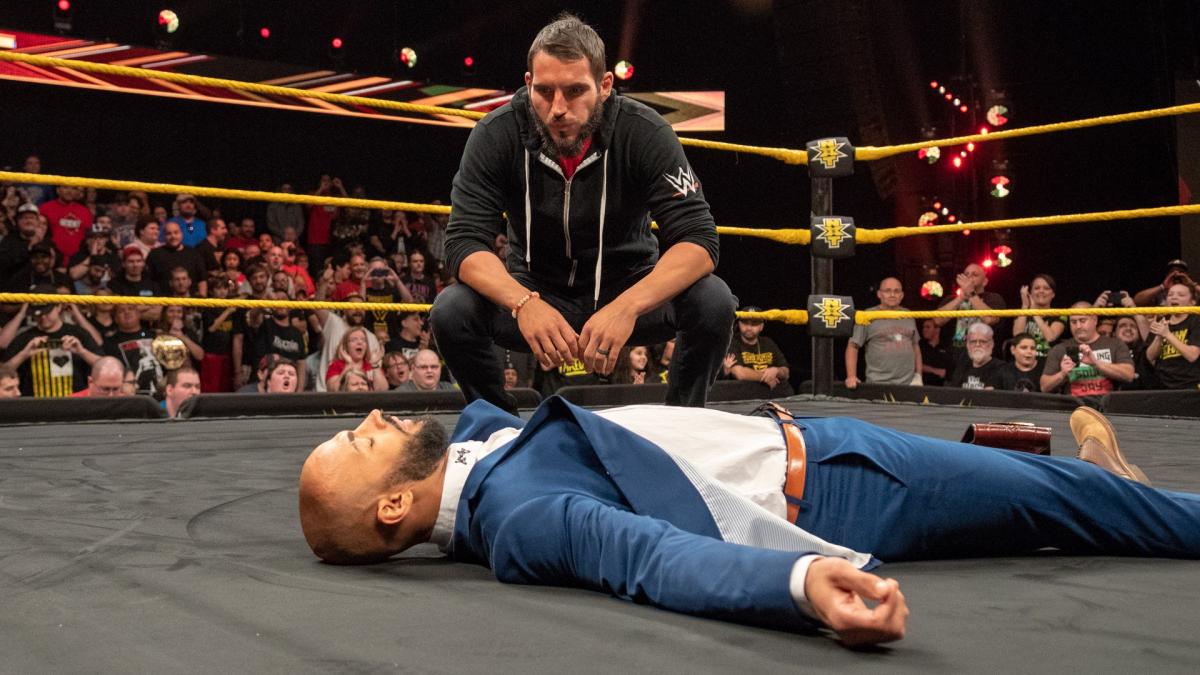 Does NXT return to the usual quality product it has been in the past? Bobby lets us know how good, bad or ugly it was.
NXT last week was ridiculous, only in the worst way possible.  A horrendous use of 2 hours that could have been jam packed with the best action possible, was filled with a corny award show and it really sucked.  This week we have potential to get back to normal, we hope.
THE GOOD
Johnny Gargano Promo
Gargano was talking a lot of trash, and has some high hopes, but when he started jawing about Ricochet, the man himself with the belt in hand obliged.  Johnny Wrestling, no, Johnny Takeover is talking about taking the North American Championship but Ricochet is having none of that.  Apparently, the NXT Champion Tommaso Ciampa also had something to say on the topic, as well as surprisingly Aleister Black.  Aleister Black made the lights go out and then did his best to make Ciampa fade to black.  While all of the chaos ensued, Gargano being the opportunist he is, superkicked the North American Champion Ricochet in the face.  I hope WWE Main Roster took notes.  This was a successful opening segment, and a Good way to open. 
Nikki Cross vs. Bianca Belair
Nikki Cross is certifiably insane, and it will be interesting how she is used on the Main Roster, as she is super talented and unique.  Bianca Belair is being pushed to the max, and seems unstoppable.  A win over Cross could be huge.  Belair destroyed cross, full of stiff shots and an impressive display of power.  Very few have beaten up Cross as easy as Belair did this week.  Of course Nikki Cross doesn't lay down for anyone, she tried to fight back reversing an impressive "stall suplex."  Nikki tried but it was short lived, and she just couldn't contain the powerful Bianca Belair.  Nikki Cross hit her "fishermen neckbreaker" but Bianca smartly rolled out of the ring.  Cross gave chase but got crushed on the ramp.  After almost a double countout the two warriors duked it out in the ring.  Cross got the upper hand briefly.  Ultimately Belair hit the "KOD" for the impressive victory.  All Good here, as usual, Belair is continuing to climb the ladder to the top. 
EC3 vs. Adam Cole
EC3 is incredibly talented.  He spent so much time in Impact/TNA and was essentially their "John Cena."  Once up in the Main Roster we can only hope for the dream match to happen.  Adam Cole is straight gold!  He simply is just awesome!  This is a hell of a match even for NXT.  Clean, entertaining match.  EC3 chopped Cole harder and louder than I have ever heard, it just echoed.  Of course the action went back and forth.  Cole is so sharp and EC3 is almost unstoppable.  This was just nonstop.  Even when they rested it looked Good.  EC3 had it in the bag but of course Undisputed couldn't let their golden boy lose and interfered giving way to Adam Cole hitting a "Superkick" and "The Shot" for the victory.  Undisputed then beat the hell out of EC3 until the War Raiders ran in for the save.  The War Raiders demolished Undisputed.  Pure dominance from the big guys.
THE BAD
Fabian Aichner & Marcel Barthel def. Stanley Watts & Hector Kunsman
A lot of names not known to the masses.  That is what NXT is all about though, opportunity.  This match was okay, nothing special.  It looked like a typical "indie show" style match.  Not NXT worthy however.  Watts was a great highflyer, and with his size got thrown around all over the ring.  Aichner and Barthel had a sick finisher, a last ride into a German suplex.  Aichner and Barthel Win!  This just wasn't that Good. 
THE UGLY: N/A 
Final
Good- 3
Bad- 1
Ugly- 0
Overall:  Of course back to regular action we had a Great show.  NXT is a superior product and always a joy, well except last week.  Great matches, great storytelling, and extremely great talent! 
What a successful week for the WWE/NXT product.  GOOD job all around.  It was a pleasure to watch.  If this is what having real competition (although it hasn't even started yet) we are in for a real treat.  Once things get kicked off with AEW it is no telling how big WWE will and can get.  See you next week with more of your favorite articles, and of course The Good, Bad and Ugly! 
King's WrestleMania Rewind: Charlotte Flair vs. Asuka from WrestleMania 34
Chris king is back with one of the most underrated matches in WrestleMania history–Charlotte Flair vs. Asuka!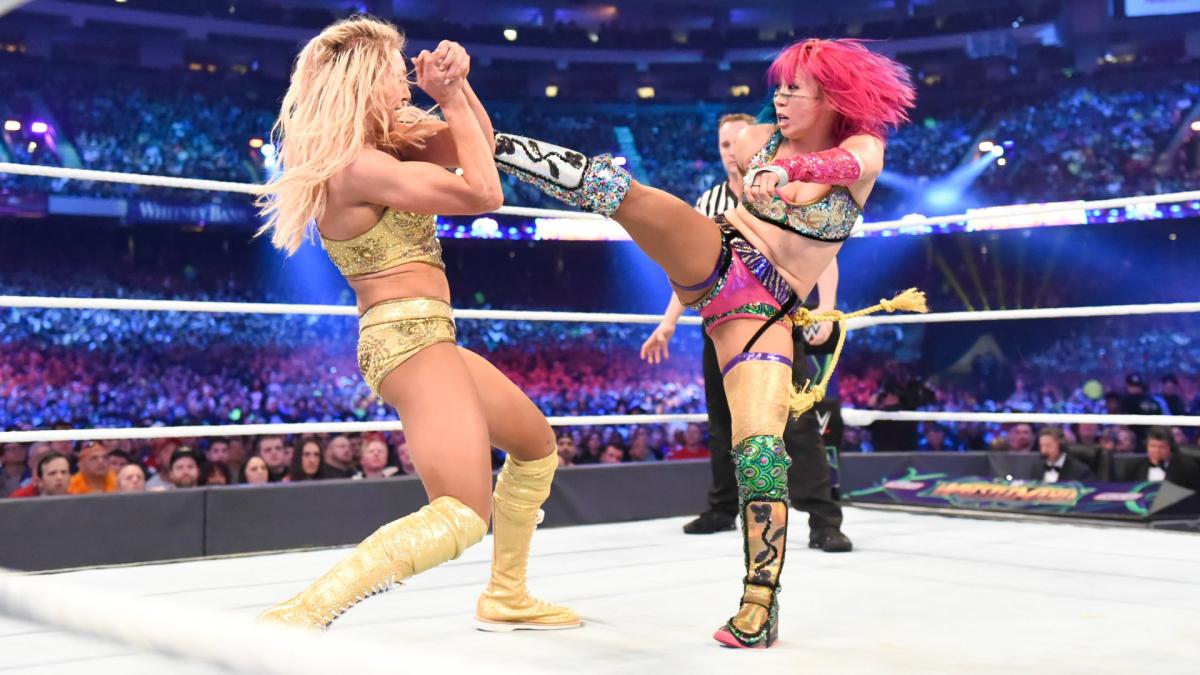 Chris king is back with one of the most underrated matches in WrestleMania history–Charlotte Flair vs. Asuka!
We look back at Charlotte Flair vs. Asuka at WWE WrestleMania 34. 'The Empress of Tomorrow' put her unprecedented and historic undefeated streak of 914 days on the line against 'The Queen's' SmackDown Women's Championship.
For years, this was considered a dream match while Asuka dominated the roster in NXT, while Flair won numerous championships on the main roster on both Raw and SmackDown. The Empress made her long-awaited debut on the September 11th episode of Raw and began to tear through the competition.
Asuka outlasted all twenty-nine other women in the historic first-ever Women's Royal Rumble match to challenge for the title of her choosing. At Fastlane, she made her choice.
The WWE Universe was so excited for this match myself included. Both superstars delivered a fantastic performance on the Grandest Stage of Them All executing counter after counter. Asuka showed off some nasty-looking kicks to her opponent, and Flair hit a thunderous Spanish Fly off the top rope. Flair was seconds away from defeat at the hands of The Empress but she locked in Figure Eight and Asuka was forced to tap out.
I can't even begin to explain how shocked I was at this outcome, as nearly everyone expected The Empress to continue her undefeated streak and walk away with the women's title. This controversial decision was the downfall of Asuka's momentum. She would ultimately win the SmackDown Women's Championship at the 2018 TLC pay-per-view in the triple-threat ladder match.
Fast forward to this year when Asuka has recently returned with her Japanese-inspired persona Kana. Kana is dangerous and ruthless and is heading into a championship with Bianca Belair at WrestleMania 39. The Empress has regained all her momentum and is highly favored to walk away with the Raw Women's Championship. Let's hope that Asuka and Belair can tear the house down and deliver an A+ grade match both women are fully capable of.
King: Dominik Mysterio Needs To Do This At WrestleMania
Chris King is here with what WWE should do with Dominik Mysterio at WrestleMania in his long-awaited match against his father Rey Mysterio Jr.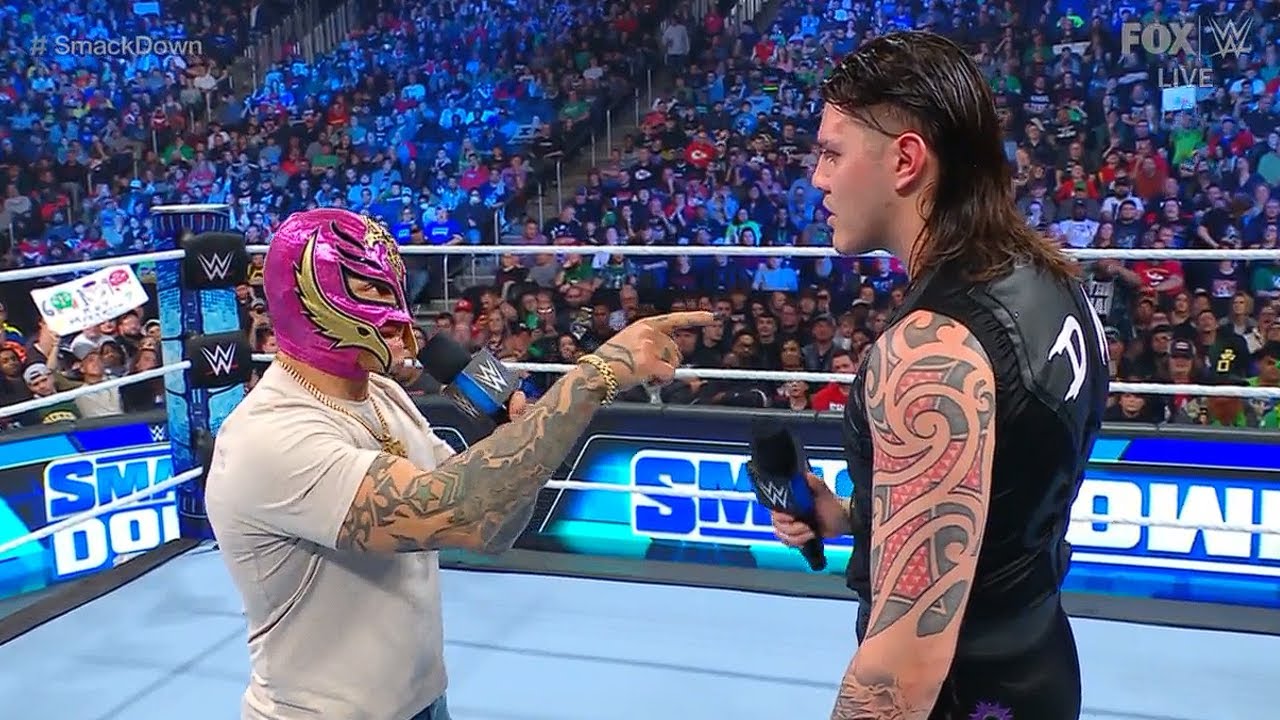 Chris King is here with what WWE should do with Dominik Mysterio at WrestleMania in his long-awaited match against his father Rey Mysterio Jr. 
On this week's episode of Friday Night SmackDown, Rey Mysterio finally snapped and beat some sense into his disrespectful punk-ass kid Dominik. The member of the Judgement Day came out to push his father again for a match on the Grandest Stage of Them All, this time with his mother and sister at ringside. The ungrateful punk told his mom to "Shut Up," as a father even I wanted to jump through the screen and whoop his ass.
Back in October of last year, Mysterio made the emotional decision to possibly quit the company but, instead, Triple H persuaded the Lucha libre superstar to move over to SmackDown to avoid his son. This came after Dominik shockingly turned on his father at Clash at the Castle. Mysterio did everything he could to refuse his despicable son's challenge for Mania but, a man can only be pushed so far. Mysterio will be inducted into the 2023 WWE Hall of Fame and I expect Dominik to embarrass his father during his speech to further this personal feud.
Yes, the WWE Universe hates Dominik and wants to see him get the ever-loving crap kicked out of him but, this feud is missing a special ingredient to capitalize on the biggest heat possible. Throughout this feud, Dominik has made mention of the legendary Eddie Guerrero on several occasions going back to the "iconic" 2005 feud.
I know WWE might not want to go this route but, Dominik MUST come out to Eddie Guerrero's theme at Mania. The disrespectful punk needs to come out in a lowrider to garner nuclear heat. It doesn't matter if The Judgement Day comes out and causes interference for Dominik to get the win, all that matters is that both superstars get the biggest payoff of this nearly year-long feud. Just imagine the Roman Reigns heat after he defeated The Undertaker and multiply that by ten. Dominik portrays the perfect heel and he truly is the missing ingredient that The Judgement Day needed to grow and evolve into a top faction.