The Good, Bad and Ugly WWE NXT (01/30/2019)
Did you think NXT was Good, Bad or Ugly?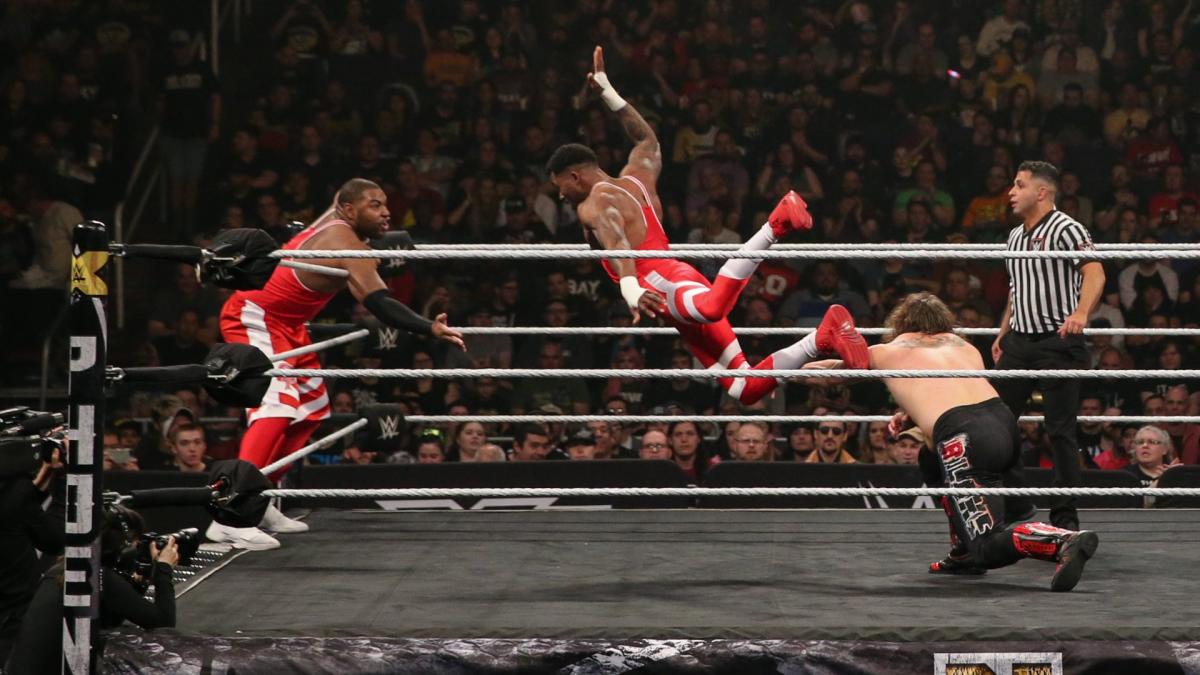 Do we see an odd clip show, or get more of the solid NXT action we expect? Bobby gives us the good, bad and ugly.
NXT Takeover was tremendous.  The War Raiders, in my opinion stole the show.  They are a fantastic Tag Team and that match was insane.  Now we are back to weekly television, which isn't a Bad thing.  This week's show is following a very strong showing from Raw and SmackDown.  Honestly, NXT will most likely deliver and then some.  How Good can it get?  Is there a chance for failure? 
THE GOOD
Io Shirai and Kairi Sane vs. Jessamyn Duke and Marina Shafir
Shirai and Sane are just incredible.  If you don't like them, that is your own personal issue.  You cannot be helped.  Duke and Shafir, who knows they certainly have a lot of work to do.  Shirai simply flew around the ring flawlessly.  Kairi Sane is also a Superstar and insanely impressive.  Jessamyn Duke has a great look and pressence but her ring abilities are far from polished.  That is okay though, they are naturals.  Shafir seems a little more comfortable and further along than her partner.  Kairi Sane came in on the hot tag after Shirai was getting pummeled, and took over.  Sane destroyed her opponents with a Grand Finale being her perfect "elbow drop" on Marina Shafir for the win. 
Street Profits vs. Forgotten Sons (Cutler and Blake)
Although there was decent hype, the Street Profits haven't blown anyone away yet.  Forgotten Sons even less.  However it's a new week. Montez Ford of the Street Profits seems has a ton of skill and potential, in fact both teams worked hard the entire match this week.  There were a lot of high spots, and impressive physicality.  Honestly this seemed like a PPV level of energy, as if still on a high from NXT.  There is hunger here.  It is known that NXT is hunting ground for limitless talent, and even the lower echelon of talent still has it in abundance.  There were a lot of surprises here but the biggest is The Forgotten Sons getting a victory on a hyped, highly publicized team like Street Profits.  Impressive win for The Forgotten Sons. 
THE BAD and UGLY
Way too much Takeover Footage.  Honestly the NXT Audience saw it all and loved it.  It's new content the masses want.  Too Bad but still, Takeover was amazing.  NXT cannot lose steam right now though, with the new trend of talent looking for work elsewhere. 
FINAL
GOOD- 2
BAD and UGLY- 1
Overall- Honestly the new content was Good, the matches were entertaining, just not enough.  It was a Good show though.  I hope this isn't going to be a trend.  The more NXT the better, the recaps and highlights can go.  The talent is to deep and the potential is too high to waste. 
So far WWE is having a mixed week.  On our side, the action has been Good and the story continues.  Inside however WWE gets news that another Superstar is leaving or wants to leave.  It is becoming a harsh reality that nothing is forever.  WWE is still the biggest game in town, and they will not go quietly.  If the feud with AEW gets intense when AEW finally puts out some content, WWE will answer with power and might.  The McMahons have a fortified castle and will do anything they have to, to protect the crown.  Either way, again it is the audience that wins here.  Pro Wrestling is alive and well, and is looking strong into the future.  Please like, share, and comment. 
Get the word out about thechairshot.com and your favorite column The Good, Bad and Ugly!  Make some noise.  We appreciate you and most of all #useyourhead.
The Chairshot Staff Picks – Money In The Bank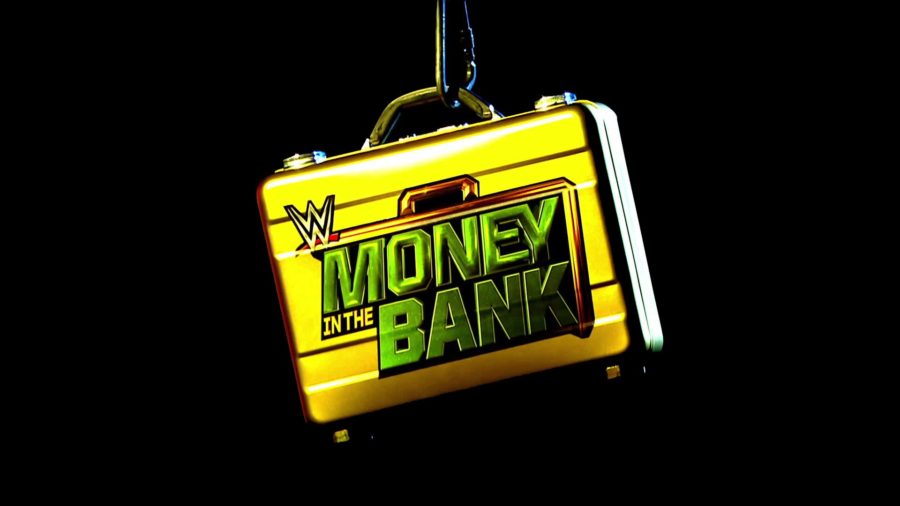 Ladies and gentlemen welcome back to The Chairshot Staff Picks. My name is PC Tunney and I am thrilled to be back at it for Money In The Bank! The time for my favorite gimmick match has returned as we shine up the briefcase and pull out the ladders. Let's jump right in and see how clearly we can see into the mind of Vince McMahon…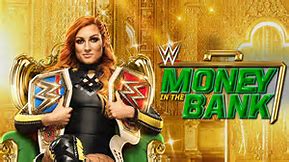 2019 Money In The Bank – Hartford, Connecticut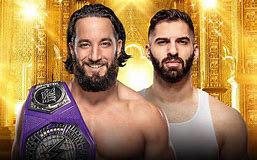 Tony Nese(c) v Ariya Daivari
Bradley Jay – Nese
Bobby Fernandes – Nese
Carol Cassada – Nese
David Levin – Daivari
Harry Broadhurst – Nese
Jason Schufletowski – Nese
Kevin Carrol – Nese
Korey Gunz – Nese
Mason Epeneter – Daivari
Mathew Sarpricone – Nese
Rey Ca$h – Daivari
Rob Bonnette – Nese
Scott Mcleod – Nese
Steve Cook – Nese
Steven Mitchell – Nese
Tiffany Carter – Nese
Dave Ungar – Nese
DPP – Nese
Chris Platt – Nese
Miranda Morales – Nese
Elisa Marie – Daivari
Patrick O'Dowd – Nese
Greg DeMarco – Nese
Tunney's Take: While Tony Nese is a solid performer with a great look, he comes across as very plain and ordinary to me. Time to switch that strap again. My Pick is Ariya Daivari
The Chairshot – Tony Nese 19-5 #UseYourHead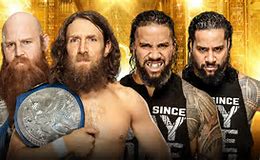 Daniel Bryan & Rowan(c) v The Usos
Bradley Jay – DB & Rowan
Bobby Fernandes – Usos
Carol Cassada – DB & Rowan
David Levin – DB & Rowan
Harry Broadhurst – DB & Rowan
Jason Schufletowski – DB & Rowan
Kevin Carrol – DB & Rowan
Korey Gunz – DB & Rowan
Mason Epeneter – Usos
Mathew Sarpricone – DB & Rowan
Rey Ca$h – DB & Rowan
Rob Bonnette – DB & Rowan
Scott Mcleod – DB & Rowan
Steve Cook – Usos
Steven Mitchell – DB & Rowan
Tiffany Carter – DB & Rowan
Dave Ungar – DB & Rowan
DPP – DB & Rowan
Chris Platt – DB & Rowan
Miranda Morales – DB & Rowan
Elisa Marie – DB & Rowan
Patrick O'Dowd – DB & Rowan
Greg DeMarco – DB & Rowan
Tunney's Take: With the Usos move to RAW I just don't see them winning the belts here. My pick is Daniel Bryan and Rowan
The Chairshot – Daniel Bryan & Rowan 21-3 #UseYourHead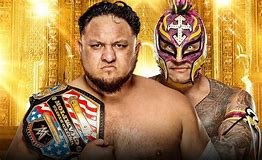 Samoa Joe(c) v Rey Mysterio
Bradley Jay – Joe
Bobby Fernandes – Rey
Carol Cassada – Rey
David Levin – Joe
Harry Broadhurst – Joe
Jason Schufletowski – Joe
Kevin Carrol – Joe
Korey Gunz – Rey
Mason Epeneter – Joe
Mathew Sarpricone – Joe
Rey Ca$h – Joe
Rob Bonnette -Joe
Scott Mcleod – Joe
Steve Cook – Joe
Steven Mitchell – Rey
Tiffany Carter – Rey
Dave Ungar – Joe
DPP – Joe
Chris Platt – Joe
Miranda Morales – Joe
Elisa Marie – Joe
Patrick O'Dowd – Joe
Greg DeMarco – Rey
Tunney's Take: It's time for the Rey and Dominic's feel good moment of 2019. My pick is Rey Mysterio
The Chairshot – Samoa Joe 17-7 #UseYourHead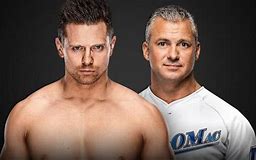 The MiZ v Shane McMahon (Steel Cage Match)
Bradley Jay – MiZ
Bobby Fernandes – MiZ
Carol Cassada – MiZ
David Levin – MiZ
Harry Broadhurst – MiZ
Jason Schufletowski – MiZ
Kevin Carrol – MiZ
Korey Gunz – Shane
Mason Epeneter – MiZ
Mathew Sarpricone – MiZ
Rey Ca$h – Shane
Rob Bonnette – MiZ
Scott Mcleod – MiZ
Steve Cook – MiZ
Steven Mitchell – MiZ
Tiffany Carter – Shane
Dave Ungar – Shane
DPP – MiZ
Chris Platt – MiZ
Miranda Morales – MiZ
Elisa Marie – MiZ
Patrick O'Dowd – MiZ
Greg DeMarco – MiZ
Tunney's Take: I thinks the use of a steel cage to end this rivalry is an excellent move. MiZ is HOT right now and needs to take some momentum into his next storyline. My pick is the MiZ
The Chairshot – The MiZ 20-4 #UseYourHead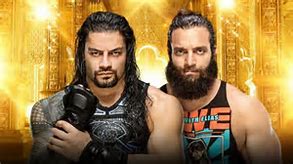 Roman Reigns v Elias
Bradley Jay – Roman
Bobby Fernandes – Roman
Carol Cassada – Roman
David Levin – Roman
Harry Broadhurst – Roman
Jason Schufletowski – Elias
Kevin Carrol – Roman
Korey Gunz – Roman
Mason Epeneter – Roman
Mathew Sarpricone – Elias
Rey Ca$h – Elias
Rob Bonnette – Roman
Scott Mcleod – Roman
Steve Cook – Roman
Steven Mitchell – Roman
Tiffany Carter – Roman
Dave Ungar – Roman
DPP – Elias
Chris Platt – Roman
Miranda Morales – Roman
Elisa Marie – Roamn
Patrick O'Dowd – Roman
Greg DeMarco – Roman
Tunney's Take: This match has Shane McMahon interference written all over it. Shane walks with Elias. My pick is Elias
The Chairshot – Roman Reigns 19-5 #UseYourHead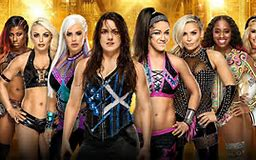 Women's MITB
Bradley Jay – Moon
Bobby Fernandes – Bayley
Carol Cassada – Bayley
David Levin – Bayley
Harry Broadhurst – Bayley
Jason Schufletowski – Cross
Kevin Carrol – Moon
Korey Gunz – Beyley
Mason Epeneter – Dana
Mathew Sarpricone – Bayley
Rey Ca$h – Moon
Rob Bonnette – Bayley
Scott Mcleod – Bayley
Steve Cook – Mandy
Steven Mitchell – Bayley
Tiffany Carter – Bayley
Dave Ungar – Moon
DPP – Dana
Chris Platt – Mandy
Miranda Morales – Cross
Elisa Marie – Cross
Patrick O'Dowd – Dana
Greg DeMarco – Dana
Tunney's Take: I would absolutely love to see Nikki Cross win here. I'll play with you Nikki! The timing feels right for the SHENOM, though. My pick is Ember Moon
The Chairshot – Bayley 10, Ember Moon 5, Dana Brooke 4, Nikki Cross 3, Mandy Rose 2 #UseYourHead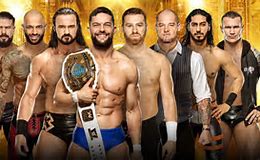 Men's MITB
Bradley Jay – Andrade
Bobby Fernandes – McIntyre
Carol Cassada – Corbin
David Levin – McIntyre
Harry Broadhurst – Andrade
Jason Schufletowski – McIntyre
Kevin Carrol – Andrade
Korey Gunz – McIntyre
Mason Epeneter – Sami
Mathew Sarpricone – McIntyre
Rey Ca$h – Andrade
Rob Bonnette – Andrade
Scott Mcleod – McIntyre
Steve Cook – Andrade
Steven Mitchell – McIntyre
Tiffany Carter – Ricochet
Dave Ungar – McIntyre
DPP – McIntyre
Chris Platt – McIntyre
Miranda Morales – Andrade
Elisa Marie – McIntyre
Patrick O'Dowd – McIntyre
Greg DeMarco – Andrade
Tunney's Take: There are a number of interesting choices you could make a case for here. Ricochet to me would benefit greatly having a MITB briefcase run. Sami Zayn's dynamic with KO would also be very interesting by adding the briefcase to it. Andrade seems to have that smell about him these days though, like he is ready to explode. My pick is Andrade
The Chairshot – Drew McIntyre 12, Andrade 9, Ricochet 1, Baron Corbin 1, Sami Zayn 1 #UseYourHead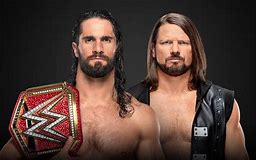 Seth Rollins(c) v AJ Styles
Bradley Jay – Seth
Bobby Fernandes – Seth
Carol Cassada – Seth
David Levin – Seth
Harry Broadhurst – Double Pin
Jason Schufletowski – Seth
Kevin Carrol – Seth
Korey Gunz – Seth
Mason Epeneter – Seth
Mathew Sarpricone – Seth
Rey Ca$h – Seth
Rob Bonnette – Seth
Scott Mcleod – Seth
Steve Cook – Seth
Steven Mitchell – Seth
Tiffany Carter – Seth
Dave Ungar – No Contest
DPP – Seth
Chris Platt – Seth
Miranda Morales – Seth
Elisa Marie – Seth
Patrick O'Dowd – Seth
Greg DeMarco – Seth
Tunney's Take: I do really like Dave Ungar's idea of a Brock Lesnar caused NC. However, I see Seth coming away with the title and a victory here. My pick is Seth Rollins
The Chairshot – Seth Rollins 22-0-2 #Use Your Head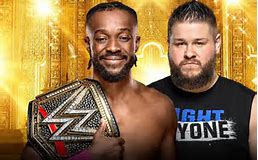 Kofi Kingston(c) v Kevin Owens
Bradley Jay – Kofi
Bobby Fernandes – Kofi
Carol Cassada – Kofi
David Levin – Kofi
Harry Broadhurst – KO
Jason Schufletowski – Kofi
Kevin Carrol – Kofi
Korey Gunz – Kofi
Mason Epeneter – Kofi
Mathew Sarpricone – Kofi
Rey Ca$h – Kofi
Rob Bonnette – Kofi
Scott Mcleod – Kofi
Steve Cook – Kofi
Steven Mitchell – Kofi
Tiffany Carter – Kofi
Dave Ungar – Kofi
DPP – Kofi
Chris Platt – Kofi
Miranda Morales – Kofi
Elisa Marie – Kofi
Patrick O'Dowd – Kofi
Greg DeMarco – Kofi
Tunney's Take: Kofi Kingston will be defending the WWE title at SummerSlam, BOOK IT!!! My pick is Kofi Kingston
The Chairshot – Kofi Kingston 23-1 #UseYourHead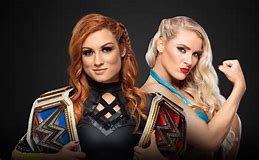 Becky Lynch(c) v Lacey Evans
Bradley Jay – Becky
Bobby Fernandes – Becky
Carol Cassada – Becky
David Levin – Becky
Harry Broadhurst – Becky
Jason Schufletowski – Lacey
Kevin Carrol – Becky
Korey Gunz – Becky
Mason Epeneter – Lacey
Mathew Sarpricone – Becky
Rey Ca$h – Becky
Rob Bonnette – Becky
Scott Mcleod – Becky
Steve Cook – Becky
Steven Mitchell – Becky
Tiffany Carter – Becky
Dave Ungar – Lacey
DPP – Becky
Chris Platt – Becky
Miranda Morales – Becky
Elisa Marie – Becky
Patrick O'Dowd – Lacey
Greg DeMarco – Lacey
Tunney's Take: Lacey Evans is ready to be the champ. Charlotte will help her get there. My pick is Lacey Evans
The Chairshot – Becky Lynch 18-6 #UseYourHead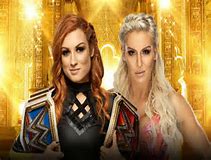 Becky Lynch(c) v Charlotte Flair
Bradley Jay – Charlotte
Bobby Fernandes – Charlotte
Carol Cassada – Becky
David Levin – Becky
Harry Broadhurst – Charlotte
Jason Schufletowski – Becky
Kevin Carrol – Charlotte
Korey Gunz – Becky
Mason Epeneter – Charlotte
Mathew Sarpricone – Becky
Rey Ca$h – Becky
Rob Bonnette – Charlotte
Scott Mcleod – Becky
Steve Cook – Becky
Steven Mitchell – Becky
Tiffany Carter – Becky
Dave Ungar – Becky
DPP – Charlotte
Chris Platt – Charlotte
Miranda Morales – Charlotte
Elisa Marie – Charlotte
Patrick O'Dowd – Becky
Greg DeMarco – Becky
Tunney's Take: I see Becky and Charlotte both on SmackDown as it moves to FOX. My pick is Becky Lynch
The Chairshot – Becky Lynch 14-10 #UseYourHead
A BIG thankyou once again to all of the staff that participated and all of the fans of TheChairshot for reading. Find me on the Twitter @PCTunney to see who made the best picks. And of course, ALWAYS #UseYourHead and visit thechairshot.com for all of your pro wrestling needs! ENJOY MITB!!!
Baron Corbin: On Top Of WWE Whether He Wins Or Loses At 'Money in the Bank'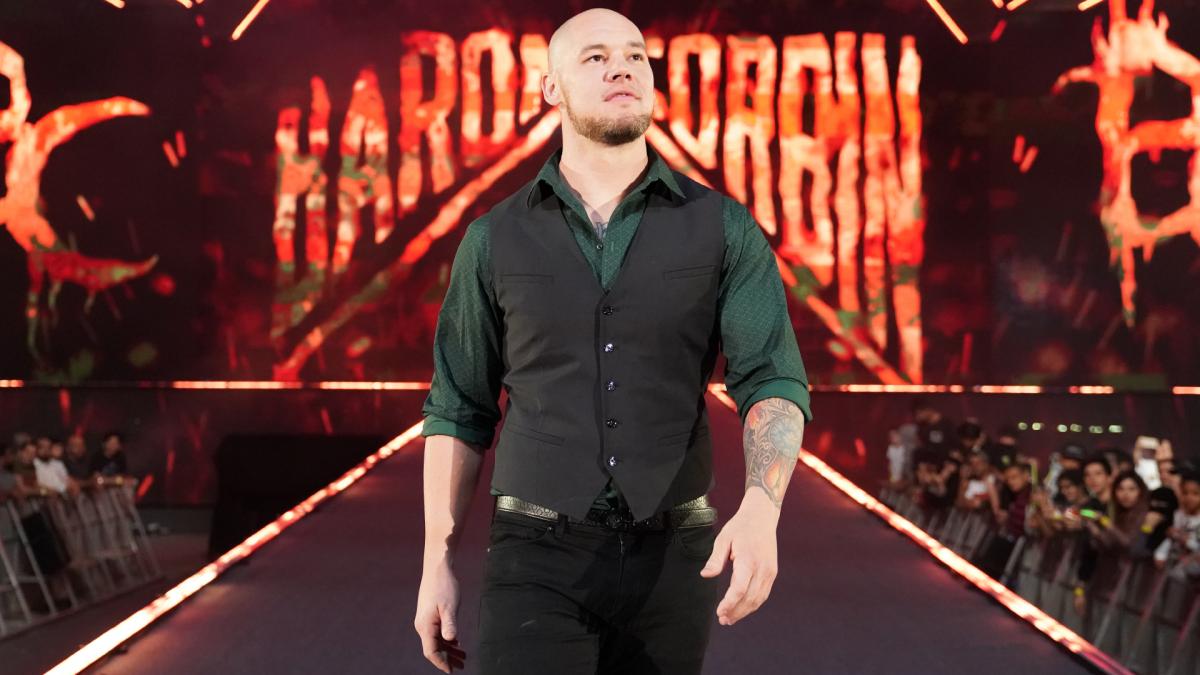 Baron Corbin is the man that WWE fans love to hate. He's arrogant, he's egotistical and he's despicable. He's everything a heel should be and much more. He also seems to be Vince McMahon's favorite heel and that's a good thing for The Lone Wolf.
In any other circumstance in any other era, Baron Corbin would be regarded as the hottest heel in WWE. He's got the right attitude, he's got the company's support and most importantly he has the spotlight. So even as his critics shake their heads, there is no denying that Baron Corbin, briefcase or not, is still a winner at Money in the Bank.
---
Get your very own Baron. Corbin. Sucks. shirt!
---
The May 19 event features two big Ladder Matches and Corbin is involved in one. Baron will step into the ring with Ricochet, Randy Orton, Ali, Sami Zayn, Andrade, Finn Bálor and Drew McIntyre. The man that wins the match wins the aforementioned briefcase and a world title opportunity.
Corbin has a fighting chance to go over, just as every man in this match. Fans can pick and choose their favorites but when it comes to the Money in the Bank concept, the fact is that it no longer leads to a guaranteed title win. At this point, it's nothing more than a glorified plot device.
This means that anyone can win because a victory doesn't necessarily mean a championship victory down the road. Vince McMahon can change his mind, as he often does and when that happens, all bets are off. The briefcase and the contract inside of it, will go wherever he wants it to go.
So Ricochet, who has not exactly been booked as the breakout star that he perhaps should be, could walk away as the winner. But it also means that Andrade, who also seems to be Vince's favorite, may not win anything. 
Drew has been on the cusp of greatness for his entire WWE existence, but that doesn't mean he will finally get over the hump on May 19. Ali and Bálor seem to be in the same spot when it comes to fan favorites that can't build momentum. So it's entirely possible that one of them will pull down the case in the end.
Then there's Randy Orton, who could win or lose any match and still come back in the same main event spot he's always enjoyed. The fact is that just when fans think they figure out what WWE is planning to do in this bout, the company can suddenly turn it all upside down. 
But the only pick that really makes any sense is Baron Corbin. However it also makes no sense at all and that's because of those critics who simply cannot believe that a guy like Baron is anywhere close to the top of the company.
Common sense says he will win due to past booking and current standing. While that shouldn't make a difference, just as it doesn't for anyone else, it absolutely does here. That's because of the overwhelming sense of dread that many fans have when it comes to Baron Corbin. They believe that his main event run is only just beginning.
It's incomprehensible to many that Baron would ever get this far. Yes, he showed promise in the beginning and yes, he seemed to have a lot of potential. But then he entered the weekly grind of WWE and suddenly that potential began to wane.
His robotic promos were obvious from the very start. It's as if Baron is reading a teleprompter every time he speaks. There is no emotion and no passion in his words and there really never has been. Fans indeed hate him for all the right reasons because he is an effective heel. But there's something much deeper just under the surface.
For diehard fans, Corbin is flat and simply does not have it. He looks the part and he's putting forth the effort, but fans know when a guy is playing a role instead of feeling it. For casual fans, Corbin is a mean spirited bad guy who deserves to get taken down. In both cases, Corbin is just a guy in the ring and nothing more.
His skills are unimpressive and he rarely ever has a great match with anyone. That's not to suggest that he cannot work. He's very capable in the ring and he has the fundamentals. But when it comes to piecing everything together and making a serious impact, Baron doesn't seem to have what it takes.
But the fact is that doesn't matter. WWE is Vince McMahon's company and when he decides a guy should be elevated, then that guy is elevated. The company spent an ample amount of time telling the world that Baron Corbin was responsible for tanking the ratings on Monday Night Raw, yet he's one win away from becoming Universal champion. The two sides don't seem to match but then again, why would they?
He continues to be featured every week and he continues to be booked as a monster heel on TV because that's what WWE wants. Did Corbin work his way up to this level by getting over in his matches and on the mic? No. But he's heading to the top nevertheless.
So yes, Baron Corbin may indeed win the Money in the Bank briefcase on May 19. Or maybe he won't. Either way, he doesn't need a career defining victory to prove anything to anyone in WWE. The decision was apparently made a long time ago. Win or lose, Baron Corbin wins, whether fans like it or not.