The Good, Bad and Ugly: WWE Raw (01/21/2019)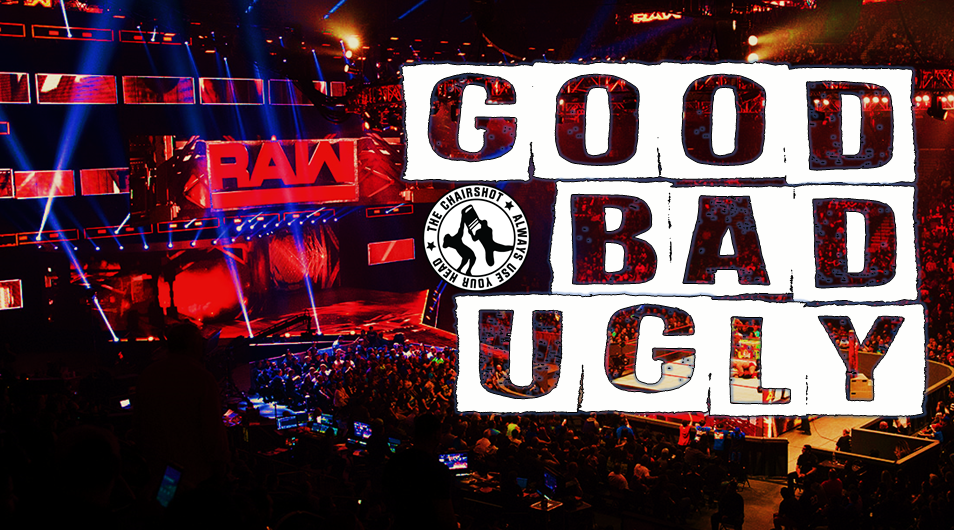 Was the Royal Rumble go-home edition of WWE Raw Good, Bad, or Ugly? Bobby Fernandes checks in with his review!
The Royal Rumble, one of the WWE's premier Pay Per Views is upon us.  The card is stacked.  The rumors of major surprises and unexpected delights are swirling about.  Like always it is a wonderful time to be a fan.  This time of year also marks the start of WrestleMania season, which doesn't get any bigger to the wrestling community.  How can Raw's go-home show give the fans one last big push for the Raw brand into the PPV? Will it build the momentum or leave us all flat?
THE GOOD
Opening Segment w/ Brock Lesnar and Paul Heyman
No time better to have the rare Brock Lesnar open Monday Night Raw.  Facing the people's choice, Finn Balor, who rumor has it, Lesnar requested personally, should be a hell of a Universal Title Match at Royal Rumble.  Very few in the history of professional wrestling can talk like Paul Heyman.  Even when he sucks, which isn't often, it is a real treat for the audience to hear the ECW Mastermind work.  As no surprise to anyone, Heyman hyped Lesnar, but he also hyped Finn Balor.  Lesnar stood there like the goon that he is snickering.  Nothing special in the message, and a little longwinded. 
The surprise however came when the Mr. McMahon came into the picture.  He heeled it up big time, which is awesome.  The crowd was hot.  Another Big Surprise came when Braun Strowman crashed the party.  Strowman is not great on the mic but held his own.  Luckily the hero Finn Balor gave his input as well.  Balor believes he will win, the Balor Club believes it.  Finn Balor is red hot right now and this match at Royal Rumble has the makings of a classic.  But first, it's Strowman vs. Balor.
Finn Balor vs. Braun Strowman
This preview to Lesnar vs. Balor, made for an eye opening match.  As expected, Balor came out hard, but was quickly stopped by the Monster Braun Strowman.  Of course the #1 Contender didn't just lie down.  Balor hit Strowman with a series of strikes and a sleeper hold, before getting tossed into Lesnar, who destroyed Balor.  Balor came back however taking out both Strowman and Lesnar with speed and precision.  Balor had it won with a "Coupe De Grace" before Lesnar interfered ending the match with an F5.  Balor wins by DQ. 
Non-Title Match – Bobby Lashley vs. Apollo Crews
We have two strong, freakishly athletic guys with unlimited potential.  Shockingly Crews "gorilla pressed" Lashley twice hurting his back.  Lio Rush made his presence felt often, doing his job well.  However it proved to be too much, as Lashley hit a spear ending this quick match with a victory.  This was followed with Seth Rollins rolling out.  Rollins has a match with McIntyre and decided to come to the ring a little early getting to have a bit of a stare down with Lashley before continuing to the ring. 
Seth Rollins Promo
Rollins came from the heart, it was a great promo.  He did some amazing work on the mic this week. Rollins has a fire within him.  He is on his A Game and will shine this weekend at the Royal Rumble. This was a quality promo, and resonated well.
Seth Rollins vs. Drew McIntyre
A showcase match.  Rollins has a lot of weight on his shoulders as a trend setter for the rest of the roster, and McIntyre has been nothing but incredible week after week.  Two top guys about to give the fans a fantastic show.  McIntyre added his two cents and did well as always.   This was extremely physical, Rollins and McIntyre laid it all on the line.  Back and forth, this was a Good match.  The energy was right, however was battered with long commercial breaks, which was unfortunate.  The actual time spent on the match however was fantastic.  McIntyre is such a dominating force, but Rollins just rolls on, no matter his opponents, size or strengths.  It is just amazing how adaptable both of them are.  This could have gone either way, Rollins hits a tight rollup and held on for the victory.  Rollins winning this match was huge in the main scheme of things, as McIntyre is no pushover both in the ring and overall in the WWE storyline. 
Dean Ambrose Vignette
Ambrose had a serious tone, it was a tight promo.  He was pissed off, focused and concises, it shows the character in an edgier light.  Good solid promo, and is at his best going into the Royal Rumble. 
Elias vs. Baron Corbin
WWE definitely stands for "Walk With Elias."  Such a huge success and a fan favorite, brilliantly paired with Baron Corbin, one of if not the most hated personas in the WWE.  He is purely cheap, old school, heel heat and it works.  It was brilliant that Corbin's mic was cut at the request of Elias to perform his song.  Corbin stormed the stage after being provoked, but backed off almost getting leveled with Elias guitar.   The match as it always is with these two, was physical, stiff, and looked painful.  Baron Corbin looked Good this week.  Maybe it is Elias who seems to be easy to work with.  Either way Corbin showed up and won a huge win, with a cheap shot to the neck, which is a textbook, heel move and an "End of Days" for the pin. 
The Ascension vs. Heavy Machinery
Where's the beef?  It's here.  This is a freak show of a match.  The Ascension hasn't worked a whole lot, hopefully they have been training.  Heavy Machinery, is huge and bright.  They stand out and there is something strangely fascinating about them.  Otis really worked the hell out of the crowd and it finally paid off.  They killed The Ascension, it was a squash match.  Heavy Machinery Wins via "The Compactor."  Otis is just insane, and I want to see Heavy Machinery in a real match, against someone who could contrast them well.  Either way, it looks like Vince is giving them a shot.  Otis will be a star someday if this pays off. 
Raw Tag Team Championship Match – Roode and Gable (c) vs. The Revival w/ Special Guest Referee Curt Hawkins
The Revival has been pissed off about life lately, and it has carried over to being a viral topic on social media amidst the new AEW signings and moves.  Earlier there was an interesting promo with The Revival and Vince McMahon himself, giving The Revival a Title Match and giving Curtis Hawkins a spot as the referee.  There is a lot of old school wrestling in this one.  All competitors remind the audience of the past styles and characters.  The Revival's completely visible ties to the Brainbusters, and Roode resembling a number of characters, as well as Gable. 
This match was a surprise given recent events.  Michael Cole even took a little shot at The Revival while they were coming out.  The Revival were stiff and controlled a lot of the time until Bobby Roode just went insane and destroyed everyone.  Move after move Roode just dominated.  Dawson and Wilder got back control but constantly got caught cheating by Curt Hawkins and eventually led to a rollup by Chad Gable for the Win!  Roode and Gable Retain!  In a very Good turn of events, The Revival obviously upset, attacked Hawkins who was saved by his "Bro" Zach Ryder.  This is a very interesting way to excite the Tag Team Division.  This could be Good for everyone. 
Ronda Rousey and Natalya vs. Sasha Banks and Bayley
Seeing "The Boss" back on a mainstream title feud has been refreshing.  It is also fantastic to have more Bayley.  Bayley is my pick, however a long shot, to win the Royal Rumble, however it would lead to some strong content and a fan favorite that hasn't been the frontrunner in a long time back on the show more often.  In my opinion, Rousey is losing the belt sooner or later, most likely at Wrestlemania unless WWE is crazy enough to have Banks win at Royal Rumble setting up a possible Natalya heel turn.  Follow that up with a Bayley Royal Rumble victory to ultimately having a Banks (c) vs. Bayley at Wrestlemania would satisfy a lot of the fanbase and be a total shock.  However that isn't the case and a huge longshot that.
Sasha Banks promo was money, and resonated on many levels.  It is satisfying watching Banks play with Rousey.  When Rousey did get a hold of both Bayley and Sasha Banks she exploded on them, making them retreat to the outside.  There was some decent action here, Banks and Bayley worked well and Natalya and Rousey were sharp.  When it was time for Rousey and Banks to finally go at it, Rousey got destroyed ending up in a "Bank Statement."  Rousey regained composer and got the upper hand on Bayley.  After a Bad botched spot, with Bayley and Rousey, they had a little trouble, but Natalya and Sasha Banks rebounded for a strong finish, Sasha Banks makes Natalya tap, in a "Banks Statement" for the victory.  There is a lot of heat going into this one, which may see some surprises on Sunday. 
THE BAD
Promo – Intercontinental Champion Bobby Lashley/Lio Rush
This impressive duo has some gold and clout.  We have a winner here.  Lio Rush has taken the awkwardness away from Lashley, who now only has to focus on kicking ass.  It seems to have worked.  As Lio said, "Lashley is a fighter," he is.  He beat two of the top dogs for the IC Title.  This was also a huge deal due to the fact that someone new would possibly get a shot at the gold.  That man is Apollo Crews.  Crews is extremely impressive.  Much like Lashley, underrated and a superior athletic.  This could be a sick feud but unfortunately a "pose off" was the plan. 
Apollo Crews after this, is officially the Master of making something good out of nothing.  He got the crowd into it when it was failing miserably.  This was pretty corny overall, and of course Lashley attacked Crews but was chased out of the ring.  This feud will be a welcomed one, however this was crap.  Keep them off the mic and keep them wrestling.  If they work and wrestle, we have gold.  The Match itself right after was Good though. 
Moment of Bliss w/ Nia Jax
Alexa Bliss cannot return to the ring fast enough.  We need to get rid of the promos, although Bliss is fantastic otherwise.  Listing all of the people in the Rumble so far was so long and awkward.  Nia Jax is also awkward on the microphone.  Luckily before anything was said by Jax, Ember Moon interrupted.  Moon did well as she is a natural out there.  But then Alicia Fox came out, followed by Mickie James.  We are seeing a trend here folks.  The Women's Division on all WWE/NXT television is rock solid and part of the best we have currently.  These promos are horrible though.  Rene Young had a great idea though, having "Steve Wilkos" come referee.  Solid move if that could ever happen.  This promo needs therapy.  But, Alexa Bliss will be in the Royal Rumble match as she announced her return.  Should have just had her come out as a "surprise."  A real surprise however was South Carolina's Finest, Lacey Evans.  Who stole the spotlight on "Little Miss Bliss."  I expect a decent match out of this interaction. 
THE UGLY
Jinder Mahal and The Singh Brothers vs. Lucha House Party
My God, these are two groups that could be utilized better elsewhere.  This was just a what-ever match.  It seems like the WWE writers just don't know what to do with both of these groups so they just roll the dice and shove them down our throat.  This was a very weird match, nothing special, the same old, which is not very Good.  Lucha House Party picks up the win, but no one cared very much about it. 
Ronda Rousey Promo
It seems as though Ronda Rousey has been going to the Natalya School of Promos.  This is not a Good thing at all.  Tough promo to get though, and a strong candidate to becoming a "Heyman Girl." 
FINAL
Overall
Good!  This Raw was packed full of content.  It had a lot of high points and was entertaining.  WWE is putting forth the effort at a crucial time.  It was a great set up showcasing the stories and having some compelling action that sucked the fans in.  Solid take home show. 
Royal Rumble is now written on the Raw side of town, next is the SmackDown version of the story, which is already incredible.  Not to forget the NXT Takeover as well.  This is going to be a huge weekend coming up. 
Lastly, let us not forget the importance of today.  Happy Martin Luther King Day.  He was a man, whose bravery is near unmatched.  A man I deeply respect, and admire.  No one is perfect, but as courageous he and his cause was for mankind overall, that is something we need to respect and remember.