The Good, Bad and Ugly: WWE Raw (01/21/2019)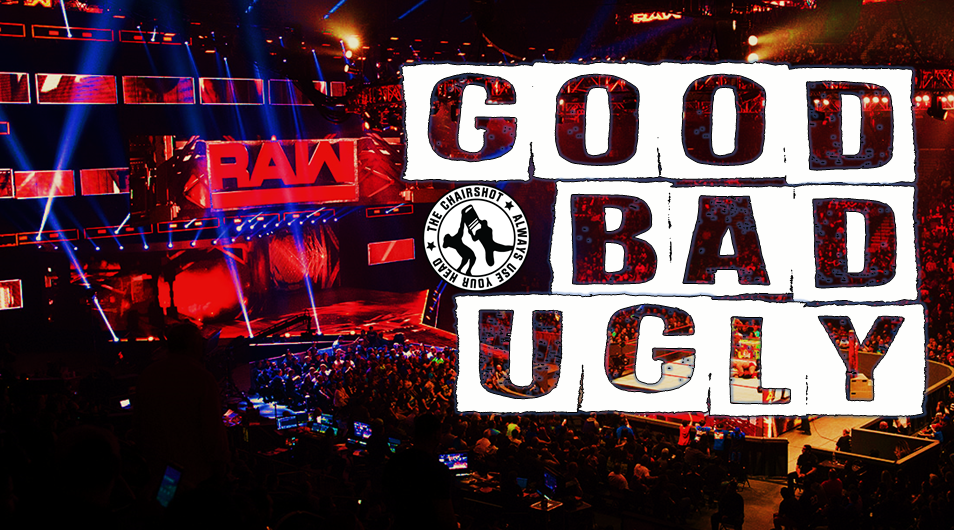 Was the Royal Rumble go-home edition of WWE Raw Good, Bad, or Ugly? Bobby Fernandes checks in with his review!
The Royal Rumble, one of the WWE's premier Pay Per Views is upon us.  The card is stacked.  The rumors of major surprises and unexpected delights are swirling about.  Like always it is a wonderful time to be a fan.  This time of year also marks the start of WrestleMania season, which doesn't get any bigger to the wrestling community.  How can Raw's go-home show give the fans one last big push for the Raw brand into the PPV? Will it build the momentum or leave us all flat?
THE GOOD
Opening Segment w/ Brock Lesnar and Paul Heyman
No time better to have the rare Brock Lesnar open Monday Night Raw.  Facing the people's choice, Finn Balor, who rumor has it, Lesnar requested personally, should be a hell of a Universal Title Match at Royal Rumble.  Very few in the history of professional wrestling can talk like Paul Heyman.  Even when he sucks, which isn't often, it is a real treat for the audience to hear the ECW Mastermind work.  As no surprise to anyone, Heyman hyped Lesnar, but he also hyped Finn Balor.  Lesnar stood there like the goon that he is snickering.  Nothing special in the message, and a little longwinded. 
The surprise however came when the Mr. McMahon came into the picture.  He heeled it up big time, which is awesome.  The crowd was hot.  Another Big Surprise came when Braun Strowman crashed the party.  Strowman is not great on the mic but held his own.  Luckily the hero Finn Balor gave his input as well.  Balor believes he will win, the Balor Club believes it.  Finn Balor is red hot right now and this match at Royal Rumble has the makings of a classic.  But first, it's Strowman vs. Balor.
Finn Balor vs. Braun Strowman
This preview to Lesnar vs. Balor, made for an eye opening match.  As expected, Balor came out hard, but was quickly stopped by the Monster Braun Strowman.  Of course the #1 Contender didn't just lie down.  Balor hit Strowman with a series of strikes and a sleeper hold, before getting tossed into Lesnar, who destroyed Balor.  Balor came back however taking out both Strowman and Lesnar with speed and precision.  Balor had it won with a "Coupe De Grace" before Lesnar interfered ending the match with an F5.  Balor wins by DQ. 
Non-Title Match – Bobby Lashley vs. Apollo Crews
We have two strong, freakishly athletic guys with unlimited potential.  Shockingly Crews "gorilla pressed" Lashley twice hurting his back.  Lio Rush made his presence felt often, doing his job well.  However it proved to be too much, as Lashley hit a spear ending this quick match with a victory.  This was followed with Seth Rollins rolling out.  Rollins has a match with McIntyre and decided to come to the ring a little early getting to have a bit of a stare down with Lashley before continuing to the ring. 
Seth Rollins Promo
Rollins came from the heart, it was a great promo.  He did some amazing work on the mic this week. Rollins has a fire within him.  He is on his A Game and will shine this weekend at the Royal Rumble. This was a quality promo, and resonated well.
Seth Rollins vs. Drew McIntyre
A showcase match.  Rollins has a lot of weight on his shoulders as a trend setter for the rest of the roster, and McIntyre has been nothing but incredible week after week.  Two top guys about to give the fans a fantastic show.  McIntyre added his two cents and did well as always.   This was extremely physical, Rollins and McIntyre laid it all on the line.  Back and forth, this was a Good match.  The energy was right, however was battered with long commercial breaks, which was unfortunate.  The actual time spent on the match however was fantastic.  McIntyre is such a dominating force, but Rollins just rolls on, no matter his opponents, size or strengths.  It is just amazing how adaptable both of them are.  This could have gone either way, Rollins hits a tight rollup and held on for the victory.  Rollins winning this match was huge in the main scheme of things, as McIntyre is no pushover both in the ring and overall in the WWE storyline. 
Dean Ambrose Vignette
Ambrose had a serious tone, it was a tight promo.  He was pissed off, focused and concises, it shows the character in an edgier light.  Good solid promo, and is at his best going into the Royal Rumble. 
Elias vs. Baron Corbin
WWE definitely stands for "Walk With Elias."  Such a huge success and a fan favorite, brilliantly paired with Baron Corbin, one of if not the most hated personas in the WWE.  He is purely cheap, old school, heel heat and it works.  It was brilliant that Corbin's mic was cut at the request of Elias to perform his song.  Corbin stormed the stage after being provoked, but backed off almost getting leveled with Elias guitar.   The match as it always is with these two, was physical, stiff, and looked painful.  Baron Corbin looked Good this week.  Maybe it is Elias who seems to be easy to work with.  Either way Corbin showed up and won a huge win, with a cheap shot to the neck, which is a textbook, heel move and an "End of Days" for the pin. 
The Ascension vs. Heavy Machinery
Where's the beef?  It's here.  This is a freak show of a match.  The Ascension hasn't worked a whole lot, hopefully they have been training.  Heavy Machinery, is huge and bright.  They stand out and there is something strangely fascinating about them.  Otis really worked the hell out of the crowd and it finally paid off.  They killed The Ascension, it was a squash match.  Heavy Machinery Wins via "The Compactor."  Otis is just insane, and I want to see Heavy Machinery in a real match, against someone who could contrast them well.  Either way, it looks like Vince is giving them a shot.  Otis will be a star someday if this pays off. 
Raw Tag Team Championship Match – Roode and Gable (c) vs. The Revival w/ Special Guest Referee Curt Hawkins
The Revival has been pissed off about life lately, and it has carried over to being a viral topic on social media amidst the new AEW signings and moves.  Earlier there was an interesting promo with The Revival and Vince McMahon himself, giving The Revival a Title Match and giving Curtis Hawkins a spot as the referee.  There is a lot of old school wrestling in this one.  All competitors remind the audience of the past styles and characters.  The Revival's completely visible ties to the Brainbusters, and Roode resembling a number of characters, as well as Gable. 
This match was a surprise given recent events.  Michael Cole even took a little shot at The Revival while they were coming out.  The Revival were stiff and controlled a lot of the time until Bobby Roode just went insane and destroyed everyone.  Move after move Roode just dominated.  Dawson and Wilder got back control but constantly got caught cheating by Curt Hawkins and eventually led to a rollup by Chad Gable for the Win!  Roode and Gable Retain!  In a very Good turn of events, The Revival obviously upset, attacked Hawkins who was saved by his "Bro" Zach Ryder.  This is a very interesting way to excite the Tag Team Division.  This could be Good for everyone. 
Ronda Rousey and Natalya vs. Sasha Banks and Bayley
Seeing "The Boss" back on a mainstream title feud has been refreshing.  It is also fantastic to have more Bayley.  Bayley is my pick, however a long shot, to win the Royal Rumble, however it would lead to some strong content and a fan favorite that hasn't been the frontrunner in a long time back on the show more often.  In my opinion, Rousey is losing the belt sooner or later, most likely at Wrestlemania unless WWE is crazy enough to have Banks win at Royal Rumble setting up a possible Natalya heel turn.  Follow that up with a Bayley Royal Rumble victory to ultimately having a Banks (c) vs. Bayley at Wrestlemania would satisfy a lot of the fanbase and be a total shock.  However that isn't the case and a huge longshot that.
Sasha Banks promo was money, and resonated on many levels.  It is satisfying watching Banks play with Rousey.  When Rousey did get a hold of both Bayley and Sasha Banks she exploded on them, making them retreat to the outside.  There was some decent action here, Banks and Bayley worked well and Natalya and Rousey were sharp.  When it was time for Rousey and Banks to finally go at it, Rousey got destroyed ending up in a "Bank Statement."  Rousey regained composer and got the upper hand on Bayley.  After a Bad botched spot, with Bayley and Rousey, they had a little trouble, but Natalya and Sasha Banks rebounded for a strong finish, Sasha Banks makes Natalya tap, in a "Banks Statement" for the victory.  There is a lot of heat going into this one, which may see some surprises on Sunday. 
THE BAD
Promo – Intercontinental Champion Bobby Lashley/Lio Rush
This impressive duo has some gold and clout.  We have a winner here.  Lio Rush has taken the awkwardness away from Lashley, who now only has to focus on kicking ass.  It seems to have worked.  As Lio said, "Lashley is a fighter," he is.  He beat two of the top dogs for the IC Title.  This was also a huge deal due to the fact that someone new would possibly get a shot at the gold.  That man is Apollo Crews.  Crews is extremely impressive.  Much like Lashley, underrated and a superior athletic.  This could be a sick feud but unfortunately a "pose off" was the plan. 
Apollo Crews after this, is officially the Master of making something good out of nothing.  He got the crowd into it when it was failing miserably.  This was pretty corny overall, and of course Lashley attacked Crews but was chased out of the ring.  This feud will be a welcomed one, however this was crap.  Keep them off the mic and keep them wrestling.  If they work and wrestle, we have gold.  The Match itself right after was Good though. 
Moment of Bliss w/ Nia Jax
Alexa Bliss cannot return to the ring fast enough.  We need to get rid of the promos, although Bliss is fantastic otherwise.  Listing all of the people in the Rumble so far was so long and awkward.  Nia Jax is also awkward on the microphone.  Luckily before anything was said by Jax, Ember Moon interrupted.  Moon did well as she is a natural out there.  But then Alicia Fox came out, followed by Mickie James.  We are seeing a trend here folks.  The Women's Division on all WWE/NXT television is rock solid and part of the best we have currently.  These promos are horrible though.  Rene Young had a great idea though, having "Steve Wilkos" come referee.  Solid move if that could ever happen.  This promo needs therapy.  But, Alexa Bliss will be in the Royal Rumble match as she announced her return.  Should have just had her come out as a "surprise."  A real surprise however was South Carolina's Finest, Lacey Evans.  Who stole the spotlight on "Little Miss Bliss."  I expect a decent match out of this interaction. 
THE UGLY
Jinder Mahal and The Singh Brothers vs. Lucha House Party
My God, these are two groups that could be utilized better elsewhere.  This was just a what-ever match.  It seems like the WWE writers just don't know what to do with both of these groups so they just roll the dice and shove them down our throat.  This was a very weird match, nothing special, the same old, which is not very Good.  Lucha House Party picks up the win, but no one cared very much about it. 
Ronda Rousey Promo
It seems as though Ronda Rousey has been going to the Natalya School of Promos.  This is not a Good thing at all.  Tough promo to get though, and a strong candidate to becoming a "Heyman Girl." 
FINAL
Overall
Good!  This Raw was packed full of content.  It had a lot of high points and was entertaining.  WWE is putting forth the effort at a crucial time.  It was a great set up showcasing the stories and having some compelling action that sucked the fans in.  Solid take home show. 
Royal Rumble is now written on the Raw side of town, next is the SmackDown version of the story, which is already incredible.  Not to forget the NXT Takeover as well.  This is going to be a huge weekend coming up. 
Lastly, let us not forget the importance of today.  Happy Martin Luther King Day.  He was a man, whose bravery is near unmatched.  A man I deeply respect, and admire.  No one is perfect, but as courageous he and his cause was for mankind overall, that is something we need to respect and remember. 
Bodeen's Top 5 Moments: WWE RAW 3/1/21
Bodeen takes a look ath the Top 5 moments from an eventful episode of WWE Raw on the Road to WrestleMania!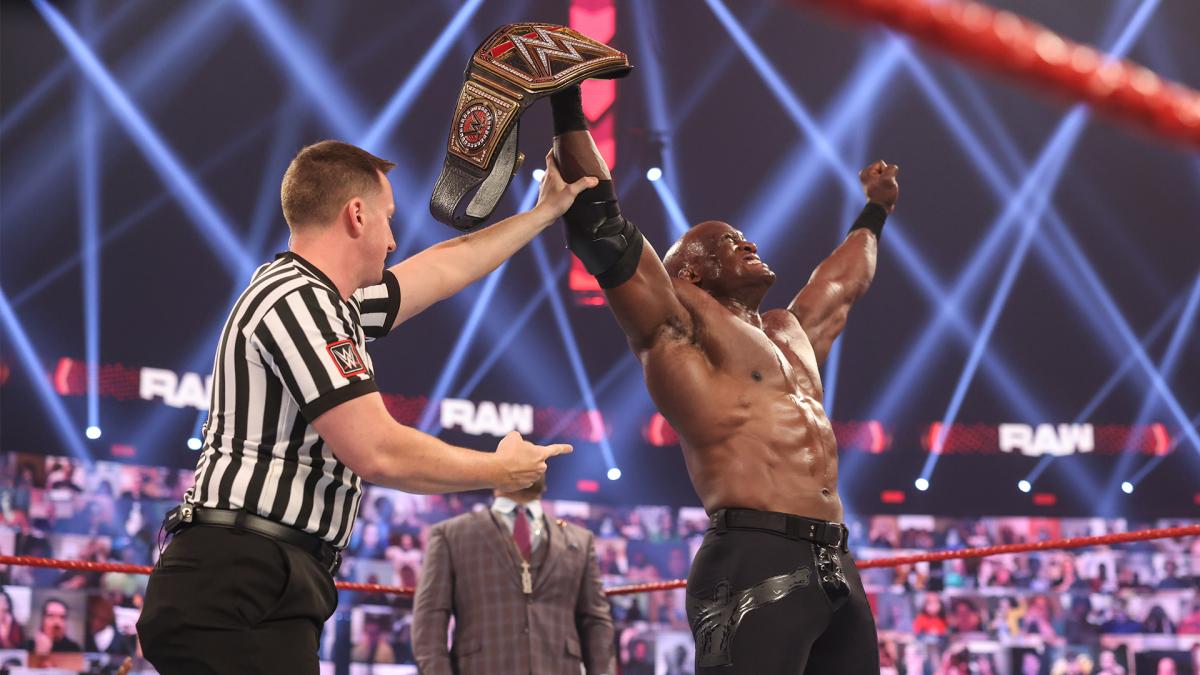 Bodeen takes a look ath the Top 5 moments from an eventful episode of WWE Raw on the Road to WrestleMania!
With just 6 short weeks left until WrestleMania, RAW once again came to us from the Thunderdome, with the main story on RAW this week being focused on the WWE Championship match between The Miz and Bobby Lashley. Despite this there were still some other moments on RAW that stood out, so without further ado let's once again look at the top 5 moments that stood out on RAW.
5. Mustafa Ali pins Riddle
There is no denying that the booking of RETRIBUTION has been botched. While it was extremely interesting to watch Retribiution at first, Retribution soon died even after Mustafa Ali turned heel mainly due to terrible logical booking and a series of losses that made them all look weak.
However, it is still nice to see RETRIBUTION get wins back, especially when it comes to their leader, Mustafa Ali. Ali is extremely talented and has shown he can perform with the best in the ring. That is why it was so great to see him beat Riddle on RAW.
While the match between the two men was nothing special and had a bad-looking finish, it was still nice to see him beat the United States Champion in a non-title match and give RETRIBUTION and himself a small amount of credit back.
4. Miz makes Bobby Lashley wait
Over the years The Miz has grown to be one of the best heels in the business, his promos are amazing to watch and over the years Miz has learned to control any crowd as a heel. Miz's promos though are not the only thing that has helped him as a heel, as we have seen Miz over the years use brilliant strategies to give himself an advantage in the ring.
Miz would once again use his mind this week on RAW as he used excuse after excuse throughout the night to avoid defending the WWE Championship against Bobby Lashley until eventually, Shane McMahon forced him to defend or vacate the title at the end of the night.
The great part about watching this was seeing the reaction from MVP and Bobby Lashley as they grew increasingly frustrated with The Miz and his ideas as their annoyance at the start of the night turned into a pure rage after Miz retained after being counted out.
3. Damian Priest gets another win 
At first, I was somewhat worried about Damian Priest being teamed up with Bad Bunny, mainly due to the fact it feels Priest deserved more. However, after a few weeks and seeing how much merchandise Bad Bunny has been selling, the relationship between the two men can be effective for Priest especially as Bad Bunny guarantees Priest time on RAW, where he can impress fans.
Priest would once again look good on RAW this week as he pinned Elias in a solid match between the two men. It was also nice to see Priest beat Elias without any major interference from Bad Bunny, as Priest has arguably looked somewhat weaker due to the distractions from Bad Bunny in his matches.
With there being a good chance that Bad Bunny will be on WrestleMania with Preist, it will be interesting to see what will happen to Priest after WrestleMania
2.  Drew Mcintyre and Sheamus destroy each other
While this may not off been on a Pay-Per-View, Drew McIntyre and Sheamus put on an amazing match between each other and easily put on the best match of the night. The match showcased the brutal style of the two men as they traded moves with both men working extremely well together.
The match would start with an intense brawl between the two men as they gave each other a beating. After a brutal match where both men push each other to their limit, Drew McIntyre would catch Sheamus with a Claymore after Sheamus attempted a Brouge kick to win the match.
After the match, both men stared at each other potentially meaning that this is not the end of their feud as he approach Fastlane.
1. Bobby Lashley finally wins the gold 
It is hard to believe how much Bobby Lashley's career has changed in a year. This time last year, Bobby was stuck in a never-ending feud with Lana and Rusev which had lost all credibility. Then Bobby Lashley left Lana for MVP and started The Hurt Business, where he became a dominant part of the mid-card as the United States Champion.
Even after being a dominant mid-carder for so long Lashley still hadn't reached that next level however Bobby would finally break through the glass ceiling this week on RAW after he waited for three hours to dominate The Miz to finally become WWE Champion after what has felt like an eternity.
With Bobby now Champion the big question is, will Lashley be Champion by WrestleMania and if so, who will Lashley face?
These were my top 5 moments from RAW this week. What were your top 5 moments and what do you think of Bobby Lashley being WWE Champion? Let us know in the comments below. 
Andrew's Top 5 Matches: Week Ending 2/28/2021
A weird week of matches and shows! Let's see what made the Top 5!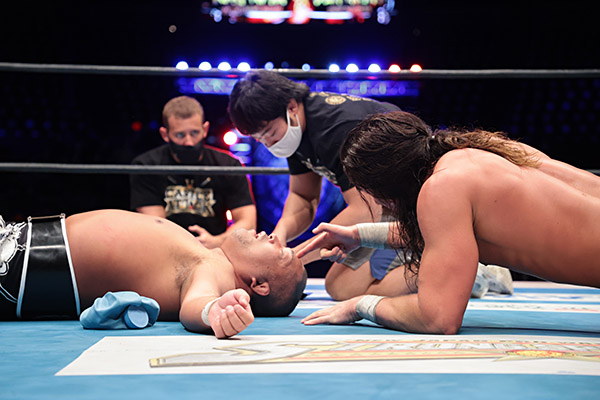 This is one of the more tame weeks. New Japan had a few big events, but let's just say it wasn't their best work. Then we get the announcement of combining the Intercontinental and Heavyweight to become a "world heavyweight" title, so yeah, New Japan is weird right now.
Speaking of weird, AEW Dynamite: Riho vs Serena Deeb, won the match vote last week.
This will be the voting week to round out February, and we should start March off strong with what's coming next week!
Quick Top 5:
NJPW Castle Attack 2.27: Jay White vs Tomohiro Ishii
Rating: ****
NJPW Castle Attack 2.28: IWGP Intercontinental Championship: Tetsuya Naito vs Kota Ibushi (c)
Rating: *** ¾
AEW Dynamite: Lance Archer vs Rey Fenix
Rating: *** ¾
NJPW Castle Attack 2.28: IWGP Junior Heavyweight Championship: BUSHI vs El Desperado vs El Phantasmo
Rating: *** ¾
AEW Dynamite: Hangman Page vs Isaiah Kassidy
Rating: *** ½
Honorable Mentions:
NJPW Castle Attack 2.27: Kazuchika Okada vs EVIL w/Dick Togo
Rating: *** ¼
NJPW Strong: IWGP United States Championship: Jon Moxley (c) vs KENTA
Rating: *** ¼
IMPACT!: Chris Bey, Ace Austin & Black Taurus vs Josh Alexander, Trey Miguel & Willie Mack
Rating: *** ¼
NJPW Castle Attack 2.28: TenCozy (Satoshi Kojima & Hiroyoshi Tenzan) vs The United Empire (Jeff Cobb & Will Ospreay)
Rating: *** ¼
NXT: Zoey Stark vs Io Shirai
Rating: *** ¼
NJPW Castle Attack 2.28: NEVER Openweight Championship: Hiroshi Tanahashi (c) vs The Great O-Khan
Rating: *** ¼
WWE Raw: Bobby Lashley vs Braun Strowman
Rating: ***
NXT: No DQ: Santos Escobar vs Karrion Kross
Rating: ***
IMPACT!: TNA World Heavyweight Championship: Moose vs Jake Something
Rating: ***
WWE Raw: Angel Garza vs Damian Priest
Rating: ***
5. AEW Dynamite: Hangman Page vs Isaiah Kassidy
Kassidy runs, but Hangman follows! Kassidy leaps, into a DEATH VALLEY DRIVER! Both men are down and fans are fired up! The standing count begins, the fans rally up, and both men stand at 3. Hangman runs in at Kassidy to corner clothesline him! Hangman snapmares Kassidy, runs and SLIDING- NO! Kassidy dodges, mule kicks and CHOPS! Kassidy reels Hangman in but Hangman suplexes to BRAIN BUSTER! Cover, TWO!!! Kassidy lives and "This is Awesome!" Hangman and Kassidy slowly stir. Hangman aims from a corner, runs at Kassidy, but Kassidy blocks the boot to BOOT back! And enziguri, to a POISON-RANA! Cover, TWO!?!
But Kassidy has the arm for an ARMBAR! Hangman endures as Kassidy pulls back! Hangman sits up, and gets the ropebreak! Kassidy lets go at the ref's count of 4, and Hangman drags himself away. Kassidy gets up, runs over, but Hangman FLIPS him out to the apron! Kassidy grabs at Hangman's arm but Hangman BOOTS him from below! Hangman runs to triangle LAR- HOT SHOT!! Kassidy counters Hangman at the right time, slithers back up to the apron, and springboards, but no Destroyer! Hangman gives him the DEADEYE! Cover, Hangman wins!!
Winner: Hangman via Deadeye
2t. NJPW Castle Attack 2.28: IWGP Junior Heavyweight Championship: BUSHI vs El Desperado vs El Phantasmo
Early on this was a little paint by numbers. Counters, a few signature spots to get early advantages, but the match didn't pick up until ELP tried to take out Desperado. ELP and Despy fight up the ramp, ELP rips the mask to expose Despy's head and pulls out the Jerry Lynn special, Cradle Piledriver right into the ramp!
ELP takes the ripped mask as a trophy, and we see a singles match between BUSHI and ELP for a good bit of time. BUSHI proves to be as stubborn as other Tetsuya's in LIJ, and takes it to ELP fairly well. BUT – that's not the story here. Desperado starts slowly making his way back to the ring with a new mask. Desperado comes in and goes on a warpath after ELP. Stiff looking strikes, dives that take out both of his opponents, and just an unbridled rage that makes him focus on ELP.
This of course allows for BUSHI to pick some solid spots, and after Despy returns the match really picks up. It's also great to ELP's heel tendencies where he takes moves from higher profile people just to turn the knife. Styles Clash, V-Trigger, an attempted One Winged Angel, Sweet Chin Music, the Undertaker arm fold pin cover, and it's just good entertainment.
BUSHI has a great count break up where he just grabs Marty Asami's arm to prevent the 3. BUSHI sets up for MX, but he gets caught with Sudden Death…and rolls out of the ring. So ELP has to go back to a now slowly coming back up Desperado, ELP charges, gets caught with a big right hand and not 1 but 2 Pinche Locos!
Winner: Despy via Pinche Loco
2t. AEW Dynamite: Lance Archer vs Rey Fenix
Fenix goes to a corner while Archer is in the drop zone. Fenix hops up and MOONSAULTS, but Archer moves, so Fenix somersaults through! ROLLING CUTTER!! Cover, TWO!! Archer survives again and Fenix can't believe it! Fenix hauls Archer up, Archer whips him away and runs in to ROCK him with a right! Archer puts Fenix up top, hooks legs and brings Fenix out, FISHERMAN BUSTER! Cover, TWO!! Fenix survives again but Archer drags him back up! Archer goes up the corner, drags Fenix up to join him, but Fenix fights the choke grip to adjust! Archer body shots, Fenix rebounds, SUPER SPANISH FLY!! Cover, TWO!?!? How are either of these guys doing this?!
Fenix fireman's carries, Archer pulls the mask! Fans boo, Fenix SUPERKICKS, mule kicks, forearms and CHOPS! Fenix fires up, runs, but gets DERAILED!! Both men are down but Archer fires up! Archer drags Fenix up and reel shim in, for a BUCKLE BOMB! Choke grip, CHOKE SLAM!! Cover, TWO?!?! Archer drags Fenix to a corner, hauls him up, CHOPS and inverted crucifix lifts, for the BLACKOUT BOMB!!! Cover, Archer wins!!!
Winner: Archer via Blackout
2t. NJPW Castle Attack 2.28: IWGP Intercontinental Championship: Tetsuya Naito vs Kota Ibushi (c)
Naito focused on mat wrestling in the beginning, and it was all in effort to get to Ibushi's knees to bring the match to parity. With Naito having well documented bad knees (including miss time during the Road to), Naito had to work to make things more even.
We see a lot of old threads get pulled on, the corner spot could reference to Naito and Omega's G1 match, the Outside In German Suplex was something Ibushi struggled to execute before on Naito. Naito pulled out an Avalanche Diamond Dust that we don't often see, and this was somewhat interesting. New Japan continues to implore that main events are 25+ minute matches, and lately these all drag.
Even with the fun story aspects, a few big scary spots as we've come to expect, the match never ascended to a great height. Naito hit Valentia and a few running Destinos, but that wasn't enough to take out the champion. Ibushi hit Kamigoye to the back of the head, much like as Wrestle Kingdom, then we got 2 more Kamigoyes and Ibushi just falling on top of Naito for the pinfall victory!
Winner: Ibushi via Kamigoye
1. NJPW Castle Attack 2.27: Jay White vs Tomohiro Ishii
Ishii has had White's number lately, and just added to the broken status of his mental health after the Wrestle Kingdom loss. Within the first minute or so, Jay looked to have tweaked his hamstring, and that added an interesting layer to his early attack. But much like the strategic genius that he is, he lays Ishii over the barricade, and Ishii starts selling a rib injury.
Everything in this match mattered, the leg and ribs came back to play into aspects of the finishing sequence. Ishii was slow transitioning between some of his power moves since he was hampered with the rib injury, and Jay got caught a bit more than usual because his quickness was taken away.
A huge Avalanche Brainbuster after a Jumping Headbutt nearly gave Ishii the win, but a slow cover as he wanted the high stack, kept Jay alive. They fight back and forth, then we get a great counter wrestling sequence to finish the match. Ishii slips suplexes and Blade Runners, Jay slips the Brainbuster and eats a strike. It was up, down, back and forth, just hard to call until Jay finally slips a hold and catches Ishii with Blade Runner for the win!
Winner: Jay via Blade Runner
Thoughts:
Definitely a weird week when I was not a fan of the New Japan shows, and I'm not AEW's biggest fan…but I guess the top stuff is the top stuff. My vote will go to Jay White vs Tomohiro Ishii, purely because it was the only thing that really stood out during this weekend.
Personally, I hope New Japan figures it out and starts getting interesting; because I'm really going to need to consider other promotions if New Japan stays stale – you know, just to spice things up. Ugh…weird week, but yeah the White vs Ishii match is worth watching.