The Good, Bad and Ugly: WWE SmackDown (01/22/2019)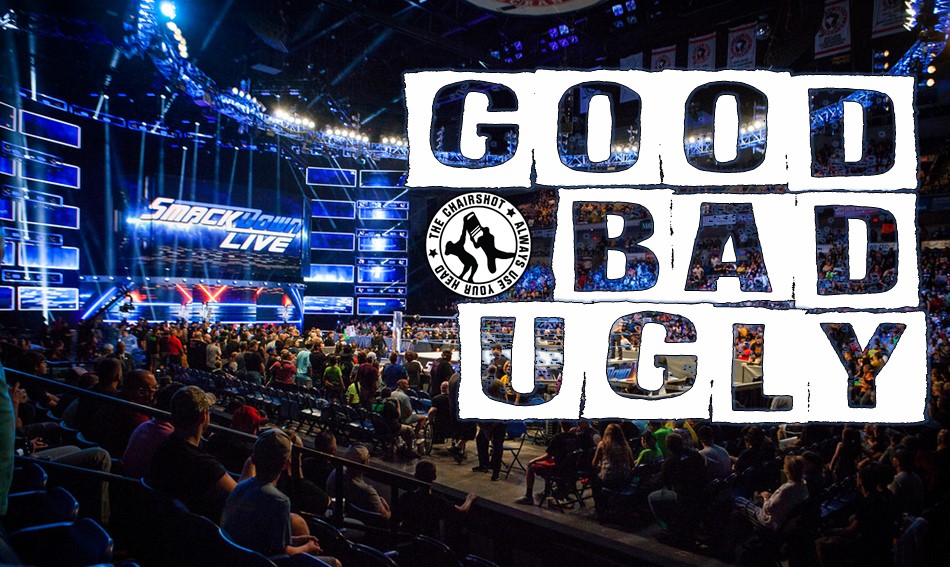 Bobby Fernandes delivers his Good, Bad, and Ugly review for WWE Smackdown on January 22, 2019–the last Smackdown before the Royal Rumble!
SmackDown before the Royal Rumble is here and now.  The better of the WWE weekly television is up to bat, and ready to take us home.  The actual card looks decent for the PPV especially on the SmackDown side of things.  Raw did a Good job packing in a ton of relevant content and building up the excitement.  Can SmackDown deliver yet again? 
THE GOOD
Opening Segment w/ The Man Becky Lynch
She is still on "fire" and the crowd cannot get enough of her.  She looks fantastic, confident, and on top of her game.  Lynch has done her job and took down the "Queen" and claims that she will do the same to the "Empress."  Even a badass like Lynch has an uphill battle against a foe like Asuka.  Asuka is so impressive and this feud is just amazing.  Charlotte Flair didn't take a whole lot of time to get involved and was warmly "Woooed" by the crowd.  Charlotte walks tall, talks the talk and is just overall unbelievable.  Asuka and Lynch's heat then boiled over at the joy of Charlotte.  They got some Good shots in.  This has been an enjoyable feud and it's "finale" should deliver. 
The Miz w/ Shane McMahon vs. Cesaro w/ Sheamus
So far the Miz/McMahon duo has had some subpar content, last week being the worst of it.  Luckily this week, Miz and Cesaro can both do some great things in the ring, and could be Good for a decent match.  Cesaro is freakishly Good and one of the most criminally underrated in the industry, even with the Tag Team Championship.  Anyone watching has to love the chemistry that The Bar has weekly.  They don't always have the best matches but are a fantastic Tag Team overall.  Miz was on point as well in this match.  This was a Good set up for the Royal Rumble in which Cesaro gets the Win w/ a "Neutralizer" after a Sheamus interference.  McMahon wasn't having it and attacked The Bar only to be beaten the hell out of for his trouble.  To add insult to injury, Shane O Mac was bombed onto the Miz, through a table.  It looked fantastic, and hopefully this Tag Team Title Match Sunday will not disappoint. 
Daniel Bryan/AJ Styles/Vince McMahon Promo
The fans are certainly "fickle" to the New Daniel Bryan.  The crazy, nut-bag has done all he can to become a hated entity.  Daniel Bryan has improved on the mic, and this heel gimmick is well suited.  The less AJ talks the better.  However he did well this time around, and just about when things were going overboard, the Chairman of the Board put a stop to it, and demanded Bryan get in the ring.  Bryan went on to be disobedient and continue his banter, now attacking McMahon's Generation.  AJ Styles had enough and attacked Bryan until Bryan used McMahon as a shield taking out Styles and retreating.  Overall, this wasn't Bad and did its job hyping the WWE Championship Match Sunday at the Royal Rumble. 
Samoa Joe vs. Mustafa Ali
Not that this is a new thing, but Samoa Joe has lost his mind.  He is a savage in the ring now, and as stiff and brutal as his reputation is, he is exceeding expectations.  Mustafa Ali is very impressive, his entrance, look, and of course in ring ability.  Samoa Joe seems to have given himself the task of breaking in the young star.  He is literally breaking him.  Ali is getting viciously bounced around by the veteran.  Samoa Joe controlled almost the entire match.  Ali even looked shocked when hitting some solid offense.  It was short lived, as Joe trapped Ali in the "Coquina Clutch" for the brutal victory. 
(2 out of 3 Falls) Andrade vs Rey Mysterio
This rivalry is fantastic.  It completely revived Rey Mysterio.  Andrade can hang and with someone at the level of Mysterio it is Gold!  No Zelina Vega is a little disappointing as she does her job very well, and is a great addition to any content.  Highspots galore, the two showoffs did just that, they gave the fans their money's worth, and put it all out there.  Andrade is for sure a fan of Mysterio, probably watching all of his content as a before he was a huge success.  His style is very similar, as most Lucha style is.  Andrade lost his mind and hit a "sitdown powerbomb" off the top for the first fall.  The timing, and landing was beautiful. 
Andrade continued on hitting a few big moves but unable to get the finish.  Mysterio hit the crazy "spike" type move out of nowhere and gets a counter pin fall.  Andrade and Mysterio really do such unique things, always getting the correct pop at the right time.  Masterfully showcasing the Lucha style, and impressing everyone during the Main Event.  So much respect for the sport, and rare amounts of pride are shown in their work.  Even a botched spot was forgiven by the hot crowd, because they just pressed on.  Mysterio almost had Andrade beat, but Samoa Joe interferred and destroyed Mysterio and Andrade.  Joe continued his vendetta to the Cruiserweights at the worst possible time.  This was a Bad run in, on a Good Match.  All aside the wrestling that was had between Mysterio and Andrade was quality.  Then, just like that "RKO" out of nowhere.  Randy Orton making his presence felt before he will appear in the Royal Rumble on Sunday. 
THE BAD – N/A
THE UGLY
Naomi vs. Mandy Rose w/ Sonya Deville
This whole feud is a bit ridiculous.  If these two talents would have just been paired up to a match it would have been better.  No one seems to care at all about the story here, and the content so far has been poorly executed.  Naomi and Mandy Rose are very talented but it is being paraded around on this horrendous platform for seemingly no reason. 
The Sonya Deville/Carmella Match that was foolishly skipped last week would have been much better, and it was a ugly shame it was left out.  Naomi controlled most of the action, literally bitch slapping the blonde bombshell Mandy Rose.  Mandy had very little offense in this tough to watch match.  The action was poorly executed, and awkward.  Mandy got the upper hand when it counts, with the help of Deville, hits Naomi off the post, and gets the quick pin.  This was a horrible match, so much to hate about it, just disappointing.    
FINAL
GOOD – 5
BAD – 0
UGLY – 1
OVERALL
SmackDown, unlike Raw this week, was a little light on the content.  NXT almost had as much content last week and they are only an hour.  That being said, it was a successful week for the "blue" brand.  Royal Rumble has the makings of a Good show.  WWE overall has been pretty Good lately and are very protective of their brand. 
WWE took it home in a major way, now onto NXT's version of the story to finish out before the big Takeover and Royal Rumble weekend.  We could see some serious changes so close to Wrestlemania, and as usual, all we have to do is sit back and watch.  Please like, comment and share!  Catch you tomorrow night post NXT.